111 MINNA GALLERY:
MORNING WOOD; ART BOOK RELEASE
OPENING 12.04.03
Comment: Surprise sponsor Scion hawks the auto with meta-slick promo plus breath mints for when thoughts turn from cars to things you can do in cars. Maybe Scion becomes the Philip Morris of alternative expression. Anyway, it's all about new talent defining new genres, attracting a substantial fan base off the skateboards and into the galleries. Does the uptown crowd suspect something's gaining on 'em?
Art: 8 urban expositories.
Crowd: Hip-hop haberdashery.
Vibe: 8 trend setting talents.
Artist/Artists: Ali Calis, Dave Schubert, Chris Lindig, Neasden, Control Centre, REVOLT, Adam Wallacavage, Andrew Jeffrey Wight, Anthony Ausgang, Anthony Yankovic III, Ben Loiz, Ben Woodward, Carlos Batts, Chris Capuozzo, Cynthia Connolly, DALEK, Estevan Oriol, GIANT, GREY, Jamie Reid, John Pound, JOKER, Shane Jessup, Michael Delahaut, Mitch O'Connell, NEWA, Ricky Powell, Sam Flores, Shawn Wolfe, USPO, ZEPHYR, Anton Lopez, AXIS, BIGFOOT, Chris Yormick, Clark and Hogan, CYCLE, EKLIPS, ESPO, Graphic Havoc, Jim Houser, Joseph Whiteley, KR, Mikkel Groennebaek, Rebecca Westcott, Richard Colman, Ron English, SABER, Shepard Fairey, STAK, WK, INTERACT.
Art.


Pick.


Artists.


Pick.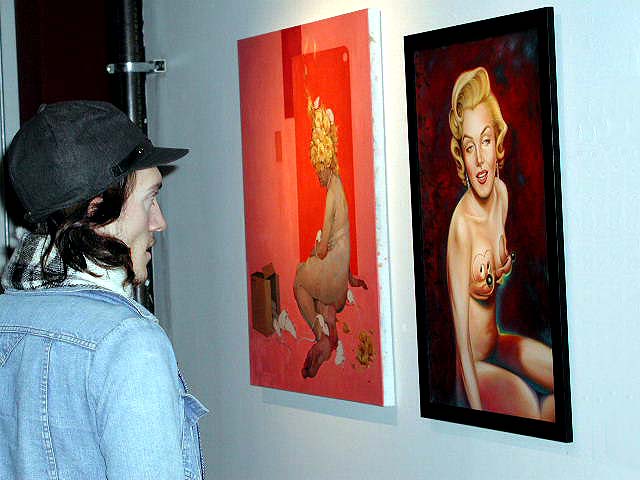 Art.


Art.


Art.


Art.

More 111 Minna Gallery (Tiffany Bozic)
111 Minna Gallery
111 Minna Street
San Francisco, CA 94105
415..974.1719