111 MINNA GALLERY:
JUXTAPOZ ART MAGAZINE; 10th ANNIVERSARY ART SHOW
OPENING 04.01.04
Comment: Juxtapoz art magazine hauls out the good stuff for a rollicking ten-year anniversary celebration. How rollicking, I have no idea, because I left around 9 and, according to the invitation, the puking didn't start 'til after 11. The Juxtapoz genre is rooted in hot rods, Mad Magazine, tattoos, psychotropic drugs, Zap comics, Louis Marx "Nutty Mads," and similar early visual manifestations of discontent, lowbrow, up-yours-ism, tastelessness, vulgarity, rude satire, and counterculture. As you might surmise, after 60 or 70 years of this relatively undocumented evolution, it's preeminent contemporary practioners have gotten pretty damn good. And 111 Minna is the perfect place to see exactly how damn good they've gotten.
Artist/Artists: Robert Williams, Mark Ryden, Ed Hardy, Tim Biskup, The Clayton Brothers, Eric White, Enrique Chagoya, Manuel Ocampo, Niagara, Ron English, Frank Kozik, Isabel Samaras, and so on.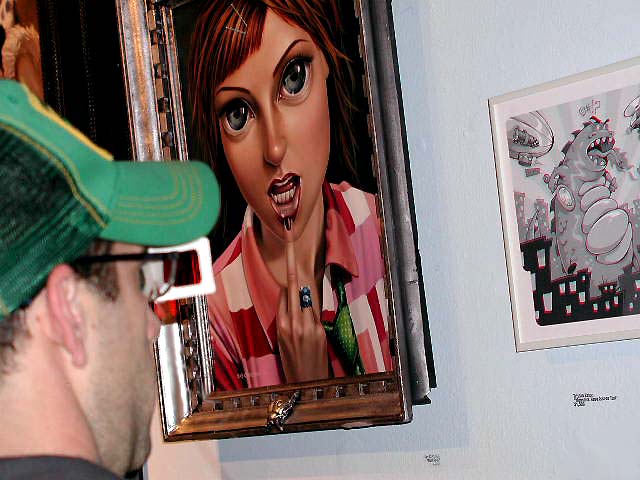 Art.


Art.


Art.


Art.


Art.


Art.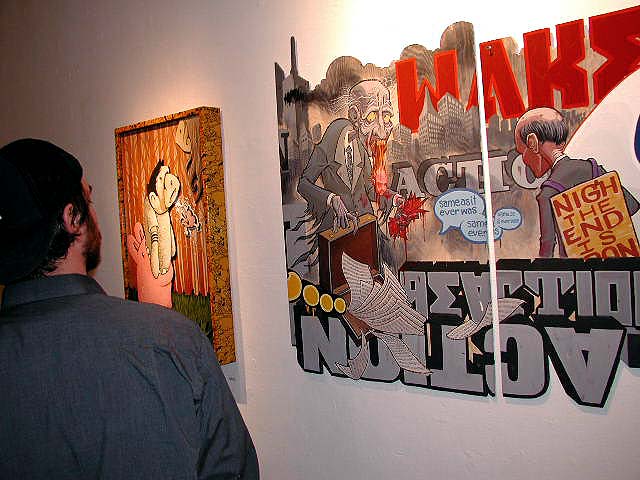 Art.


Art.


Art.


Art.


Pre-puke panorama.

111 Minna Gallery
111 Minna Street
San Francisco, CA 94105
415..974.1719