SAN JOSE ART GALLERIES - OPENINGS
SOUTH FIRST FRIDAYS
SAN JOSE INSTITUTE OF CONTEMPORARY ART - ANNO DOMINI GALLERY
MACLA (MOVIMIENTO DE ARTE Y CULTURA LATIONO AMERICANA)
REPORTED BY MICHAL GAVISH THOMPSON
01.05.07
San Jose Institute of Contemporary Art: Darren Waterston - Was and Is Not and Is To Come.
Comment: The Institute of Contemporary Art lends its walls for a mural of complex silhouettes by Darren Waterston. When entering the main gallery hall, on the left is a life size view of a row of bare tree trunks collapsing from a chain of mountains into the deep valley. On the right wall, a silhouette wave of flying birds curves up towards a pale red circle of clouds. One the video screen in the back room, the birds actually fly while Darren tries to quickly capture their shadows onto his paper. All this is topped with many small watercolors of birds and trees and clouds in a spiral motion. Waterston says that "he explores the fantastic landscape, leaving the natural world behind in order to create abstract."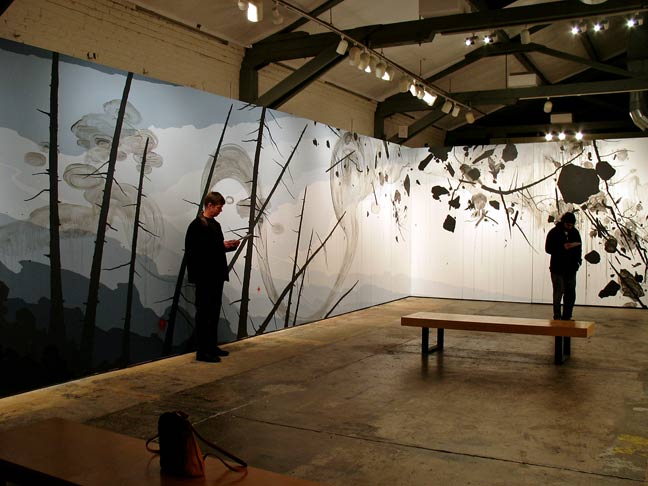 Trees mural.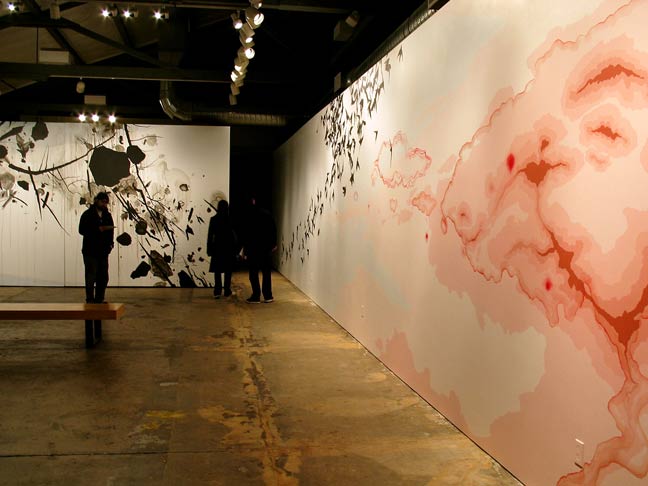 Birds mural.


Trees.


Watercolor studies.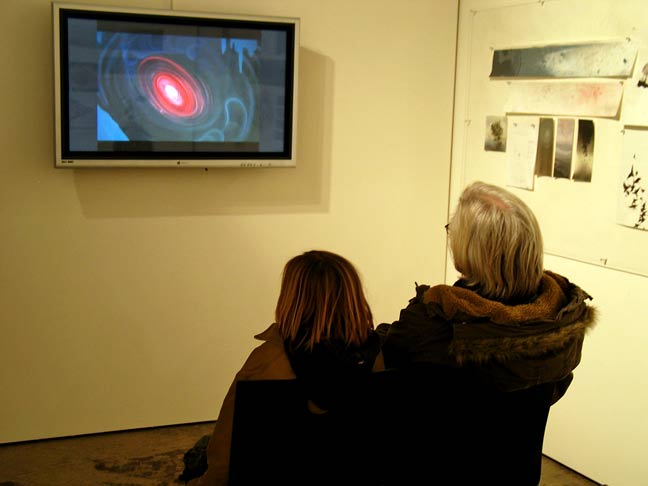 Video.


***
Anno Domini Gallery: Fresh Produce 06.
Artists: Jason Arnold, Hagop Bellan, Simon Boses, Sean Boyles, Able Brown, Bruno 9li, Kris Chau, Katherine Chiu, Will Clark, Jenna Colby, Dave Correia, Matthew Curry, Faryn Davis, Fabian De La Flor, Melissa Dickenson, Meredith Dittmar, Kate Durkin, Lloyd Ellis (moondog loves you) Bruno Filjiowski, Kurt Halsey Frederiksen, John Michael Gill, Evan B Harris, Ide Tadaaki, Brad Isdrab, Alfonso Kellenberger, Ramis Kim, Matthew Kirk, Joshua Krause, Caitlin Kuhwald, Dawbis, Marcos Lafarga, Daniel Lewis, JB Lowe, Jessica McCourt, Colin Matthes, noa­, MIchael Page, Cristina Natsuko Paulos, PeeMonster, George Pfau, Jesse Reno, Revelation Studios, Nathalie Roland, Bailey Saliwanchik, Lucien Shapiro, Manny Silva, Barron Storey, Kevin E. Taylor, Zefrey Throwell, Joe To, Jessie Vala, Porous Walker, Jonathan Wayshak, Derek Weisberg, Keegan Wenkman, Julie West, Yoshi 47.
Comment: Anno Domini is definitely the place to be on First Friday. Many people, a big party in the large gallery space. Chains of white Christmas lights hang over 50 art works by young artists in an informal annual exhibit. This celebration is a combination of many different sized canvases, papers and  boards on the walls and tables everywhere. According to the gallery, "these artists were invited based on their consistent artistic vision and contribution to contemporary culture."
Art.


Art.


Art.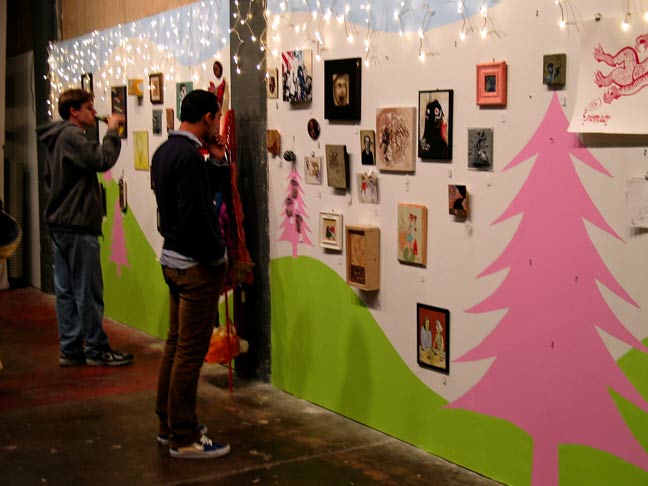 Art.


Art.


***
MACLA-- Movimiento de Arte y Cultura Latino Americana: Jaliya.
Comment: MACLA always adds some special music to the visual art on First Fridays. This time they have the drumming and singing of the West African group Jaliya. The musicians in this group use "a drumming syncopation process of West-African origin to develop a universal cultural awareness."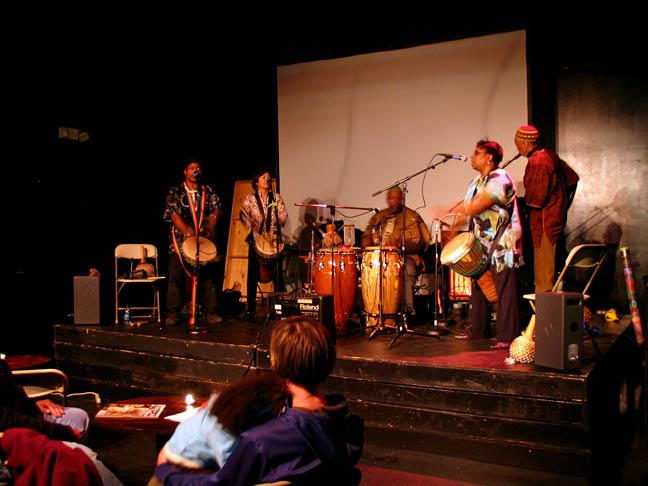 Music.


Music.


Music.


***