SAN FRANCISCO ART GALLERIES - OPENINGS
ARION PRESS - ANDREA SCHWARTZ
BUCHEON - FIVEPOINTS ARTHOUSE
(with assistance from Uba Owl)
01.04.08
Arion Press: Jess - An Exhibition of Illustrated Publications and Original Works of Art, 1953-1997.
Comment: Combination retrospective show of books and art by Jess Collins plus a release party for the Arion Press facsimile edition of "The Boobus and The Bunnyduck," originally created in 1957 as a unique artist book with crayon illustrations by Jess Collins and story by Michael McClure. The accordion-fold facsimile edition is limited to only 100 copies and priced at $1500. Overall, an impressive display. FYI, Arion Press has a beautiful space just around the corner from the former VA Hospital in the Presidio.
"The Boobus and The Bunnyduck" facsimile edition.


"The Boobus and The Bunnyduck" facsimile edition.


"The Boobus and The Bunnyduck" facsimile edition.


Art & books.


Art & books.


Art & books.


Art & books.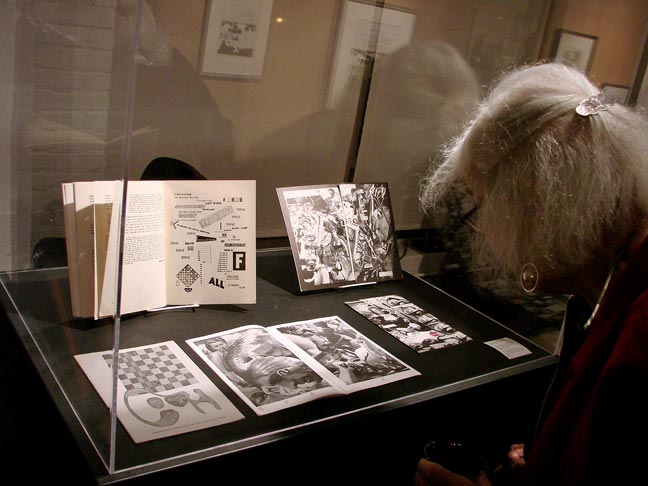 Art & books.


Art & books.


Work area.


***
Andrea Schwartz Gallery: Chiaroscuro - A Group Show Curated by Danielle Steel.
Artists: Seamus Conley, Christine Vaillancourt, Tina Vietmeier, Cara Barer, Perry Burns, Tom McKinley, others.
Review by Uba Owl: Curator and author Danielle Steel titles the show "Chiaroscuro." She explains it as follows-- "Although Chiaroscuro is an ancient term, which comes to us from the Renaissance, what it symbolizes has always intrigued me: the contrast and juxtaposition of dark and light. What better way to symbolize the heart of winter for a January show of contemporary work, both figurative and abstract. For me, it brings to mind the crispness of snow against the dark of midnight, bright lights in a city on a winter's night, the depth of winter and the promise of spring. It symbolizes life, with its dark times and unexpected brightness, which gives us hope."
The group show is mainly comprised of artists represented by the gallery. I am a fan of Seamus Conley art whose painting is included in the show. Also interesting are Cara Barer's photographs which seem to blur the line between books, sculpture, and photography. Visualy striking, they evoke feelings of movement and machine-like objects, even though they are not. Very interesting.
Comment by AB: "Chiaroscuro" refers to the contrast between dark and light, and is the unifying thread at this loosely themed group show. As you might surmise, celebrity curator Danielle Steel is ensconced among a relatively exhilarating entourage.
Art.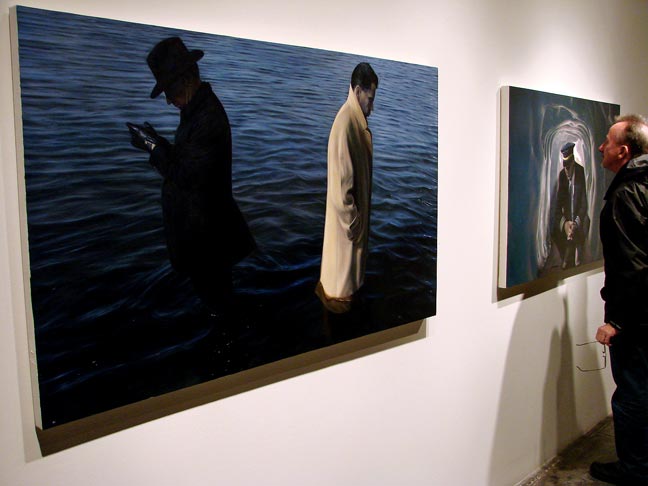 Art.


Danielle Steel, guest curator.


Sculpture (some pinhead's using the pedestal for his wine glass).


Art.


Art.


Art.


Art.


Art.


***
Bucheon Gallery: Is It a Fiber Show?
Artists: Steve MacDonald, Misako Inaoka, Rebecca Szeto, Mandy Greer, Robin Margerin, Martha Sue Harris, Benjamin Whalen, Nanilee Robarge, Karen Olsen-Dunn, David Gremard Romero, Ray Materson.
Comment: Fiber and fabric free-for-all covers pretty much all the bases plus a couple of extra ones. The show is held in conjunction with the 100th Anniversary of CCA and New West Coast Design.
Stack of ceramic washcloths art.


Art (Steve MacDonald).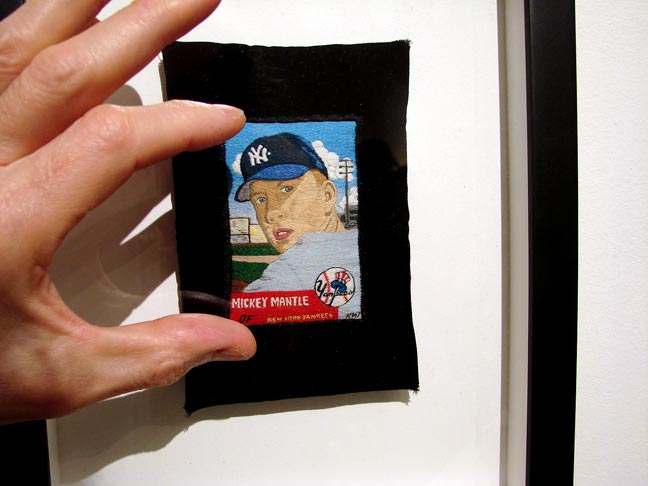 Awsome needlepoint baseball card art (Ray Materson).


Stack of ceramic underwear art.


Art.


Art.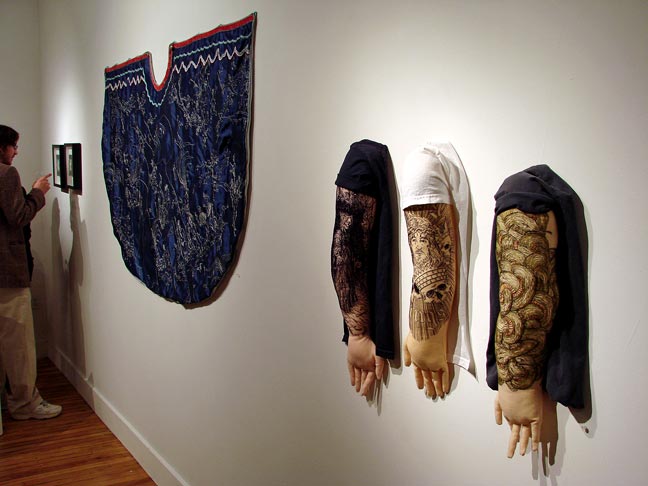 Art.


Art.


Art.


Art.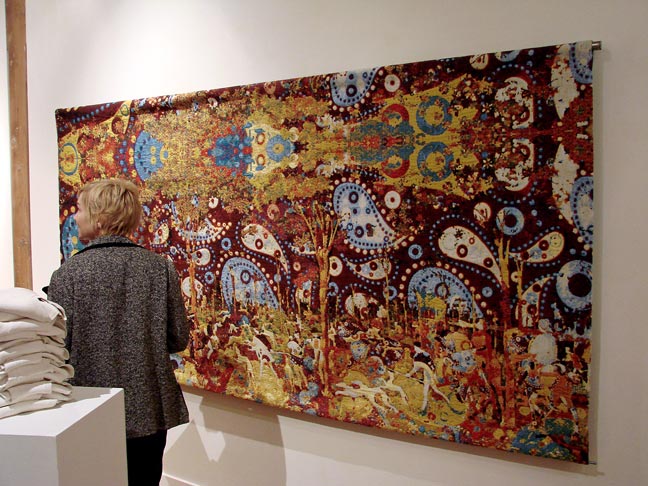 Art.


***
Fivepoints Arthouse: Small Works.
Artists: Stan Chan, Stephen Lopes, Nicky Nargesian, others.
Comment: Collages and paintings at this roomy new basement space down Bannam alley in North Beach.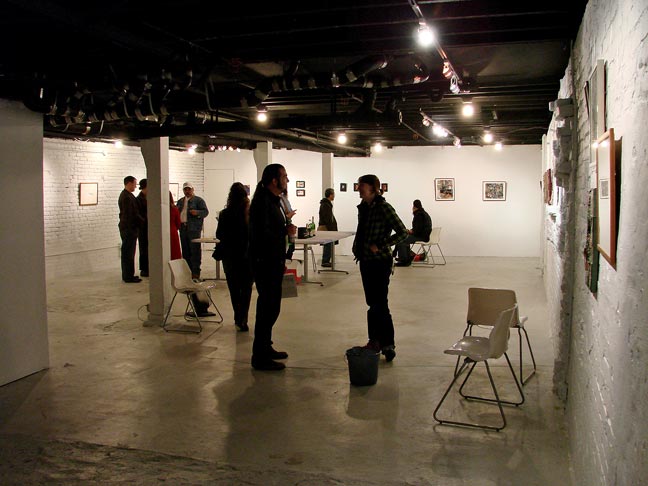 Layout.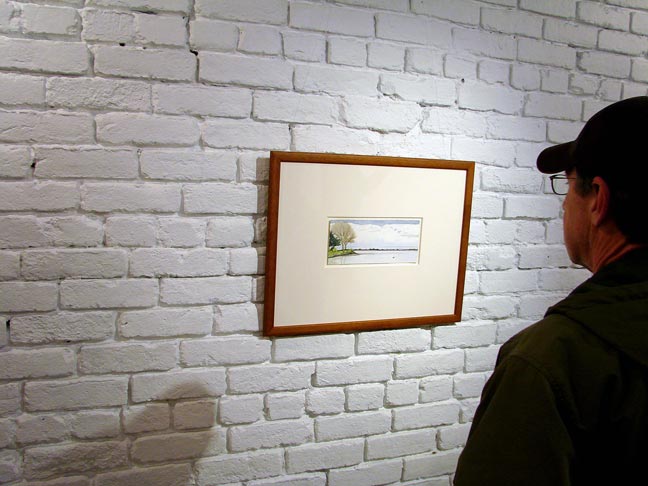 Art.


Art.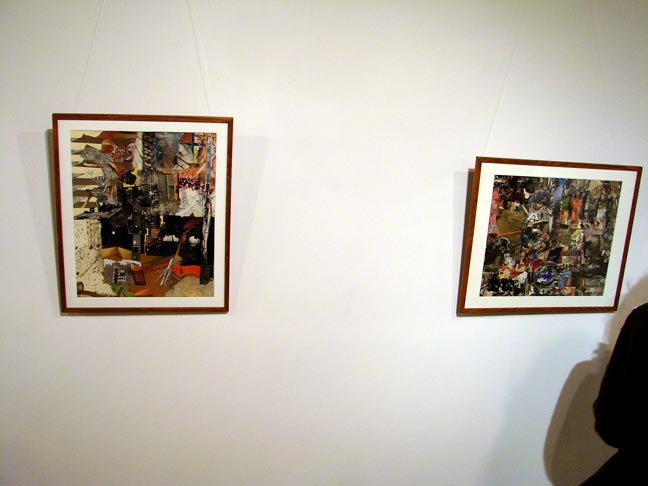 Art.


Art.


Along the wall.


Out front.


***