OAKLAND ART GALLERIES OPENINGS
FIRST FRIDAY ART MURMUR; 01.05.07
BOONTLING - ROWAN MORRISON GALLERY
REPORTED BY THEO KONRAD AUER
Boontling Gallery: Hector Serna Jr. ­ Mondo Magic.
Comment: Boontling Gallery is small, but packs in quality and raw new talent on its walls consistently displaying the work of emerging artists of many different flavors from the street to the figurative. Josh Keyes, John Casey and Adam 5100 are only a few of the artists who have graced their walls in its nearly three years of operation before moving on to San Francisco venues. Perhaps Hector Serna Jr. will follow in their footsteps, as judging from his work, such an evaluation wouldn't be far off.
The art encompasses Royal Art Style mixed media, borderline creepy cartoonish illustration that seems to draw from both Comix and the letter writing of a graffiti artist. Thankfully, the work isn't overly drawn from or to either genre, making for a rather violent yet complete synthesis of taboos in the form of lost ephermera and vaginal eyes that leave you pondering. The pieces all form a sort of personal mythology that is memorable, but is unmistakable in its youthfulness. This is solid work, and one can not help but imagine that age will temper his wild and otherworldly conjurings. It will be interesting to see where this young artist goes with his work in the future. The attention to detail is highlighted in the shows title and the show card copy that were taken from a found cult film of the same name. This movie shares the elements of camp and barbarism that are so prominent in Mr. Serna's work. The art doesn't come free but does come cheap going from 99 cents(!) for a D.I.Y. paper doll to the low hundreds.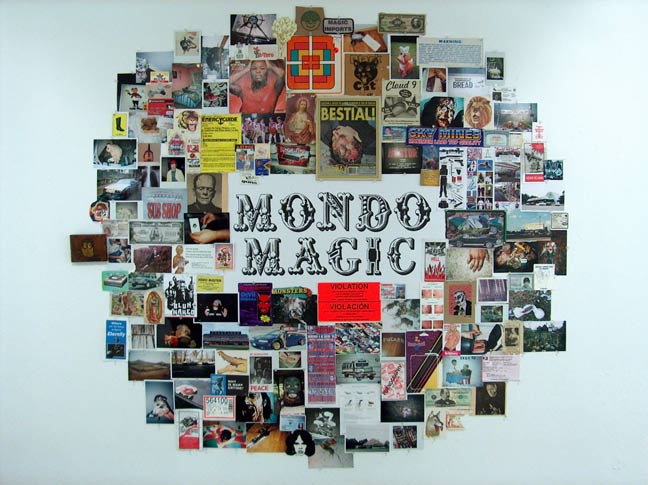 Large collage of found objects & artist-shot photos
which nearly goes from floor to ceiling.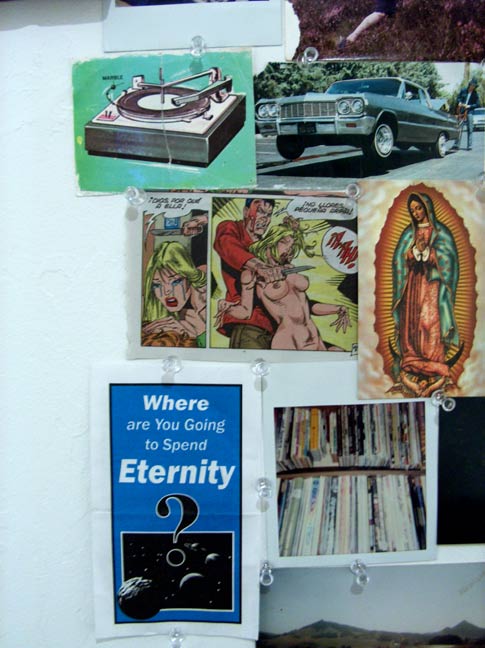 Close up detail of collage.


Hector Serna Jr. art.


Hector Serna Jr. art (detail).


Hector Serna Jr.


***
Rowan Morrison Gallery: Erza Li Eismont ­We Are Magic.
Comment: As odd a coincidence that two shows that feature "magic" could be in such close proximity to each other are, the art of veteran Oakland based artist Erza Li Eismont couldn't be more different in tone and vibe. While stylistically sharing a basis in the art of street based writing, Eismont's art has a complexity formed by age and deep interest in ancient letterforms such as Egyptian hieroglyphic writing. The work is spirtual and dense conceptually with art that is a meditation on the concept of "neters," which comes from Egyptian myth meaning priniciples which precede their physical manifestations.
Mr.Eismont's works both three dimonsional and on the wall recall Buckminister Fuller and come as somehow both playful and pondering. This isn't exactly untread ground, and interestingly there seem to be many Bay Area artists exponding on such themes as of late. Chris Pew and Casey Jex Smith come quickly to mind. What makes this work good and even great is that it maintains a consistent and individual vision throughout. The show will be up for two months and is highly worth the trek to the East Bay for a look.
Erza Li Eismont art.


Erza Li Eismont art.


Erza Li Eismont art (detail).


Erza Li Eismont art.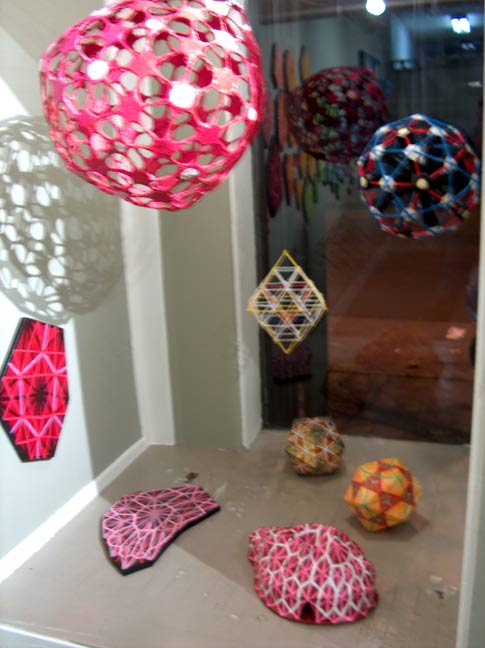 Erza Li Eismont art.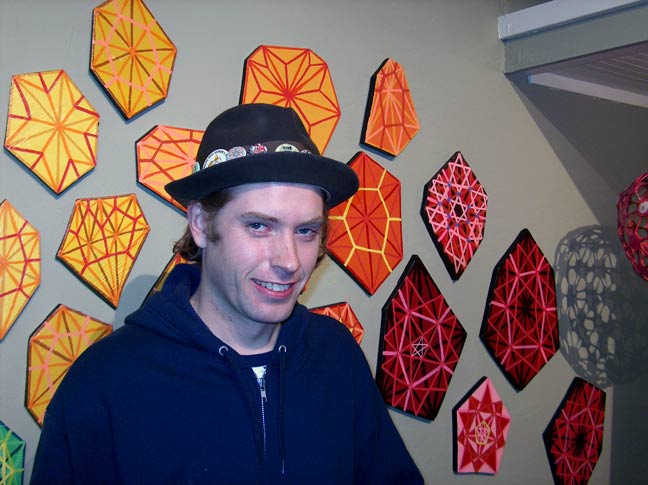 Erza Li Eismont.