SAN FRANCISCO ART GALLERIES - OPENINGS
PATRICIA SWEETOW - BROWN BEAR
GALLERY THREE - 301 BOCANA - CHEZ POULET
(with assistance from Ben Rigby)
01.05.08
Patricia Sweetow Gallery: Peter Tollens, Michael Toenges, Bill Walton.
Comment: Abstract trifecta c/o Peter Tollens and Michael Toenges bringin' it from Deutschland, and Bill Walton representing Philadelphia.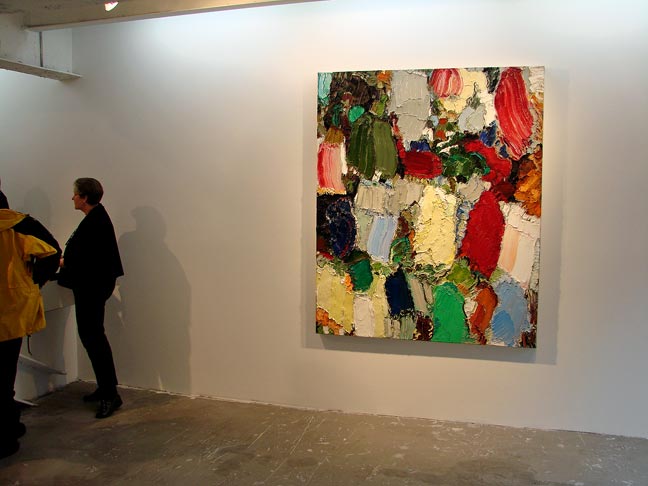 Art (Michael Toenges).


Art (Peter Tollens - prices start at $1500).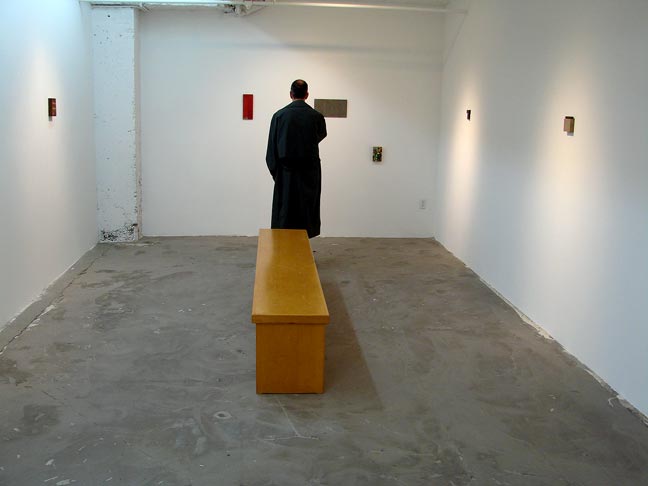 Art (Bill Walton).


Art (Michael Toenges).


Art.


Art.


Art.


***
Brown Bear: We're in This Together.
Artists: Cascade Wilhelm, Akasha Rabut, Brendan Klein, Whitney Dafoe, John Ducky Williams, Andrew McClintock, Liz Rabb, Tommy Everenden.
Comment: Inviting group photo show, mainly slice-of-life and personality portraits seasoned with a dash of unadulterated art.
Photography.


Photographs.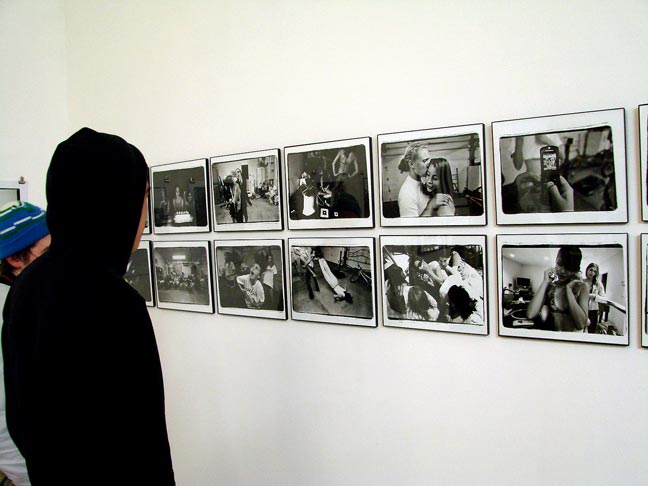 Photos.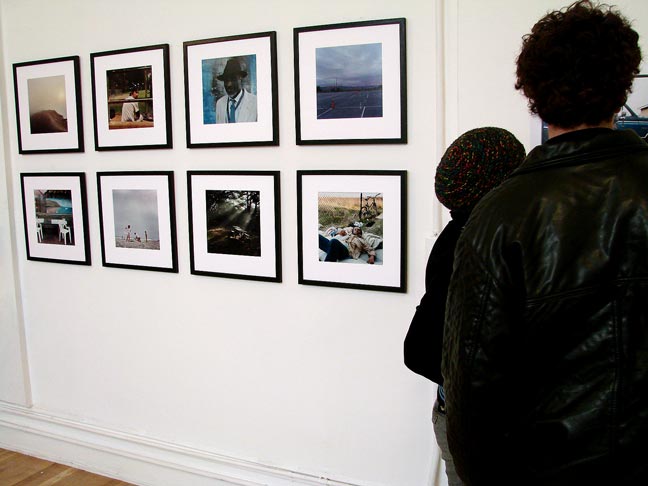 Images.


Photography.


Photographs.


Photos.


***
Gallery Three: Eric Otto - The Calm Before the Storm.
Comment: Rough weather ahead, reports Eric Otto in paint and installation. Batten down whatever needs battening and cover your tender vegitation.
Art.


Eric Otto - art.


Art.


Installation.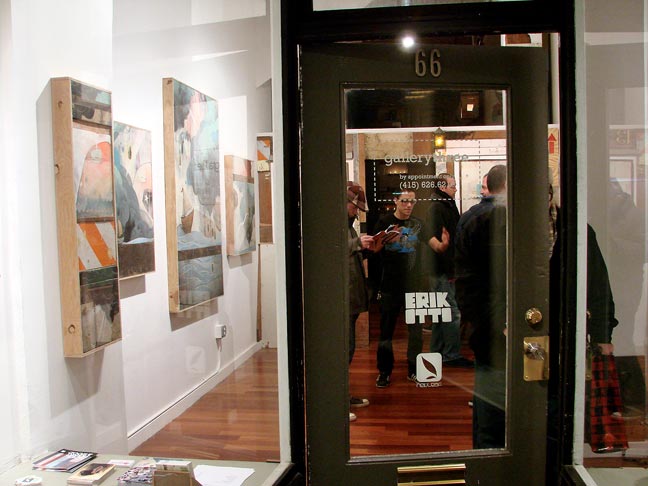 Location.


***
301 Bocana Gallery: Michele Theberge - Harmony in My Head.
Review by Ben Rigby: A capacity crowd steams the windows at tiny Bocana Gallery for the opening of Michele Theberge's "Harmony in My Head." The installation is comprised of hundreds of small pieces of paper pinned to the wall in rhythmic patterns. On each piece she's painted a small face, which she does as a form as a meditation. Achieving a meditative state of mind, she installs the work over the course of several weeks allowing the pattern to form organically. Gallery goers posit many interpretations of the piece-- an ocean wave, a reflection of the homes that criss cross the hills behind the gallery, and the many facets of single personality (apropos, as the gallery conjoins a psychotherapists office).
Art.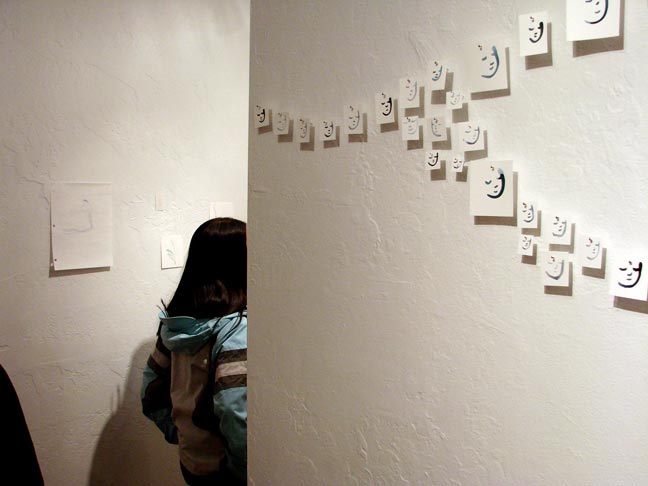 Art.


Art.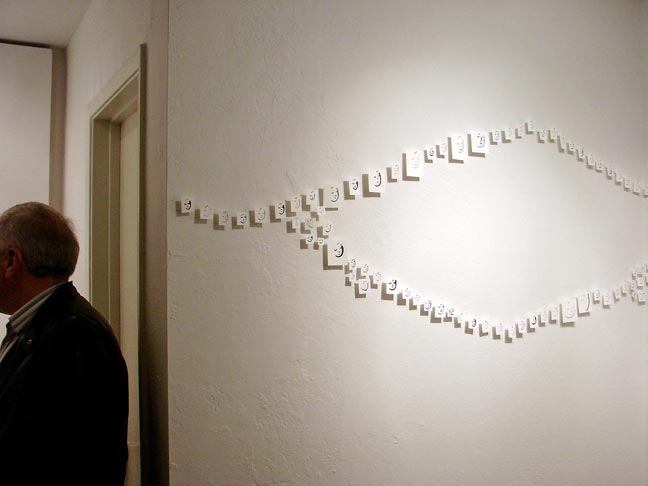 Art.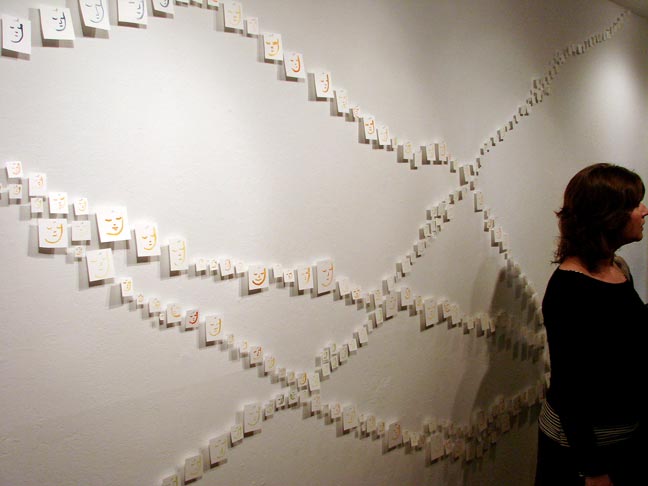 Art.


Art.


***
Chez Poulet Gallery: Monica Lundy - Materia Prima.
Comment: Palette knife paintings by Monica Lundy examine various aspects of the female form with gusto, brio, and impasto. Highlighting the event, which unfolds on the spacious main floor of the Chicken John Rinaldi entertainment complex (aka Chez Poulet), is a living breathing hors d'oeuvre plate. That Chicken John hosts some pretty peppy parties.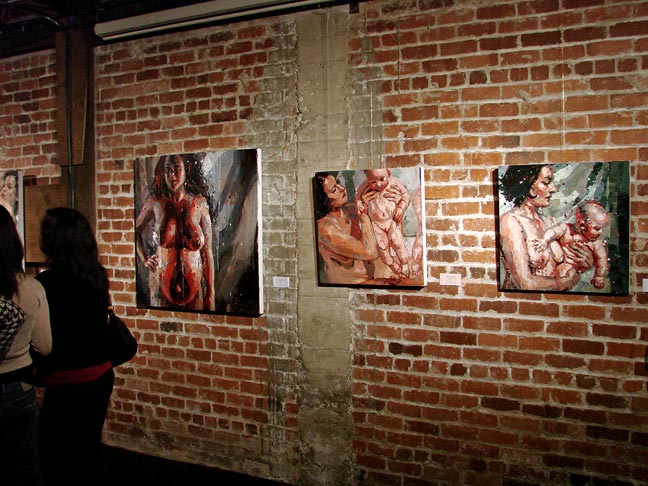 Art.


Art.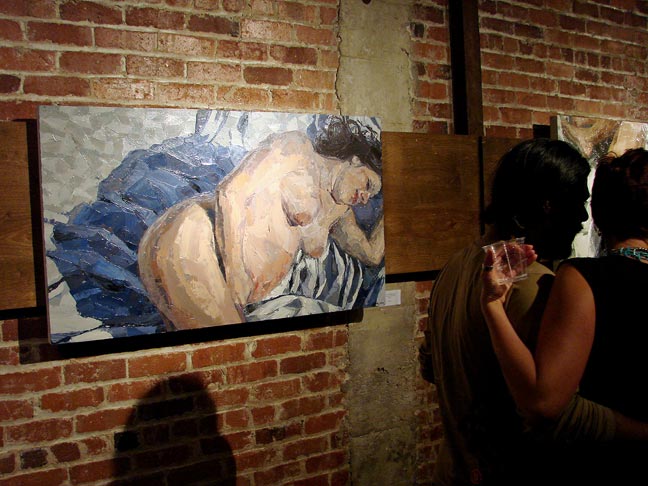 Art.


Art.


Finger food.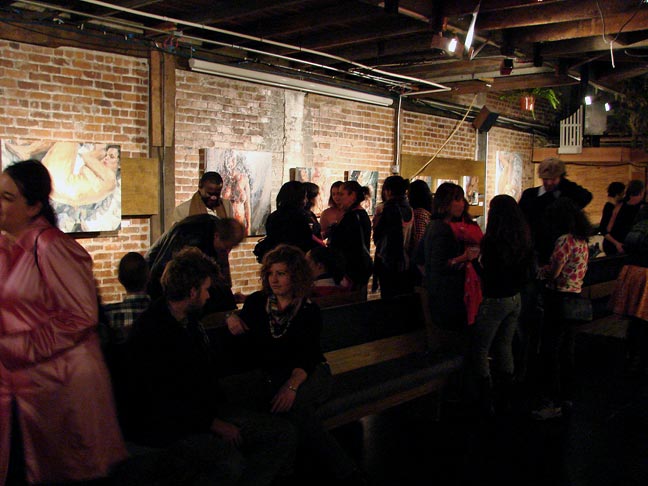 Essence.


***