SAN FRANCISCO GALLERY OPENINGS
THE LAB - ARTSF - PAWNBROKERS - ONSIX
01.28.05
General comment: You guessed it-- time once again to get in touch with your inner curator. So close your eyes, breathe deeply, and imagine yourself in the largest art museum in the universe-- reality. That's better. Now let's get a move on...
***
The Lab: Hairy Bodies.
Artists: Nayland Blake, Nick Dong, Ruth Eckland, Su-Chen Hung, Chris Komater, Dean Smith, and Chris Vandemore.
Comment: Here's one you don't see every day-- a show themed on body hair, particularly male body hair, particularly lots of male body hair. Seeing lots of male body hair is not high on my things-to-do list, but it is high on other people's things-to-do lists, in this instance, artfully high, and in fact, exalted. Of particular interest are several unusual pieces of body jewelry by Nick Dong, displayed on hairy bodies (of course), and delicate fur-formed iron filing sculptures on neodymium super magnets, periodically perked up by artist Dean Smith who "combs" them with a baby fresh-up magnet that he keeps in his pocket.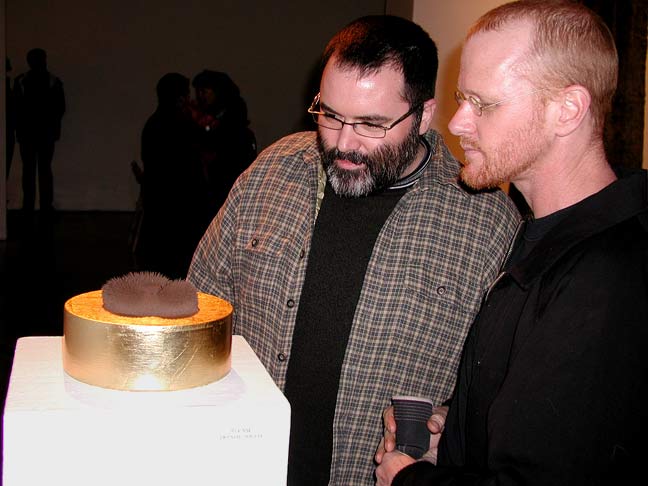 Furry filings (Dean Smith).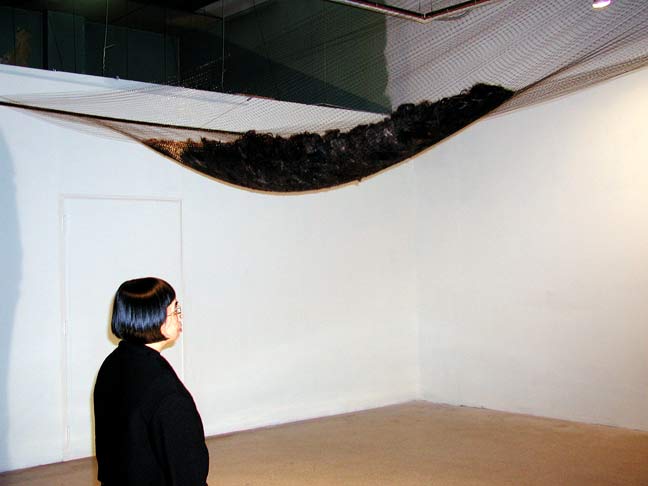 Net full of hair (Su-Chen Hung).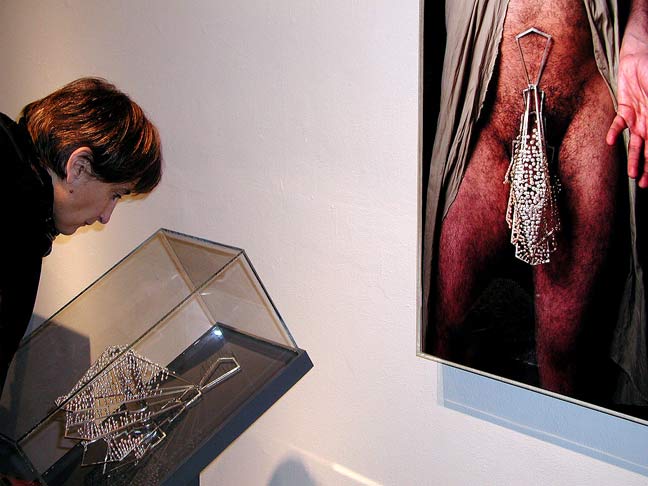 Portable penile pavilion (Nick Dong; photo by Nicholas Lostracco).


Art - artist (Dean Smith).


Back hair trilogy (Chris Komater).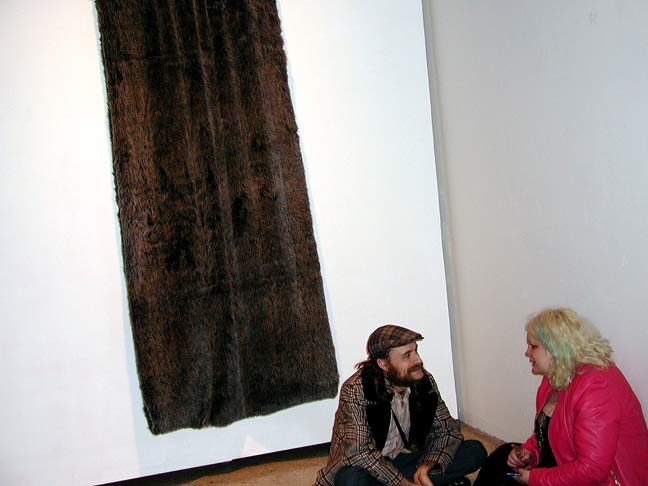 Fur falls (Nayland Blake).


Body adornment (Nick Dong).


Hair TV (Chris Komater).


***
ArtSF Gallery: F**k Your Freedom.
Artists: Reverend Steven Johnson Leyba, Winston Smith, Church of Satan.
Comment: Most people spend their lives fleeing from demons. Reverend Steven Johnson Leyba embraces them, knows them well, so well, in fact, that he intensely effectively communicates them through his art. Disfigurements, soulless socket voids, twisted features, incomprehensibly menacing rows of collaged textured black beads, disturbing doilies (no, I'm not kidding), sinister symbolism, netherworld transits, all so convincing that you have no doubt what you're looking at. And it's anything but pleasant. As chilling as this show is, it's some of the most compelling art I've experienced in a while-- and I mean "experienced." You don't just see Leyba's art; it sees you, and it takes you places you may not want to go... but that we all know exist.
Plenty of artists attempt to portray the far corners of consciousness, subconsciousness, the extremes of being, the edges of the precipice, or that which is forbidden, but I know they're only guessing. Leyba doesn't guess. So I ask him what his art is about. He answers, "Freedom." I ask, "Freedom of expression?" He answers, "Freedom like what the Bush administration is fighting for." You know something? He's right.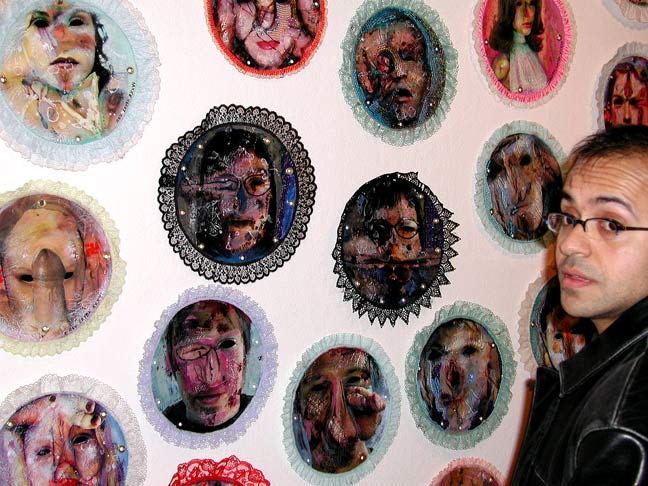 Art (Leyba).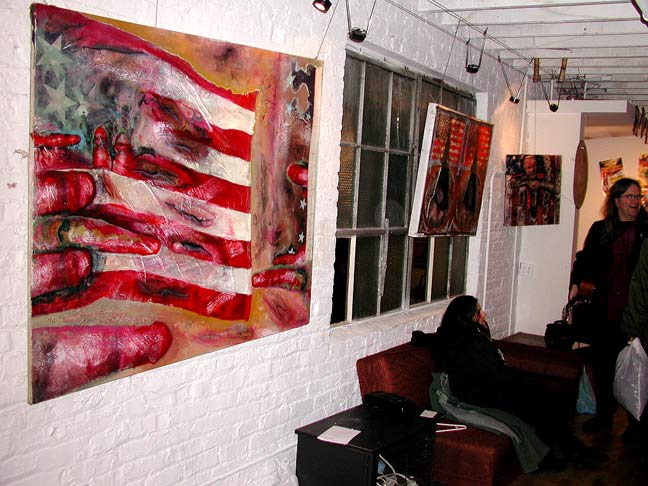 Art (Leyba).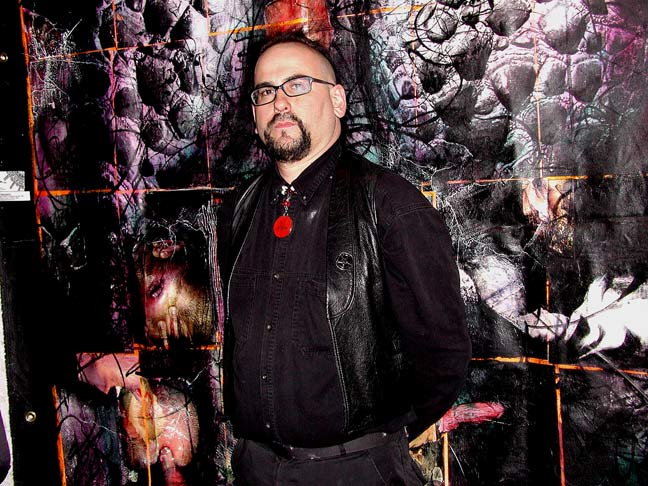 Artist Reverand Steven Johnson Leyba - art.


Art (Leyba).


Art (Leyba).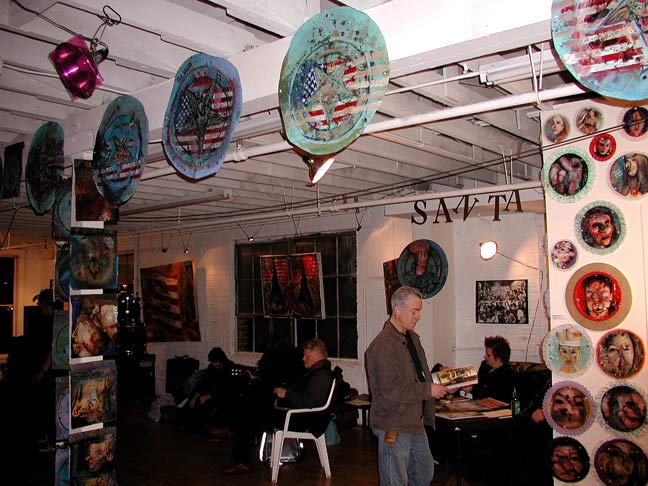 Art (Leyba).


***
Pawnbrokers Gallery, 835 Larkin St., SF, 94109; 999.2051: Elixer.
Artists: Terrance Hughes, Corey French, Bryan Keith, Jet Martinez.
Comment: Best show yet for Pawnbrokers, sort of a step-out onto the art scene stage. At the top of my fave list is Bryan Keith's "Mother Bitch, Volume One," a great big book of paintings. Seeing as I like books, and I like art, I really like this. It's original and unusual, and very nicely put together. For you book collectors out there, it's an edition of one-- and that's pretty exclusive. A three-piece Willie Lynch series by Terrance Hughes also hits the spot. But the whole show is good-- Jet Martinez plantscapes as well as Corey French's two biggie affordable neo-post-abstractions (perfect for that corporate or condo-complex lobby). I'm liking Pawnbrokers more and more.
Artist Bryan Keith - book art - art.


Artist Terrance Hughes explains his art.


Big art (French).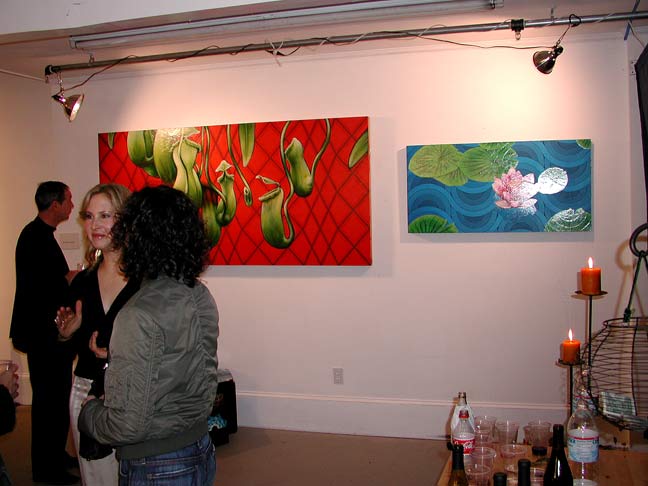 Art (Martinez).


Art (Keith).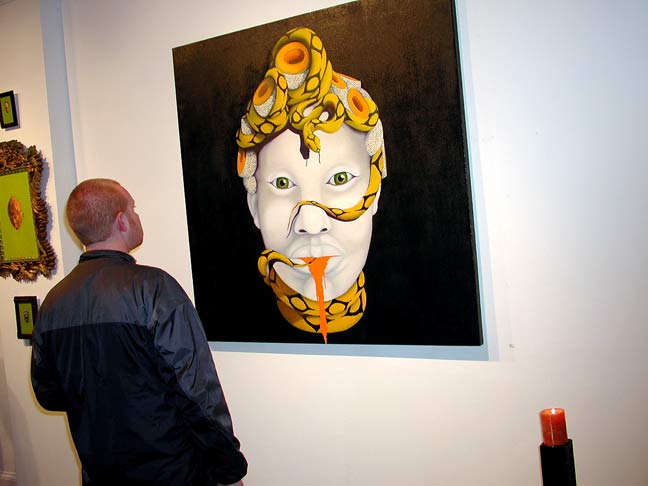 Art (Keith).


Art (Keith).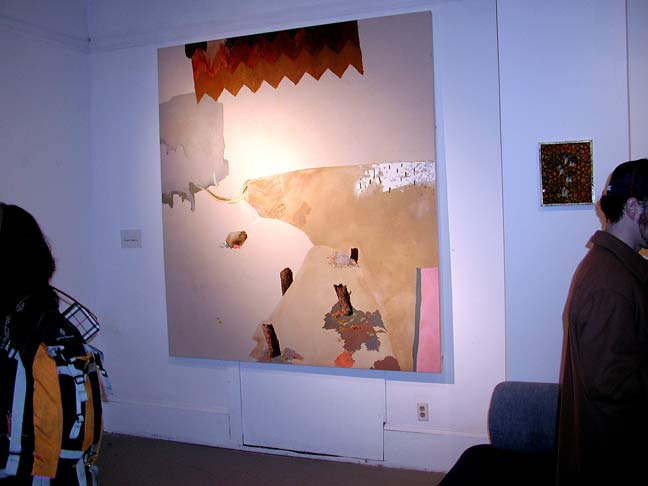 Big art (French).


***
OnSix Gallery: Interwoven.
Artists: Amanda Beane, Erin Brookey, Lindsey Byrnes, Lorraine Caley, Monica Canilao, Kamilla Cox, Eve Ekman, Jana Flynn, Danielle Graham, Torrey Herbenar, Anneke Hiatt, Brittany Howard, Camille Johnson, Lola, Amber Maclean, Ms. Mikki, Ashley Nunn, Michelle Pedersen, Mary Scott, Tiffany Star, Judith Thomas, Carrie Vawter, Katy Zaugg, Installation/performance by Jamie Duggan of Aerial Assault.
Comment: A kindler and gentler 100% female show with no specific ground rules or theme requirements (other than that the sex of the artists be F); it's do what you want and we'll show it. So the upshot is a pretty nifty array of local product including paintings, drawings, prints, a nice ink on cloth by Mary Scott (NFS), photographs, and more. Monica Canilao is perking right along with her rambling stitched glued painted drawn mixed-media work, this time incorporating the trashed wood facade of an antique console radio (I like the upside potential here). And Lorraine Caley claims sole proprietorship of the artful curiosity corner with her clean-crafted gut, latex, sinew, and ribbon "Corset and Sleeves" and the latex, plaster, grommets, and cord "Untitled Torso."
But folks... let's talk art biz. If it's for sale, PRICE IT. Plenty of art gets bought in the moment, especially fresh new stuff from artists who aren't well known or who haven't had many shows, especially at night, especially after periodic encounters with mood-mollifying beverages, especially in a party festive atmosphere. I don't wanna have to ask for contact information the next day, with a splitting headache, and I can't even remember where I put the ferkin' phone. I want my art (or my sales receipt) lying there next to me when I wake up in the morning.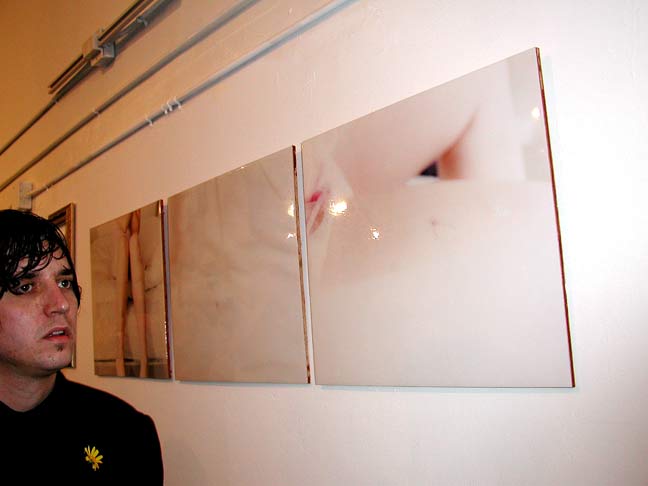 Photography (Katy Zaugg).


Art (Amanda Beane).


Artist Lorraine Caley and fashion statements.


Bigfoot (left) and Onsix Gallery partner Chris Fitzpatrick.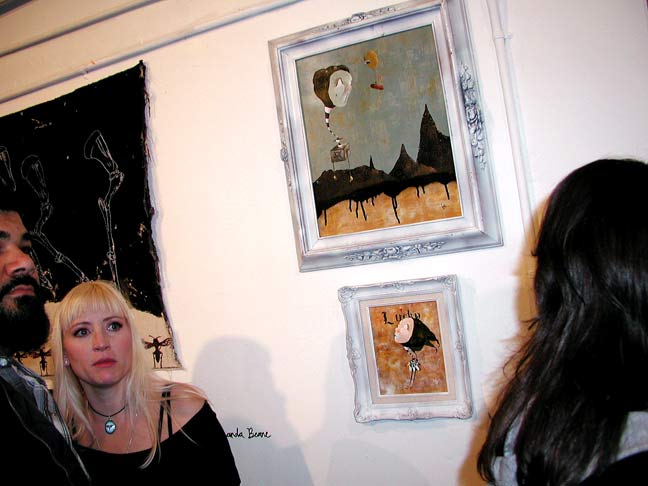 Art (Lola).


Pick (Monica Canilao).


Art (Brittany Howard).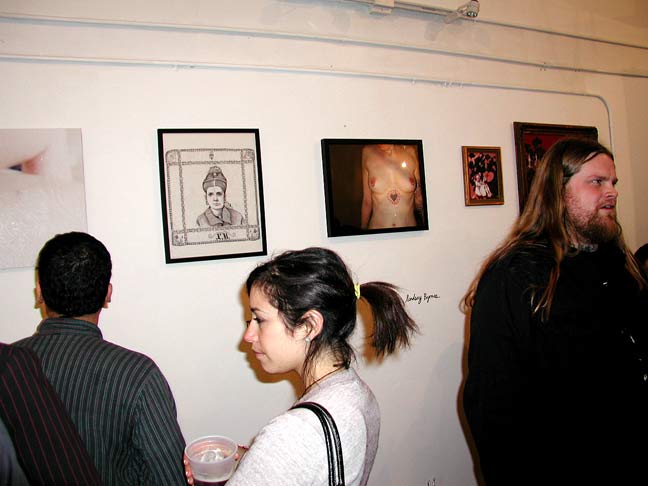 Art (Mary Scott, left center; Lindsey Byrnes, right center).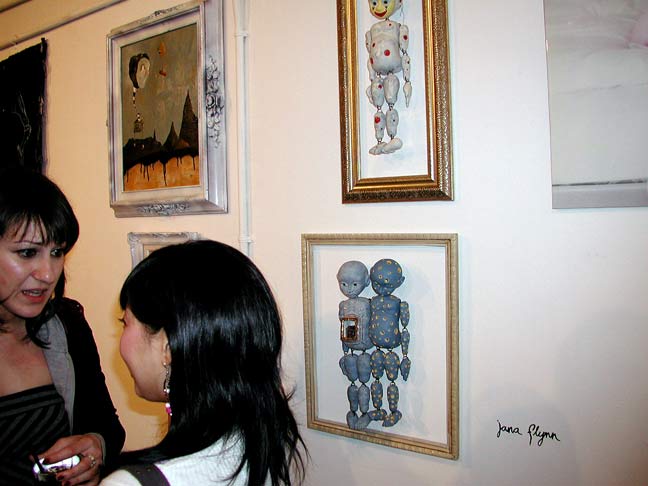 Art (Jana Flynn).


Installation art (Erin Brookey).


Straw-structure-in-the-middle-of-the-floor art (Judith Thomas).


Art (Torrey Herbenar).