SAN FRANCISCO OAKLAND ART GALLERIES - OPENINGS
FEMINA POTENS - OAKLAND ART MURMUR - MAMA BUZZ
AUTO 3321 - EGO PARK - BOONTLING GALLERY
ROCK PAPER SCISSORS (RPS COLLECTIVE) - 33 GRAND GALLERY
01.06.06
Femina Potens Gallery: Path Web Choice - Art to Enter/Performance by Midori.
Comment: Rope artist Midori weaves Femina Potens taut and tight with a series of intricate twine tangles, accessorized to mimic forest thickets. You remove your shoes and walk a narrow white shrouded path between fetter zones. Loiterers risk (or perhaps anticipate) being bound into the installation by Midori herself. Once webbed, you aren't going anywhere until Midori says so. She tells me she's mighty tired from tying, and judging from the amount of work she's put into this, I would be too.
Art.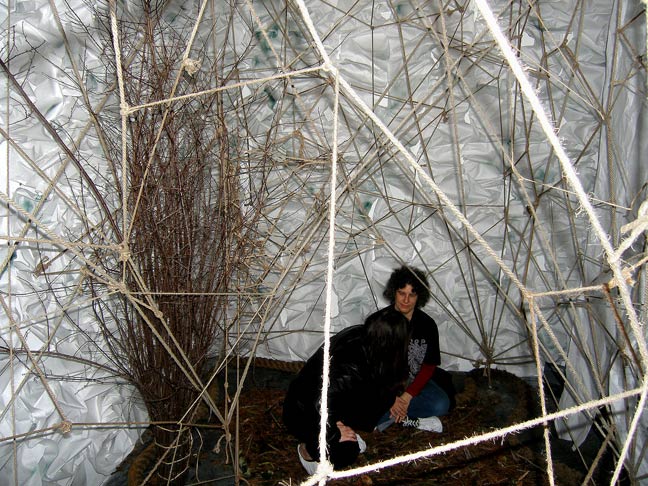 Art.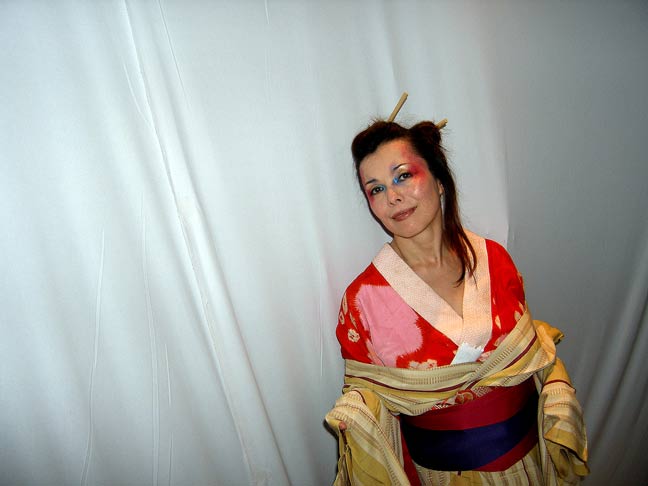 Midori.


Art.


Art.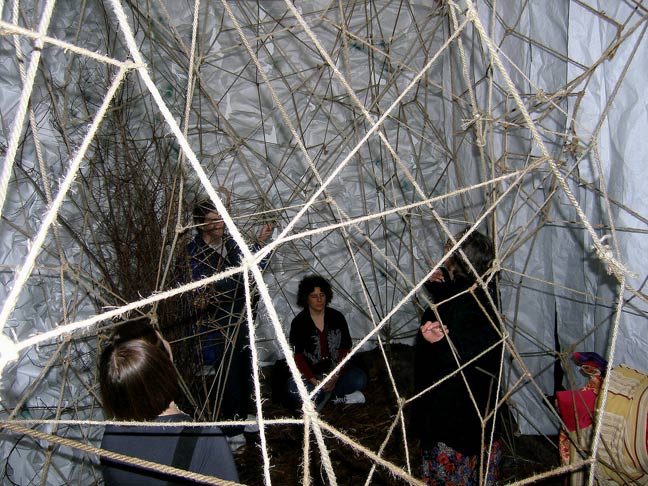 Art.


***
Across The Bay we trek for the premier installment of Oakland Art Murmur (First Friday Nights featuring the art galleries of Uptown Oakland)...
***
Rock Paper Scissors (aka RPS Collective): View Units, Boiling Points, and Unnatural Disasters - New Work by Chandra Bocci.
Comment: Neat intricate cut, sculpted, collaged photographs, leaves, and twigs. Like 'em. Evolutionary potential here.
Art.


Art.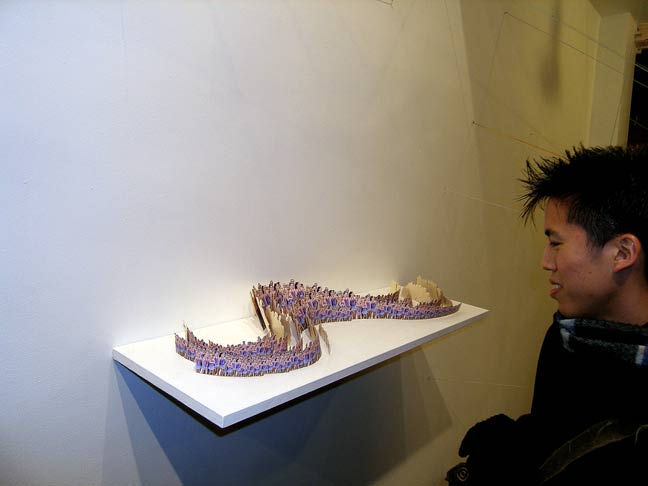 Art.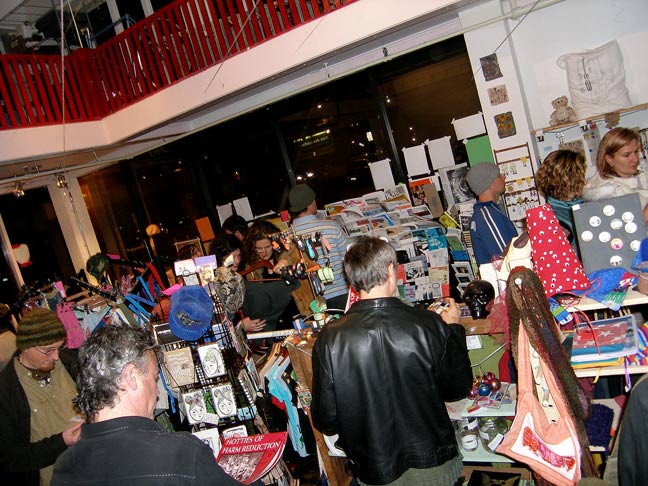 The Collective side of the gallery.


***
Ego Park Gallery: ???
Comment: I forget to grab an announcement or maybe I can't find one; the website's no help, so anyone who wants to fill me in, please email. Anyway, up front is mechanical dude Barney Haynes administering his entertainingly complicated convoluted contraption. Mounted along the right wall, front to back, are these open-bottom white box enclosures that you skootch down under and then ease up into. Once inside, you find various video screens playing variously artfully curious videos. I see one box has two people in it-- from the foot action, looks like osculatory interrogatory may be transpiring at cranial level. The best part isn't the videos, but rather the futurist visionist line of symmetric white enclosures, each bearing legs.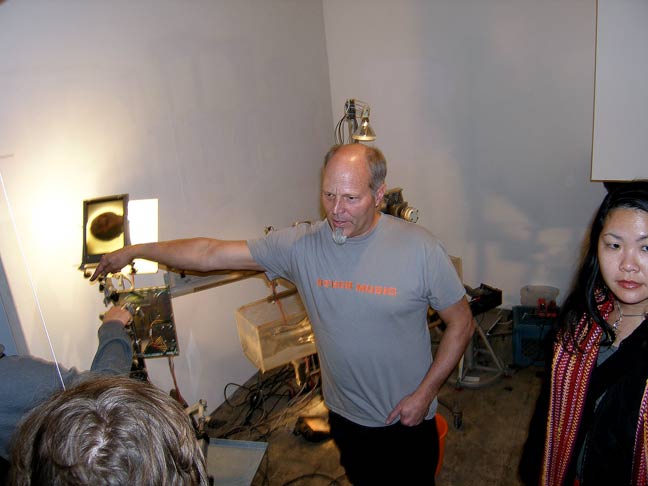 Barney Haynes explains kinetics.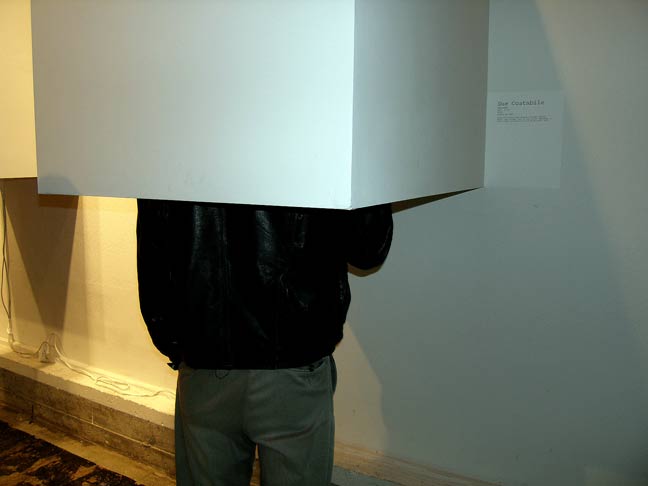 Box art in.


Box art out.


Box art outer.


***
33 Grand Gallery: Virtual Intervention - Featuring New Work by David Hamill and Shawn Smith.
Comment: David Hamill advances his post-Vorticismic incursions with a couple of clean large accurate hyper-detailed works on paper, plus sharp cut cardboard constructions aggressively jutting from gallery walls and corners. Shawn Smith whips up an installation of oddly assembled amalgams that appear to embrace a birthday party gone berserk (like it). I'm thinkin' if someone gives Shawn Smith free reign of a room, Shawn Smith will make it worth that someone's while.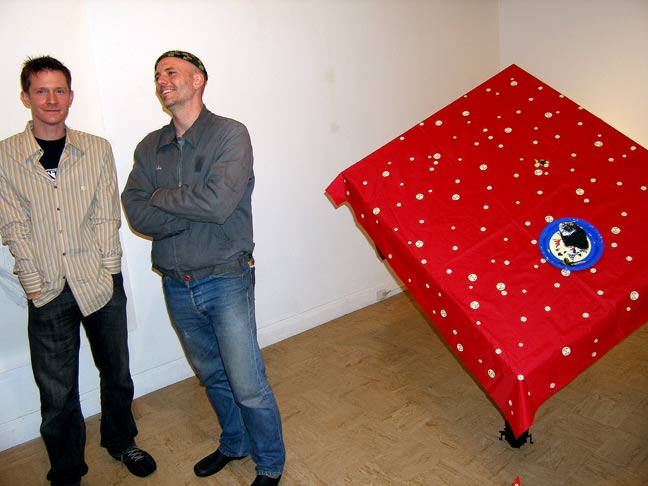 Art (Shawn Smith).


Art (David Hamill).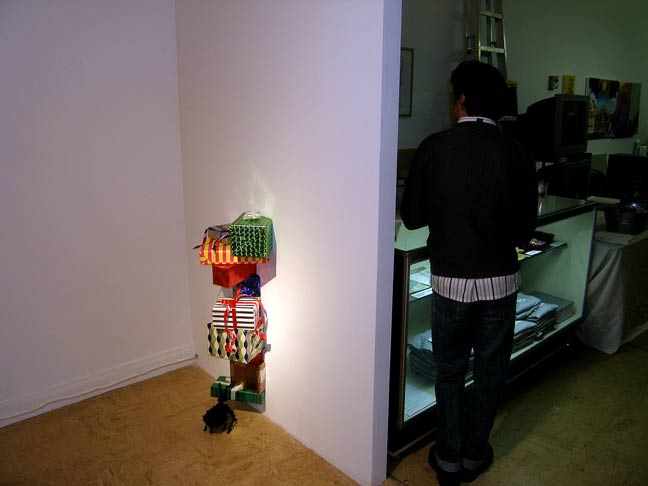 Art (Shawn Smith).


Art (Shawn Smith).


Approach.


***
Mama Buzz Cafe: The Triumph of Lethargy - New Paintings by Alison Blickle.
Comment: A youthfully pleasant mildly haywire array of Alex Katz-style portraits engaged in modest courses of action. Alison Blickle mixes in several sensual moments, one where this dude in semi-embrace licks his embracer's arm (it's not easy to paint a gainfully telescoping tongue). Thumbs up on Mama Buzz.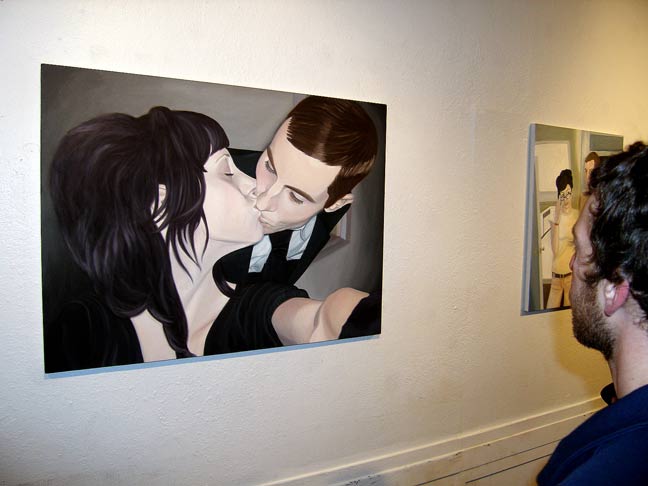 Art.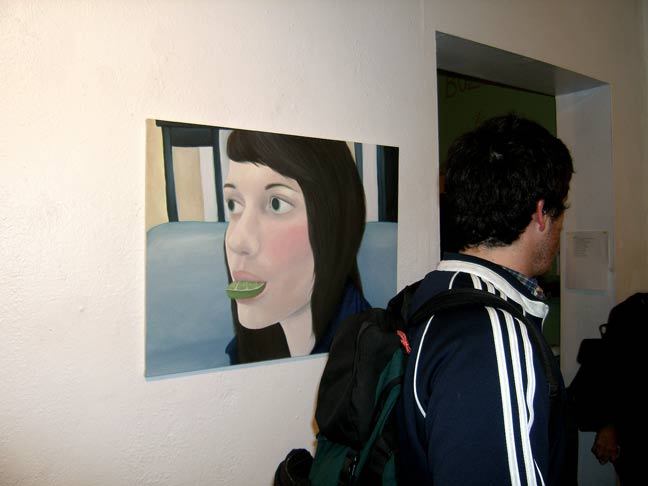 Art.


Limb lap art.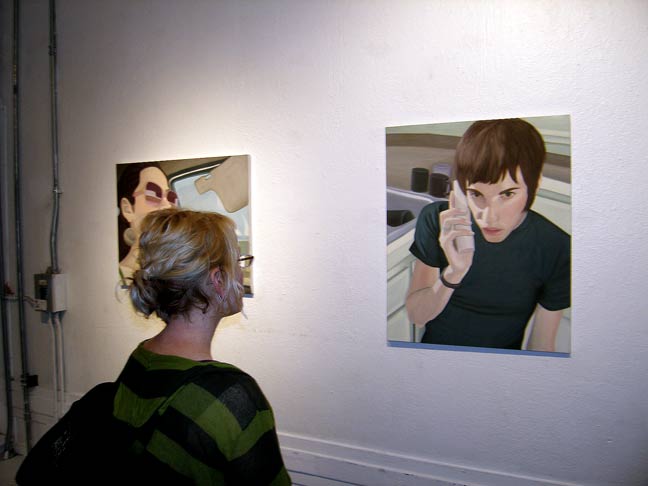 Art.


Art.


Avenue.


***
Hike time to 21 Grand....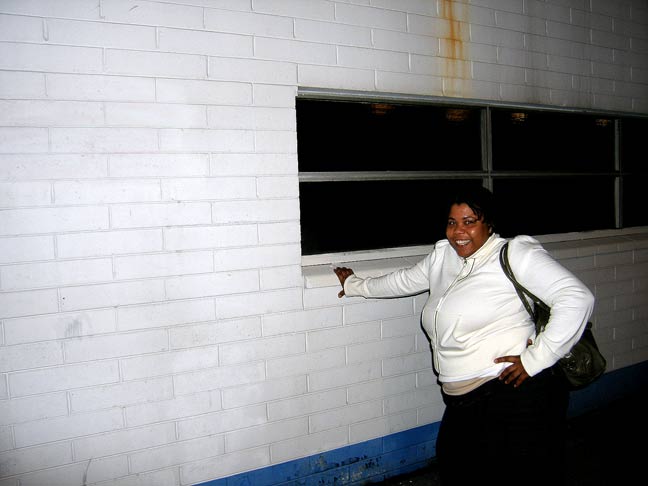 She wants her picture taken; I oblige.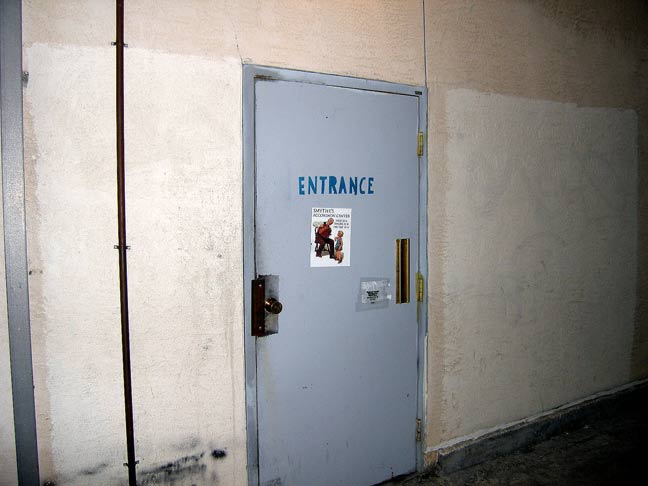 I was upset that 21 Grand wasn't open since they were on the invite.
But then they sent me a nice email explaining why.
So I rescind my snit.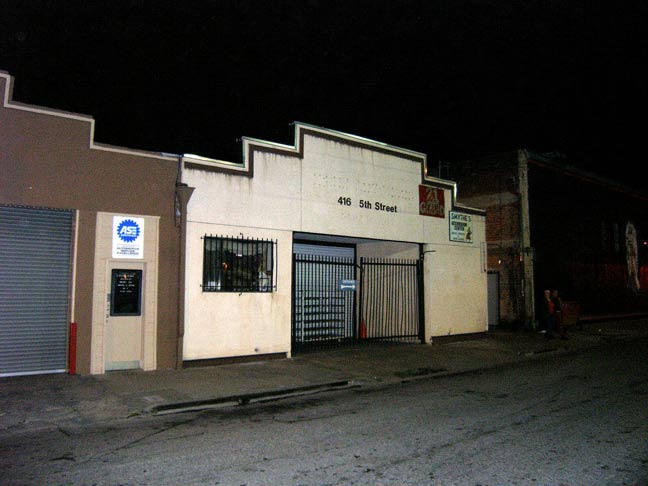 View of 21 Grand not open.


***
Auto Gallery (aka Auto 3321): Paintings and Drawings by, Morgan Wick, Hilary Pecis, Billy Kroft, Tracy Timmins, Paul D. Wingert.
Comment: Highlights include a modest selection of precise line-drawn landscapes by Hilary Pecis and several engagingly repetitive pattern paintings up front by Paul D. Wingert. The rest is good too - worth a visit. Plus the the gallery's got an indoor skateboard ramp.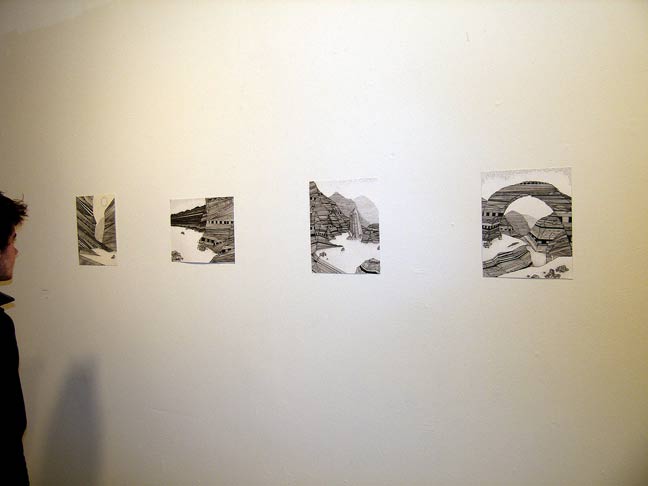 Art (Hilary Pecis - like 'em).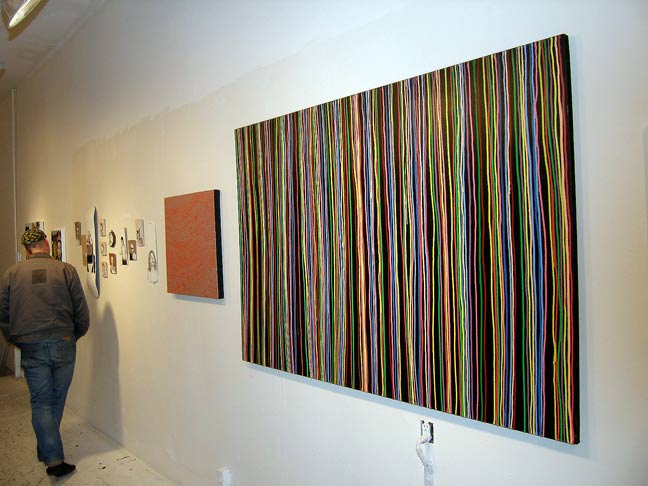 Art (Paul D. Wingert).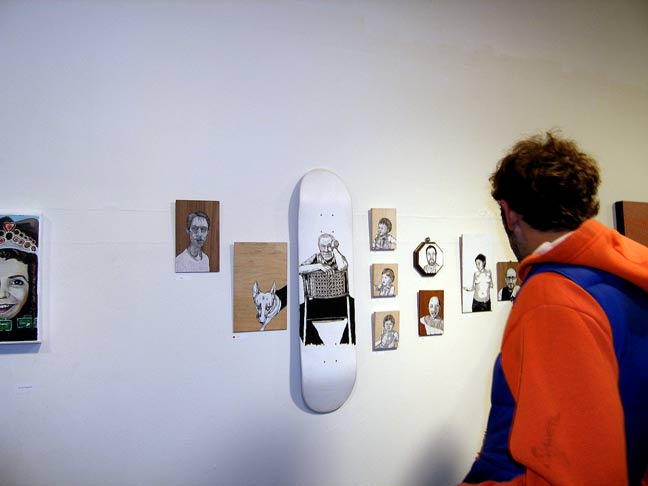 Art (Morgan Wick).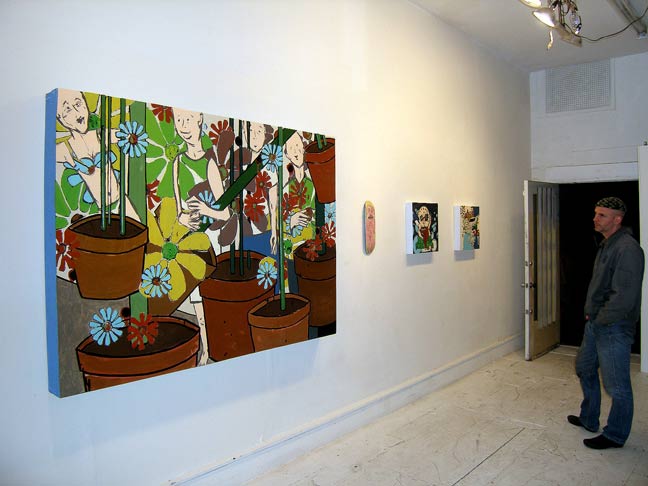 Art (Billy Kroft).


Art (Paul D. Wingert).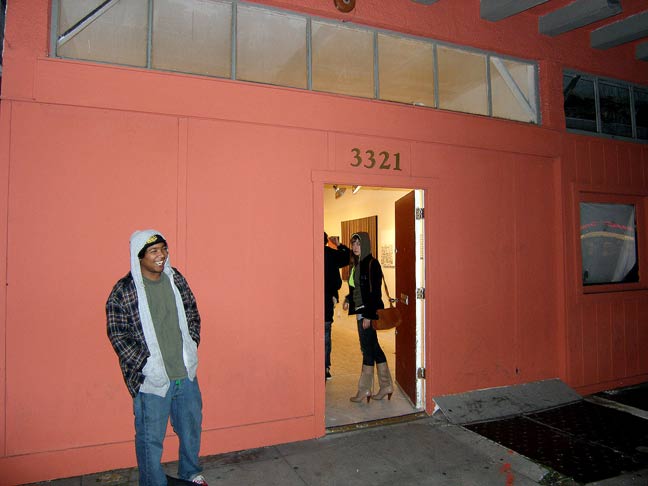 Exterial.


***
Boontling Gallery, 4224 Telegraph Ave., Oakland, CA 94609; 707.980.1060: Angie Brown & Dan Lewis.
Comment: Small room, lots of art, excessively affordable.
Art.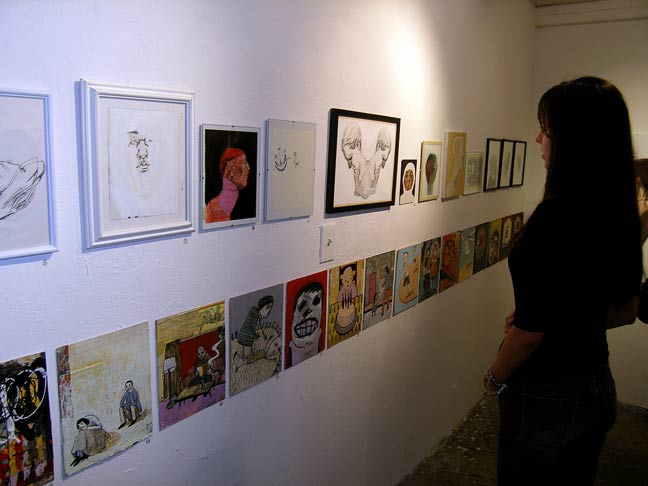 Art.


Art.


Aperture.