SAN FRANCISCO ART GALLERIES - OPENINGS
BUCHEON - MICAELA GALLERY - TRACE STUDIO
ADOBE BOOKS - PARK LIFE - FIFTY24SF
LITTLE TREE GALLERY - PRIMAL URGE TATTOO STUDIO
01.05-06.07
Bucheon Gallery: Augustin Pozo Galvez - No Time for Pretty.
Comment: Working abstract is tough these days; it's everywhere all the time. So if you're gonna make people notice, you gotta twist it different, which Augustin Pozo Galvez does here. The art's part painting, part assemblage, and reminds maybe of interior walls in dilapidated buildings, some with what appear to be tattered hanging curtains and/or towel racks that have been ripped from their mountings and bent, and now hang uselessly. The art's got a certain je ne sais quoi I can't quite put my finger on; spare and simple at first glance, yet ultimately engaging and satisfying not only in technique and construction, but also in effect. The prices seem a trifle altitudinous-- topping at $7500. I do a little appraiser-style Googlin' on Augustin Pozo Galvez and don't unearth much in the way of fiduciary infrastructure.
Art.


Art.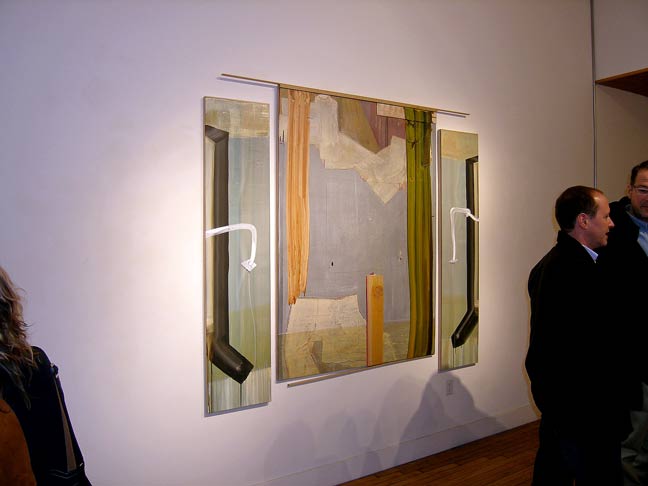 Art.


Art.


Art.


Art.


***
Micaela Gallery: Novus + Neos - New work + New Artists.
Artists: Federico Correa, Daniel Wooddell, Peter Foucault, Sieglinde Van Damme, Bethany Marchman, Lee Miltier, Scott Kiernan, Ned Cantrell, William Gambini, Anna Efanova.
Comment: A little bit of everything here, competent overall. But everything's so different you can't access an essence (aside from the universality of new artists and new work). One of this and one of that makes it tough for many potential buyers to get a toehold. You gotta remember, artsters, that people who don't know a lot about art (aka pretty much everybody) confuse easily, and hardly anybody ever buys anything they don't understand.
Art.


Art.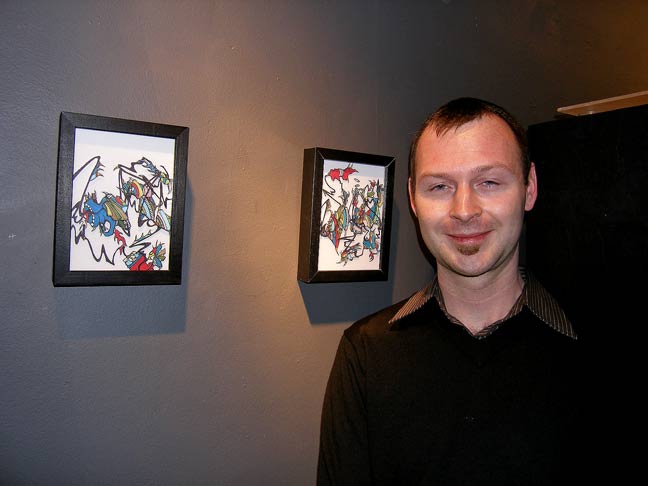 Peter Foucault - cut colored paper art (nice).


Art (someone else was taking their pic so I took it too).


***
Trace Studio & Gallery: Berlin in San Francisco - 2007.
Artists: Martine Eberle, Simone Gilges, Hannah Hooper, Milena Pastreich, Franz Schźtte, Armin Všlckers, Gina Jacupke.
Comment: Group show of Berlin artists held in conjunction with the San Francisco Goethe Institut's "Berlin & Beyond Film Festival."
Art.


Art.


Art.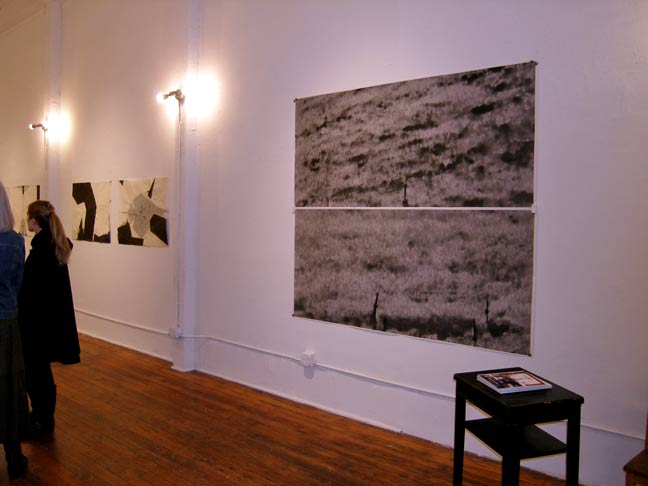 Art.


Art.


***
Adobe Books and Backroom Gallery: Andrew McKinley Photographs - 100 Women/Good Guys to Know.
Comment: Not sure whether you're onto this or not, but Adobe Poobah Andrew McKinley happens to be a crack portrait photographer and he's been at it for quite some time and he's photographed many many many of The Mission's most celebrated creative denizens (and denizens from other neighborhoods as well) over the past fifteen years or so. For this cull, the curatorial constituency has selected 100 solo shots of women. They're small so you can't really make much out from my opening photos except for how well-hung the show is (I've always wanted to use the phrase well-hung in a review). Anyway, to appreciate McKinley's talent, you'll have to go see for yourself-- and you should-- plus you'll get to reminisce on the good old days. The photos are priced at a mere $40 a pop, I think.
Andrew McKinley.


Photographs.


Photography.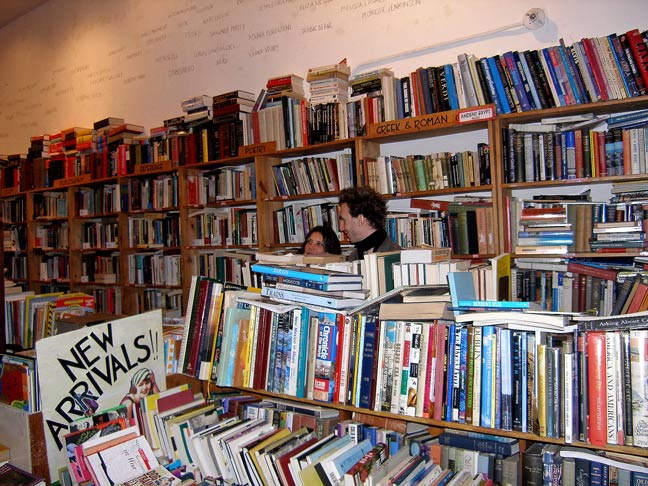 Adobe Books shop proper.


Someone spots my name on Adobe's wall (and in good company too).


Bim & Bam.


***
Park Life: Andrew Schoultz Book Release and Signing.
Comment: I can't say much more about Andrew Schoultz other than everything I've already said (all of which still stands). And now he's got a book (Ulysses: Departures, Journeys, & Returns - The Artwork of Andrew Schoultz, Paper Museum Press, San Francisco, 2006) available at Park Life and from other fine retailers.
Andrew Schoultz book.


Andrew Schoultz - art.


Art.


Art (closer).


Art (even closer).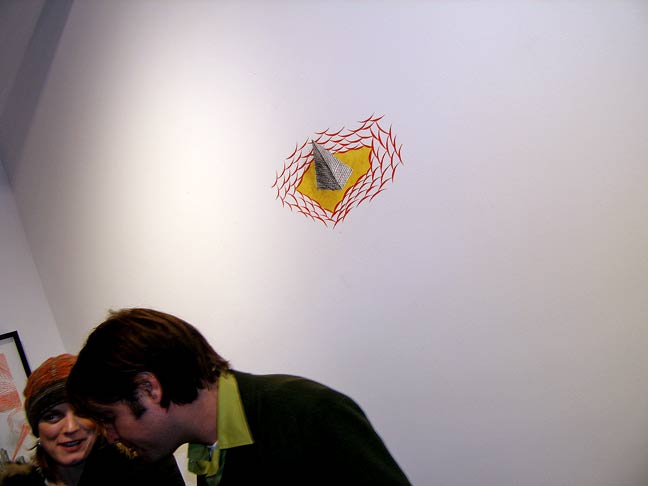 Art.


***
Fifty24SF Gallery: The Specialty Furniture Exhibit Featuring One-of-a-Kind Pieces from Popular Upper Playground Designers.
Artists: Sam Flores, Dave Choe, Tiffany Bozic, Saber, Basco, Herbert Baglione, Dylan Maddux, Mike Giant, Vitche, Jeremy Fish, Estevan Oriol.
Comment: Furniture designed and decorated, some possibly collaboratively, by the aforementioned artists and photographers under the direction of and/or in cahoots with furniture designer and fabricator Francisco Robles. The extensive and impressive show begins in the Fifty24SF gallery, but it's mainly up the stairs directly above the gallery. I'm partial to the Asian-influenced Sam Flores art bar, the topless Ess Effed tattooess coffee table by (not sure - help please), and a turquoise-topped Mackintosh-esque diningroom set by (not sure - help please). But it's all good-- and a departure that WORKS (most departures don't). Tariffs are healthy so be prepared to part with the pesos if you wanna live chic.
Furniture art.


Furniture art (like it).


Furniture art.


Sam Flores accessorized bar art (like it).


Diningroom art (like it).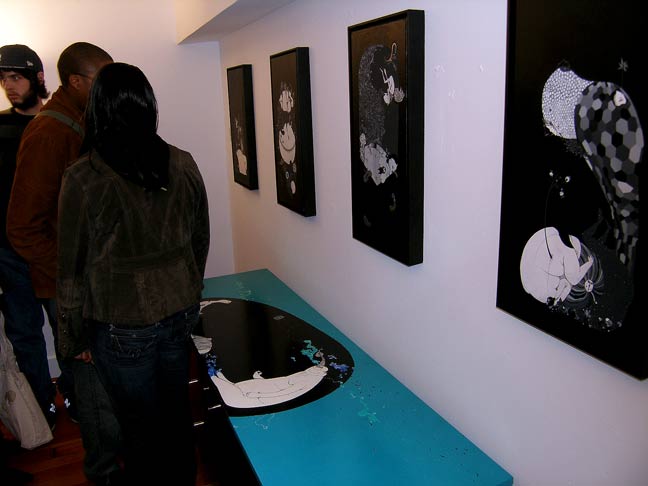 Diningroom art cont.


Furniture art.


Furniture art.


Ambience.


Furniture art.


Furniture art.


Furniture art.


***
Little Tree Gallery: Ilana Crispi - All Sides of a Sphere.
Comment: Ilana Crispi cultivates plant life on porous unfired ceramic spheres and then documents the results by photographing the globular animate specimens against plain backgrounds. The outcome is starkly appealingly otherworldly.
Art.


Art.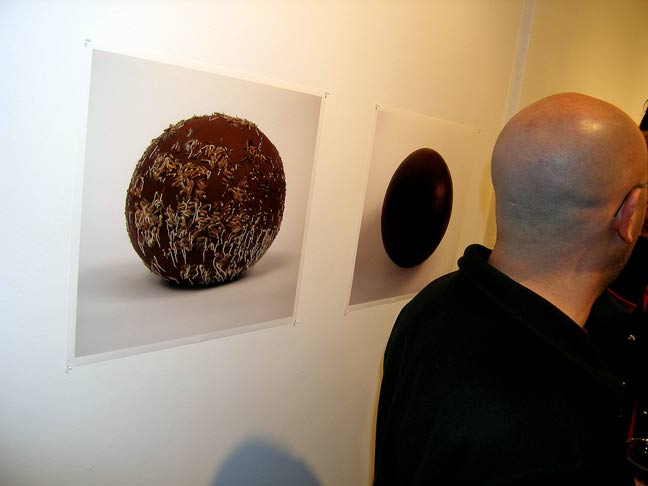 Art.


Itsy art.


Art.


***
Primal Urge Tattoo Studio, 3415 Cesar Chavez, San Francisco, CA 94110; 415.552.4297: Grand Opening Party.
Comment: Primal Urge Studio, established in 1989 and home of artists Grime, Marcus Pacheco, Yutaro, Norm, and Phil Holt, celebrates its relocation from Market Street to spacious new digs on Cesar Chavez Street a few doors up from Mission Street. While you're waiting to get inked, you can enjoy the considerable urban art collection that graces the walls.
Tattoo-related art.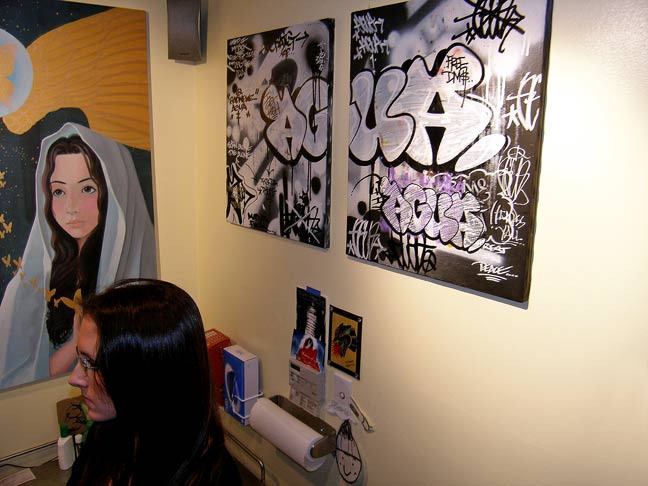 Tattoo-related art.


Marcus Pacheco - Norm.


The goods.


Tattoo-related art.


Design options.


Essence.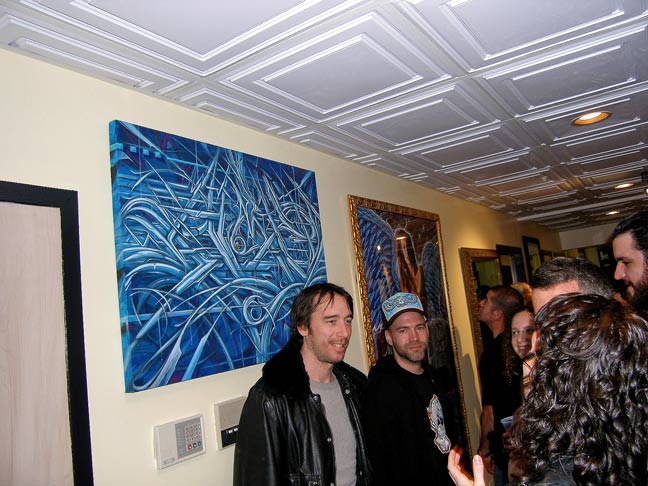 Ambience.


***