JOHN PENCE - TIMEZONE - ARTHAUS - RATIO 3

THE LAB - SOUTHERN EXPOSURE - TRIPLE BASE

ELEANOR HARWOOD - LAKE - OLD CROW

01.08.10

(with assistance from DeWitt Cheng, RWM and Pilar Vree)


***
John Pence Gallery: Eat, Drink and Be Merry.
Artists: Juliette Aristides, William Bartlett, Jacob Collins, Tony Curanaj, Carl Dobsky, Douglas Flynt, Adam Forfang, Jason Gaillard, Russell Harris, Nicholas Hiltner, Sarah Lamb, David Larned, Dean Larson, Kate Lehman, Steven J. Levin, Jeremy Mann, Edward Minoff, Jacob Pfeiffer, Travis Schlaht, Peter Van Dyck, Anthony Waichulis, Patricia Watwood, Will Wilson, Sam Wisneski.
Comment by AB: Gallery artists paint up a more than delectable escapade through the annals of F&B (food & beverage).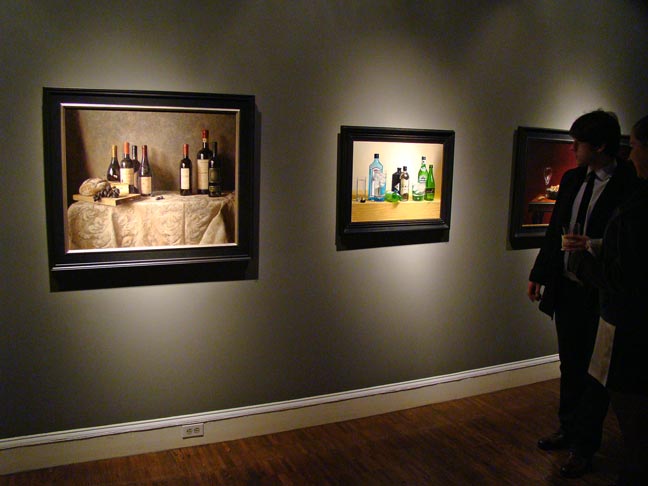 Art at John Pence Gallery.


Paintings at John Pence Gallery.


Pretty awesome bonbon still life by Anthony Waichulis - $5500.


Appelsin - painted by Will Wilson. Yo!


Art at John Pence Gallery.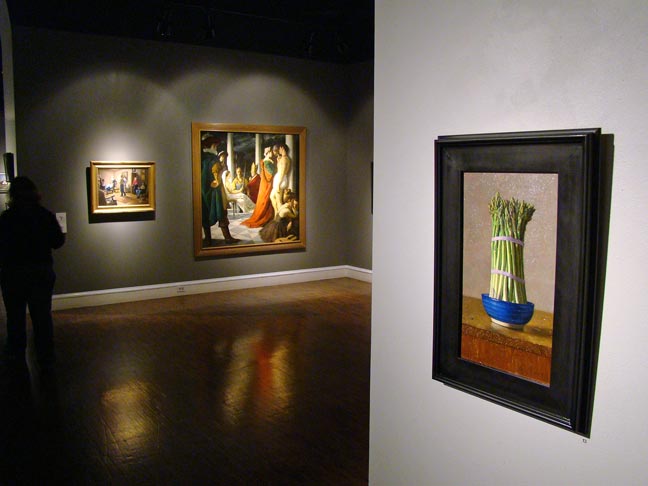 Asparagus by John Morra, right.


***
Timezone Gallery: Elizabeth Amento - Your Mind Forgets, But Your Body Remembers.
Comment by AB: Yet another new gallery-- Timezone-- wants in on San Francisco's creative melee. For their inaugural event, Elizabeth Amento paints up a batch of small format abstracts, displayed along one wall of the gallery. She plushes up the opposite wall into a kaleidoscopic pillow-laden lounge. Refreshments may be accessed by transiting a long narrow walkway to the back. Kinda like it. Good luck!
Here we are - Timezone Gallery - art by Elizabeth Amento.


Art by Elizabeth Amento.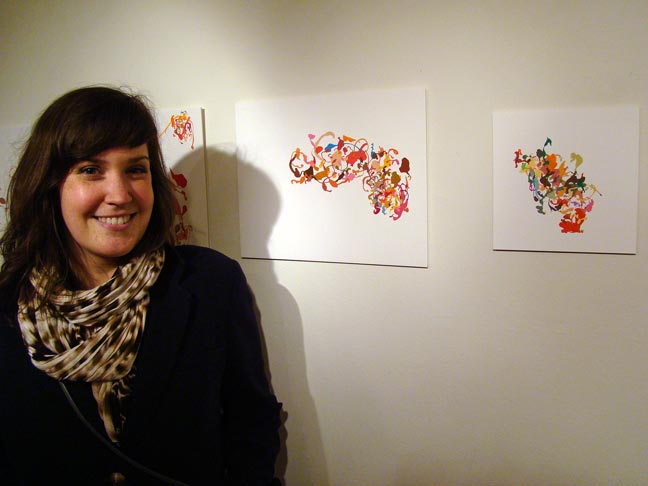 Elizabeth Amento and her art.


Plush nook by Elizabeth Amento on the opposite side of the gallery.


More plush seating by Elizabeth Amento.


***
Arthaus Gallery: 2010 - Resurgence.
Artists: Andrea Arroyo, Greg Drasler, Marc Lambrechts, Serena Bocchino, Maxine Solomon, Astrid, Chris Schiavo, Adam Kurtzman, Carol Massa, Carolyn Meyer, Joanne Landis, Deborah Brown, Suzanne Benton, Kenney Mencher, Brian Blood, Jan Blythe, Ricardo Carbajal Moss, Jess Johnston.
Comment by AB: Select works in various media by gallery artists. And that, as they say, is that.
Kenney Mencher and his art.


Art by Maxine Solomon.


Art.


Art.


***
Ratio 3 Gallery: Jose Alvarez - Surfaces of Constant Time.
Comment by AB: On the way to materializing his electrically mesmerizing high-test visionary collages, Jose Alvarez sources cognitive constructs as diverse as "the writings of astrophysicist Stephen Hawking, science fiction and fantasy literature, mathematical structures, expanding cosmology theories, South American shamans' accounts of visionary states, and the anthropological work of Jeremy Narby in his book 'DNA and the Origins of Knowledge'." To traject his psychedelia-on-steroids perspective even further beyond the limits of the cosmos as we know it, he accents his arrestingly intricate compositions with delicacies like porcupine quills and bird feathers. Woah! Like 'em. Stop by and immerse in the energy.
Art by Jose Alvarez.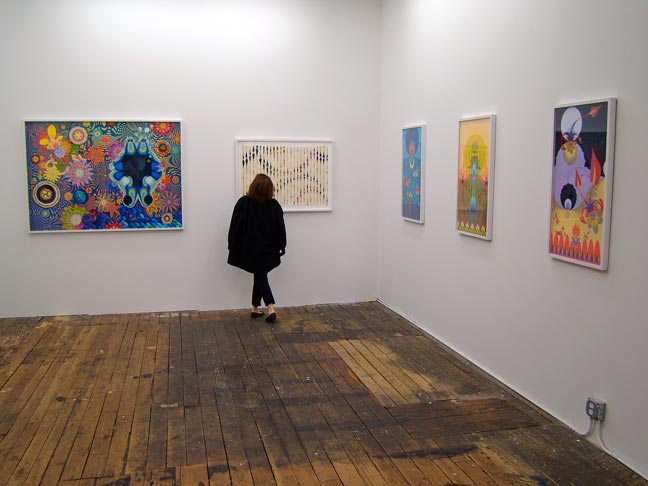 Jose Alvarez art.


Jose Alvarez and his art.


Art by Jose Alvarez.


Pinkie cam detail of art by Jose Alvarez with feather.


Pinkie cam detail of art by Jose Alvarez with porcupine quills.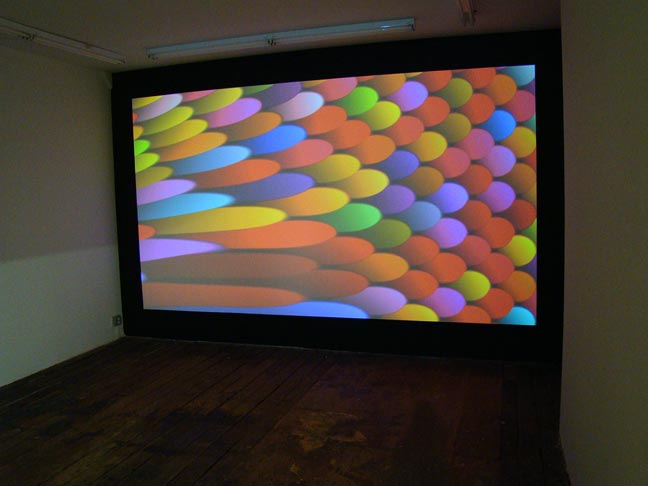 Hypnotic video by Jose Alvarez in the rear gallery.


***
The LAB: Diane Arbus - Christine Webster - Transitions; Claire Jackel - Gravity Always Wins; Tyrone Davies - Single Channel Videeo Work.
Comment by RWM: What passes between people? Open to interpretations. One gets lost here among the talking heads.
Comment by AB: In the main gallery, Christine Webster essays in video on teenage intermixing via social media in three countries-- United States, the United Kingdom, and China. In the foyer, Claire Jackel tackles the aftermath of disaster via an upside-down paper city suspended from the ceiling. And on the TV in the entranceway, Tyrone Davies shatters a little glass for posterity.
Video art and installation by Christine Webster.


Art by Claire Jackel.


Video by Tyrone Davies.


***
Southern Exposure: Four Solo Exhibitions and Projects - Genevieve Quick, Lacey Jane Roberts, Andy Vogt.
Review by DeWitt Cheng: Genevieve Quick's Scopes and Scapes sculptures simulate telescopes and periscopes, though perhaps, with their many bends, crossed with plumbing. Lacey Jane Robert's installation, Build It Up to Tear It Down, is "a large scale, hand-woven, colorful razor wire and cyclone crank-knitted fence through which she seeks to reclaim and re-imagine the industrial fence and the use of craft (SoEx press release)." Andy Vogt's Gray Area is a large installation piece made of his trademark recycled lath assembled with a skewed perspective; placed by the Alabama Street window, it creates complex changing shadows.
Art by Genevieve Quick.


Genevieve Quick art.


Art by Andy Vogt.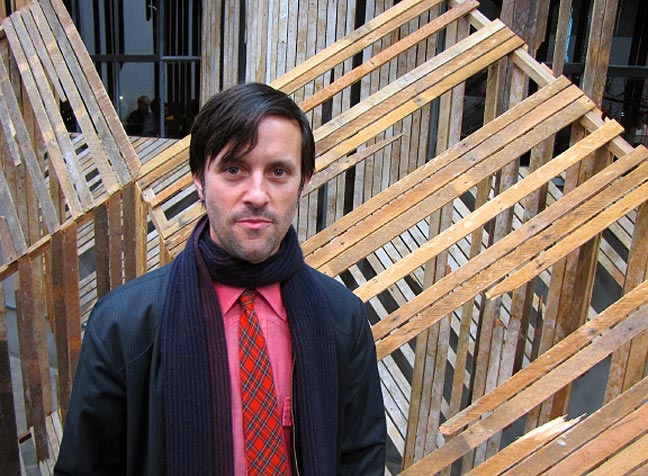 Andy Vogt and his art (image c/o DeWitt Cheng).


Woven installation art by Lacey Jane Robert.


Attendance figures.


***
Triple Base Gallery: The Friends and Neighbors Effect - New Work by Bryson Gill; Japa - Oliver Halsman Rosenberg & Friends.
Comment by AB: In the street level gallery, Bryson Gill paints up some alternate realities plus a few creatures to populate 'em, and adds a smattering of rudimentary white painted sculptures that vaguely reference artifacts. On the subterranean level, Oliver Halsman Rosenberg and associates concoct a wild essence-of-India installation that's just about as hot, humid and crowded as the real thing. Like it!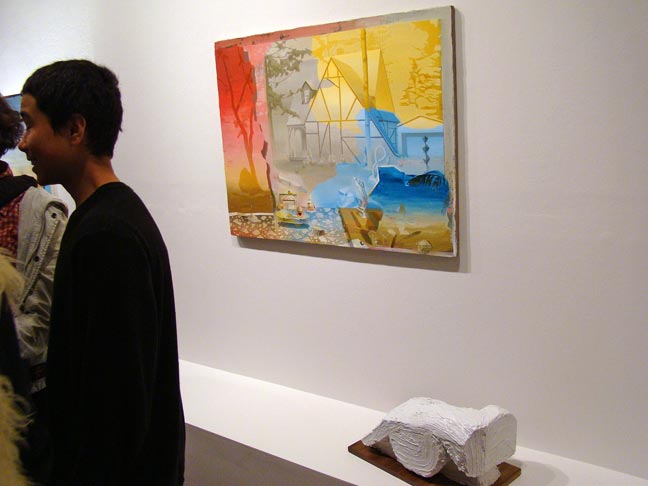 Art and sculpture by Bryson Gill.


Bryson Gill art.


James Seevers (left), Bryson Gill + art (center), Jacob Tillman (right).


Eli Ridgway (Baer Ridgway) - Joyce Grimm (Triple Base) - David Cunningham.


Sculpture by Bryson Gill.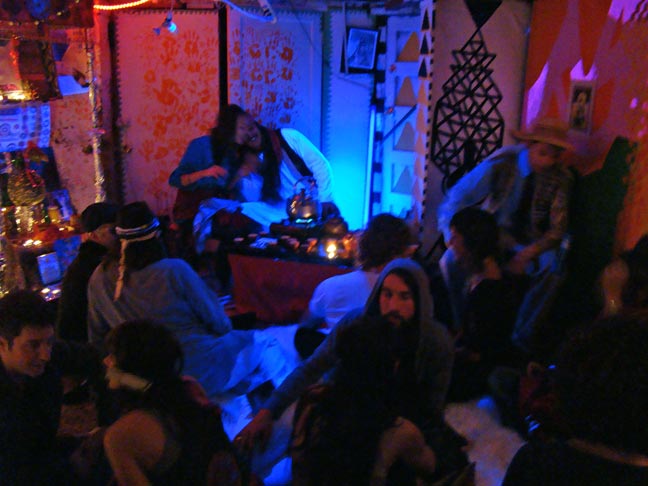 Installation by Oliver Halsman Rosenberg & Friends.


Oliver Halsman Rosenberg (center).


Installation by Oliver Halsman Rosenberg & Friends.


***
Eleanor Harwood Gallery: Adam Friedman - With a Generous Allowance of Time.
Review by Sandra Silvoy: Collage work of earthy subject matter concentrates on the endurance of our geological landscape. Local reference appears in the form of the Farrallon Islands, offset from our dear San Fran, as barrels of toxic waste float ashore. We came, saw, will attempt to conquer and will most likely overheat ourselves out of the picture. As Friedman depicts, the aftermath of human presence will crumble things back to whence our constructs primevally derived. And with a generous allowance of time (and absence of us), our earth will inevitably rebuild itself.
Art by Adam Friedman.


Art by Adam Friedman.


Adam Friedman art.


Art by Adam Friedman.


Adam Friedman art.


***
Lake Gallery: Naomi Vanderkindren - Paramnesia.
Review by RWM: Interesting way to present the experience of light. The super-real images of abandoned sites also evoke history and memory. The eyes retake the images at times, adjusting for light exposure. One may feel like the last viewer on Earth walking through these once-occupied-now-empty habitations. These vacant rural landscapes do not remind one of Hopper. What is left is far too unkempt.
Comment by AB: Naomi Vanderkindren combines technical adeptness (photographs produced from glass plate negatives) with an acutely aesthetic eye in her atmospheric depictions of dilapidation and decay. I would suggest that some of you gallerists out there take a closer look. And I would also suggest that some of you speculative collectors might make an acquisition ahead of the rush.
Photography by Naomi Vanderkindren.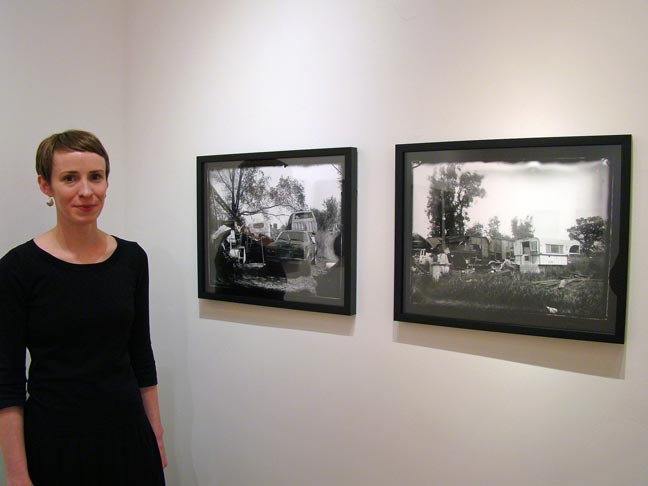 Naomi Vanderkindren and her art.


Photograph by Naomi Vanderkindren closer.


Naomi Vanderkindren photos.


***
Old Crow Tattoo (Oakland): Point of View by Kid Yellow.
Review by Pilar Vree: Kid Yellow's photographs and staged miniature dioramas provoke curiosity in the back stories behind these unpopulated scenes. Like freeze frames of stop animation movies, the viewer can sense the impending story about to unfold. A dreamy peek into a surreal world.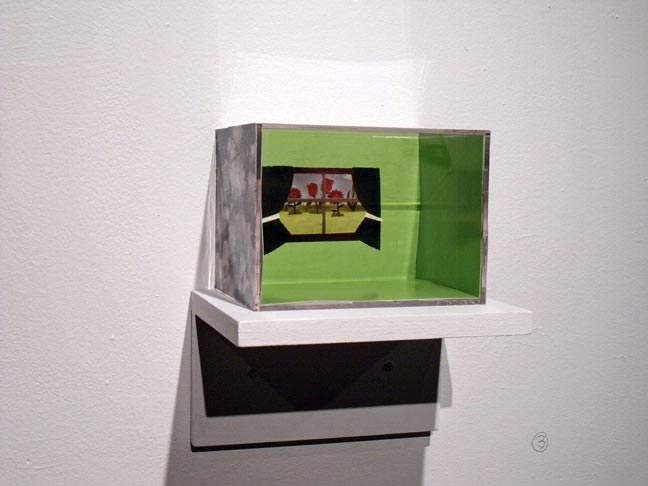 Art by Kid Yellow.


Kid Yellow art.


Kid Yellow and his art.


Art by Kid Yellow.


***