SAN FRANCISCO ART GALLERIES OPENINGS
JOHN BERGGRUEN - MASTERWORKS INSTITUTE - HEATHER MARX
TOGONON - STEPHEN WIRTZ - HACKETT-FREEDMAN
SF CAMERAWORK - SOMARTS - DAVID CUNNINGHAM
EVOLVING ART - LINCART - BABYLON FALLING - FIFTY24SF
01.10.08
(with assistance from DeWitt Cheng and Erica Eller)
General comment by AB: Tonight may be the second Thursday of the New Year, but there's more openings than First Thursday, and here's the punchline-- far fewer artsters in attendance, comparatively speaking that is. Hmmm. You think they'd check an events calendar or something to see what's shakin', but nooooo. Well, too bad for them 'cuz not only was the art worthy, but there was also miraculous room to move, and best of all-- the temperature at 49 Geary was WELL BELOW 90 DEGREES. So much art and so little hot air-- what a refreshing change of pace! OK. Enough about the cold snap. It's artin' time.
***
John Berggruen Gallery: Y.Z. Kami.
Comment by AB: Paintings and works on paper by Iranian-born artist, Y.Z. Kami, the show here running concurrently with one at Gagosian Gallery in Beverly Hills. I'm gonna guess Gagosian penned the press release cause it's uncharacteristically pompous, heavy on mumbo jumbo, and infused with arcane references for Berggruen. But hey-- the art more than makes up for it. Soft solitary meditative portraits, remarkable in their privacy, are interspersed with flawlessly intricate mandala-like pattern paintings, most with significant religious overtones. Prices top around a quarter mil $$. Excellent show.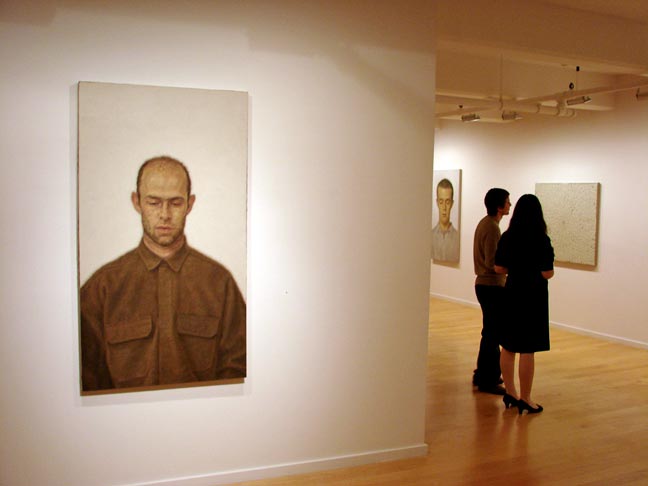 Art.


Art.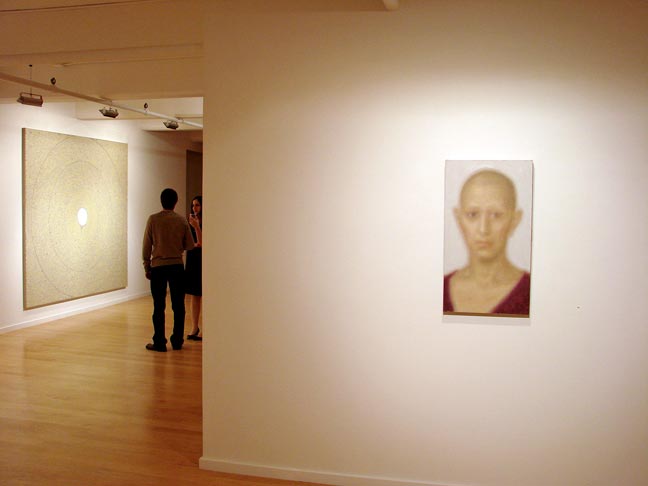 Art.


Art.


Art.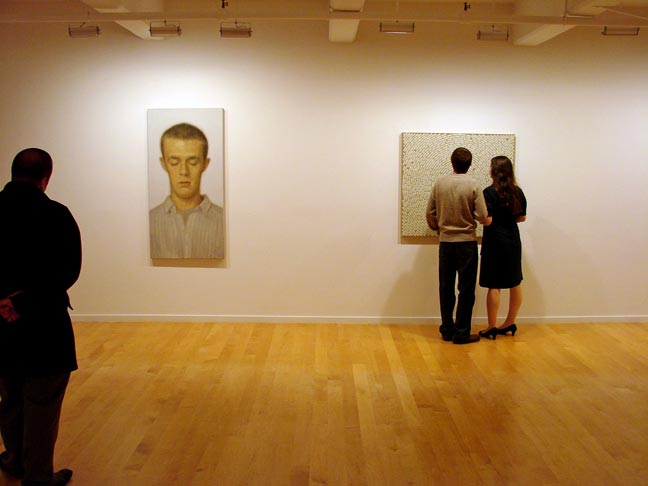 Art.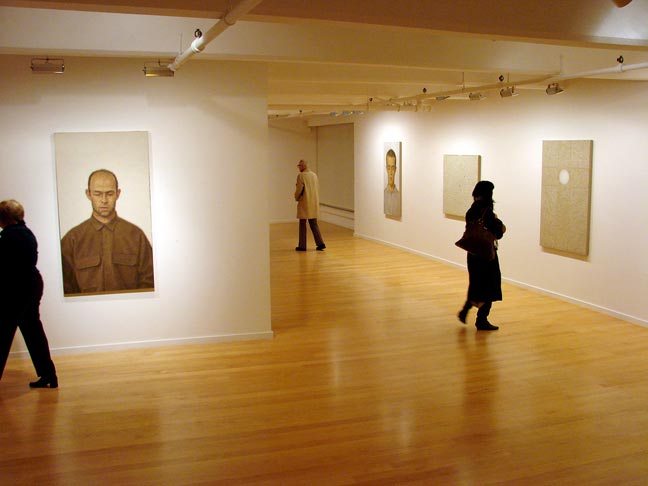 Art.


***
Masterworks Institute for Works on Paper: Simulacra - Art Through the Lens of Time, 19th Century Albumen Photographs.
Comment by AB: Low-end late 19th and early 20th century photographs, mostly landmarks and objets d'art, mostly European, some with obvious condition issues, all eminently overpriced. And they're not all albumen prints either. Erk.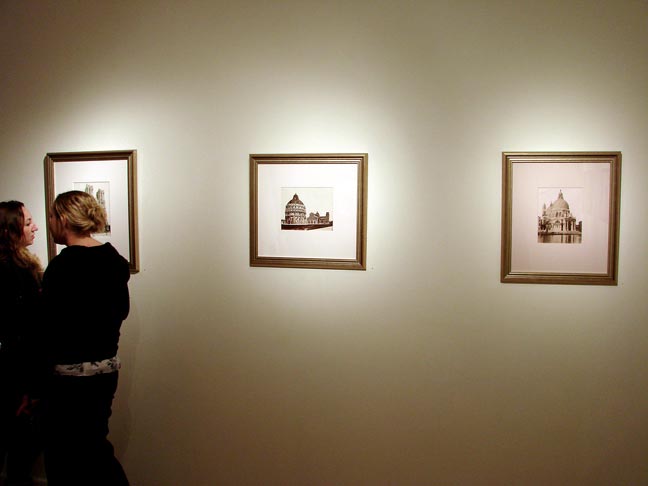 Photography.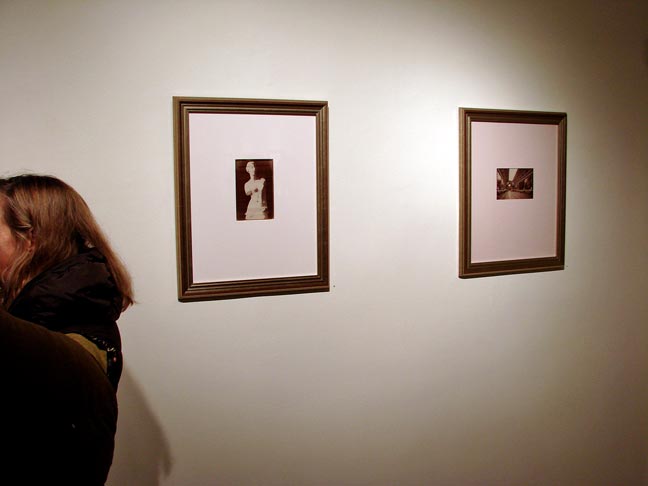 Photographs.


Photos.


***
Heather Marx Gallery: Robert Altman's Sixties.
Comment by AB: The gallery's packed. Why? For a memorable look back at the Sixties through the eyes and camera of noted photographer Robert Altman whose numerous accolades include a stint as Chief Staff Photographer for Rolling Stone magazine. From rock icons to the love generation to tripping out-- see it here.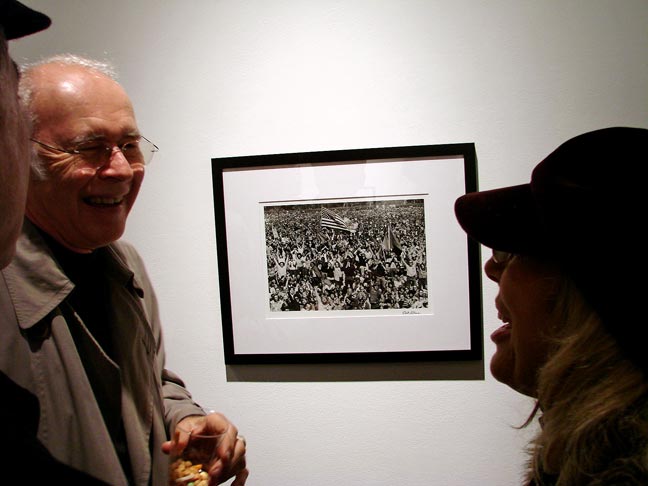 Photography.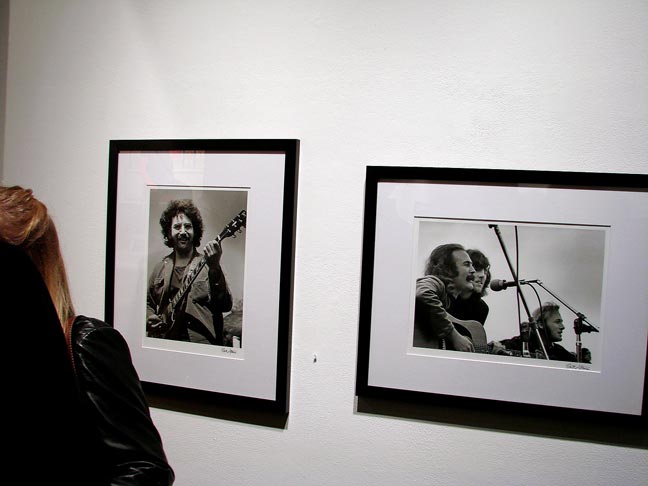 Photos.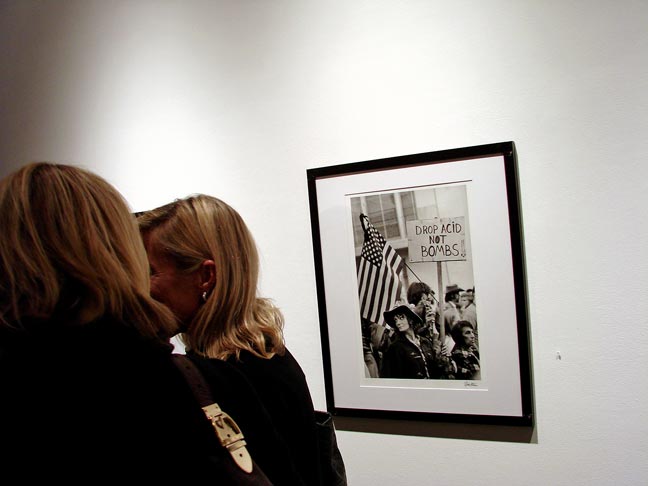 Photographs.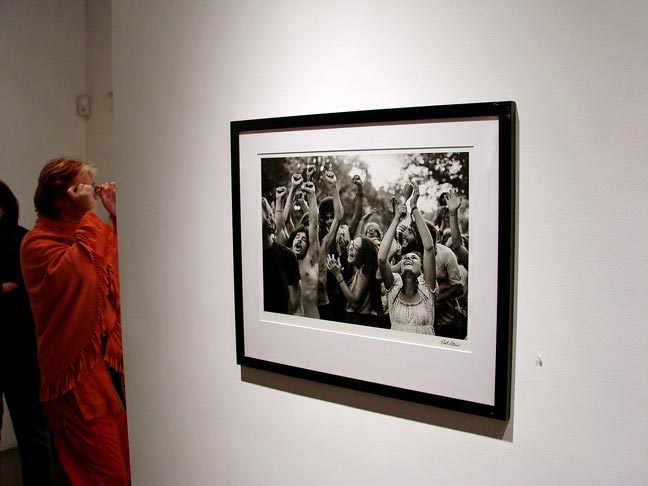 Images.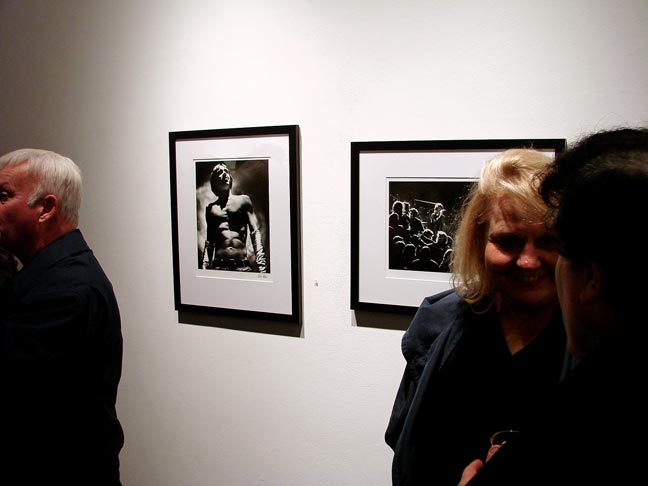 Photography.


Photos.


***
Togonon Gallery: Review/Preview - Paintings and sculpture.
Artists: Francis Baker, Jane Catlin, Xuchi Naungayan Eggleton, Edith Hillinger, Peter Forakis, Leo Vallador, Charles Schucker.
Comment by AB: Group show, painting and sculpture, ample variety, mainly abstract.
Art.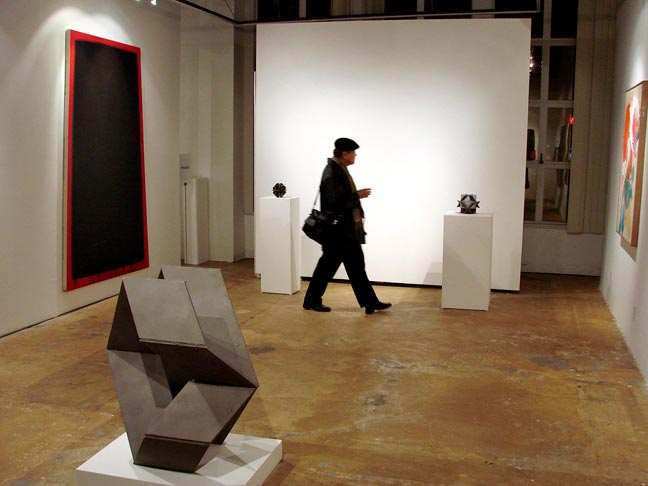 Art.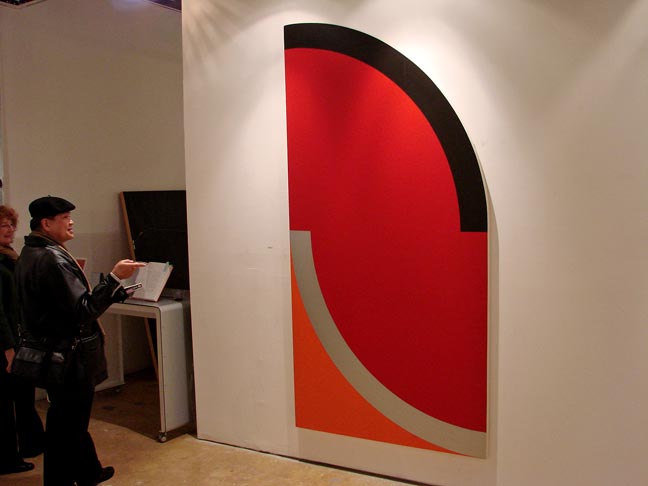 Art.


Art.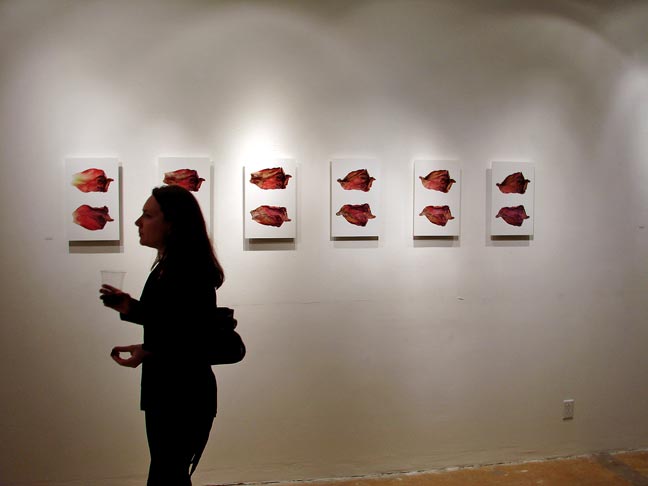 Art.


Painted glued tongue depressor art (left).


***
Stephen Wirtz Gallery: Paul Shambroom - Selections from the series "Security" and "Meetings."
Comment by AB: Paul Shambroom's "Security" series depicts individuals in hazmat suits holding protective gear and tools of disaster response, posed against placid landscape backdrops. Color and lighting are digitally manipulated to the point where you wonder whether what you're looking at is real, but the sad truth is that it's as real as real can be. Shambroom's "Meetings" series documents ordinary American officials in ordinary small town council and governmental meetings with such stark poignancy, you feel like you're the subject of their scrutiny. Plenty to cogitate on here.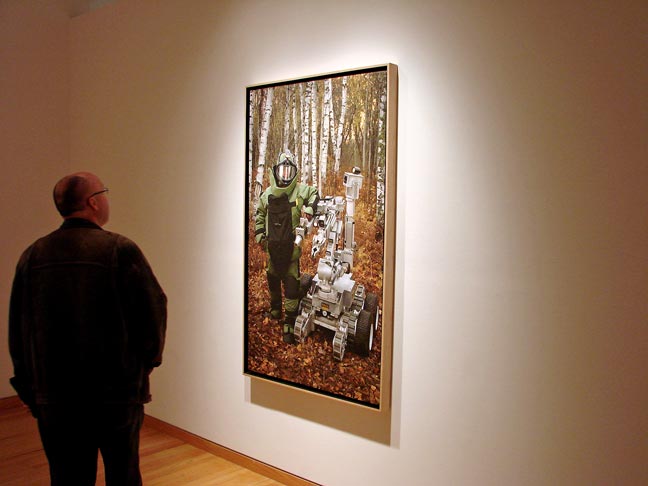 Photography.


Photographs.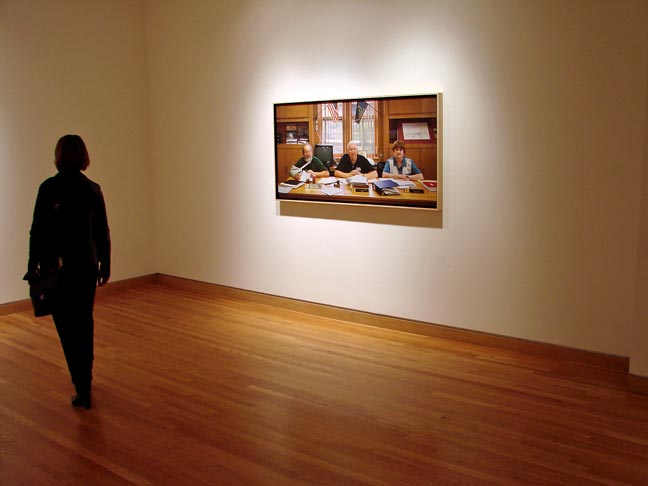 Photos.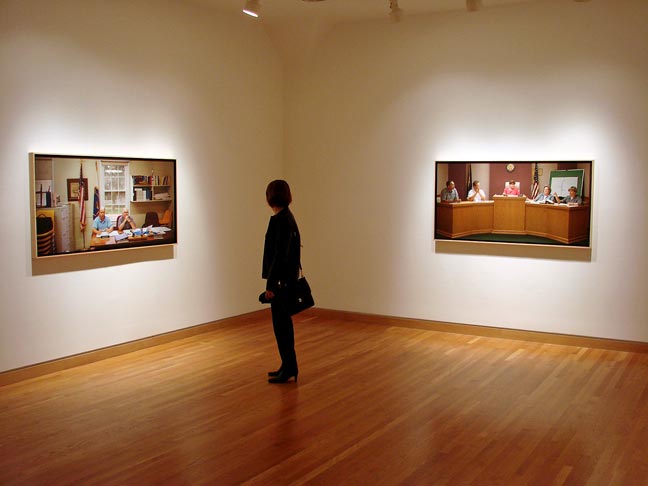 Images.


Photography.


***
Hackett-Freedman Gallery: Patrick Heron - Drawing in Space and Time; Brian Wall - Steel Sculptures.
Review by AB: Thirty-five year retrospective of paintings by noted British modernist, Patrick Heron, the first U.S. show of his work since his death in 1999. In the anteroom you'll find proficient small-scale welded steel sculptures by another British artist, Brian Wall.
Art (Patrick Heron).


Art (Patrick Heron).


Art (Patrick Heron).


Art (Patrick Heron).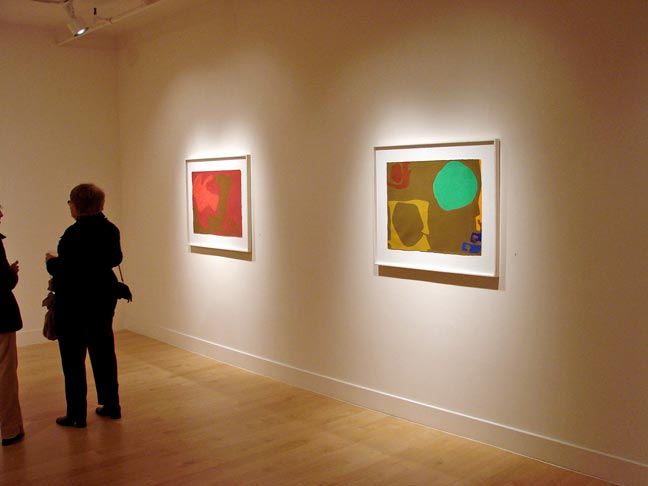 Art (Patrick Heron).


Sculpture (Brian Wall).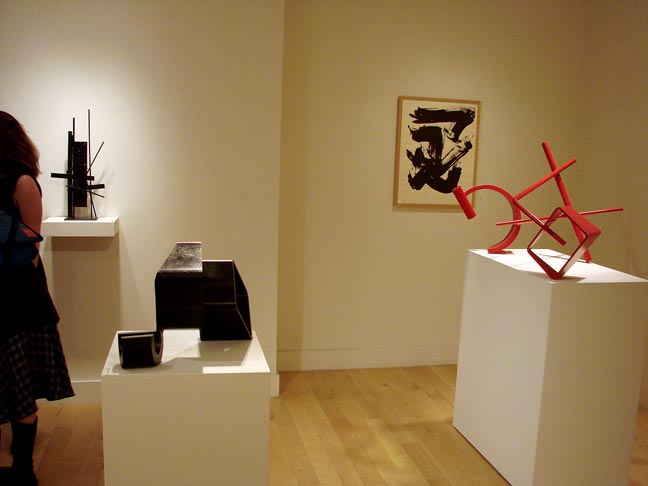 Sculpture (Brian Wall).


***
SF Camerawork: Katsushige Nakahashi - The Depth of Memory.
Review and photos by DeWitt Cheng: For "The Depth of Memory," Japanese artist Katsushige Nakahashi looks back to World War II by stepping onto the deck of the USS Missouri (famed site of surrender ceremonies ending the war) on the 65th anniversary of Pearl Harbor. While there, he photographs its battle-scarred deck for later photographic reconstruction; and examines the Kaiten one-man suicide submarine, which he reconstructs for this show, life-size, 50 feet long, using 20,000 photos from a miniature model, also on display.
Video documentation includes a short video about the human-torpedo program, featuring an interview with its last surviving pilot, a Mr. Kubo, who died this week, and footage of the Kaiten facilities, its creators, and its first hero-victims. Nakahashji, who previously constructed a Zero fighter, will return to SF in late March for the ceremonial burning of the Kaiten, which was assembled with the help of many student volunteers. Aaron Kerner and Chuck Mobley curate the show.
DeWitt Cheng writes for Artweek, Art Ltd., www.SanFranciscoArtMagazine.com, www.Shotgun-Review.com, and the East Bay Express.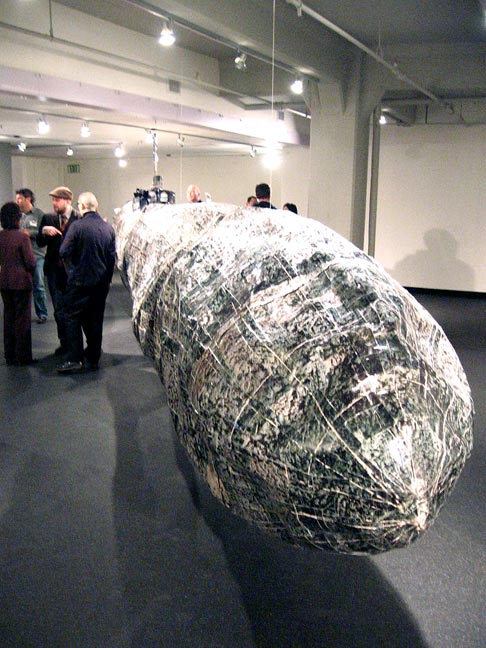 Bow of Kaiten; conning tower/periscope is visible halfway back.


Stern with rudder, propeller.


Propeller assembly.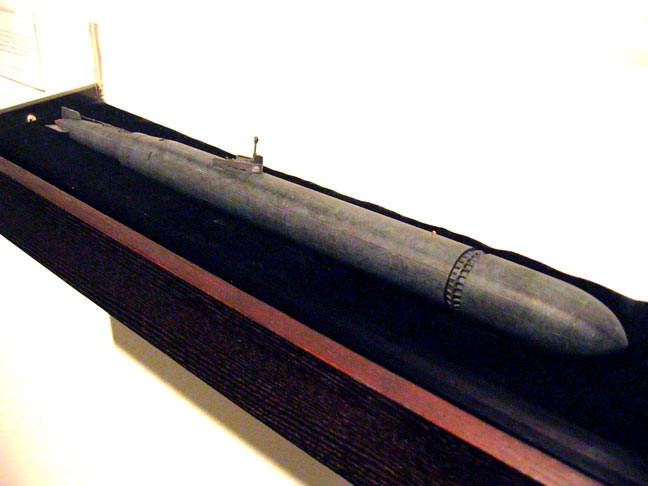 Model, approximately two feet, long, that served as photo datum.


USS Missouri deck section photo-mosaic.


Nakahashi with explanatory video of himself at Kaiten site.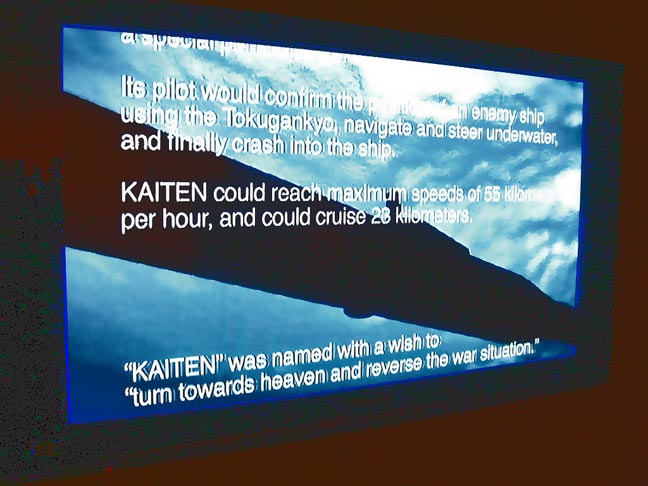 Detail from video.


***
SomArts Gallery: Oliver diCicco - Sirens, Kinetic Sound Sculptures.
Review by Erica Eller: The curious crowd is split by a row of eleven roughly ten-foot tall, wine-glass shaped, green pendulums. They create a moaning flute sound that I can only hear above the people's voices, having just missed a brief silencing of the audience. Two friends of the artist greet me and explain the work; sound is generated by air pushing through water-filled glass pipes at the top of each dual pronged pendulum. The swinging motion causes the water to force the air through the glass pipes, creating tones of a pentatonic scale, with differences in pitch depending on the diameters of the glass pipes. The sculptures were initially meant to be a public work near the ocean where the wind would create the pendulum motion. Lacking City approval, diCicco transformed them into a portable installation, installing an electric engine at the base of each pendulum to produce the motion. They work well in the large SomArts space as the high, cathedral ceiling allows for great acoustics.
Oliver diCicco's friends rather exuberantly describe some of the unconventional instruments he has created by doing a charade of different holding positions and shapes with their bodies. They proceed to introduce me to the artist under a pseudonym to 'add to the mystery.' Anyway, my question to him is, "Why eleven?" He provides two arbitrary reasons-- the amount of tubing in one coil allowed for just eleven structures to be made and/or the first double digit prime number is eleven. Well put, off the cuff.
At this point, his friends silence the room once more. The sound is definitely entrancing. Someone then stops the electric current and the crowd offers up a hearty applause. This installation will be on view and in operation until February 14th.
Art.


Art.


Oliver diCicco.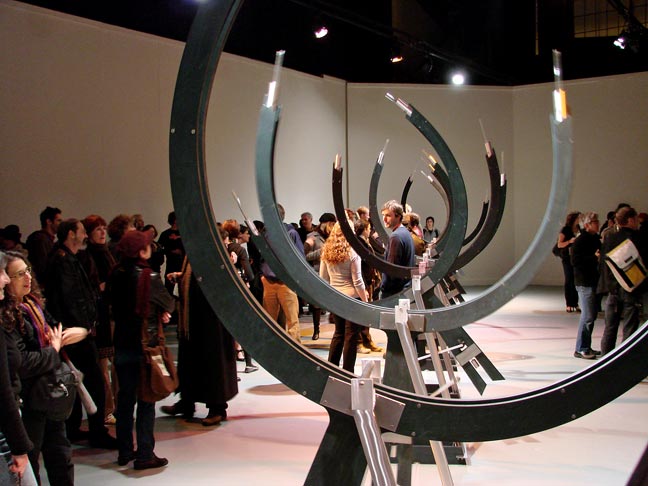 Art.


***
David Cunningham Projects: David Maxim - The Light of Change.
Review by DeWitt Cheng: David Maxim, known in the Bay Area for his mixed-media collage constructions, is showing beautifully painted and ornately framed mountainscapes of the Himalayas, the Alps, and other ranges in "The Light of Change." The works on canvas and paper blend Romantic color and grandeur with abstraction; hyperreal, theyıre also somewhat simplified and clarified, the air crystal clear-- as in Richard Estes' streetscapes.
Oil on canvas.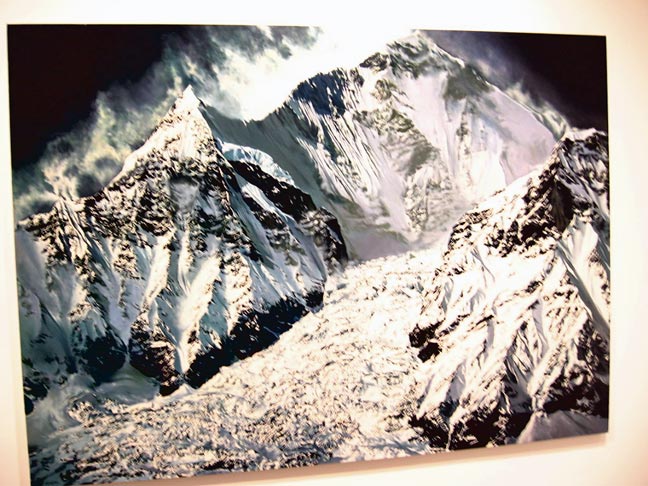 Oil on canvas.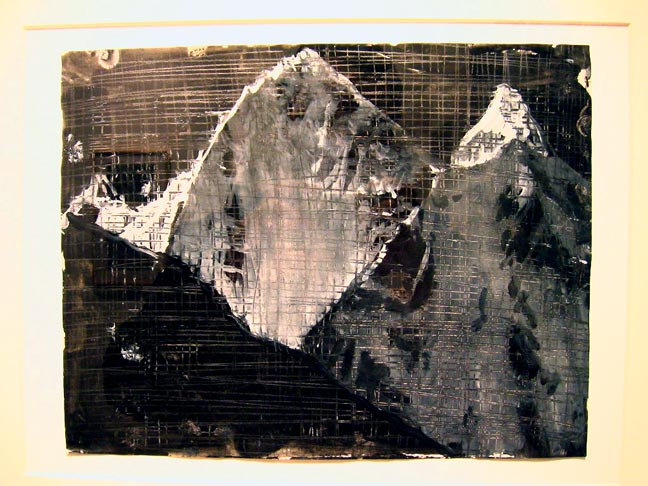 Acrylic on paper, with scoring.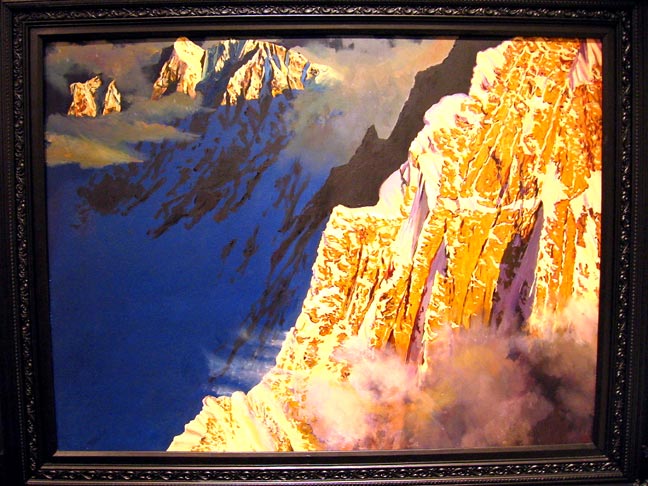 Oil on canvas.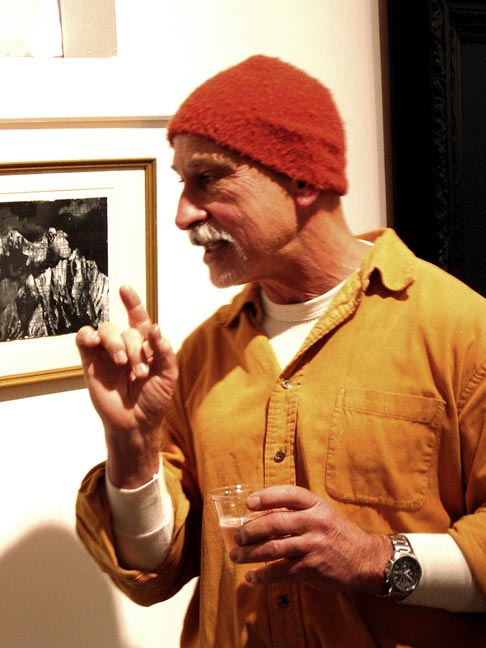 David Maxim.


***
Evolving Art Gallery: Jeff Sully - Shaped Canvas.
Comment by AB: Jeff Sully lays down abstract paintings on canvases he stretches (or shapes) in unconventional ways.
Art.


Art.


Art.


Art.


Art.


***
Lincart Gallery: John Bucklin and Valery Grancher.
Review by Erica Eller: The gallery's filled with stylish people here to appreciate the various works of John Bucklin, and the Google paintings of Valery Grancher. Owner/curator Charles Linder greets me to explain the loose theme which is 'internet-art.' Bucklin sketches images sieved from the net, and Grancher paints Google screens. The pairing is otherwise unrelated. I ask who the entertainment is-- a cute blonde in red heels playing the ukelele-- Its Uni & Her Ukulele, of course.
The entry is devoted to the work of John Bucklin including canvases shot with brightly colored paints, painted sculptures in a glass case (ruddied-up pop pieces like a vanilla ice cream cone in a glass dome, a baseball card and a Morton's salt container). The sketches remind me of an adolescent's curious eye attempting to copy images exactly in a sketchbook, well, executed more professionally, I suppose. The collection includes images of wildlife, guns with roses, pop icons and ordinary objects like pinwheels. Each is rendered in only one color from the pencil box.
The main space is filled with Grancher's 'variations on Google themes.' The Classic Google screen in French shows a paint-by-numbers style rendering of the interface. The background is cross-hatched glossy white, adding texture and a subtle reminder of its oil paint medium. The variations include a Google-earth screen of the North Pole, an Edward Munch Google Scream screen, the Halloween Google screen, and others. There are a few less exact Google panels that include the logo but also display corporate symbolism (with images like McDonald colored flag-stripes and a gold Eagle). Don't miss the internet porn Google rendering above the refreshment table in back. Fabulous refreshments, by the way.
Art (Valery Grancher).


Art (Valery Grancher).


Art (Valery Grancher) - tunes (Uni & Her Ukulele).


Valery Grancher - John Bucklin.


Art (John Bucklin).


3-D Art (John Bucklin - AB likes 'em).


Art (John Bucklin).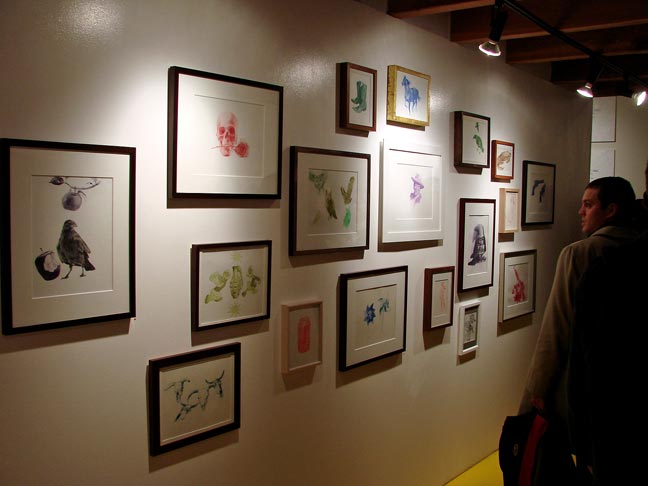 Art (John Bucklin).


***
Babylon Falling: Frank Kozik Book Signing-- Plasticland.
Review and photos by Erica Eller: The space is bright and fresh with a few people dangling about eyeing the books and the peculiar entertainment. Frank Kozik sits at a school desk talking to his admirers. There are a few pieces of his art which are figurines but most of the space is filled with another artist's digital prints. I'm immediately distracted by the free beer in an ice pail and the ballet dancer/rare-grooves vinyl dj pairing for entertainment. The pairing is unrelated to Frank Kozik in any way.
At the front of the store, there is video footage of Frank Kozik's collection of works including revolution-influenced and illustrated characters. Frank Kozik is often linked with other skateboarding illustraters turned toy designers such as Ed Templeton and Mark Gonzalez, and at shows like this, you can run into some of the guys who hang out to tell you how they used to skate with those now famous artists. Afterall, its SF and the old buddies are still around. One of Kozik's figurines on display is a vibrant red Ho Chi Minh bodice that has a removeable red hat. There are a few others on a shelf behind the register but not many to see up close. Its easier to get an overall sense of his work through the book, Plasticland, a graphics-rich opportunity to become familiar with Mr. Kozik's toy making foray that began in 2002-- with inspiration from Japan, as one might surmise.
Frank Kozik (seated).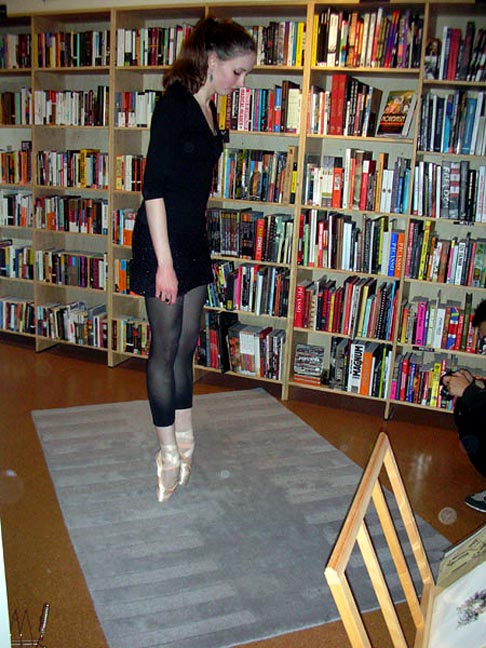 Ballerina (standing).


***
Fifty24SF Gallery: Ben Tour - Underbelly; Letters to the Editor - Group Show.
Artists: Ryan Jacob Smith, Cum*, Mario Wagner, Brent McHugh, Eine.
Comment by AB: Vancouver, Canada artist Ben Tour tells me his unequivocally intense character studies discourse on tortured women, and you won't get a peep outta me on that one. Upstairs at the adjacent facility we've got an urban mix with my druthers skewing toward slick alphabet canvases by Eine and pastel editorials by Ryan Jacob Smith.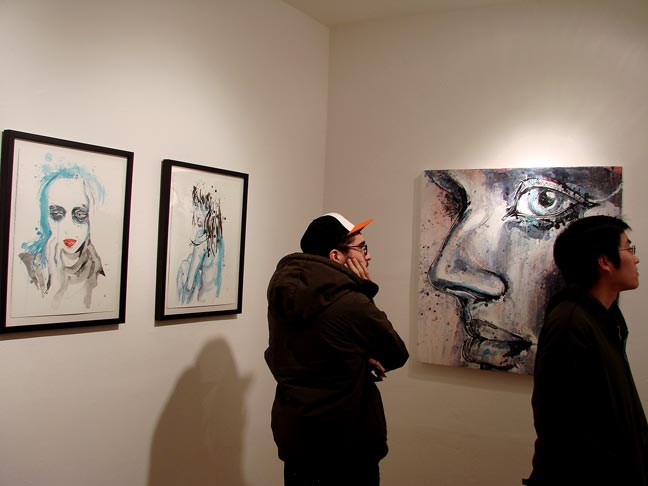 Art (Ben Tour).


Art (Ben Tour).


Ben Tour.


Art (Ben Tour).


Art (Ben Tour).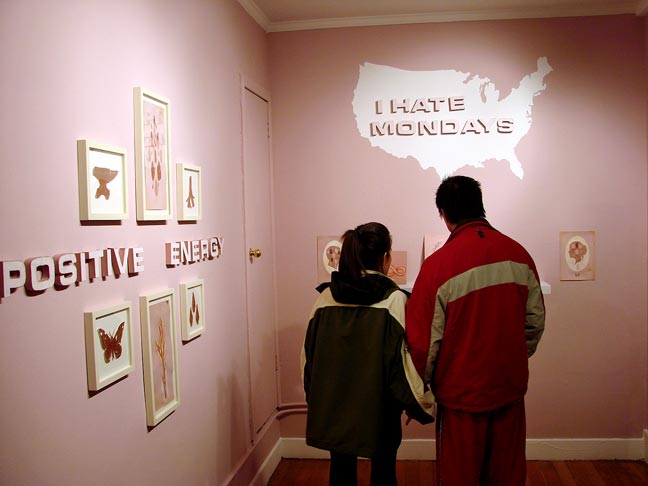 Art (group show - AB kinda likes it).


Art (group show).


Art (group show).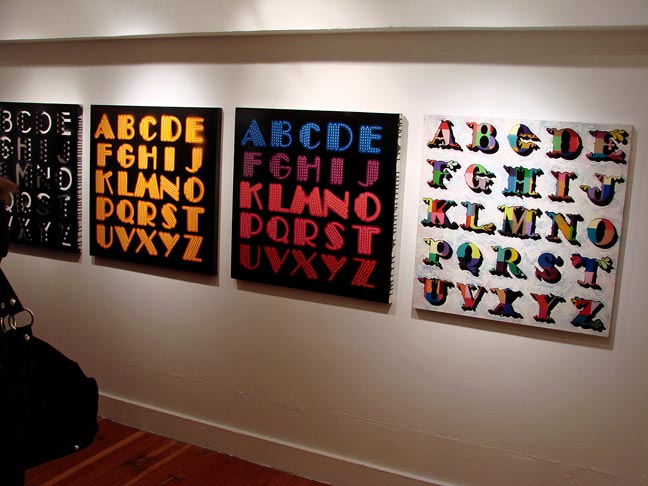 Art (group show - AB sorta likes 'em, esp the one on the right).


Art (group show).


Art (group show).


***