SAN FRANCISCO ART GALLERIES - OPENINGS
HACKETT-FREEDMAN - HANG ART - SOMARTS
YERBA BUENA CENTER FOR THE ARTS - LINCART
01.11.07
Hackett-Freedman Gallery: A Culture in the Making; 20th Anniversary Exhibit - New York and San Francisco in the 1950's and '60's.
Artists: Elmer Bischoff, James Budd Dixon, Richard Diebenkorn, Willem de Kooning, Edward Dugmore, Herbert Ferber, John Graham, Hans Hofmann, Jack Jefferson, Elaine de Kooning, Frank Lobdell, Conrad Marca-Relli, Manuel Neri, Louise Nevelson, Roland Petersen, Ad Reinhardt, John Saccaro, Jon Schueler, Theodoros Stamos, Wayne Thiebaud, Paul Wonner.
Comment: An exhibit of 1950's and 1960's painting and sculpture by significant New York and San Francisco artists and art teachers includes a handful of conspicuously cherry examples. Worth a visit.
Art.


Art.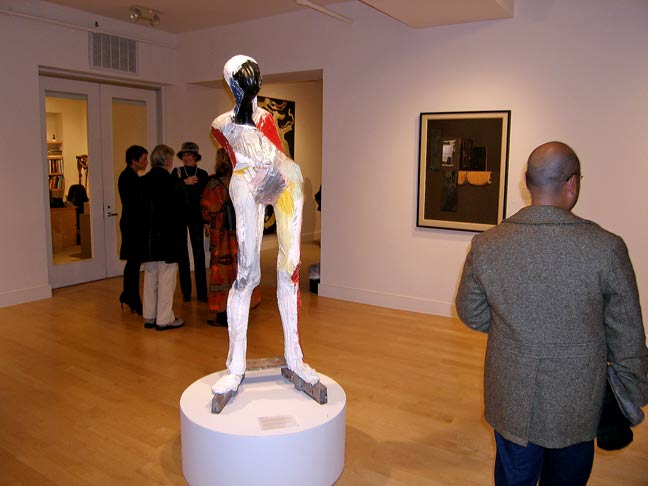 Art.


Art.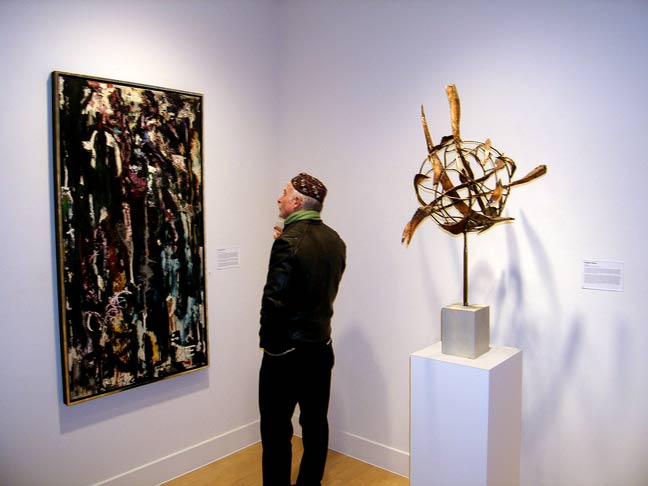 Art.


Art.


***
Hang Art Gallery: Tjasa Owen.
Comment: Palatable country landscapes with a European feel, most featuring simple lone domiciles.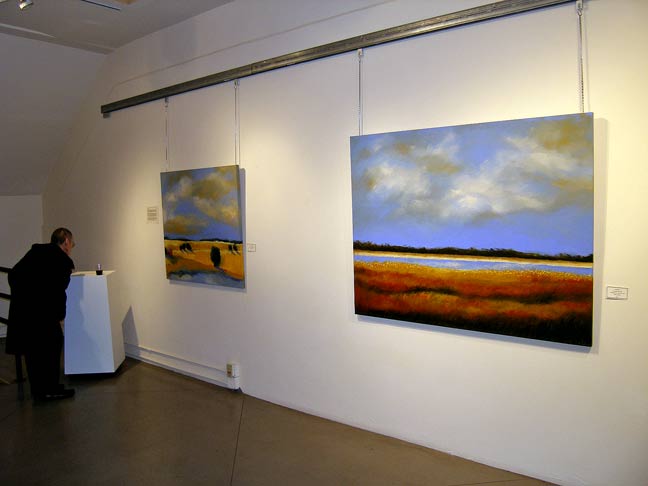 Art.


Art.


Art.


***
Hang Art Gallery Annex: Raw Material.
Artists: Tim Yankosky, Nicolas Van Krijdt, Anthony May, Jeff Hantman, Judy Spiegel.
Comment: Group show includes painting, sculpture, assemblage, collage, and combinations and permutations thereof.
Art.


Art.


Art.


Art.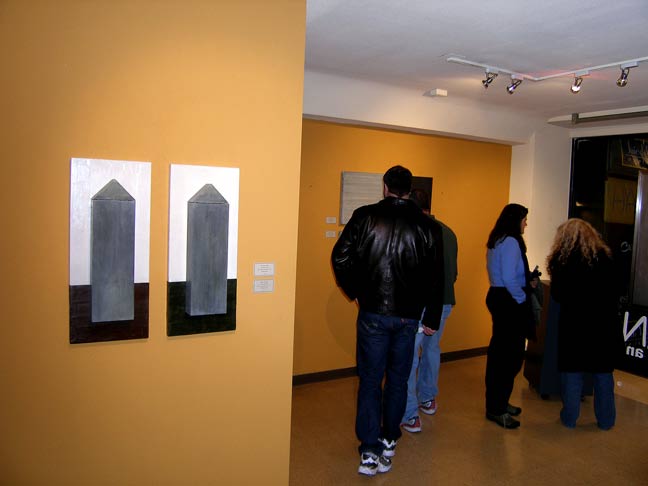 Art.


Art.


***
Yerba Buena Center for the Arts: Cultivating Creativity - In Residence at Kala .
Artists: Leona Christie, Harry Clewans, Tara Cooper, Lauren Davies, Inga Dorosz, Miriam Dym, Ruth Eckland, Gunduz Golonu, Mayumi Hamanaka, Taro Hattori, Liz Hickok, Archana Horsting, Su-Chen Hung, Eunjung Hwang, Cynthia Ona Innis, Jeff Kao, Amanda Knowles, Samantha Lautman, Srdjan Loncar, Katherin McInnis, Yuzo Nakano, Nora Pauwels, Artemio Rodriguez, James Sansing, Kazuko Watanabe
Comment: Since 1974 the Kala Art Institute has been a Berkeley mainstay for artists, particularly printmakers, book artists, photographers, and more recently, digital artists. They offer classes, residencies, and basically encourage artists "to produce innovative artwork of the highest quality" by giving them "total freedom to realize their artistic vision." There you have it. So come on down to YBCA and see the exceptional variety of quality art that comes out of Kala.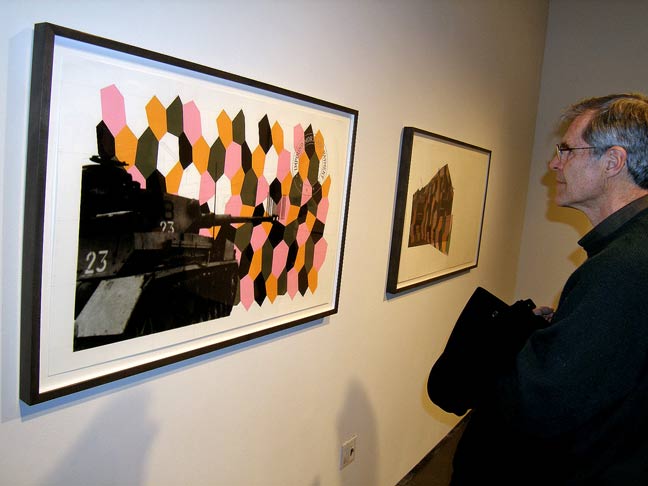 Art (Jeff Kao).


Art (Harry Clewans - like it).


Art (Yuzo Nakano - like it).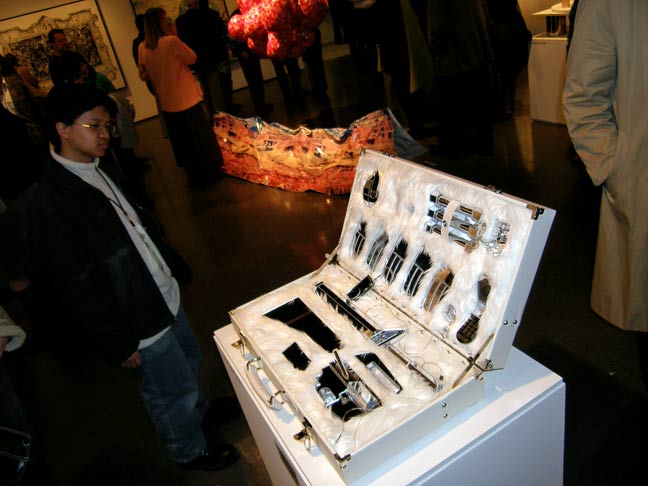 Art (Taro Hattori).


Art (Jeff Kao).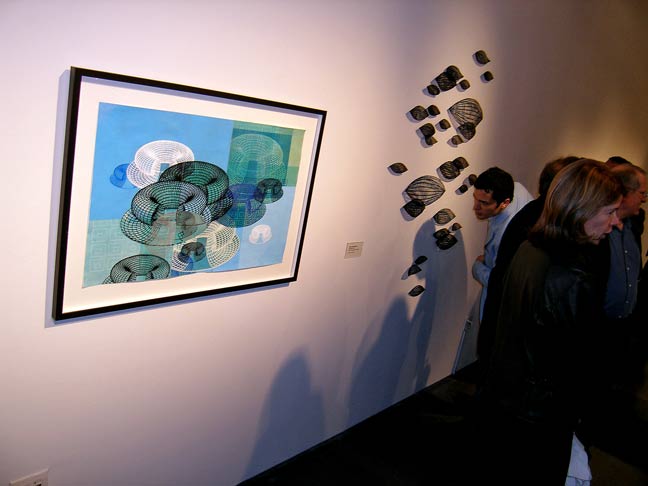 Art (Amanda Knowles).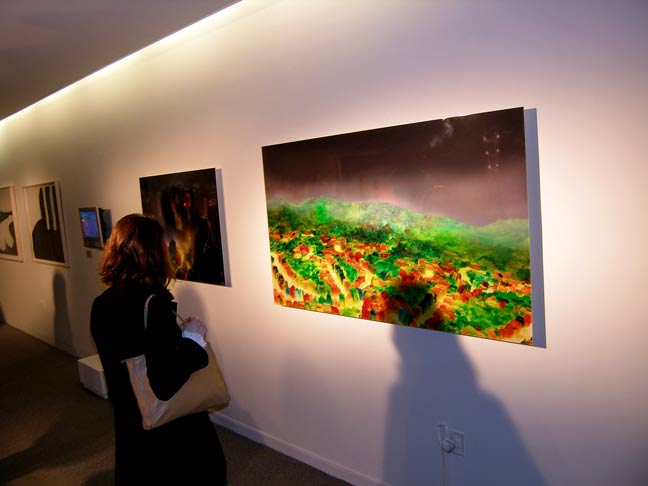 Jell-O-scape art (Liz Hickok - like it).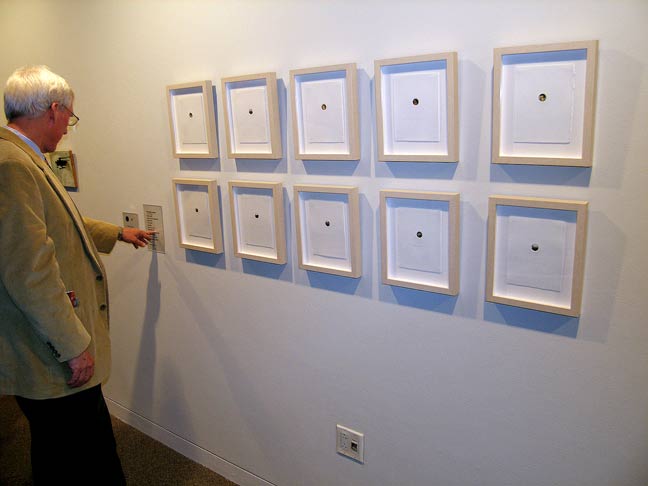 Art (Samantha Lautman).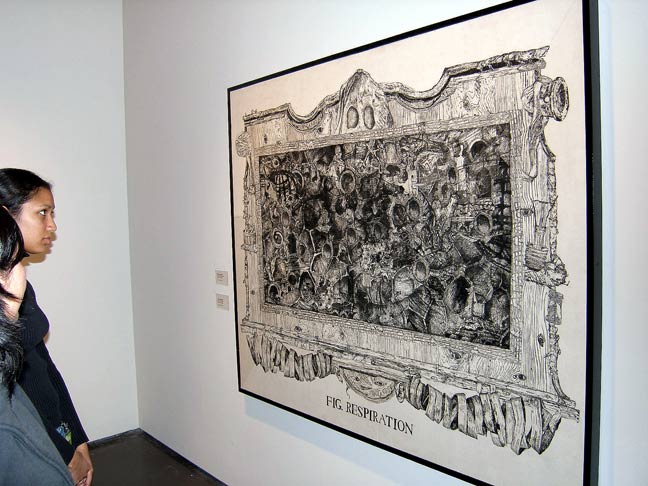 Art (Harry Clewans).


Art (Leona Christie).


Art (Cynthia Ona Innis).


Art (Yuzo Nakano).


***
SomArts Gallery: Legends and Alternate Visions - Paintings by Carlos Loarca.
Comment: I'm not sure how long Carlos Loarca has lived at SomArts (you didn't know anyone lived there, did you?), but I recall visiting him once maybe 10 or 15 years ago. Loarca has has had over 50 one-person shows and has painted hundreds of pictures over his thirty-year career as an artist. He tells me the large percentage of his work remains in his possession. The art in this show dates from the early 1990's through the present (Loarca shows me a piece from 1993), though most has been created in the past year and a half-- and it's an impressive display to say the least. For you history buffs, Loarca was one of the founding members of Galeria de la Raza. Paintings priced $800-$25,000; most under $7500.
Carlos Loarca - art.


Art.


Art.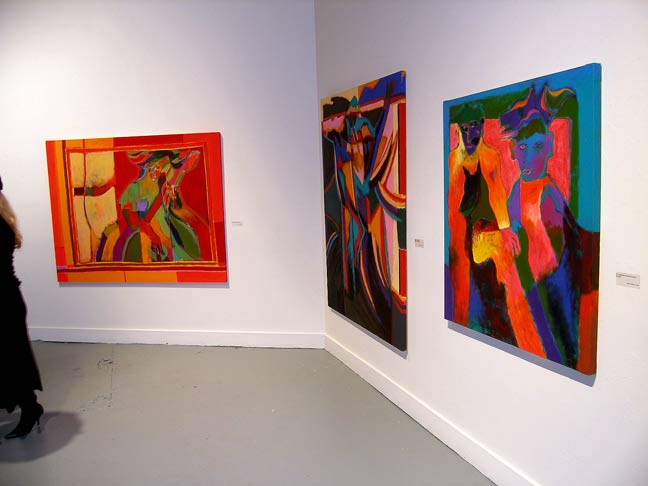 Art.


Art.


Tunes (these dudes are GOOD).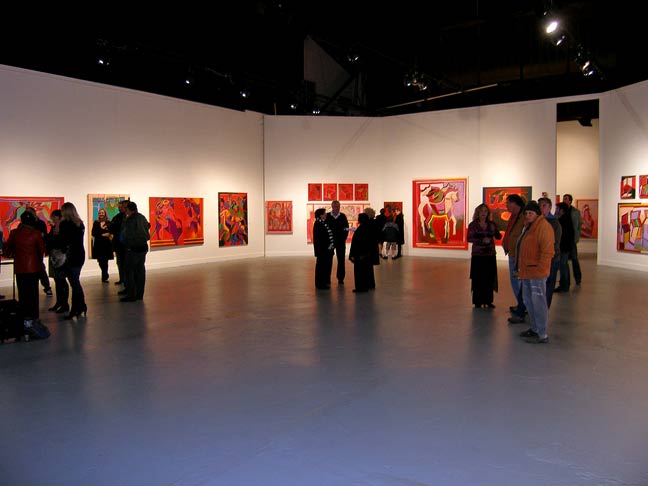 Planar.


***
Lincart Gallery: Jeff Burwell - New Paintings and Sculpture.
Comment: Jeff Burwell's earthy abstract paintings incorporate residuals from his proclivitous pursuits such as metal shavings and bronze dust from his sculptures, and byproducts from his wine making like grape hulls, seeds and stems-- pastiched and preserved for posterity in oil and epoxy amalgams-- ultimately to be complemented by his sturdy bent welded patinated sculptures. But enough about the art. The Burwell/Lincart conflux has managed to mob the gallery with myriad multitudes of enthusiasts, rendering the dealie bob into one of the peppier receptions I've been to lately. Lead Lincster Charles Linder (not to be confused with Richard Lindner), in response to my request for a brief disquisition on the nature of Burwell's work, informs me that "it smells like art," and that's basically all I need to know. Prices range $1800-$8500.
Art.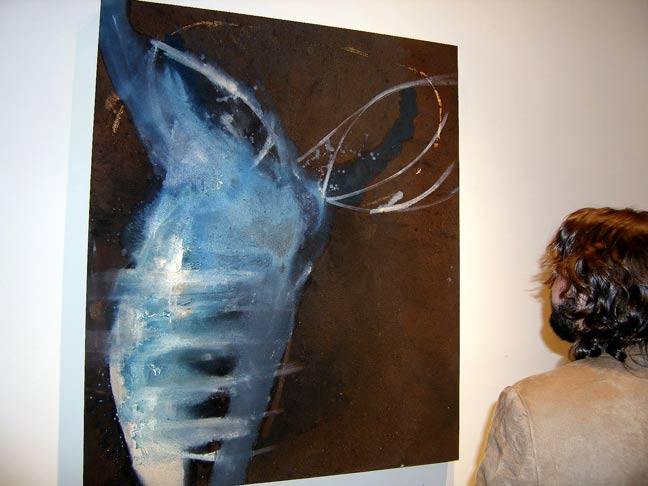 Art.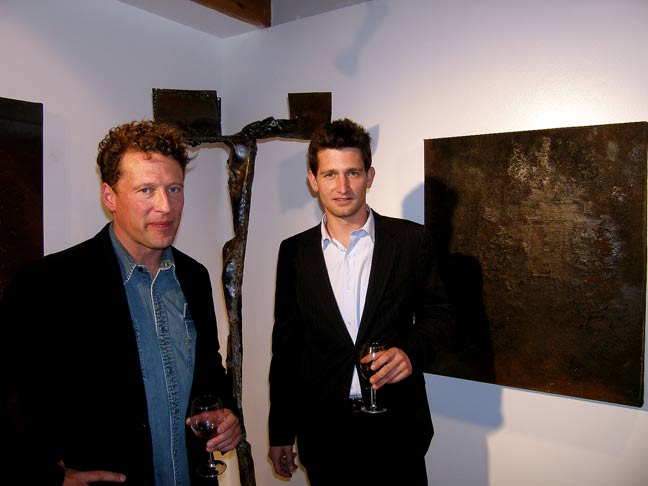 Charles Linder - Jeff Burwell.


Art.


Art.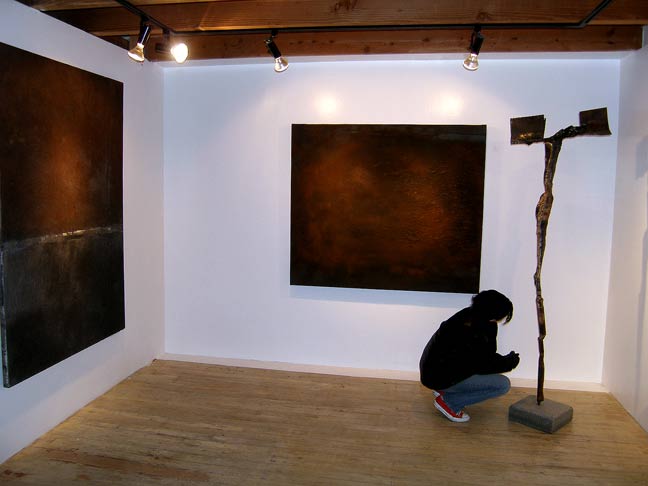 Art.


Art.


Art.


Relative density.


Art.


***