SAN FRANCISCO ART GALLERIES OPENINGS
ELECTRIC WORKS - LIMN - GALLERY 16
MELTING POINT - THE LAB - SOUTHERN EXPOSURE
MARKET STREET - GALERIA DE LA RAZA - SPACE
SPORTS BASEMENT
01.11.08
(with assistance from DeWitt Cheng, Ben Rigby, Jessica Whiteside, and Jennifer Mullen)
Electric Works: Katherine Westerhout - Detroit.
Comment by DeWitt Cheng: Katherine Westerhout's "Detroit" series of large-scale color photos finds beauty amid the ruins of old public buildings.
DeWitt Cheng writes for Artweek, Art Ltd., www.SanFranciscoArtMagazine.com, www.Shotgun-Review.com, and the East Bay Express.
Review by Ben Rigby: Katherine Westerhout welcomes Electric Works' patrons to her exquisite photos of dilapidated Detroit buildings. The collection invites you to peer into America's grande architectural past and to contemplate our current state. You see churches, factories, theaters built with fine attention to detail-- rotting, collapsing, drowning. Yet, through Westerhout's lens, the structures reveal a remarkable beauty-- almost as if the intentions of their era and the stories of years past cannot be quieted by mere devastation.
Comment by AB: You say you don't believe the American Dream is dying (or maybe even dead)? Visit the tattered remains of Detroit, formerly known as the Motor City. You'll be shocked at what you see-- let me assure you. The ruins of this once great metropolis are a stark testament to the decline and fall of the USA. Sad but true. Things may one day turn around, but only if the corporate sector replaces some of that "free market capitalism" with concern for the greater good, and works to revitalize what they've allowed to disintegrate. Perhaps it's time to stop stepping over the corpses in that insatiable quest for wealth.
Photography.


Photo.


Katherine Westerhout, left (photo c/o Ben Rigby).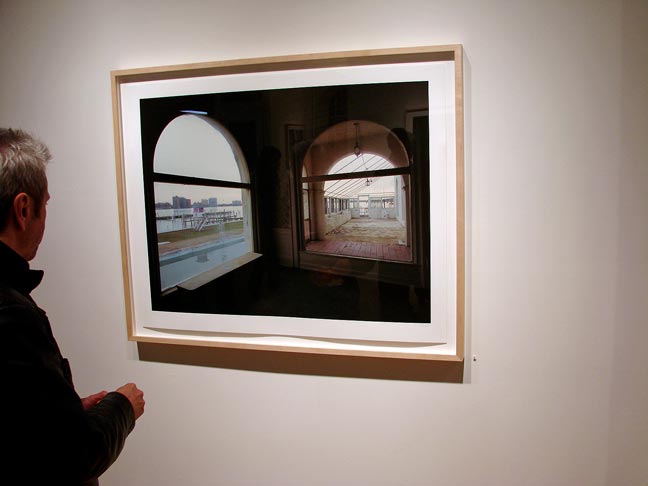 Photograph.


Images.


Detail (photo c/o Ben Rigby).


Photos.


Photography.


Turnout (photo c/o DeWitt Cheng).


***
Limn Gallery: ZOOM +/-.
Artists: Louisa Bufardeci, Doug Beube, Linda Ekstrom, David Brody & Douglas Henderson, Nina Katchadourian, Joyce Kozloff, John Noestheden, Christian Nold, Matthew Picton, Lordy Rodriguez, TOFU, Robert Walden.
Comment by DeWitt Cheng: "ZOOM +/-," curated by Doug Beube and Sherry Frumkin deconstructs maps and mapping. Over a dozen artists are represented.
Review by Ben Rigby: This group exhibition interprets space through mapping. The media ranges from shredded atlases to a twinkling rhinestone (?) pattern against black construction paper invoking the night sky. Interestingly, this exhibit parallels a surging interest in cartography online. As maps become more accessible to average people online, the old physical manifestation becomes an object d'art. This trend would seem to indicate that paper maps are going the way of the typewriter, incandescent light bulb, and reel-to-reel audio tape-- they cease to become practical, fall into disuse, and become cultural artifacts upon which we look nostalgically and incorporate into our artforms.
Art.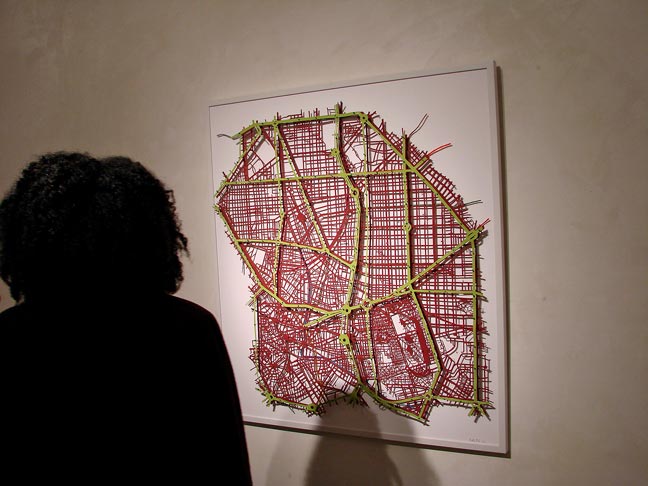 Art.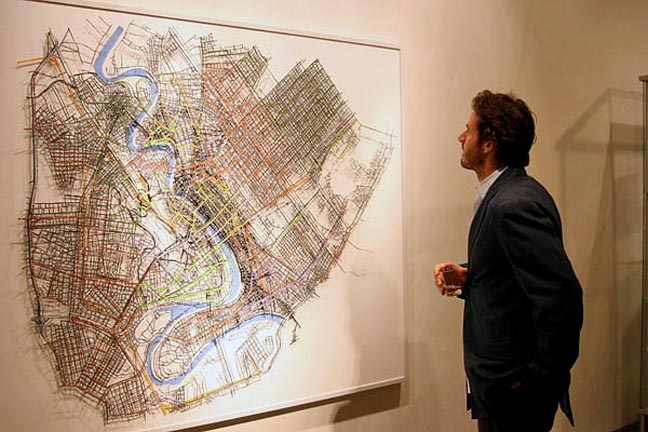 "Baghdad" by Matthew Picton (photo c/o Ben Rigby)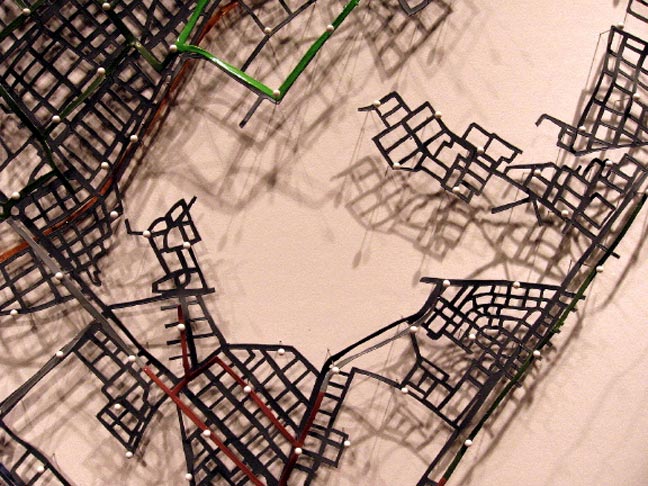 Detail of "Baghdad" by Matthew Picton (photo c/o DeWitt Cheng)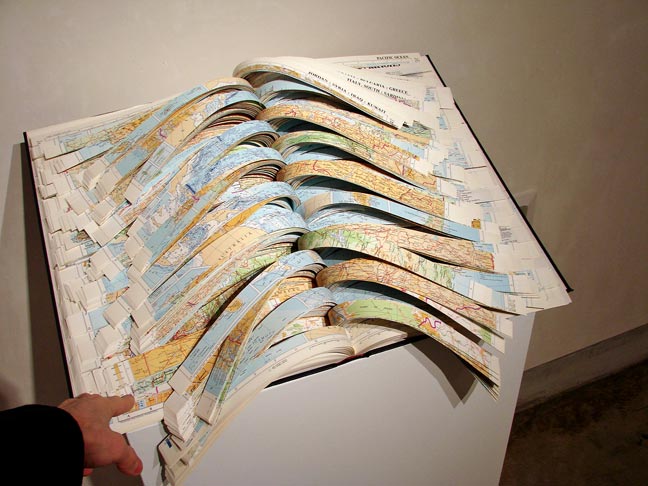 "Fault Lines" by Doug Beube.


Drawing (nicely done).


Christian Nold - "San Francisco Emotion Map" (photo c/o DeWitt Cheng)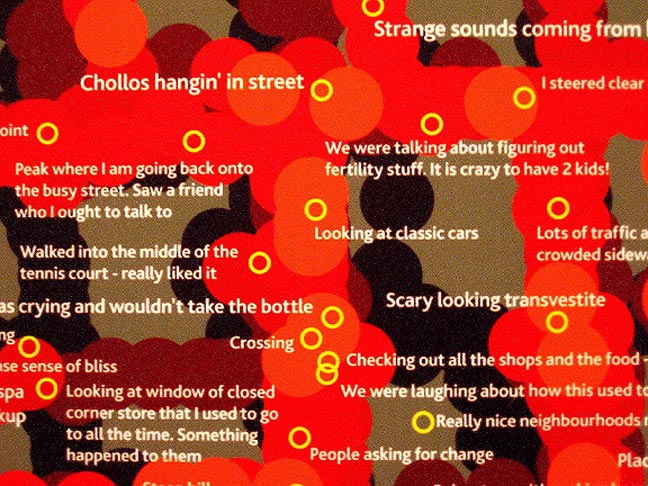 Detail of Nold piece above, centered on Valencia & 24th St.
(photo c/o DeWitt Cheng)


Art by Nina Katchadourian.


Art (TOFU, right).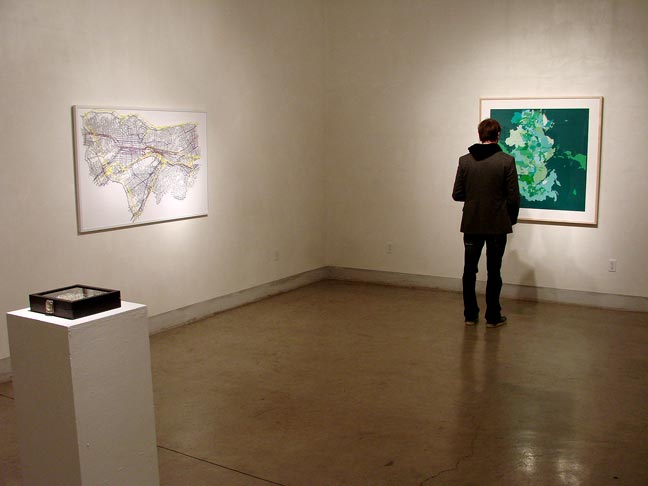 Art.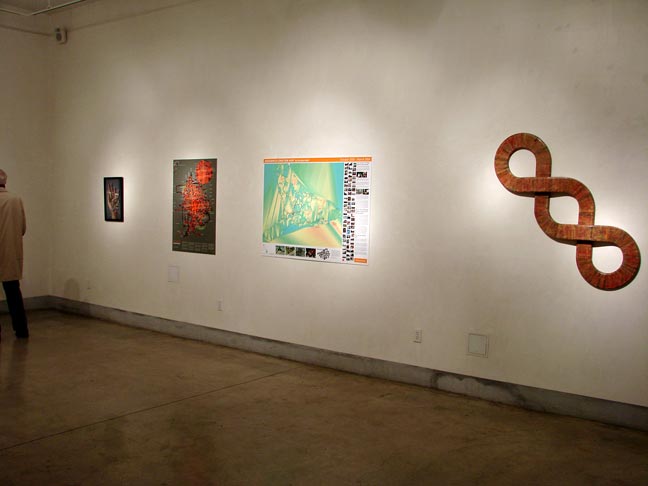 Art.


Artsters (photo c/o Ben Rigby).


***
Gallery 16: Deborah Oropallo - Guise.
Review by Jessica Whiteside: The Friday night opening of Deborah Oropallo's solo show Guise brings out a large crowd to see the work of this well-known artist. Deborah's prints, which have previously been shown at the de Young Museum are created by compositing pre-French Revolutionary portraiture with modern photos of sexy Burlesque-type girls dressed in various costumes, fetish wear, fishnets, top hats, and the like. The effect is a sort of transgender imagery that creates a playful twist on traditional power portraits. The crowd seems familiar with her work, though she does put in a few new prints not seen before for this show. The entire space is chock full of enthusiastic art revelers, and the live alternative folk band is pretty good too.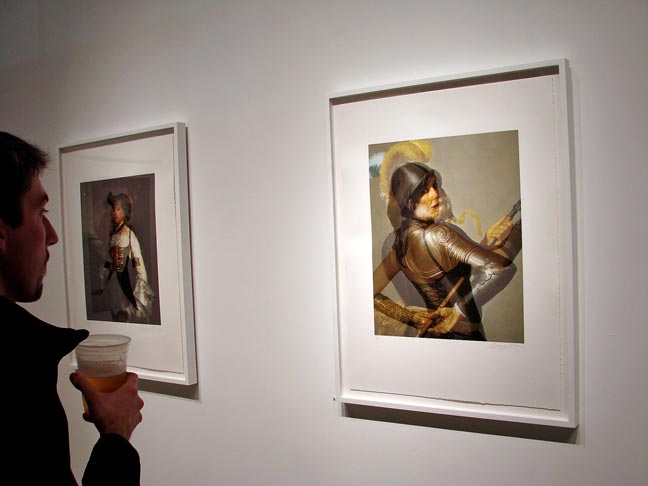 Art.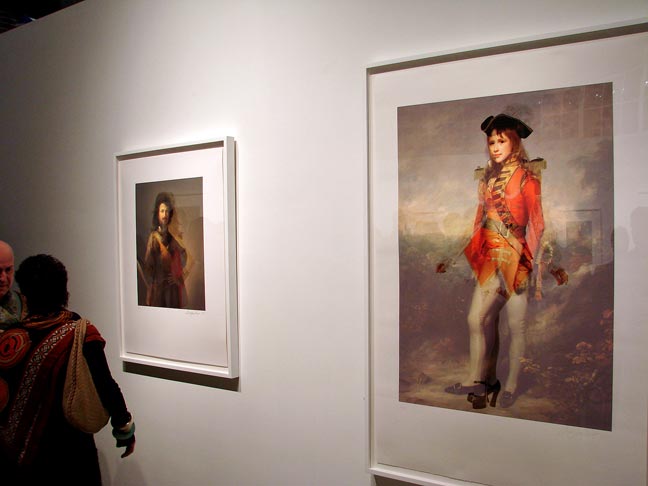 Art.


Art.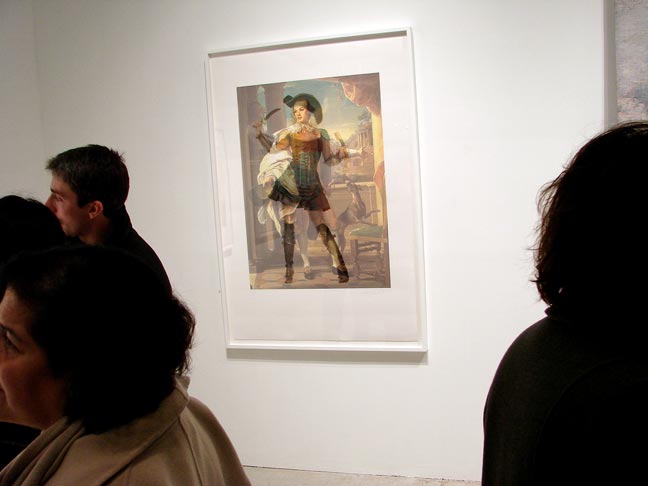 Art.


This one's a tapestry.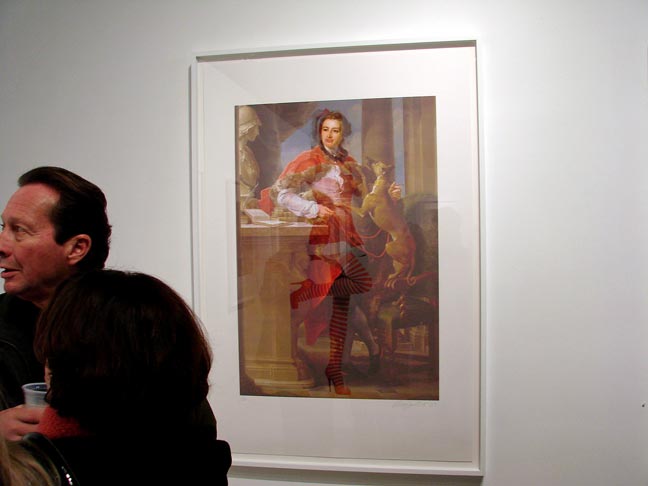 Art.


Art.


Tunes.


***
Melting Point Gallery, 1340 Bryant Street, San Francisco, CA 94103: Kevin Baer - Night Forms and Dream Shapes.
Comment by AB: Closing night party for this display of Kevin Baer sculptures in a variety of mediums.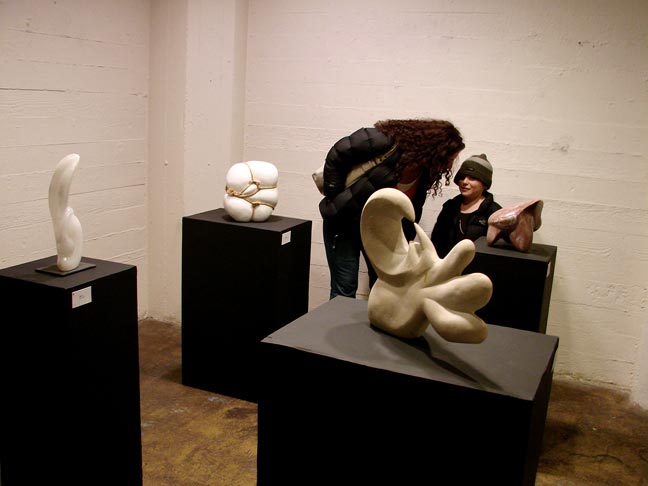 Art.


Art.


Art.


Art.


***
The LAB: Casey Jex Smith - That Day and That Night and That Day.
Comment by AB: Combination art and installation in the front gallery by Casey Jex Smith questions the relative scarcity of religious and spiritual references in contemporary art as it attempts to interject a bit of the former into the latter.
Art.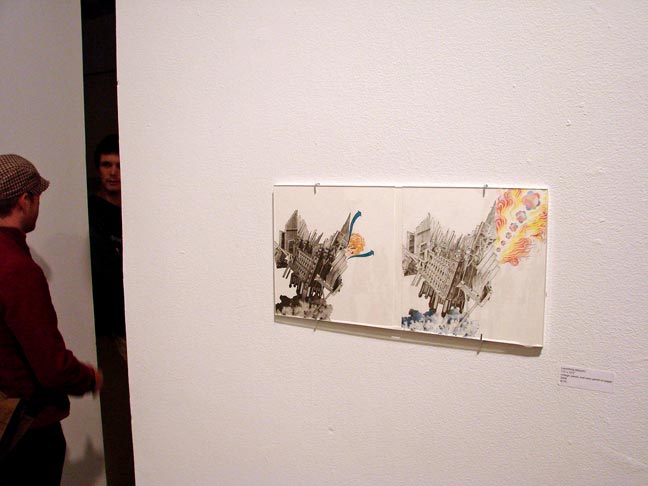 Art.


Art.


Art.


***
Southern Exposure Gallery: Chris Bell - Slow Pan Interior; Elaine Buckholtz - Scenes for a Box Carnival; Bruce Tomb - (de)Appropriation Project Archive; Jenifer Wofford - Unseen Forces.
Review by AB: With relatively commendable precision, Chris Bell pans a video of the front gallery around the walls of the front gallery, matching windows to windows, doors to doors, and so on. Elaine Buckholtz throws a festive light show onto the facade of the So-Ex building. Bruce Tomb documents the evolution of a local graffiti wall over time. Jenifer Wofford positions ersatz metal detectors at the entries to her rear gallery painted wall fantasy environment, gates which you must pass through in order to access the essence.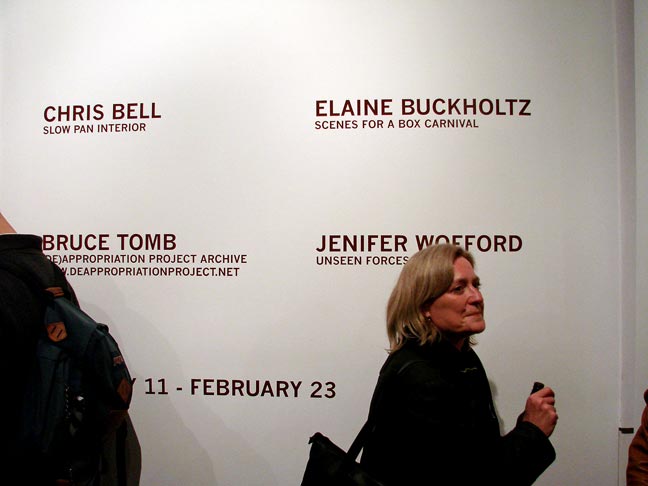 What it is.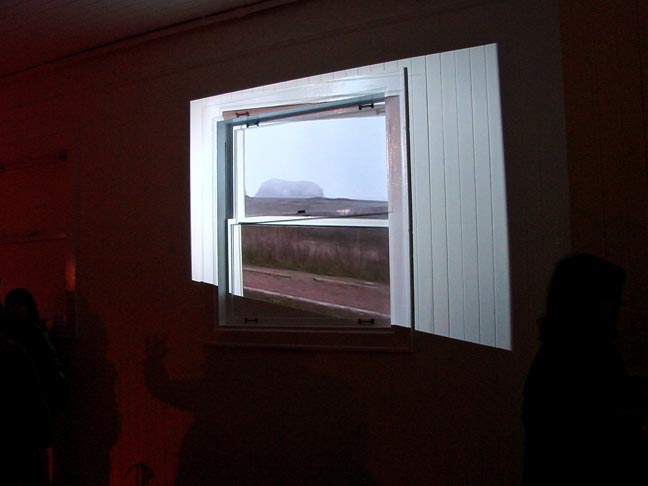 Art (Chris Bell).


Art (Elaine Buckholtz - like it).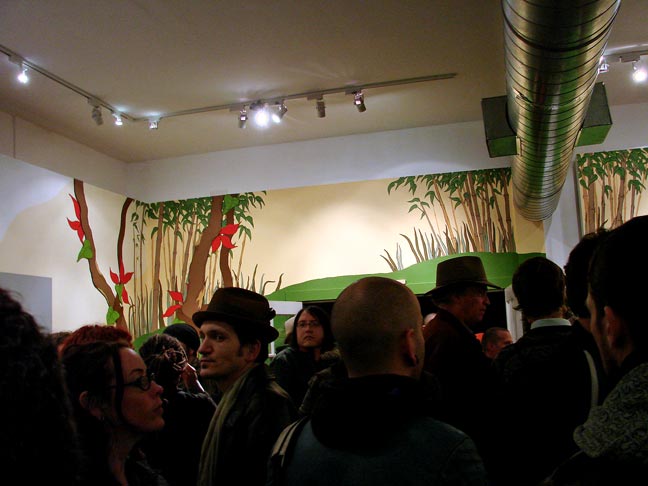 Art (Jenifer Wofford).


Art (Jenifer Wofford).


Art (Jenifer Wofford).


Art (Jenifer Wofford).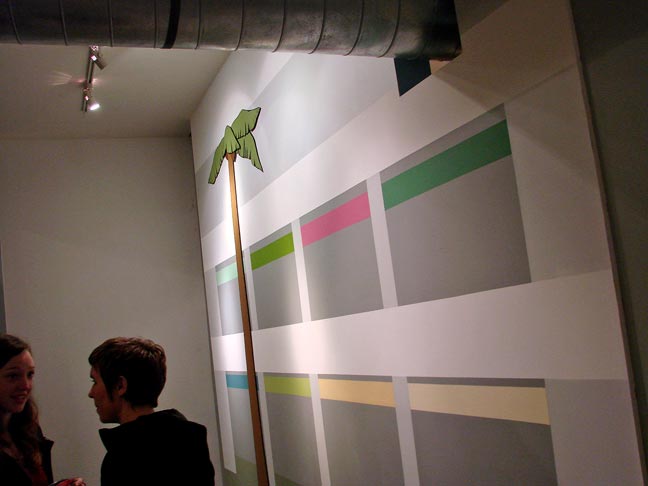 Art (Jenifer Wofford).


Art (Bruce Tomb - photo c/o Ben Rigby).


***
Market Street Gallery: Nothing But Dogs and Cats.
Artists: Linda Lee Boyd, Robert Brokl, Sylvia Buettner, Gabriele Bungardt, Art Hazelwood, Peggy Jane Murray, Xavier Viramontes, Sarah Young.
Comment by AB: Art exclusively about cats and dogs, including a selection genuine living breathing cuddly kittens available for adoption, constitute this collaboration between Market Street Gallery, MesArt.com and The San Francisco SPCA to raise funds for the SF SPCA. If you like pet art, you'll find a number of upper case examples here.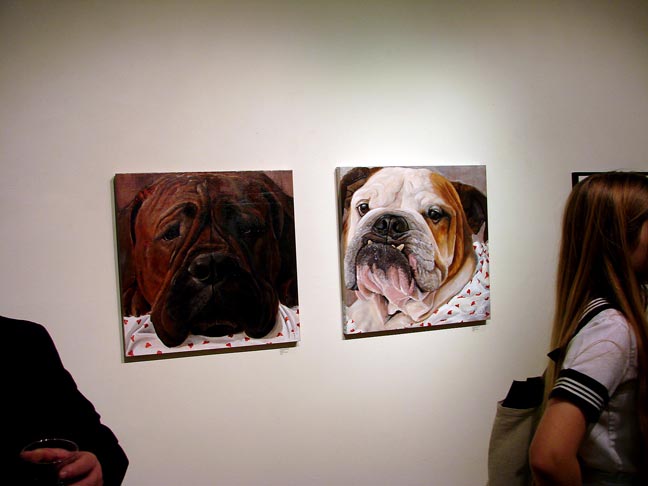 Arf art (like 'em).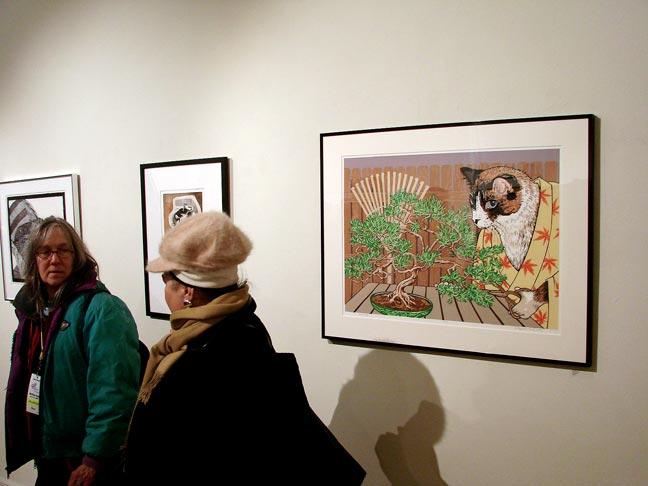 Art.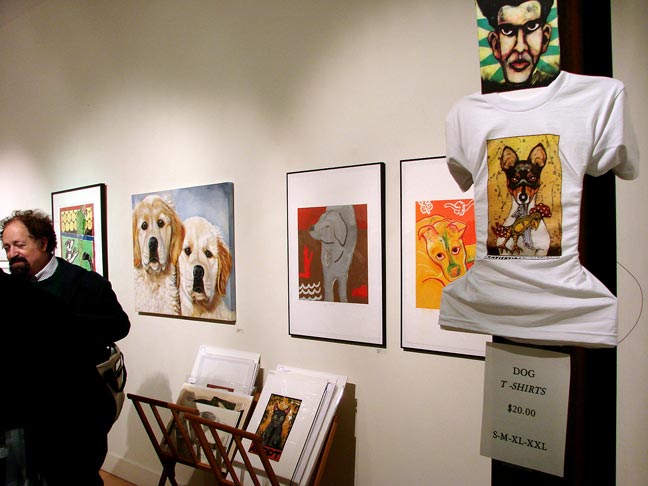 Art.


Availlable for adoption.


Art.


Head count.


Ingress.


***
Galeria de la Raza: David Bacon - Living Under the Trees.
Comment by AB: Ever wonder how fresh produce gets from the farm fields to your mouth? Probably not, right? You just go to the store, pick what you want, and that's that. Well you can lift the veil here, courtesy of compelling heartfelt photographs by David Bacon that honestly, artfully, and genuinely document the lives of indigenous Mexican farm workers in California-- with the dignity and respect they deserve. You can't ask for anything more. Excellent show; go see.
Photography.


Photographs.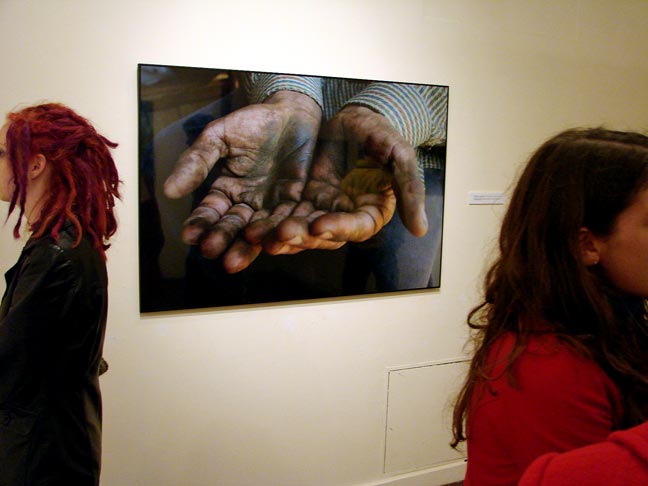 Photos.


Images.


Photography.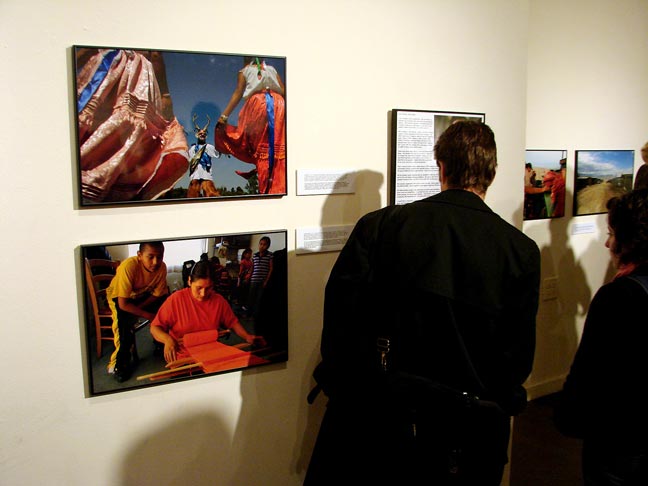 Photographs.


Photos.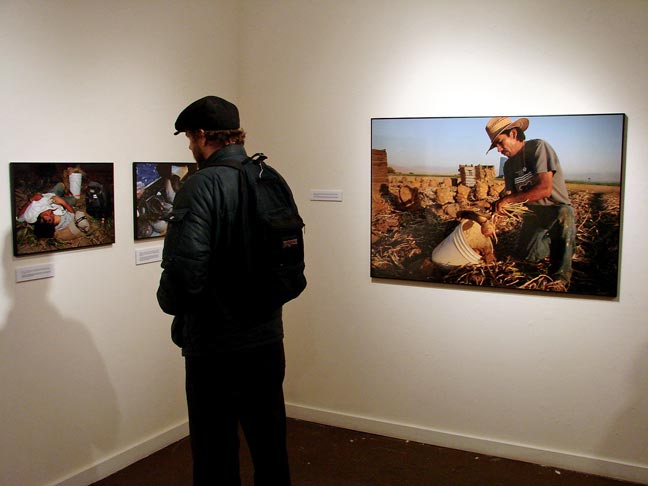 Images.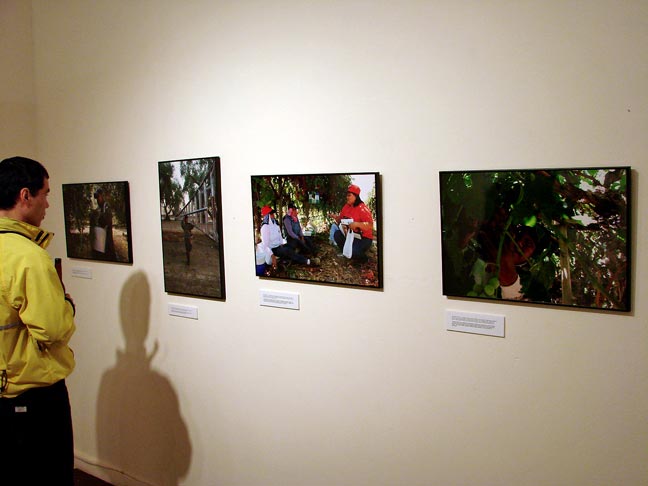 Photography.


Photographs.


***
Space Gallery: Right Eye Dreams 2913.
Artists: Joji Shimamoto, Zen ten, ten fold, Naoki Onedera.
Review by Jessica Whiteside: The group show at Space Gallery has a number of small works presented by various artists. The most standout pieces in the show are definitely the gritty, edgy set of photographs by Joji Shimamoto.
The Space gallery puts on somewhat unconventional art shows that often feature live music, and sometimes performances, which make this gallery a great spot to stop in for a few drinks and a peek around before a raging night out on Polk Street.
Review by Jennifer Mullen: †The Space Gallery has become a mecca for young, ambitious and relatively un-jaded artists, consistently showcasing work that is witty, fresh and invigorating.
What I like best about this space is that it isn't trying to be the next big thing in contemporary galleries by showing the most cerebral, conceptual emerging artists out there. It has been giving a voice to artists that are totally new to the art scene, without any kind of following, clout, or promise of success. The gallery has shown a lot of students (art school of course), which often means their work might be a little naÔve or unrefined, but who says experience necessitates great art? There's something refreshing about the un-calloused nature of the work I've seen displayed there. †I am a little partial to "theme" shows with numerous artists, so perhaps I am a bit biased; regardless, I like what they're doing. Many of the young, "edgy" galleries today are predictably pretentious and universally trying to appeal to the hipster crowd. The Space Gallery, however, is showing artists who are passionate, excited, and have much to say. At times this borders on the self-indulgent, but I'll take that over blasť any day. †These pictures are from the "Vices" show that featured 10 ≠ 15 artists; also pictured are a few other artists who joined in on the fun with "The Decks Shoes Show" an added-bonus that lasted for a short run. The two shows displayed all types: mixed-media installations, printmaking, painting, etc. My favorites included one piece depicting a disembodied (yet non-gruesome) knife-wielding hand, and a medicine cabinet (obviously tied into the "Vices" show) filled with empty prescription bottles. †Also on display were wife beaters and T- shirts silk-screened with beating hearts, and interactive work that encouraged patrons to write their thoughts and whims on large sheets of hanging paper. †Some of the "Deck" art featured Mark Brown's painted skateboards and another artist's painted shoe collection. Also part of the Deck show were Artists James Brason, Derty Kevin, Justin May, Tanessa Handl, Leah Delmer and Spesh.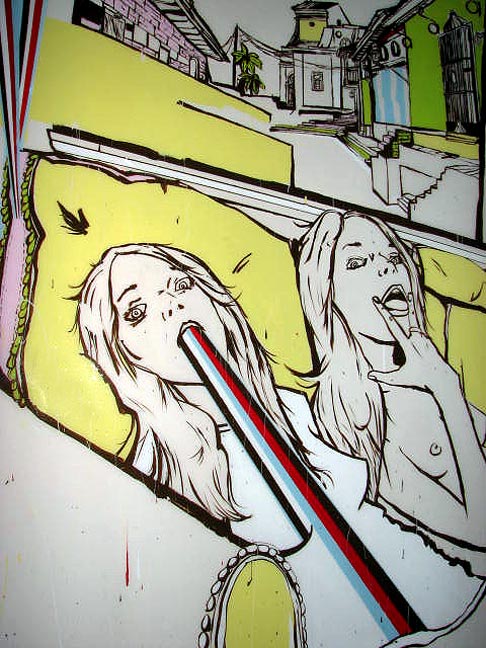 Art (photo c/o Jennifer Mullen).


Art (photo c/o Jennifer Mullen).


Art (photo c/o Jennifer Mullen).


Art (photo c/o Jennifer Mullen).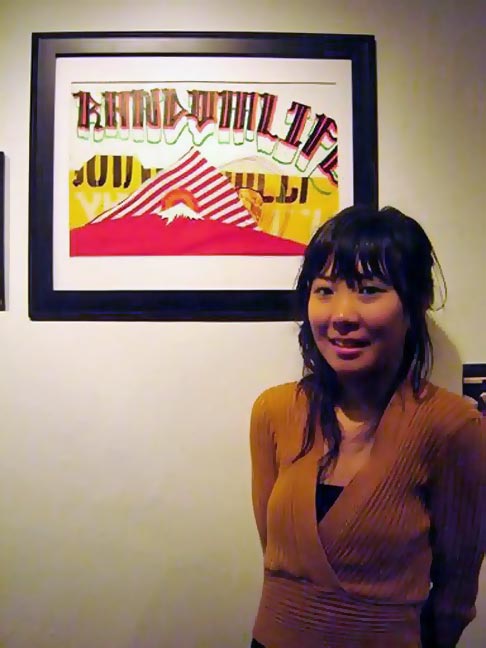 Yuka - art (photo c/o Jessica Whiteside).


Art (photo c/o Jessica Whiteside).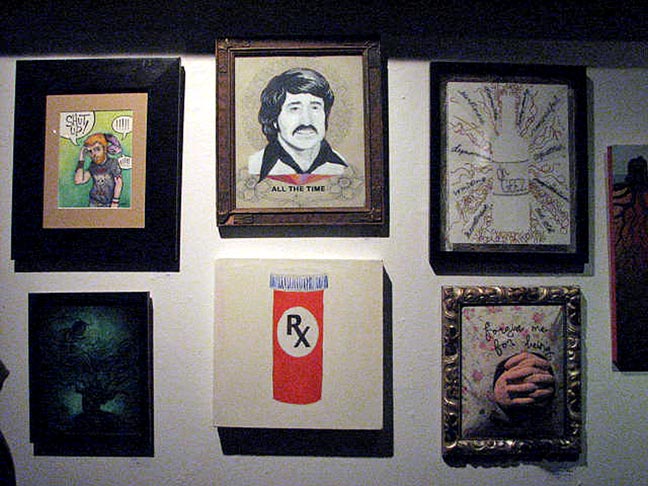 Art (photo c/o Jennifer Mullen).


Art (photo c/o Jessica Whiteside).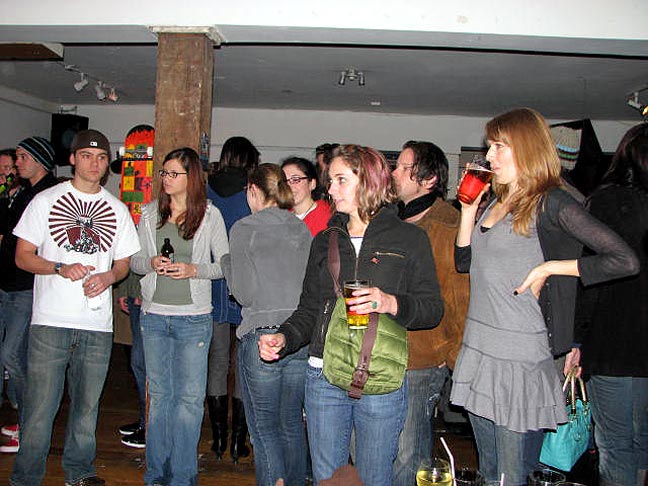 Ambience (photo c/o Jennifer Mullen).


***
Addendum:
Calixto Robles paintings and prints at Sports Basement.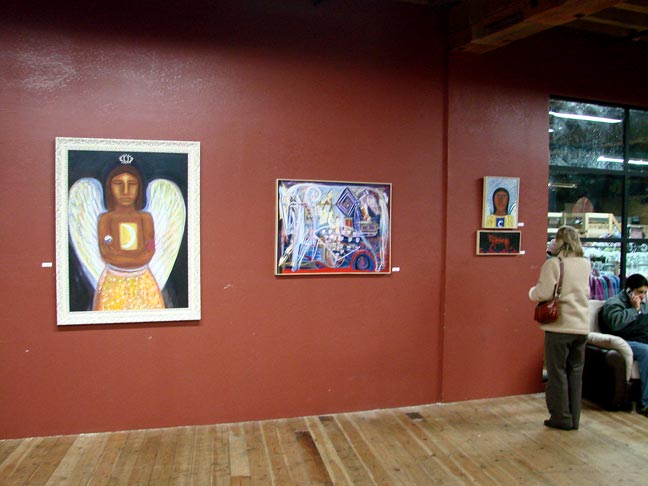 More Calixto Robles at Sports Basement on Bryant near 15th St.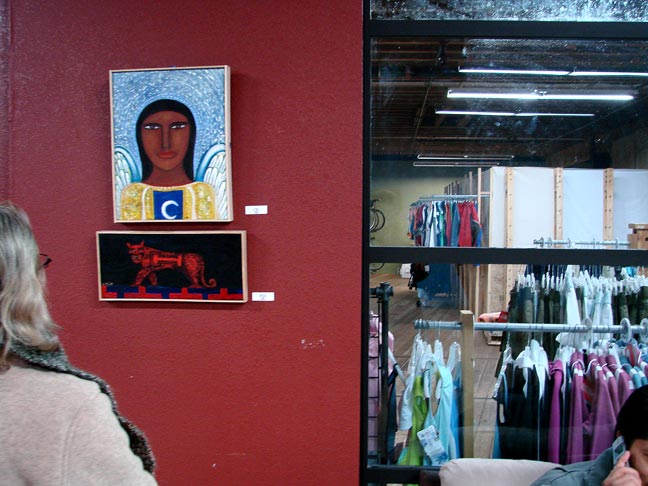 Last one from Calixto Robles show at Sports Basement.


***