SAN FRANCISCO ART GALLERIES - OPENINGS
YERBA BUENA CENTER FOR THE ARTS - LINC ART
ARTHAUS - FIFTY24SF - SHOOTING GALLERY - WHITE WALLS
URBIS ARTIUM - ARSPACE - CITY PICTURE FRAME GALLERY
01.12.06
Urbis Artium Gallery: Private Transits, New Video & Mixed Media Installations - Nate Pagel, Randall Heath.
Comment: Nate Pagel sources his art from big city subway systems, this installation, titled Eiden, transports us to underground Tokyo through smart graphics and videos. Randall Heath creates strange dioramas in small boxes, often reflected and abstracted by mirrors and cracked mirror fragments, not uninteresting, visually accessed by peeping through peepholes. According to the fact sheet, this peephole gazing "unearths the conceptual space within our own interior minds." OK. So how do you unearth space? You can unearth earth to reveal space-- that makes sense. Wait. Maybe this... First you unearth earth, that reveals space, then you unearth the revealed space to reveal more space. I dunno. In any event, no clear sense of essence in this show.
Art (Randall Heath).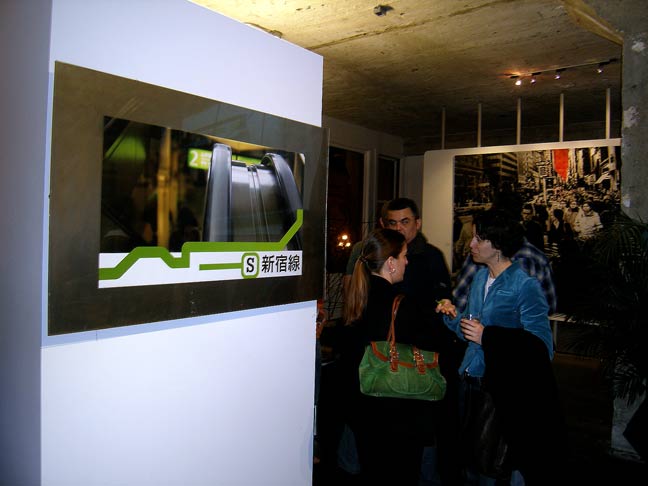 Art (Nate Pagel).


Art (Randall Heath).


Art (Nate Pagel).


Video art (Nate Pagel).


***
Yerba Buena Center for the Arts (YBCA): Peer Pleasure I - The Royal Art Lodge, Space 1026, and Instant Coffee.
Comment: Three artist groups present collaborative interactive installations. The Royal Art Lodge, based in Winnepeg, Canada shows a long steady line of tight tiny basic naive-style paintings; Space 1026 (my favorite of the three), headquartered out of Philadelphia, densely festoons two long walls with a continuous cascade of art, punctuated by periodic autonomous solo stand-outs (not technically in the spirit of the show, but it works), and Vancouver/Toronto collective Instant Coffee constructs a comfy kicky crocheted cushiony lounge complete with quick quips lettered on plywood, disco ball, and vintage 45 rpm tune-spinning.
YBCA is kind of like a cultural intervention. It gets art to people early-- before its too late-- before they decide "art" means impervious inscrutable galleries and ponderous fuddy-duddy patrician pandering trophy bagging mausoleum miming museums. (Shhhhh. You'll wake the art.) Now don't get me wrong-- I love traditional museums, plus they're essential to our creative health, growth, and evolution. But you gotta ease people into the "real art world," or else it comes off as pompous and irrelevant. You can't just tell 'em that (fill in the blank with your favorite timeless work of art) is important because it is; they need fundamentals, teething time, and a sense of connection first. That's all I'm saying.
Art (Royal Art Lodge).


Art (Instant Coffee).


Art (Space 1026 - like the paintings).


Art.


Art (Space 1026).


Art (Royal Art Lodge).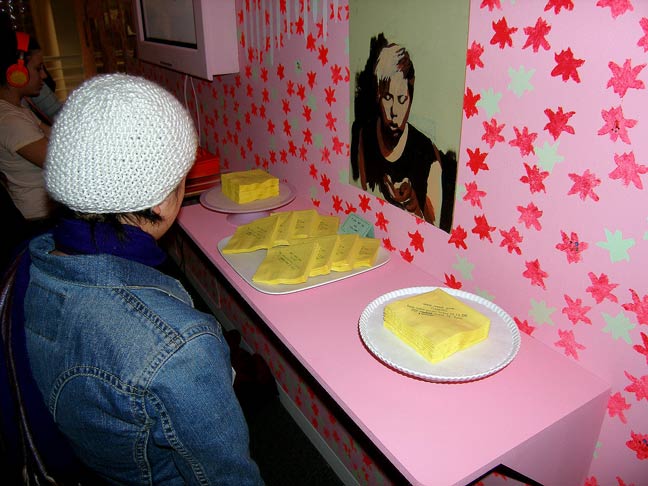 Art (Instant Coffee, I think).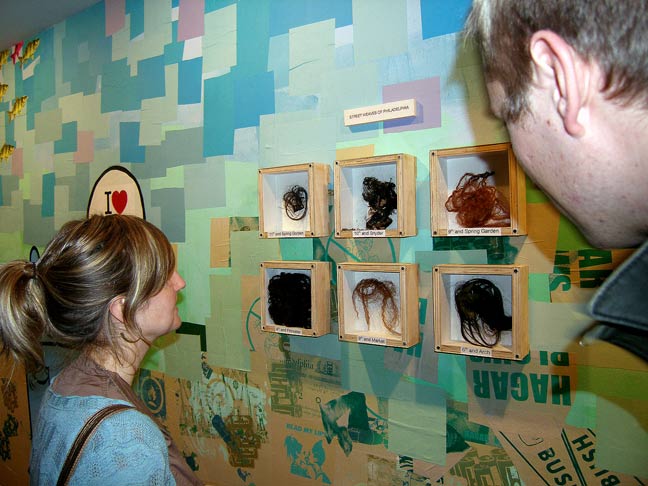 Art (Space 1026).


Art + tunes (Instant Coffee).


Art (Space 1026).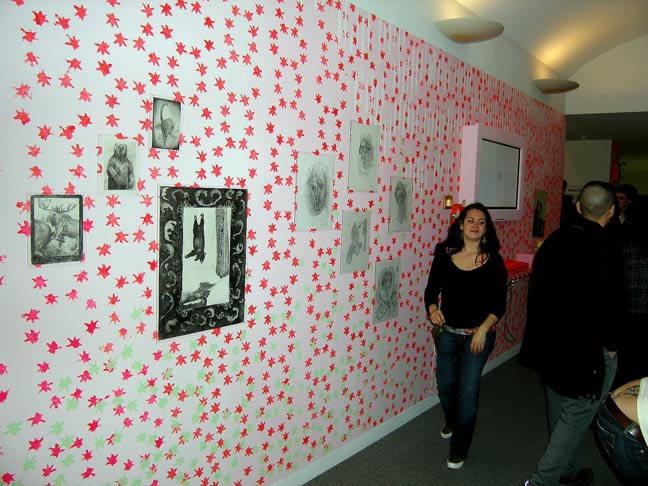 Art.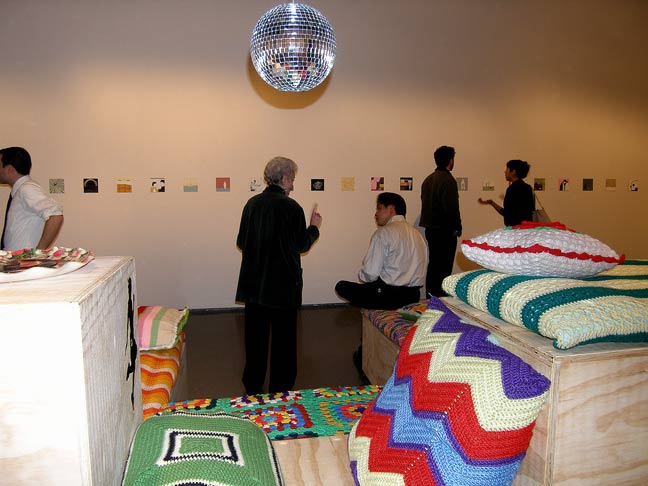 Art (Instant Coffee + Royal Art Lodge on the wall).


Art (Space 1026).


***
Linc Art: Earth Things and Other Things - Johanna St. Clair; Dustin Yellin.
Comment: Profiles in Cluelessness (me, that is)... I'm scoping the show, Johanna St. Clair comes over, introduces herself, and mentions that we met at Brion Nuda Roche's one afternoon when she was with her baby, but she's not with her baby now. I acknowledge, and we proceed to swap a couple of "baby in art gallery" stories. Then I ask her if she's showing anywhere, and she tells me she's showing here-- this is her show. Erk. I need to get out more. Anyway, St. Clair paints these glossy nubby textured canvases that mimic cell structures, and they do, and they're very good... and they remind me of lizzard skin pumps (or maybe my perception of lizzard skin pumps cuz, come to think of it, I don't see a lot of lizzard skin pumps). So I tell her and she skrinches her face. 0 for 2.
In the front room is an engaging selection of Dustin Yellin layered lucite block sculptures impounding what appear to be fossilized plants. Turns out each "plant" is progressively executed and dimensionalized by applying and then drawing on one thin lucite layer after another. Nicely done.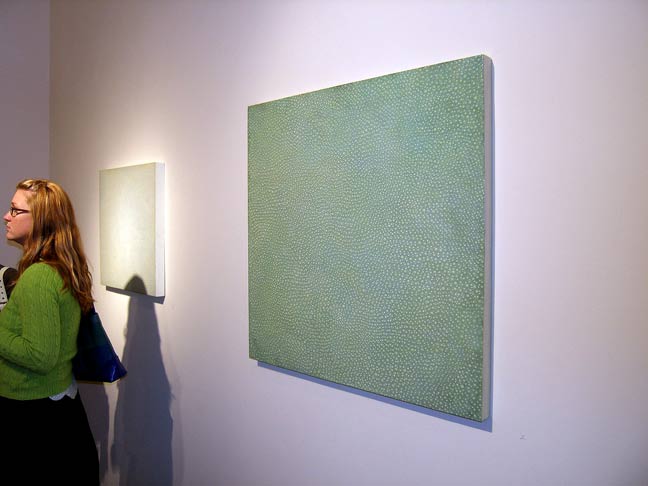 Art (Johanna St. Clair).


Art (Dustin Yellin).


Johanna St. Clair - art.


Dudes watching St. Clair get her pitcher tooked.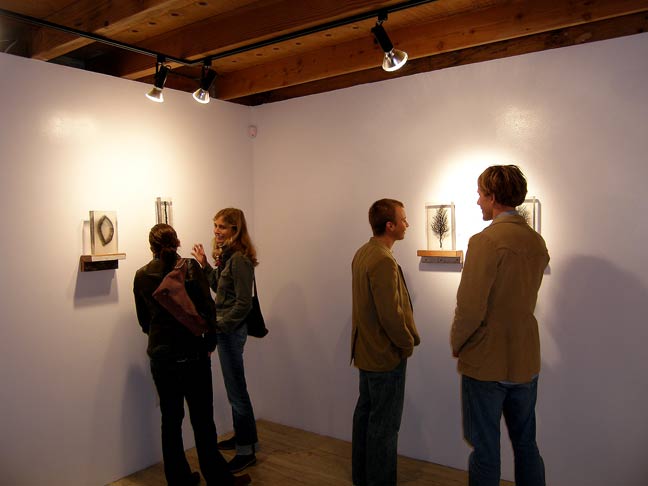 Art (Dustin Yellin).


Art (Johanna St. Clair).


Art (Dustin Yellin).


Art (Johanna St. Clair).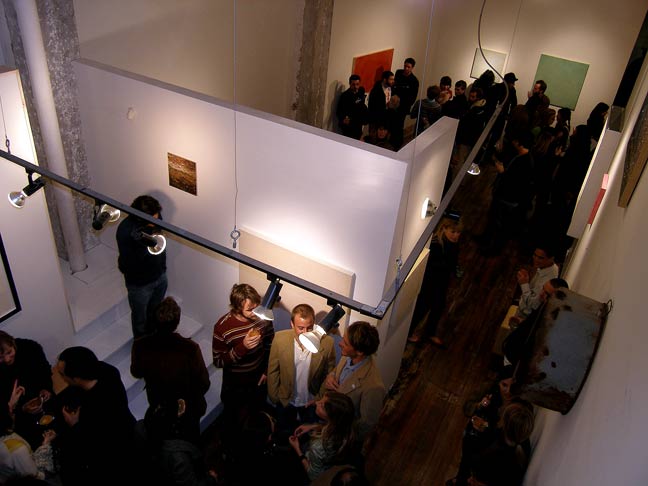 Altitudinary.


***
Fifty24SF Gallery: Saber, Norm, Amanda Lynn, Joe Leonard, & Reyes.
Comment: Wikipedia defines "folk art" as "a wide range of objects that reflect the craft traditions, and traditional social values, of various social groups." I'd say that's a reasonably accurate rendition of what we have here, and of how Urban Art might be considered. It evolves of itself, independent, unstoppable, passed down from generation to generation, refined, revitalized, and re-presented. Every single young person I know can name more Urban artists then they can fine artists. I'm not sure what that means, but it sure means something.
Picks-- mixed media fire escape sculpture with sleeping homeless person and working steam vents by Norm; painting of a photograph of a midnight LAPD helicopter patrol by Saber. Good show. Go see. Don't be a stick-in-the-mud; expand your horizons. Very affordable.
Pick (Saber - especially the one on the right).


Art (Amanda Lynn).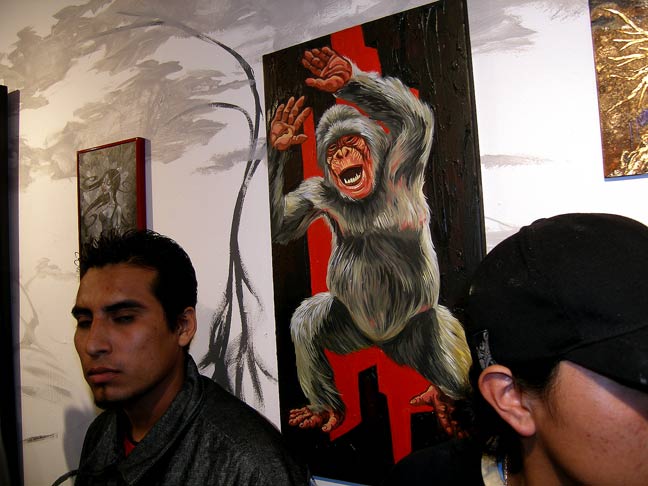 Art (Joe Leonard).


Art (Reyes - I'm pickin' this one too - nice).


Art (collaboration).


Art (down the wall, Amanda Lynn, then Joe Leonard, then Reyes).


Art.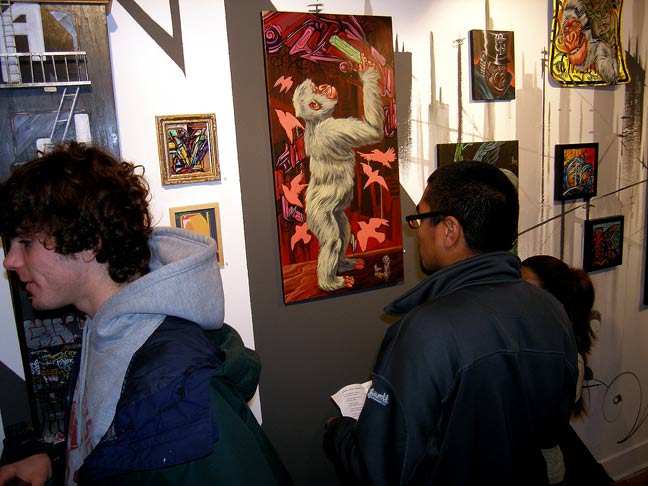 Art.


Pick (Norm).


Going up (Norm).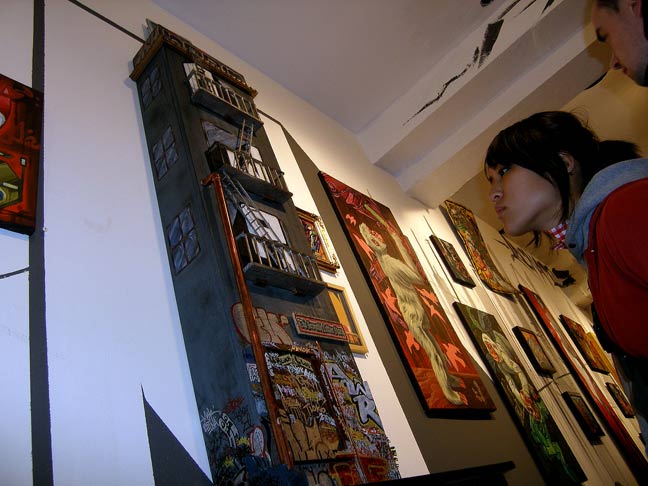 Up higher (Norm).


Circumstance.


***
The Shooting Gallery: Portrait of the Artist.
Artists: Lisa Alisa, Van Arno, Shawn Barber, Wesley Burt, Sean Cheetham, Wanyu Chou, Coro, Curve, Carl Dobsky, Kirstin Easthope, Natalia Fabia, Korin Faught, Shepard Fairey, David Flores, Helen Garber, Aaron Hawks, Mercedes Helnwein, Jessica Holmes, Michael Hussar, Andrew Jones, Eric Kroll, David Choong Lee, Henry Lewis, Kevin Llewellyn, Anne Faith Nicholls, Joshua Petker, Joey Piziali, Lee Harvey Roswell, Isabel Samaras, Patrick Segui, Morgan Slade, Anthony Sortillon, Jeremy MF Thompson, Andrea Wicklund.
Comment: It's portraits of artists-- that's the only rule. Sounds like no big deal, right? Wrong. Pick of the litter goes to the undraped upper-torso poker faced artist nine-pack by Aaron Hawks. The gallery's crammed to overflow, and everybody gets their money's worth. Yep. It's all good. The Shooting Gallery knows how.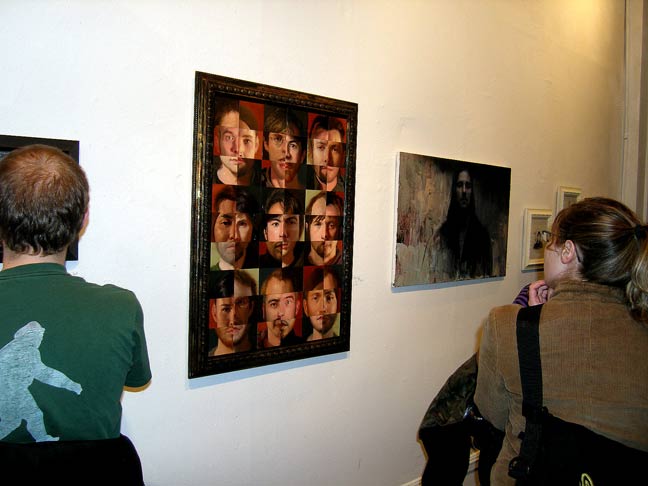 Art (like it).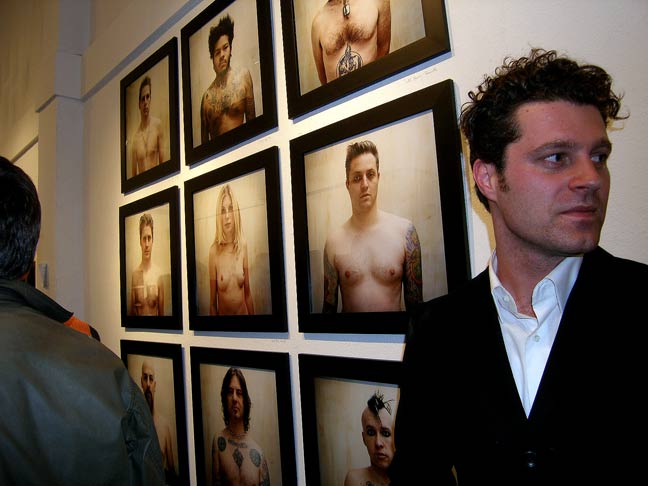 Aaron Hawks - art (pick).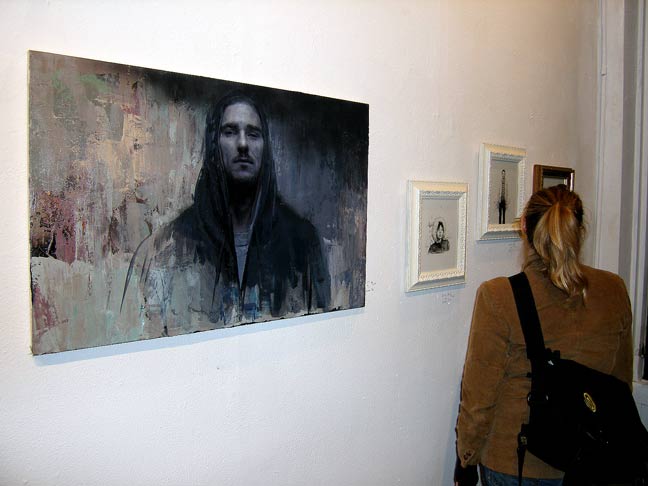 Art.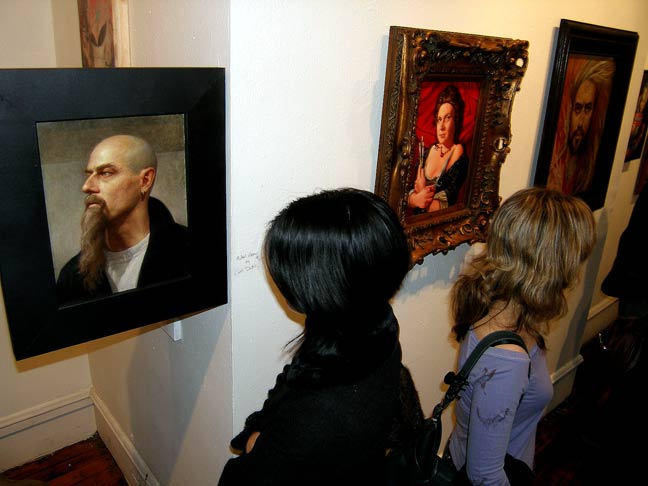 Art.


Justin Giarla - Shooting Gallery owner.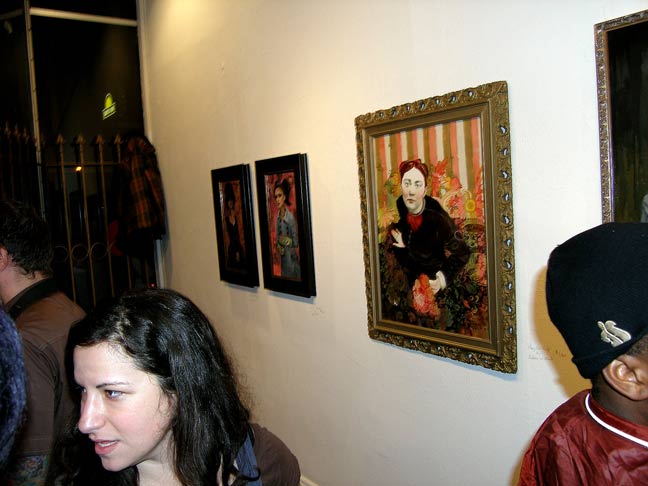 Art.


Art.


Art.


Art.


Fan base.


***
White Walls Gallery: Wall Street Journals.
Artists: Chaz Bojorques, Doze Green, Marquis Lewis (Retna), Juan Puente, Michael Knowlton.
Comment: Delectable Angelino-infused Urban mix includes flaming palm trees by Michael Knowlton, smooth steady black-white-silver stencils and calligraphics by Chaz Bojorquez (like 'em), fluid Doze Green works on paper (dude's gettin' pricey), gritty point-blank photos by tattooist Juan Puente (like 'em plus they're eminently affordable), and, spicing it up, firecracker post-pointillist portraiture by Retna.
That White Walls / Shooting Gallery complex is more fun than a barrel of monkeys.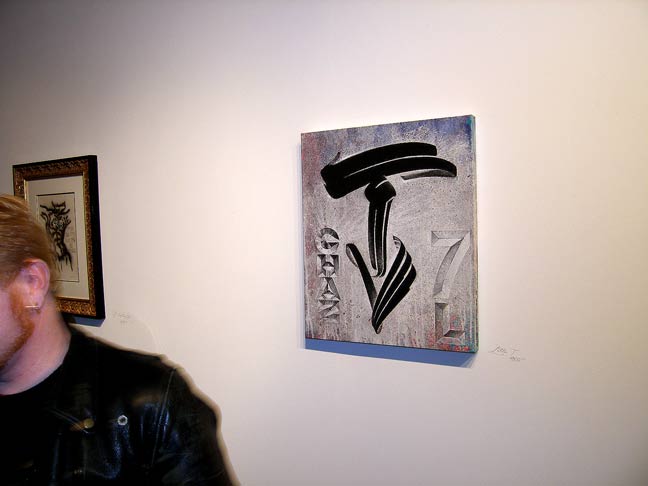 Art (Chaz Bojorques).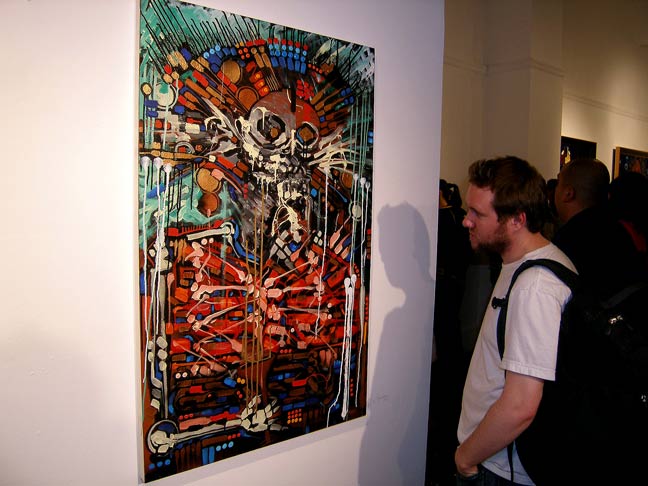 Art (Retna).


Art (Michael Knowlton).


Juan Puente - photography.


Chaz Bojorquez - art.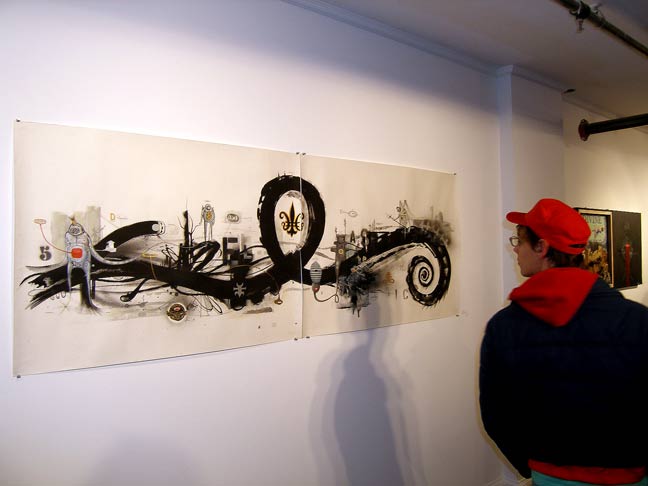 Art (Doze Green).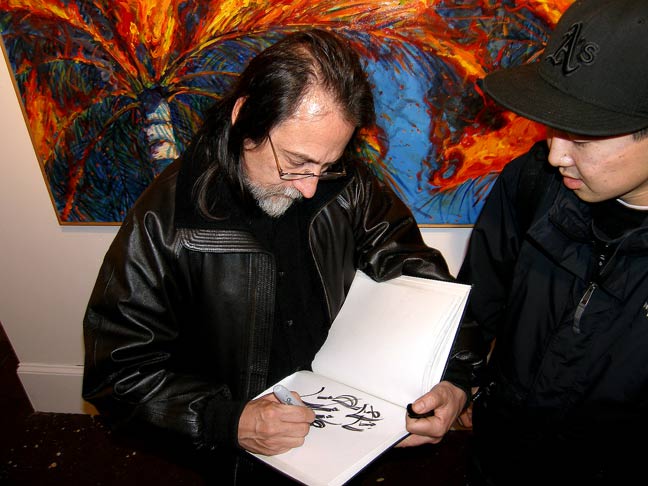 Chaz Bojorquez arting.


Photographs (Juan Puente).


Art (Michael Knowlton).


Art (Chaz Bojorquez).


***
Addendum:
Ulla De Larios weavings at City Picture Frame.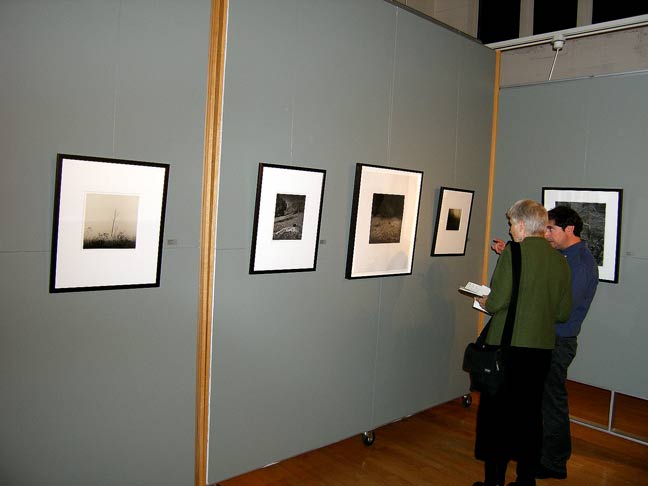 Unai San Martin images at City Picture Frame Gallery.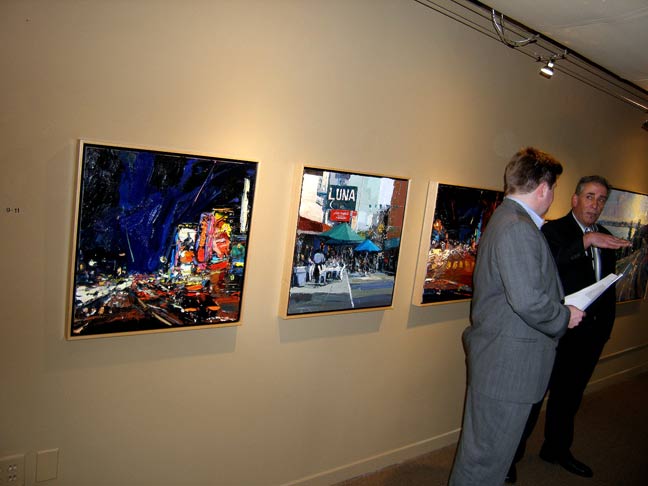 Carolyn Meyer palette paintings at ArtHaus.


One more Carolyn Meyer palette art at ArtHaus (kinda like 'em).


Julia Petho - art at Arspace.


One more Julia Petho at Arspace.