OAKLAND EAST BAY ART GALLERIES OPENINGS
SWARM GALLERY
REPORTED BY THEO KONRAD AUER
01.12.07
Swarm Gallery: Mariana Garibay, Elise Morris, Myong Stebbins - Otherwise Nature; Jessica Serran - Project Truth Collection and Reflection (in the project space).
Comment: One couldn't be blamed for misremembering the name of this gallery as "Swarm Studios" or simply "Swarm" as this gallery and art studio are in the same physical space like spiritually conjoined twins (though the studio space is really only open to unannounced visitors at openings only). A visit here would do well to remind one of the better of the galleries located at 49 geary in San Francisco just across the bay or Jack Hanley Gallery. These folks have it together and it shows.
Too many galleries have tons of vision to spare, but little professionalism ­ or vice versa. This seems to be a rule, and sadly more so in Oakland's burgeoning art scene, which has ­ a bit, just a little, prematurely ­ been dubbed the next Brooklyn by many publications at this point. Even though my tastes tend to run to work that is bit more raw, it's nice to see a gallery like this one succeed in a town where similar others such as Lizabeth Olivera Gallery have failed in the past.
There were two new shows up here and both were strong, though not necessarily complementary. "OTHERWISE NATURE," a group show of new works on paper seems to be about one's relation to physical worlds that are elusive, fantastical and dreamlike. The works are thematically cohesive yet different enough to be truly interesting. This said, not all of it is particularly original. Myong Stebbins work comes to mind here. While aesthically pleasing, I've seen similar work many times before. The other two artists in the show are far stronger, particularly the large unframed Elise Morris work, which in less experienced hands could end up cluttered and boring. Here this work is revealed in delicate lines and wild splashes of acrylic to be dialogue into the elements that shape her perceptions of the cyclical nature of nature.
If I had to pick a standout, I'd say tossup between the works of Elise Morris and the dreamlike art of the Mexico-born Marian Garibay. Her works involve painting and drawing over large cut sheets of colored paper. The tension and sense of movement between the shapes that are formed in her work are evocative and compelling. It reminds me somewhat tenuously of the art of Chris Duncan.
In Swarm's Project Space (a smaller space set aside for video art and/or conceptual works), Jessica Serran's "Project Truth Collection and Reflection," is featured. The artist collected "truths" that were gathered, in the artist's own words, "using a Truth Table that was set up in Frank Ogawa Plaza in downtown Oakland." It's interesting stuff. I've always felt conceptual art works best when it has a physical tether to the real world whether in its material requiring skill to use or in its relevance to the now. That is the case here on both accounts, unequivocatedly. I wish more artists took up the Oakland of now as a subject as the now in question is both compelling and chaotic, changing and charging.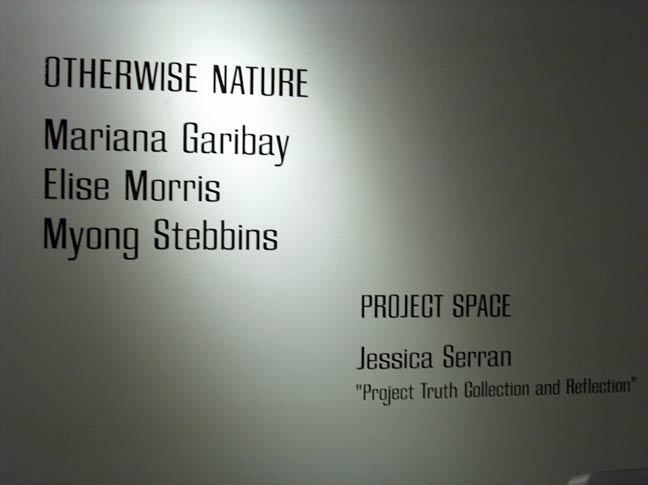 I like how 111 Minna, Boontling Gallery and now, Swarm Gallery
have their own font styles. It sets them apart.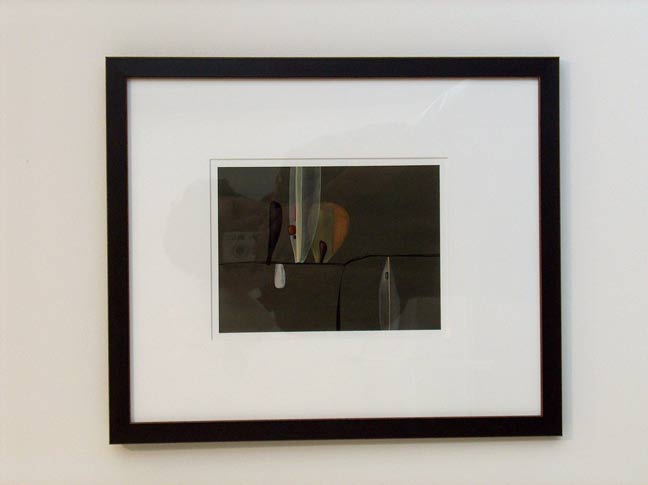 Myong Stebbins, "Memory Bio II," gouache on ragboard, 2006.


Elise Morris, "Edging Discovery," acrylic/graphite on paper, 2006.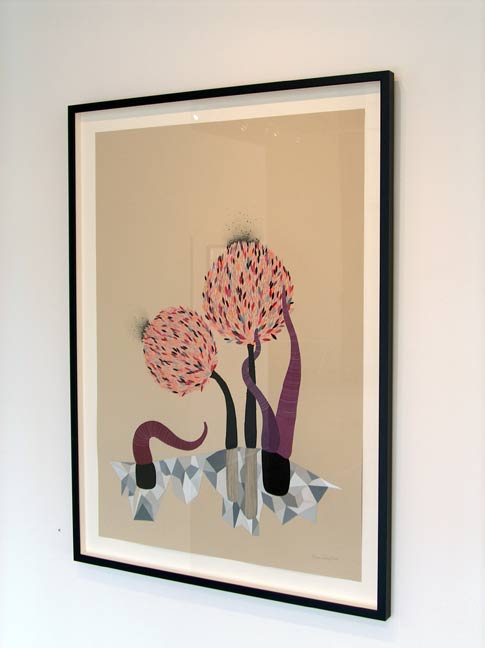 Mariana Garibay, "Courtship," gouache, graphite, color pencil and pastel on color paper, 2006.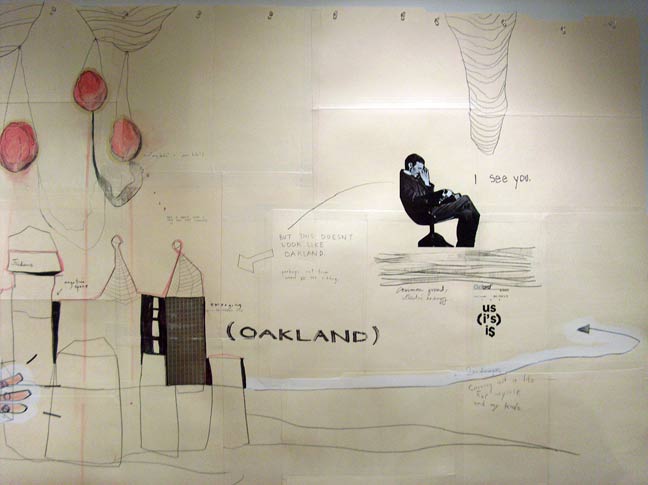 Detail of "Project Truth Collection and Reflection," Jessica Serran.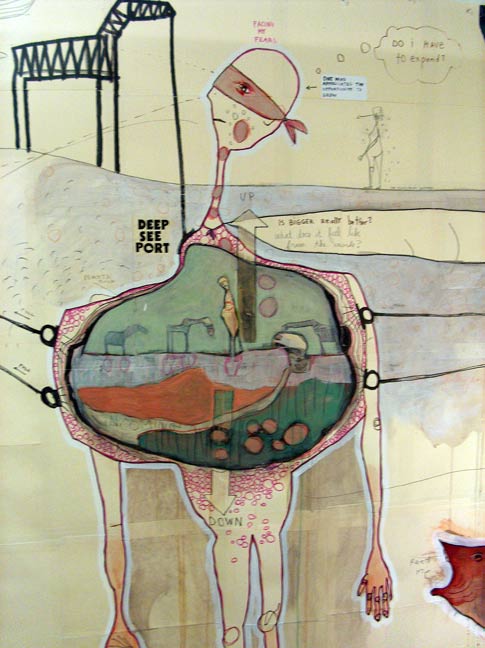 Detail of "Project Truth Collection and Reflection," Jessica Serran.


Local artist Lexa Welsh and Swarm principal Svea Lin Vezzone.


Swarm Studio artists (left to right, current to former)-
Jessica Cadkin, Casey Jex Smith, and John Casey.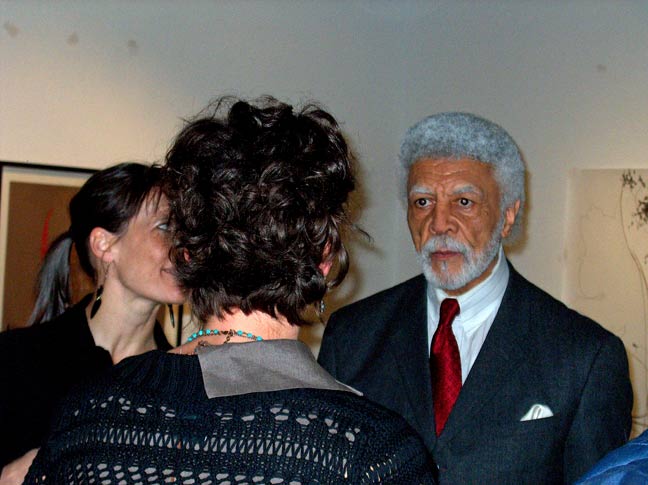 New Oakland Mayor Ron Dellums was out touring local galleries on a "night on the town." He helped promote with spotlights, event coodination and advertising. I missed out on my chance to meet him by stepping out to retrive some fresh batteries for camera. Doh!


***