SAN FRANCISCO ART GALLERIES OPENINGS
MMGALLERIES - BRAUNSTEIN/QUAY - JOHNS' WESTERN
HIMMELBERGER - MINA DRESDEN - ROOT DIVISION
20 GOTO 10 - GIANT ROBOT - SHOOTING GALLERY
WHITE WALLS - LUSCIOUS GARAGE - GAMMA PHOTOGRAPHY
01.12.08
(with assistance from DeWitt Cheng, Uba Owl, Kristin Farr, and Jessica Whiteside)
MMGalleries: Connie Connally - Liquid Line; David Magnusson - Lightscapes.
Comment by AB: In the main gallery, Connie Connally's paintings appear abstract, but according to the dossier, they're actually waterscapes "painted 'en plein air' in Italy and Southern California." In the anteroom, David Magnusson adheres fuzzed up digitized photographs to wood panels and then coats 'em with resin. Shine on.
Photography (David Magnusson).


Art (Connie Connally).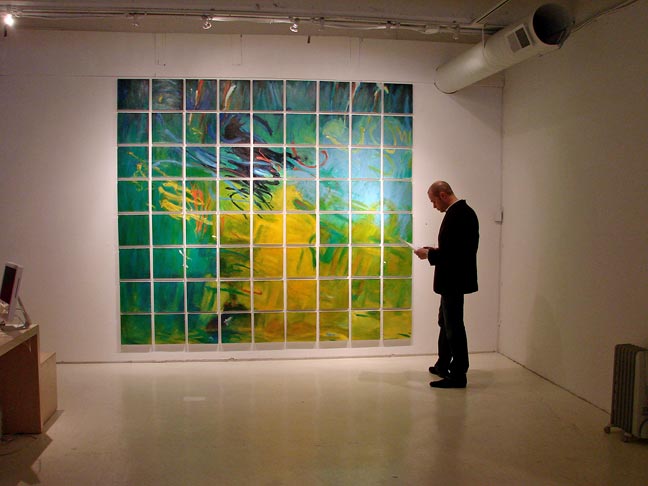 Art (Connie Connally).


Art (Connie Connally).


Art (Connie Connally).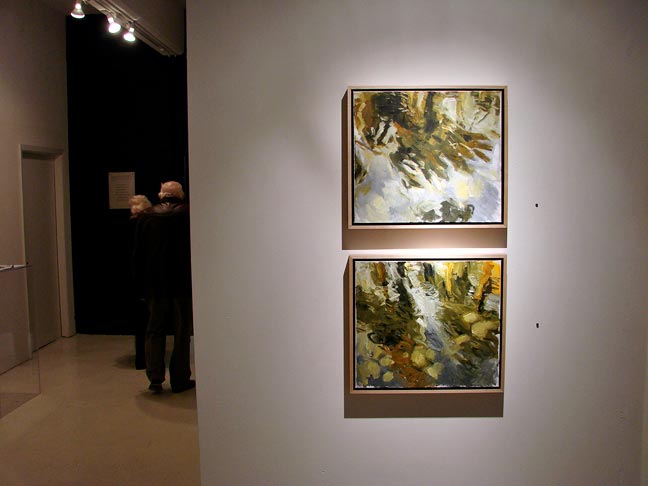 Art (Connie Connally).


***
Braunstein/Quay Gallery: Robert Brady - New Work.
Review by Uba Owl: It is fascinating how little it takes for us to spot human elements in Brady's work. I especially enjoy two sculptures that look like giant women's hair combs with heads as handles. The figures, made in wood and terracotta, occasionally embellished with foil, are simple yet remarkably playful and suggestive, evoking strong emotions like those of old African and Asian-Pacific sculptures. It is a fun and a visual pleasure to look at them.
Comment by AB: Robert Brady demonstrates deftness in ceramic, terracotta, and wood with his current series of sculptures; the ceramics wax abstract while the wood and terracotta works trend figural. Aesthetically gratifying and proficent on all counts. Doesn't get much better. Check it out.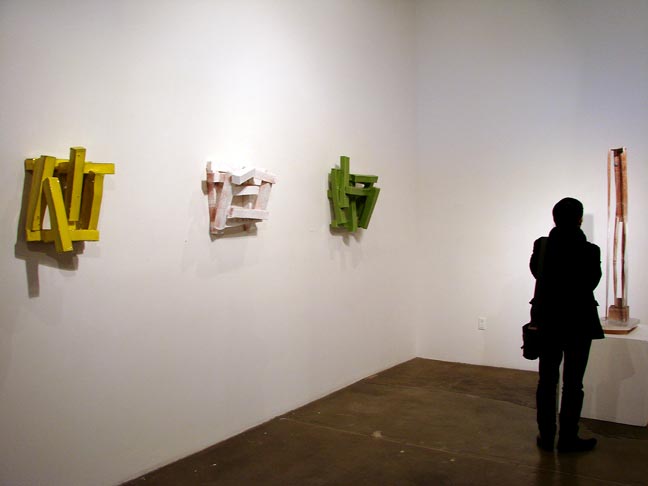 Art.


Art.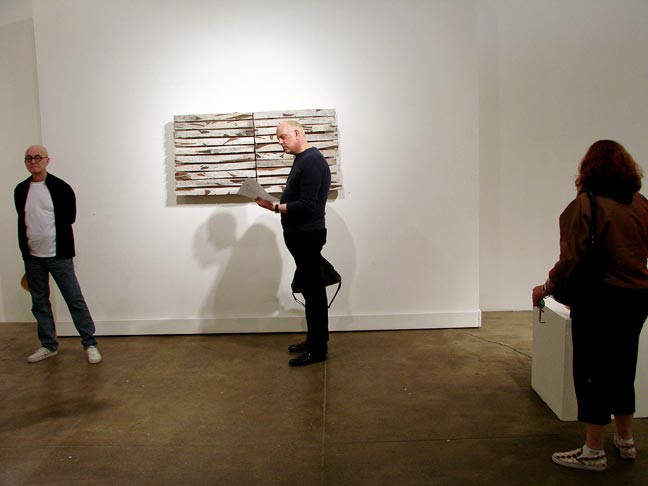 Art.


Art.


Art.


Art.


***
Johns' Western Gallery: DVD Signing Party with Descendants of Crazy Horse .
Comment by AB: Fourth and fifth generation grandsons of Crazy Horse sign copies of their newly released DVD series entitled "The Authorized Biography of Crazy Horse and His Family." The DVD's are produced by documentary filmmaker Bill Matson and his company Reel Contact. On the walls are paintings from the upcoming show "There Goes the Neighborhood - Contemporary Native American Art."
Don Red Thunder, Floyd Clown, Doug War Eagle - Crazy Horse grandsons.


Crazy Horse DVDs.


Bill Matson - Reel Contact Crazy Horse documentary filmmaker.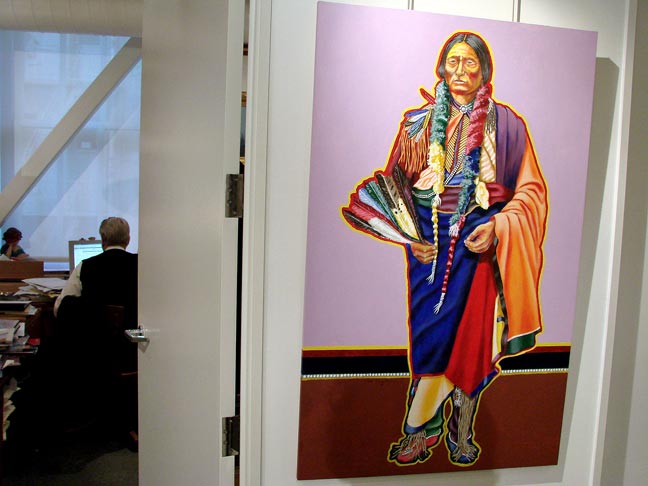 Native American art.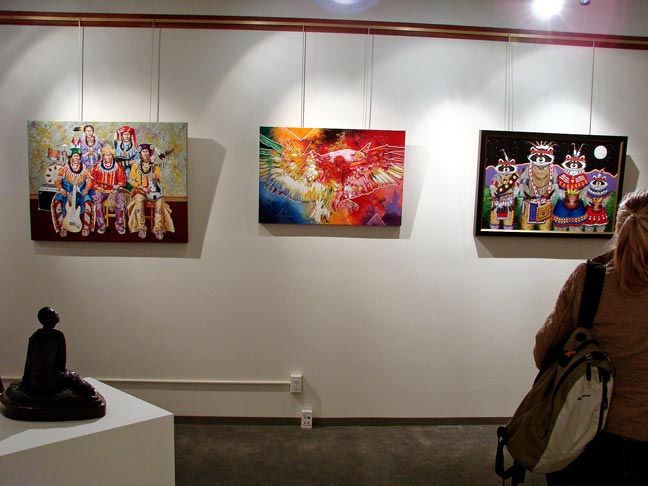 Native American art.


Gallery owner Doug Johns in the office.


***
Himmelberger Gallery: Robert Gumpertz - Faces and Figures.
Comment by AB: Lighthearted portrait and figure paintings by Robert Gumpertz, whose distinguished career includes illustration work for publications like Playboy, Penthouse, Paris Match, and London's Punch, and a weekly cartoon strip in the SF Chronicle called, oddly enough, Gumpertz.
Art.


Art.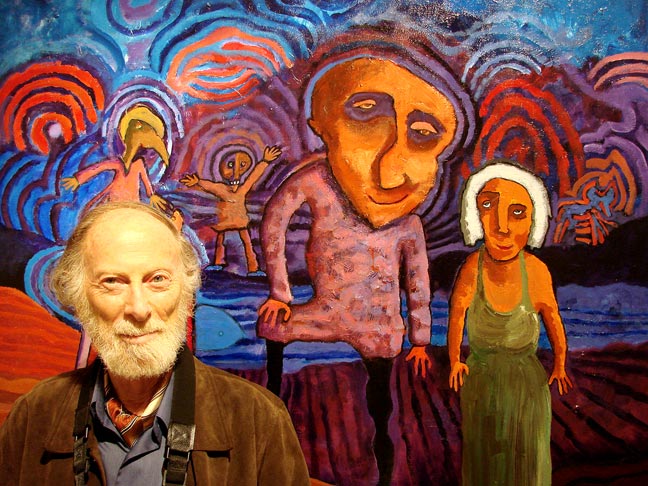 Robert Gumpertz - art.


Art.


Art.


Art.


Art.


Circumstance.


***
Mina Dresden Gallery: Berlin in San Francisco.
Artists: Gisela von Bruchhausen, René Faber, Claudia Gansz, Harriet Gross, Gina Jacupke, Susanne Jung, Hanna Lippman, Inga Rensch, Matthaus Thoma.
Review and photos by DeWitt Cheng: Nine German artists come to SF for this show in conjunction with the Goethe Institute's Berlin & Beyond Film Festival. The gallery is open by appointment, and not far from Flax's, so call and go. Friendly artists, nice reception.
DeWitt Cheng writes for Artweek, Art Ltd., www.SanFranciscoArtMagazine.com, www.Shotgun-Review.com, and the East Bay Express.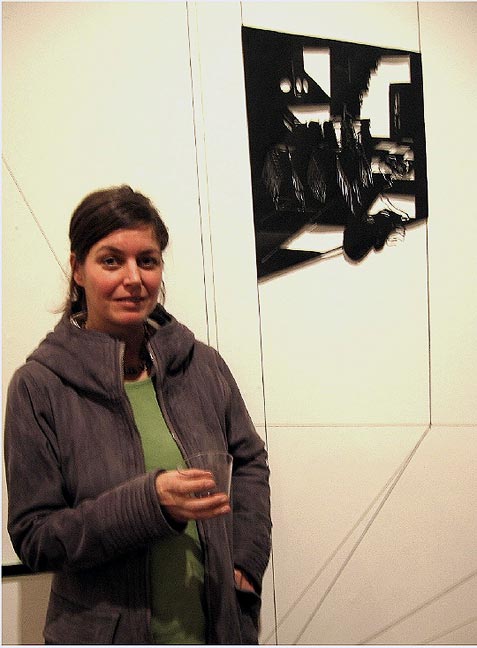 Harriet Gross with her mixed-media installation on wall and window.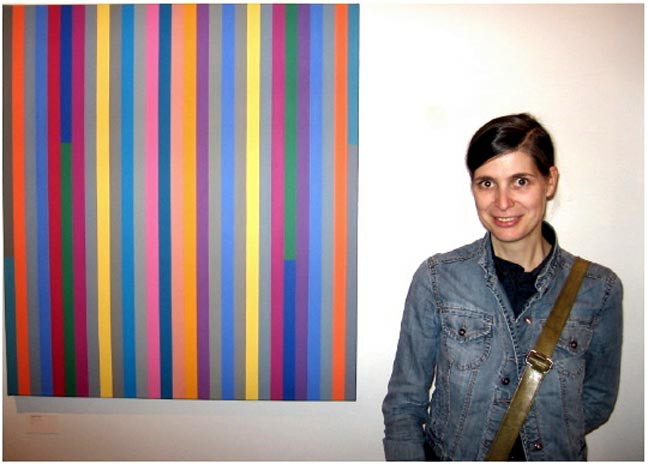 Claudia Gansz with acrylic on linen painting.


Inga Rensch with her inked-plastic prints.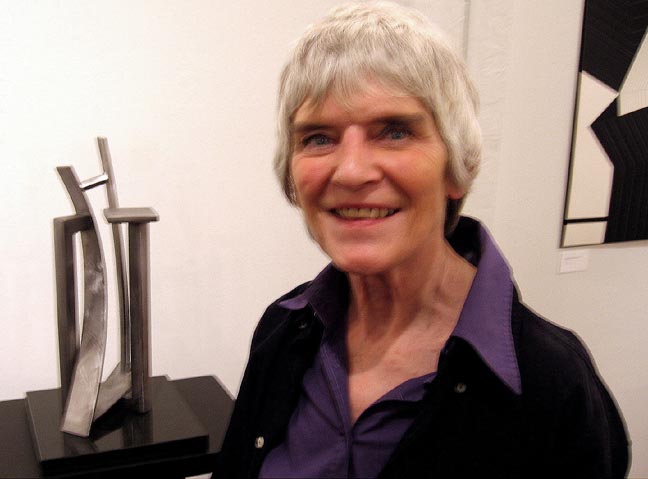 Gisela von Bruchhausen with sculptures and paper collage.


Spectator and Hanna Lippmann's architectural interior photos.


Matthaus Thoma's gigantic installation (oak flooring, California rain, screws).


Susann Jung and acrylics on canvas.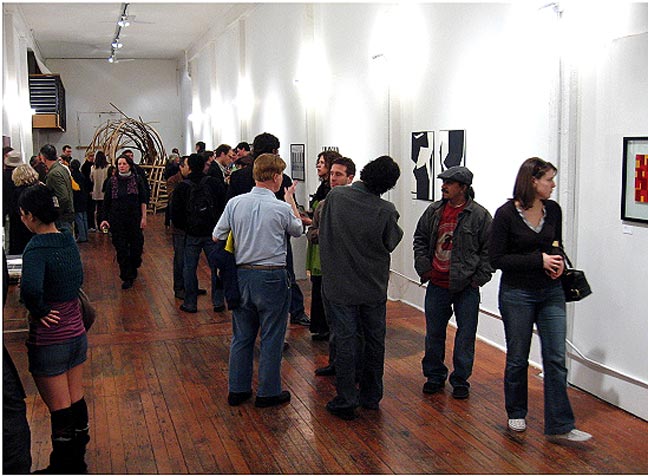 The crowd.


***
Root Division: Biophilia.
Artists: Amy Cancelmo, Kristen Chappa, Sophie de Lignerolles, Alan Disparte, Biran Null & Selene Foster, Cassandra Glessner, Masako Inaoka, Rachel Jablo, Jeremiah Jenkins,Sangyon Joo, Ashley Kalemjian (curator), Carrie Lederer, Kristina Lewis, Anil Liu, Michelle Mansour, Yvette Molina, Conrad M. Meyers II, Rachel Sagar, Jamie Spinello, Amber Stucke, Jeffrey Tombrello, Maria Vasconcelos.
Review and photos by DeWitt Cheng: Twenty-two artists take on the theme of nature as seen through conceptualism as artifice.
Kristina Lewisıs "Untitled," tape and straws piece.


Detail of Kristen Chappa's "Delicate Flower (Homage)," paper on wood.


Carrie Lederer's paintings.


More art from Carrie Lederer - mixed media pieces.


Detail of Sangyon Joo's "Wonder on Parnassus," photo.


The crowd.


Amber Stucke's "My Thoughts," ink and graphite on paper.


***
20 goto 10 Gallery: Ansi - ANSIs from Legendary Artists Somms & Lord Jazz of ACiD.
Review by Jessica Whiteside: Normally I donıt really get that enthusiastic about video game art, but this show is actually technically very well executed and aesthetically beautiful and interesting. The approach to the installation is fresh and innovative as the images are slow moving pictures on large flat screens, pixilated with bright colors just like you would expect from old school arcade games.
I wish I can get a closer look, or even be able to fully investigate some of the smaller installation pieces that seem interactive, but the space is so jam packed with Tecate drinking gamers, it's hard to move, let alonge breathe. This show's certainly created a buzz, and maybe I'll have to go back during the day to really see what all the fuss is all about.
Comment by AB: 20 goto 10 principal Christopher Abad informs me on the modus-- the art is created with a primitive MS-DOS program called ANSI where keyboard keys correspond to various colors, and you basically type a "painting." Kinda like digital pointillism or maybe "digital kinetics." Definitely worth a visit.
Art.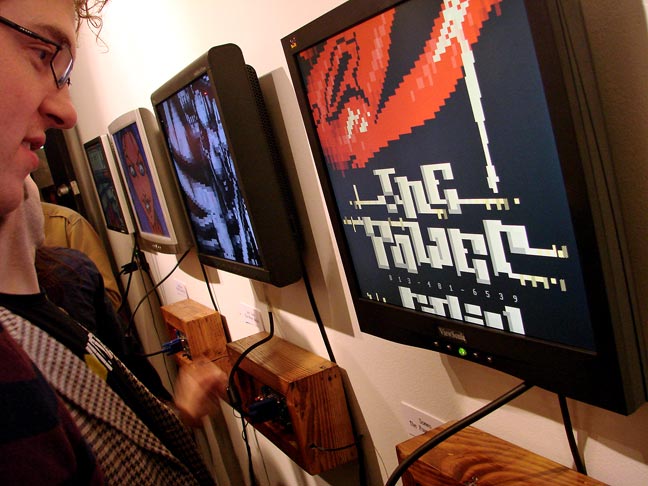 Art.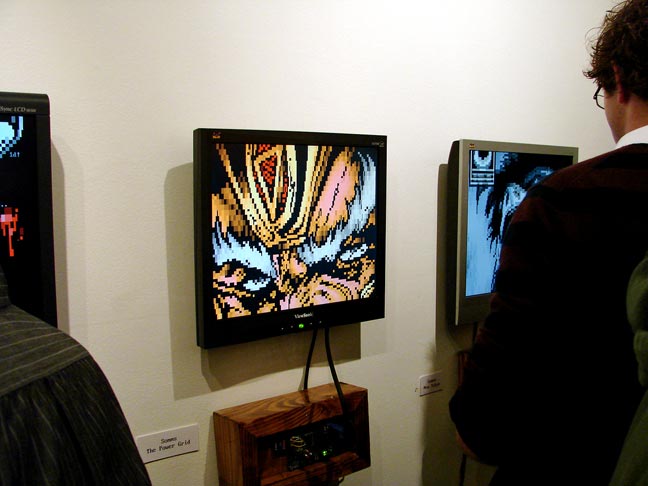 Art.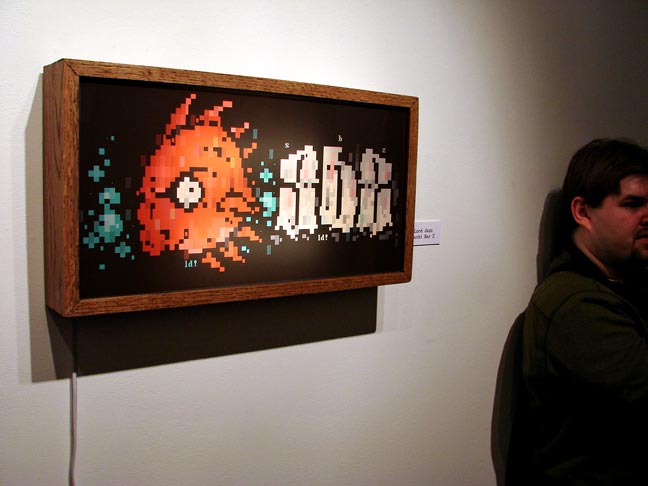 Art.


Art.


Art.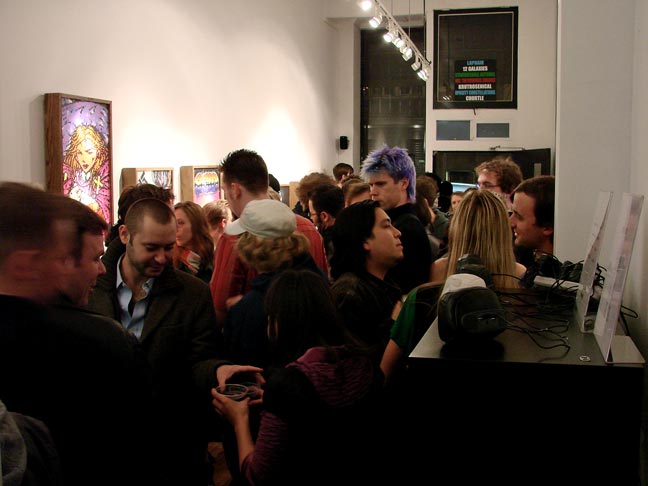 Relative density.


Spillage.


***
Giant Robot: Caroline Hwang - Salvage, New Works.
Review by Jessica Whiteside: Caroline Hwang's whimsical illustrations combine feminine ink drawings with collage elements made of wood and fabric. Her narrative style portrays everyday life from the point of view of the artist. The intricate embroidery and delicate patterns are worth stopping by to see.
Art.


Art.


Art.


Art.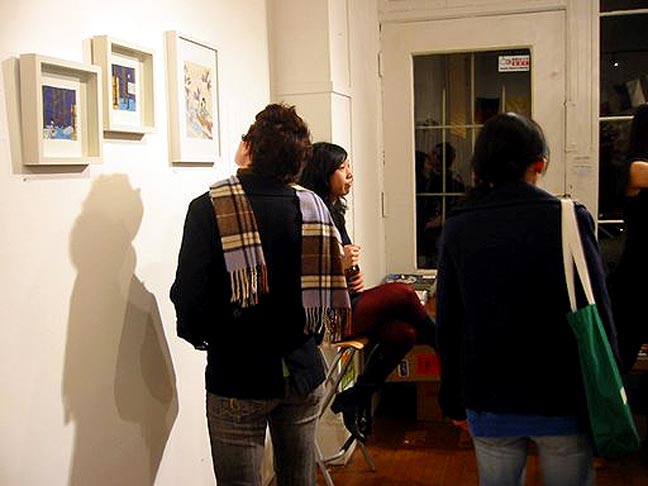 Essence.


***
Shooting Gallery: Beautiful Moment.
Artists: Mel Kadel, Matt Haber, Jeana Sohn, Travis Millard, Adam Flores.
Review by Kristin Farr: I fall for Mel Kadel's drawings the instant I see them. She uses pen and ink on discolored papers, creating contemplative, dreamlike scenes with her mostly female characters. There are often twists and piles of patterned layers in the images, drawn meticulously with a subtle, warm palette. Kadel's style is consistent and distinctive, making each piece feel familiar.
Comment by AB: Delectable group show of smaller format paintings and drawings, many admirably conscientious and detailed, the large majority very affordable, most priced under $800, starting at $150, top price $2500 (but that's for a set of seven paintings by Matt Haber).
Art (Mel Kadel).


Art (Mel Kadel).


Art (Mel Kadel).


Art (Mel Kadel).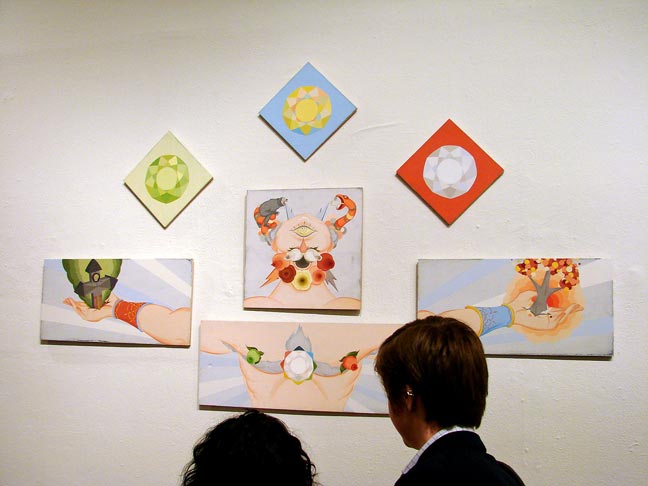 Set of seven art (Matt Haber).


Art (Matt Haber).


Art (Adam Flores).


Art (Jeana Sohn).


***
White Walls Gallery: Alex Lukas, Chris Pew, Amy Casey.
Comment by AB: Chris Pew continues his adventurous excursions into alternate realities, this time in blues; they may look abstract, but in the back of your mind, you somehow believe they actually exist. Amy Casey concocts topsy-turvey gaggles of houses, buildings, and highways, suspended in space, conjoined by cables. Alex Lukas tells that me he creates his ominous apocalyptic visions by collaging book illustrations of buildings and then adding in special effects with airbrush and paint.
Art (Alex Lukas).


Art (Alex Lukas).


Alex Lukas - art.


Art (Amy Casey).


Art (Amy Casey).


Art (Amy Casey).


Art (Amy Casey).


Art (Chris Pew).


Art (Chris Pew).


Chris Pew - art.


Art (Chris Pew).


***
Addendum:
Wataru Nakamura paintings at Luscious Garage.


Wataru Nakamura + art at Luscious Garage.


P.J. Reptilehouse abstracted figurations at Gamma Photo Lab.


***