SAN FRANCISCO ART GALLERIES - OPENINGS
CROWN POINT PRESS - RATIO 3 - SOUTHERN EXPOSURE
AMPERSAND INTERNATIONAL ARTS - THE LAB - GALLERY 16
TRIPLE BASE - CALIFORNIA MODERN - TINHORN PUBLIC WORKS
01.13.06
Crown Point Press: Julie Mehretu - Heavy Weather, Three New color Etchings.
Comment: Julie Mehretu scratches up three oversized action-packed prints created around the time of, and influenced by, that windswept levee-busting calamity queen Katrina. The compositions convulse with fluidity like hopped up turbo-Kandinsky's, and beyond. According to the scorecard, one print is technically termed a "color sugarlift aquatint with aquatint, spit bite aquatint, and hard ground etching on gampi paper chine colle." I don't know whether to hang it or eat it. A number of original works on paper by Mehretu, none for sale, are also included in the show. Good stuff. Go see.
Art.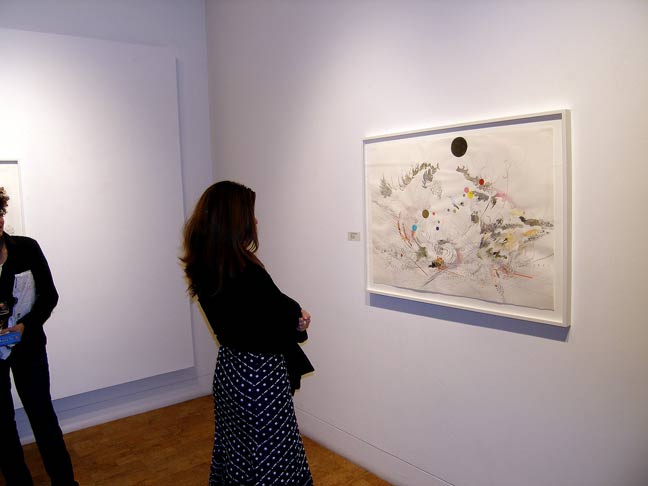 Art.


Art.


Art.


***
California Modern Gallery: Geometric d'Econstruction.
Artists: Robert Caess, Damon Hildreth, Rene eaton, Laura Bauer, Mark Harris, John Haag, Raymod difley, Wolf Thurmeier, Damon Sneed, Martin Webb, Susan Spies.
Comment: Lots of all kinds of abstract art, paintings and sculptures, 1950's to the present.
Art.


Art.


Art.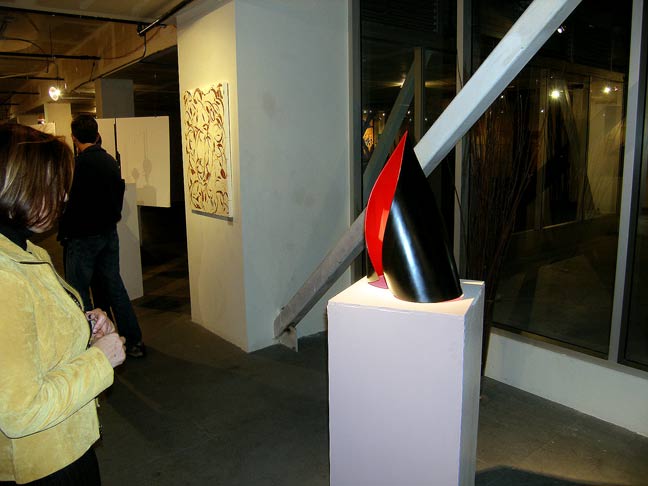 Art.


Art.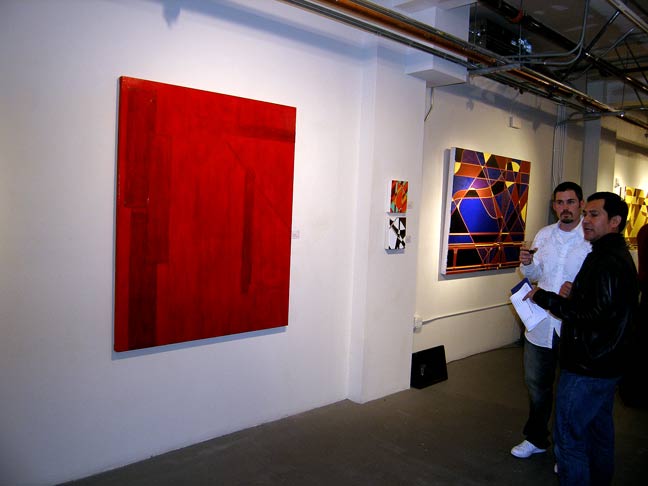 Art.


Art - arena.


***
Ampersand International Arts: Albert Reyes - Wonderland; Megan Wilson - Spring.
Comment: Ampersand hitches a low ride downtown with the steadfast editorial contention art of Albert Reyes. Reyes shows a group of small paintings and drawings, anchored by several meticulous pencil portraits (most low hundreds $$), plus a bunch of prints made on the insides of detached front and back covers of old hardbound books ($40 each-- cheeep). Reyes believes that his art should be for everyone, so he keeps his prices low-- and they sure are here. Unfortunately, Albert, not everyone who buys your art feels the same way you do, and when it's their turn to sell, they price it as high as they possibly can. We can always count on our good buddy greed to eventually deprave the party.
Megan Wilson, meanwhile, bedecks a gallery wall with a mix of precise pastel painted patterns and clean curled strips of paper, lightly seasoned with an array of additional aesthetic appurtenances. She also shows several stand-alone framed paint and curled paper compositions under glass in case you wanna corral a piece of the action to take home.
Art (Albert Reyes - like 'em).


Art (Megan Wilson).


Albert Reyes (left) - Bruno Mauro (owner, right).


Art (Albert Reyes - $40).


Art (Megan Wilson - nice).


Art (Albert Reyes).


Art (Megan Wilson).


Art (Albert Reyes).


***
Ratio 3 Gallery: Takeshi Murata - Silver Equinox.
Comment: Takeshi Murata dissembles, disjoints, abstracts, reconfigures, and reincarnates a vintage black & white Italian horror film into a nonconcrete video, complete with original soundtrack by Robert Beatty, that actually holds together and appears to have a plot, even though you have no idea what that plot might be. Special added bonus-- it's inexplicably beguilingly intriguing-- you can't wait to see what happens, even though you know in your brain that nothing ever will. That's a pretty good trick.
Video art.


Video art.


Takeshi Murata.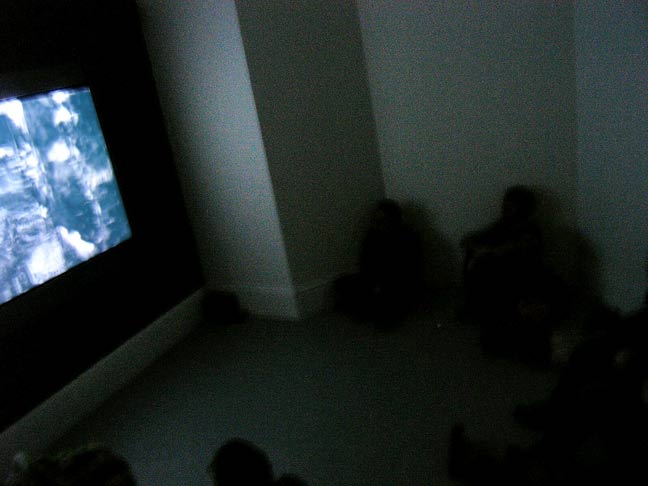 Floor plan.


***
The LAB: Fabuliandia Fauna, Part II.
Artists: Donelle Estey, Mandy Greer, Tim Jag, Daniel Ross and Tara Tucker.
Comment: The second installment of curator Lauren Davies's foray into fantastic lands and creatures of a happy better more amusing future. My favorites are three thick large elliptical mixed-media works by Daniel Ross. He adheres archival inkjet prints to wooden oval forms shaped like sliced off bases of cones. Next he seasons the prints with glitter and acrylic, then he finishes off the shootin' match with heavy clear glossy epoxy. These works are technically excellent, visually whiplashy stangely dioramically weird, and you have to get up close to figure out exactly what you're looking at, but even then you have no idea unless Ross tells you. They're $10K each-- not cheap-- but a lot of work goes into making these babies work. Plus they're super easy to dust.
Pick (Daniel Ross).


Daniel Ross - art.


Art (Daniel Ross - they're bigger than they look).


Mandy Greer - art (like it).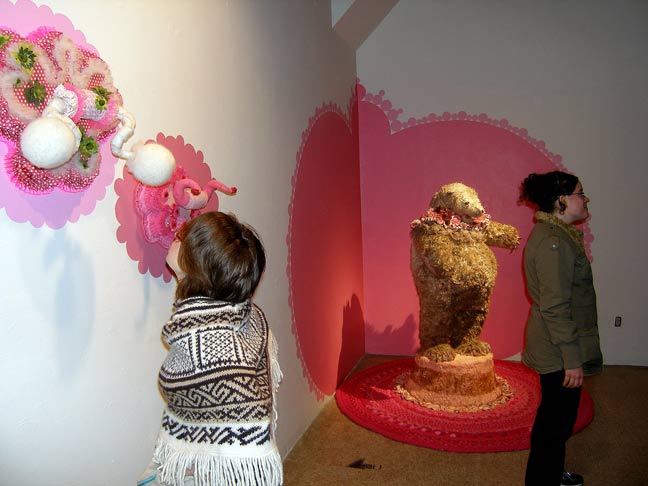 Art (Mandy Greer).


Art (Tara Tucker).


Art (Tim Jag).


Art (Mandy Greer).


Art (Tara Tucker).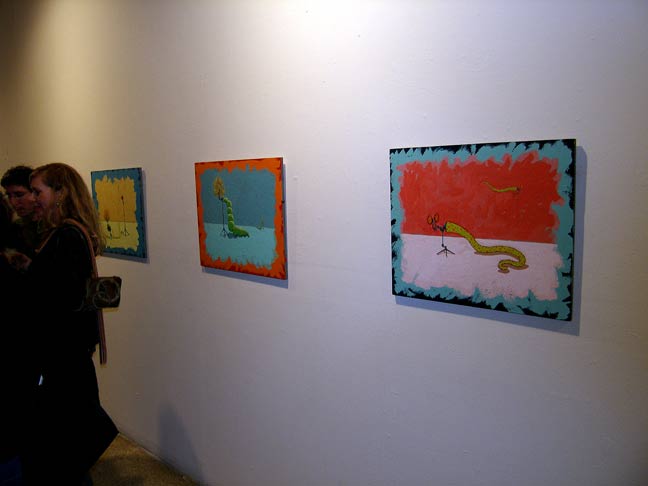 Art.


***
Southern Exposure: Wall Street Journals.
Artists: Speech and Basins - Sculpture by Matthew Flegle; Permanently Temporary - Installation by Sarah Smith; Accumulative Dissipation - Video installation and work by Chris Sollars.
Comment: Matthew Flegle artfully constructs and conjoins portions a storage shed and a church steeple into a single structure, the fusion infused with multitudinous meanings, but I'm in a hurry. Sarah Smith capably builds a woodsy simulated stage set viewable from both front and back, the installation infused with multitudinous meanings, but I'm in a hurry. Chris Sollars uses a life-sized rubbing of an SUV and a mocked-up monster trash bag to remind us what obscenely gluttonous overconsumptive pigs we are, wasting the world for the fun of our moments, but I'm in a hurry-- BUT I GET IT-- because it's presented with people-in-a-hurry in mind (though dawdlers can enjoy it too). Never forget those people in a hurry, dear artsters, especially if you have thoughts, beliefs, feelings, or opinions you want to share. We wanna be shared with just like everyone else, but we don't necessarily have as much time to spend with you and your art you'd like us to spend. Too bad, by the way, that the profligates who do most of the wasting will likely never see Sollars's show-- but Sollars is on the right track with his mobile outdoor trash bag impassion plays.
SUV rubbing art (Chris Sollars - pick).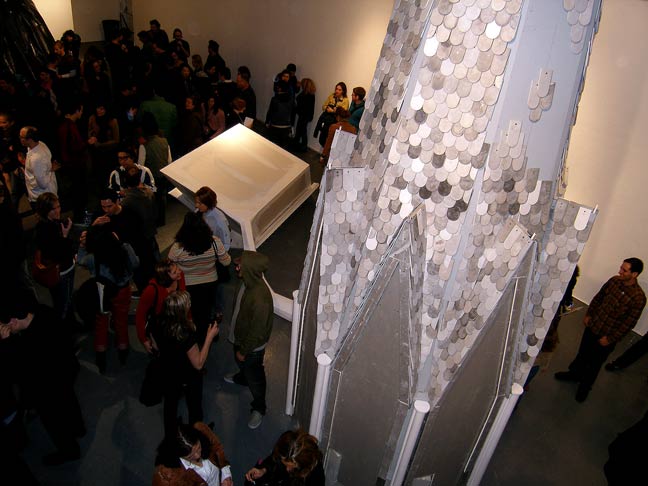 Art (Matthew Flegle).


Art (Sarah Smith).


Trash bag teepee art (Chris Sollars).


Art (Sarah Smith).


Art (Matthew Flegle).


Aerial.


***
Gallery 16: 13 Big Western Landscapes by Rudy VanderLans.
Comment: "All art finds its common quality in the halftone dots that reproduce it." That's the first sentence of how Rudy VanderLans explains his images and it's so perfect, I already get the essence of the show. He supports this contention by taking thirteen 35mm color desertscape photographs, blowing them up, extracting out the color, and reproducing them as absurdly oversized halftone dot matrix pattern pictures, similar to book or magazine illustrations, but taking the process to such an extreme that you have hardly any idea what the original photographs look like. Illustrations of art normally remove you by varying degrees from the art they reproduce, but here the illustrations themselves become the art.
Art.


Art.


Rudy VanderLans - art.


Art.


Book about the art.


Art.


***
Triple Base Gallery: Switchback - Matt Gerring and Jay Nelson.
Comment: Jay Nelson, known for building functional sculptural artful treehouses, shows he can draw too, creating large rangy graphite and rubbed eraser dreamscapes that incorporate places he's been into places he'd like to go. Matt Gerring does up the gallery's front windows with a couple of installation works composed of foil, foam, and rigging mechanisms used in mountain climbing. Not sure how he ties these in to "spiritual questing," as stated in the liner notes, or how the finished art suggests "a lust for nature." Maybe it does for him.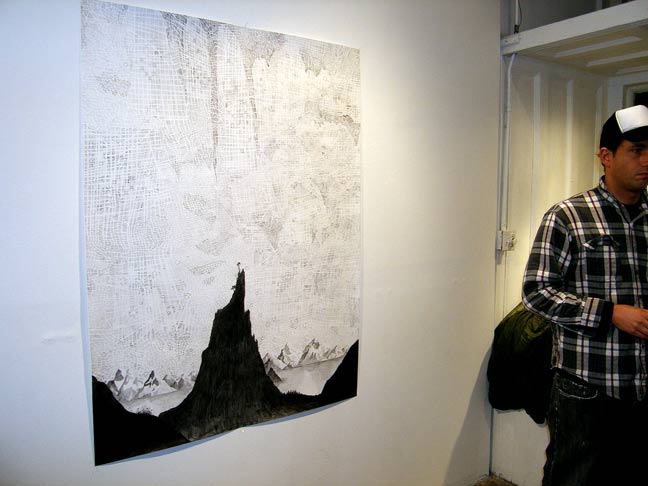 Art (Jay Nelson).


Dina Pugh (curator, left) - Jay Nelson (center).


Art (Matt Gerring).


Art (Jay Nelson).


Art (Jay Nelson).


***
Addendum: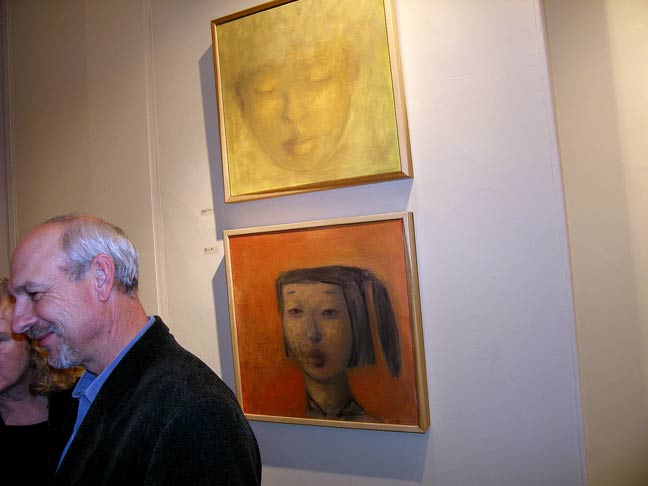 John Gruenwald paintings at Tinhorn Public Works.


Dennis Parlante paintings and collages at Tinhorn Gallery.


Tinhorn Public Works exterial.