SAN FRANCISCO ART GALLERIES - OPENINGS
GALLERY 276 - HOTEL DES ARTS - ROOT DIVISION
RED INK STUDIOS - HAYES VALLEY MARKET
BACK TO THE PICTURE SOMA GALLERY
01.14.06
Hotel Des Arts: Casey O'Connell.
Comment: Casey O'Connell breezes through yet another chapter in the lives of flippy koolgirl and her occasional sidekick kooky koolguy. The two bounce to the furlough boogie, pausing here, there, and everywhere, repeatedly, inexorably to be ever enshrined in O'Connellesque moments. It's a tad like seeing the same painting over and over again, but in the end, each declares itself just variant enough to keep you in the game. Priced fair. Lookin' good.
Art.


Casey O'Connell - art.


Art.


Art.


Art.


***
Gallery 276: Will Cloughley - Atmospheres & Iterations.
Comment: Every once in a while, I stumble across a little gem, in this case being the relatively new Gallery 276, tucked away at 276 Shipley St. (alley). Warm wonderful space co-owned by veteran collector/dealer Stephen Headley, owner of Osceola Gallery in Emeryville. Tonight, in addition to Will Cloughley's iconoclastic art, there's a gong performance by gongstress Karen Stackpole. She tells me she owns substantially more gongs than she's got here at the gallery. Then she gives me a quick lesson in gong playing, then she shows me her mallets, one of which is very impressive.
As for the art of Will Cloughley, you start with Kandinsky, stir in a little of that homegrown Transcendental Painting Group like maybe Emil Bisttram or Agnes Pelton, then you Turn On, Tune In, Drop Out, and you've arrived at the mystic meditative mantrics of Will Cloughley. Plus you get to page through several of his sketchbooks/journals (he tells me he has about thirty). Nice. All good here. Go see.
Stephen Headley (gallery co-owner) - art (Will Cloughley).


Will Cloughley - art.


Karen Stackpole (gongstress) - gongs and mallets.


Art.


Sketchbook art.


Sketchbook art.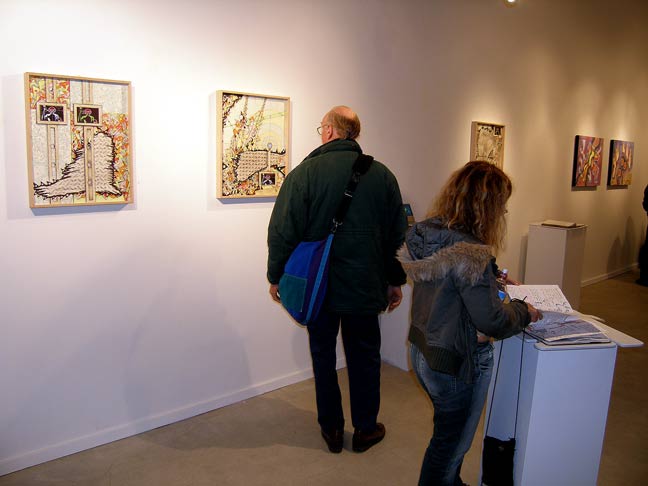 Art.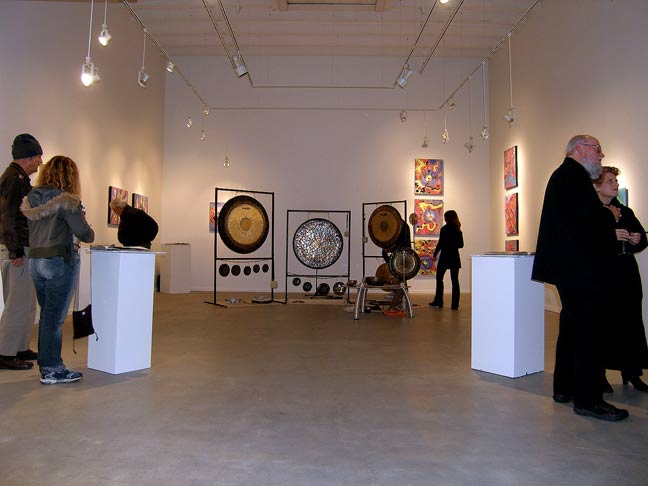 Playing field.


***
Root Division: Inside Out - New Work by Melissa Hutton and Dennis McNulty.
Comment: Dennis McNulty paints birds doing their bird thing, and even though I've seen more than enough bird art (thank you), these work nicely, so they get a special dispensation, whatever that means. McNulty doesn't paint those skratchy naivey voguey birds you see way too much-- his silhouette tweeters are more anatomically correct, plus his compositions are confident, polished, and aesthetically sound. Priced $100-$1350.
Melissa Hutton presents a selection of sleek shiny modern atypical enamel, epoxy resin, and veneer works on wood, mostly rural landscapes, farms in particular, which I've seen before and continue to like. Plus she gets bonus points for finishing the edges. Maybe it's time to start thinking about a gallery show, Melissa. Priced $500-$4K. Satisfying show for Root Division.
Art (Melissa Hutton).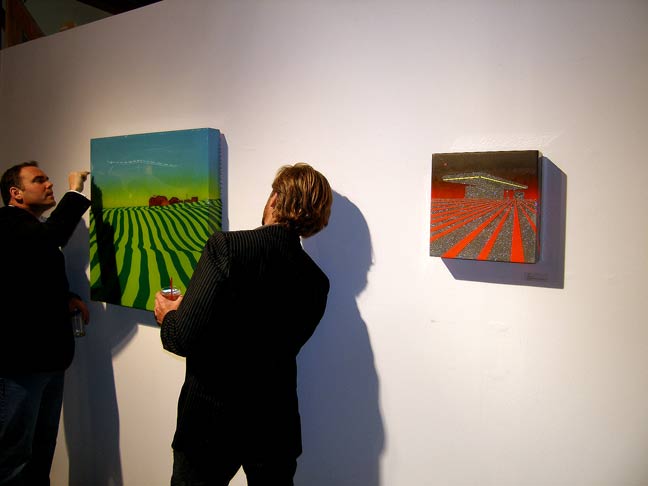 Art (Melissa Hutton).


Melissa Hutton - art.


Art (Melissa Hutton).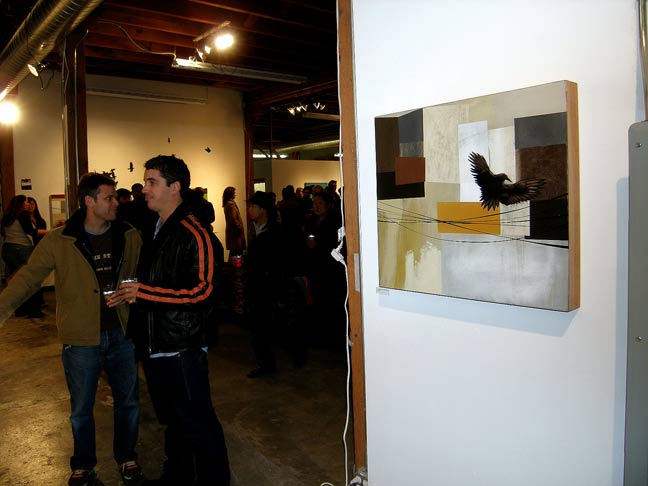 Art (Dennis McNulty).


Dennis McNulty - art.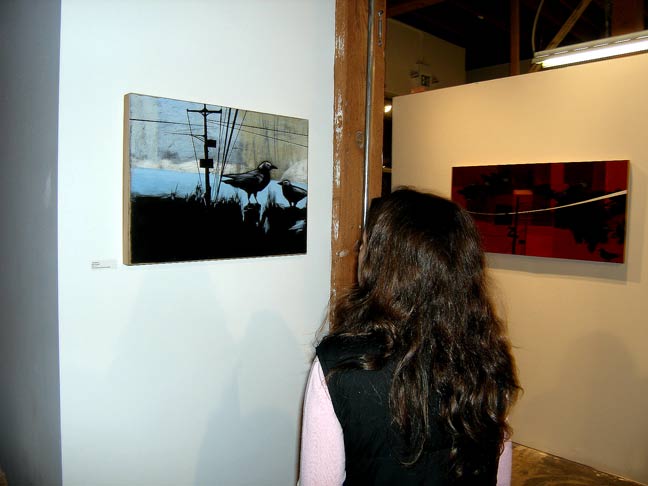 Art (Dennis McNulty).


Art (Dennis McNulty).


Landscape.


***
Addendum: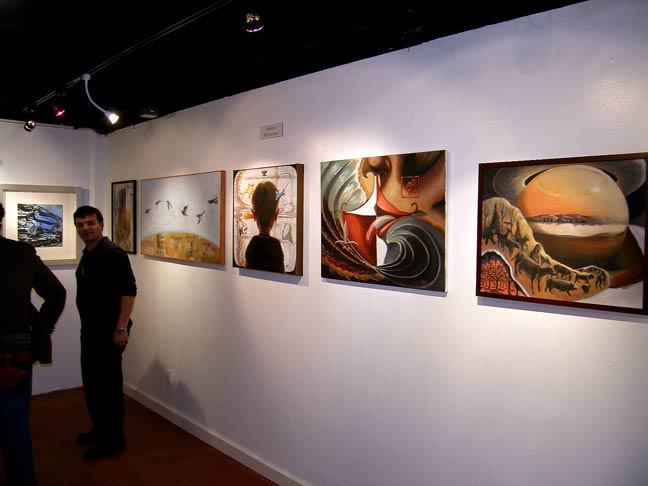 Group show at Back to the Picture, SOMA Gallery.


Another Back to the Picture.


Back to the Picture, 1110 Howard St., SF, CA 94103; 415.558.9901.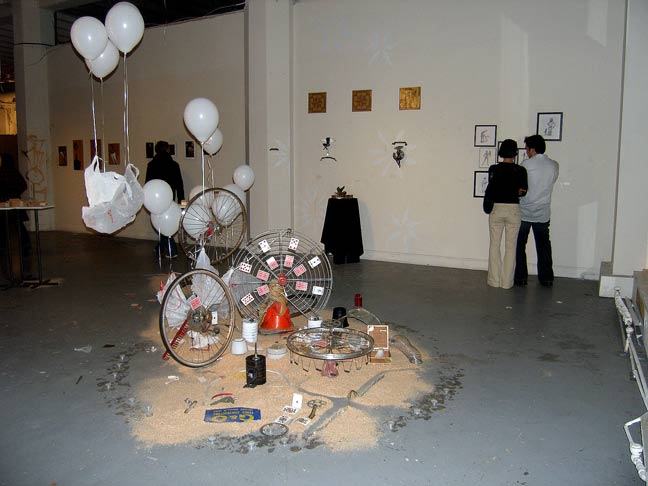 Anarchic artistics at Red Ink Studios.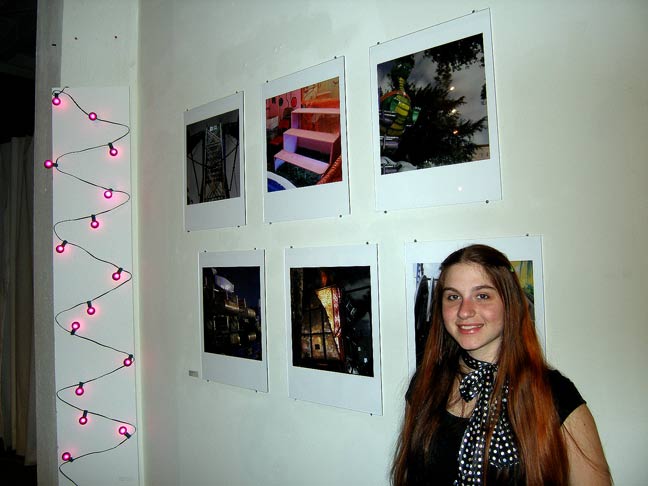 Deanna Charles + photography at Red Ink Studios.


One more Red Ink Studios.


Andre Salcido amoebic art at Lo-Fi Customs.


Andre Salcido + art at Lo-Fi Customs.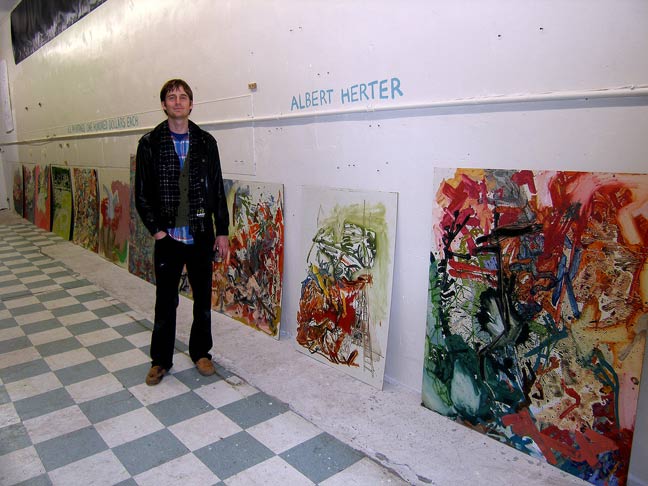 Albert Herter + $100 bargain art at Hayes Valley Market.


Bye-bye Hayes Valley Market. You were fun while you lasted.