941 GEARY - MICHAEL ROSENTHAL - ROBERT BERMAN/E6

CHANDLER - PRETTY PRETTY COLLECTIVE

ARTISTS ALLEY - DRIP STUDIOS

01.15.11

(with assistance from Clare Coppel, Kathryn Arnold and RWM)



The Art of Buying Art. Learn how. Click here.
***
941 Geary Gallery: Jesse Hazelip - Belle of the Brawl.
Review by Clare Coppel: Jesse Hazelip's "Belle of the Brawl" animals lack heads; in their places are machines of war, guns, airplanes. Violence has rendered them anonymous and sightless. His imposing installation stars a large Middle Eastern architectural-looking installation on one wall. In front of it, a shot up car with a machine gun on top sports a baby's car seat and stuffed dog in the back.
Review by RWM: Nice to see wild animals protecting themselves, circumstances having progressed to the point where they apparently need guns. Weapons may not be necessary in our enlightened neck of the woods, but not everybody finds wildlife sacrosanct. Still, strange to see the tools of war at their disposal, literally appended to their beings as they are. Their militant supporters will likely be inspired. Terrific and startling regardless.
Comment by AB: Nature, weaponry, politics and religion coexist in uneasy detente in Jesse Hazelip's compelling commentary on various aspects of global affairs. Draughtsmanship skills like this kinda make you want to see a greater diversity of imagery next time around. Stay tuned for that.
Art and installation by Jesse Hazelip.


Jesse Hazelip art.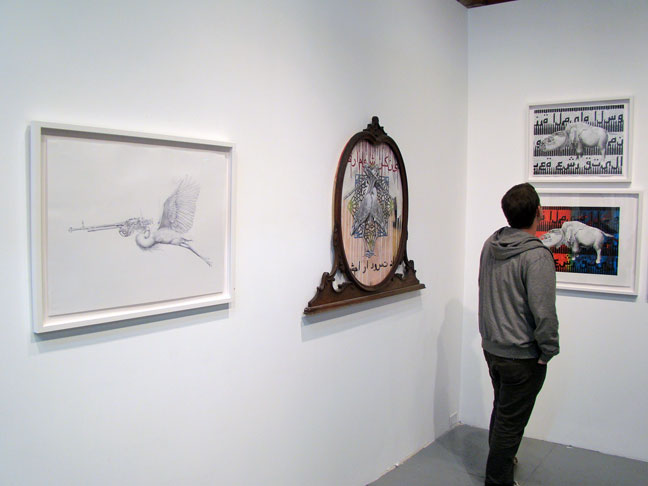 Art by Jesse Hazelip.


Detail of Jesse Hazelip art above (photo c/o Clare Coppel).


Art by Jesse Hazelip.


Jesse Hazelip installation art.


Interior of Jesse Hazelip installation above (photo c/o Clare Coppel).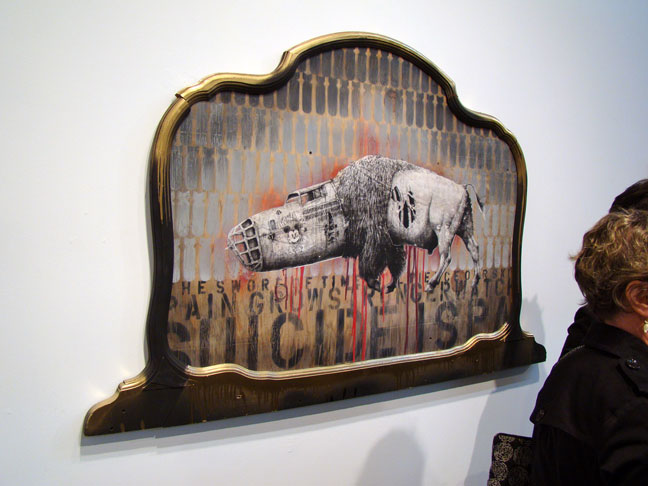 Art by Jesse Hazelip.


Performance spices things up at 941 Geary - Jesse Hazelip art show.


***
Chandler Fine Art: Robert Katsusuke Ogata - The Haiku Series.
Review by Kathryn Arnold: On Saturday while out art viewing, I stumble upon an exhibition opening at Chandler Fine Arts. Handsome paintings by Fresno artist Robert Katsusuke Ogata combine the powerful simplicity of Zen (imagine Zen rock gardens) with calligraphic moments. Surfaces are opulent white with fragmentary markings of black paint with grays. A type of minimalist Expressionism (minimalism used here not to be confused with the art movement Minimalism). Very much worth experiencing.
Haiku #3 - art by Robert Ogata (photo c/o Chandler Fine Art).


***
Michael Rosenthal Gallery: Faulkner By Hand, The Sound and the Fury - Greer McGettrick; Narangkar Glover, Meghan Gordon, James Benjamin Franklin.
Comment by AB: Greer McGettrick transcribes William Faulkner's novel, "The Sound and the Fury," by hand in pencil on paper resulting in a 35" by 135' installation that completely fills three walls of the gallery. Took her three weeks, she tells me, the modus being to more deeply experience the book. Makes sense to me...
Calligraphic art by Greer McGettrick.


Greer McGettrick and her art/writing.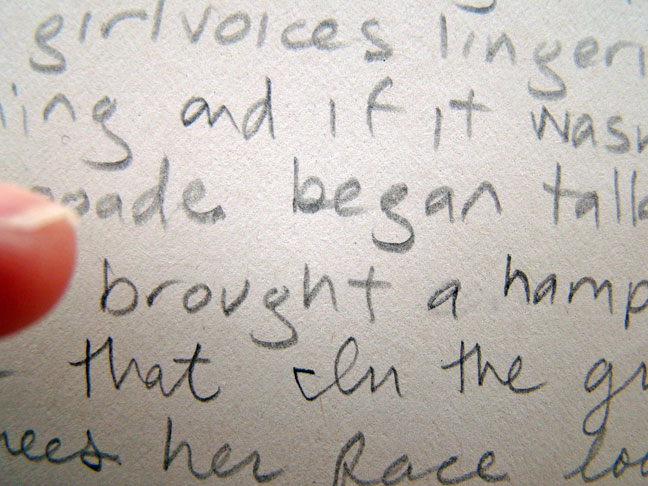 Pinkie cam detail of written word art by Greer McGettrick.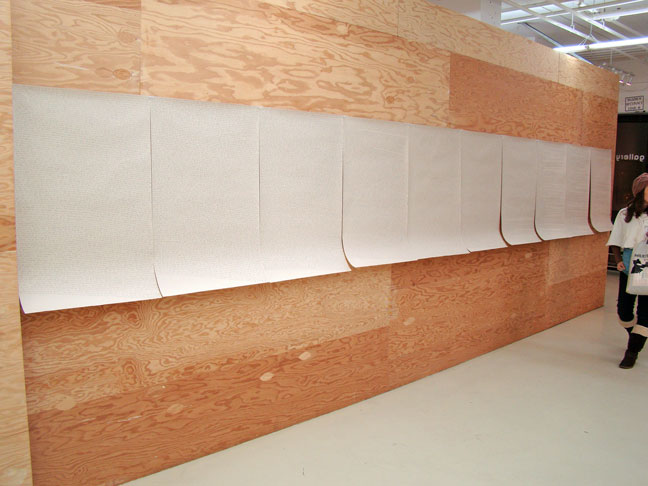 Greer McGettrick transcription art.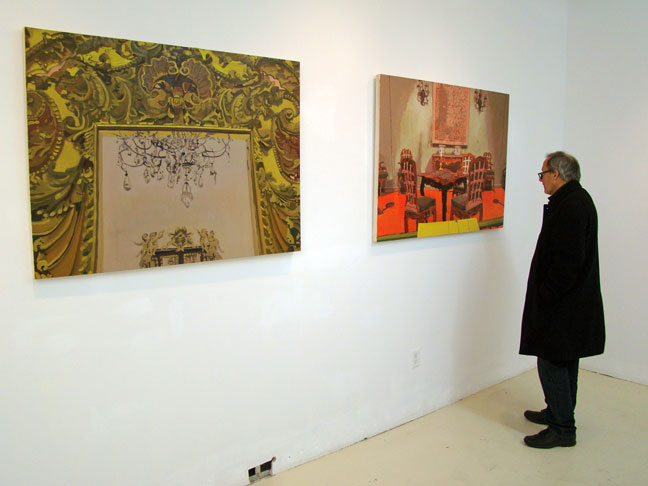 Art by Meghan Gordon.


Art by Narangkar Glover.


Art by James Benjamin Franklin.


***
Robert Berman/E6 Gallery: SAY SOMETHING. Curated by Ashley Lauren Saks.
Artists: Tommy Becker, Ray Beldner, Ana Belén Cantoni, Tom Comitta Sofía Córdova in collaboration with Matthew Kirkland, Pablo Cristi, Peter Foucault, Mik Gaspay, Jordan Kantor, Jander Lacerda (video screening), Bob Ladue, Ace Lehner, Lauren Marsden, Carissa Potter, Surabhi Saraf (video screening), Chris Silva, Cal Volner-Dison, Jonathan Wang (video screening), Doug Garth Williams (video screening + show duration), Amber Jean Young.
Comment by AB: A chaotic cacophonous convocation of art, video, installation performance and more brought to you by a pick-up team of Bay Area emerging artists.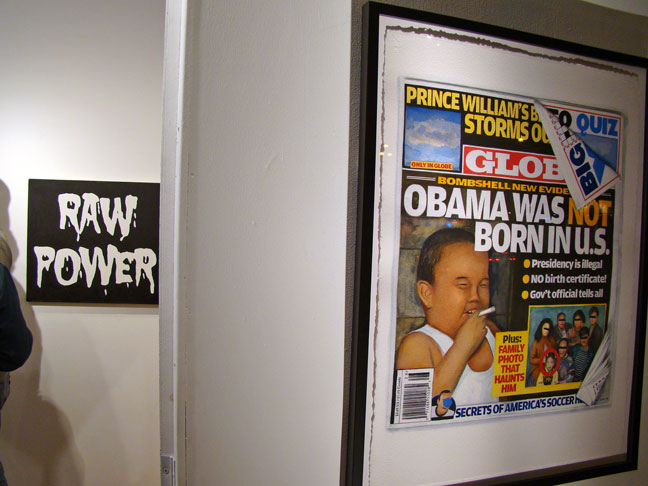 Art at Robert Berman/E6 Gallery.


Photography.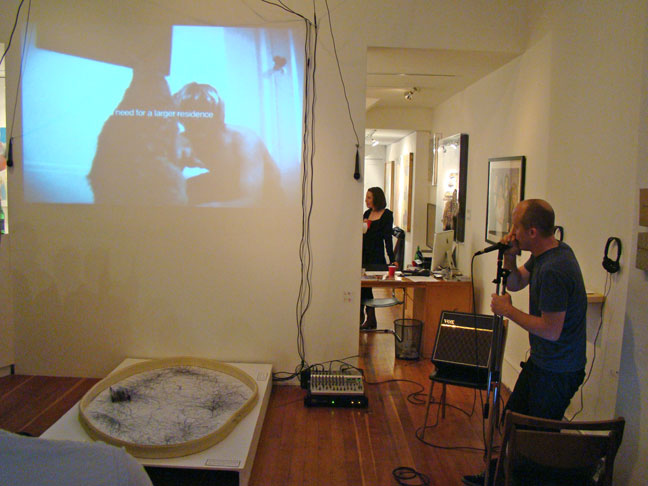 Live performance, video and kinetic sculpture (Peter Foucault).


Photography.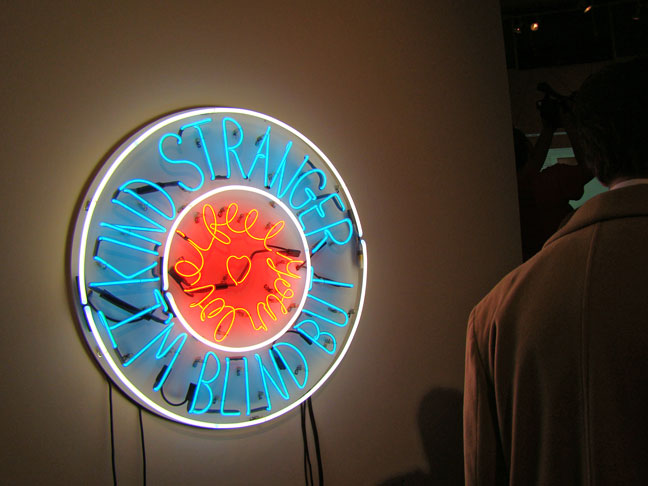 Neon art.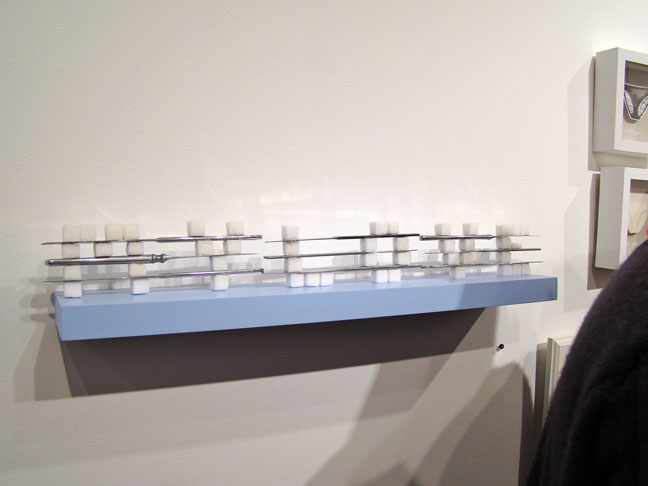 Sugar cube and butter knife art.


Famed rocker Neil Young in da house.


Highly inflationary lemonade art.


Video art.


Collage art.


Demographics.


***
The Artists Alley: Monthly Group Show.
Artists: Loads.
Comment by AB: Take a safari through this labyrinthine land of artistic wonderment.
Hyper-heightened photography at The Artists Alley.


Art.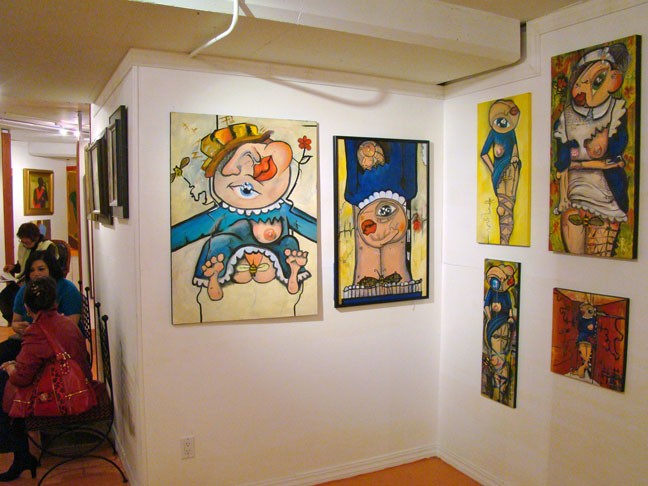 Scrambled features art.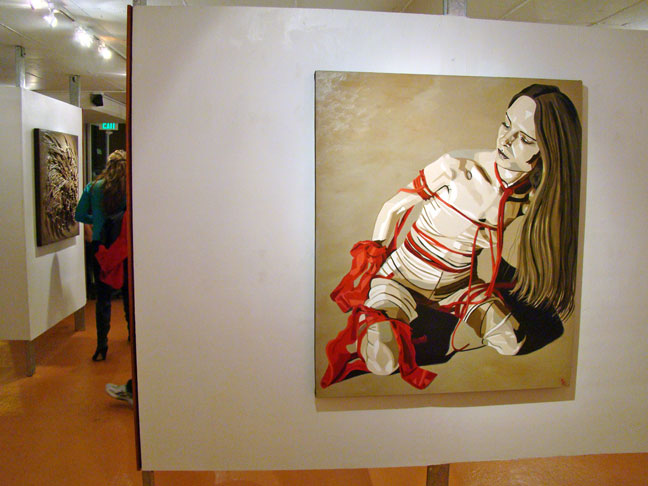 Restraint art.


de Kooning-esque art.


Big-eyed art.


***
Pretty Pretty Collective Hair Salon & Art Gallery: Winter's Wonders - Charmaine Olivia and Taylor Wessling.
Comment by AB: The art at this new gallery/salon venue is presented in collaboration with 111 Minna Gallery. The space is absolutely packed.
Art by Taylor Wessling.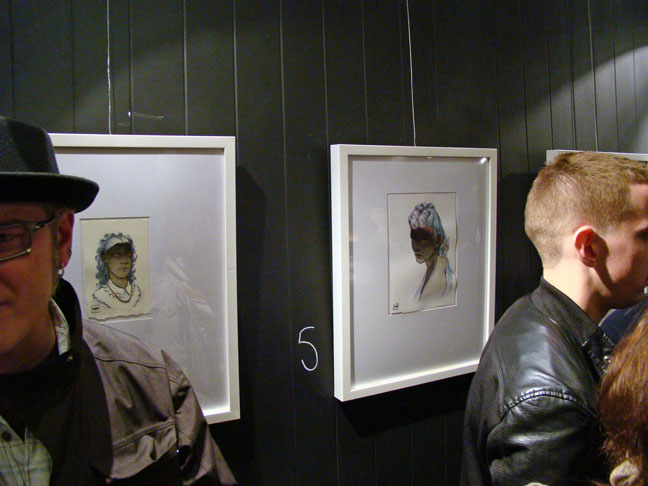 Taylor Wessling art.


Art by Taylor Wessling.


Art by Charmaine Olivia.


Charmaine Olivia art.


Relative density.


***
Drip Studios: The Magi & The Hungry Ghost, Creative Alchemy - Maggie Hardy & Blue Lawson.
Comment by AB: Formerly Air Castle Gallery, Drip Studios opened in October, 2010.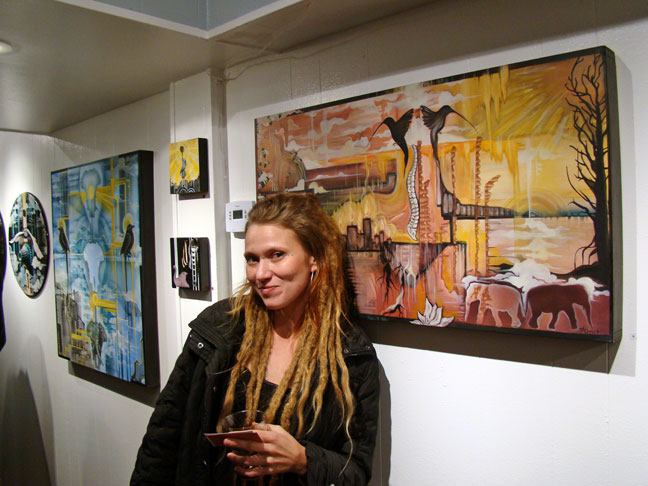 Maggie Hardy and her art (I think).


Art by Maggie Hardy.


Art by Blue Lawson (I think).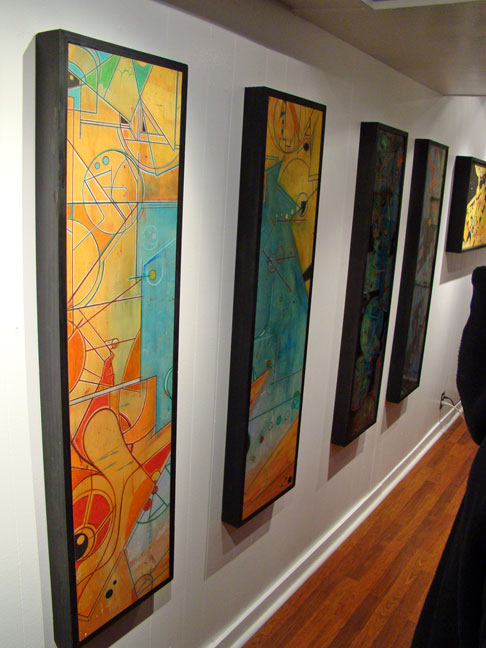 Blue Lawson art.


***