SAN FRANCISCO ART GALLERIES OPENINGS
MUSEUM OF CRAFT + DESIGN - MODERNISM
GALLERY 645 - NEW LANGTON ARTS - JACK HANLEY
TRIPTYCH
01.17.08

San Francisco Museum of Craft + Design: New West Coast Design - Contemporary Objects.
Comment by AB: One of a number of shows currently taking place at a various venues around town which focus on the functional arts, the one here presenting everything from furniture and lighting to a motorcycle, bicycles, and surfboards. The light show out front is particularly engaging as are a number of the objects in the exhibit itself. Definitely worth a visit. Over 50 West Coast artists, designers, and architects participate, but uh oh... I can find their names anywhere. Too bad.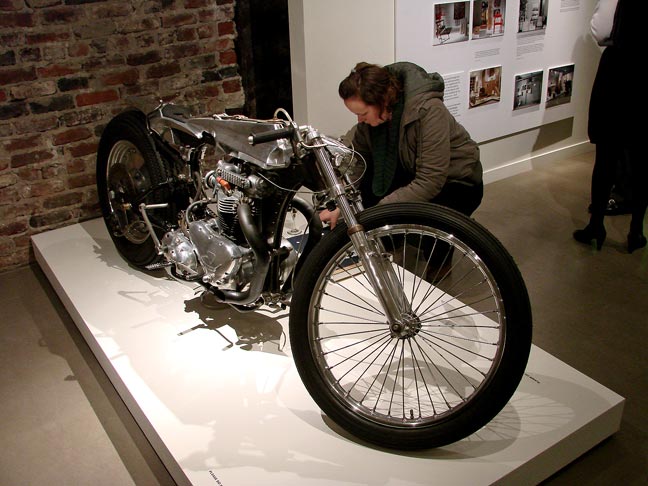 Functional art.


Functional art.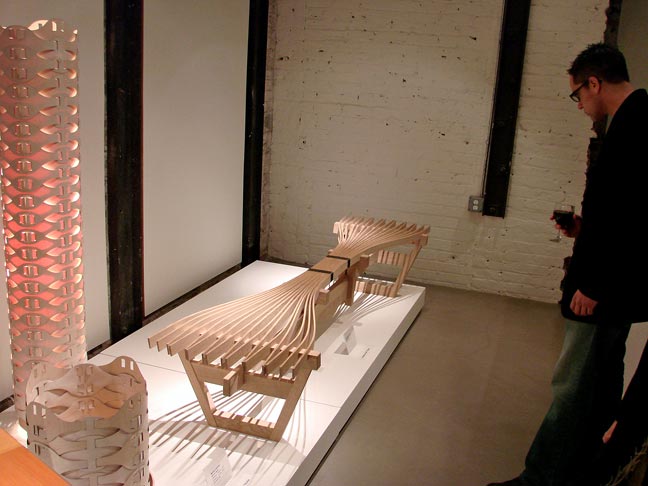 Functional art.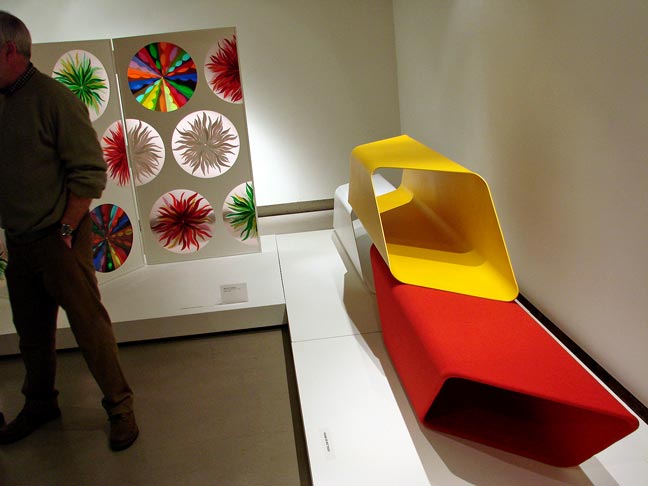 Functional art.


Face TV.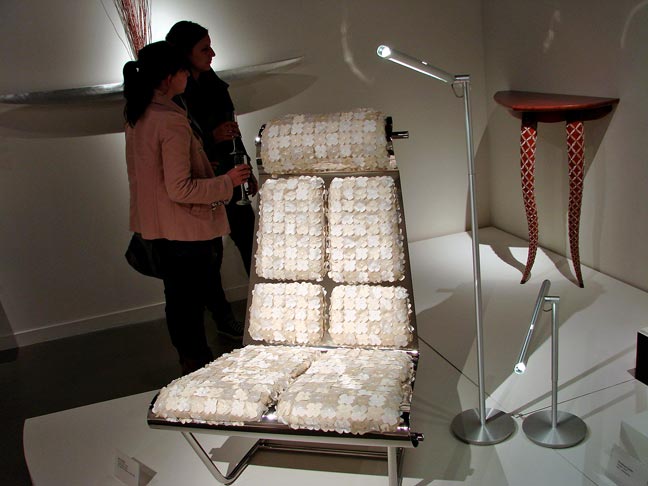 Functional art.


Functional art.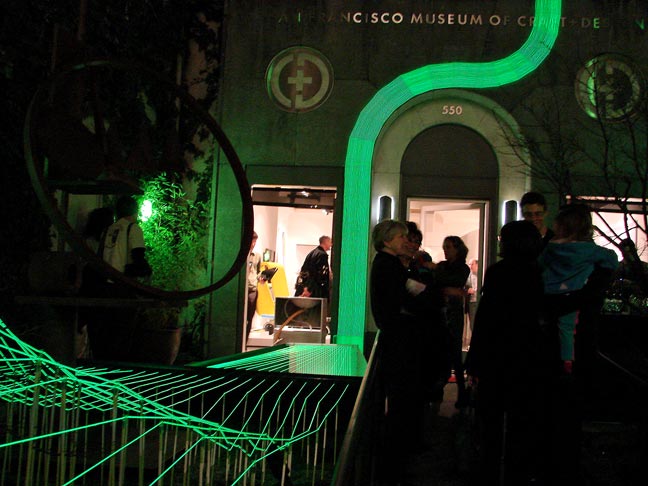 Out front.


***
Modernism Gallery: Glenn Baxter - The Obsidian Aspect; Yang Mian - From Classic to Standard.
Comment: In the front gallery, Chinese artist Yang Mian considers how Western ideals of beauty play into the cultural upheaval currently impacting China. He does so through a series of ultra-soft pastel portrait and figure paintings of women, so faint in tone that they take some strain to see. One might suspect that as events in China unfold, subsequent paintings will become brighter and bolder. In the rear quadrant, master of camp, administerer of droll, Glen Baxter demonstrates a rare ability to take comic concepts and make fine art out of them.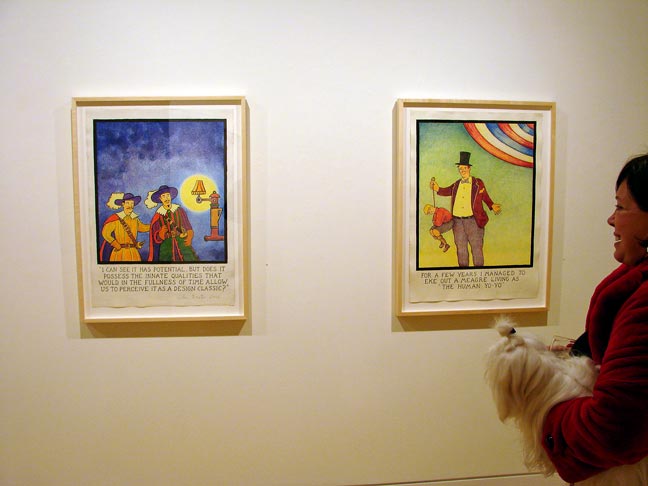 Art (Glenn Baxter).


Art (Glenn Baxter).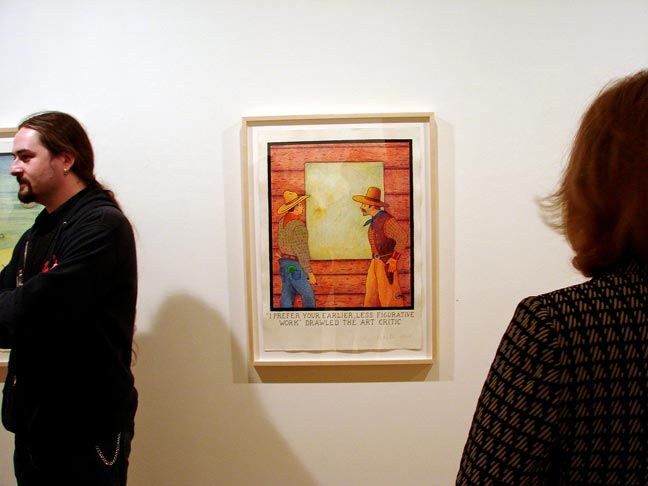 Art (Glenn Baxter).


Art (Glenn Baxter).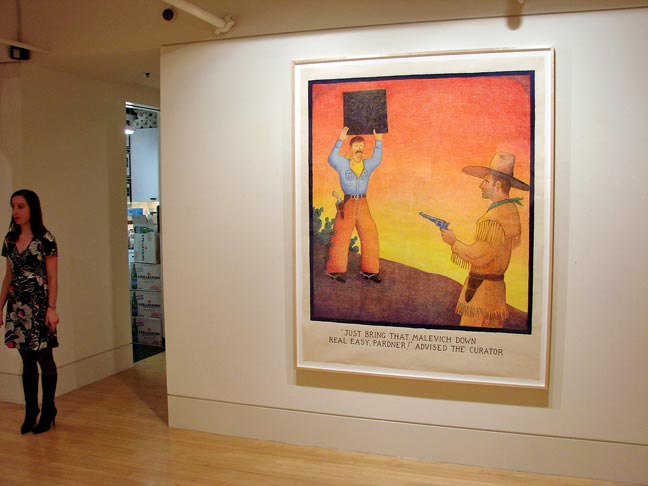 Art (Glenn Baxter).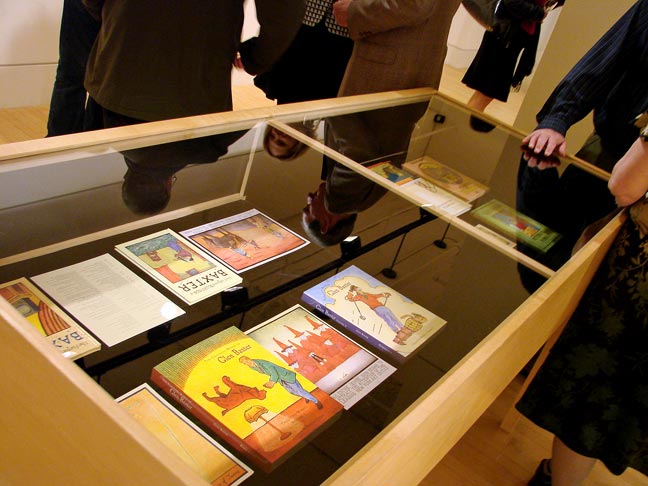 Glenn Baxter illustrated books.


Art (Yang Mian).


Yang Mian - art.


Art (Yang Mian).


Art (Yang Mian).


***
Gallery 645 at Michael Thompson Framing: Richard Perri - San Francisco Values.
Comment: Michael Thompson expands his successful framing enterprise to include a gallery-- Gallery 645. The gallery's debut event features inkjet prints on canvas of Richard Perri's nostalgic San Francisco landmark paintings. Several original works by Perri are also on display.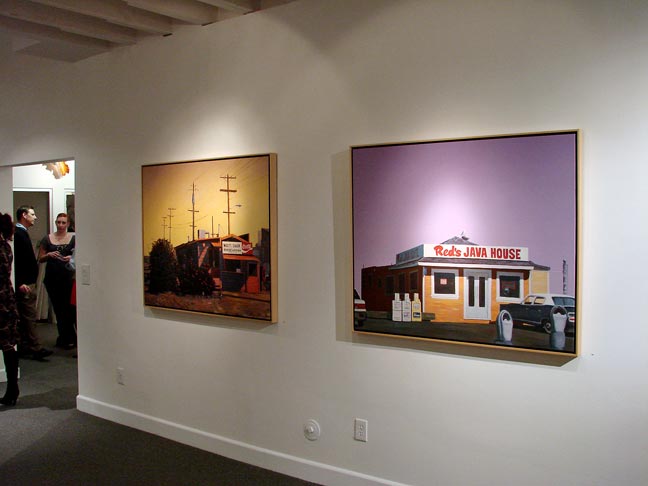 Art.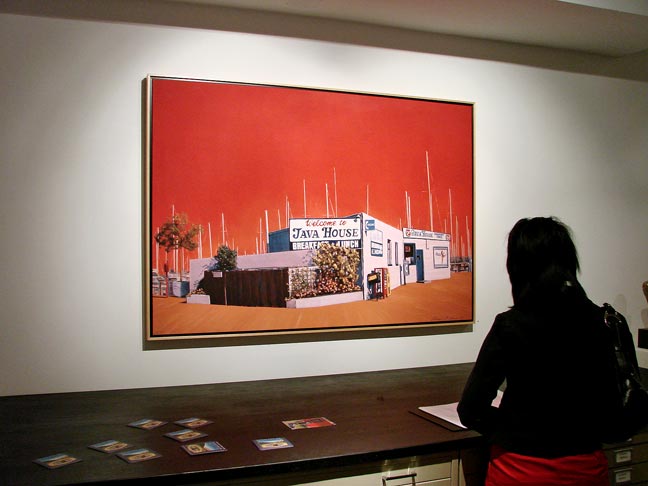 Art.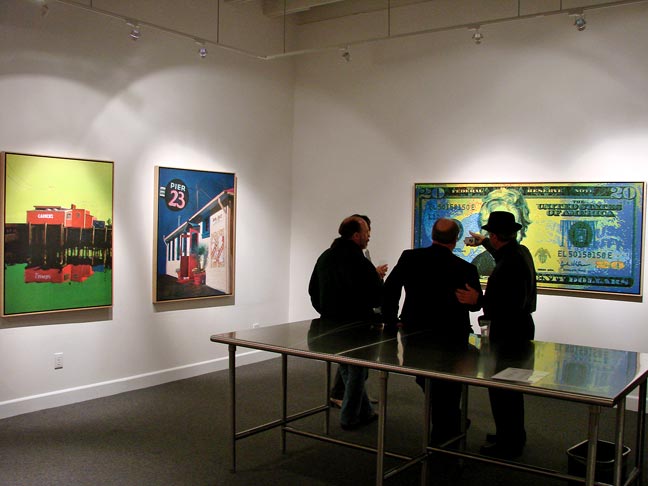 Art.


Art.


Art.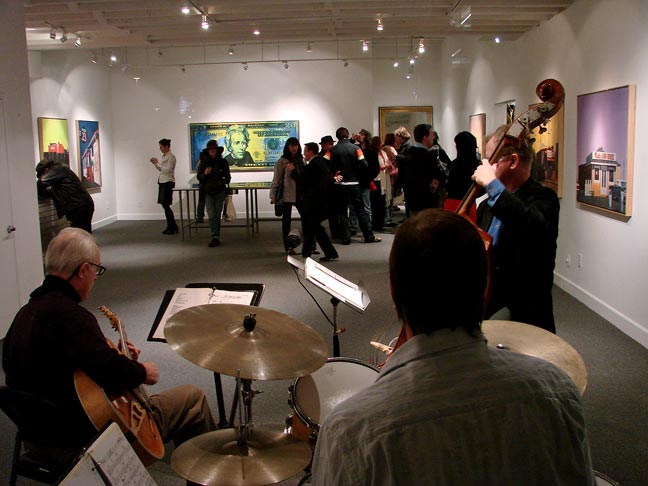 Tunes.


***
New Langton Arts: Small Things End, Great Things Endure.
Artists: Akosua Adoma Owusu, Andrea Bowers, Zoe Crosher, Eve Fowler, Wynne Greenwood, Ali Naschke-Messing, Anna Maltz, Emily Roysdon, Jen Smith, Jonathan Solo, and Matilde ter Heijne.
Comment: The exhibit investigates the frequency and proliferation of Feminist themes in contemporary art. Is Feminism a relic of the past or a relevance of the present and force of the future? According to what we have here, Feminism and Feminist ideals are as relevant now as they ever were, perhaps even more so, and will continue to be. Pretty cerebral stuff for the most part, but fortunately New Langton provides a generous and reasonably readable seven-page explanatory.
Art.


Art.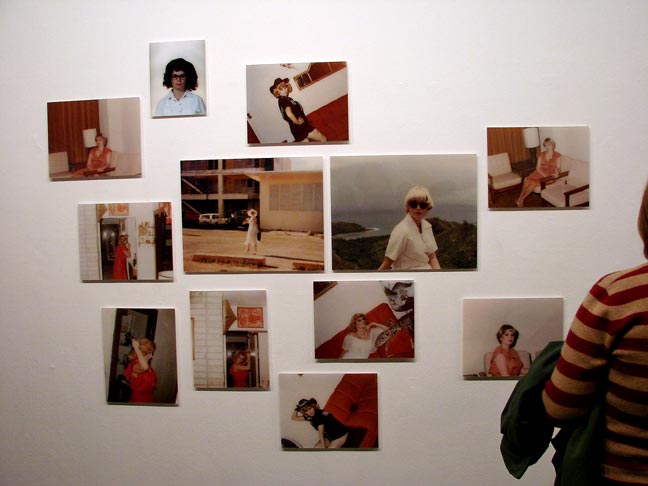 Art.


Art.


Art.


Art.


Art.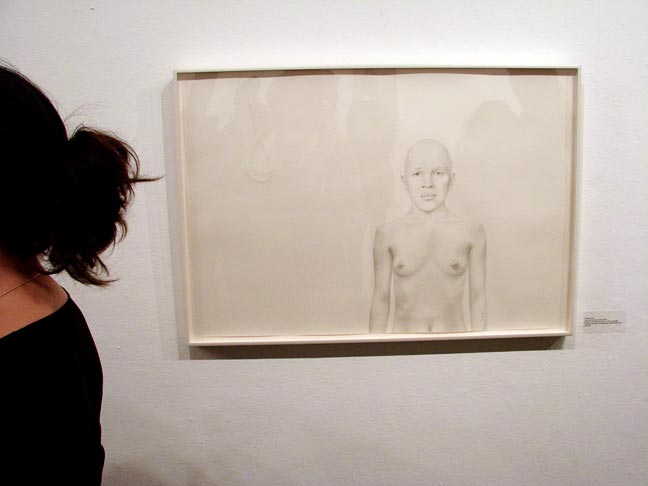 Art.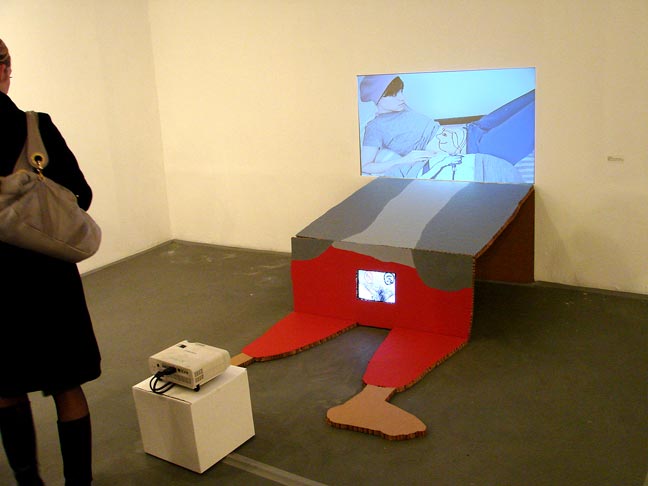 Art.


***
Jack Hanley Gallery: Yo! What Happened to Peace?
Comment: A three-day anti-war poster extravaganza presents an intensely satisfying array of handcrafted grassroots examples ranging from staunchly oppositional to profoundly anarchistic. Special added bonus-- live screenprinting & street poster giveaway on all three nights. Night one spotlights the talents of Political Gridlock & Partners; night two features John Carr, RA, and others; and night three goes totally over the top with The Firehouse, Jesus Barraza, Melanie Cervantes, Eric Drooker, Karen Fiorito, Art Hazelwood, Kelly Maxxx, Mear One, Doug Minkler, RA, Favianna Rodriguez, Chris Shaw, Adam Smith, Winston Smith, Kevin Taylor, and Gee Vaucher. Hate war? See this show.
Protest art.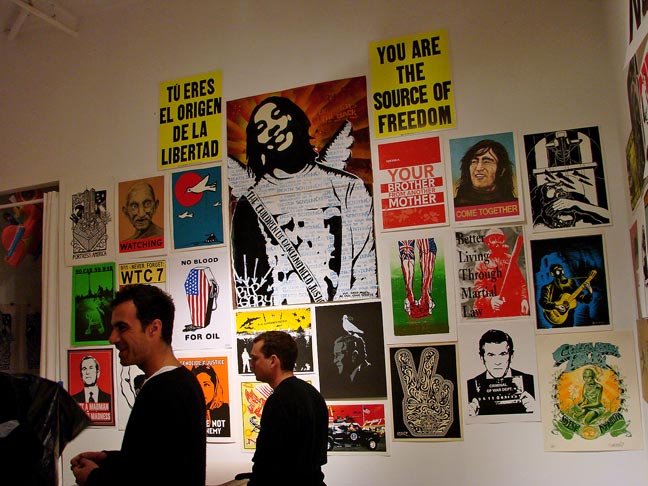 Protest art.


Jon Paul of Political Gridlock + protest art.


Protest art.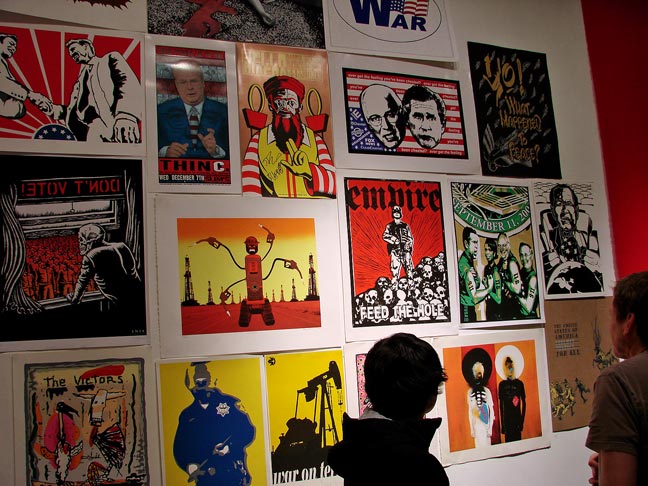 Protest art.


***
Addendum: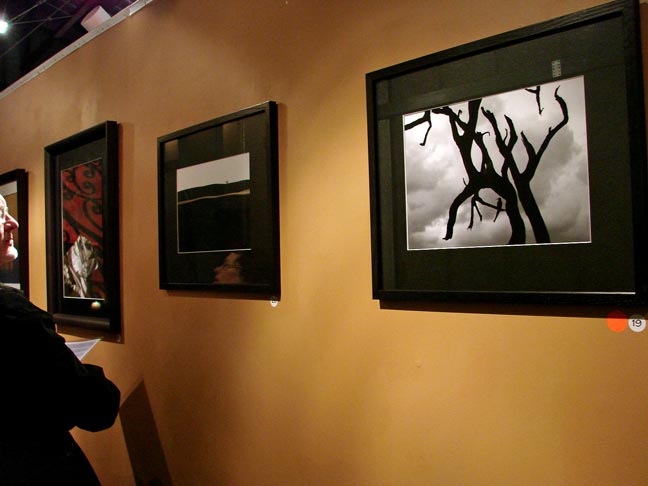 Keith Bailey photos at Triptych Restaurant and Gallery.


Another from Keith Bailey photography at Triptych.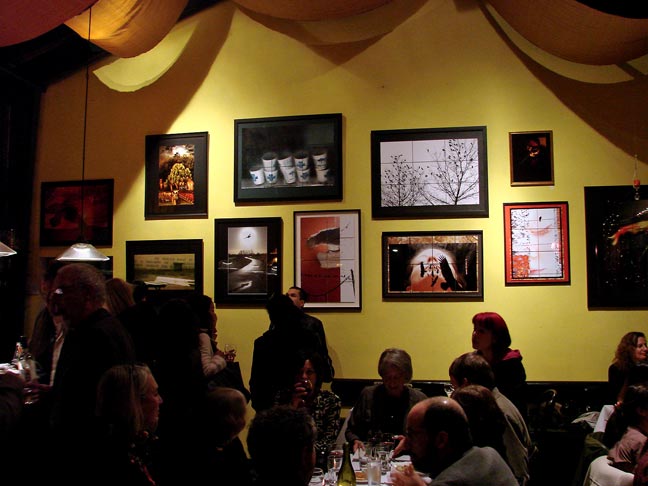 And one more from the Keith Bailey photo show at Triptych.


***