***

Get your art fix fast: Instagram @alanbamberger
***
Exhibitors: Almond & Co., Altman Siegel, Andrew Kreps Gallery, Anthony Meier Fine Arts, Anton Kern Gallery, Berggruen Gallery, Blain|Southern, Blum & Poe, Casati Gallery, CONVERSO, Cristina Grajales Gallery, Crown Point Press, David Gill Gallery, David Kordansky Gallery, David Zwirner, Edward Cella Art+Architecture, Fergus McCaffrey, Fraenkel Gallery, Gagosian, Galerie Chantal Crousel, Galerie Perrotin, Gavin Brown's enterprise, Gladstone Gallery, Haines Gallery, Hauser & Wirth, Hosfelt Gallery, Hostler Burrows, James Cohan, Jason Jacques Gallery, Jessica Silverman Gallery, Karma, kurimanzutto, Lebreton, Lévy Gorvy, Luhring Augustine, Magen H Gallery, Marian Goodman Gallery, Matthew Marks Gallery, Modernity, neugerriemschneider, Nicholas Kilner, Pace Gallery, Patrick Parrish Gallery, Paula Cooper Gallery, Petzel Gallery, R & Company, Ratio 3, Reform/The Landing, Sarah Myerscough Gallery, Sprüth Magers, Stuart Shave/Modern Art, Tanya Bonakdar Gallery, Volume Gallery.
Comment by AB: Yet another satisfying episode of FOG Design + Art at Festival Pavilion, Fort Mason Center, San Francisco. Special thanks to SFMOMA for their significant support. Experience how modern design blends seamlessly with contemporary and modern art courtesy of top domestic and international galleries and dealers. Early iterations of the fair showed more design than art, but now that narrative has flipped with the quest to own contemporary art eclipsing pretty much every conceivable collecting discipline out there. Will this craze ever end? Only the psychics know for sure. In the meantime, there's no better way to upgrade your lifestyle with the best in fine and decorative arts. Here's a small sampling of this year's impressive array of oeuvres...

Yayoi Kusama at David Zwirner, FOG Design + Art 2019.


Sculpture by Sherrie Levine at David Zwirner.


Fine small bronzes by William Kentridge at Marian Goodman.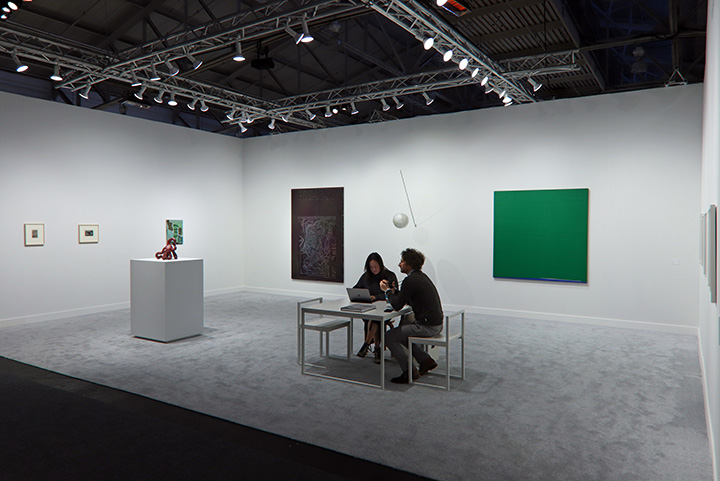 The lay of the land at Matthew Marks, FOG Design + Art, Fort Mason.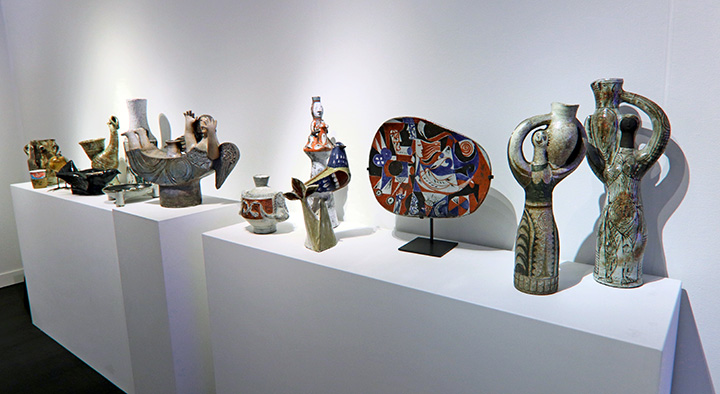 20th century modern ceramics by Jean Derval at Lebreton.


Lively Cecily Brown abstract at Paula Cooper.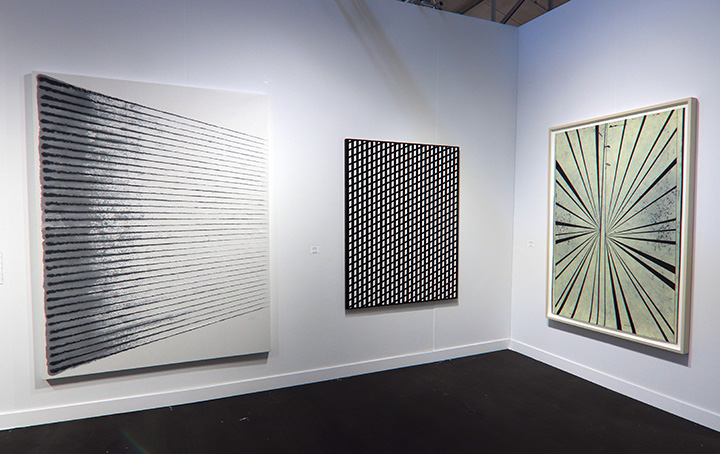 L-R, Kwon Young-woo, Kazumi Nakamura, Mark Grotjahn at Paula Cooper.


Pair of George Nakashima lounge chairs at Converso, $22K.


Lawrence Converso and offerings at FOG Design + Art.


Arresting Ai Weiwei cycle sculpture at Haines Gallery.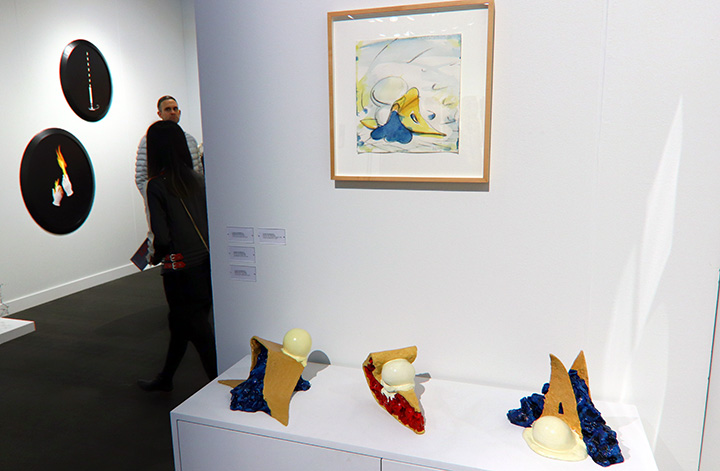 Dessert options by Claes Oldenburg & Coosje Van Bruggen at Paula Cooper.


Rubber sculptures and photos by Peter Fischli & David Weiss at Sprüth Magers.


Photographs in above image closer.


Vintage interior effects at Almond & Co.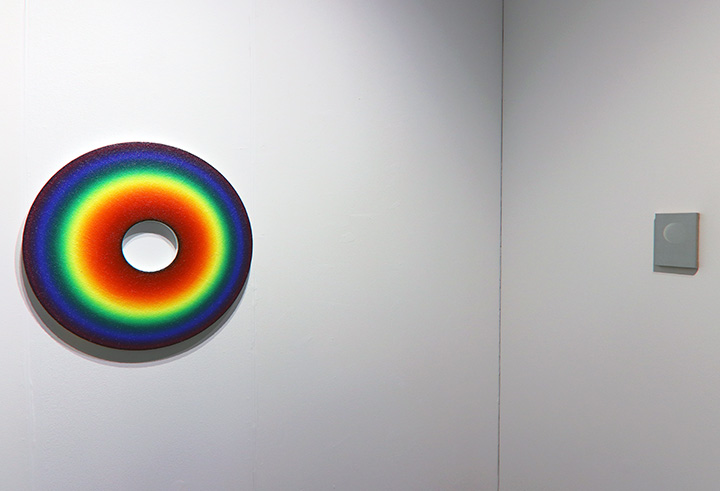 L-R, Olafur Eliasson prismatic & Dana Powell moon at Tonya Bonakdar Gallery.


Dana Powell art in above imager closer, one of my favorites at the fair.


Ceramics and 24K gold by Jasmin Anoschkin at Hostler Burrows.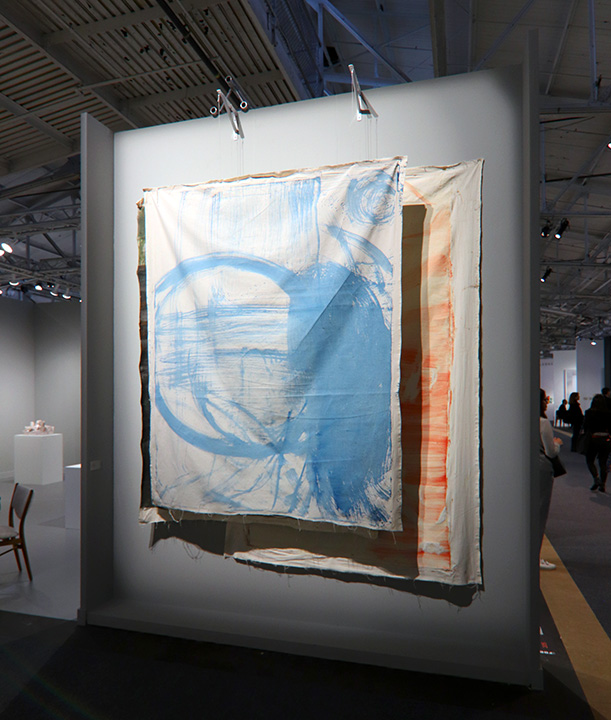 Art by Vivian Suter at Gladstone Gallery - FOG Design + Art 2019.


L-R, Lygia Clark and Yayoi Kusama ceramics at Gladstone Gallery.


Long view with art by Donald Moffett (left) - FOG Art + Design, Fort Mason.


***