SAN FRANCISCO ART GALLERIES - OPENINGS
RENA BRANSTEN - MODERNISM - LIMN - LISA DENT
NEW LANGTON ARTS - CELLSPACE - BAXTER & COOK
01.18.07
Rena Bransten Gallery: Henry Wessel - Early Photographs; R. Crumb - Drawings.
Comment: Photographer Henry Wessel has lived, worked, and taught in the SF Bay Area for over 30 years. Here you can see a commendable cull of his early images dating from the late 1960's through early 1970's, most of which document unglamorous and often lonely landscapes, peoplescapes, and vacationscapes-- a classic essay on "art is everywhere and nowhere, every day and all the time." For those keeping score, a solo exhibition of Wessel's work opens at SFMOMA on January 27 and closes on April 22, 2007. The R. Crumb show, meanwhile, barely qualifies as a show at all, featuring nine typing paper-sized ink sketches by the underground comix legend, priced around $5K per. When you can't corral a quorum, it's best to take a pass.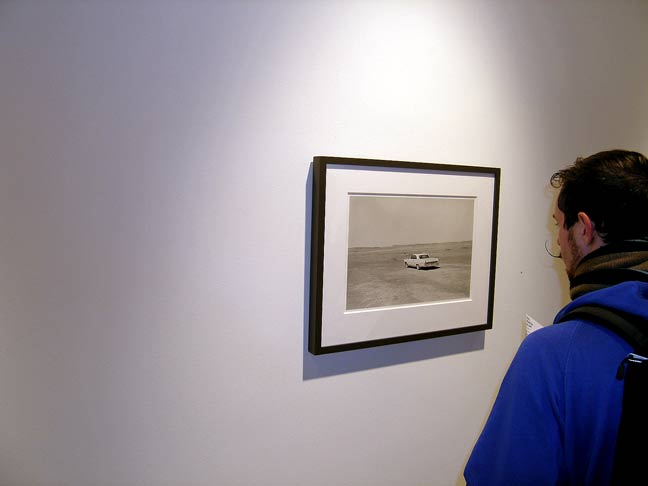 Photography (Henry Wessel).


Photos (Henry Wessel).


Henry Wessel (left) chats up former classmate Ted Pushinsky.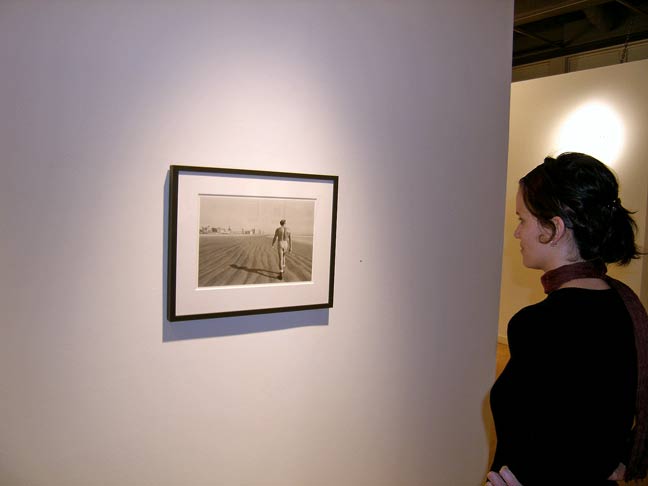 Photography (Henry Wessel).


Images (Henry Wessel).


Photos (Henry Wessel).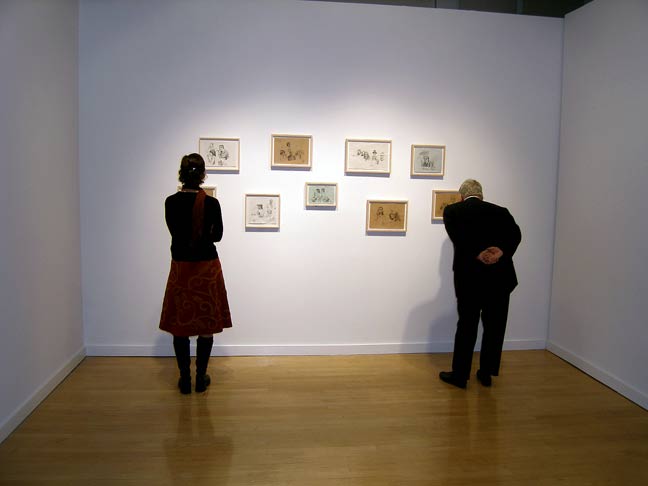 The entire R. Crumb show, act I.


The entire R. Crumb show, act II.


The entire R. Crumb show, act III.


The entire R. Crumb show, denoument.


***
Lisa Dent Gallery: Jason Middlebrook - Disturbed Sites.
Comment: Jason Middlebrook focuses this round of art on man's perverse predilection for laying the environment to waste in favor of improving our quality of life (euphemism for wallowing in unbridled consumption). Highlights include plants sprouting from the gallery floor and salvaged car parts resurfaced in mosaic. Any of you historical artsters know the name of San Francisco's greatest mosaic artist ever? Right you are! Beniamino (Benny) Bufano.
Art (kinda like it).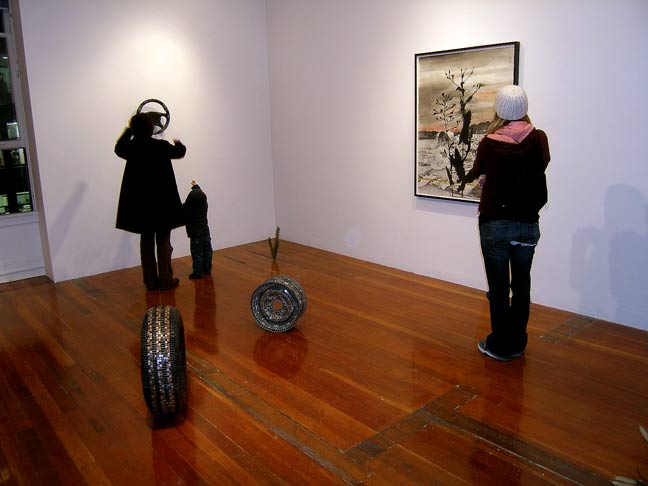 Art.


Mosaic salvaged car part art (kinda like it).


Installation art.


Let's drill holes in the gallery floor art.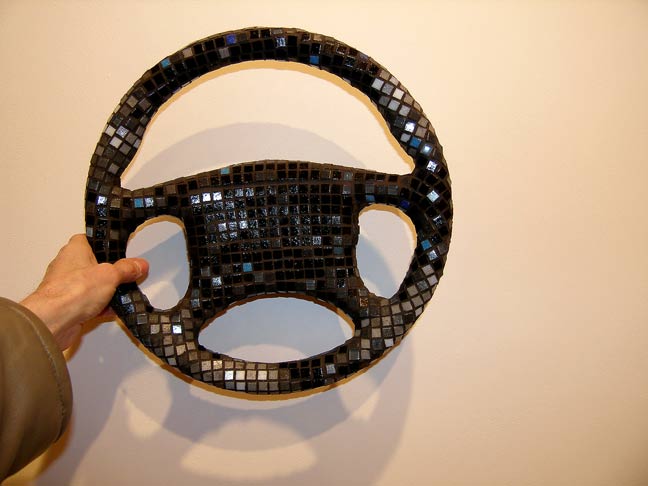 Art.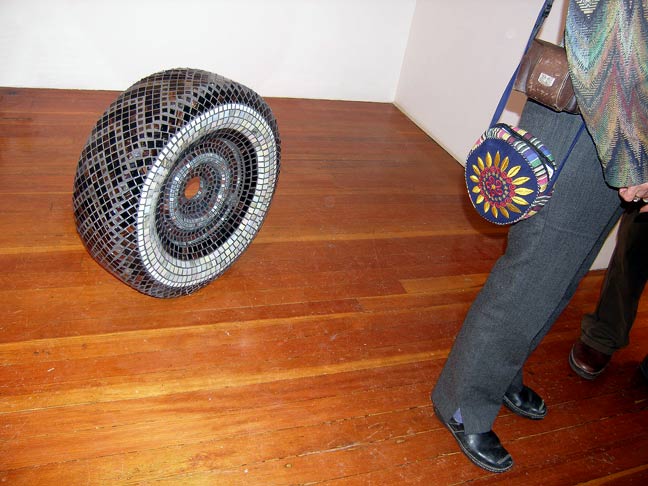 Art.


Floorscape.


***
Modernism Gallery: Bill Kane - Transrational Works; L'invitation au Voyage - Group Show.
Artists: Bill Kane, Edith Baumann, James Hayward, Peter Lodato, Donald & Era Farnsworth, Jonathon Keats, Daniel Mendel-Black, Naomie Kremer.
Comment: Bill Kane digitally remodels Russian avant garde masterworks, a number of which he transposes over nude female torsos, then prints the whole shootin' match out in limited edition giclees. They're visually engaging I suppose, but as for the enduring intention-- beats me. While we're on the topic of giclees, Jonathon Keats has three in the L'invitation au Voyage show which, according to Keats, are visual manifestations of intergalactic extraterrestrial radio waves that he's scientifically deciphered into art. He's got 'em time stamped on the back, color corrected along the sides, and miscellaneous curious stuff like that. The moral of the story? If you're gonna mosey on down giclee lane at this early stage in the "is it is or is it ain't?" debate, you gotta buttress the product with context. Incidentally, half the fun of owning art is telling its tale whenever anyone asks-- no matter what the medium.
Art (Daniel Mendel-Black).


Intergalactic extraterrestrial art (Jonathon Keats).


Art (left to right, Peter Lodato, James Hayward, Edith Baumann).


Tapestry art (Donald & Era Farnsworth - pick).


Art (Naomie Kremer).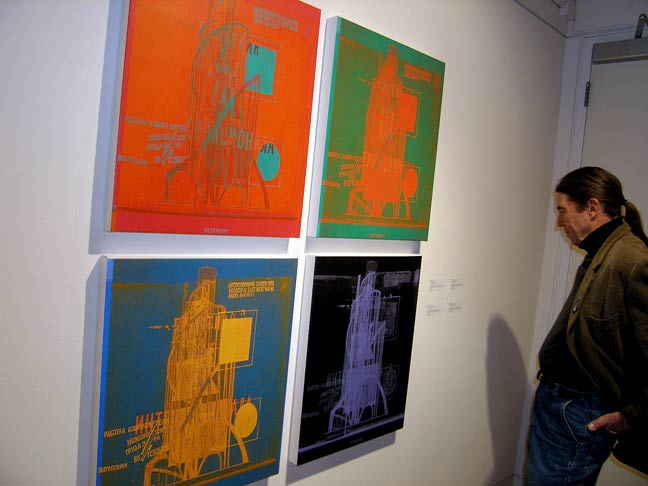 Art (Bill Kane).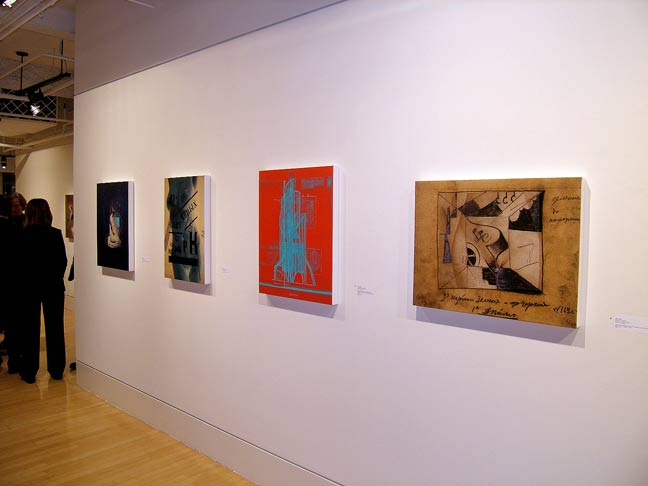 Art (Bill Kane).


Art (Bill Kane).


***
Limn Gallery: Lynn Criswell - Show and Tell; Michael Bishop - After the Factory / After the Lesson.
Comment: Michael Bishop transits the absurd via the incongruous with an entertaining display of conspicuously competent sculptures variously executed in cast iron, bronze, steel, brass, composite, and combinations and permutations thereof. The dude knows his mediums. Lynn Criswell adeptly combines painting with hammered sheet lead in works focused on gender stereotyping and childhood, and how one often limits the aspirational options of the other. But she soft-peddles the seriousness, thereby preserving the option to enjoy the imagery.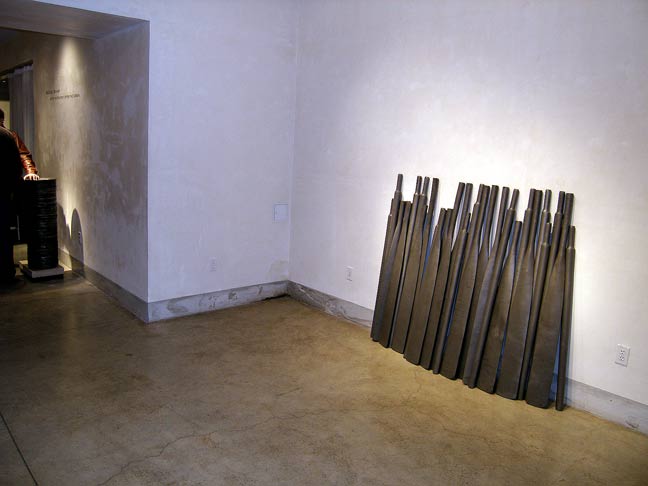 Sculpture (Michael Bishop).


Sculpture (Michael Bishop).


Michael Bishop - sculpture.


Sculpture (Michael Bishop).


Sculpture (Michael Bishop).


Sculpture (Michael Bishop).


Art (Lynn Criswell).


Art (Lynn Criswell).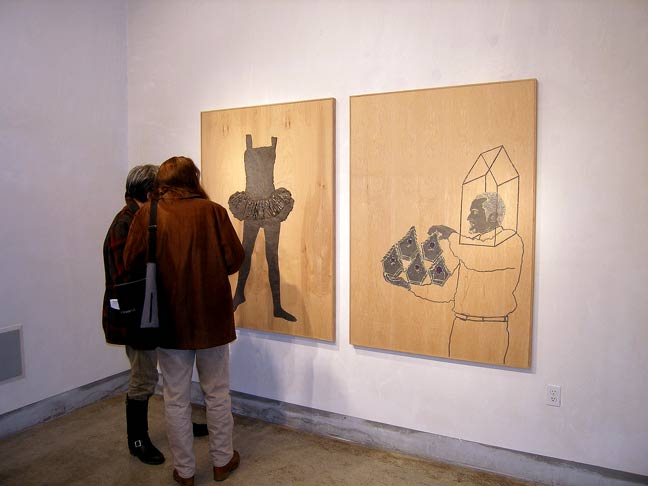 Art (Lynn Criswell).


Art (Lynn Criswell).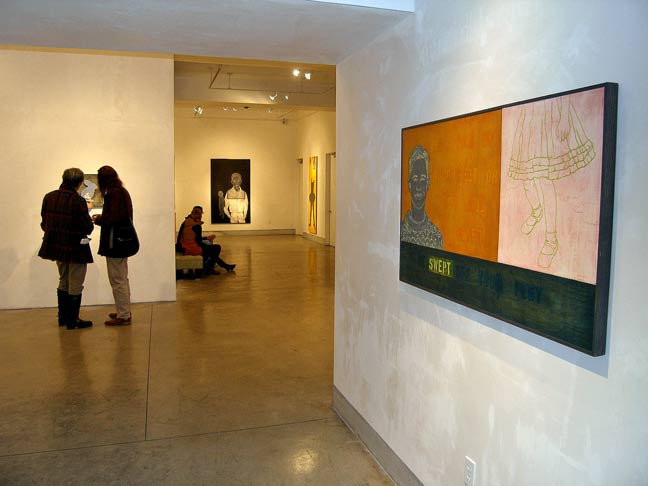 Art (Lynn Criswell).


***
New Langton Arts: The Good, the Bad, and the Ugly.
Artists: Robert Bordo, Charline von Heyl, Rebecca Morris, Avery Preesman, Annabeth Rosen, Amy Sillman, John Zurier.
Comment: Guest curator Pamela Wilson-Ryckman barfs up the most pompous pud-whack of a show essay I've been blitzed by in a long long time. For example, "(Avery Preesman's) works take up space without occupying it" and "John Zurier paints pictures of nothing." That's just the beginning (and about the only two sentences I understand, though I have no idea what they mean). Here's one from when Wilson-Ryckman really gets motoring... "Embracing the risks, doubts, and critical opprobrium inherent in continuing the modernist project, (these works of art) have found ways of opening up this limpid language to address new content, while unfreezing the stereotypes of 'modernist' practice." What a wad of hamstrung bombast! Too bad too, 'cuz the art's quite good, the show's worth seeing-- and I'd love to have it explained in ENGLISH.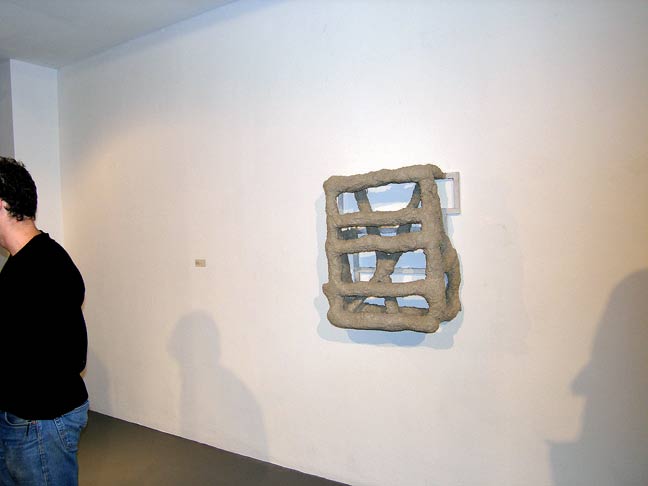 Art.


Art (like it).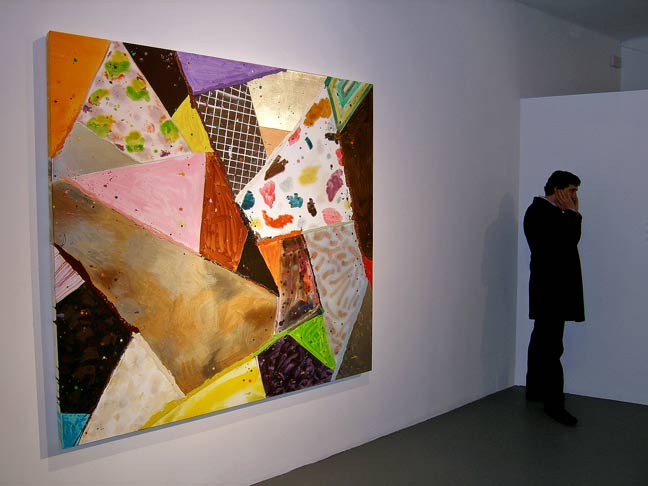 Art.


Art.


Sculpture (like it).


Art (looks like a beefy de Kooning - kinda like it).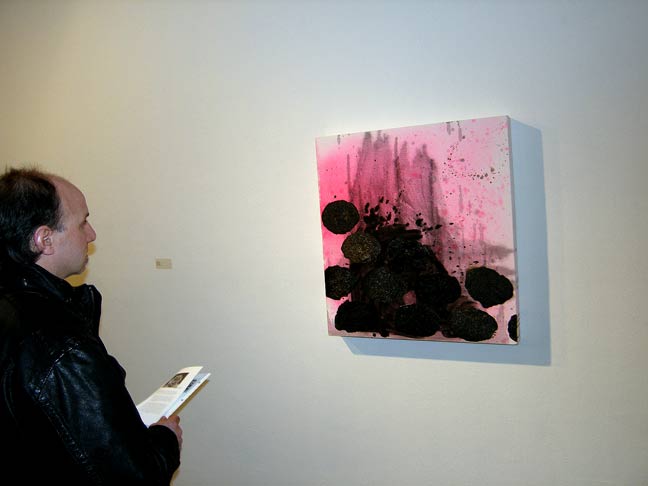 Art.


Floor show.


***
Crucible Steel Gallery at CELLspace: Remnants.
Artists: Lauren Anderson, Luke Butler, Kaliisa Conlon, David Huff, Billy Kroft, Carrie Minikel.
Comment: Artists recycle old magazines, street debris, snapshots, used clothing, furniture, junk wood, and more, transforming derelict remnants into memorable remnants. I gotta go with Billy Kroft here-- I liked his art carpentry before, I like it now. He elevates scrap wood by reconfiguring it into abstract angular geometric realms. Once so forlorn; now so fresh. Somebody give this dude a show. For purchase purposes, he's priced everything $285-- if I recall correctly-- eminently generous. Options include a stripped reincarnated swivelling vibra-chair that I personally tested and hereby proclaim to be a complete steal (also $285). Why I didn't buy it myself, I'll never know. Wait. I know. If I start buying art I review, I compromise the integrity of my adventures. And we wouldn't want that now, would we?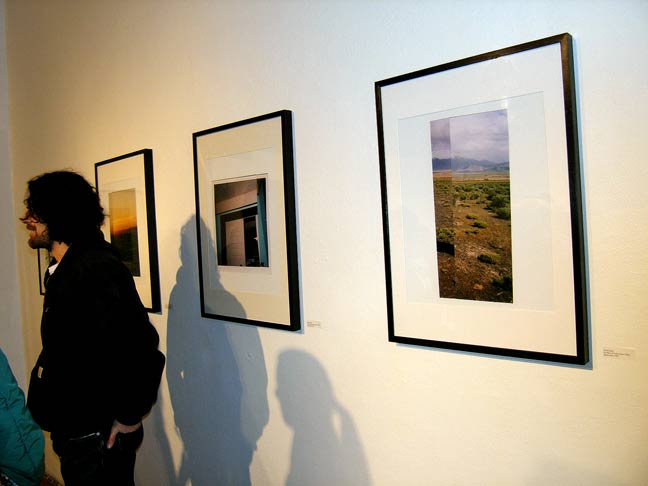 Art.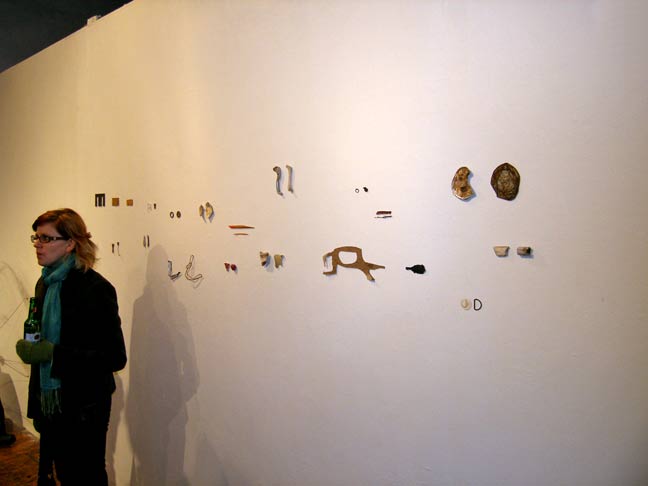 Art.


Art (Billy Kroft - like it).


Billy Kroft - art.


Not sure.


Art.


What it is.


***
Baxter & Cook Art Advisors: Spot Draves - Dreams in High Fidelity.
Comment: Holly Baxter, formerly of Baxter Chang Patri Gallery at the Hotel Nikko and Jana Cook join forces to present a periodic roving soiree artscapade, featuring uncommon art by talented artists at distinctive private venues around town. Tonight's fare is the third installment of their unfolding adventure, Baxter tells me, taking place in a tony converted warehouse space near the base of Rincon Hill, panning out on skyrocketing South Beach towers. As for the art, the hypnotic super-intricate super-cosmic digital video presentation of software artist Spot Draves is an ever-changing cyber-cyborg controlled by 40,000 people on 40,000 computers voting for their preferred patterns, those votes tabulated and translated into new patterns by subjection to a genetic algorithm, then voted on again, and so on and so forth. This "evolving painting," titled Dreams in High Fidelity, is available a special edition of 2 at $30,000 and a regular edition of 4 at $20,000-- including computer and monitor, if my memory serves me correctly.
The space is darkened except for the monitor.


Spot Draves - evolving video art.


Spot Draves again with video art.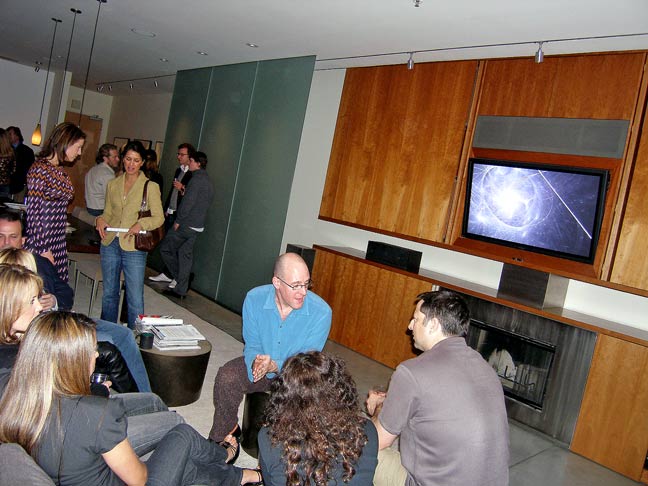 Circumstance.


Discussion.


***