SAN FRANCISCO ART GALLERIES OPENINGS
SUPE ROSS MIRKARIMI - SF ARTS COMMISSION
MICAELA - RATIO 3 - VELVET DA VINCI
AMPERSAND - VARNISH - TRIPLE BASE
SF FINE PRINT FAIR - QUEENS' NAILS - FEMINA POTENS
01.18.08
(with assistance from DeWitt Cheng, Ben Rigby, and Malia Pettit)
Supervisor Ross Mirkarimi: Gregory Bartning - Flight Between Dreams.
Comment by AB: Photographs of naked trapeze artists by Gregory Bartning, the trapezes and their artists courtesy of local performance group TrapezeWorld. It's that simple and no more complicated.
Photography.


Photos.


Gregory Bartning, photographer.


Photographs.


Images.


***
San Francisco Arts Commission Gallery: Reconciling America - Miraculous Encounters with the Mundane.
Artists: JD Beltran & Sebastien Bachar, Dina Danish, Jennifer Durban, Richard Haley, Lynn Marie Kirby, Ellen Lake, Brendan Lott, Paul Mullins, Tucker Nichols, Julia Page, Zefrey Throwell.
Review by Malia Pettit: This small group show at the SFAC boasts an array of work in a variety of media; from photography and drawing to video and sculptural installation. Each artist articulates a personal moment or occurrence, to essentially convey their own snapshot of daily life in America. The result is a celebration of the mundane.
But what is the mundane? For Paul Mullins it is a conjured image of rural living-- trailers, fishermen and rowdy canines-- presented in a series of skillfully rendered works on paper. The piece seems to possess a tinge of humor; perhaps a mocked attempt at capturing 'white trash' Americana.
For other artists, the internet plays a definitive role. Photorealist paintings by Brendan Lott capture the reckless sort of teenage fun evidenced on any given Facebook page. Jennifer Durban's audio piece entitled "How I met my dad on Friendster" is a narration of exactly that.
It is the work by Tucker Nichols, however, that is probably the most successful, and indeed accessible, in what can otherwise be described a very conceptual exhibition. He has lifted the common textual ephemera one might find in newspapers, product labels or even random messages we scribble down. Nine different phrases such as "100% Flushable" and "She'll Call Back" are hand-written on post-it note sized scraps of paper, framed and neatly hung. If anything, it is a great attempt at how the mundane can be elevated to a high art status.
Overall, the show is an interesting one and well worth a visit. The work seems very personal and considered. Approach it like a voyeur through the collective psyche of a few Americans and you won't be disappointed.
Comment by AB: An artistic salute to average Americans inspired by the everyday documentation of ordinary lives through home movies, photo albums, journals, diaries, blogs, and the like.
Art.


Art.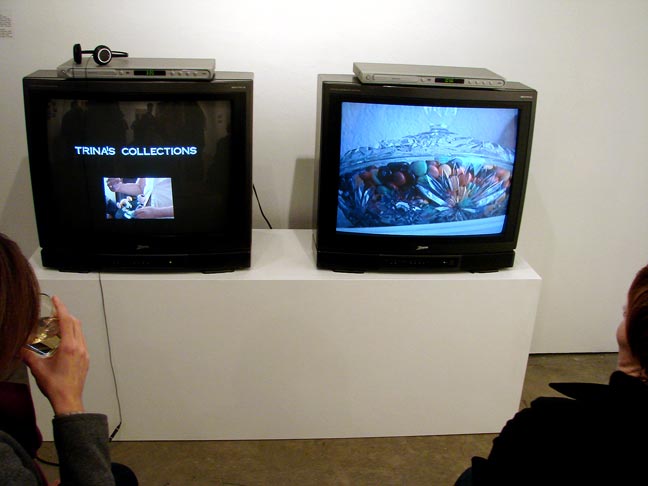 Art.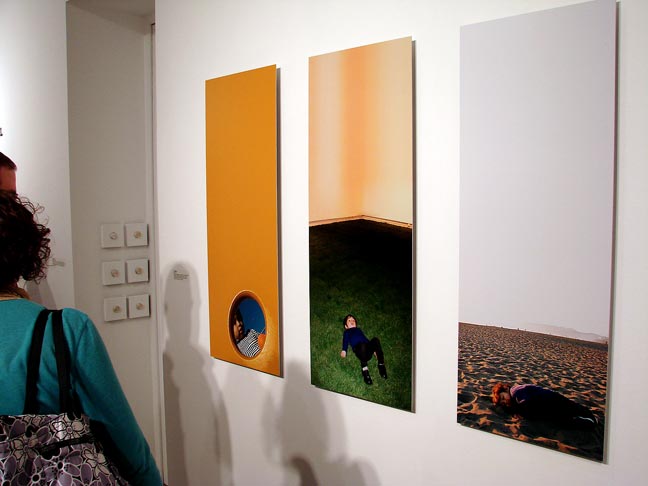 Art.


Art.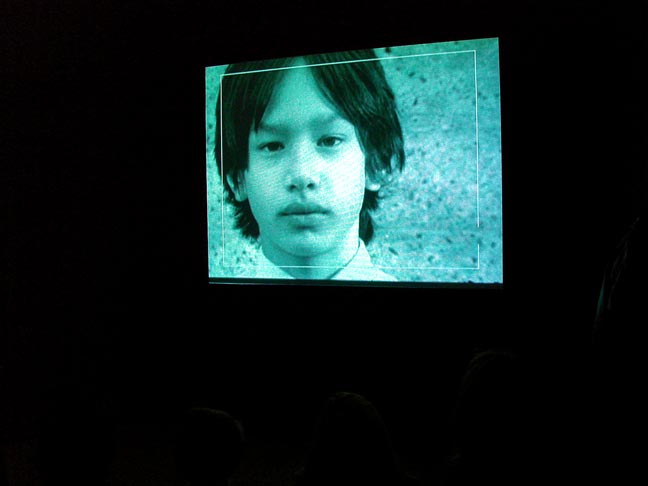 Art.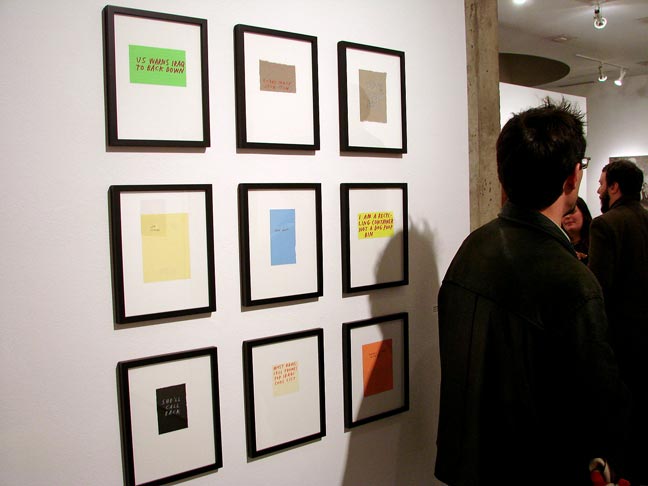 Art.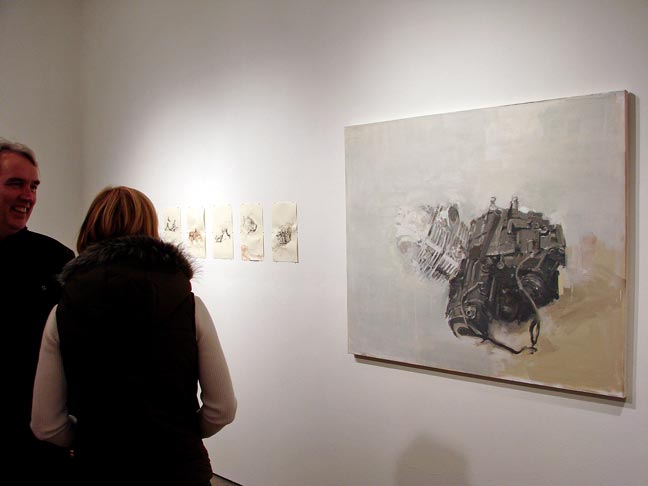 Art.


***
Micaela Gallery: Compass!
Artists: Alan Disparte, Peter Foucault, Scott Kiernan, Julie Lazarus, Geraldine Lozano, Paris Mancini, David Ruth, Tobias Tovera, Taylor Vogland-Dreiland, Anne Yalon.
Review and photos by DeWitt Cheng: "Compass!" is a group exhibition of recent SFAI MFA graduates treating the themes of place and landscape through a variety of approaches and media, from drawing/painting and photography to installation and video. Nice show!
DeWitt Cheng writes for Artweek, Art Ltd., www.SanFranciscoArtMagazine.com, www.Shotgun-Review.com, and the East Bay Express.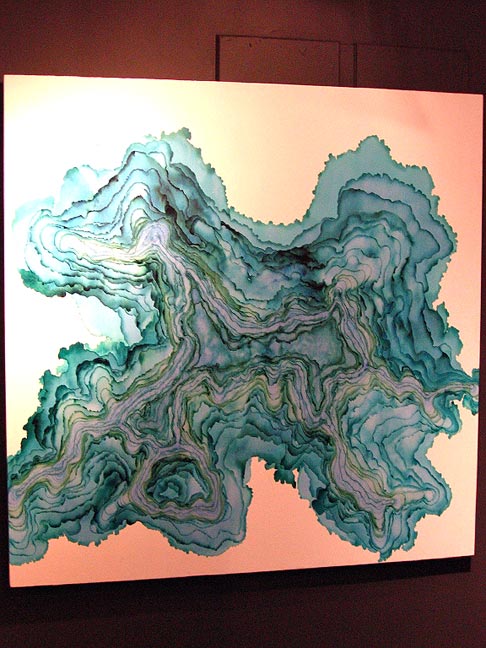 Work by Tobias Tovera.


Work by Anne Yalon.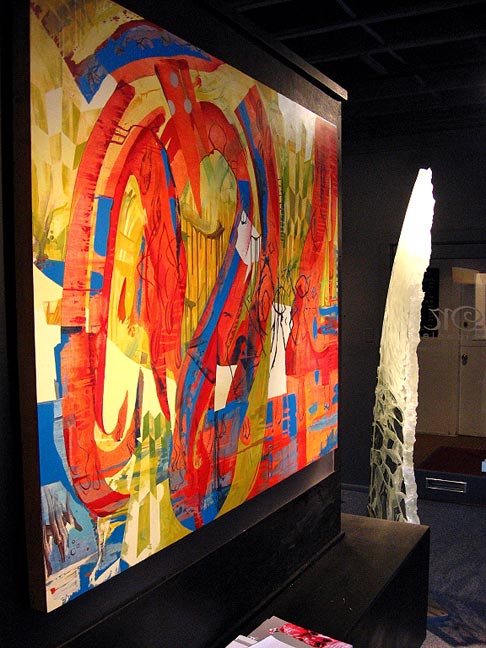 Work by Alan Disparte (left).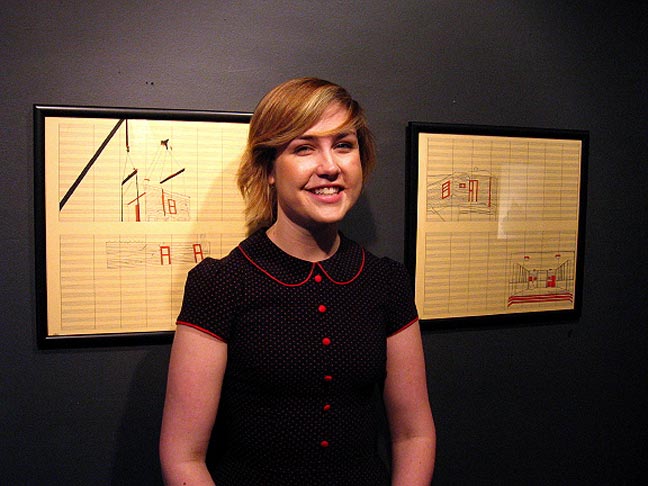 Anne Yalon with drawings.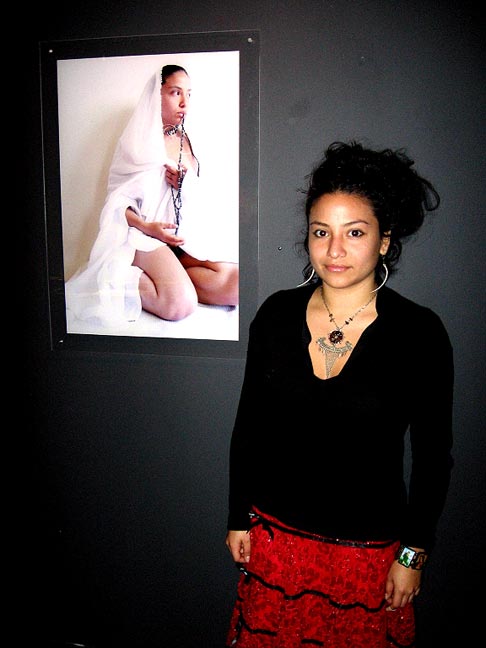 Gerladine Lozano with part of installation in rear room.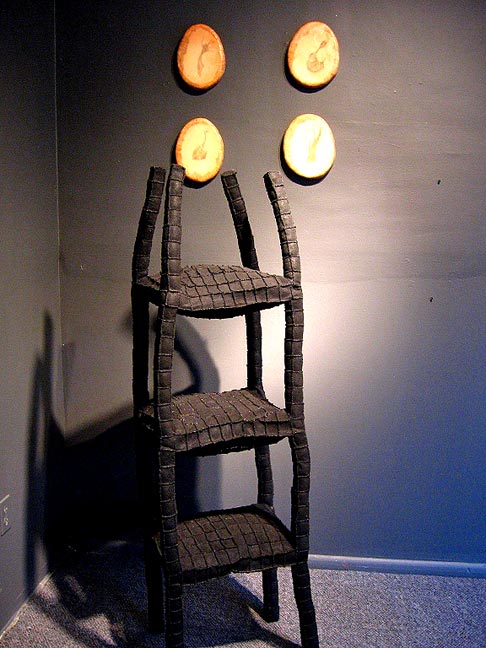 Work by Taylor Vogland-Dreiland.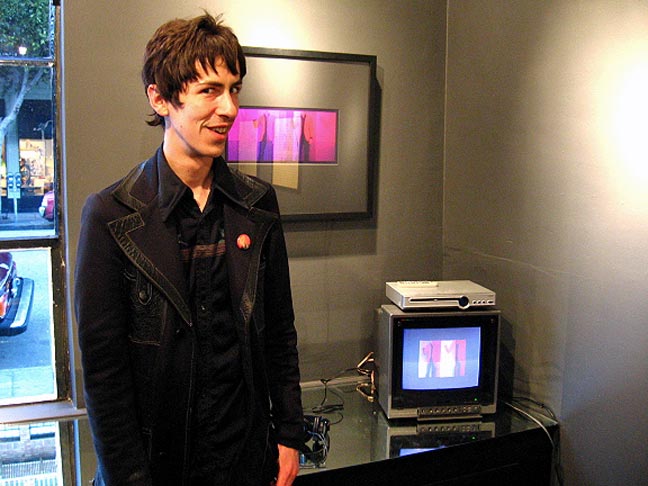 Scott Kiernan with video.


***
Ratio 3 Gallery: Jordan Kantor.
Comment by AB: West Coast solo debut for Jordan Kantor, Associate Professor of Painting at CCA. He shows two distinct groups of work, the first being painted renditions of cropped, digitially manipulated photographs of spectular news events like the Shuttle Columbia disaster. Some compositions are embellished with circles or arrows, mimicking the way details of photographs or videos are often highlighted in the media. The most entertaining painting in the series, for me anyway, is a trompe l'oeil diptych-- one canvas painted to look like two.
The second group of paintings appear to be abstracts, but they're actually paintings of plain surfaces like sheets of paper, perhaps surfaces that have yet to be arted on. I suppose you could call these trompe l'oeils too. The press release is a bit of a trudge, especially with respect to elucidating the surface paintings, but persevere and you'll likely emerge unscathed. The verdict? Stimulating premise, good art, worth a look.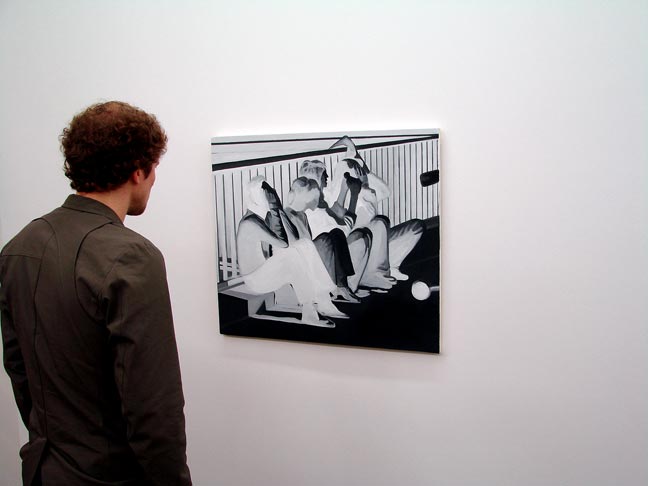 Art.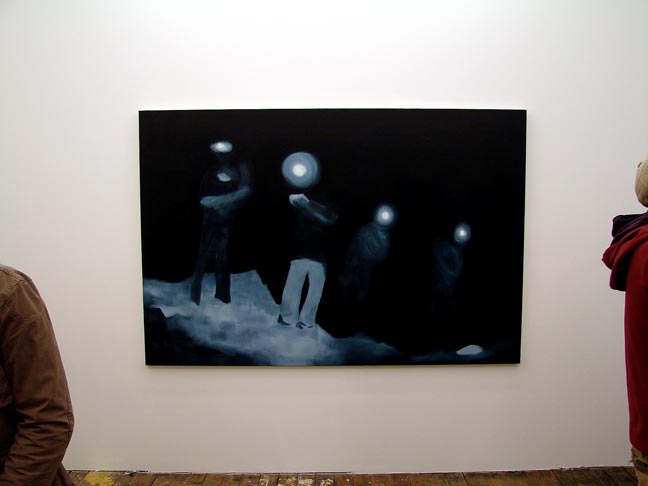 Art.


Art.


Shuttle Columbia disaster art - like 'em.


Simulated diptych art.


Art.


Art.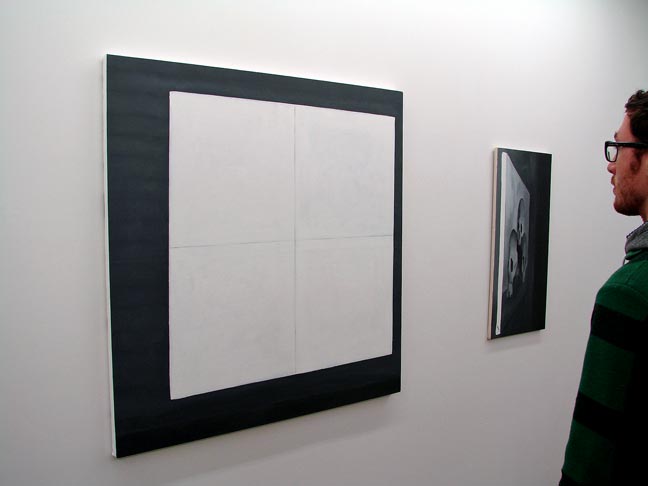 Art.


***
Velvet da Vinci: New West Coast Design - Jewelry + Metalwork.
Artists: Jill Allen, Lois Anderson, Alison Antelman, Shana Astrachan, Agelio Batle, Brooke Battles, Lilyanna Bekic, Barbara Berk, Harriete Estel Berman, Michael Dale Bernard, Elisa Bongfeldt, Deborah Boskin, Lynn Christiansen, William Clark, Petra Class, Alana Clearlake, Andy Cooperman, Susan Danis, Rebecca Deans, Christine Dhein, Sue Ann Dorman, Dana Driver, Sandra Enterline, Adrianna Fie, Hilary Finck, Gabrielle Fitzgibbon, Angela Gleason, Joan Hammond, Maj-Britt Hilstrom, Tom Hill, Sarah Hood, John L. Jensen, Lucia Hye Yoon Joo, Toshi Kawai, Maya Kini, Aaron Kramer, Birgit Kupke-Peyla, Judith Selby Lang, Kirk Lang, Katie Leong, Cheri Lewis, Kim Eric Lilot, Rachelle Lim, Micki Lippe, Sarah Loertscher, Theresa Lovering-Brown, Deborah Lozier, Grayson Yeager Malone, Jane Martin, Wendy Maruyama, Valerie Mitchell, Heidi Nahser, Emiko Oye, Frederick Park, Sarah Peterman, Hilary Pfeifer, Maria Phillips, Laura Prieto-Velasco, Suzanne Pugh, Margaret Realica, Patti Reilly, Michelle Ritter, RenÚ Roberts, Midori Saito, Carol Salisbury, Monica Schmid, Sondra Sherman, Kristin Mitsu Shiga, Eric Silva, Helen Shirk, Steven L. Smith, Susanna Speirs, Marten Stone, Boline Strand, Melissa Tolar, Cynthia Toops, Julia Turner, Mariah Tuttle, Niki Ulehla, Hazel Vera, Lynda Watson, Sarah Wilbanks, Greg Wilbur, Anne Wolf, James Yonts.
Review and photos by DeWitt Cheng: This huge show comprises only part of a larger project, the six-venue New West Coast Design created by independent curator Ted Cohen and the Museum of Craft and Design's Kathleen Hanna. The eighty-plus artists shown here, from Jill Allen to James Yonts, were selected by Velvet da Vinci's Mike Holmes and Elizabeth Shypertt. As the curators point out in the exhibition catalogue, the work combines high-tech procedures and recycled materials; it addresses ecological and political concerns while manifesting exquisite craftsmanship. Big big crowd on opening night, and it's tough to get shots of jewelry in display cases.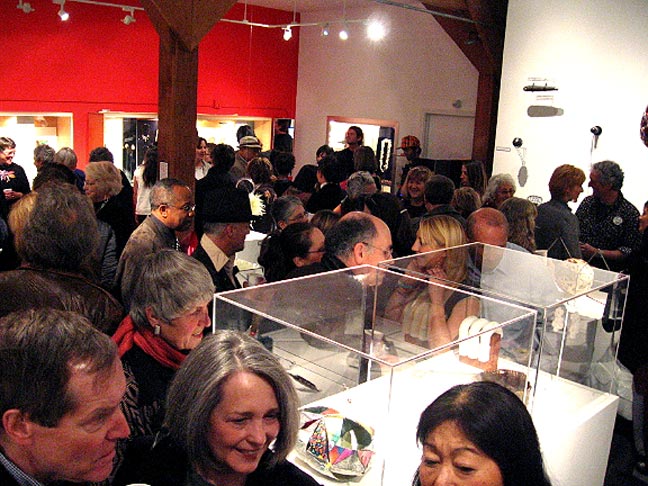 Cheek by jowl.


Artist Susan Danis.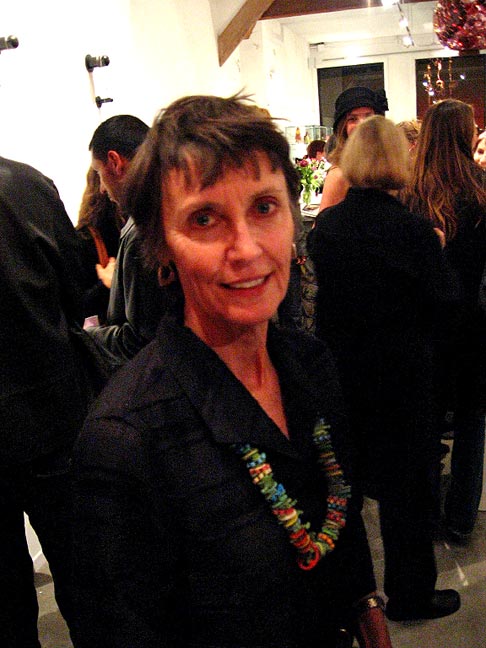 Artist Judith Selby Lang.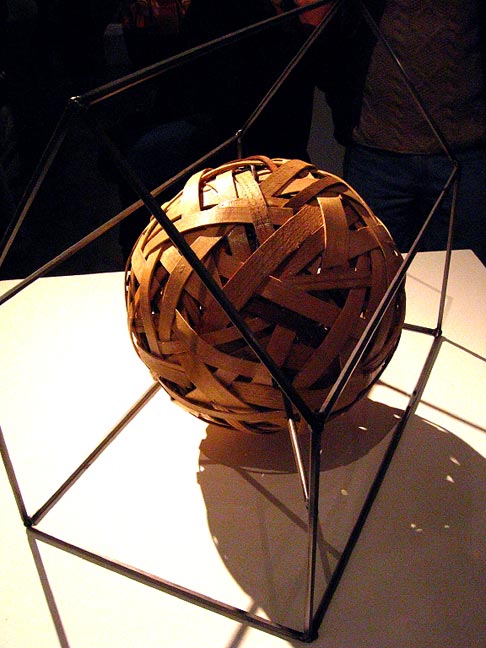 Artwork (didn't get the name!).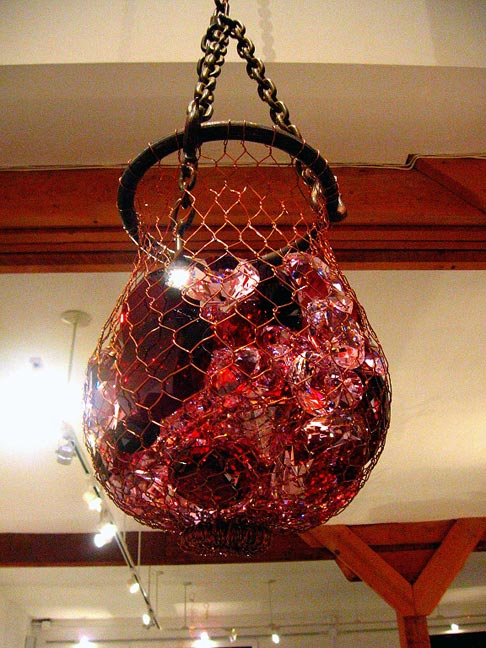 Susan Danis art.


Suzanne Pugh art.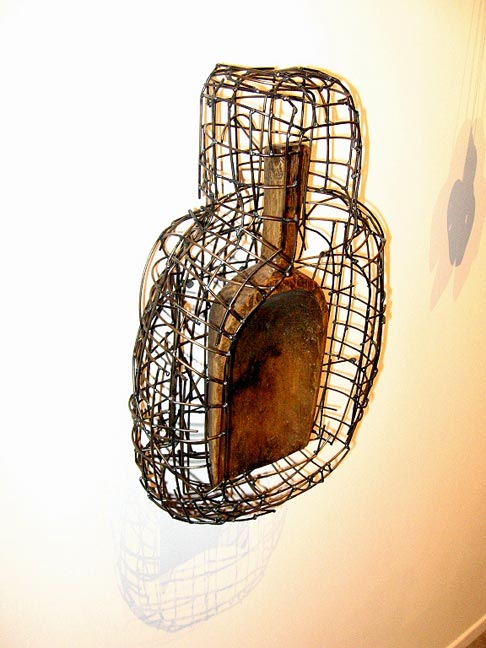 Aaron Kramer art.


Curator Mike Holmes.


***
Ampersand International Arts: Nick Graham / American Ironic - Popoganda, Images from the Early 21st Century of New China; Albert Reyes - Something Wicked, Drawings, Photographs, Paintings.
Comment by AB: One of the best shows I've seen at Ampersand in quite some time, maybe even in forever. The aft gallery features the artistic exploits of Nick Graham (best known as the founder and creative force behind Joe Boxer underwear). Graham concocts a futuristic scenario where in 2045, President George W. Clinton IV signs over the United States to China in exchange for cancelling its enormous debt (an eventuality likely not too far from truth). From this point forward, according to the specifics of the agreement, the United States will be known as New China. As for the visual technicalities, Graham commissions Chinese master painters to faithfully reproduce Cultural Revolution propaganda posters from the 1950's and 1960's, but with the faces of famous (and infamous) Americans from Bush to Clinton to Koons to Warhol to Steve Jobs replacing their original Chinese counterparts. An excellent and unsettlingly entertaining presentation.
Not to be outdone, Albert Reyes gussies up the fore gallery with a tornadic display of paintings, photographs, drawings, and cinderblock and concrete chunks, the totality intended to depict the deranged chaotic morass of meaningfulness, meaninglessness, and everything in between, better known as contemporary American culture-- which it unquestionably does. Plenty to peruse and contemplate here. Excellent again. Go see.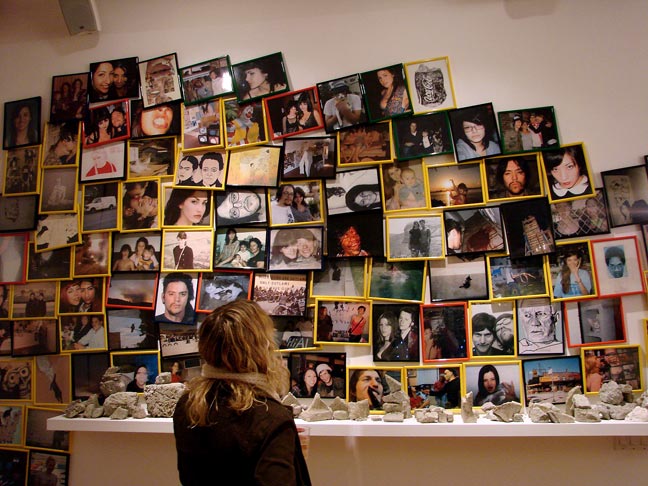 Art (Albert Reyes).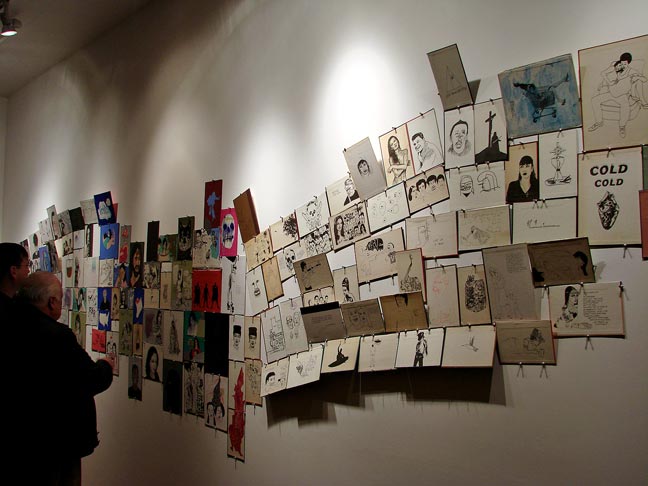 Art (Albert Reyes).


Albert Reyes.


Art (Albert Reyes).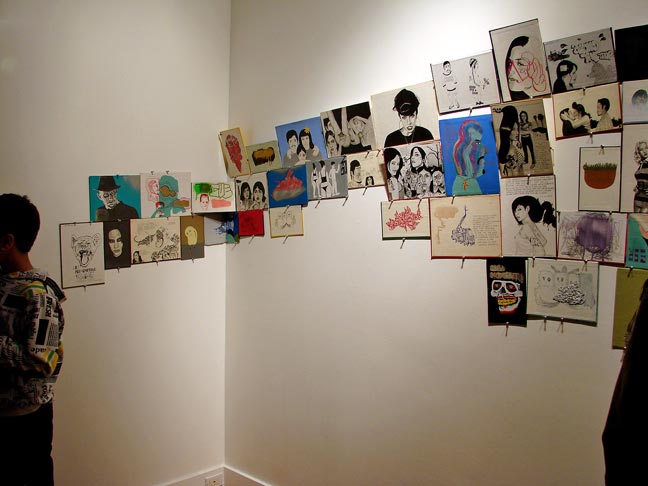 Art (Albert Reyes).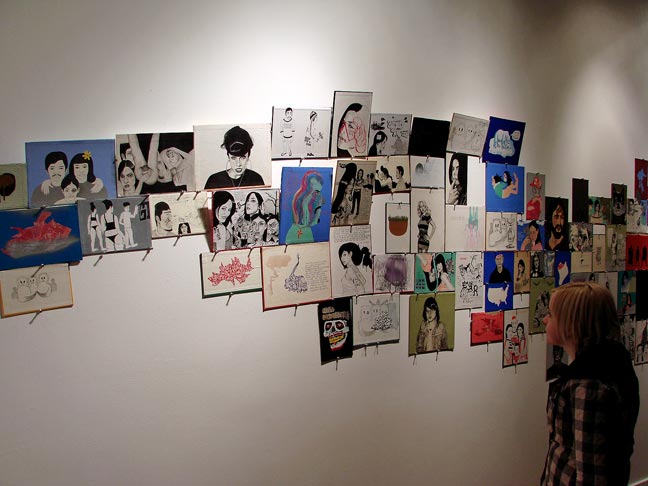 Art (Albert Reyes).


Art (Nick Graham).


Art (Nick Graham).


Art (Nick Graham).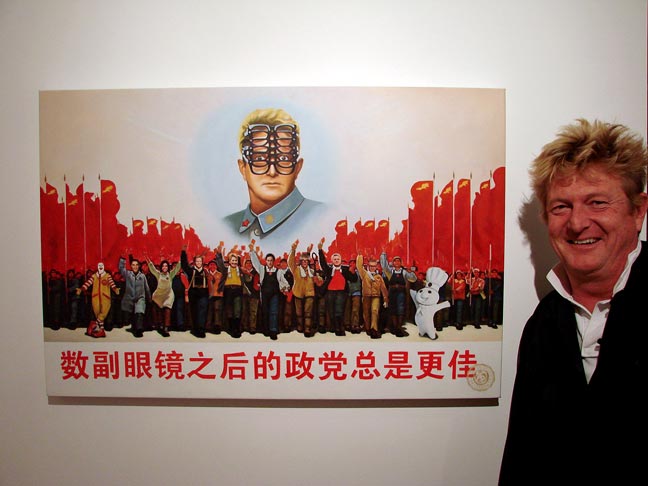 Nick Graham, creative mastermind - art.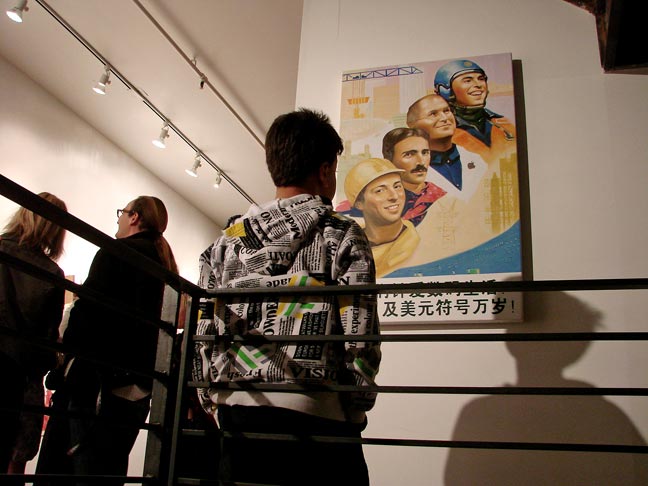 Art (Nick Graham).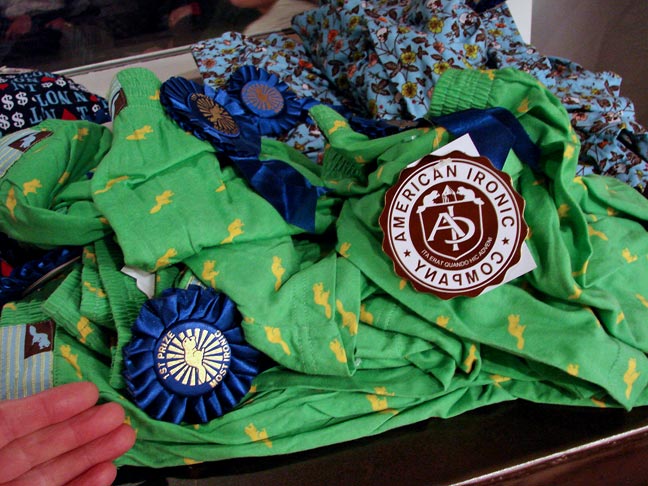 Obligatory underwear art with labels and ribbons.


Art (Nick Graham).


***
Varnish Fine Art: Kenney Mencher - Lovers and Liars.
Review by DeWitt Cheng: Kenney Mencher is a well-known Bay Area figurative artist and teacher. This show features paintings dealing with relationships, loosely speaking; it's ironic, wry and mysterious, and the relationships are not always clear, though much of the appeal of looking at these works is figuring out the implied narratives. áMencher's realism is traditional, though he paints with brio, but his pictorial strategies range from the theatrical tableau of costumed, posed actors to more scrambled juxtapositions of mass-media imagery somewhat resembling vintage movie posters.
Review by Ben Rigby: When Norman Rockwell's characters grow up-- when they find themselves twisted in an adult web of lies, deceit, and promiscuity-- Kenny Mencher captures them on his canvases. Using a 50's-like rendering style, Mencher depicts moments of discovery, surprise, and mal-intent. Across the walls of Varnish Fine Art, the paintings play out like pages from a comic book. Each canvas conveys some part of a story that, by the artist's admission, may or may not relate to one another. Some take on the dimension of a campy one liner, such as a tuxedoed man "framed" by another. Some explore deeper terrain such as a middle-aged woman, smoking and presumably post-coital, staring distantly off-frame while a nude, standing arms akimbo in the background and cropped by the canvas above his neck, leans against a door frame. Mencher leaves this story to evolve in your imagination.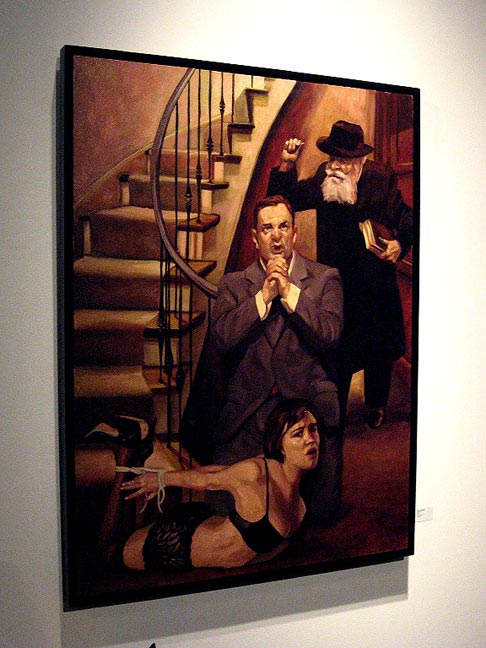 Authoritative painting, ambiguous imagery. You're the auteur.


Noirish scene, replete with SF bay window.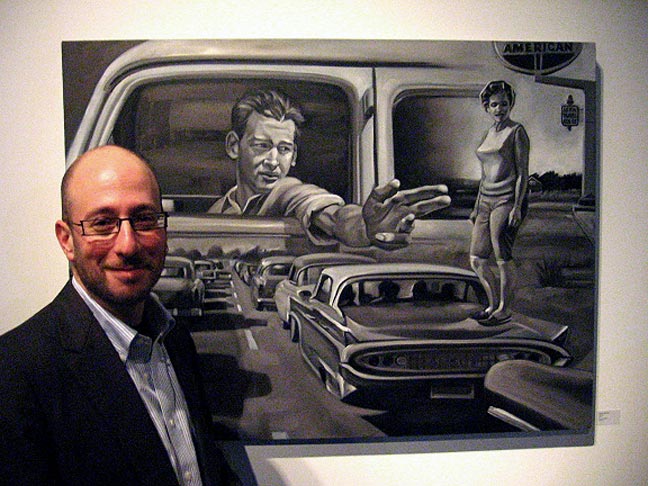 The artist, with 1950s nostalgia in grisaille.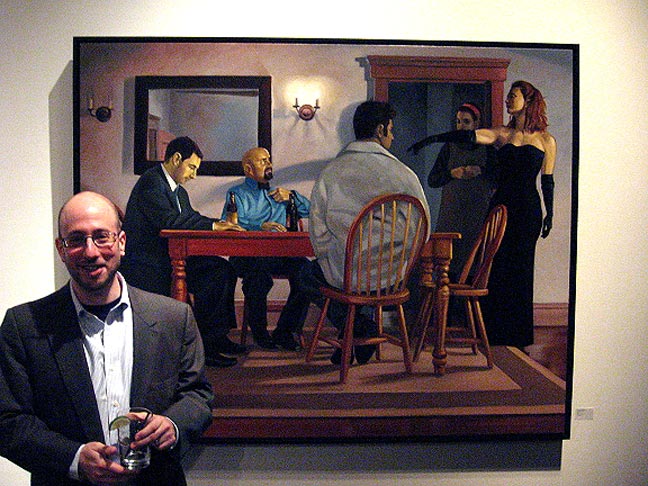 Kenney Mencher with his familial version of Caravaggio..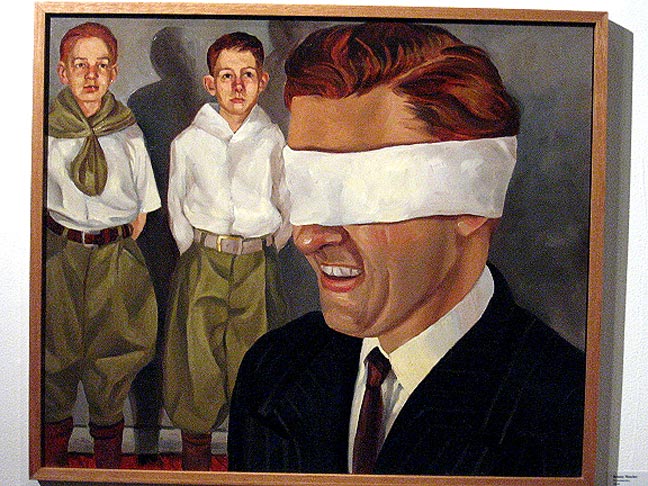 Hide and seek, or execution?


View from mezzanine.


Scenes from a marriage.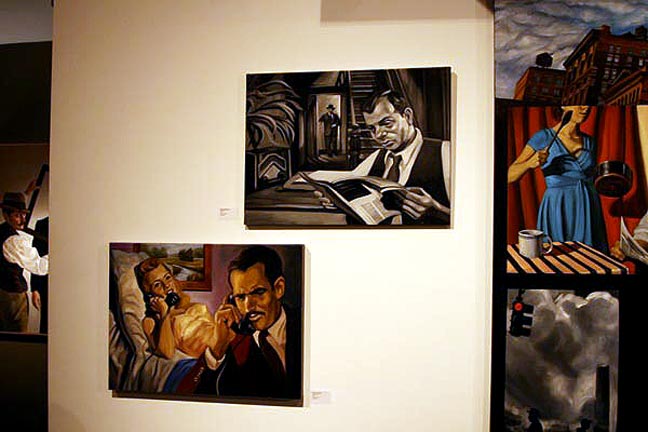 Smaller works (photo c/o Ben Rigby).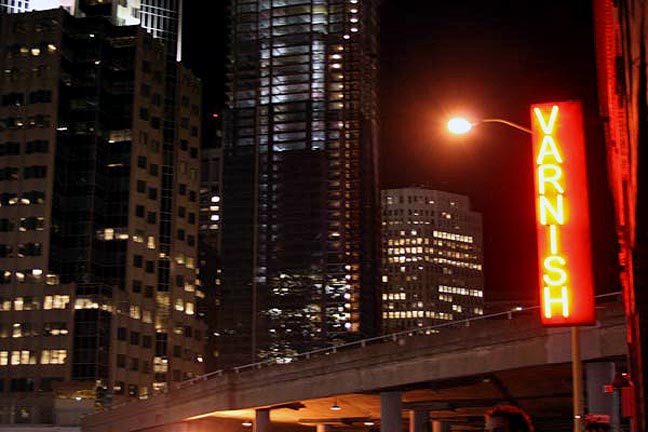 Out front (photo c/o Ben Rigby).


***
Triple Base Gallery: Peter Stegall - An Equal Playing Field, New Work.
Review and photos by Ben Rigby: A vibrant assemblage of Mission hipsters crowds Triple Base for the opening of Peter Stegall's gloss enamels on masonite. Each piece explores varying weights of color, shape, and movement. In the difficultly lit and cramped space, it's hard to escape the feeling that one is attending an international flag design competition.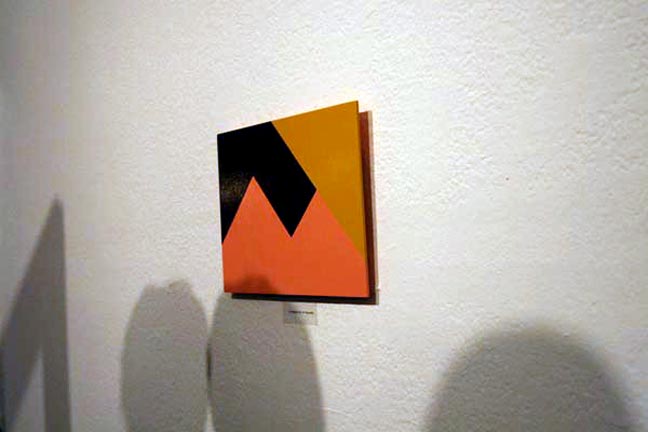 Art.


Art.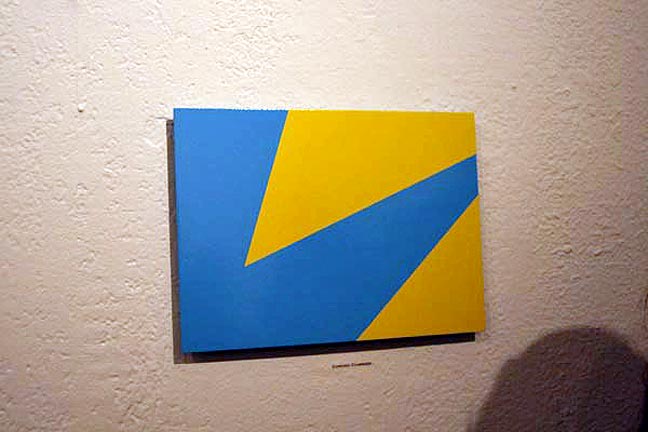 Art.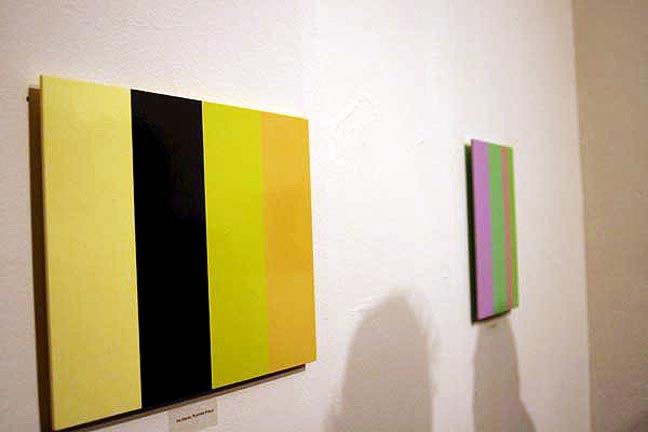 Art.


In.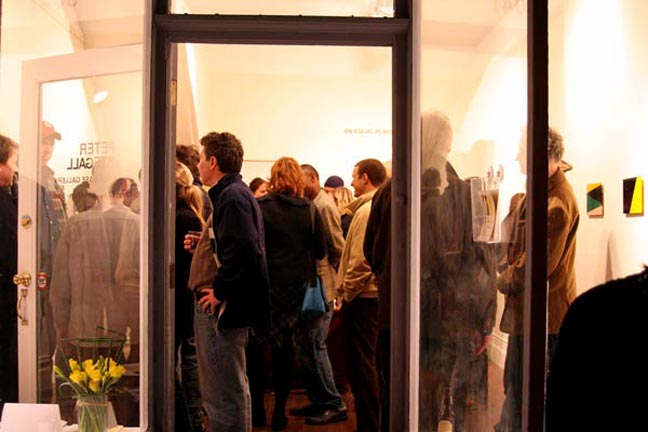 Out.


***
Fort Mason Center, Landmark Building A: Preview and Opening Gala for the San Francisco Fine Print Fair.
Participating Dealers: The Annex Galleries; Armstrong Fine Art; Joel R. Bergquist Fine Arts; Catherine E. Burns Fine Prints; William P. Carl Fine Prints; Childs Gallery; Davidson Galleries; Egenolf Gallery, Fine Japanese Prints & Drawings; Abigail Furey Fine Prints & Drawings, LLC; Roger Genser, The Prints and the Pauper; Conrad R. Graeber Fine Art; Jan Johnson Old Master and Modern Prints, Inc.; R. E. Lewis & Daughter; Paul McCarron Fine Prints and Drawings; Carolyn Staley Fine Japanese Prints; M. Lee Stone Fine Prints, Inc.; Susan Teller Gallery; Worthington Gallery.
Comment by AB: Eighteen top dealers from the United States and Canada converge on San Francisco once per year to show and sell the finest in vintage and contemporary original prints, offering a superb selection of quality examples dating from the 15th through the 21st centuries. Artists and styles include Rembrandt, Durer, Picasso, Matisse, German Expressionists, Hiroshige and Hokusai, vintage prints by California and American artists, and much much more-- even an exceptionally rare Van Gogh etching for $175,000. Tonight's preview party benefitting the the Achenbach Foundation for Graphic Arts has Acting Curator in Charge Karin Breuer selecting outstanding and unusual works in varying price ranges from the exhibiting dealers. These "Curator's Choice" images will be on view and available for sale through the weekend.
Fine print art.


Fine print art.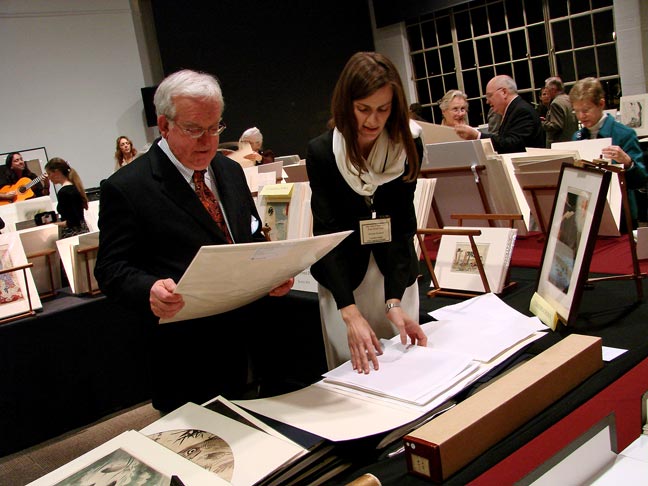 Fine print art.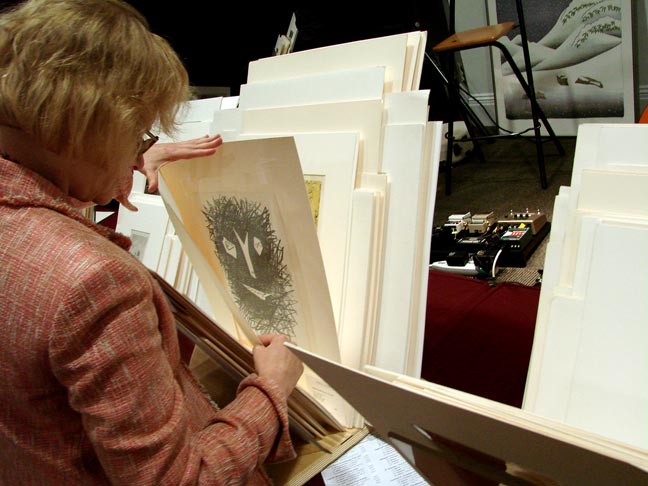 Fine print art.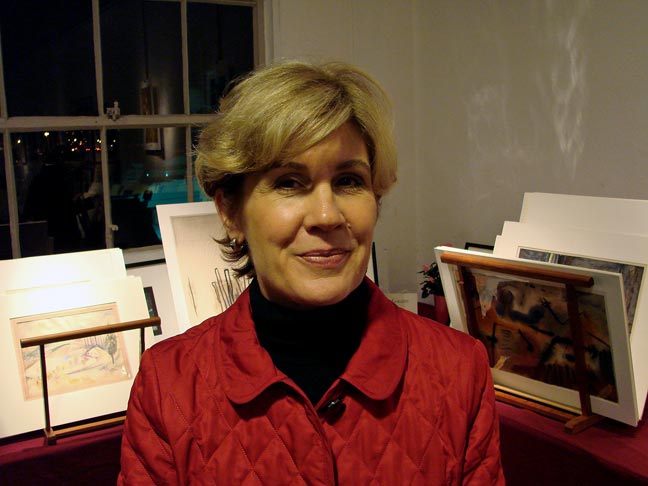 Curator Karin Breuer.


Curator Emeritus Robert Flynn Johnson.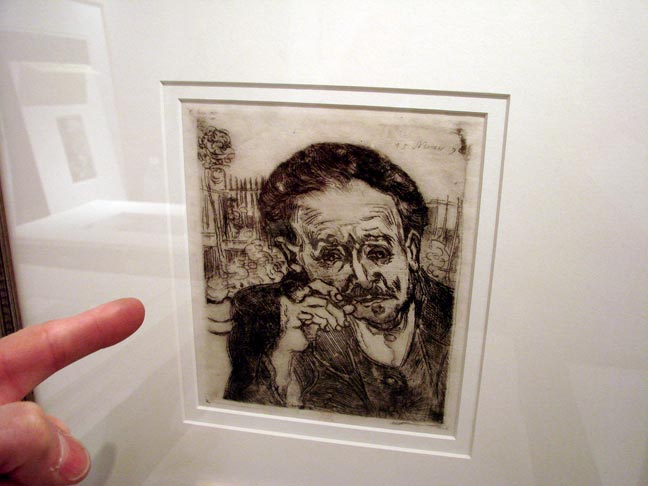 Rare Van Gogh etching available from R. E. Lewis & Daughter.


Exhibitor top.


Exhibitor mid-section.


Fine print art.


***
Queen's Nails Annex: Ana Teresa Fernandez, Rebecca Goldfarb, Suzanne Lacy - Conduits of Labor.
Comment by AB: Three artists examine various aspects of labor-- of the female variety (and anatomy) in particular. Ana Fernandez editorializes on the issue with an entrancing three-screen video (her first, and my pick of the show) starring shapely calves and footsies clad in high heels, at intervals dripping with syrupy liquid, standing quietly, or engaged in various activities like popping balloons. She seasons the soup with several of her now classic paintings and drawings of sensual domestics. Rebecca Goldfarb adds to the drama, deploying a portion of her collection of over 100 years of soaps and soap boxes (in so doing, pointing up the effectiveness of plexiglass casing for display purposes), and Suzanne Lacy rounds the evening out displaying previously unexhibited works from the seventies, part of her "Monster Series."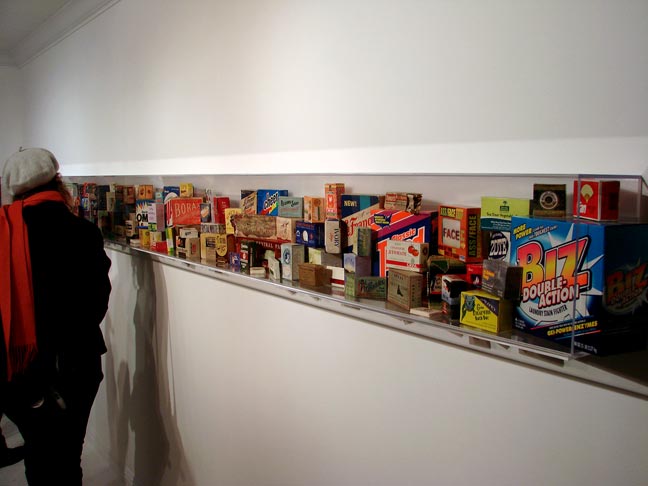 Cleanliness collectibles (Rebecca Goldfarb).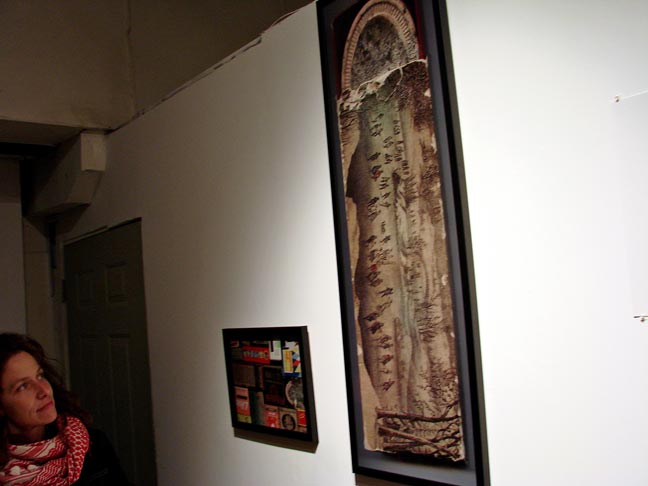 Cleanliness collectibles (Rebecca Goldfarb).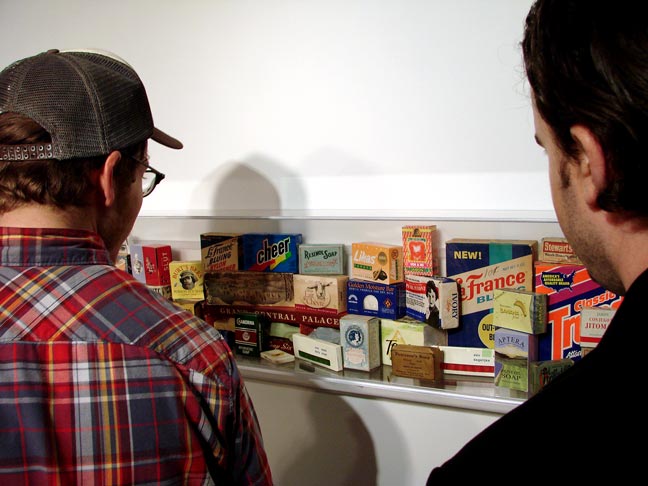 Cleanliness collectibles (Rebecca Goldfarb).


Art.


Art.


Video art (Ana Fernandez - like it).


Video art (Ana Fernandez - like it).


Watching video art by Ana Fernandez.


Sensual domestic art (Ana Fernandez).


Sensual domestic art (Ana Fernandez - buy 'em while you can).


Art (Suzanne Lacy).


Art (Suzanne Lacy).


***
Addendum: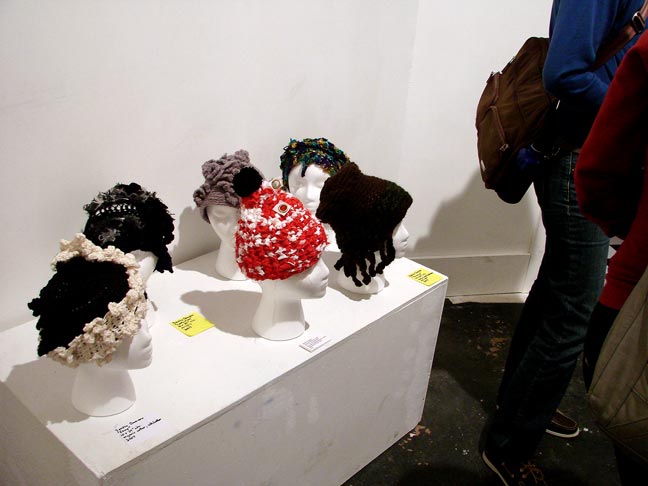 "Cultivating Cozy" knitting show at Femina Potens.


Another from "Cultivating Cozy" at Femina Potens.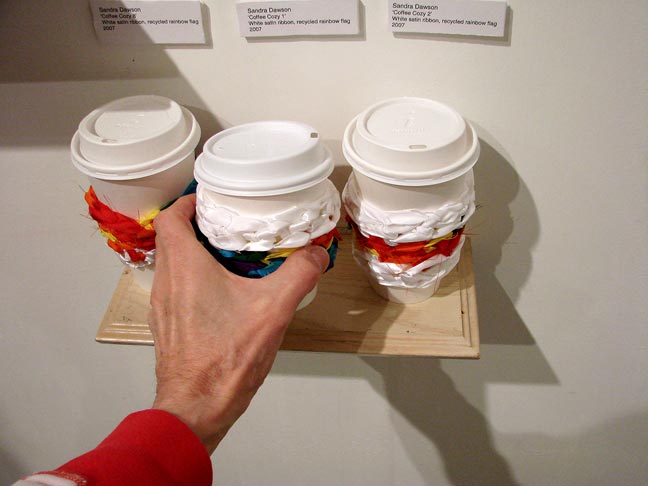 Recycled materials knit into cup holders at Femina Potens.


***