SAN FRANCISCO ART GALLERIES - OPENINGS
RENA BRANSTEN - MODERNISM INC. - HIMMELBERGER GALLERY
LIGNE ROSET - NATIONAL PRODUCT - PUBLIC GLASS
ROSS MIRKARIMI - BUCHEON - SAN FRANCISCO FINE PRINT FAIR
MISSION 17 - ART AT THE DUMP - PING PONG GALLERY
VARNISH FINE ART - RED INK STUDIOS - SPRINGER-CROKE
01.19-21.06
Himmelberger Gallery: Looking Up - George Gugushvilli and Vladimir Dikarev.
Comment: According to the manual, Ukranian-born Minnesota artist Vladimir Dikarev's "unconstrained use of color and shape creates a sense of nostalgia for something that has not yet happened." Since you know how I feel about that, and I don't, I won't have to tell you, even though I already have. Georgian artist George Gugushvilli combines representational with abstract.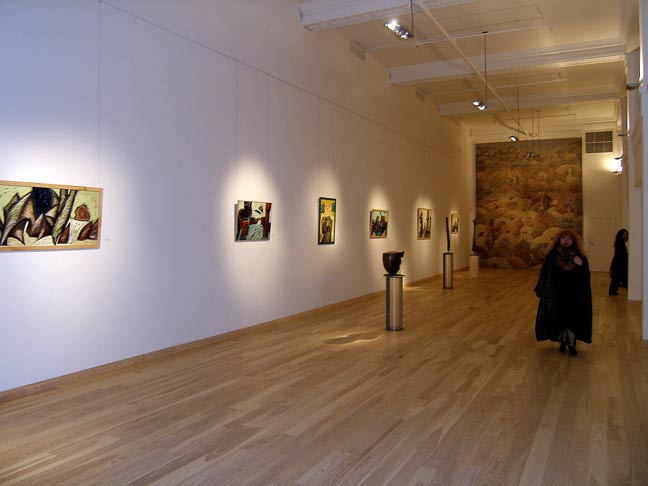 Art (George Gugushvilli).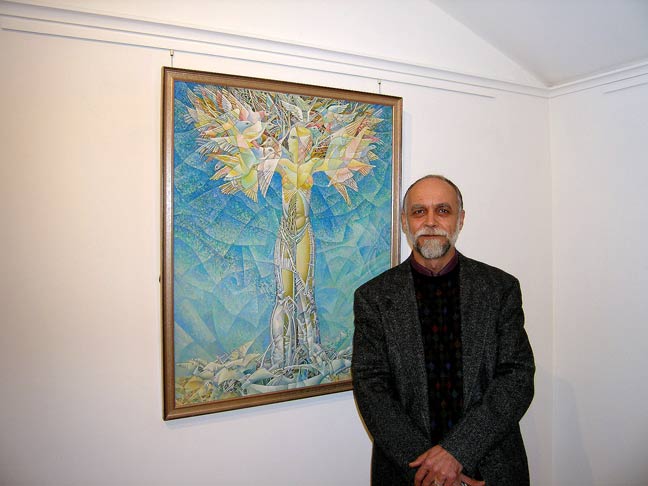 Vladimir Dikarev - art.


David Himmelberger - gallery owner.


Art (Vladimir Dikarev).


Floor show (art - George Gugushvilli).


***
Rena Bransten Gallery: Matthias Hoch - Photographs; Ari Marcopoulos - New Work.
Comment: This is kind of an eerie weird photographic double-shot. Matthias Hoch pictures urban architecture and architectural elements, extracting out humanity, resulting in a range of impacts, all worthwhile, from contemplative to unnerving. His most acutely uninhabited images, the cityscapes, might even make you think about civilization's curtain call, like what life won't be like if the power crazies one day decide to consecrate us with a radioactive veil. Ari Marcopoulos, meanwhile, documents fragments of family life, stark, silent, quizzical, solo. Among his subject matters are scrapes and bruises, I assume on his kids, moments hardly anyone ever thinks to archive, but which often trigger intense recollections when looked back upon later.
Art (Matthias Hoch).


Art (Ari Marcopoulos).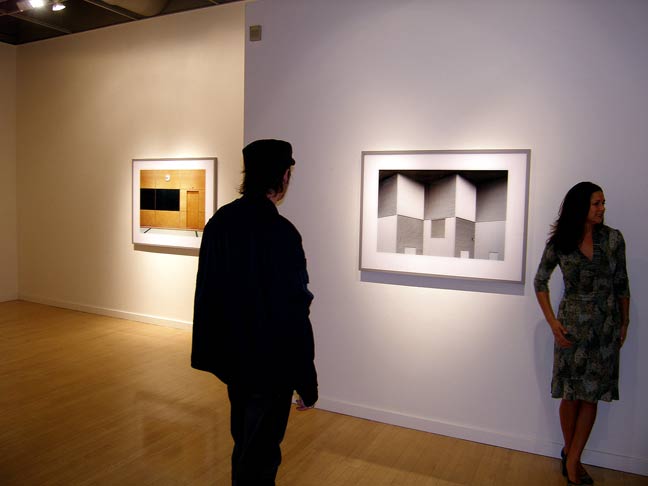 Art (Matthias Hoch).


Art (Ari Marcopoulos - like the right one).


Art (Matthias Hoch).


Art (Ari Marcopoulos).


Art (Matthias Hoch).


Art (Matthias Hoch).


***
Modernism Gallery: Glen Baxter - From the Library of Quartz Togs; Abstract Paintings by Gallery Artists - Charles Arnoldi, Edith Baumann, James Hayward, Peter Lodato, John M. Miller, David Simpson, Leon Polk Smith.
Comment: The amusingly absurd artistry of London-based author illustrator Glen Baxter is kind of a polite cultured intellectual variant of The Far Side by Gary Larson, though in truth, it's an idiom unto itself. Plus Baxter looks precisely like the kind of artist you'd expect to make his kind of art, like he inhabits his anomalous reality-- the Great Casting Director in the sky sure got this one right. For those who prefer art without captions, there's a cull of capital abstracts in the gallery's main room. I'm partial to James Hayward's sumptous frosting thickies, visually as well as olfactorily, however I wax baffled on how to maintain these babies either now or later. Dust doth doeth dirty deeds. Maybe cage 'em in plexi-- but then there goes the drama. Hmmm.
Art (Glen Baxter).


Art (James Hayward).


Glen Baxter - art.


Art (Charles Arnoldi - foreground).


Art (Glen Baxter, left - Charles Arnoldi, right).


Art (Glen Baxter).


Art (Glen Baxter).


Art (Leon Polk Smith - ovals).


Art.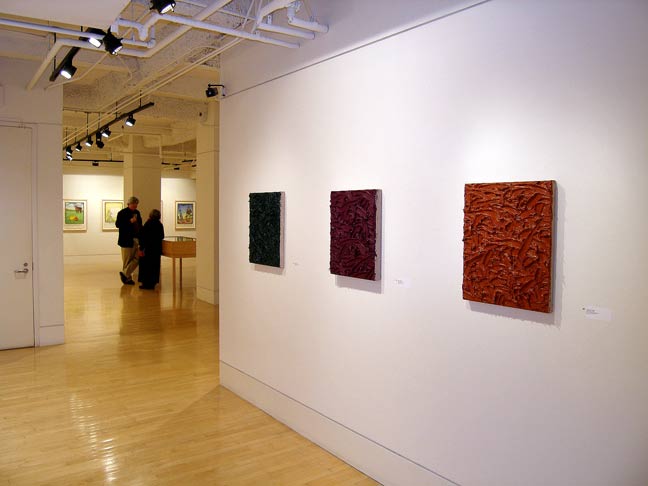 Art.


***
Ligne Roset: Robin Denevan, Molly McCracken, Alexandra Blum.
Comment: Journeywoman abstract and semi-abstract artworks by three artists. Molly McCracken paints etherial, Robin Denevan works organic and earthy, and Alexandra Blum's chromatic acrobatics on paper show she's got a nice handle on a challenging medium.
Art (Robin Denevan, left - Alexandra Blum - right).


Art (Molly McCracken).


Alexandra Blum - art (left); Molly McCracken - art (right).


Art (Robin Denevan).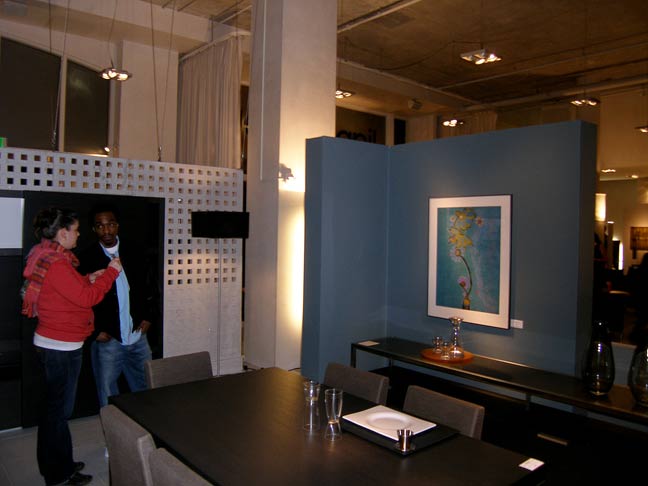 Art (Alexandra Blum).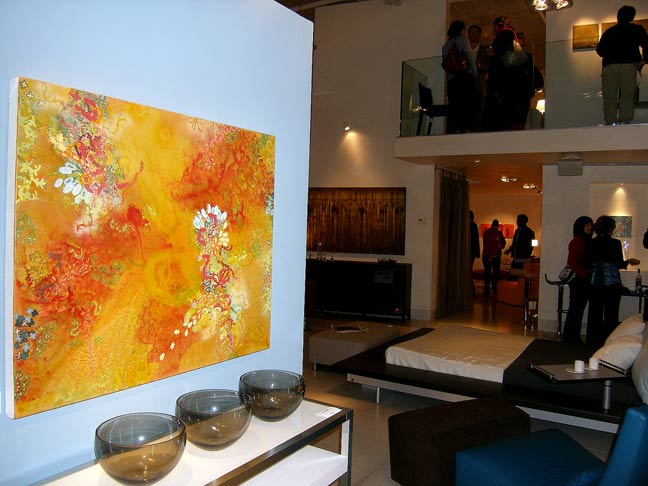 Art (Molly McCracken).


Art (Alexandra Blum).


Art (Robin Denevan).


***
National Product: Prints & Paintings by Will McCurtin.
Comment: A wide selection of exceptionally affordable kinda creepy-warpy-lite upbeat jocular creature/people/animal paintings, prints, and drawings by Will McCurtin. (According to the scorecard, McCurtin created the zine, "The Story of My Scab.") Most expensive piece in the show is $220; plenty under $50. On a budget? Need odd art? Find it here.
Art.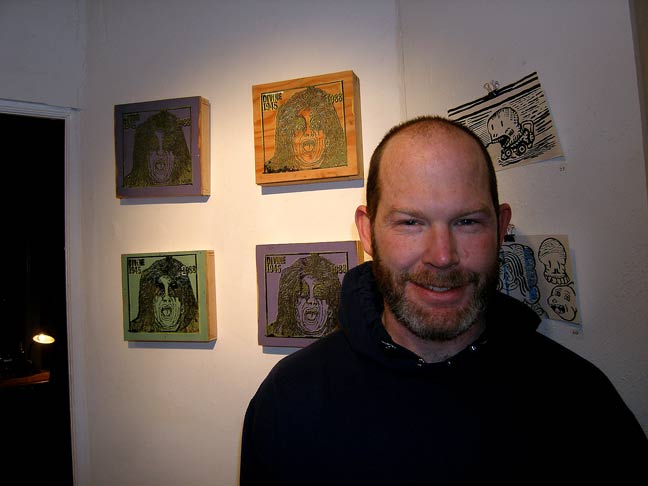 Will McCurtin - art.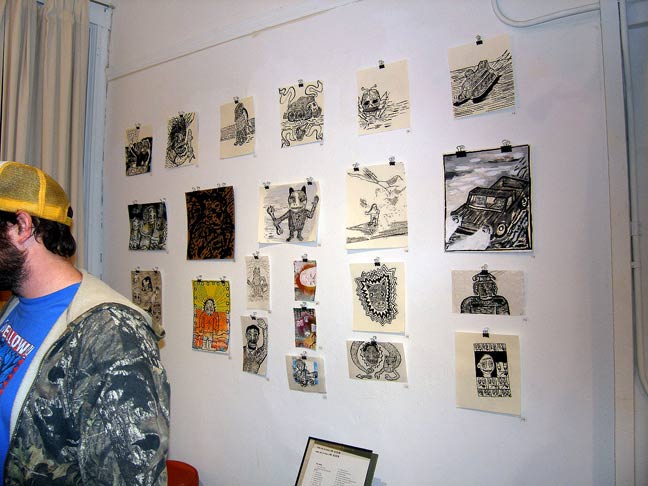 Art.


Art.


***
Public Glass Gallery: Shadowboxing - Lighting Sculpture Installations by Stephen Day.
Comment: A selection of decorative artistic dimensionals, primarily wall pieces, exploring the relationship between glass and light, by sculptor and industrial designer Stephen Day. Public Glass is a complete facility (including gallery) for artists working in both hot and cold glass. I get the tour from Executive Director Rob Tribble who tells me that in about a year they'll be needing a new kiln ($60K). The current model operates 365 days per year in a petunia-wilting temperature range of 2000-2200 degrees. Wanna work in glass? Wanna learn to work in glass? Wanna contribute a little lettuce to help defray operating expenses? Email Rob Tribble.
Hot glass room; kiln left.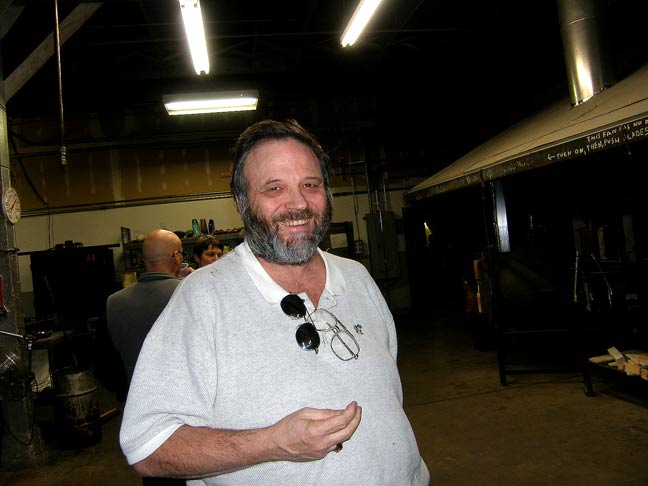 Rob Tribble, Executive Director.


Art (Stephen Day).


Art (Stephen Day).


Art (Stephen Day).


Art (Stephen Day).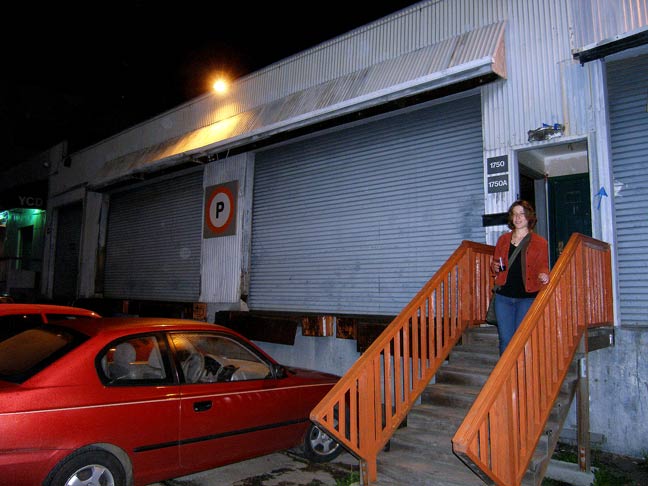 Esplanade.


***
Supervisor Ross Mirkarimi: Andy Diaz Hope - Everybody is Somebody's Terrorist.
Comment: Andy Diaz Hope proposes that no matter who you are, someone somewhere probably considers you a terrorist, and that once you've aquired the terrorist cachet, that's pretty much it for your social life. For instance, if an influential entity like say the United States Government decides to call you a terrorist in order to advance their imperialist agenda, you're basically permanently inexorably fucked. Anyway, Diaz knits up a bunch of fashionista whole-head hoods (balaclavas) and pairs them with "uniforms," satirical sound recordings, and videos to effectively point up the insidious conspiratorially counterproductive consequences of high-level kill-driven name-calling.
Art.


Art.


Andy Diaz Hope + chixter muggin' in the background.


Andy Diaz Hope + chixter mugs up another.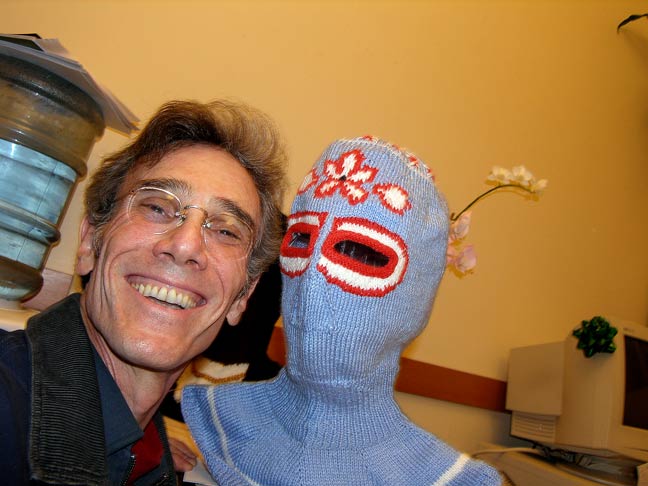 Terrorist wants our pitcher tooked together (I'm on the left).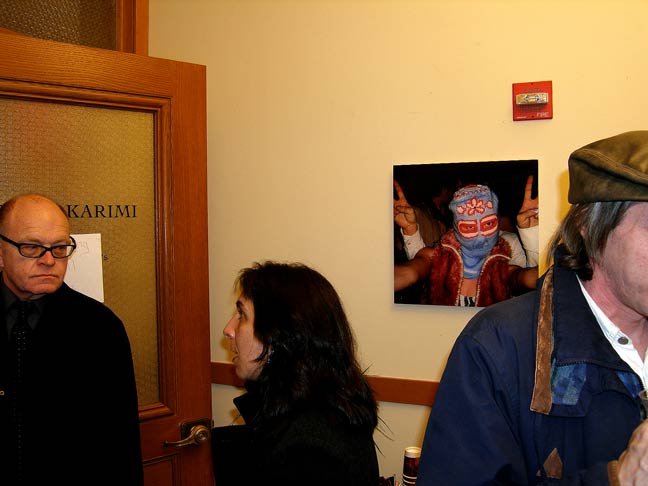 Art.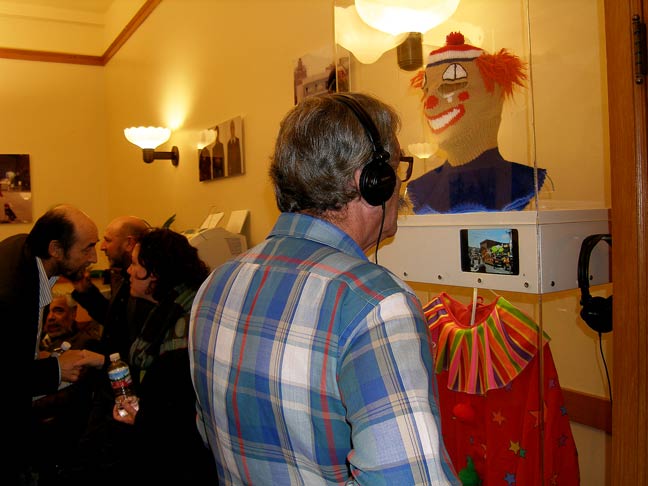 Art.


***
Bucheon Gallery: Julie Chang - thank you... have a nice day...
Comment: Scrupulous versatile vibrant festive colorific array including paintings, wallpaper, combination panel paintings, and more. Julie Chang tells me her paintings are primarily created from stencils (I thought they were silkscreens and asked about her methods), so right off the top, she distinguishes herself from most other painters. Her work tilts toward investigative social commentary combining elements of vintage design, greeting card images, T-shirt designs, gimcrack (new word I learned from her press release meaning kitsch or knick-knacks) illustrations, traditional Chinese culture visuals, and so on. There's a substantial upside here. I get to Bucheon a bit early, and so politely consrcipt Chang for the photos. Thank you, Julie, for obliging.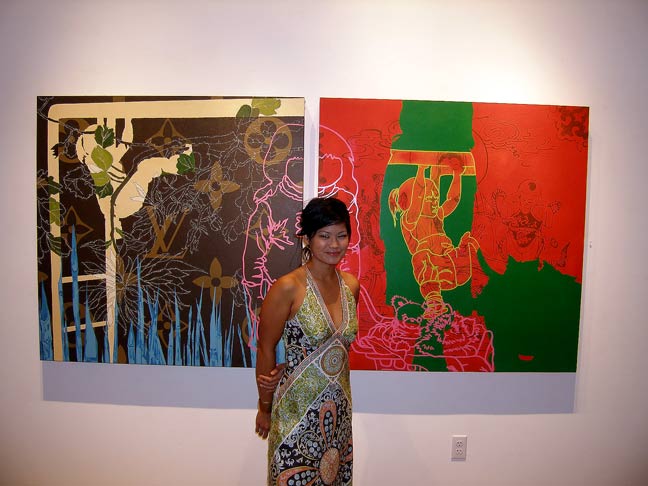 Julie Chang - art.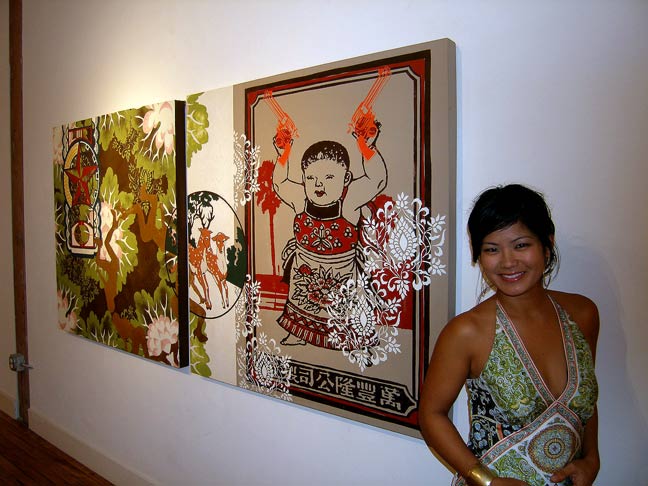 Julie Chang - art.


Julie Chang - art.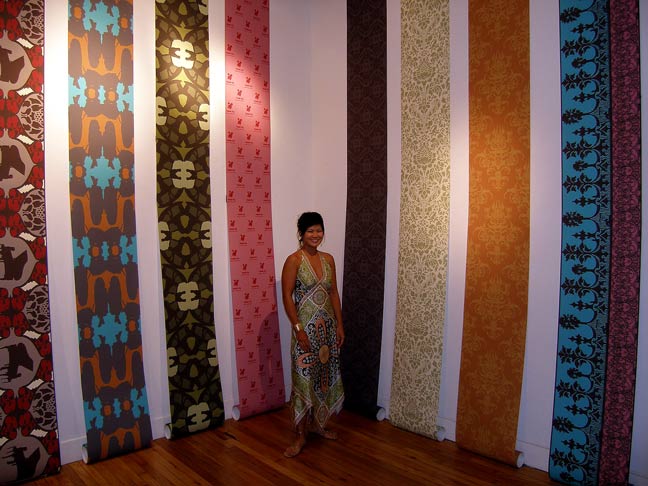 Julie Chang - art.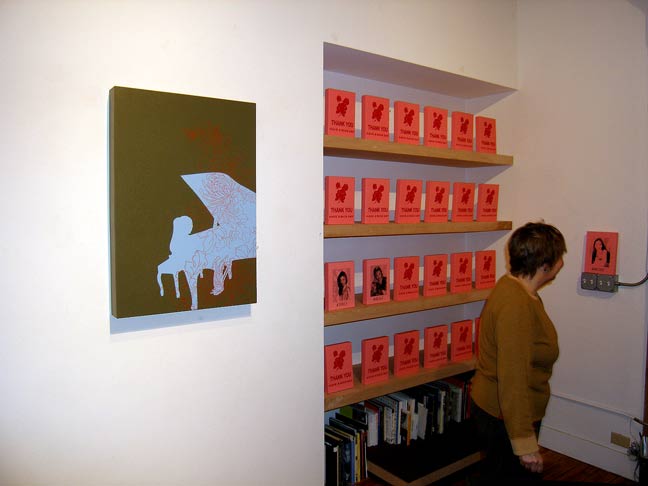 Art.


***
The San Francisco Fine Print Fair Sponsored by the International Fine Print Dealers Association (IFPDA): Preview and Opening Gala to Benefit the Achenbach Graphic Arts Council.
Comment: See the best in fine original prints from the 15th through 20th centuries including Old Masters like Rembrandt and Durer, Modern Masters like Picasso and Matisse, German Expressionists, Hiroshige, Hokusai, period California printmakers, and much more, all courtesy of a number of America's top print dealers. This is art dealing at its purest, by the way-- no pomp, no posturing, no puffery. The prints are displayed clean and simple, plainly matted; you flip through them as they sit in bins, portfolios, and drawers, and here's the amazing part-- they sell based solely on their own merits. Can you believe it? Dealers presenting art entirely without fanfare? Yes, it actually happens here. And this is the good stuff too, kids, not that overinflated overhyped low-end lame-o bilge you find at those predatory high profile high rent galleries who siphon moneybag soft touch tenderfoots into thinking they're "investing" in art.
Fine print assessing.


Fine print perusal.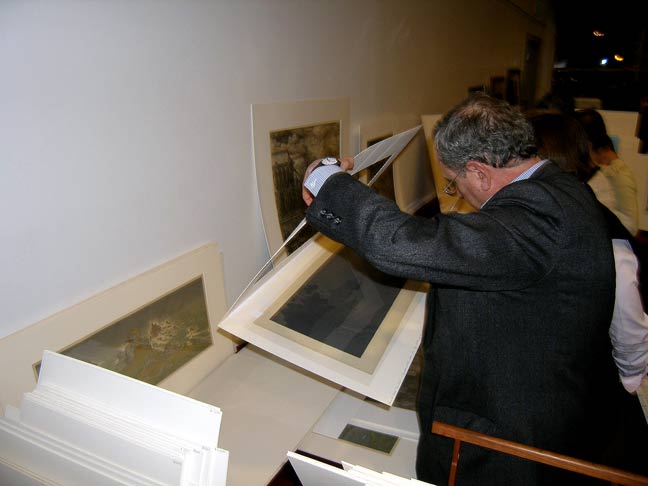 Fine print shopping.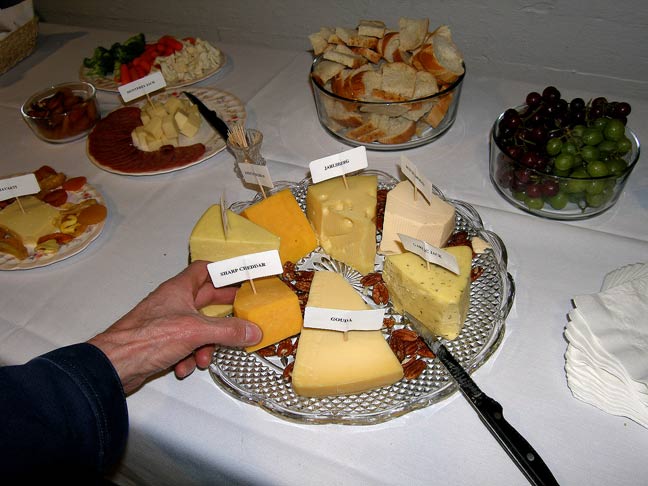 What have we here? Pinch me. I must be dreaming! One moment please...


Mmmmm. The pause that refreshes. Now back to work...


Jan Lewis Slavid of R.E. Lewis & Daughter Original Prints.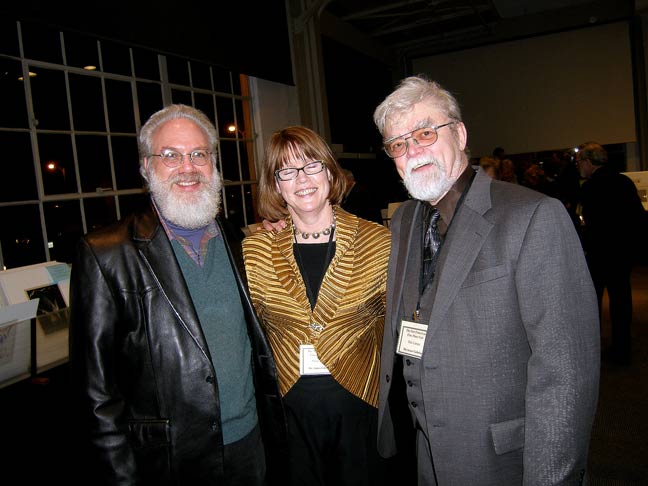 Dennis Calabi (the best art conservator, left)
Gala Chamberlain (center) and Dan Lienau (right) of Annex Galleries.


Roger Genser of The Prints and the Pauper.


Overview partial.


***
Mission 17 Gallery: Cronyism.
Artists: Eliza Barrios, Chris Cobb, Cathy Davies, Paz de la Calzada, Rebecca Millsop, Packard Jennings, Michael Romano, Virginia White, Jenifer Wofford.
Comment: The deal here is that curators Clark Buckner and Emily Sevier choose three artists for the show who are, in turn, asked to choose three more artists for the show who are, in turn, asked to choose three more artists for the show. So we got nine artists. It's a comment on how networks or groups of individuals can be simultaneously supportive and exclusionary. Maybe next time advance the issue a step further, and require that the nine artists present a somewhat unified show, rather than saying, "OK. We got the artists. Now make what you want."
Art.


Art.


Art.


Clark Buckner - Curator.


Art.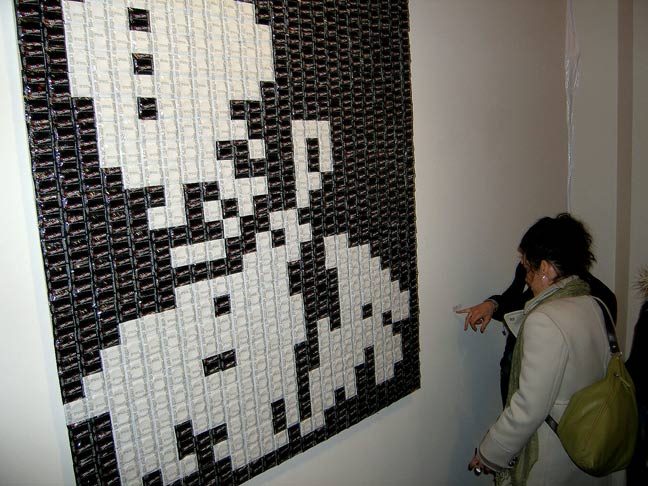 Found unopened condom art.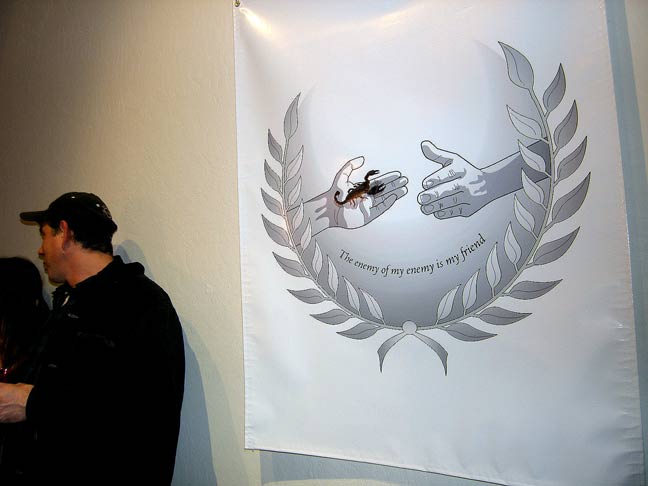 Art.


Art.


***
Art at the Dump, Norcal Waste Systems Artist in Residence Program: Hearts and Brains - Work by James Gouldthorpe.
Comment: James Gouldthorpe uses scrap wood, wood blocks, and tree branches to make wood sculptures (including a mini-cabin), recycled paper and miscellaneous wood panels to draw and ink on, glass and metal and other kinds of scraps for assemblage art, and more more more. The result is an impressive array from quality, quantity, creative, and variety standpoints. Four strikes and you're in. I'm partial to several jam-packed jut-branched wood sculptures. Gouldthorpe tells me there's really no theme to his show, but rather he immersed himself in refuse, rooted around, sifted a selection of art-worthy effluvium, and got busy.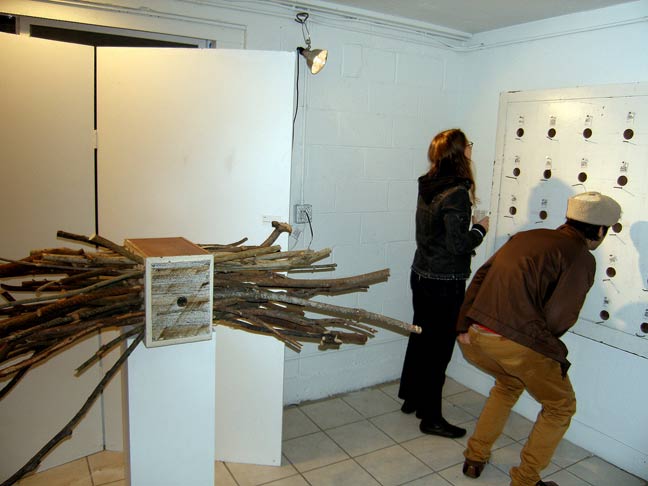 Art (like that stick cram).


Art.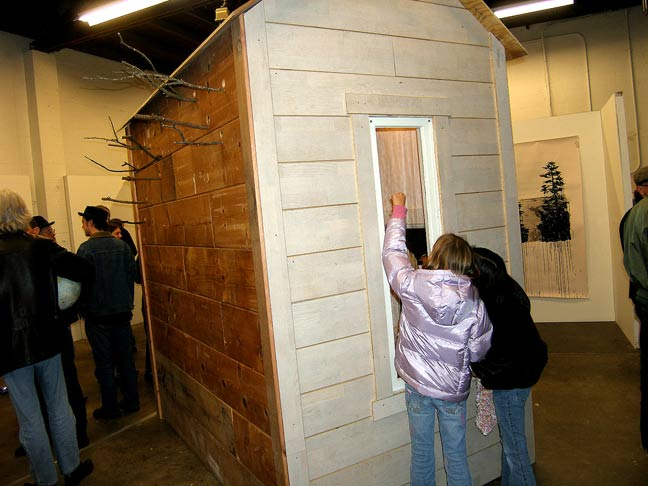 Art.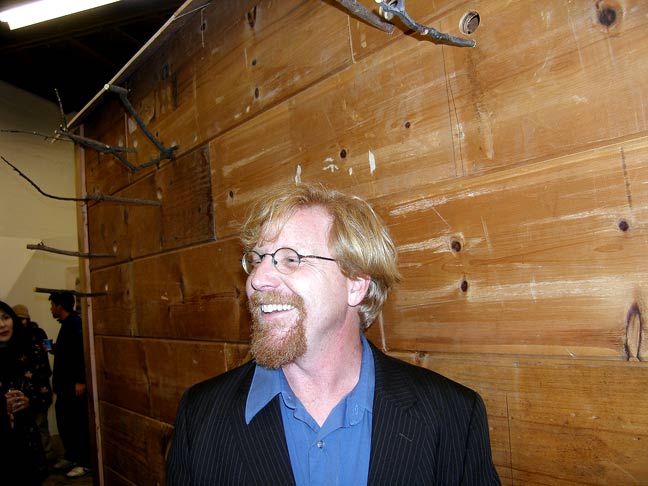 James Gouldthorpe - art.


Art.


Art.


Art.


***
Ping Pong Gallery: Things and Stuff - A Collection of Drawings, Sculptures and Videos by Joshua Pieper.
Comment: The Ping Pong moniker apparently applies to the progressive evolutionary back and forth nature of dialogue, but it looks like the folks who run the space might also play ping pong there. There's scads of ping pong balls in vases along the base of the front window so that's a clue. Or maybe nobody plays ping pong there, but ping pong balls are easier to maintain than orchids. Anyway, the gallery's pretty new, the website's pretty new, the space is very clean, the location is nice, and Joshua Pieper's art is straightforward, uncomplicated, hygienically presented, doesn't take up a lot of space, and is adequately satisfying. Special added bonus-- good crowd for the opening.
Art.


Art.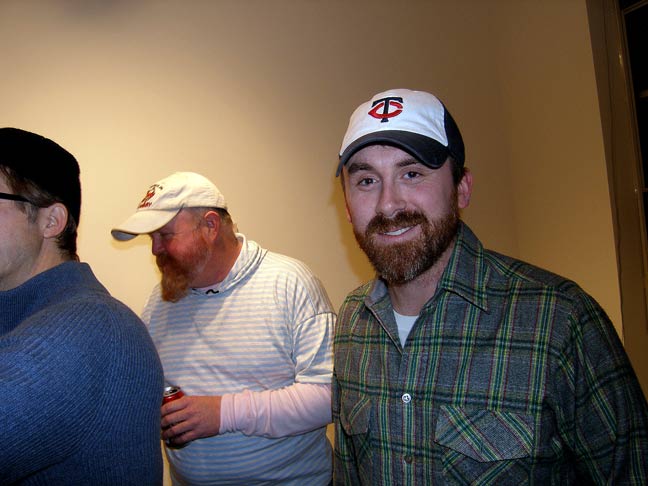 Joshua Pieper (right).


Dude wants his friend's pitcher tooked holding beer. OK.


Art.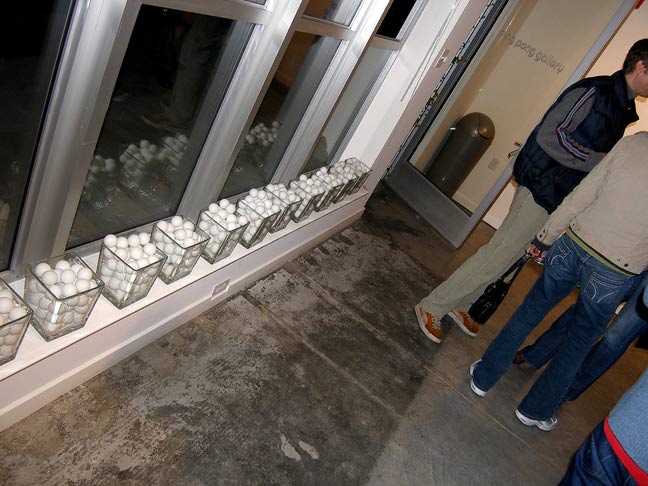 Ping pong plethora.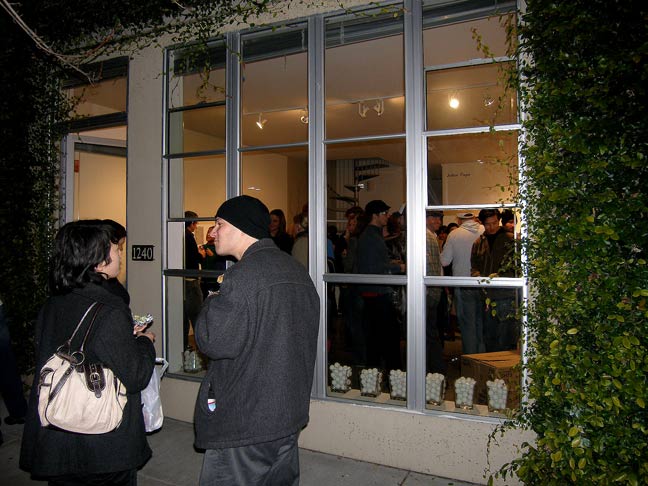 Exterial.


***
Varnish Fine Art: JP Long - Sculpture; Jung Han Kim - Painting.
Comment: Pure precise serene reductive glass and steel sculptures by J.P. Long. Pretty pricey figural and urbanscape paintings by Jung Han Kim, most reasonably composed, some formally sufficient, some adrift, some trending ponderous-- all with potential.
Art.


Art.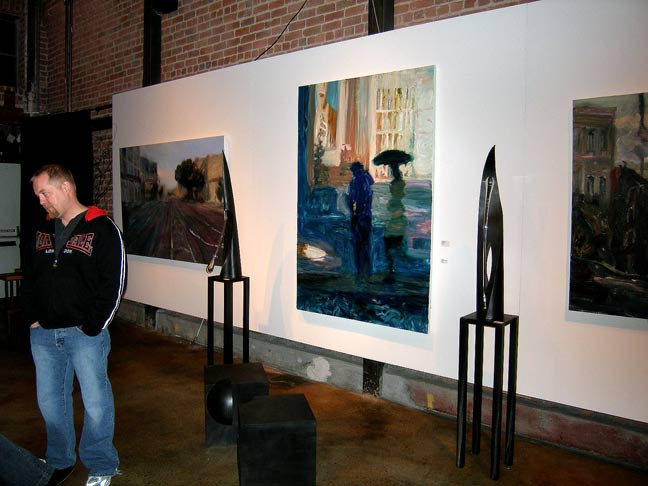 Art.


Art.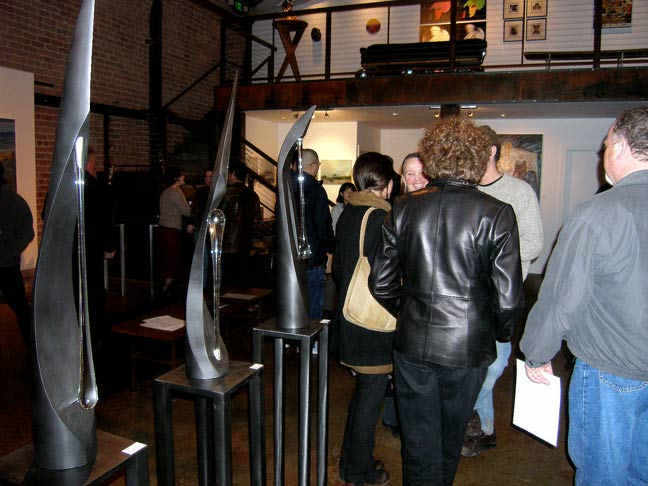 Art.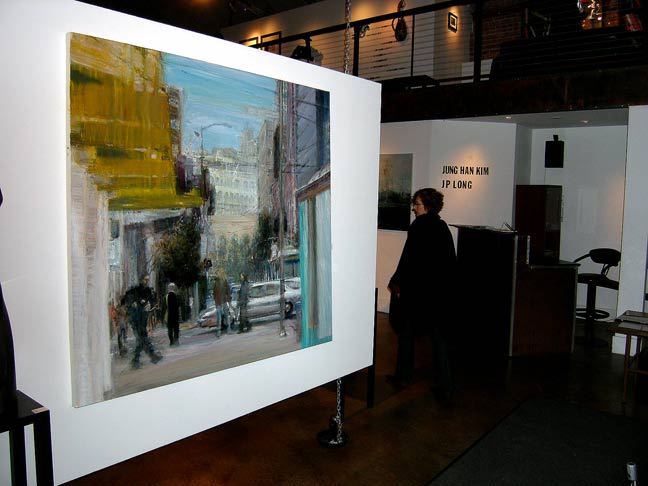 Art.


***
Red Ink Studios: Resident Ink Art Show - "Forgotten Mid-Market."
Artists: Brad K. Alder, Sussanah bettag, Tony Deifell, Dierdra De Francroixa, David De Rosa, Karina Figueroa, Jana Flynn, Ryan Junkin, Michelle King, Aondrea Maynard, Jennifer Poon, Marlon Shakespeare, Angela Willets, Mike Yohay.
Comment: Group show of art by artists who have studios at the gallery. Plus up front is a documentary survey, over fifty vintage photographic views, of the Mid-Market area (the immediate vicinity of Red Ink Studios) taken from the 1930's through the 1950's when this part of town was the entertainment capital of Northern California.
Art.


Art.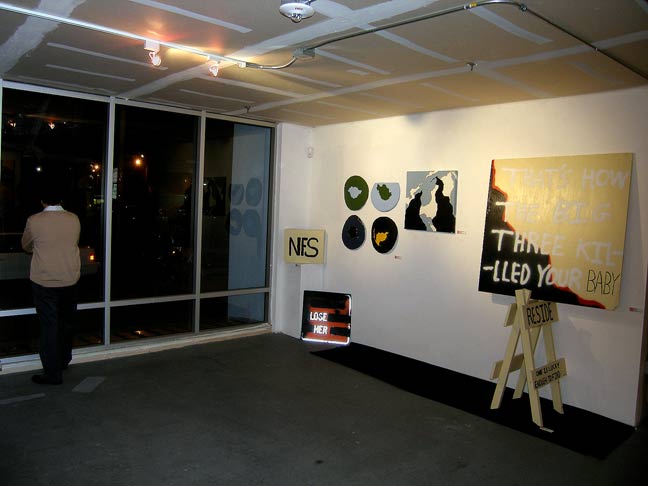 Art.


Mid-Market vintage photo survey.


Art.


Art.


Art.


Art.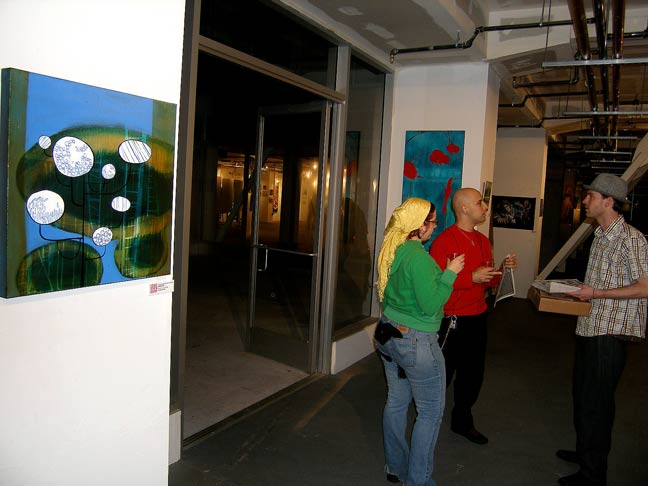 Art.


***
Addendum:
Springer-Croke shows Marcine Franckowiak arf art at City Hall.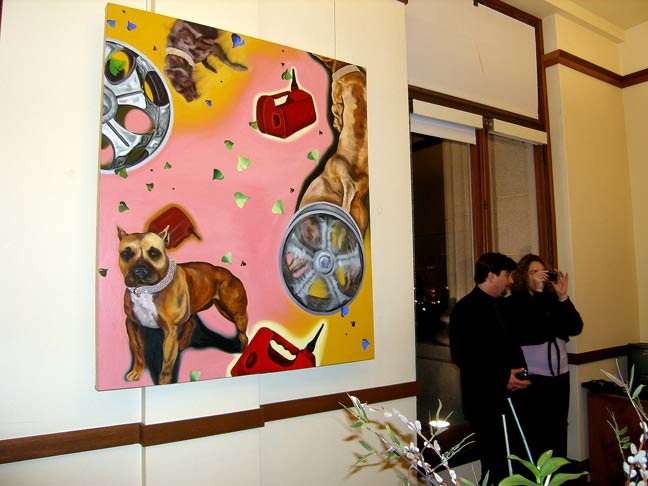 Springer-Croke Fine Art, Mayor's Budget Room 288, SF City Hall.