SAN FRANCISCO ART GALLERIES - OPENINGS
PARK LIFE - UNION SQUARE GALLERY - THE DUMP
SHOE BIZ - LIVE WORMS
01.26.07
Park Life: Headlands 20th Anniversary Limited Edition Prints.
Artists: David Ireland, Eamon Ore-Giron, Laylah Ali, Rebeca Bollinger, Polly Apfelbaum, Monica Majoli, Lewis deSoto, Shaun O'Dell, Barry McGee, Deborah Grant, Josephine Taylor, Yoon Lee, Libby Black, Kathryn Spence, Jim Drain, Nicola Lopez.
Comment: Park Life partners with Headlands Center for the Arts to show and sell four boxed sets of four prints each by notable Headlands alumni, issued to commemorate the organization's twentieth anniversary.
Art.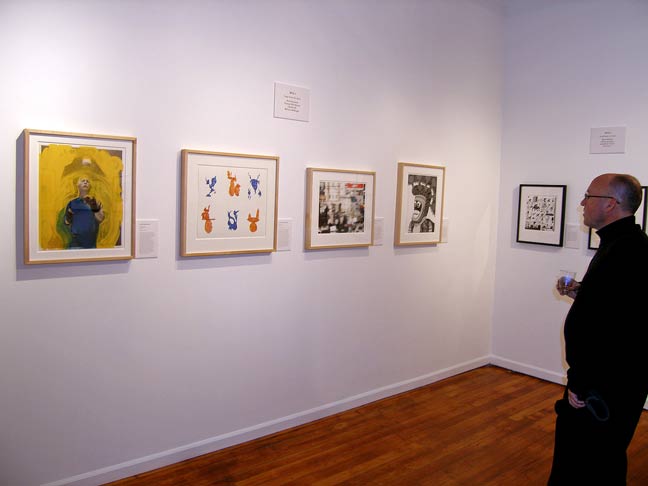 Art.


Art.


***
Union Square Gallery: Grand Opening Celebration.
Comment: The diminutive two-floor gallery just off Union Square on Geary is crammed to triple overflow-- no vacancy in jostle town-- but I get my pics, and escape with only minor friction burns plus a brief embarrassment when I turn too fast to scope out a sculpture and accidently lodge my nose in some matron's ear. As for the art, there's all kinds for everybody, a mix of Bay Area and international artists, and not a micron of display space to spare. Happy selling!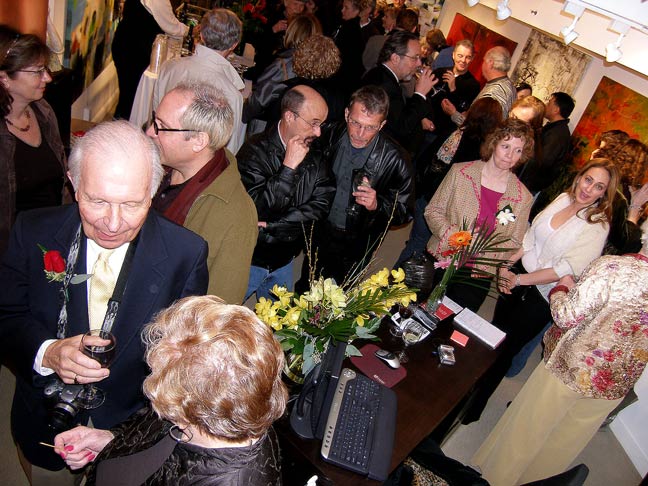 The basic idea.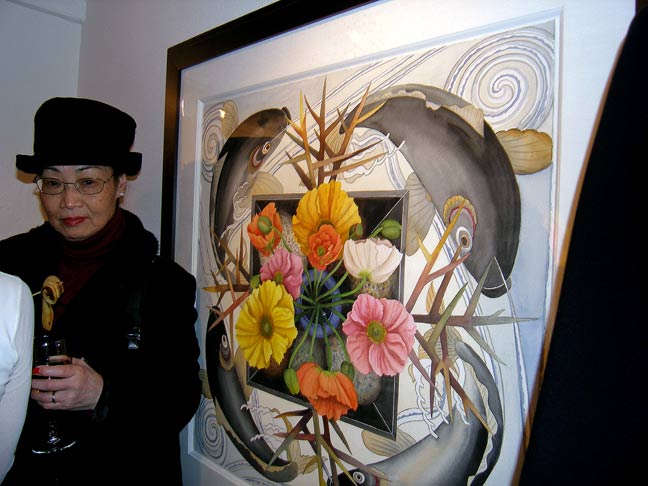 Art.


Art.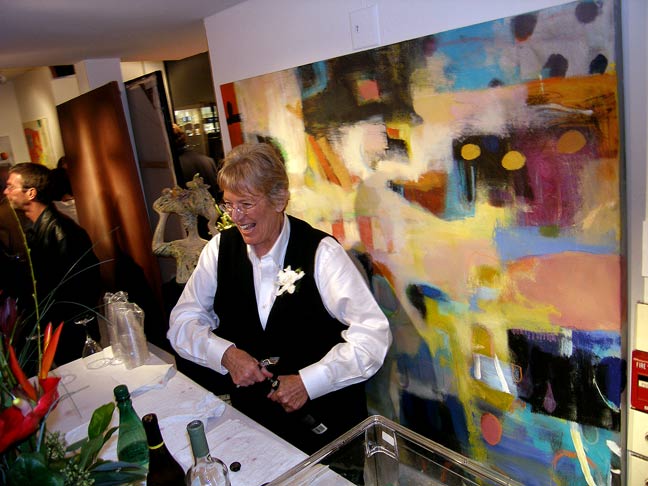 Art.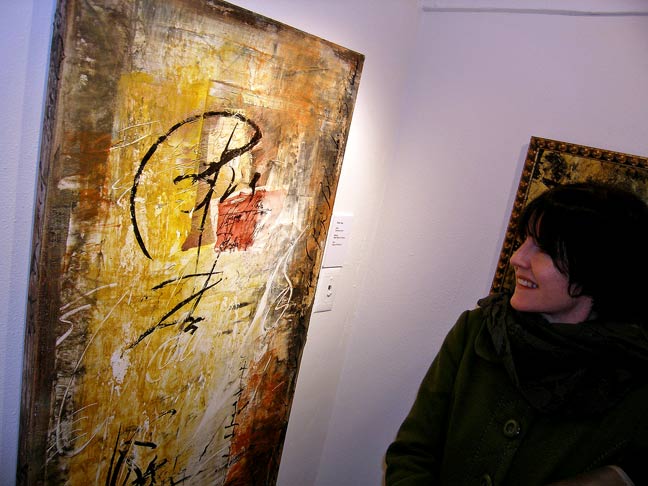 Art.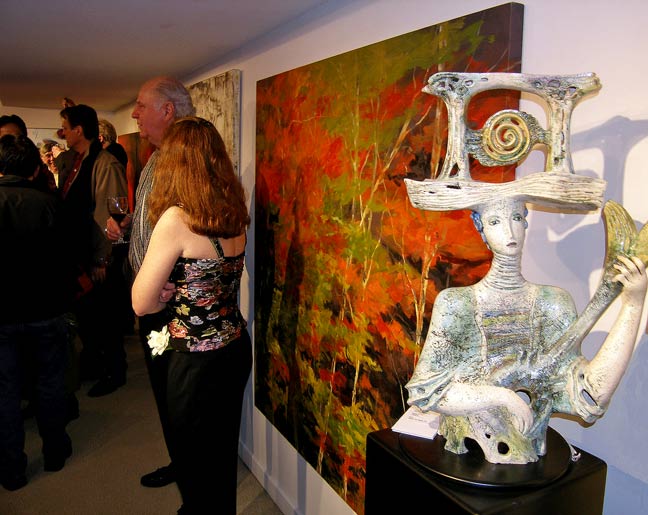 Art.


Art.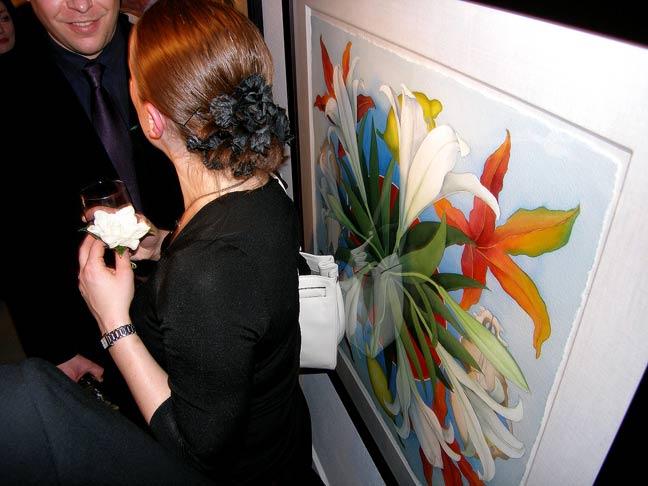 Art.


Art.


Front window.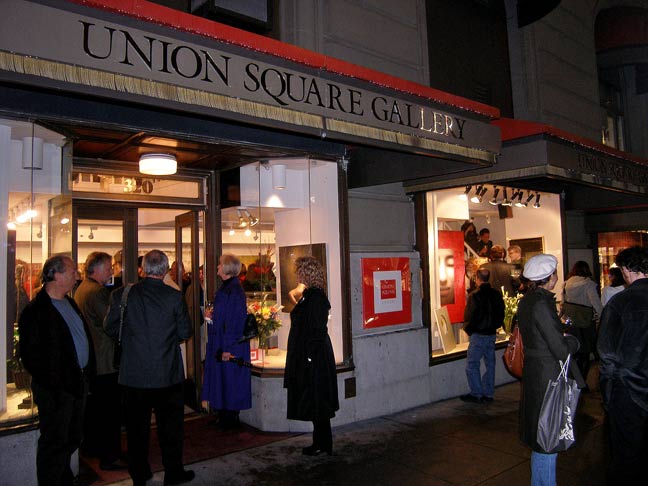 Esplanade.


***
Art at the Dump - Artist in Residence Program, SF Recycling & Disposal, Inc.: Nome Edonna - System Overload; Sudhu Tewari - AUX Tune for Minimum Smoke.
Comment: Nome Edonna and Sudhu Tewari get major league serious about their recycling center residencies and produce dozens of works of art including videos, interactive electronic works, collage, assemblage, sculpture, painting, and more. In the process, they rescue and revitalize a boatload of trash. Tewari, by the way, is quite versatile and creative with electronics. Big turnout for one of the better shows I've seen here.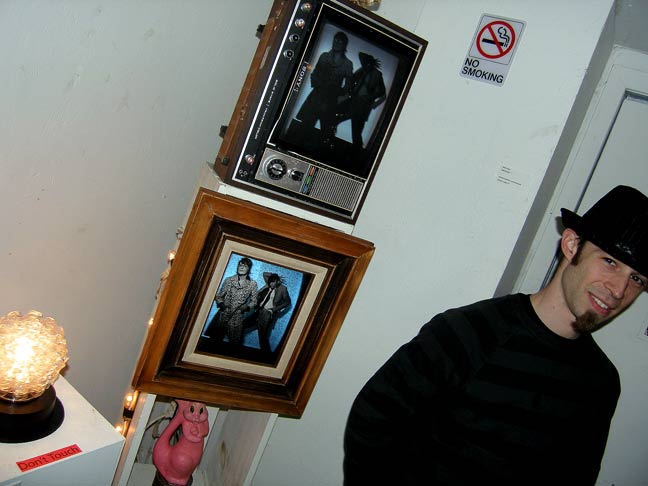 Video art (Sudhu Tewari - like it).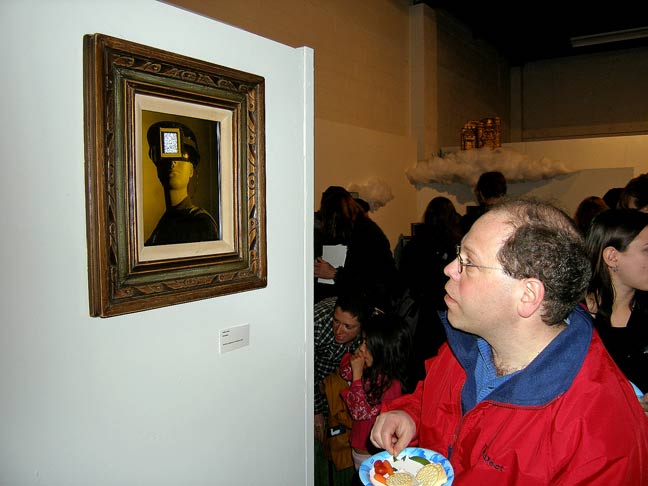 Video in a head art (Sudhu Tewari - like it).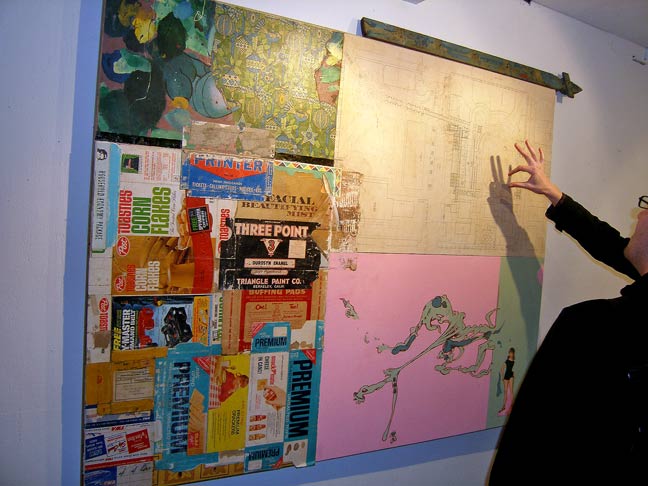 Art (Nome Edonna).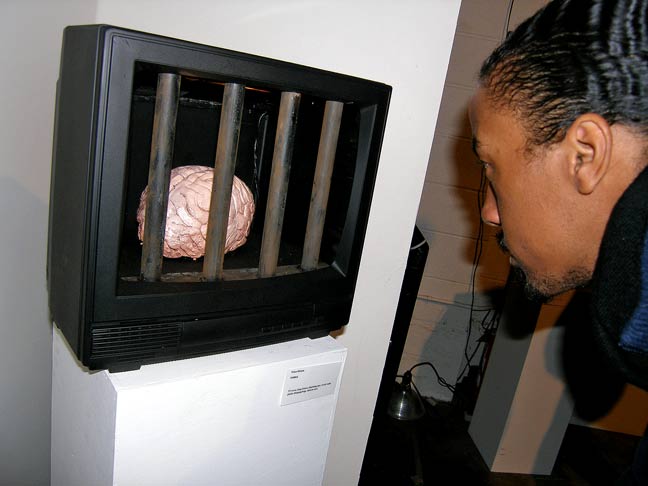 Caged brain in a TV art (Nome Edonna).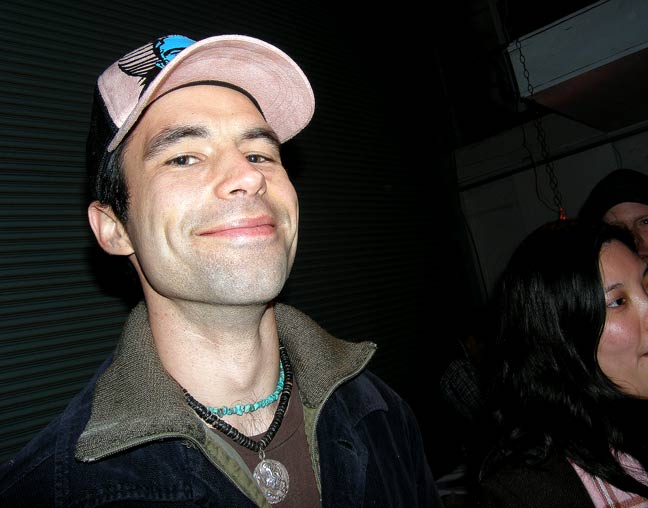 Nome Edonna.


Art (Sudhu Tewari - tweak the springs, alter an image on a monitor).


Art (Sudhu Tewari).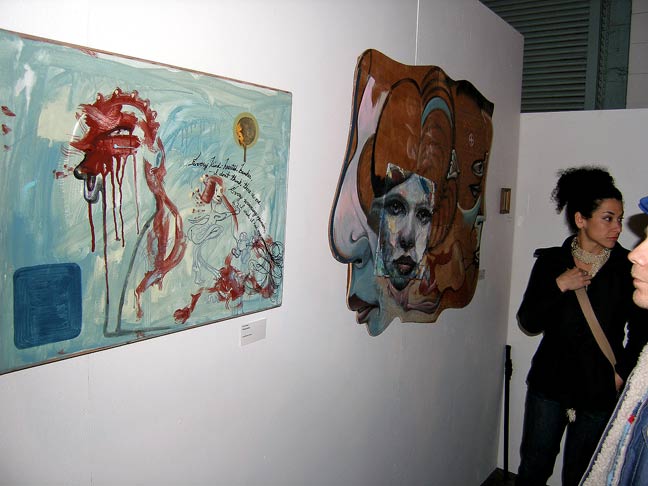 Art (Nome Edonna).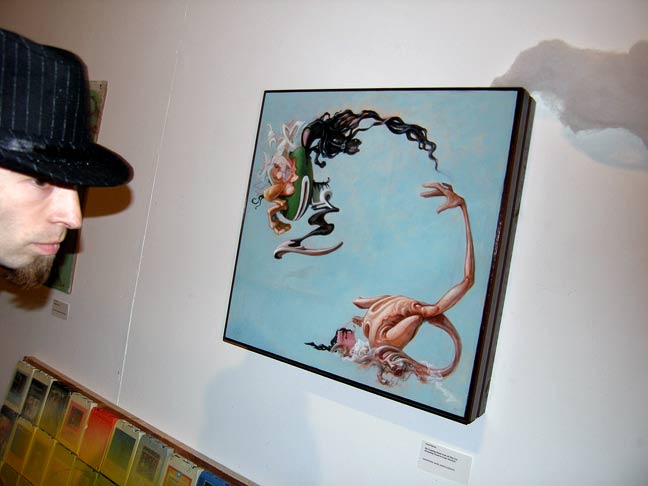 Art (Nome Edonna).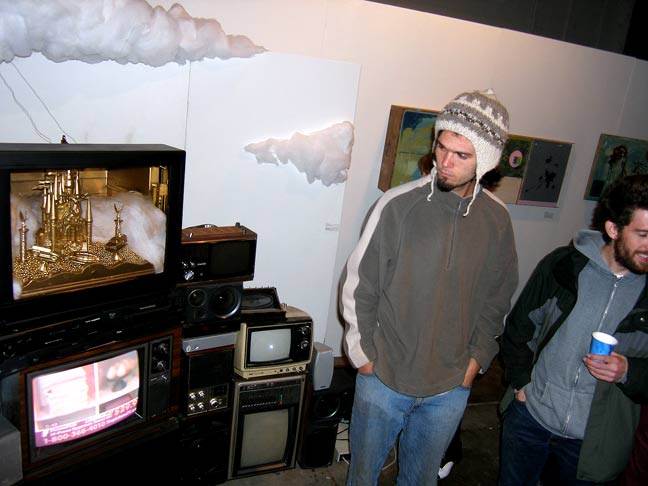 Art (Nome Edonna).


Art (Nome Edonna).


Attendance figures.


***
Shoe Biz: Miscellaneous Debris.
Artists: Richard Jule, Roberto Francisco, Super Ugly, Karin Leung (Kelome).
Comment: Urban mix featuring exceptionally affordable prices. Under $100 actually gets you something you can see from a distance.
Cardboard diorama art - nicely done.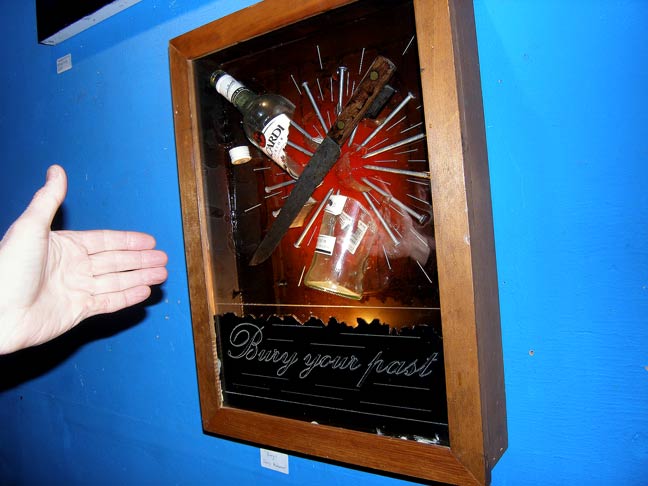 Disquieting shadow box art - kinda like it.


Art.


Art.


***
Live Worms Gallery: Inner Active.
Comment: "An installation art opening featuring site-specific work of 13 emerging artists." Who are those artists, you ask? Beats me. Nobody seems to know and I can't find an announcement. But this wigged out extravaganza does feature two stuffed plush DayGlo turkeys strung from the ceiling, and that's unquestionably meritorious. Plus Brad K. Alder brandishes his new 'ttoo.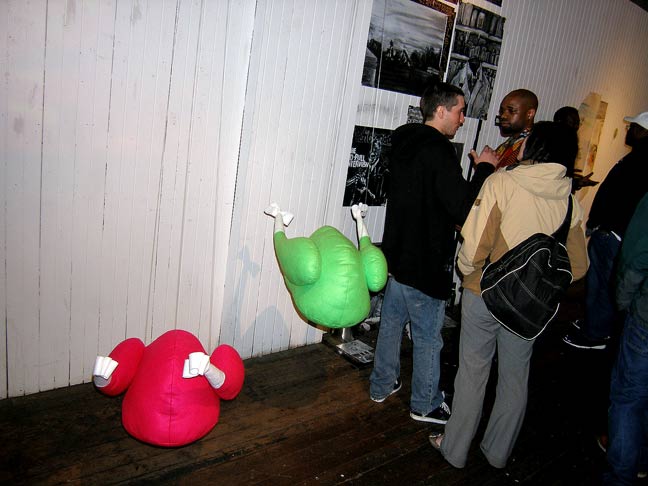 Bright floating turkey art.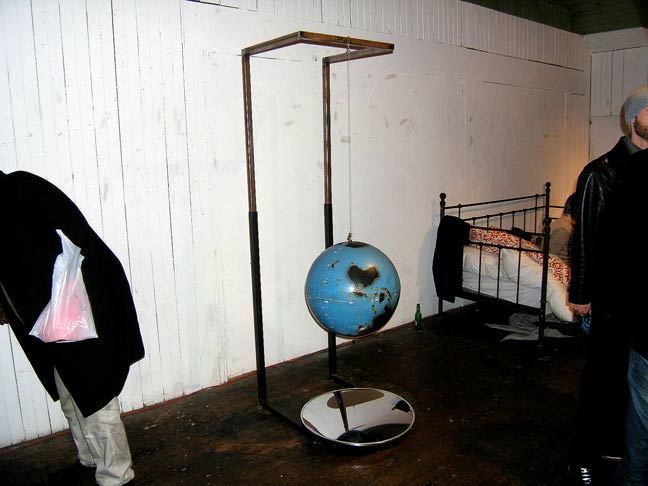 Globe on a rope art.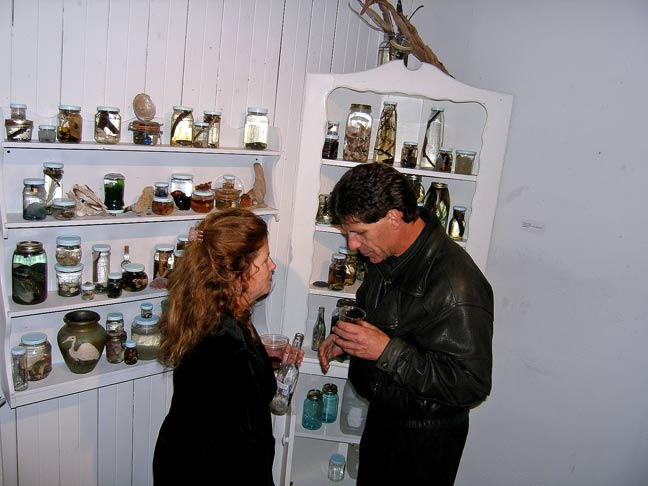 Curious collection art.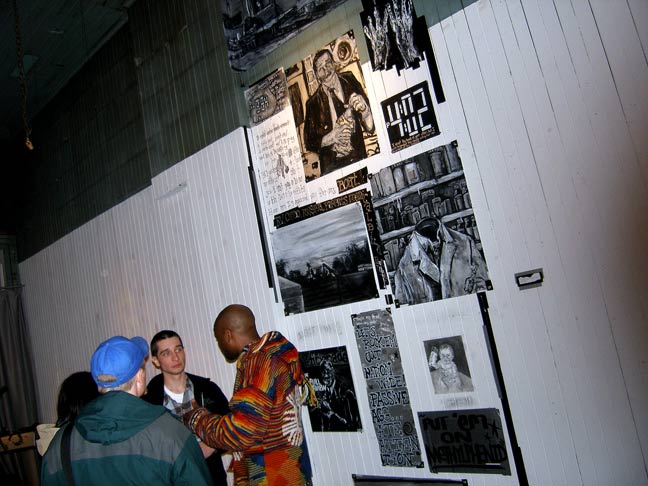 Art - kinda like it.


Traffic cone TV art.


Atmosphere.


Brad K. Alder unleashes the beast.


***