SAN FRANCISCO ART GALLERIES OPENINGS
RECEIVER - ELEANOR HARWOOD - GARAGE BIENNALE
01.26.08
Receiver Gallery: 2008 ATA (Artists' Television Access) Silent Art Auction.
Artists: Chris Arnold, Craig Baldwin, Deric Carner, Mona Caron, Laure Cuvillier, Bill Daniel, Paz de la Calzada, Ezra Eismont, Minna Eloranta, Kota Ezawa, Javier Farias, Will Formicola, Judy Garvey, Shae Green, Gilbert Guerrero, Charles Gute, Kent Howie, Matthew Hughes Boyko, Dayv Jones, Casey Logan, Ytaelena López, R.A. McBride, Katherin McInnis, Shannon O¹Rourke, Jesse Pollock, James Reeder, Ana Rivero Rossi, Todd Sanchioni, Christine Schmidt, Stephen Slappe, Chad Stayrook, T. Christopher Crandall, Kari Thorne, Zefrey Throwell, Sara Thustra, Raul Vargas, Liena Vayzman, Eduardo Waller, Rebecca Whipple, Scott Williams, Andrew Wilson.
Comment by AB: Annual art auction fundraiser to benefit Artists' Television Access aka ATA, a nonprofit volunteer community-based media arts venue dedicated to showcasing experimental and independent filmmakers, musicians, and artists since its inception in 1984.
Art.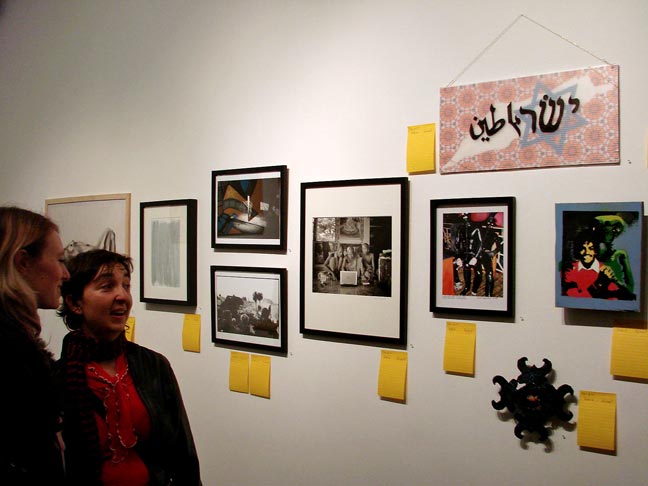 Art.


Art.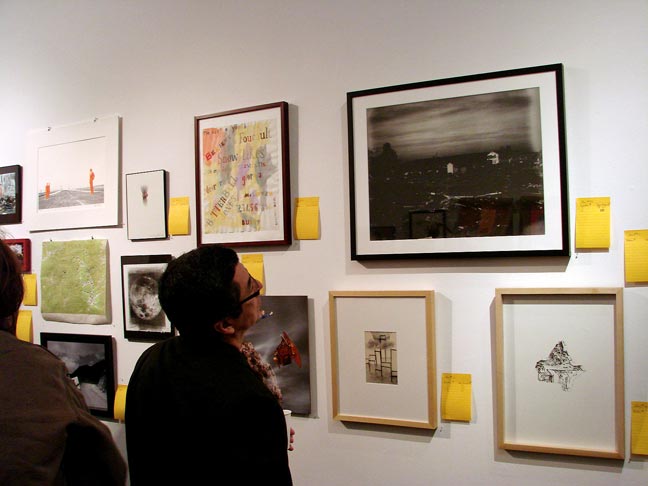 Art.


Art.


Ambiance.


***
Eleanor Harwood Gallery: Frank Lyon and David Wilson - Enter the Center.
Comment by AB: The diverse array of art leads one to believe this is a group show, but upon reviewing the title (which is all I have to go on-- no press release) it's entirely the doing of a mere 2 dudes, Frank Lyon and David Wilson. From what I can tell, the upshot's kinda art and kinda performance and kinda release party for the book/CD compilation, "Enter the Center." Beyond that, I plead The Fifth. One thing for sure-- the gallery's absolutely packed.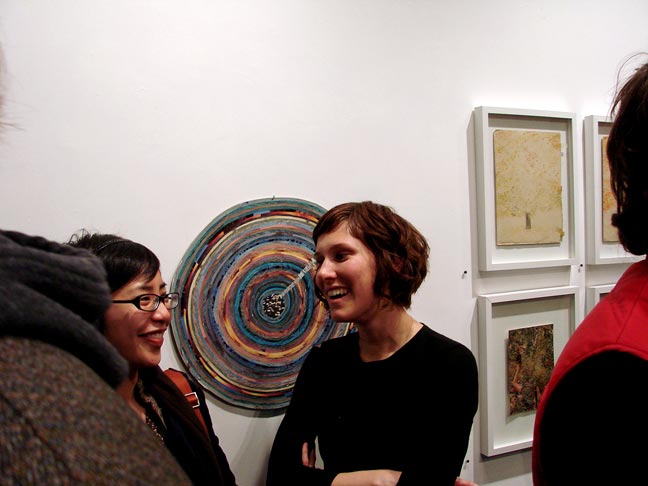 Art.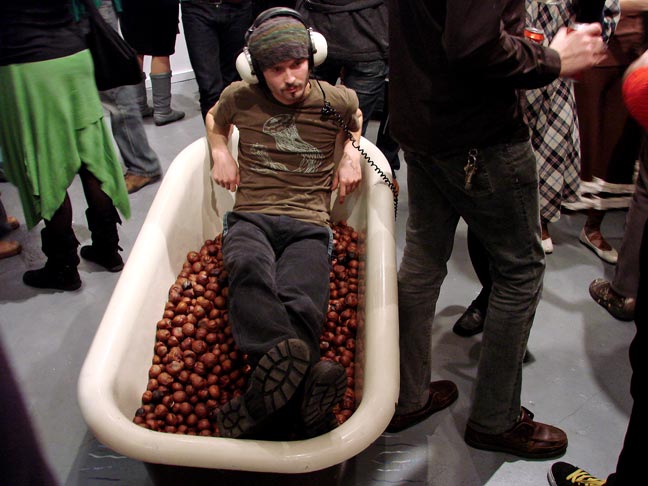 Headphones in a bathtub full of chestnuts art.


Large drawing on sheets of yellowed paper art.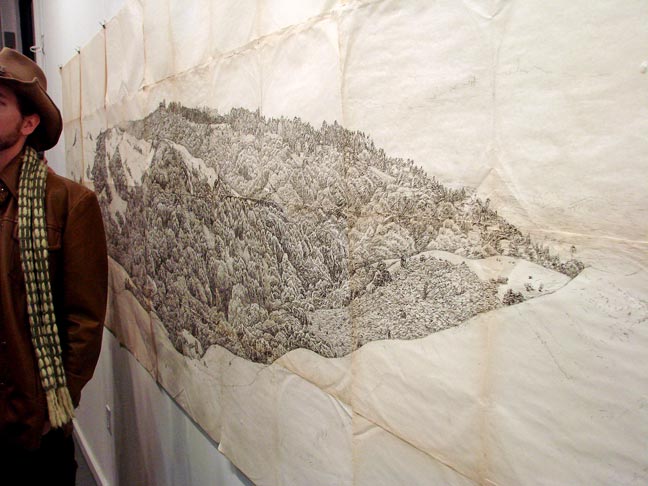 Large drawing from a different angle (like it).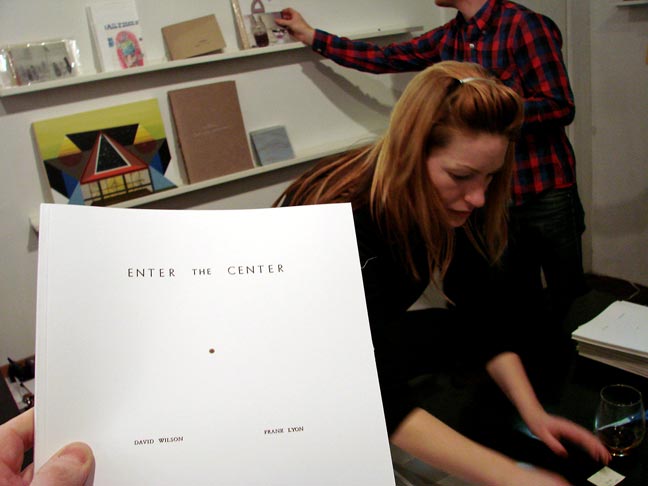 Literature.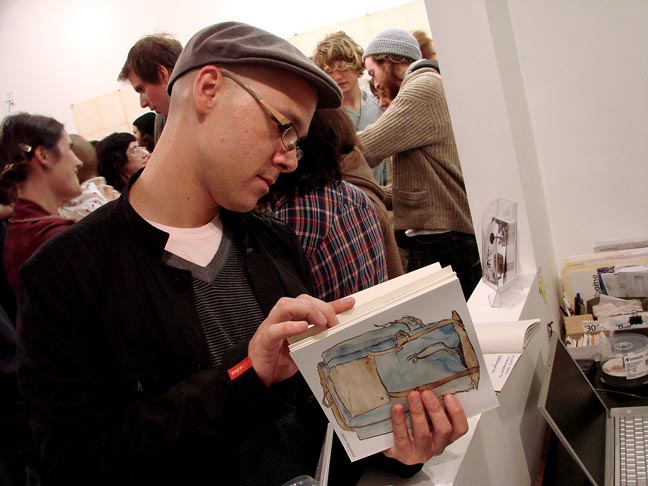 Perusing literature.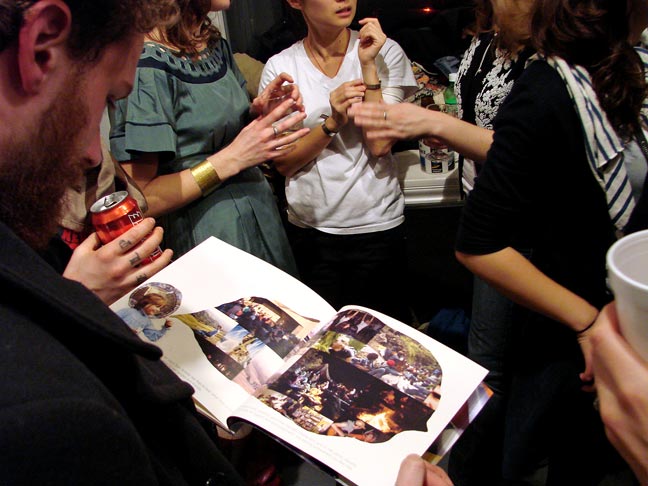 More literary perusal.


Art.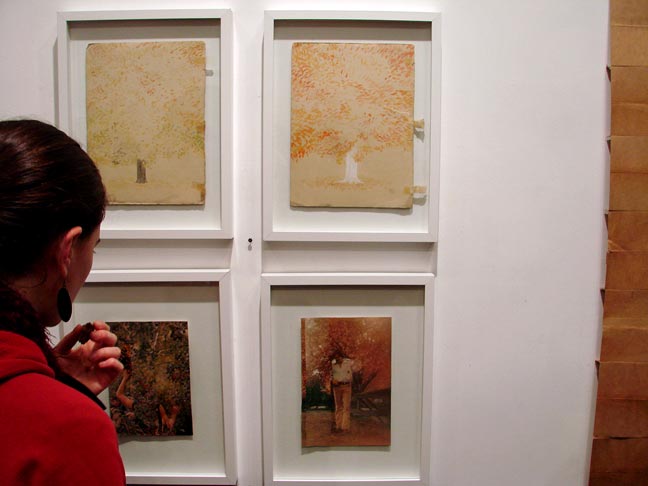 Art.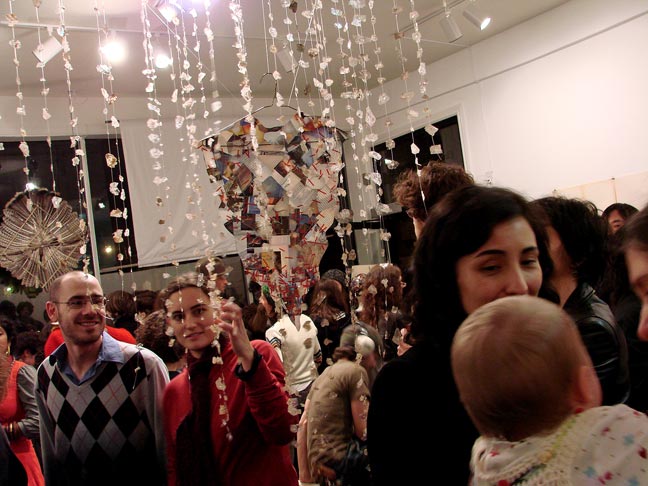 Suspended art.


Floor show.


***
Garage Biennale: 100 Performances for the Hole.
Artists: Gigi Janchang, Tim Armstrong, Tom Marioni and Sharon Grace, Justin Hoover, David Buuck, Doug Miller, Caleb Louis, Doug Miller, Kathryn Paxton, Michael Zheng, Ariel Goldberg, Jenn Karson, Deric Carner, Jesse Hensel, Allyson Maser, Jesse Schmitd, Rodney Austin, Daniel Pelt, Peter Foucault, Bryan Hewitt, Kathrine Worel, Ryan Vezerall, Jason Mcarthy, Scott Killdall, Shel Vivonvon, Chris Kennedy, Victor Barbieri, Larry Shao, Zak Starrer and Krista, Ashley Lauren-Saks, Juan José Valencia, Suzanne Kerr (perhaps), Caleb Lewis and Andre, Jordan Essoe, Guy Overfelt, Luther Thie, Stoyan Dabov, Seth Lower, Jennifer Locke, Emmanuelle NK, Amy Ho and Lucy Kalani Lin, Liesa Mook, Daniel Mort, Andréanne Abbondanza-Bergeron, Takehito Etani, Chris Corrente, Leslie Kulesh, Nathan Conrad, Ben Echeverria, Tom Borden, Pete Ippel, Alexandra Kostrubala, Eric Theise, Lauren and Jeremy Scime, Tim Harvey, Jessica Miller, Jenna North, Melissa Adams, John Blanco, Lisa Blatt, Mauricio Ancalmo Christine Ancalmo, Charlene Tan, Peter Max Lawrence, Peter Dobey, Eric Reyes, Camila Echeverria, Adam Widmer, Mike and Sara Lai, Alliison Taylor, Toban Nichols, Kirk Stoller, Lisa Blatt, Claude Degueldre, many more.
Comment by AB: One hundred acts of performance art, each to be perpetrated by one or more performers, each required to be exactly two minutes in length, all of which are specifically designed for or about or featuring or tangentially related to a concrete hole in the floor of the Official Garage Biennale International Headquarters, a spacious vintage brick garage high atop the fluffy bluffs of Pacific Heights. For those of you curious as to the nature of the hole, it was designed specifically for servicing motor vehicles from beneath (rather than raised overhead like they do today). Got it? Excellent.
Anyway, the evening's creative lineup is impressive, which means there's all manner of artsters scurrying about, not to mention the performers themselves, but since there aren't any bleachers or official seating arrangements to accomodate or moderate the throngs, you gotta jockey for viewing position and take what you get in terms of visuals. While I'm there, one performance involves a great big fat gross snort-snort why-does-the-rest-of-the-world-hate-us-? black Hummer, and another 2-minute minuet features this dude who wedges himself upside-down in the hole for the duration, uttering nary a peep. He appears a bit woozy as his performance winds down, and totters a tad as he's assisted out, but quickly regains composure to the enduring delight and applause of the audience.
Between performances (note edge of hole, left foreground).


Set-up between performances (hole, left).


Emcee Justin Hoover intros next performance.


Upside-down hole performance in progress.


Upside-down hole performance continued.


Observing upside-down hole performance.


Upside-down hole performance, butt shot.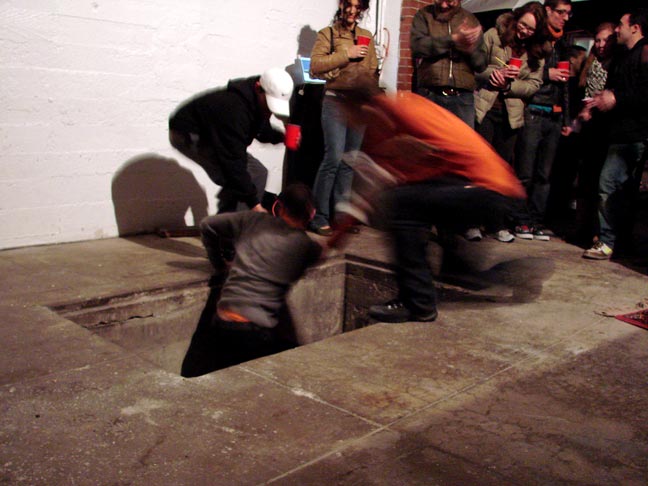 Upside-down hole dude done and subsequently extricated from hole.


***