SAN FRANCISCO ART GALLERIES - OPENINGS
SCULPTURESITE - BLACKBIRD SPACE - SILVERMAN GALLERY
VENUS GALLERY - WAREHOUSE 1310 - GARAGE BIENNALE
01.27.07
Sculpturesite Gallery: CCA Sculpture Selections.
Artists: Bella Feldman, Donald Fortescue, Kristin Gudjonsdottir, Duncan House, J. P. Long, Christin Nelson, Nina Lyons, Mary Shaffer, John Toki, Pamina Traylor.
Comment: Sculpture by past and present CCA faculty and graduates, the exhibit celebrating the 100th Anniversary of the California College of the Arts. I gotta go with the large layered glued turned wood works by Donald Fortescue, sumptuously smooth and perfectly executed. And the award for the best most unbelievably fragile work of art I've ever seen goes to a remarkable hanging rectangular piece composed entirely of glass strands, webbed together, by Mary Shaffer. Careful-- you break it; you buy it.
Sculpture (Donald Fortescue - like it).


Webbed glass strand sculpture (Mary Shaffer - like it).


Sculpture.


Sculpture.


Sculpture (Bella Feldman).


Sculpture.


***
Blackbird Space: Pause.
Artists: Sean McFarland, Paul Wackers, Leslie Kulesh, Angela Valella, Christopher Culver, Case Simmons & Andrew Burke, Rebecca Parks-Ramage, Nate Boyce, Rebecca Miller, Chris Natrop, Marcos Valella, Nicole Hagen, Ricky Jimenez, Homero Hidalgo, Roddy Schrock
Comment: According to the handout, the show has to do with the extroadinary architectural evolution currently taking place in Dubai, redefining the idiom of what a city is, and perhaps similar to Brasilia in the 1960's. I have a difficult time matching much of the art with that premise, but c'est la vie, oui? Then again, just 'cuz you declare it is doesn't automatically make it so. One notable moment, regardless of what supposedly references what, is an elaborate digital composition by Case Simmons, thoroughly exemplifying the potential of computer-based creativity. But the whole show's good and worth the trek down Third St.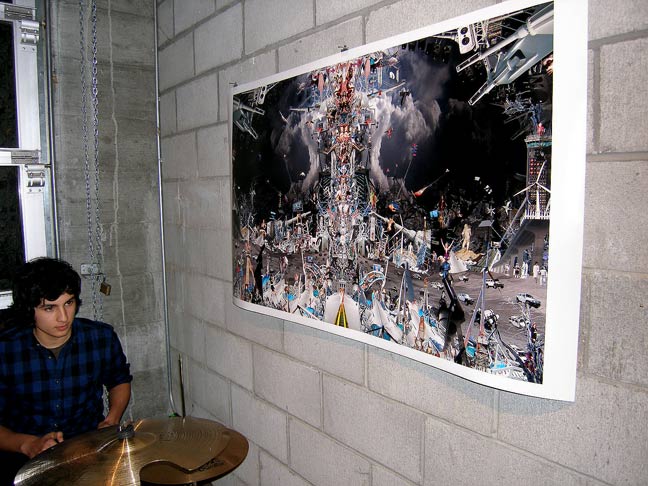 Digital art (Case Simmons - pick).


Art.


Art (like the one on the right).


Art.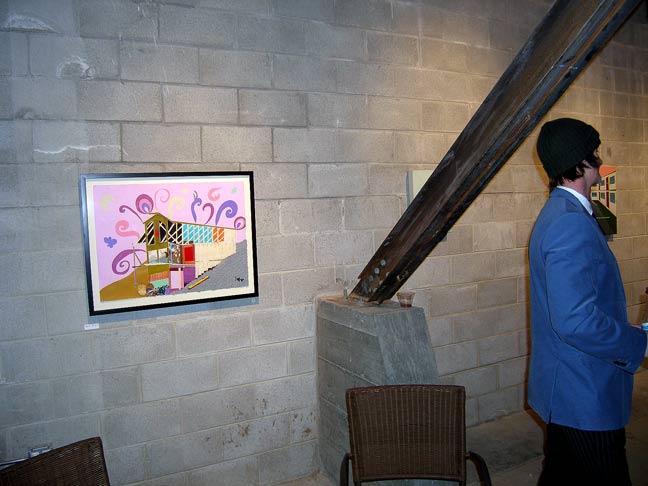 Art.


Art.


Art.


***
Silverman Gallery: Yuval Pudik - The Predators Mohawk.
Comment: Heavy-handed pencil drawings by Yuval Pudik, the heavy-handedness in this case deliberate and advantageous, enhancing the impact of the imagery. That imagery, in case you're interested, combines the seemingly disparate diversions of haute couture and vintage American muscle cars, particularly that half-car half-truck Satyr of the schema, the Chevy El Camino. Vroom vroom!
Art.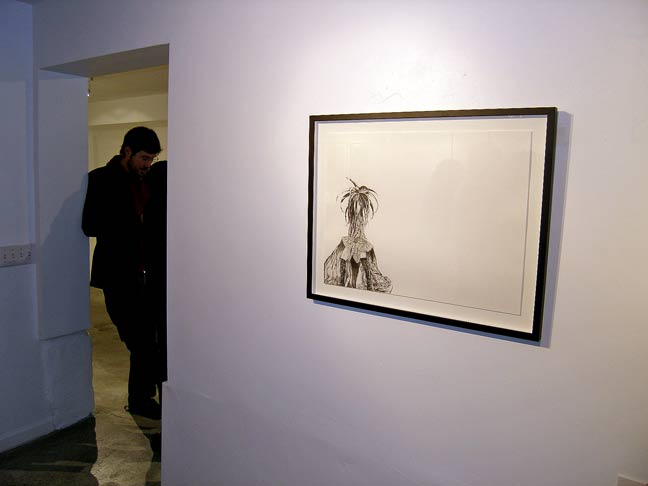 Art.


Art.


Art.


Art.


***
Venus Gallery: Dreaming of the Goddess .
Artists: Anna Oneglia, Heather McFarland, Laura Lengyel, Alex, Koulouris, Antonia "Tuppy" Lawson, Tahlia Priete.
Comment: New art space, and more art for Bernal Heights. Gallery up front; classes and studio space in the back. Tonight's event is centered around art "inspired by the female figure and the magical nature of the Goddess."
Art.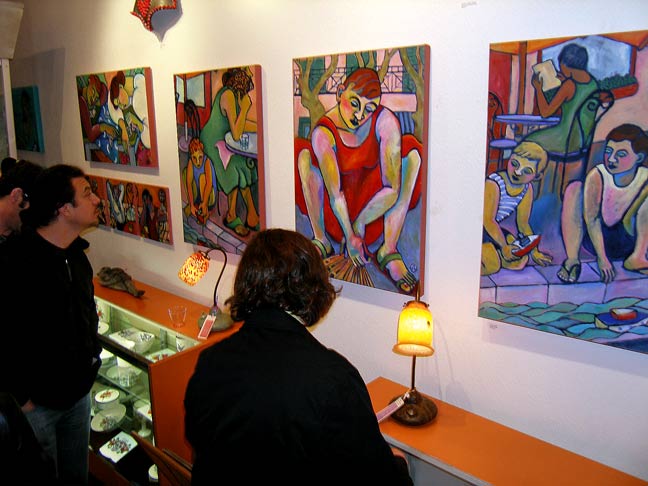 Art.


Art.


Giorgio Anthony - gallery owner (center).


Vaginal heart art (up).


Upright female rhinoceros art.


Frontage.


***
Warehouse 1310: These Threads are Lines Crossed.
Artists: Jon Clary, Kevin Hailey, Olivia Park, Ven Voisey.
Comment: The main thread in this show is an impressive floor-to-ceiling yarn and tape curtain wall created by Olivia Park, precise, labor intensive, and convincing. There's also a line of crisp clean meta-modern shadow boxes by (help with artist's name) that nicely satisfy my aesthetic sensibilities.
Art (Kevin Hailey).


Shadow box art - like 'em.


Art (Jon Clary).


Art.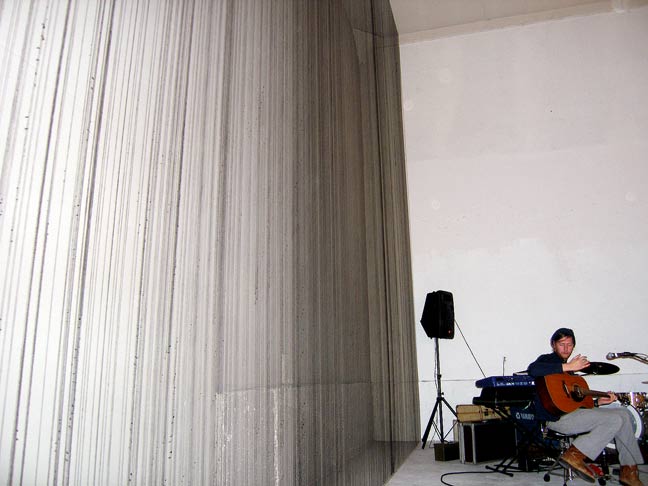 Curtain wall art (Olivia Park - like it) + tunes.


Audience.


Art.


Art (Kevin Hailey - left).


***
Garage Biennale: Media Blitz and Pig Fest - It's a Reason to Hang Out.
Artists: Jaren Bonillo, Stoyan Dabov, Deer Fang, Bia Gayotto (featuring Allan deSouza, Yon Soon Min, etc.), Lucy Kalyani Lin & Joshua McVeioh Schultz, Kenneth Lo, Ricardo Anibal Perez, NEFBAU, Ratskin and Experimental Channel's EYEPLUGS.
Comment: Amusingly entertaining melange, video works primarily, anchored by Ricardo Anibal Perez's vintage VW Bug-- windows taped over with white paper-- that you climb into, then they close the doors, then they play a soundtrack from some fuckfilm and shake the car at the same time, so it's kinda like maybe you're gettin' an air-guitar blowjob. And in case you enjoy eating after sex, there's a whole roast pig. Ooooh Ahhhh Oink.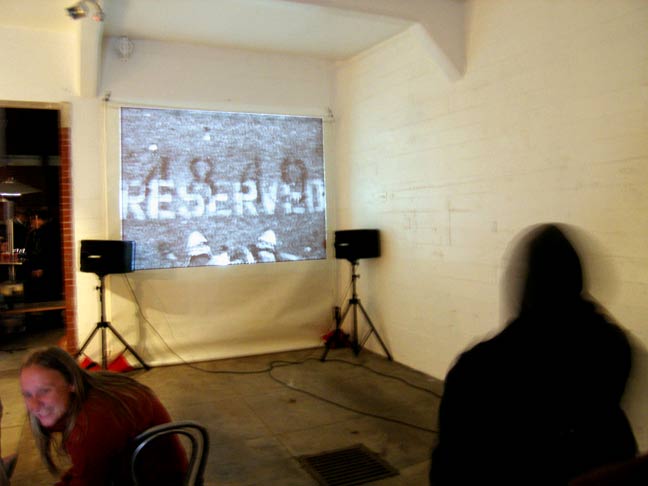 Video art (NERFBAU).


Video art (NERFBAU).


Shadow at the security door art (Jaren Bonillo).


Hmmm... this looks interesting... think I'll get in...
(car art - Ricardo Anibal Perez; video art - Deer Fang).


Ricardo's done... my turn... what are you lookin' at?


I'm busy. Take a hike. I'll be out soon.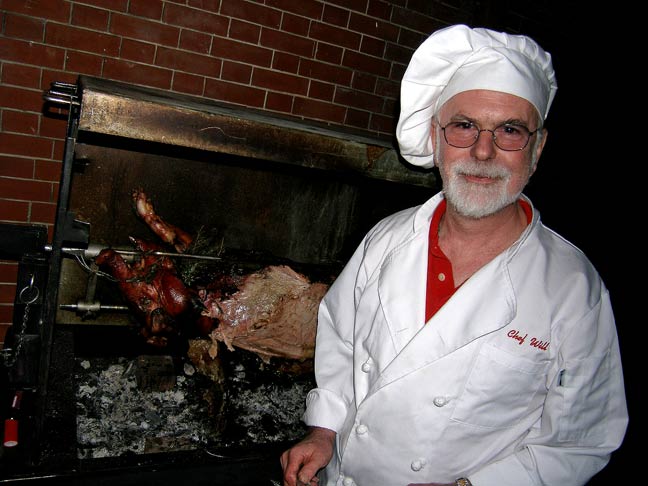 Oh, baby... that was sweet. Pig please.


Gilded insect art aperitif (Kenneth Lo). I'm outta here.


***