PALO ALTO ART GALLERIES - OPENINGS
PALO ALTO ART CENTER
REPORTED BY MICHAL GAVISH THOMPSON
01.28.07
Palo Alto Art Center Foundation: Correspondence - Masami Teraoka & Ukiyo-e.
Artists: Masami Teraoka, Katsushika Hokusai, Utagawa Kunisada, Tsukioka Yoshitoshi.
Comment: The Palo Alto Art center opened this Sunday a comprehensive exhibition of  early works of the Japanese American painter Masami Teraoka juxtaposed with Ukiyo-e woodblock prints by Japanese artists who influenced his work. In his seductively beautiful prints and watercolors, Masami Teraoka has created an extensive review on American culture and politics.
In a conversation  with Alison Bing, Masami Teraoka told a fascinating story of coming to America in the 60's and reacting in his work to a culture that was very different from that in his Japan. At the time when abstract art was the major style in LA galleries, he began painting elaborate narratives that dealt with American and Western culture using the traditional style of Japanese woodblock print. This exhibition is a collection of Teraoka's works from 1977 to 2001, a fascinating cultural and political survey of American life.
Geishas and Samurais are enacting an East-West encounter in "La Sushi" and  other food series like "McDonald Hamburgers invading Japan" and the "31 flavors." Another subject is the environmental problems in "LA Ghost Tale" and "New Wave on Mount Fuji," which Teraoka became aware of very early on, during the 70's, as Alison Bing defined it in their conversation, "he has always pre-acted political issues." Another important subject for Teraoka is the politics of sexuality, which he identified in his interview as the special relationship in American society between sexual promiscuity and Puritanism. This subject has evolved throughout his work in the "AIDS" series where the dead and the diseased appear like traditional Japanese bluish ghosts. His "Hawaii" series deals with sexuality in East- West encounter through tourism in Japan.
Teraoka's current work is shown simultaneously at Catharine Clark Gallery in San Francisco. In extremely beautiful Renaissance oil triptychs Teraoka narrates multi-layered political tales dealing with the imagery of Eve, Madonna and Venus. These paintings take a special perspective where his Japanese style is still apparent in the transparency and lightness of the figures.
Masami Teraoka - "The AIDS series."


Ukiyo -e old masters prints.


Masami Teraoka - "McDonald's Hamburgers Invading Japan."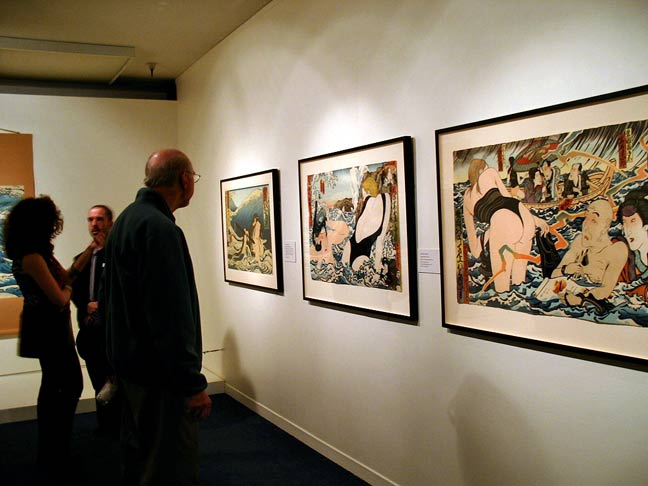 Masami Teraoka - "The Hawaii Snorkle."


Masami Teraoka - "The Hawaii Series" (left) and Kunisada print.


Left to right - Alison Bing, Masami Teraoka, Catharine Clark.


Masami Teraoka - "Waves" (right).


***