SAN FRANCISCO ART GALLERIES - OPENINGS
ANDREA SCHWARTZ - MM GALLERIES
ART INSTITUTE OF CALIFORNIA, SAN FRANCISCO
SAN FRANCISCO INTERNATIONAL ARTS FESTIVAL
01.31.07
Andrea Schwartz Gallery: Griff Williams.
Comment: Griff Williams enamel on resin paintings are so intensely dynamic, you have to consciously hold your ground to maintain equilibrium. His wildly vibrant rollercoaster imagery, inspired by scientific illustrations of the 18th and 19th centuries, fuses representation and abstract into liquid excitement-- perfect for lackluster interiors of which there are legions. The finesse level waxes a mite on the zoom-in, but resolution rapidly reverts to splendid upon return to normal viewing distance. Feeling anemic? Need a wake up call? See this show. Williams also offers a number of works on paper for those who prefer more serenity in their energy.
Art.


Art.


Art.


Art.


Art.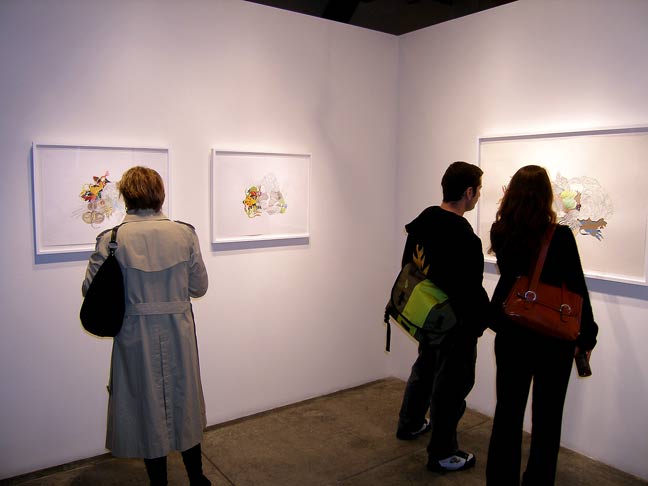 Art.


***
MM Galleries: ARCHEOfacts.
Artists: David Buckingham, Robert Larson, Will Marino, Don Porcella.
Comment: Top shelf detritus art by four exceptionally skilled practitioners make this one of the best shows of it's kind I've seen. David Buckingham works in painted rusted scrap sheet metal, Robert Larson salvages litter like empty rolling paper and cigarette packs, Will Marino makes abstract flat and dimensional magic with retired dartboards, and Don Porcella slices and dices discarded street and highway signs into intricate grids. I like it all, but David Buckingham adds humor and whimsy to take the cake.
Sliced diced highway sign art (Don Porcella).


Rusted painted sheet metal art (David Buckingham - pick).


Distressed dartboard art (Will Marino - like it).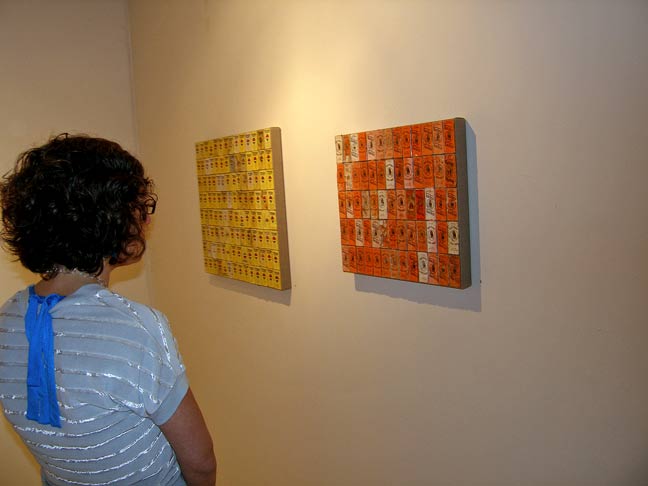 Rolling paper packaging art (Robert Larson).


Art (David Buckingham).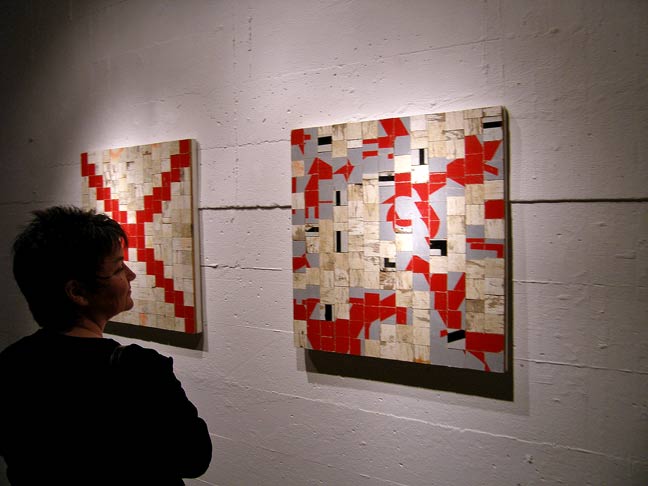 Art (Don Porcella).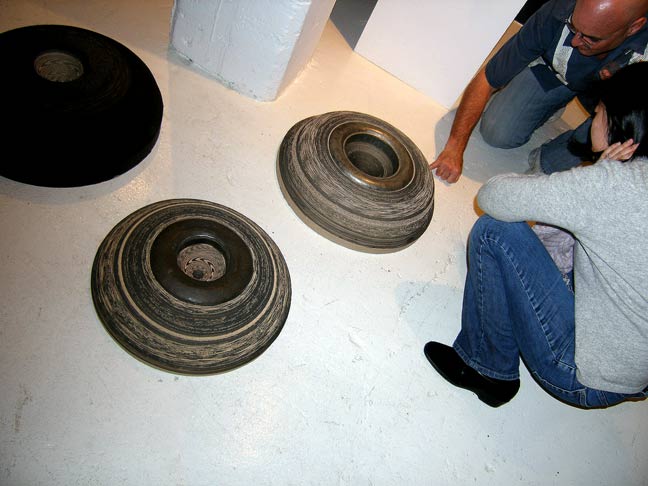 Art (Will Marino).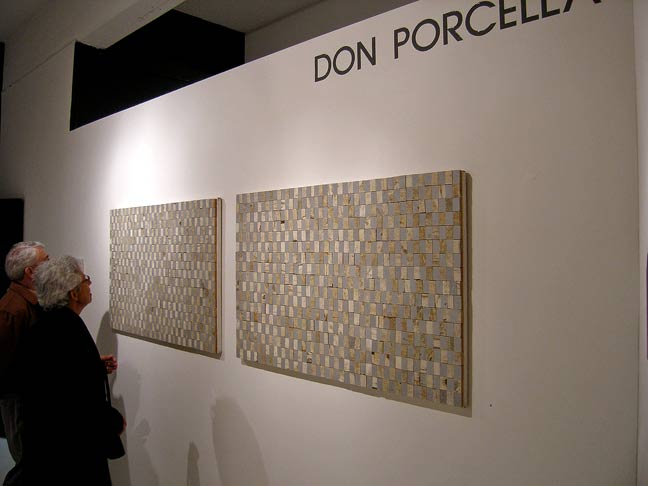 Art (Don Porcella).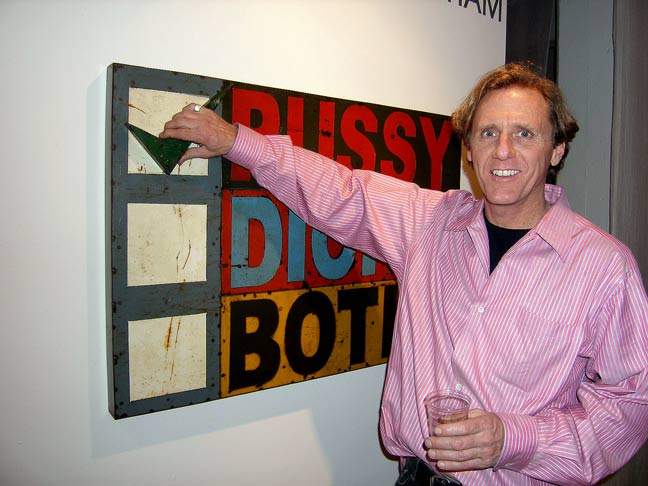 David Buckingham demonstrates his Pussy-Dick-Both-O-Meter.


Art (Will Marino).


Art (Robert Larson).


Art (Will Marino).


David Buckingham - art.


Art (Will Marino).


***
The Art Institute of California - San Francisco and Sony Online Entertainment Present at Terra, 511 Harrison Street, San Francisco: The Masters of Fantasy Art - A Tribute to Keith Parkinson.
Comment: Combination art exhibition and Sony Online Entertainment Vanguard, Saga of Heroes fantasy video game release. According to a Sony spokesperson, this Keith Parkinson retrospctive will travel the country in conjunction with the Vanguard release (which Parkinson did much of the art and conceptual work for). Parkinson's son Nick tells me his father recently lost his battle with Leukemia at only 47 years of age. And that's way too sad because his art is genius category, not only technically, but in his ability to concoct and paint up fantasies so real, you feel like you can walk right in and be there.
After tonight, the exhibition moves to Gallery at The Art Institute of California - San Francisco, 1170 Market St. (at U.N. Plaza), San Francisco, CA 94102; 415-865-0198. If you can see this exhibit, do (thru February 28). Parkinson's art is remarkable and San Francisco's art scene rarely offers an opportunity like this. In case you think my photographs come anywhere near doing these paintings justice, you are very very wrong. Don't believe me? For those of you keeping score, how often do I take pictures of art without people in the frames? So far, only here. And it took some mighty sock rockin' art to make me break that tradition.
The game.


Art.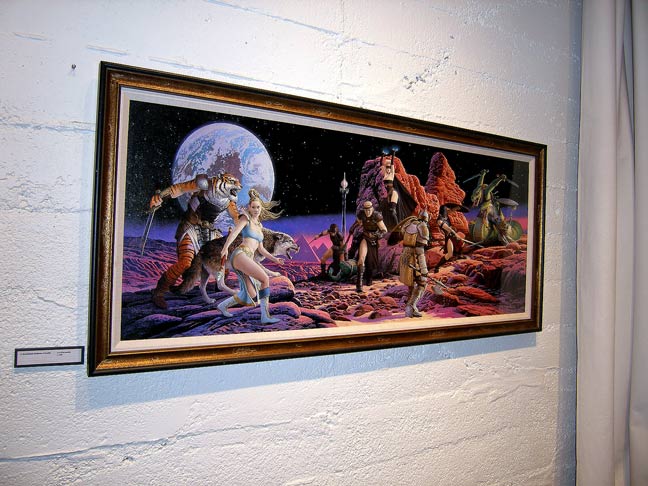 Art.


Art.


Nick Parkinson - Keith Parkinson art.


Cleopatra stops to tie shoe; handmaidens look on.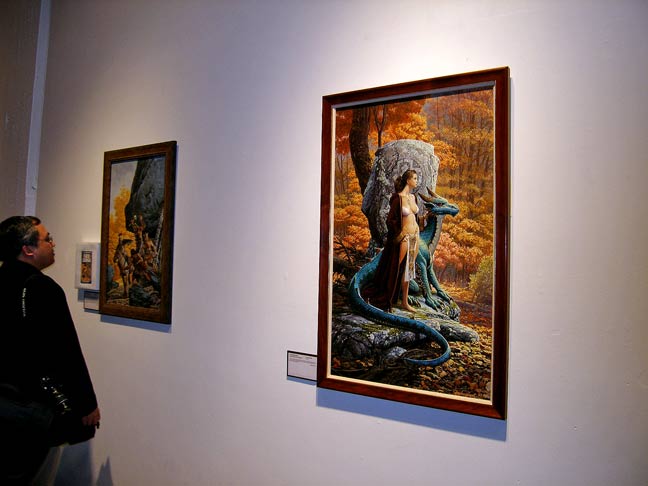 Art.


Art.


Art.


Obligatory baby shot.


Art.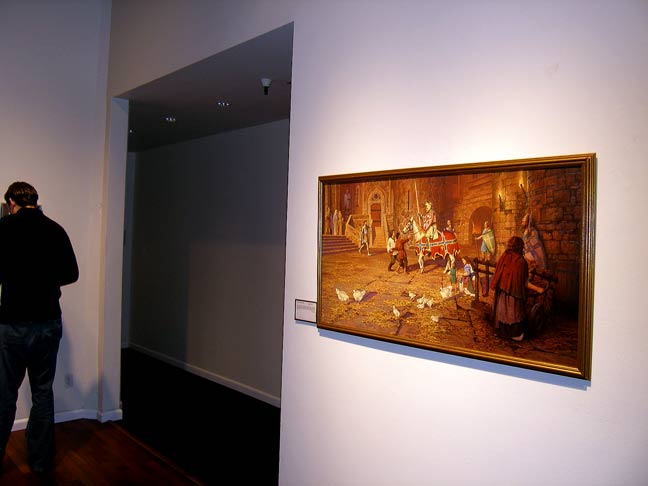 Art.


***
Addendum:
Preview event for San Francisco International Arts Festival.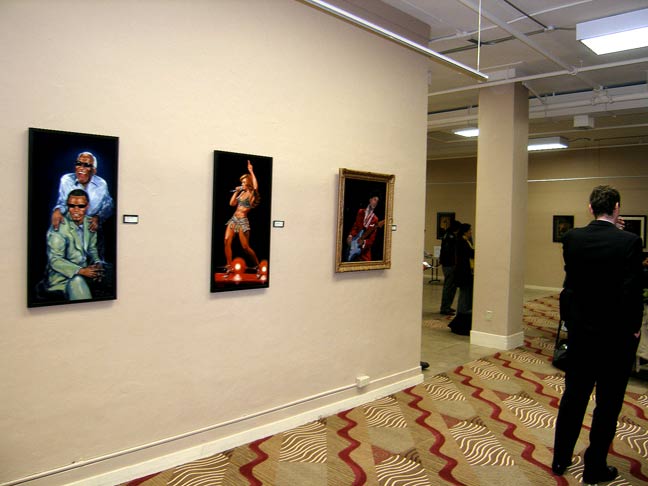 SFIAF preview at the African American Cultural Center.


One more from the SFIAF preview event.


African American Cultural Center mural.


***