SAN FRANCISCO ART GALLERIES OPENINGS
AFRICAN AMERICAN ARTS AND CULTURE COMPLEX - GOOD VIBRATIONS
GALLERY 1988 - MISSION 17
RARE DEVICE - CONTRABAND
(with assistance from Victor DeLucie)
02.01.08
African American Art and Culture Complex: Robert Shetterly - Americans Who Tell the Truth.
Comment by AB: Robert Shetterly presents an arrestingly charismatic series of portraits of "Americans Who Tell the Truth," individuals courageous enough to speak their minds with conviction regardless of the consequences. As if to drive home his point, he includes representative quotes on every portrait. Creating effective portraits, especially "after the fact" ones of famous people, is challenging to say the least, but Shetterly nuances his compositions with such finesse-- the personalities positioned active rather than passive, usually in conversational or pensive modes-- you feel almost like you're meeting them up close, impactful, inspirational, and participating in their acts of bravery. Excellent show; go see.
Art.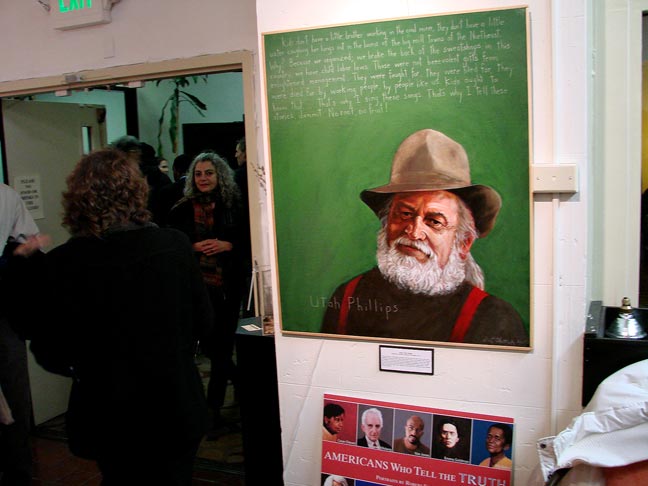 Art.


Art.


Kim Hawkins poses alongside her portrait.


Art.


Art.


Art.


Art.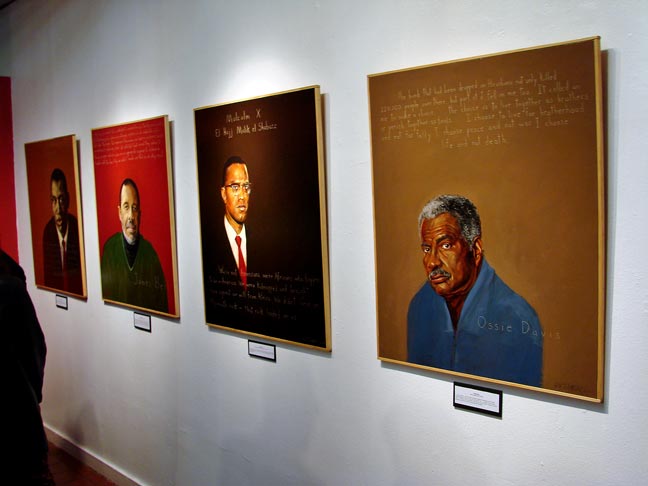 Art.


The basic idea.


The basic idea getting crowded.


Program in the auditorium in conjunction with the opening.


***
Good Vibrations Polk Street Gallery: Bethany Ayres.
Comment by AB: Enticing enigmatic dreamscape fantasies in enamel and oil on panels of stained wood by Bethany Ayres, comprised of only a few colors each, range in tone from ambrosial to unsettling. Nicely done and reasonably priced considerng the size and quality. Potential gallery fodder here. Like 'em. Top price $1500 if I recall correctly.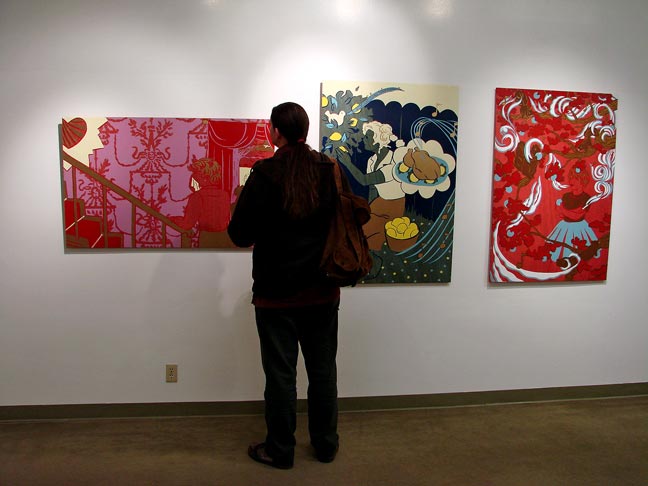 Art.


Art.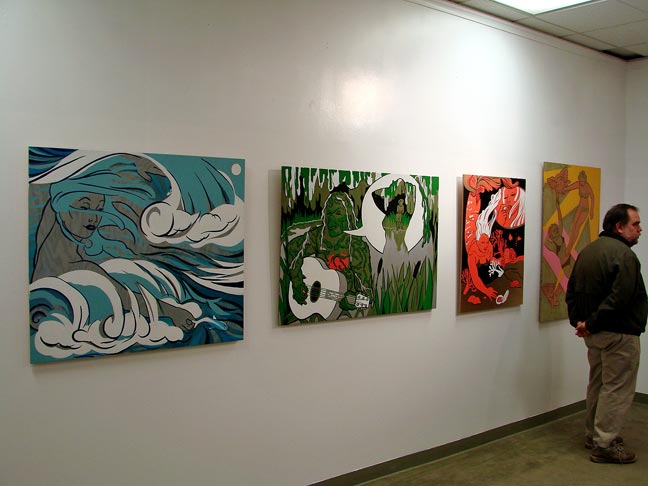 Art.


Art.


***
Gallery 1988: A Place Called Lovely.
Artists: Camilla d'Errico, Caia Koopman, Amy Sol, Lilly Piri, Krista Huot.
Review by Victor DeLucie: Big pretty eyes and sensuous lips highlight the vivid colors these paintings and their female subjects represent. Soulful pouts, surprised looks and quiet confidence are all captured as a variety of emotions are displayed on these lovely ladies' faces. It's about the female (isn't it always?) at "a place called lovely," and the female artists do the fairer sex justice with their imaginations and lovely brush strokes.
Art.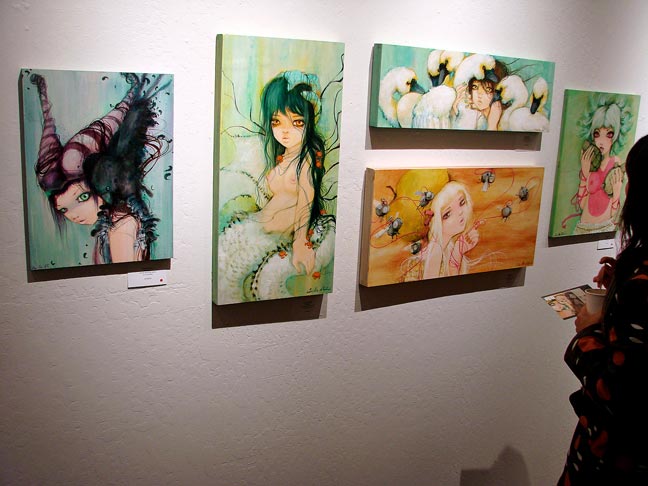 Art.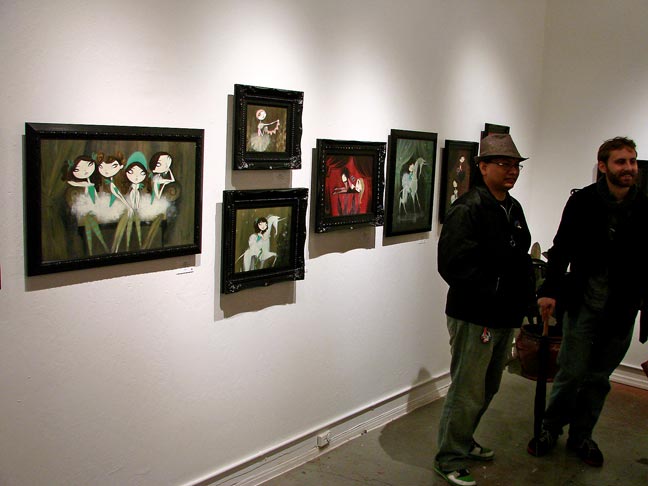 Art.


Art.


Art.


Art.


Art.


Circumstance.


***
Mission 17 Gallery: Eileen Starr Moderbacher - Danger Girl.
Comment by AB: Eileen Moderbacher blends stills from famous films, comic book characters, polluted skies, random piles of trash and refuse, and more into her foreboding futuristic adventure paintings, portraying the world as an increasingly dangerous and unpretty place.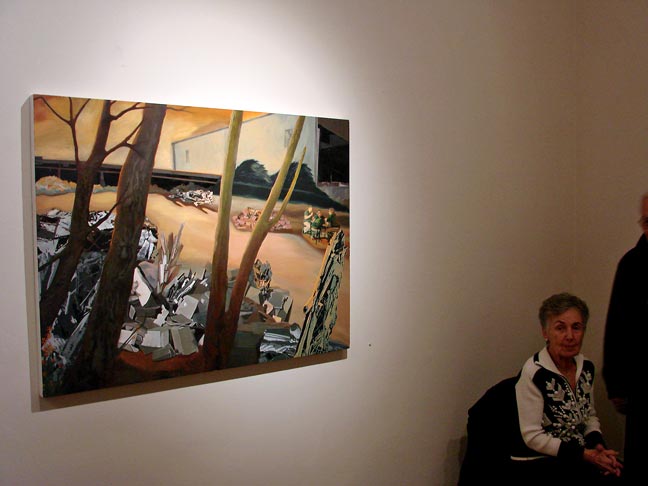 Art.


Art.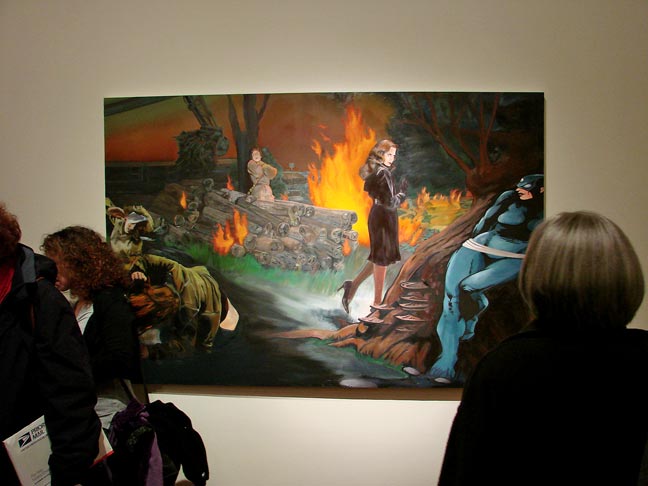 Art.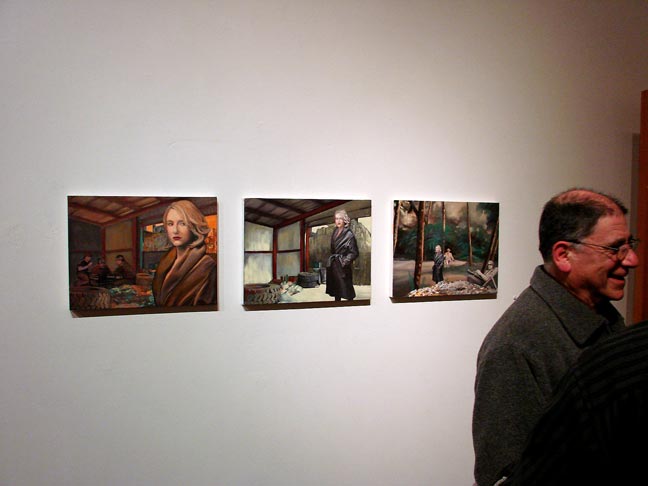 Art.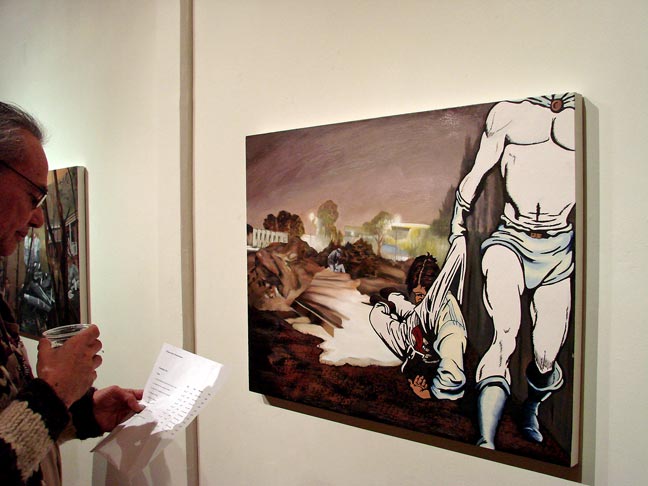 Art.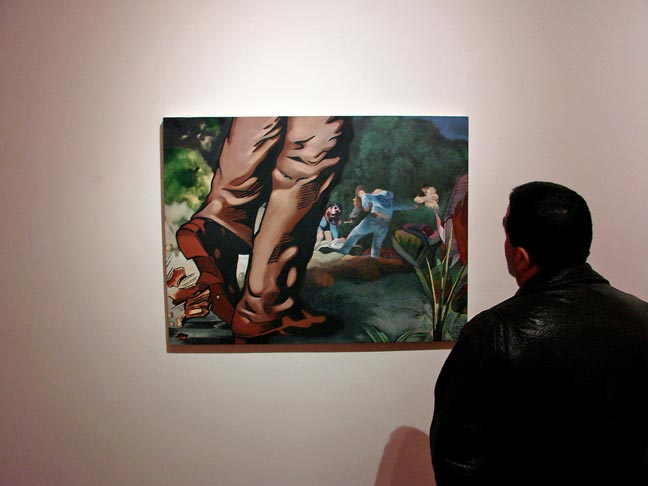 Art.


Art.


Performance.


Attendance figures.


***
Rare Device: Shauna Alterio & Stephen Loidolt - Everyday, Something's Hiding in Here.
Comment by AB: Curious and eclectic little show features plush floral pattern owls, cast plaster hearts (sometimes stuck with darts), paint-by-number paintings on plywood carefully cut into the shapes of various states, and so on and so forth.
Art.


Art.


Paint-by-number Pennsylvania art.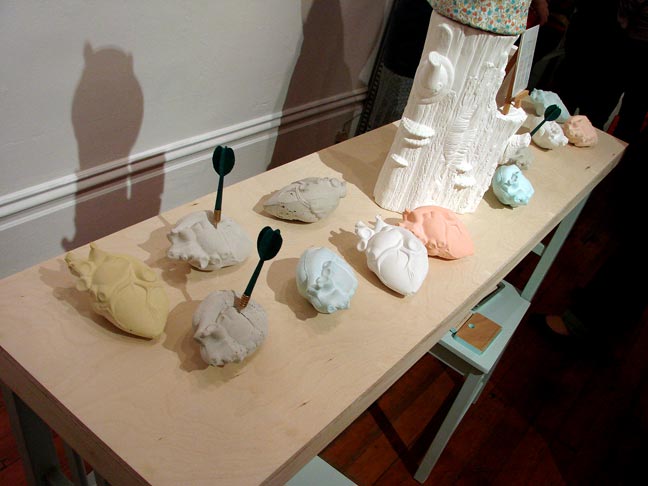 Dart heart art.


Art.


Long view.


***
Contraband Gallery, 360 Fifth Street, San Francisco, CA 94107: Animal Show.
Artists: Pete Doolittle, Spencer Gray, Scott Greenwalt, Kevin Scott Hailey, Paul Hayes, Jeff Jerman, Meredith Schess, Douglas Struble.
Comment by AB: Pete Doolittle tells me this is the swansong show for Contraband Gallery. I can legitimately testify that it was fun while it lasted.
Art.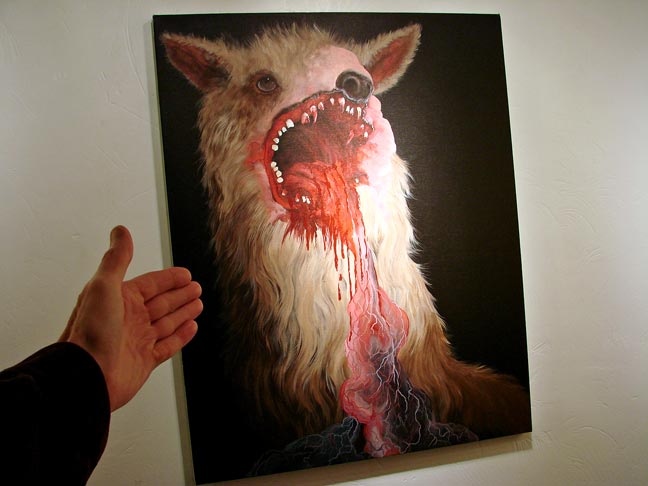 Intense art (Scott Greenwalt).


Pete Doolittle & his antler art.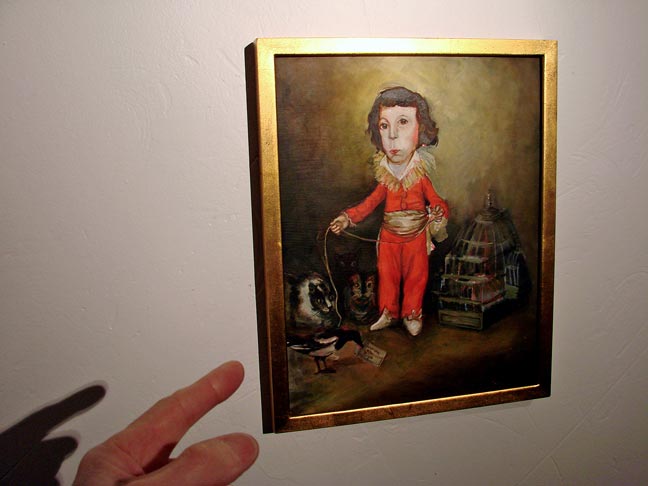 Getting twisty with Gainsborough art (I think).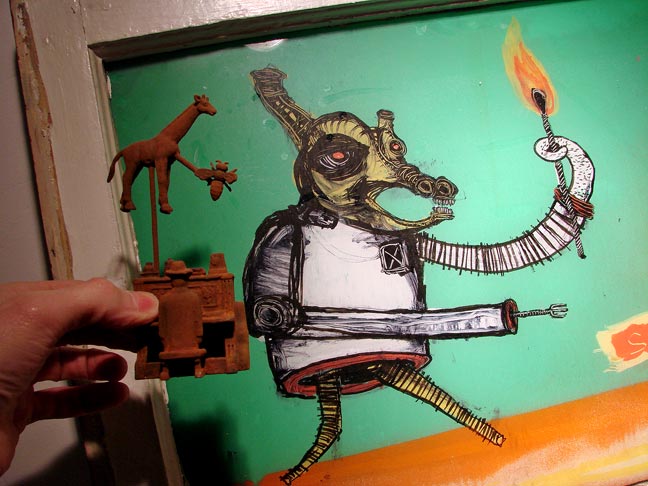 Art.


Down the hall.


***