SAN FRANCISCO ART GALLERIES - OPENINGS
RATIO 3 - JACK HANLEY - MISSION 17 GALLERY
ELEANOR HARWOOD GALLERY - QUEENS NAILS ANNEX - FEMINA POTENS
CALIFORNIA INSTITUTE FOR INTEGRAL STUDIES - EDO SALON
02.02.07
General comment: Steve MacDonald covers a number of these shows in his reviews, so check them out too. I cover a couple he doesn't. As for the overlap, I'll add my 2 or 3 ¢ as required, mainly images...
Ratio 3 Gallery: Mitzi Pederson - thirtythree days.
Comment: I'm curious about what the show title "thirtythree days" refers to, so I query all the principals, but no one seems to know. OK. No biggie. Mitzi Pederson's perilously delicate sculpturals investigate on two fronts-- the visual, involving alterations in perception; and the physical, adhering disparate materials in uncharacteristic ways, the products manifesting varying degrees of surface tension. The essence trends hypothetical, analytical, and considerably cerebral, potentially broaching that nebulous netherzone between art and science.
Art.


Art.


Mitzi Pederson - art.


Art.


Art.


One more Mitzi Pederson - art (couldn't resist).


***
Jack Hanley Gallery: Jon Pylypchuk - New Painting and Sculpture.
Comment: Canadian artist Jon Pylypchuk explores the limits of abstract as well as representation as well as the materials you make 'em with as well as how you combine 'em, then bundles the whole shebang up into a paroxysm of happy sad pathetic touching sympathetic wry hilarious reflections on reality. Priced $2400-$35K.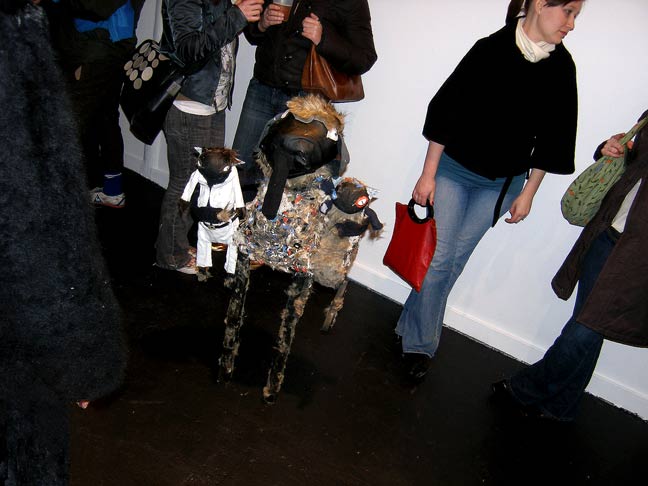 Art.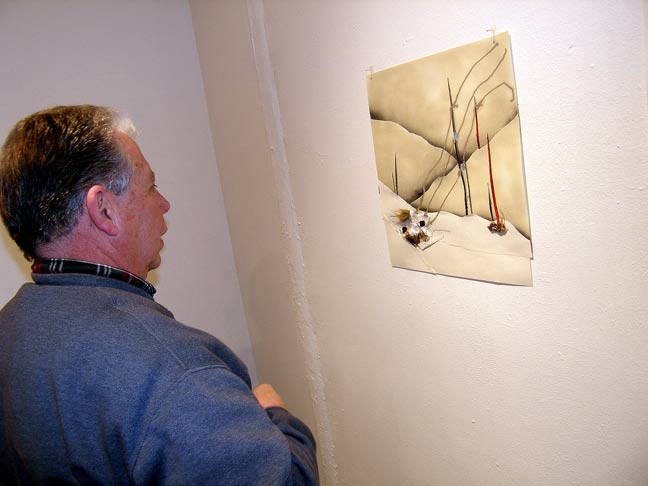 Art.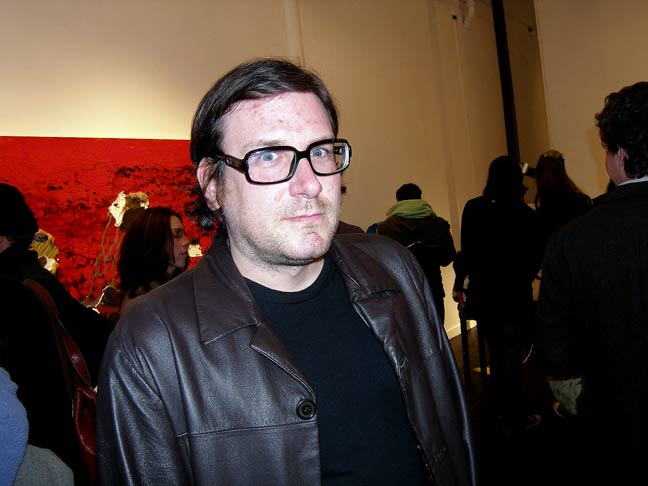 Jon Pylypchuk.


Art.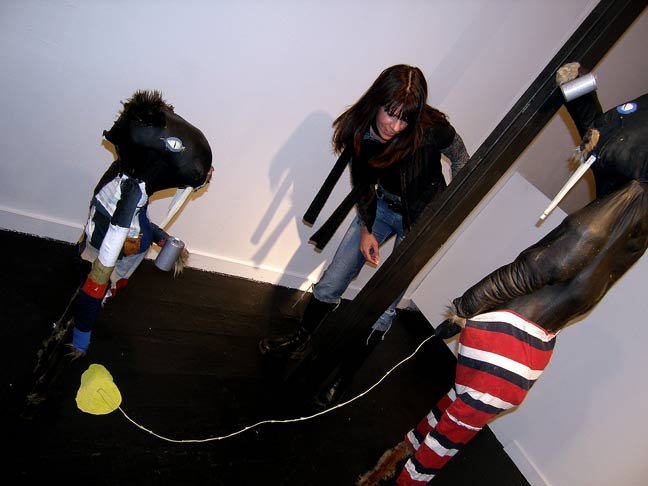 Inebriated walrus pee scene art.


Art.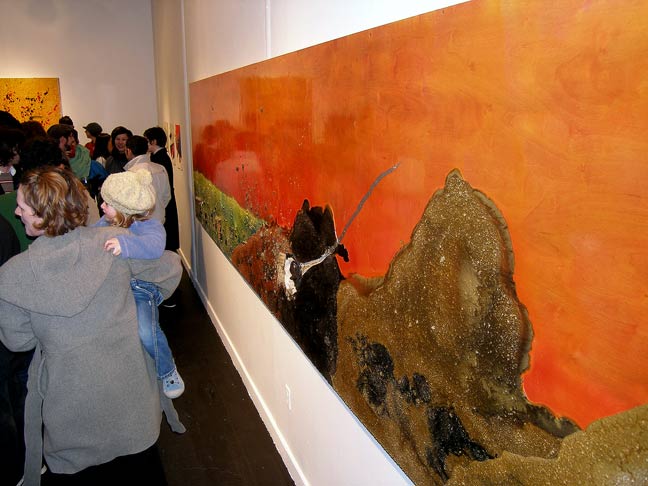 Art.


***
Mission 17 Gallery: Unfinished.
Artists: Andy Vogt, Krishna Khalsa, Scott Oliver:
Comment: Three entirely competent carpenterials on transforming wood into art, my personal preference this time around being the intricate sliced diced checkerboard tabletop reformations of Scott Oliver. The results are so arrestingly perplexing, I think Oliver must add extra wood or something, so I ask him and he tells me he doesn't. He accepts what's dealt and amends it. Nice.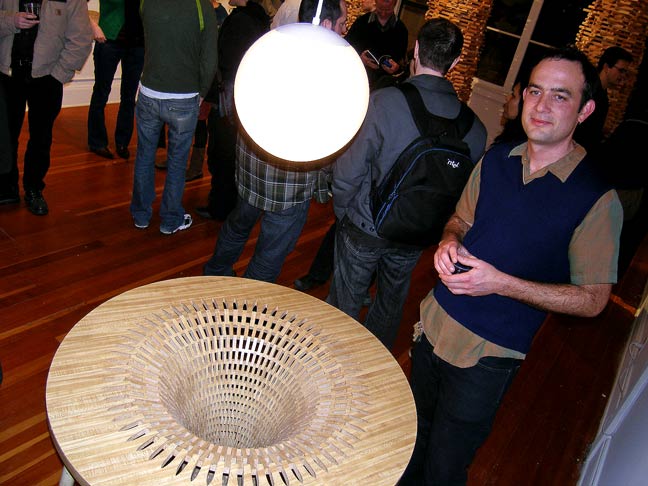 Scott Oliver - art.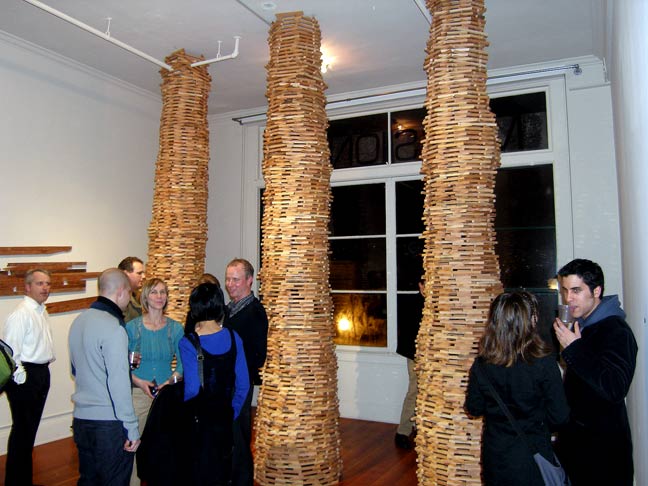 Art (Krishna Khalsa).


Art (Andy Vogt).


Art (Scott Oliver).


***
Eleanor Harwood Gallery: Spencer Mack - Waterline.
Comment: Spencer Mack mocks up a series of peculiarly convincing splash-action automobilics. The best part? Cheap. U-pick for $500. Two flavors to choose from-- back-lit & hi-gloss.
Art.


Spencer Mack - art (sorta like it).


Art.


***
Nathan Larramendy Gallery presents at Queens Nails Annex: Cassandra C. Jones - Rara Avis.
Comment: Cassandra Jones demonstrates copious command with respect to spatial relation, sequential configuration, and design. In room one, she digitally fragments and then reconfigures images of flamingos into fantastically entertainingly impressively elaborate prints and, my favorite, patterned wallpaper. Rarely do I see imagery capable of going both ways-- totally-- fine or decorative, but you got that here. In room two, Jones co-opts various still photographs of geese in flight from various sources, then sorts, orders, sizes, and otherwise nuances 'em into motion pictures, so you think you're looking at videos of single geese flying, the only giveaway being that the backgrounds constantly change. As if that's not enough, she then V's these individual geese videos up into formation like they're migrating. Admirable endeavor on all counts.
Flamingo part art.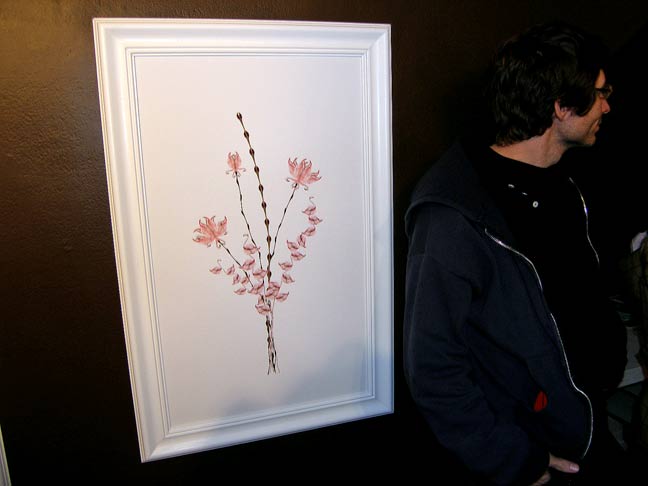 Flamingo part art.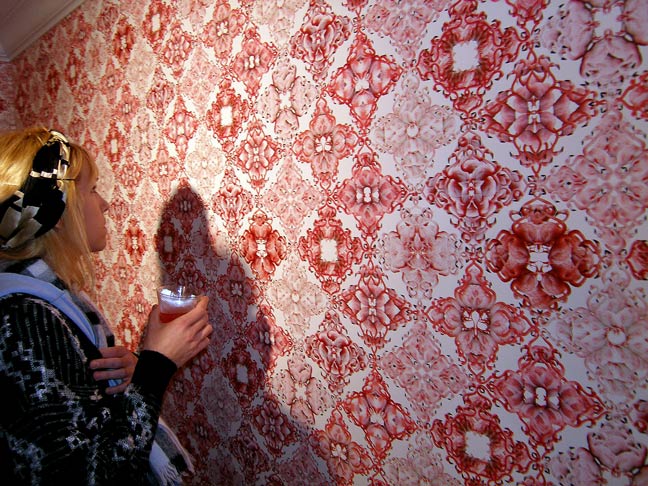 Flamingo wallpaper art.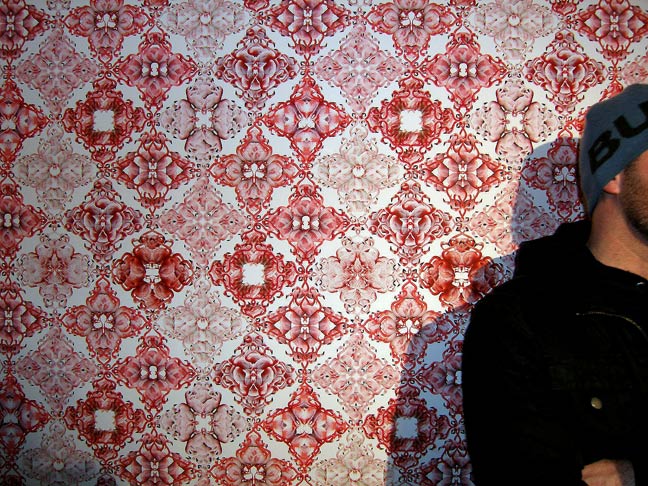 Flamingo wallpaper art.


Flamingo wallpaper art (I love photographing this stuff!).


Flamingo wallpaper art (second to last one).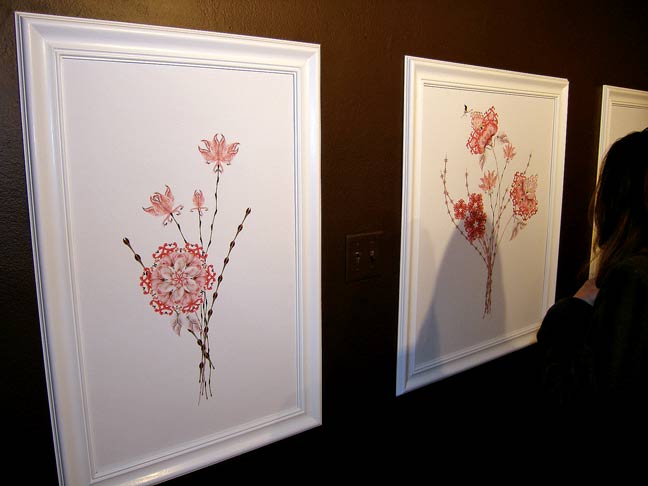 Flamingo part art.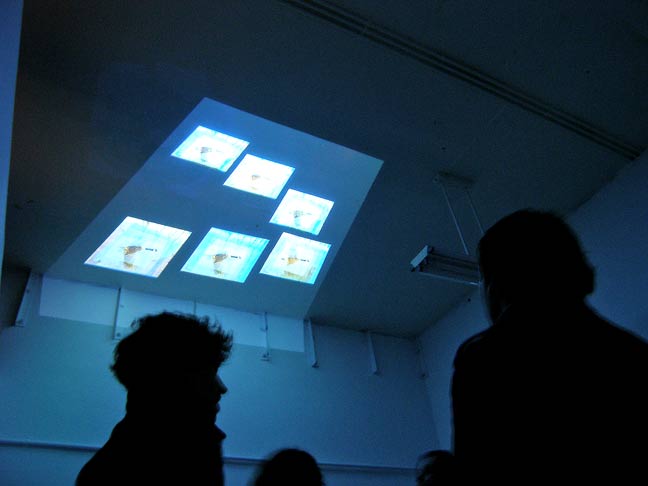 Migrating composite geeses art.


Final flamingo wallpaper art. Outta here.


***
Addendum:
Erotic photography at Femina Potens.


One more from erotica group show at Femina Potens Gallery.


Adam Shemper photos at CA Institute for Integral Studies.


Documentary journalistic photos by Adam Shemper at CIIS.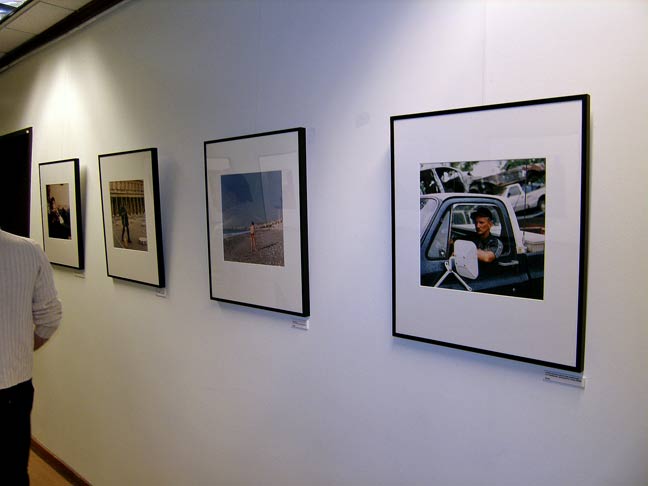 Adam Shemper images at California Institute for Integral Studies.


Sarah Jean Madson works on paper at Edo Salon.


Tunes at Edo Salon.


Sarah Madson bill of fare at Edo Salon.


***