OAKLAND ART GALLERIES OPENINGS
PRO ARTS
02.01.07
REPORTED BY THEO KONRAD AUER
Pro Arts: Juried Annual 2007 - Selections by Berin Golonu.
Artists: Diane Abt, Steven Barich, Fern Barker, Julia Bradshaw, John Casey, Rita Coury, John Ferdico, James Gayles, Yana Goldfine, Miya Hannan, Emanuela Juliana Harris-Sintamarian, John Hundt, Joel Isaacson, Toby Kahn, Rebecca Katz, Sahar Khoury, Mary Anne Kluth, Eric Larson, Stephen Linden, Caroline Lovell, Monica Lundy, Mark Martin, Bill Mattick, Jill McLennan, Dave Meeker, Eileen Starr Moderbacher, Tom Mueske, Steven Polacco, E. Marie Robertson, David Ryan, Jenny Sampson, Zachary Royer Scholz, Anna Morales Simson, Anna Vaughan, John Vias, Antonio Vigil, Jerad Walker, Judith White, Dona Wilson, Susan Wolf, Edmund Wyss.
Comment: Pro Arts is an Oakland Institution. This is a firm and unquestionable fact. They have a lot of history and deep ties to the local community, organizing open studios, poetry slams, and charity fundraisers among other events. They aren't necessarily hip or buzzed about, so one can easily forget about a place like this in the heady and heated art world. But if you do, it's your loss.
Their annual juried shows are a gallery-programming highlight to be sure, and are great for spotting new and often completely undiscovered talent such as Mark Dukes. His paintings invoke race and religion with a deep and scathing wit and could work on the cover of either Juxtapoz or New American Paintings-- and not that many artists can claim that distinction. I've never seen his work in any other gallery, and I have Pro Arts to thank for introducing me to his work. This is the caliber that one can sometimes be witness to on the walls of Pro Arts at these annual shows which are thankfully not as beholden to art world trends and politics as most gallery shows are.
In past years though, the focus of these shows has been a little narrow such as was the case in 2005 when the works were chosen by prominent San Francisco curators Catharine Clark and Jack Hanley. That year, I really felt for the artists who weren't chosen, as they didn't fall into rather locally fashionable genre of conceptual art. This year is a far better mix, while still being a bit conceptual art heavy. I cannot however say the art selection isn't balanced. The art placement is good and allows for easy gallery navigation and makes decent use of this large space.
Sometimes too much variety equals too much of a good thing. I felt that at times, looking at this show, and such is state of most juried shows. One cannot go around expecting an elegantly executed group vision. When one exists, it can only serve to short a large segment of the community. This time out though, for the most part, variety serves the show well.
Highlights include the interesting mixed media work by Eric Larson, and John Casey's new drawing "The Veteran." These two pieces are indicative of the range of work on display. One is rather poppy, the other an intensely detailed, emotionally vulnerable drawing. (Word to you art collectors out there, Mr. Casey's drawing IS for sale; it was mislabeled by accident.) A small bit out of the way, another piece that deserves viewing is "The Protectorates" by John Ferdico. It is what at first glance appears to be a child's model of jet fighter with a naked bust painted on the belly of the flying beast. It is evocative of the sexual nature of violence. The visceral lust for blood, which is satirized in so many first person shooter video games, is skillfully mirrored here. What is interesting, is the bust is a not painted ­ no, it is a photo decal skillfully applied. From casual conversations I had and overheard there, it appeared not many folks picked up on that. This is good show, with some strong work by many artists who lack the prominence that art world fame affords.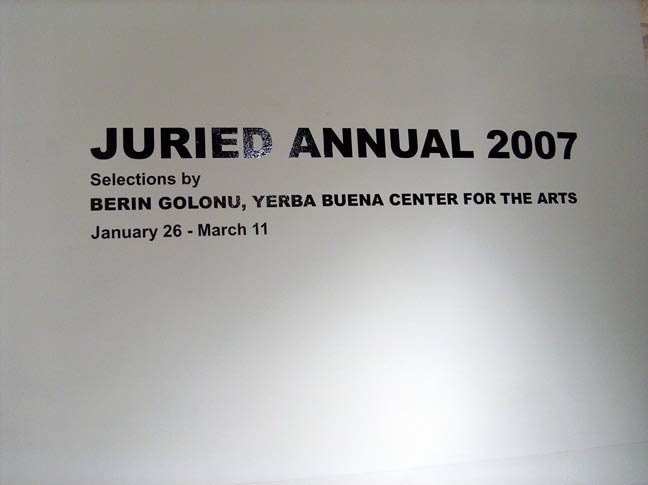 I like that Pro Arts use the same font for their shows.
That said, something more distinctive might be nice.


"Sun Ra" - mixed media by Eric Larson.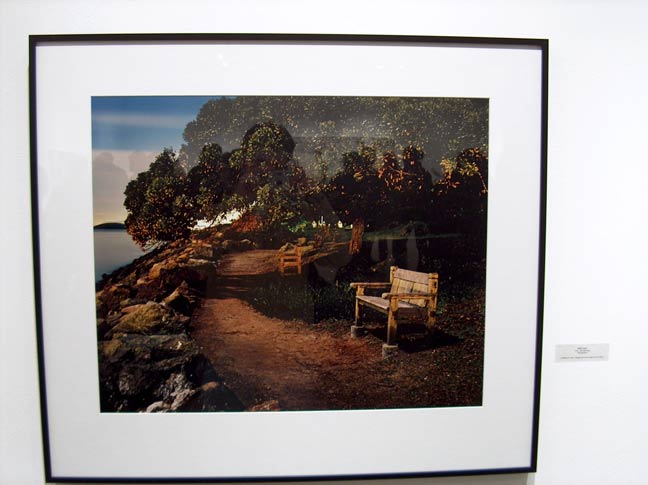 "Fairy Tale Benches" - photo by John Vias.


"plenty of things you donąt know" - Emanuela Juliana Harris­Santamaria.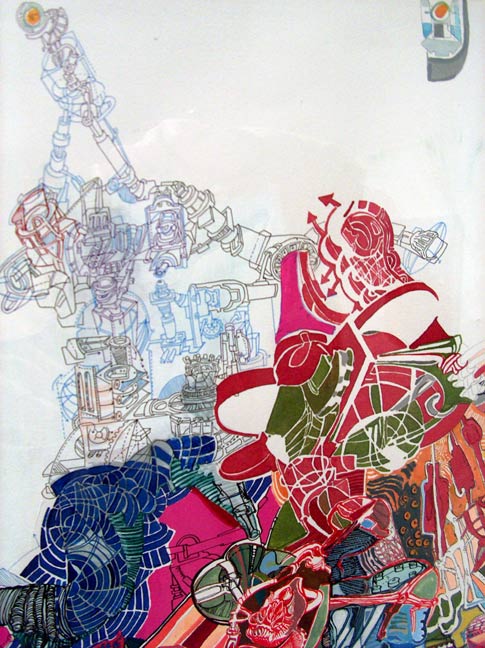 "plenty of things you donąt know" - Emanuela Juliana Harris­Santamaria (detail).


"The Veteran" - John Casey.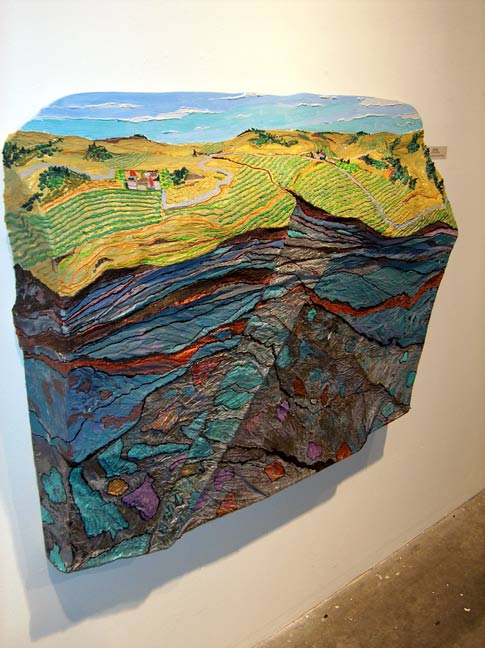 "Fault Zone Pastoral" - sculpture by Judith White.


"Fault Zone Pastoral" - sculpture by Judith White (detail).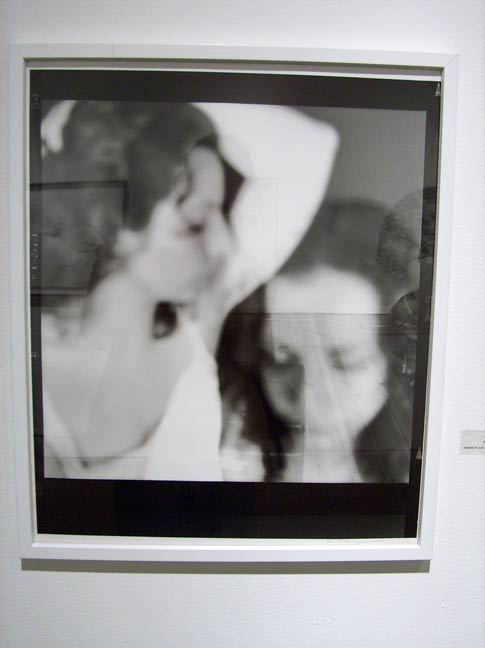 "Self portrait 4 of 5" - photo by Rita Coury.


"The Protectorates" - mixed media by John Ferdico.


"The Protectorates" - mixed media by John Ferdico + ambience.


Show curator Berin Golonu of Yerba Buena Center for the Arts.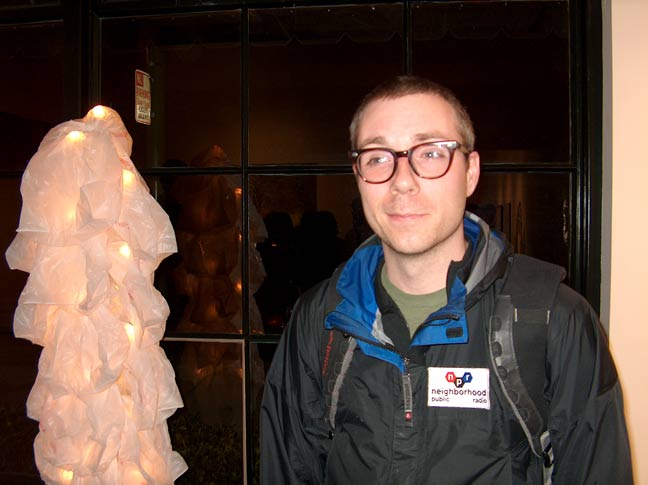 Zefrey Throwell, Neighborhood Public Radio art talk show host.