SAN JOSE ART GALLERIES - OPENINGS
SOUTH FIRST FRIDAYS
ANNO DOMINI - KALEID GALLERY
MACLA (MOVIMIENTO DE ARTE Y CULTURA LATIONO AMERICANA)
REPORTED BY MICHAL GAVISH THOMPSON
02.02.07
Anno Domini Gallery: Daniel Jesse Lewis - EVERYTHING, all at once, all day long.
Comment: The numerous portraits by Daniel Lewis make a fascinating survey. The work of CCA graduate Lewis seems at first generic, stylized, and "outsider" in essence, but when you get up close, the portraits each have their own moods and personalities. Daniel Lewis told me he's been working on this project for the past year. When traveling on the train and talking to people he notices that they all tell similar stories. Although people look different and do different things, their experiences are very similar. So he tells the stories of the everyday in individual portraits that are placed in long rows, simply framed, along the walls. His most exciting work is a mural-like large painting on paper where he is illustrates many parallel stories of the streets in an urban neighborhood.
Small portrait in pencil on paper (Daniel Lewis).


Daniel Lewis - art.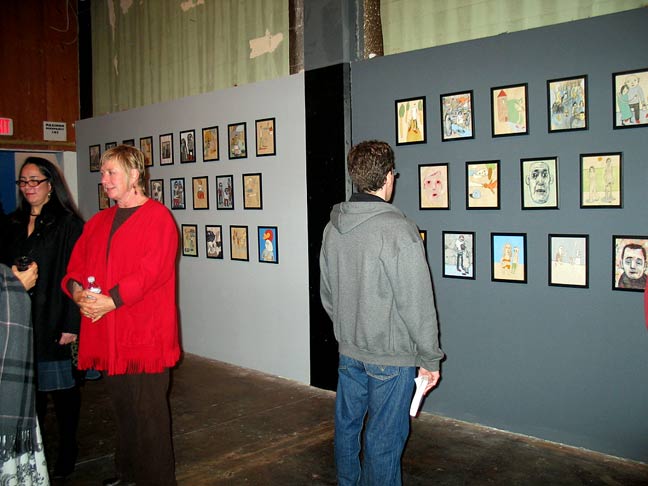 Small Portraits in color (Daniel Lewis).


Oil on canvas (Daniel Lewis).


Oil on canvas (Daniel Lewis).


Portraits in pencil on paper (Daniel Lewis).


***
Kaleid Gallery: Everett Taasevigen, Deborah Mills Thackrey.
Comment: Kaleid is a satellite of Phantom Galleries that opens this month and will be featuring local San Jose area artists. It looks like a huge bazaar on the street level at 4th street, San Jose. Every month, two artists are chosen to be represented on the entrance wall. This month they are Everett Taasevigen and Deborah Mills Thackrey.
Kaleid Bazaar.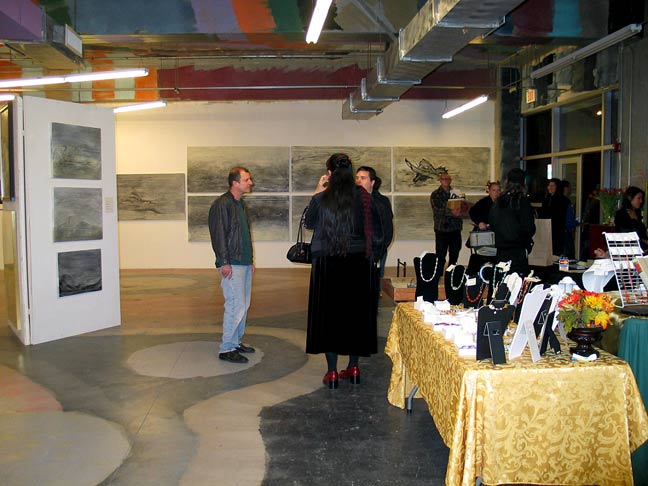 Kaleid artist - Evrett Taasevigen.


Kaleid artist - Deborah Mills Thackrey.


***
MACLA-- Movimiento de Arte y Cultura Latino Americana: Domestic Alchemy.
Artists: Alejandra Chaverri, Caleb Duarte, Christina Velazquez, Nora Raggio.
Comment: "Domestic alchemy alludes to the special chemistry that occurs in our private space of reflection." The works are by four emerging artists, each going on his/her own direction. Great work by Caleb Duarte who constructs and frames a sheetrock wall complete with pink insulation. His figurative paintings/drawings on the sheetrock appear like graffiti or a mural. The wall is curved and creates a cocoon like corner that feels like a private abandoned "homeless" space. His work "examines the tension is found between the first and third world around basic human necessity."
Nora Raggio installs a "garden of the paths that meet." A dozen works on paper of densely layered floral images. At the center she installs a video screen of images of her work which act as a reflection in the middle of her garden. She references the work to a story by Joge Luis Borges that alludes to the paths that are meant to meet.
Christina Velasquez's mixes media pieces to reference the role of women in domestic environment. Her work is very versatile. "Women give birth to children" is a wall mounted piece made of an old dress attached to dozens of handmade dolls. Or "Women Clean their Houses," where she fashions layers of her own kitchen rags into a dress.
Alejandra Chaverri's photography focuses on forgotten objects such as old shoes and broken dolls. She started with this series when she was doing a restoration project on the work of Manuel Gomez Miralles in Costa Rica and encountered interesting old objects in people's houses.
Domestic Alchemy opening - DJ with turn table..


Caleb Duarte - "The Wall."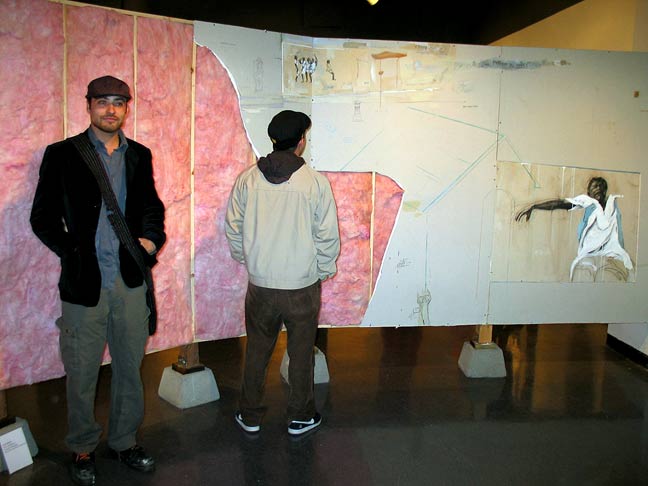 Caleb Duarte - "The Wall."


Nora Raggio - "The garden of the paths that meet."


Nora Raggio - "Trans.. Transient 07."


Christina Velasquez - "Women give birth to children."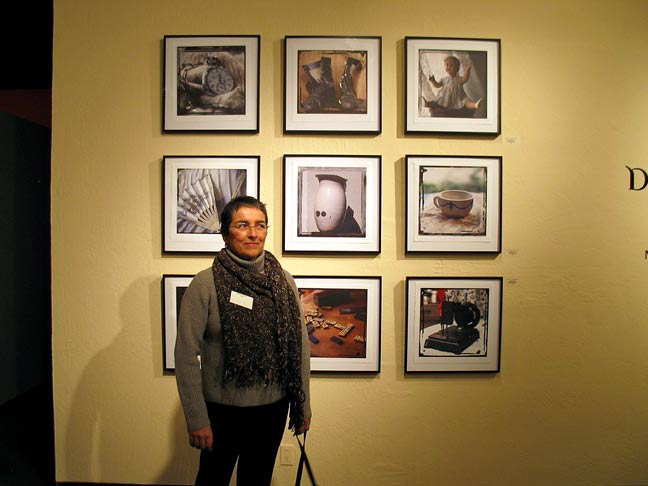 Alejandra Chaverri - "In Olden Times" series.


***