SAN FRANCISCO ART GALLERIES - OPENINGS
JOHN PENCE - CHANDLER GALLERY - AFTERMODERN
JACK HANLEY - MISSION 17 - ELEANOR HARWOOD GALLERY
FEMINA POTENS - QUEENS NAILS ANNEX
REPORTED BY STEVE MACDONALD
02.02.07
John Pence Gallery: Drawings, Small Still Lifes.
Artists: Juliette Aristides, Steven Assael, Michael Bergt, Noah Buchanan, Paul Cadmus, Jacob Collins, James Connolly, Peter Cox, Helen Crispino, Jon DeMartin, Douglas Flynt, Michael Grimaldi, Darren Kingsley, Kate Lehman, Robert Liberace, Edward Minoff, Jacob Pfeiffer, Nicholas M. Raynolds, Travis Schlaht, Herb Smith, Dan Thompson, Adam Vinson, Juliette Aristides, William Bartlett, Michael Bergt, Noah Buchanan, Tony Curanaj, Carl Dobsky, Douglas Flynt, Adam Forfang, Carin Gerard, Sarah Lamb, David Larned, Dean Larson, Kate Lehman, Steven J. Levin, Edward Minoff, John Morra, Jacob Pfeiffer, Christopher Pierce, Nicholas M. Raynolds, Travis Schlaht, Hugh Shurley, Chris Thomas, Anthony Waichulis, Will Wilson.
Comment: I arrived to the John Pence Gallery a little early, this was my first stop on an 8 art show night (there were many more shows on this particular night, but 8 was about all I could fit in).  Lucky for me in my earliness, I was able to take an up close and personal look at the work without fighting the crowds of people who might otherwise be there. At any rate, this was a great show for realistic drawings and paintings by forty distinguished American artists.  This exhibit would be a good place to take art students to demonstrate how far the medium of drawing can be pushed into replicating what we know to be real.  If you would like to get a preview of this exhibit visit the John Pence website.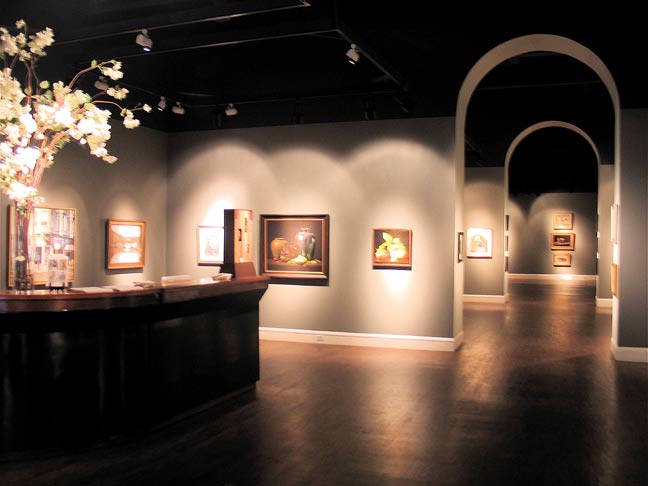 Love the flowers.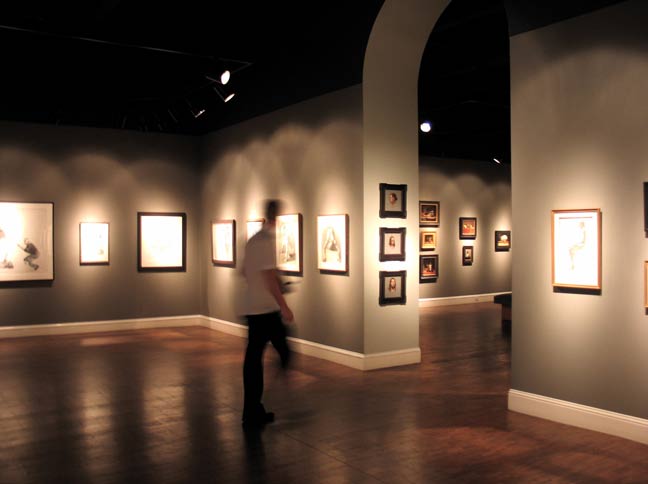 Action shot.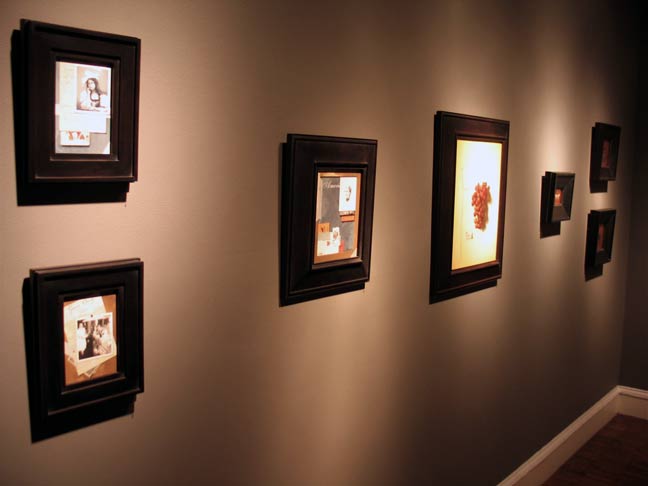 Anthony Waichulis.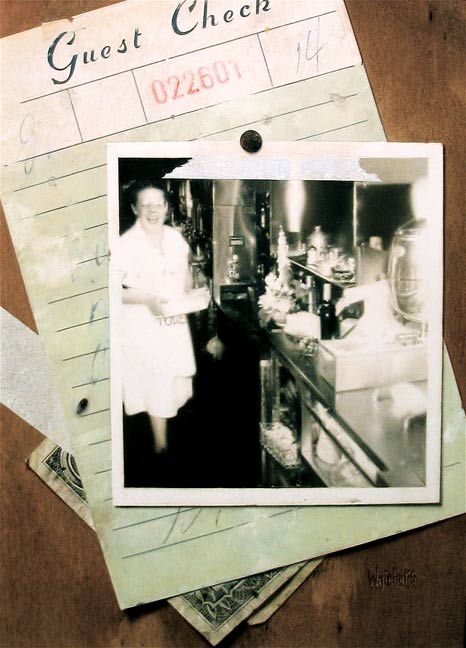 Anthony Waichulis (great example of realistic painting).


Art (Adam Forfang, center - Carin Gerard, right & left).


Adam Vinson.


Tim Abraham prepares for the opening.


***
Chandler Gallery: PART One.
Artists: Jesse Allen, Kuan Chang, Andrew Fisher, Linda Hope, Alexis K. Manheim, Dennis Parlante.
Comment: Chandler Fine Art and Framing Gallery is down the alley and across the street from SFMOMA.  Upon my arrival, I was greeted by a friendly crowd of art lovers.  The current exhibit, PART One, features high caliber paintings by six Bay Area contemporary artists.  In particular, I was drawn to the colorful and mystically exciting landscapes by Jesse Allen, whose work is inspired by his long bond with the people and land of Africa. Allen's work is imaginative and rich; his compostions are unique and his layering techniques are complex and skillful.  Overall, PART One offers an eclectic assortment of styles and themes ranging from abstract to realistic to mixed media.  If you are going to the SFMOMA anytime soon, you should make it a point to stroll down the Minna alleyway and check out the show at Chandler.
Chandler Gallery.


Jesse Allen.


Jesse Allen (detail).


Art loverz.


Linda Hope.


Dennis Parlante.


Kuan Chang.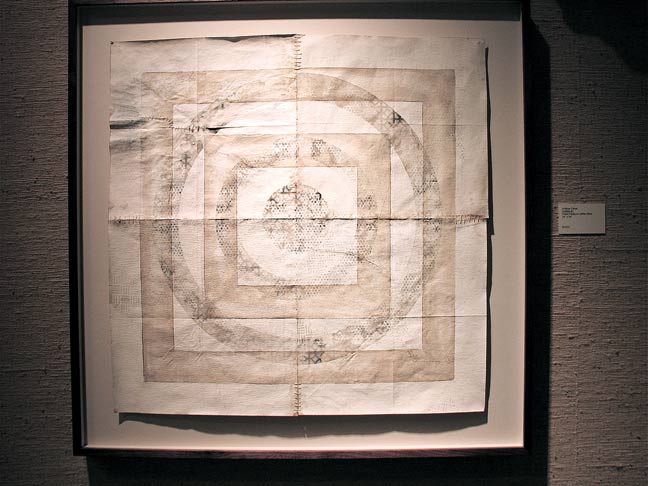 Andrew Fisher.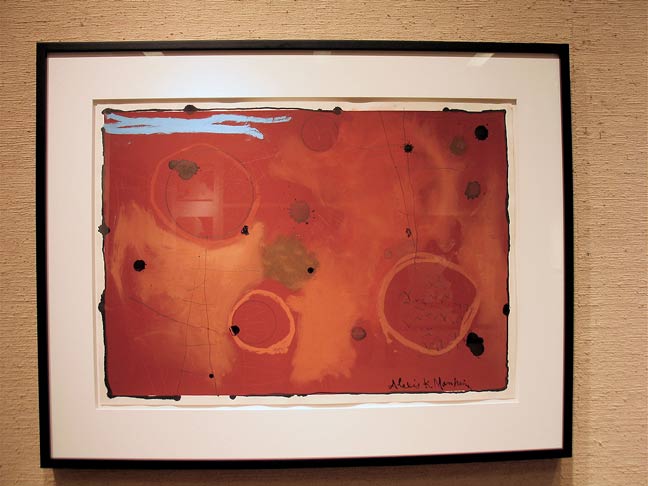 Alexis K. Manheim.


***
Aftermodern Gallery:  Molly McCracken and Cathy Liu - Abstract Works.
Comment: The Aftermodern Gallery is located in San Francisco's SOMA District on Bryant Street between 2nd and 3rd street.  The opening of the two artist show, featuring Molly McCracken and Cathy Liu, takes place on February 2nd and runs until March 3rd.  This exhibit is both colorful and contemporary. The artists find inspiration in science and unexplored environments which take the shape of abstract forms.  The work of McCracken and Lui compliment each other well; they make a perfect duo for a joint show.
Aftermodern Gallery.


Opera singer, Sandy Castleberry, enjoys the art.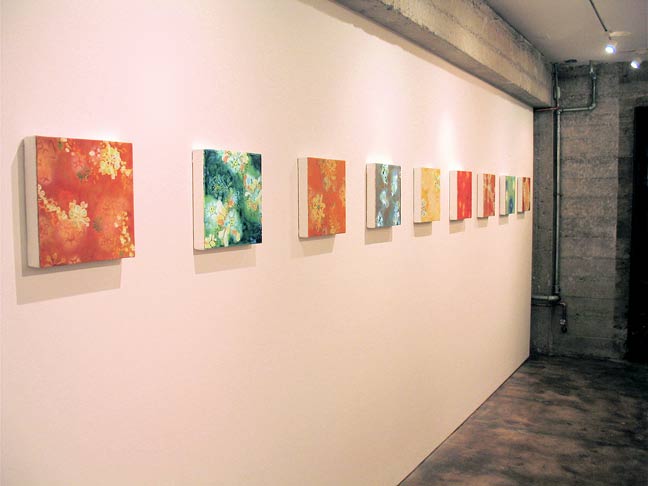 Molly McCracken.


Cathy Liu.


Molly McCracken.


The gallery's starting to fill up, but I can't stick around because I have more shows to cover... So I hop on my bike and zip to the next event.


***
Jack Hanley Gallery: Jon Pulypchuk - Untitled.
Comment: I always enjoy going to the art openings at Jack Hanely.  For me, it's like the ³Red Carpet² of the San Francisco art world.  For the most part, you can bet that the Œwhose who' of emerging artists will be at the show.  Typically, the art featured at Jack Hanley is a reflection of the newest and latest.  Jack Hanely exhibits next year's art today.
Hella Art Loverz!


Art.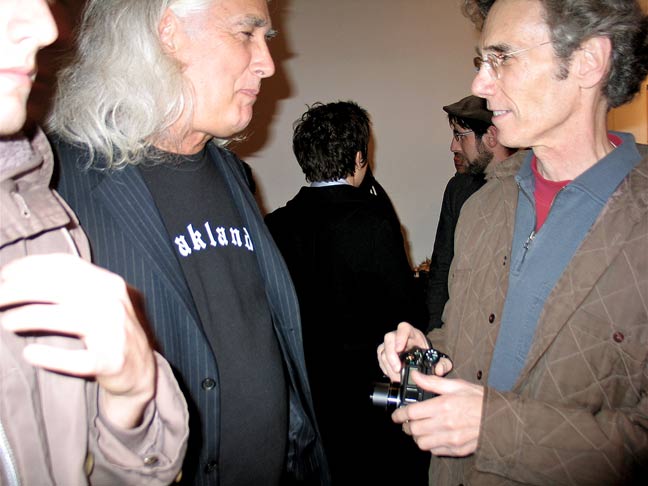 Jack & Alan.


Art, life, nature, walrus?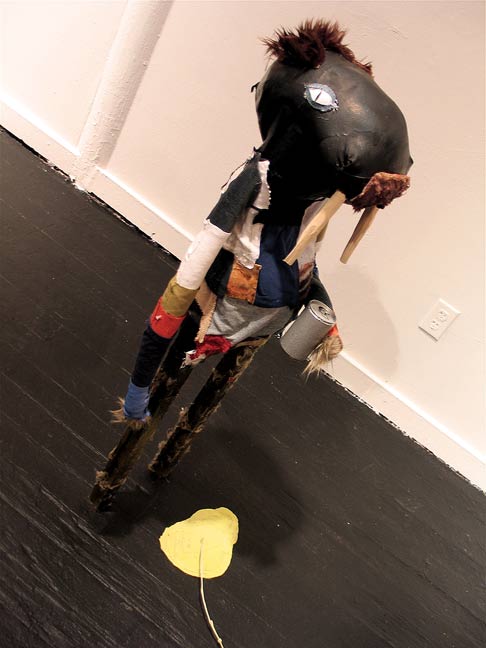 Chillin.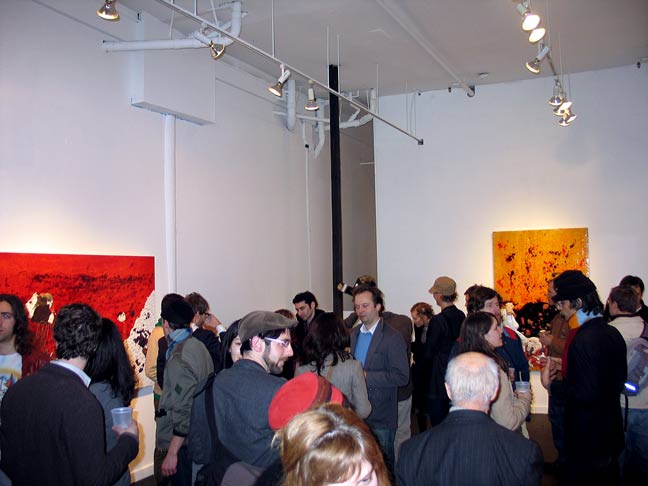 Packed house.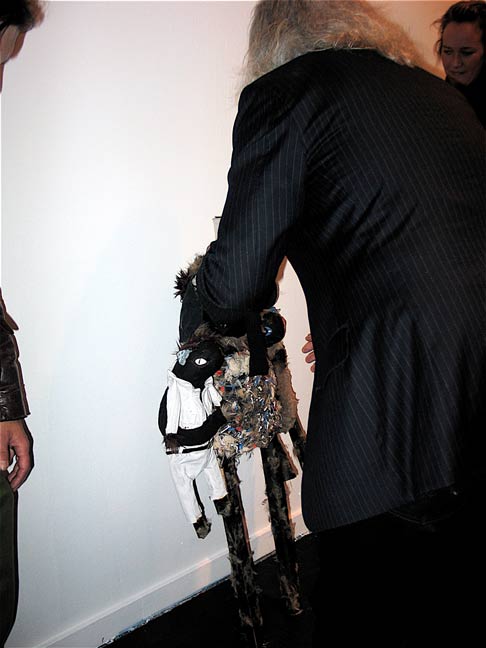 The little guy gets knocked down.
Jack Hanley moves him out of harm's way.


Musical performance by Sword and Sandals.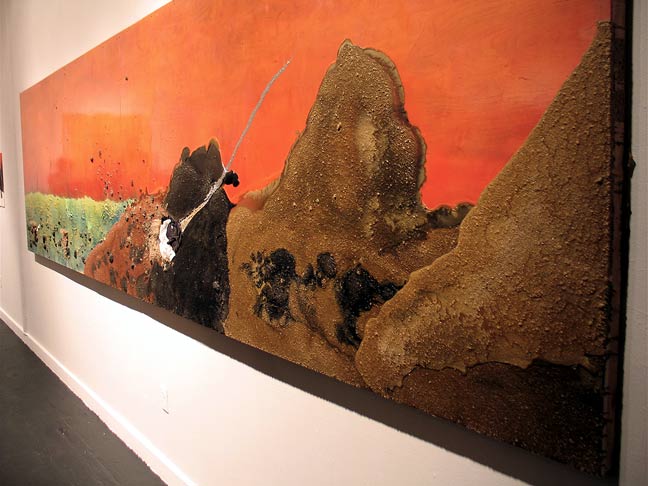 Long painting.


***
Mission 17 Gallery: Unfinished.
Artists: Andy Vogt, Krishna Khalsa, Scott Oliver; curated by Emily Sevier.
Comment: I've been going to Discount Fabrics on Mission and 17th for years and had no idea about the gallery that existed just next door and upstairs.  In any event, my first visit to Mission 17 is a pleasant surprise.  After making it past security and going up an elevator, I arrive at a large (large for San Francisco, that is) space filled with sculptures from floor to ceiling.  This particular exhibit, entitled Unfinished, features three artists whose commonality is their love of wood, particularly the recycled and raw variety. It's nice to see larger scale sculpture exhibited in a gallery (as opposed to a museum) in a city like San Francisco where space is a sparse commodity.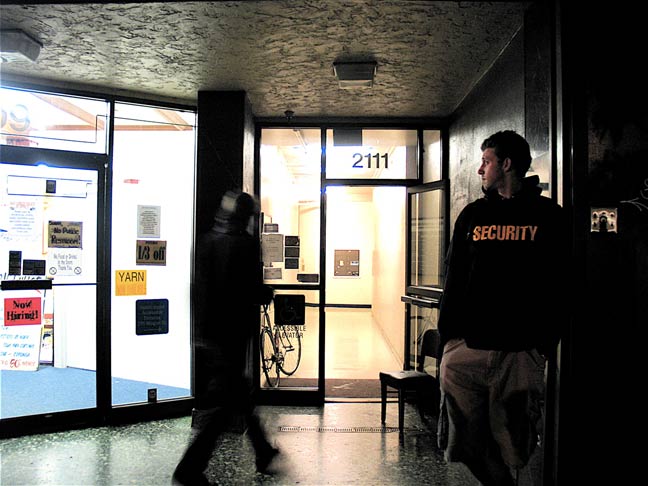 Security.


...and don't forget, curated by Emily Sevier.


Columns (Krishna Khalsa).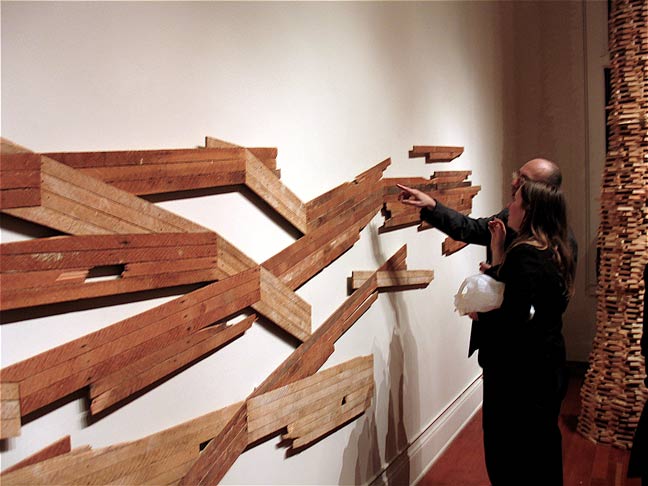 Andy Vogt.


Scott Oliver.


Scott Oliver.


***
Femina Potens Gallery: Erotic Art Show and Censorship Panel.
Artists: Barbara Nitke, Michele Serchuck, Midori, Chanta Rose, Paige White, Twincest, Trouble Royale.
Comment: I arrive at the Femina Erotic Art Show where a panel discussion around erotic censorship is in full effect.  The gallery brims with erotic artists, activists, and pornographers.  It's difficult to get good shots of the art work because I don't want to disturb the discussion, so I take a few quick pics from a distance... so sorry for the grainy shots.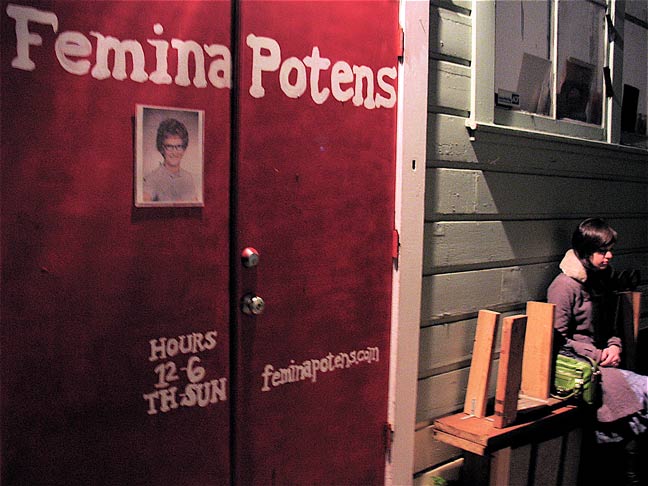 Femina Potens.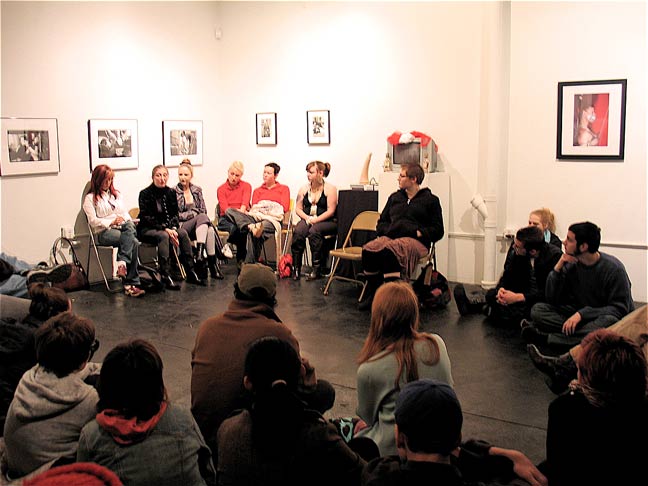 Erotic art discussion.


Erotic art.


Erotic art.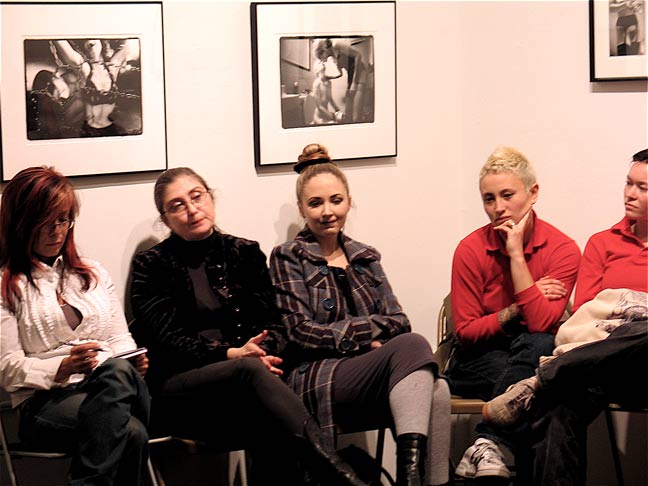 Erotic art discussion.


***
Eleanor Harwood Gallery: Spencer Mack - Waterline.
Comment: Surprisingly, this is Spencer Mack's first solo show.  The artist layers his images with moving lights to create a sense of immersion in water, hence the show title, Waterline.  The quality of the work is very dynamic and inclusive of drawings, photography, and projection.  The glossiness and brillant color of the work equates to visual candy.  The kinetics of the bubbling water created by light makes his automotive images come to life, a kitschy idea successfully elevated to the realm of fine art.
Eleanor Harwood Gallery.


Love the video projection.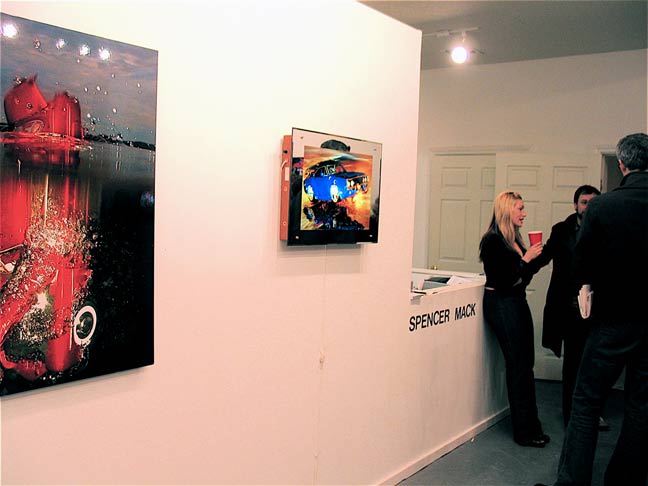 Art.


Charger Blues.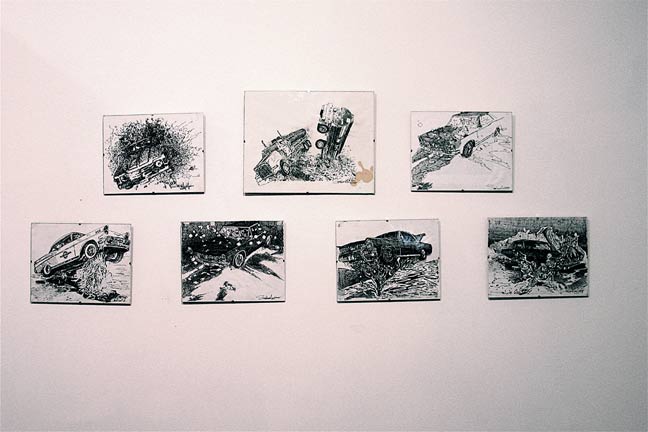 Art.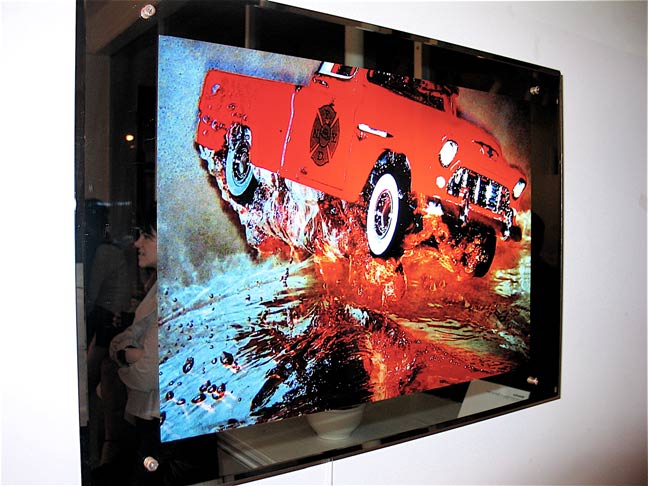 The title of this piece is "Fire-Up Red,"
but I think it's more like candied apple you just want to eat.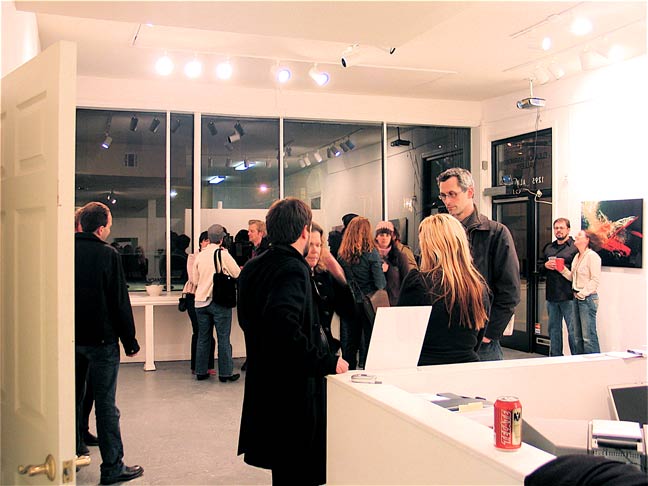 Art.


***
Queens Nails Annex: Cassandra C. Jones presented by Nathan Larramendy Gallery.
Comment: My last stop, the Queens Nails Annex, presenting Cassandra C. Jones, is a great way to end an evening.  The gallery is covered with intricate flamingo-laden wallpaper and art.  The turnout is quite incredible and again, getting around is a bit difficult.  There's a separate room with a video installation possibly, but I can't get to it due to heavy traffic. On the bright side, I'm able to make it to the bar where they're serving delicious mixed drinks-- perfect for the the flamingo motif.
Queens Nails Annex.


Packed full of art loverz.


Cassandra C. Jones, Flamingo wallpaper.


Action shot.


Musical performance Bobby Birdman.


Julio Cesar Morales.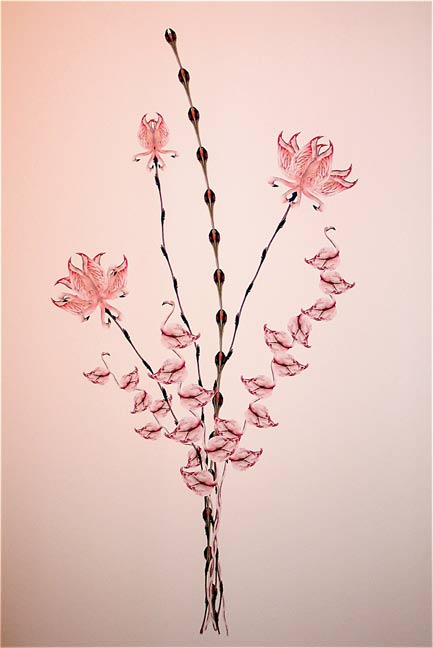 Cassandra C. Jones.


Cassandra C. Jones (detail).


***