OAKLAND ART GALLERIES OPENINGS
FIRST FRIDAY ART MURMUR
02.02.07
REPORTED BY THEO KONRAD AUER
Front Gallery: Half Asian.
Artists: Ben Sloat, Steve Aishman.
Comment: I hit all of the first Friday Art Murmur openings in Oakland except for one, and decided afterwards that these three shows were the most compelling and worthy of comment. In the last year, Front Gallery, which features mostly photography, has been very consistent, with this show and the recent Dowser's Delight being particular standouts-­ not only for this space, but also for the local art scene.
"Half Asian" is at turns both charged and playful, delivering a narrative that puts race, and the aesthetic limitations a society can impose with that construct, into sharp focus. Nearly every piece of art in this show, whether it is one of the diagram laced photos that suggest the intellectual stereotypes many young Asian people in America are colored with, or the darkly witty video work, is dripping with the best type of irony-- the kind that is revelatory and compelling.
I think the art world needs more of this sort of thing; there's enough of the masturbatory irony out there these days with its attendant overwhelming and usually only somewhat necessary references to whoever is the old or new school art master or who fits the particular trend or fashion of the day (insert Gerhard Richter, Banksy, Chris Duncan, Alex Katz, Marcel Dzama, Barry McGee, Damien Hirst, and on and on in place of my last few words). Oddly, the art isn't clearly labeled as being by either Ben Sloat or Steve Aishmann. I got the distinct impression from Front Gallery owner Robert Jew that this was a purposeful obfuscation, and perhaps this signifies the artists' intention that this work be viewed as completely collaborative sum.
Three photos by Ben Sloat and Steve Aishman.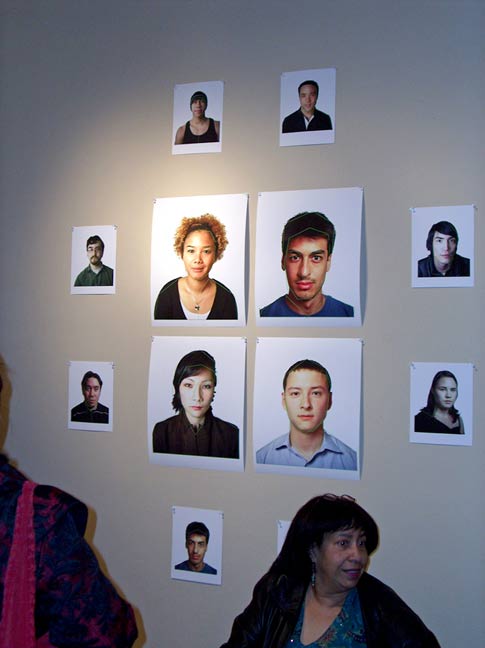 Digitally altered photo installation - Ben Sloat and Steve Aishman.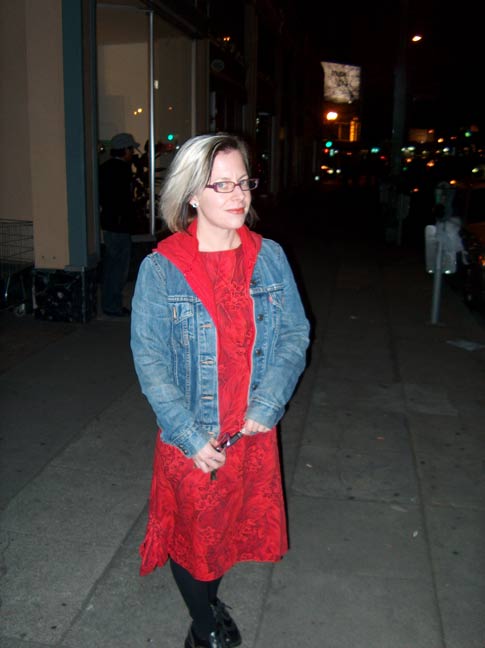 Outside the gallery, I run into Jen Loy, proprietor of Mama Buzz and organizer of many creative endeavors. She's passing out leaflets warning of the potential demise of the Murmur unless the excessive partying, that sometimes occurs around it, is brought under control. According to her, the Oakland Police have threatened to revoke her liquor license, due to noise and trash spewed by the surrounding bacchanal.


***
Ego Park: Francis Deehan ­ SOLD.
Comment: Ego Park is, as stated on the front page of their website, "...for people who appreciate art for its conceptual nature and its ability to touch the human spirit." They usually hold true to that statement strongly presenting work that is often as fascinating as it is provocative. This time around, I'd say the balance weights more heavily towards the latter unfortunately. At the heart of the majority of the work lies an idea, pregnant with possibility.
That is the case with SOLD. Oakland based artist Francis Deehan creates a conceptual diagram poster-style that adorns the walls of Ego Park. The posters feature intersections meant for red dot stickers that are to be purchased for two dollars and then applied, each dot representing one American or Iraqi life killed during the ongoing conflict overseas. The American and Iraqi lives are separated into their own sections of wall space. Some visitors take the idea seriously thoughtfully placing the dots randomly, and others in patterns.
Where the concept sticks a false note for me is that many folks, perhaps those enjoying the party atmosphere, make light of it all, creating comedy in pattern form with the dots they buy. The only appropriate joke made out of the patterned dots that night has to be the recreation of character from the Adult Swim cartoon "Aqua Teen Hunger Force," recently made infamous in a terrorist scare last month in Boston that turned out to be little more than guerrilla marketing gone wrong. That somehow feels right and relevant considering the often-paranoiac times in which we live. That said, the rest of the whimsy should be left at the door. Too bad I didn't get a good shot of the cartoon terrorist, but it was crowded like a rush hour BART train in that place! The show is worth a look, perhaps for that bit alone.
Conceptual art by Francis Deehan.


Detail of conceptual art by Francis Deehan.


Ego Park curator and owner Kevin Slagle tactfully explains the artist's intent to a viewer who perhaps isn't feeling it.


***
Boontling Gallery: Often Forgotten.
Artists: Derek Weisberg, Percy Feils, Mark Pavlovits.
Comment: When you own a gallery, you really should only show once a year. It's an unstated rule in the art world, at least unless you have an artist's cooperative such as Oakland's Mercury 20. Well, Boontling Gallery, has made it a yearly tradition to do this and this time out they're celebrating their 117th anniversary (yeah, I know better than that, but you can find out for yourself on this here website) with new drawing, sculpture, mixed media and photos from founders (and friends) Derek Weisberg, Percy Feils, and Mark Pavlovits. The work is fresh, raw and evocative of a deep and weary emotional vulnerability that comes with the struggles of youth in the city. The world these artists create is tied together by this theme, and that of an intimate relationship to the urban environs in which they live and are surrounded by.
Mr. Weisberg's sculptures have a certain repetition of form, but this seems intentional thankfully rather than cynical. They seem to reference old religious art as much as they do the hip-hop culture. His work has delicate balance to it that provides an intriguing springboard for thought. What have his figures gone through? Why are their eyes closed? What are these objects that they bring with them into this new world? Mortality seems to be at the core of much this new work.
Percy Feils's work is intricate and full of alternately rough and delicately rendered line work that reminds me greatly of a young artist named Mike Simpson who is also affiliated with the gallery. In the artist's own words, "My interest in architecture comes from my fascination with past. Oakland history. The Victorian era. Childhood visits to Germany and Lima, Peru. Particularly the destruction there and the urban decay here in Oakland. I want to give light to the urban human condition."
The evidence of many of what the artists have dubbed "Forty-Niner Hunts" surround the works of the artists on the right interior wall of the gallery. It is the detritus and evidence of humanity coming and passing, while on a hunt for interesting found treasure that many would ignore as mere junk. Here is junk made frames and belts and crowns. Among these many works are some entertaining and revealing photos by Mark Pavlovits, which document some of these "Forty-Niner Hunts" of the past year. The best photos form a collage of some familiar local working class landscapes. The work is very affordable from the mid-hundreds to seventy-five bucks. This is easily the most mature work of these artists and my pick for best show of this month's Murmur.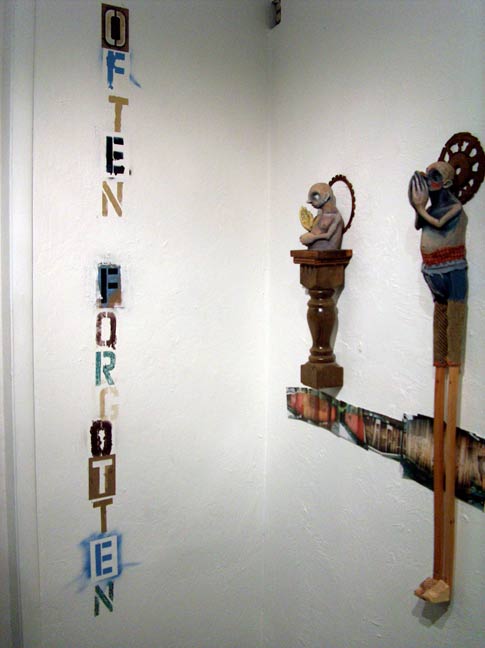 Stenciled-up show title, sculptures, and photos by Derek Weisberg and Mark Pavlovits.


Sculptures, drawing, photos and found objects by Derek Weisberg, Percy Feils, and Mark Pavlovits.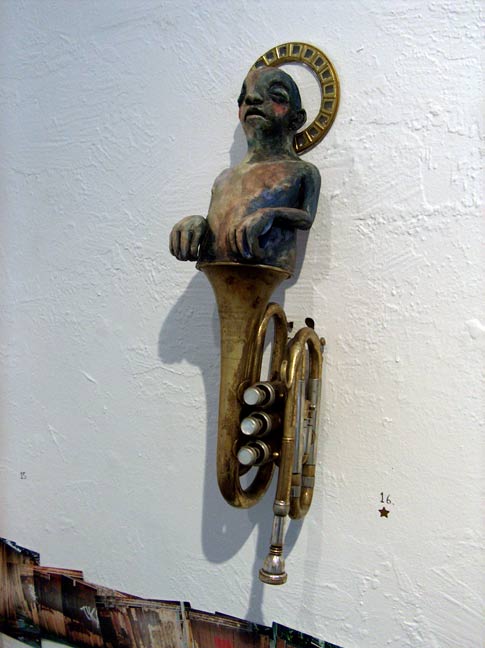 Sculpture by Derek Weisberg.


Sculptures and photos by Derek Weisberg and Mark Pavlovits.


Drawing by Percy Feils.


Detail of Drawing by Percy Feils.


Detail of sculpture by Derek Weisberg.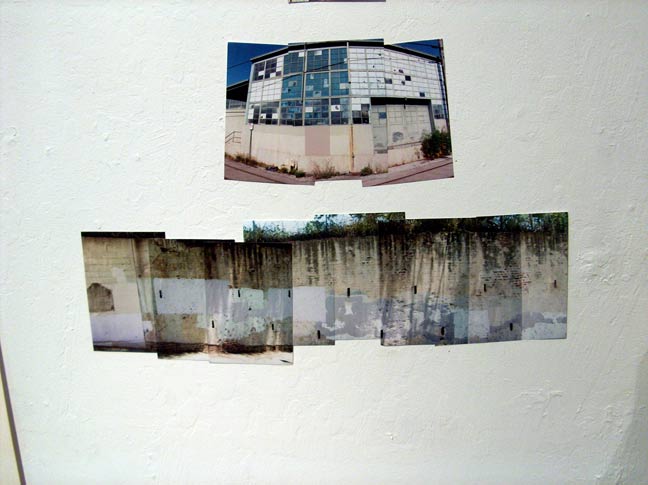 Photos by Mark Pavlovits.


Here are some of the 99 Cent art goods I had mentioned in my last set of Art Murmur reviews for artbusiness.com. On the top are some stickers by Angie Brown and below them are some limited prints by Josh Keyes.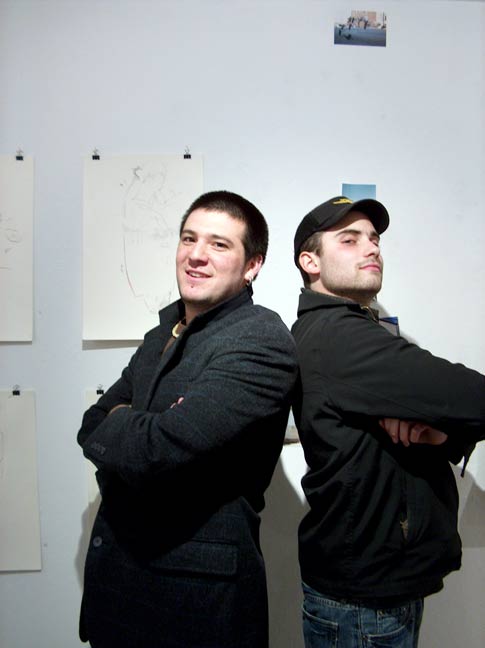 Artists Derek Weisberg and Percy Feils.


***