SAN FRANCISCO ART GALLERIES - OPENINGS
LITTLE TREE - A.MUSE - RECEIVER GALLERY
INSTITUTE FOR UNPOPULAR CULTURE
02.03.07
Little Tree Gallery: Paul Zografakis - Paradise Lost.
Comment: Installation, video, sculpture, and drawing "confronts the reality of human struggle, in order to find an acceptable paradise." When you find it, lemme know... 'cuz I'm there.
The gallery's dark for the show.


Now it's not lit.


Now it's lit.


Video art.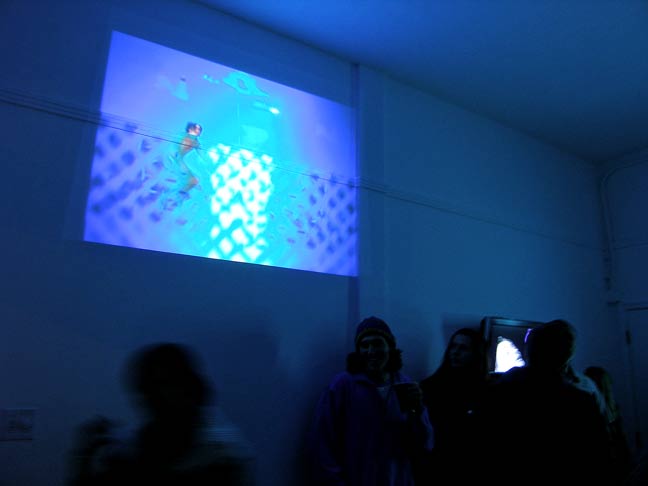 Video art.


***
Receiver Gallery: Sacha Eckes and Porous Walker - Your Face Looks Like an Island.
Comment: Porous Walker resoundingly retains his title as one of the most entertainingly artfully creative congenially self-deprecating characters I know-- testing limits, poking fun, grossing us out, and editorializing on life, consistently braving the spitballs and bludgeons of public opinion, and generally making everyone feel better regardless of how good they felt in the first place. Tonight's frivolities include a cacophonous stream-of-consciousness collaged wall and display window of commentary, Porous doing his impression of a perished parachutist by getting all 'chuted up and lying motionless face down on the floor for a long long time, a tennis racket smashing of a police car-shaped pinata filled with $200 worth of quarters, and more, more, MORE. Love it!
Not to be outmuscled, Sacha Eckes stakes firm claim to the opposite wall of the gallery with a handsome selection of abstracts, possibly the best work I've seen from her to date. They're priced righteous too at $100-$1300.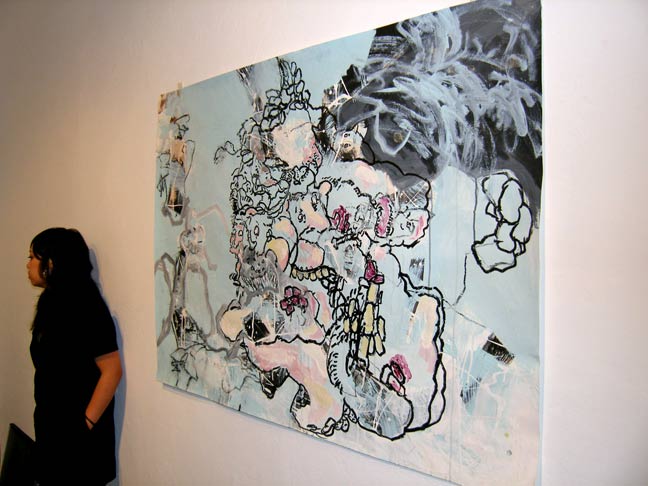 Art (Sacha Eckes).


Sacha Eckes (right) - art.


Sacha Eckes.


Art (Sacha Eckes).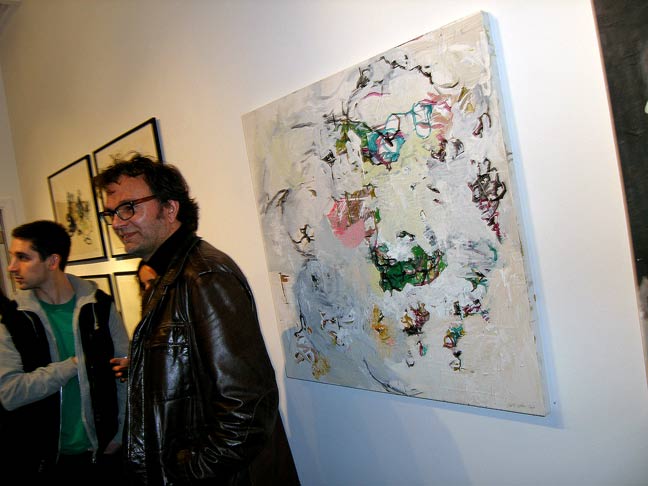 Art (Sacha Eckes).


Art (Sacha Eckes).


Sacha Eckes - Jafon Hakkinen (Receiver Gallery owner).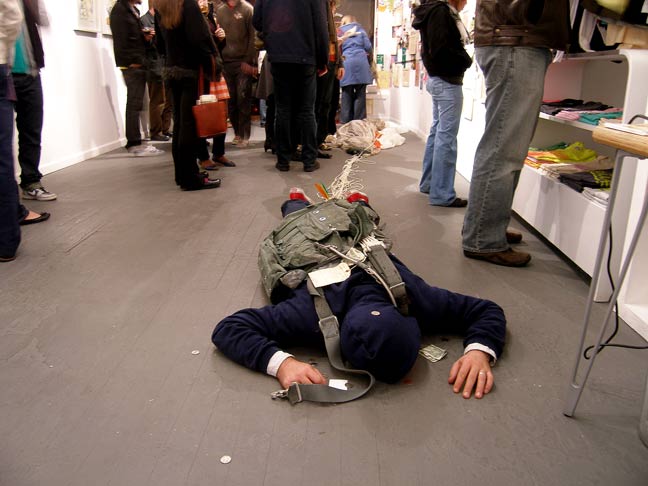 Oh... hey... it's Porous Walker. Porous, how you doin'?


Porous?


POROUS? Errrr... never mind.


Porous Walker Wall of Phun.


Porous Walker Wall of Phun, cont.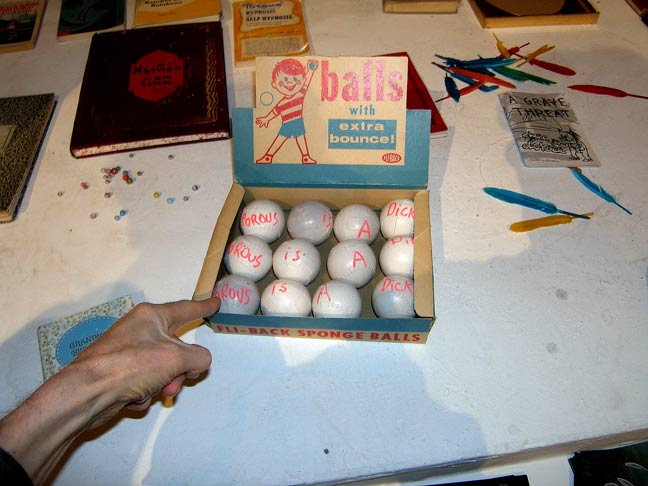 Box o' balls art (Porous Walker).


Pummeled police car pinata aftermath art (Porous Walker).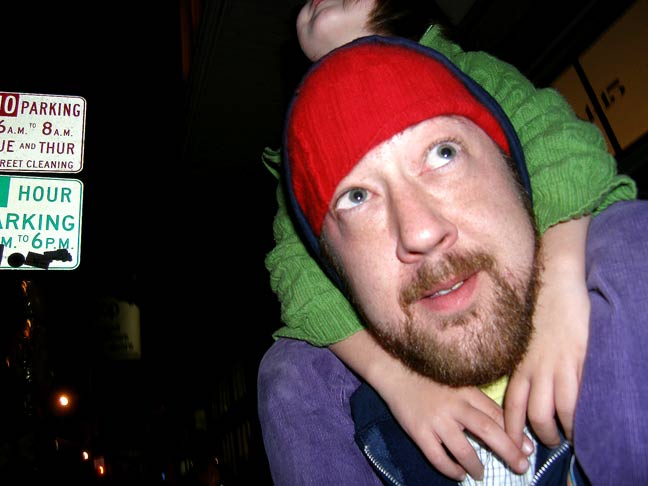 Porous Walker + progeny.


***
a.Muse Gallery: Alexander Steinwendtner - Power and Powerlessness.
Comment: Interesting twist on abstract by Austrian artist Alexander Steinwendtner, particularly his "paintings" comprised of cut stitched sections of sailcloth. He also paints on leather, another medium you don't see everyday. I question Steinwendtner about the fact that the paint will increasingly leach into the leather over time, and he tells me that's part of the art's evolution. Fair enough. He also shows some elementally elegant floor-standing rock and metal rod sculptures, the rods topped with black and white paint-dipped blocks of wood.
Sailcloth art (right).


Leather art.


Alexander Steinwendtner - sailcloth art.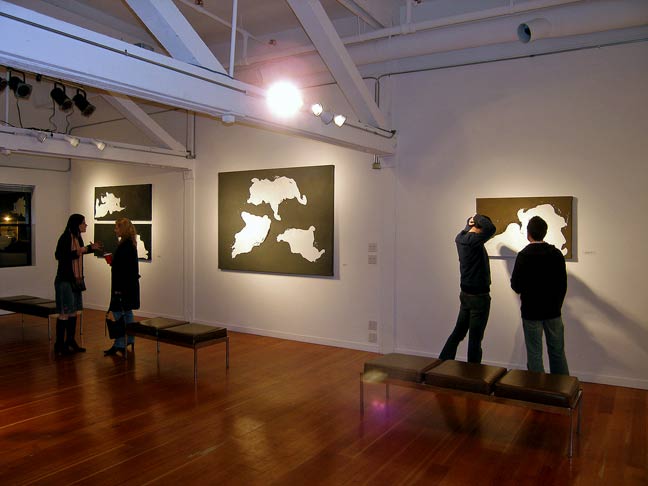 Art.


Sculpture.


Art.


***
Institute for Unpopular Culture at Workspace Limited Gallery, 2150 Folsom St.: Sean Starr - Morrissey Ruined My Life... A Tribute to the Worldıs Greatest Living Poet.
Comment: "Action painter" Sean Starr creates a painting on stage while minglers mingle, look on, and enjoy the art. Sean Starr swag is available for purchase at the back of the gallery. Painting prices range from $8750 to $210K for a six-panel monster; 9 X 12 "limited edition serigraphs" are $150. He sure paints fast.
Action painter Sean Starr action painting.


Sean Starr action painting cont.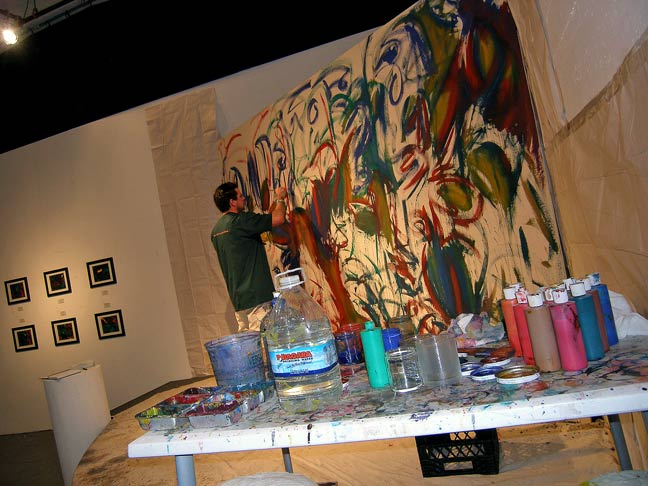 Sean Starr action painting cont.


Onlookers look on as Sean Starr action painting continues.


Art ($210K).


Art.


Sean Starr fashion.


Sean Starr swag-abilia.


***