SAN FRANCISCO ART GALLERIES - OPENINGS
UNIVERSITY OF SAN FRANCISCO SCHOOL OF LAW - CENTER FOR THE BOOK
SPRINGER-CROKE - FEMINA POTENS - CENTER FOR SEX AND CULTURE
RUBY'S CLAY STUDIO - OXYGEN BAR - RECEIVER GALLERY
CALIFORNIA INSTITUTE OF INTEGRAL STUDIES
02.03-04.06
Springer-Croke Fine Art: Sacred Prostitute Exhibit.
Artists: Luz Tapia, Lisa Britton, Glenn Hirsch, Zoe Alowan, Delfina Piretti, Pamela Lanza, Cosi Fabian, Hans Bauer, Craig Poindexter, Jonathan Schluenz, Godfrey Lim, Peter Santi, Christopher Castle, Linda Henke.
Comment: According to the syllabus, the show's title refers the good old days (aka antiquity) when religion and sexuality were supposedly inseparable and priestesses performed sexual rituals. Yo!! Sounds a lot better than what we got now. Guess I got borned too late.
Art (sorta like it).


Art.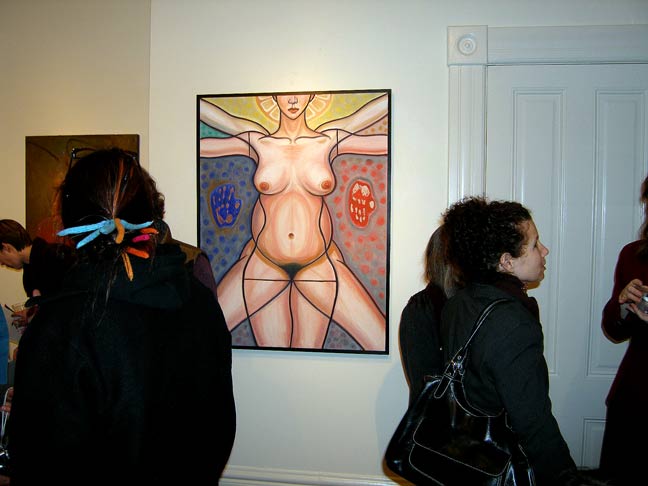 Art.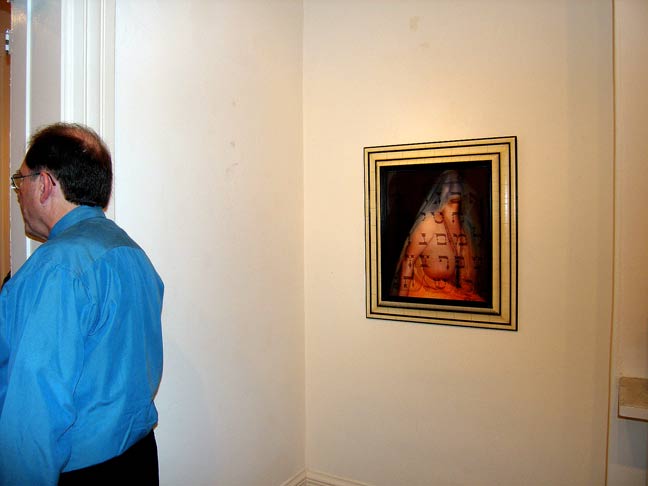 Art.


***
University of San Francisco School of Law: The 2nd Annual Creative Justice Art Show.
Comment: Kind of a loosely themed art event around issues of social justice and, with respect to the selections, a large latitude of acceptance. Pretty much anyone can submit art and if you get in, you're included in a catalogue (your name, title of art, medium of art, statement about art) that's available free at the show. Plus you get a notch on your resume. Not bad. And here's something interesting-- one artist told me the show's organizers posted a "call for artists" on Craigslist, he submitted several pieces, and got in. Attendance was healthy-- not sure how many buyers, but plenty of lookers.
Art.


Art.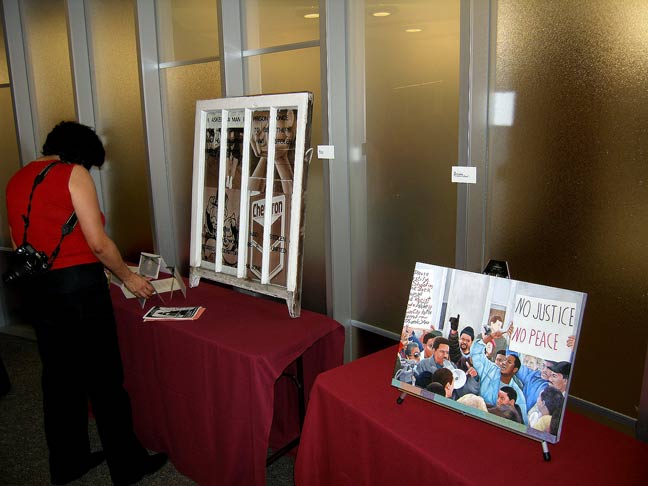 Art.


Art.


Art.


Throng.


***
San Francisco Center for the Book: PhotoBooks Now.
Artists, Photographers, Publishers: Arion Press / Michael Kenna, Wallace Berman, Jonathan Clark / Fred Sommer, Steven Cortright, Betsy Davids, Luis Delgado Qualtrough, Helen Douglas, Carolyn Fraser / Holly Morrison, Jack Fulton, Karen Hanmer, Michael Henninger, Germánn Herrera, Craig Hickman, Roni Horn, Susan King, Kumi Korf, Riya Lerner, Dennis Letbetter / Jack Stauffacher, Paula McCartney, Emily McVarish, Clifton Meador, Sara Cedar Millar, Howard Munson, Abner Nolan, Michael Pinney / John Miles, Sara Press, Jaime Robles, James Sansing, Alice Shaw, Peter Thomas, Lex Thompson, Ken Wilkes, Philip Zimmermann.
Comment: Photography's been basically reinvented over the past decade or so, as have photography books. Photo Books Now (they spell the title both ways, so I will too) explores how photography book publishers, both large and small, respond to and exploit these changes. Very nice show; plenty to see. Some "books" are actually more like art, or maybe more like sculptures, going dimensional with flourishes including fold-outs, cut-outs, boxed loose images, free-standing formats, and more. If you like art and you like books and you like when the two combine into one, visiting San Francisco Center for the Book has got to be at the top of your things-to-do list.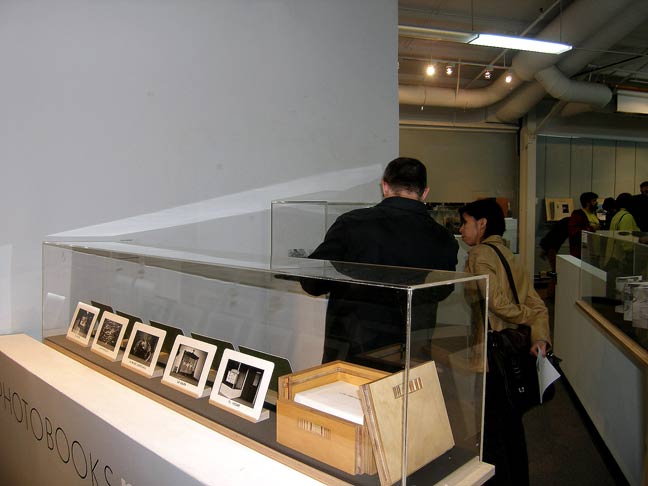 Photo book art.


Photography book art (like that accordion fold).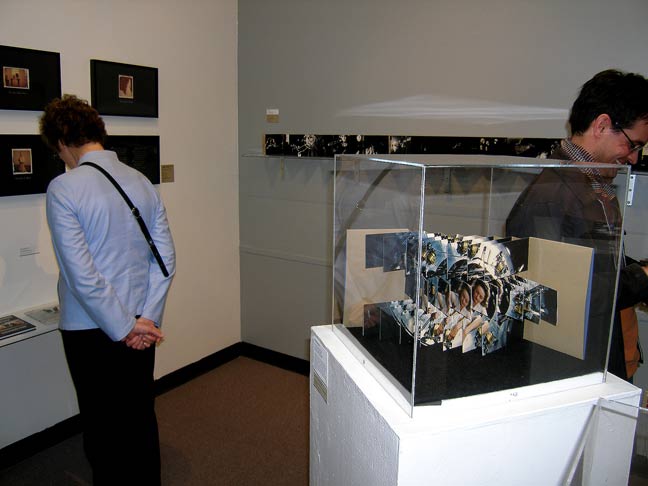 Book art.


Steve Woodall, John DeMerritt - curators.


Photo books.


Photograph book arts.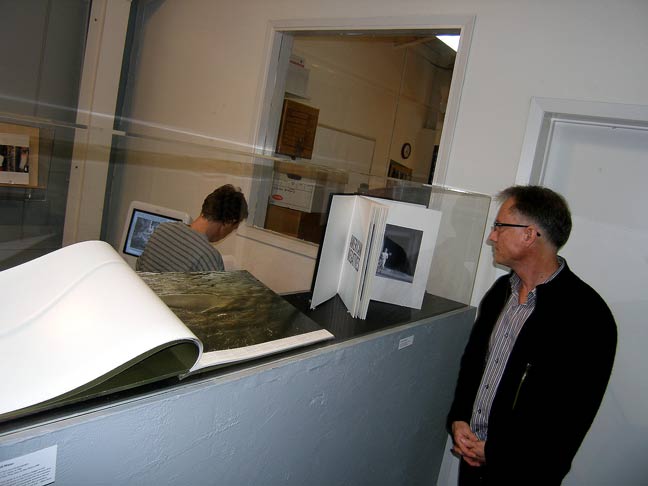 Photography books.


Photo books.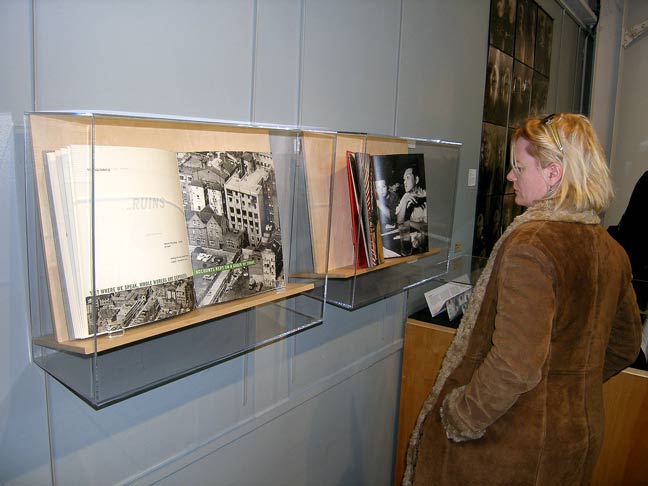 Photography book arts.


Photograph books.


***
Ruby's Clay Studio: Liz Worthy Presents Pieces of China.
Comment: I've been meaning to get to Ruby's Clay Studio for a while now. So here I am and parking sucks; I finally settle for a fire hydrant-- but it's right across the street and I responsibly monitor the situation. Anyway, Ruby's, a non-profit studo for ceramic artists that's been around in various incarnations since 1962, appears to be a complete facility including a small gallery space up front. Tonight, Liz Worthy shows ceramics created last summer at the Sanbao Ceramic Art Institute near Jingdezhen, China. She's also showing some kicky Mao decal dishware and a smattering of weird furry talking dancing dolls.
Ceramic art (Mao cups).


Liz Worthy - ceramics.


Back in the studio area.


Ceramic art.


Acreage.


***
Oxygen Bar: Furyisms - FuryOne.
Comment: First generation San Francisco graffiti artist Fury 1 shows his oeuvre. Offerings include painted up spray cans, burlap, glass, canvas, travel cases, and more. Priced super affordable; nothing over $250, most under $100, and you still got choices under $50.
Art.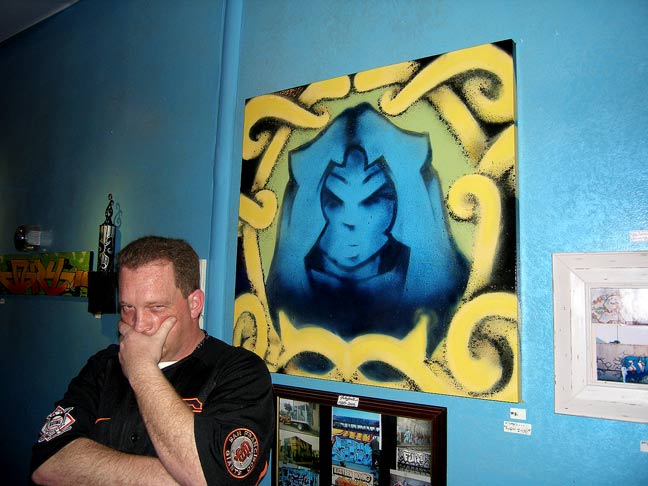 Fury One - art.


Art.


***
Femina Potens Gallery: New Work by Teri Claude & Kirstyn Russell.
Comment: Teri Claude and Kirstyn Russell take a road trip to explore remote isolated areas of the Southern California desert, and tonight present visual tales of their exploits. Claude, who grew up in the desert, creates a series of quirky sculptures reflecting aspects of the desolate disconnected desert lifestyle. Kirstyn Russell's photographs, forlorn and faraway, include several from her series Outposts-- lonely images of rural gay and lesbian bars. I liked 'em before I knew what they were; then I found out, then I liked 'em even more. Tight bleak disconsolately uplifting show.
Photography (Kirstyn Russell).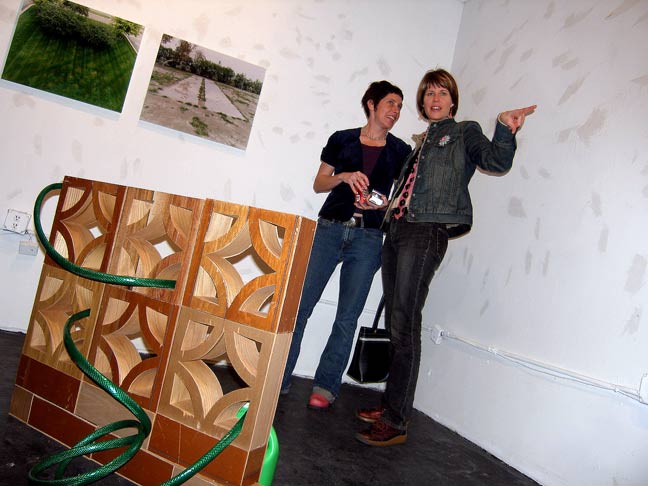 Teri Claude (left) - sculpture.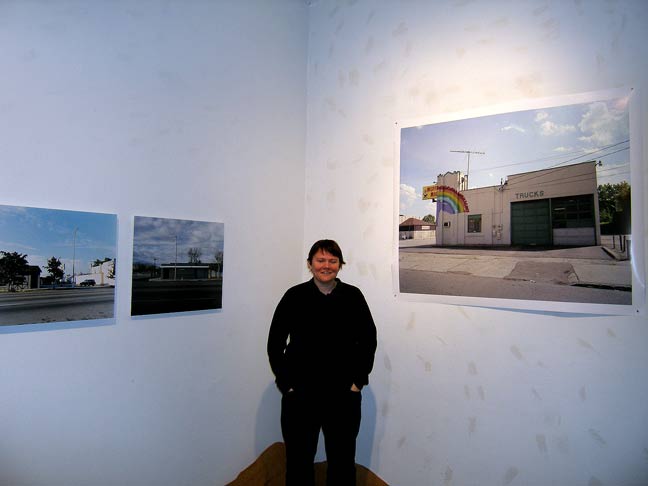 Kirstyn Russell - photographs.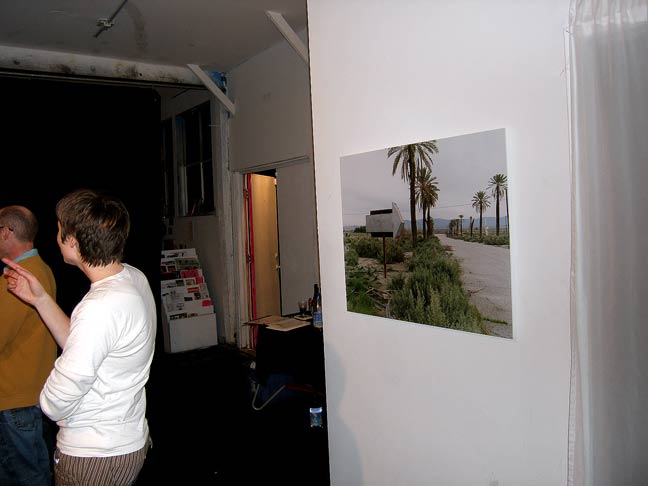 Photo (Kirstyn Russell).


***
California Institute of Integral Studies: Hilos de la Vida - The Threads of Life - An Exhibition of Fine Folk Art.
Comment: Here's the super bonus topper of the night-- a display of small folk-style quilts sewn by a group of Mexican women emigrants who now live and work in the Anderson Valley region of Mendocino County, California. In addition to the time, labor, artistry, and considerable aesthetic merits readily apparent in these quilts, the real attraction is that they tell tales and share lives. Priced mid-hundreds to about $2000. The show is organized and presented courtesy of the Anderson Valley Even Start Program-- they're interested in getting more publicity for the artists, so anyone with any ideas might contact them. Every once in a while I wonder why I continue going to show after show after show after show, and every once in a while I get reminded.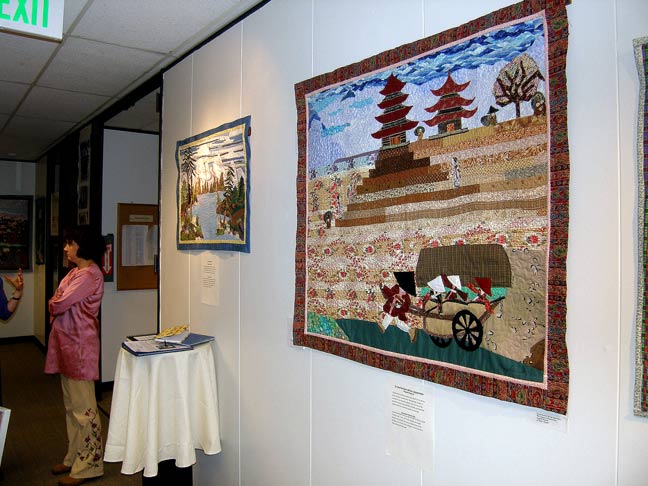 Quilt art.


Quilt art.


Quilt art.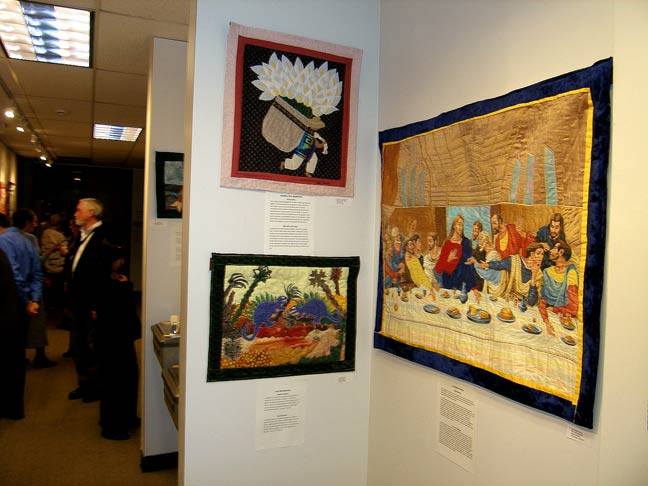 Quilt art.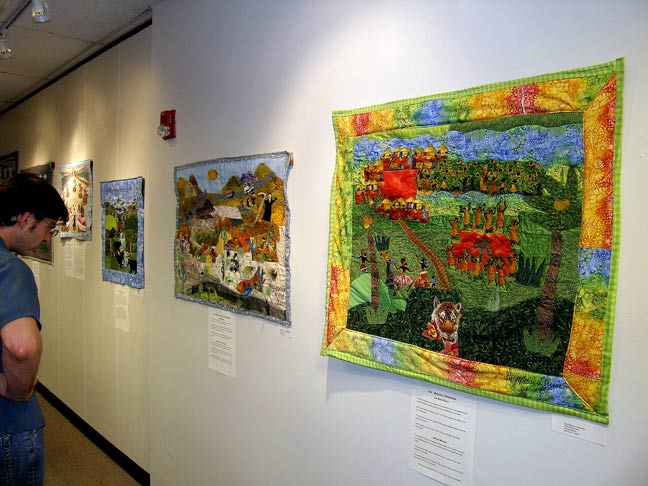 Quilt art.


Quilt art.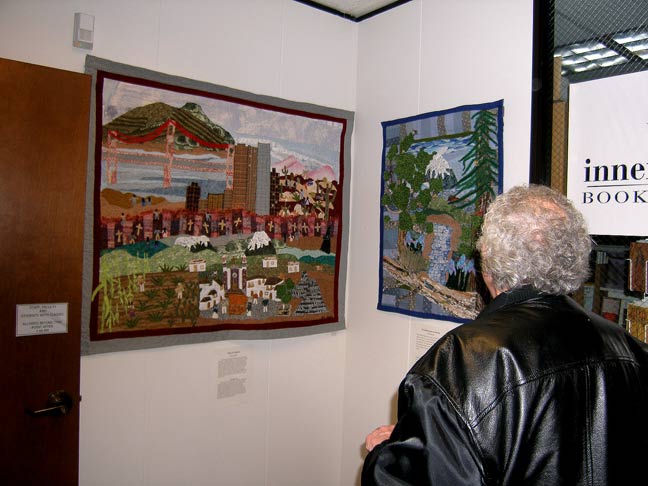 Quilt art.


Quilt art.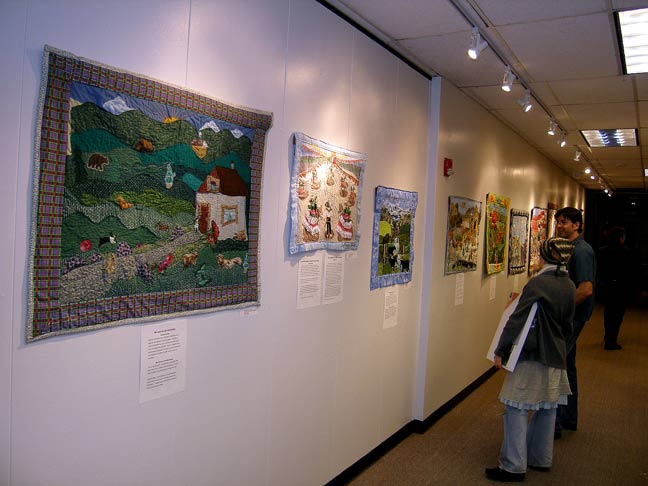 Quilt art.


Quilt art.


***
The Center for Sex & Culture: Charles Gatewood Photography Exhibition.
Comment: Forty-year erotic photographic retrospective extravaganza by legendary Bay Area kink and fetish documentarian Charles Gatewood. Gatewood selects and shows a number of his all time favorite images. In addition to the photographs, books surveying various aspects of Gatewood's career are also available for sale. If you like carnality in your art, you got it here.
Photography.


Photographs.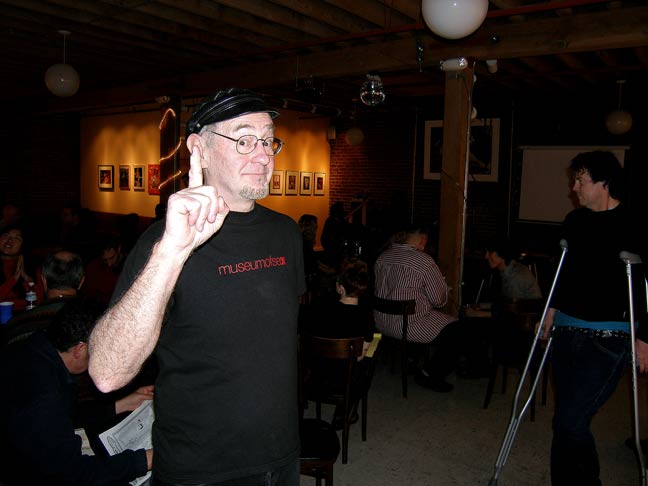 Charles Gatewood.


Charles Gatewood publications.


Photos.


Atmosphere.


***
Receiver Gallery: Under the Crooked Bough, We Stopped to Catch Our Breath - New Work by Alika Cooper and Marci Washington.
Comment: Marci Washington tells me her art is influenced by whatever she's currently reading-- Jane Eyre for this show (if I remember correctly). The straightforward flatness of Washington's compositions reminds me of early nineteenth century American folk painting. From Alika Cooper, a selection of spare thoughtful subdued introspective watercolors.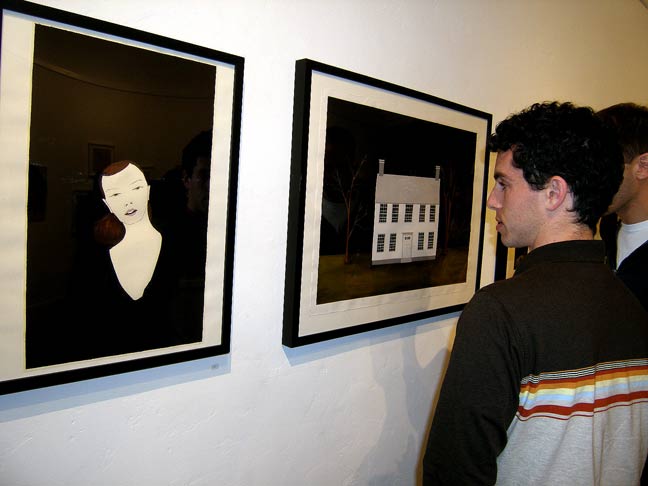 Art (Marci Washington).


Art (Alika Cooper).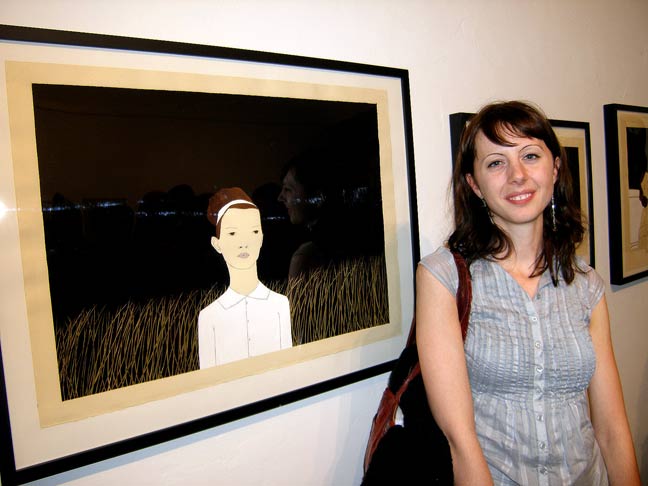 Marci Washington - art.


Alika Cooper - art.


Art (Alika Cooper).


Art (Marci Washington).