SAN FRANCISCO ART GALLERIES - OPENINGS
MUSEO ITALO AMERICANO - POLANCO GALLERY - SOMARTS
VARNISH FINE ART - GALLERY ONE - TRIBAL ARTS SHOW
02.08.07
Museo Italo Americano: Paula Metallo - Rorschach Italians; Richard L. Perri - San Francisco Bay Views.
Comment: Ink drawings on fabric by Paula Metallo explore and expound on gesticulation (talking with the hands), a "quintessential Italian trait" according to the briefing. She also shows several variations on Piero della Francesca's painting of the Duke and Duchess of Urbino. Prices are decidedly reasonable-- most under $500.
Richard Perri trots out his trademark paintings of vintage San Francisco waterfront diners and coffee shops, plus there's portraits of San Francisco notables, plus several freewayscapes, iconic SF city scenes, and more.
Art (Paula Metallo).


Art (Paula Metallo - kinda like it).


Art (Paula Metallo - kinda like it).


Art (Paula Metallo).


Art (Paula Metallo).


Art (Richard L. Perri).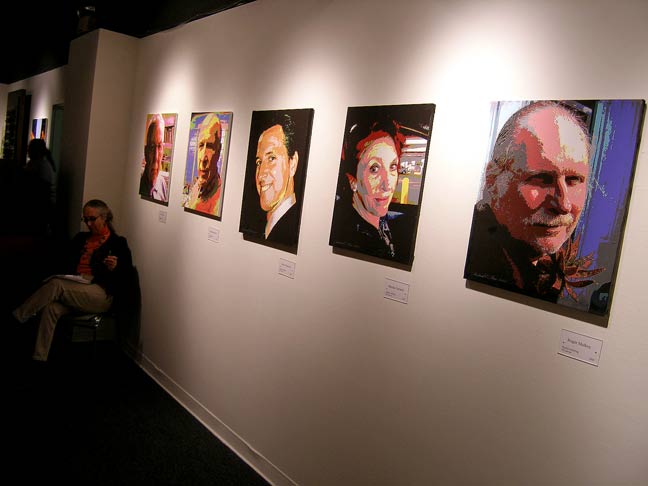 Art (Richard L. Perri).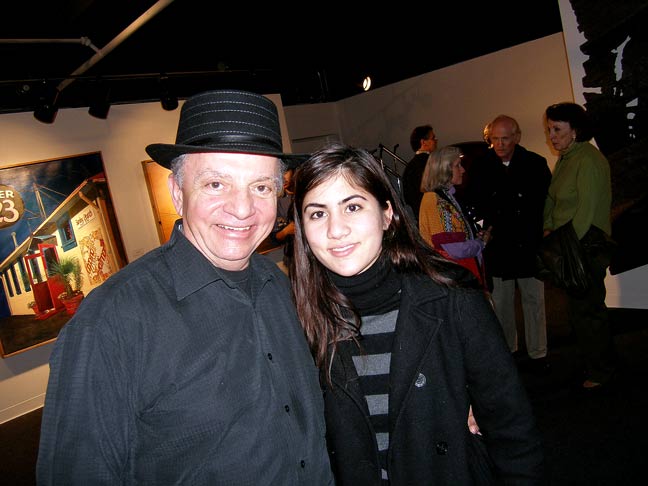 Richard L. Perri & daughter.


Art (Richard L. Perri).


Art (Richard L. Perri).


***
Polanco Gallery: Rafael Rodriguez - Modelos.
Comment: Polanco Gallery looks like an upscale traditional Mexican arts, crafts, and accessories store on a quick pass-by, but they're also a contemporary art gallery and they put on some surprisingly good shows, this time presenting a series of scrupulously astute and sensitive small portrait paintings by Mexican artist Rafael Rodriguez based on the twelve apostles. Worth a visit. Very nice.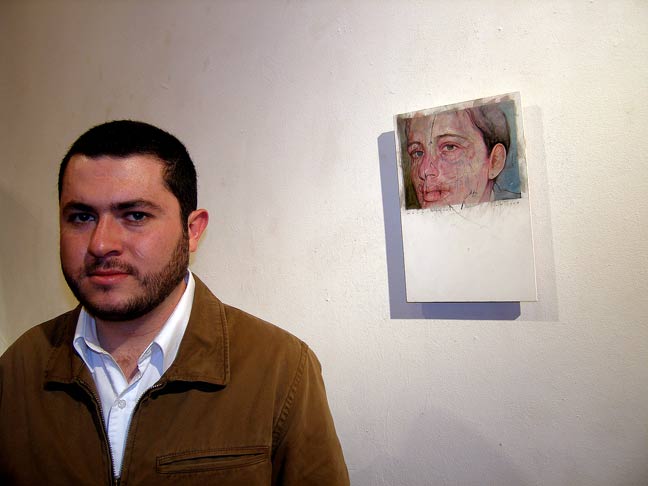 Rafael Rodriguez - art.


Art.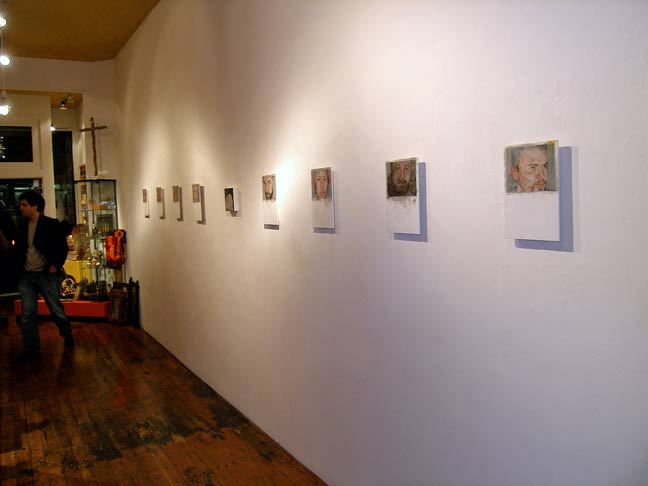 Art.


***
SomArts Main Gallery: Temenos - An Installation curated by Mark Mace.
Artists: Alice West, Eleanor Dickinson, Mike Kondylas, Marlo Sass Fyfe, Pamela Lanza, Glenn Hirsh, Peter Sorensen, Stephanie Wilger, Nancy Wenz, Nick Borges, Rusty Cantor, Daniel Nicoletta, Betsie Miller-Kusz, David Goodyear, Lori Schafer, Mike Lewis, Nena St. Louis, Travis Somerville, Thomas Sherrod, Ruth Richards, Annamaria Photinos, Rajan, Kevin Scott Hall, joesam., Pam Pitt, Adam Hirsch, Larry Hoffman, George Orbelian, Mark Nichols, Mondo Jud Hart, Jayne Shor, Ed Fieberg, David Crook, Jennifer Stalvey, Renata Beckwith, Peter Braun, Julie Adams, Thea Becker, Flicka McGurrin, Pier Wright, Vince Perez.
Comment: The opening includes "Quantum Light Breath, a guided ecstatic breathing meditation with Richard Bock, Osher and Jon" which I miss (hey... nobody's perfect), but artist blacksmith Mark Nichols blows me some bubbles. And so unfolds a most enjoyable atypical spiritually free-spirited evening courtesy, in large part, of the kind folks at Harbin Hot Springs. The most meritorious aspect of the event is that it's 100% art for art's sake-- nobody's trying to sell anything, advance agendas, or climb in the standings. It's all about coming together and communing through art. A pleasant diversion from the usual.
Art.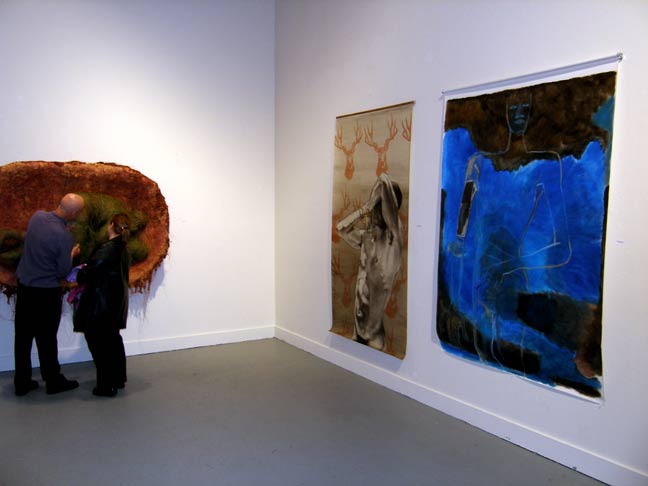 Art.


Art.


Art.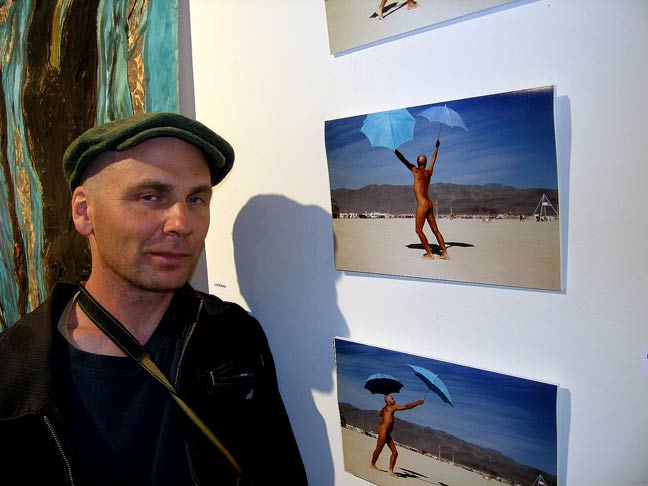 Cloaked - divested.


Mark Nichols - sculpture - bubbles.


Art.


Art.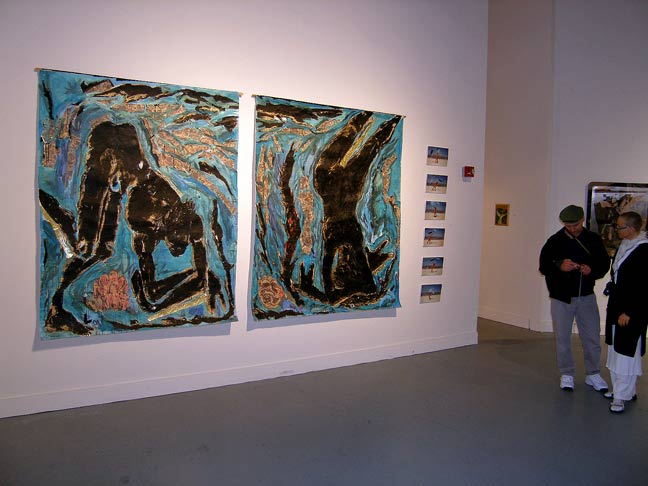 Art.


Art.


Art.


***
Varnish Fine Art: Benjamin Carpenter, Carlos Huante, Rey Hernandez.
Comment: Painter Carlos Huante and metal sculptors Rey Hernandez and Ben Carpenter explore nature, technology, and conflicts between the two with works that synthesize both organic and mechanical forms. Compositionally and technically proficient.
Art.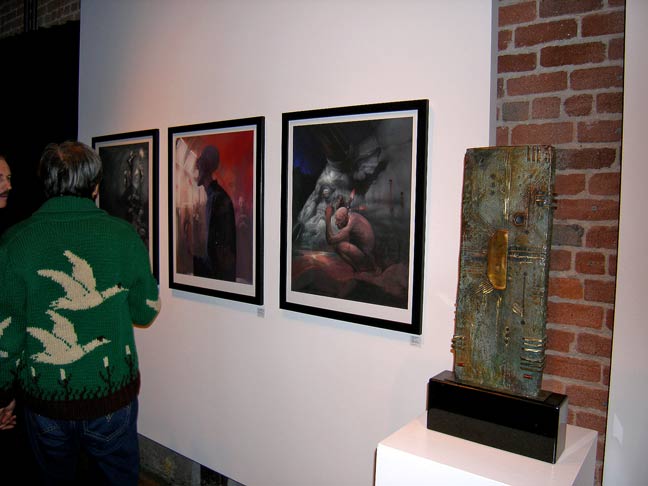 Art.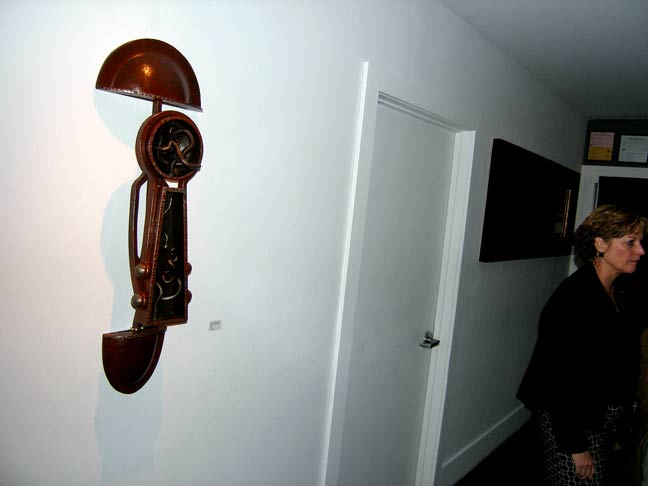 Art.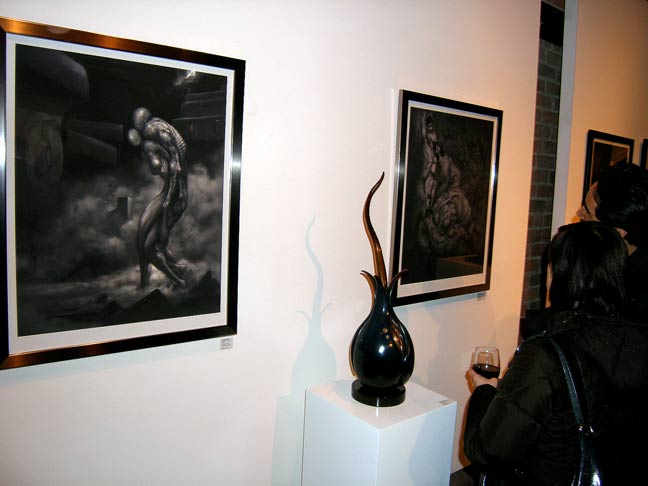 Art.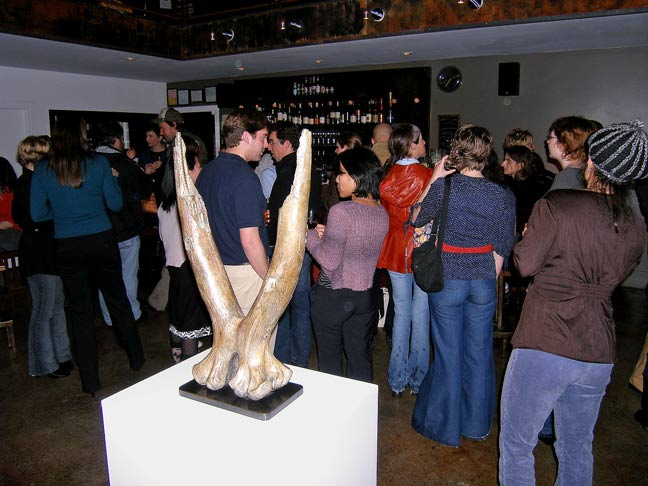 Ambience.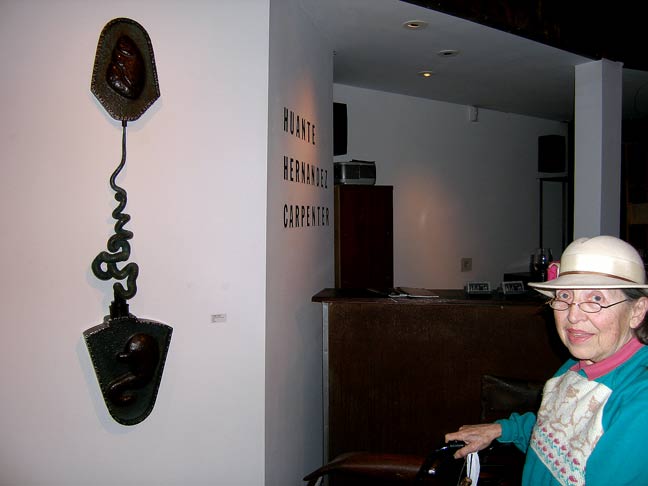 Art.


Art.


***
Gallery One: One Love.
Artists: Lisa Perrott, Metal Man Ed, Misha Ferguson, Dicky Davies, Lalo Cota, Artie Luna, Dylan Maddux, Matt Dickson, Cousin Frank (Ghost 1), Julian Davis, Bonnie Reiss, Jes 1 (Jheart), Isaac Fortoul, Aaron De La Cruz, Darren "DramaOne" Villegas, Elizabeth Corona, Trevor Swanson & The Mercury Circus Sideshow, Ector Garcia, Richard Castaneda, Jeremy Donavan Arviso, Talia Lipskind, Aoi Yamaguchi, DumperFoo, Noa-, Aaron Czerny, Cacey Keith, Kerry Thompson, Donna Wood, TenFold, Amir Balamat, Marcos LaFarga, Drew Steina, DownTimer.
Comment: Rambling uneven urban melange with occasional acmes.
Art.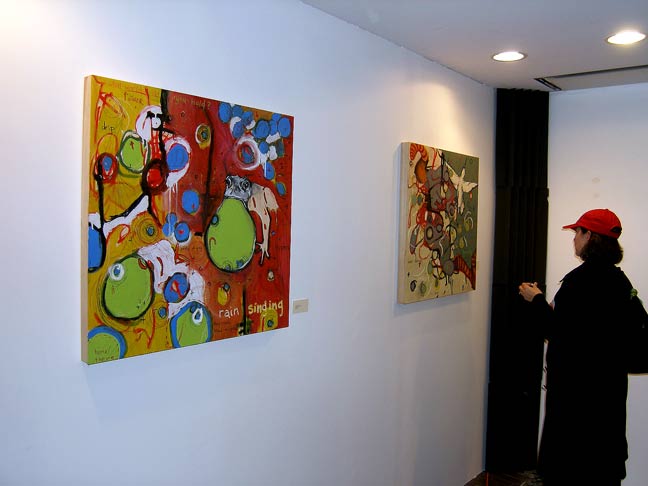 Art.


Art.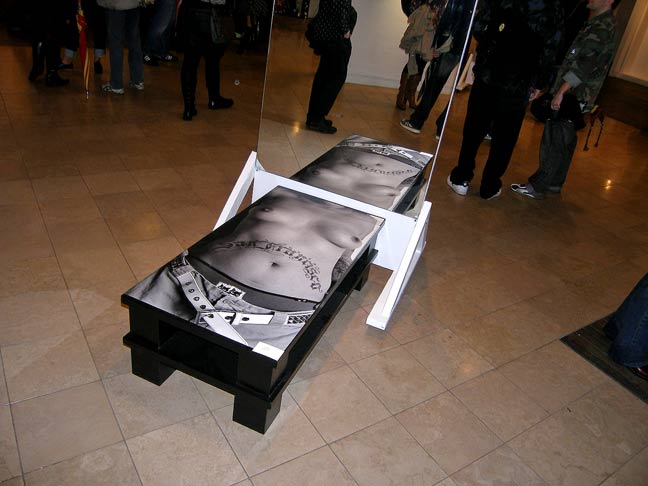 Art.


Art.


Art.


***
Caskey-Lees presents at Fort Mason: 21st Annual San Francisco Tribal & Textile Arts Show - Fine Art of Native Cultures.
Comment: Top international dealers converge on San Francisco's Fort Mason Festival Pavilion to exhibit and sell the best in American Indian, African, Indonesian, Inuit, Oceanic, Philippine, and Pre-Columbian art, craft, textiles, artifacts, antiquities, carvings, jewelry, sculpture, and more. But for me, the show is all about the special exhibition up front, "Embellished Tapestries and Inspiring Objects-- The Selected Works of Jon Eric Riis." Basically, this dude makes the most astonishingly arresting embroidered and beaded textiles works I've ever seen, the equivalent of which I will likely never see again (unless they're his).
Some pieces look like jackets (to be displayed rather than worn, Riis tells me), some are tapestries that hang on walls, and others are freestanding figures. Not only is the artisanship of Atlanta-based Riis flawless and spectacular, but he's not afraid to interject personal beliefs and convictions into his art, addressing difficult issues like war and sexuality. But then he'll change up with humor, beauty, and virtuoso originality, for example, strategically weaving thousands of snippets of gold thread onto the embroidered torso of a man, each thread representing a single strand of hair. Hopefully a San Francisco gallery or museum will give us all a more sustained opportunity to experience the products of Riis's creative genius at some future date. And my photographs don't come anywhere close to doing his art justice, by the way; the reverence is in the detail.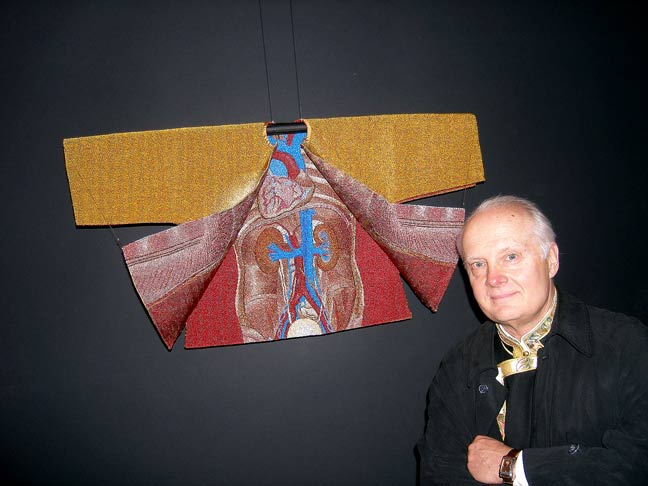 Jon Eric Riis - embroidery art (pick).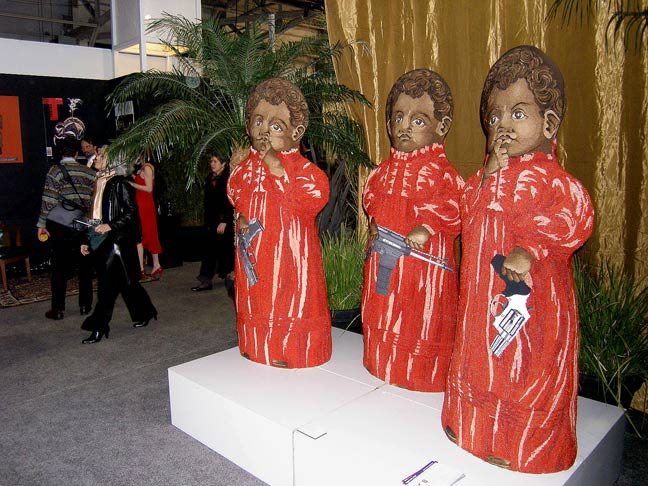 Embroidered art (Jon Eric Riis).


War and peace embroidery art (Jon Eric Riis).


War and peace embroidery art flipside (Jon Eric Riis).


Embroidery art (Jon Eric Riis).


Ethnographic arts.


Tribal art.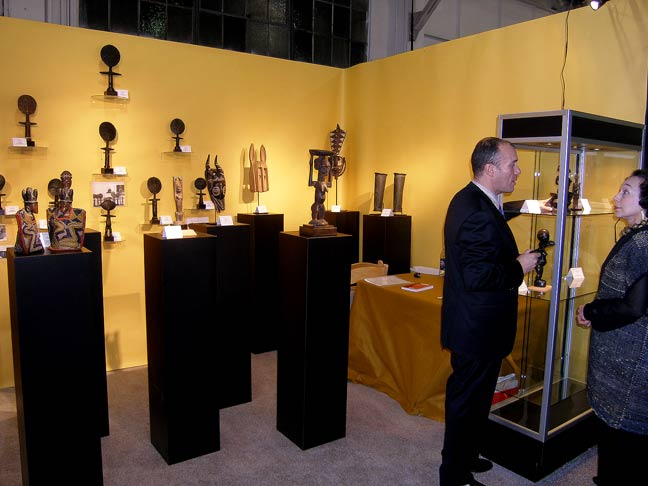 Ethnographic arts.


Tribal arts.


Ethnographic arts.


Tribal arts.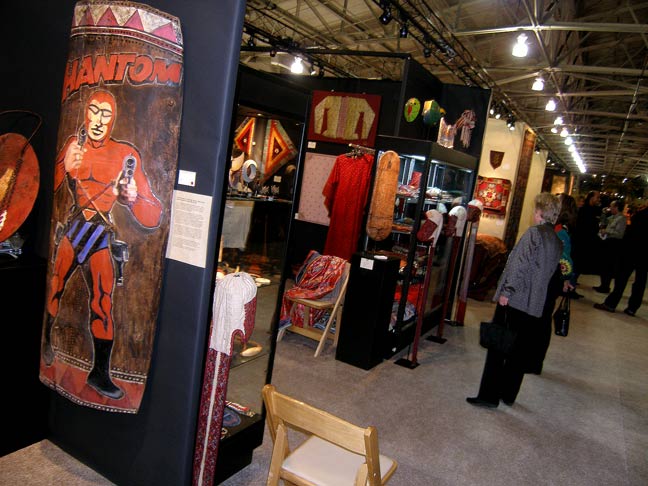 Ethnographic arts.


Tribal arts.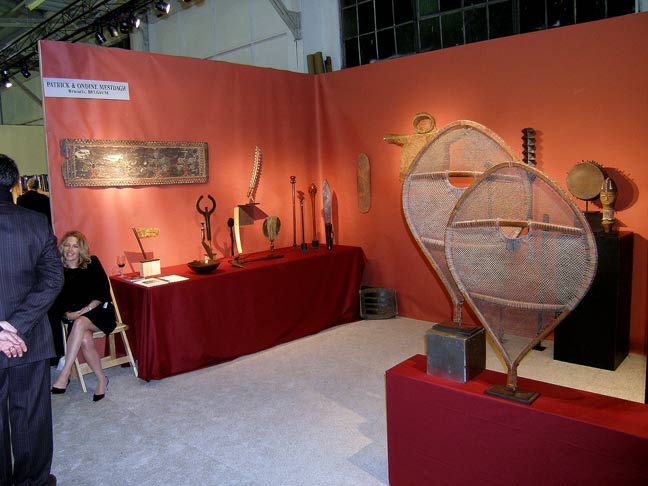 Ethnographic arts.


Later.


***