SAN FRANCISCO ART GALLERIES - OPENINGS
MUSEUM OF CRAFT AND FOLK ART - TOGONON GALLERY
GEORGE KREVSKY GALLERY - CALIFORNIA HISTORICAL SOCIETY
BROOKS CAMERAS - RX GALLERY - TRIBAL & TEXTILE ARTS SHOW
WHITE WALLS - SPACE GALLERY - ARSPACE
02.09.06
Museum of Craft and Folk Art: The Sensuous Curve - Scandinavian Modernists and their Influence on Contemporary California Design.
Comment: One of a series of citywide exhibitions celebrating Scandanavian modern design (1935-65) and its influences. Scandanavian modernists are famous for introducing simple curved comfortable lightweight organic forms which evolved us nicely out of the weighty rigid straight-lined overstuffed furniture and decoration that immediately preceeded it. Incidentally, I'm always interested in buying better vintage books, catalogs, brochures, and paper items having to do with modern design and decoration-- especially materials published directly by the manufacturers, designers, artists.
Decorative arts.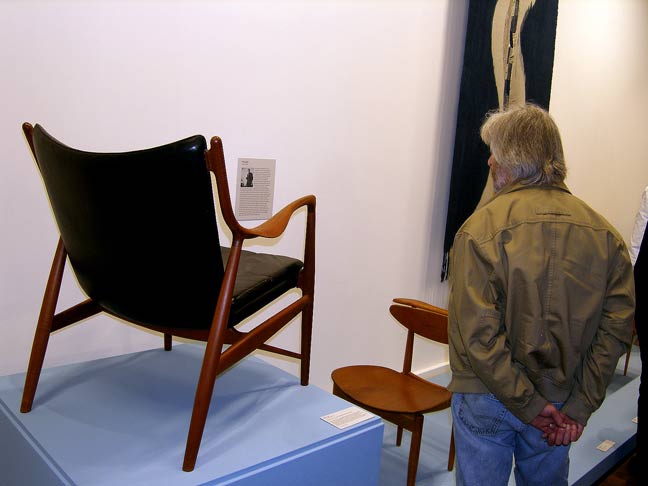 Decorative arts.


Decorative arts.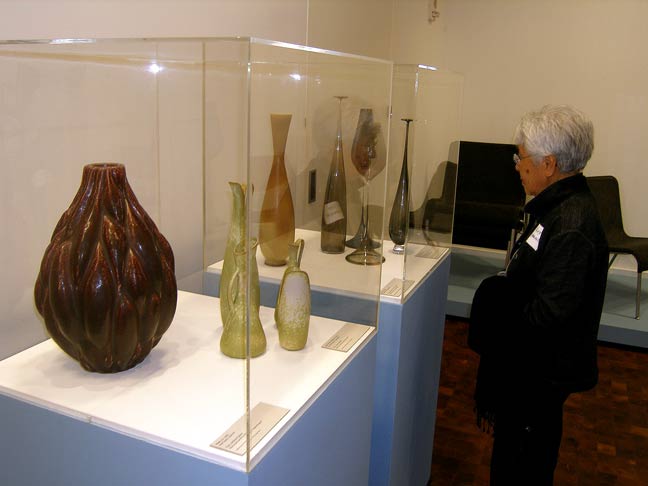 Decorative arts.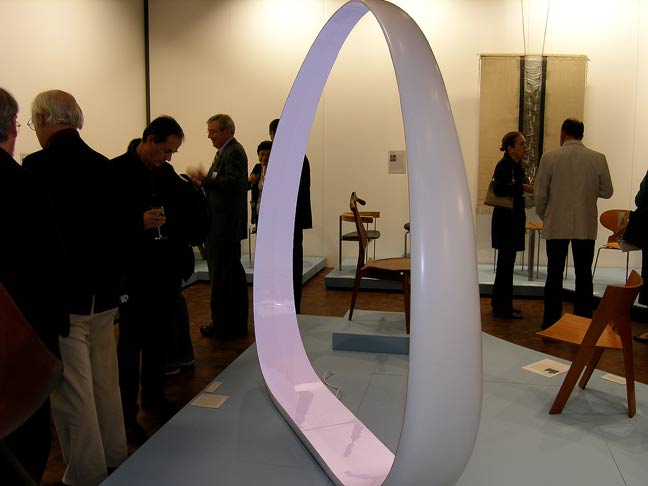 Decorative arts.


Decorative arts.


External.


***
California Historical Society: Jack London and the Great Earthquake and Firestorms of 1906.
Comment: We had a big-ass earthquake here 100 years ago which then started fires which then burned up much of San Francisco including the entire downtown, so get ready for some serious centennial "celebrations." Within the next several months, everybody's gonna be trottin' out the memorabilia, especially the California Historical Society, and tonight they kick the whole deal off with an alarmingly disconcerting first-time-ever showing of author adventurer Jack London's photographs of the overwhelming devastation. Plus there's paintings, newspaper headlines, broadsides, magazines, handouts, ephemera (paper items), and more. The place is packed; you can hardly move; the show is ominously gratifyingly frightening.
Jack London photographs.


Paintings - memorabilia.


Jack London photographs.


Broadside.


Ephemera.


Headlines.


What it is.


***
George Krevsky Gallery: Maury Lapp - Evolution of a Painter.
Comment: Borderline octogenarian Maury Lapp, active as ever, continues to paint, mainly on-site, here showing a series of compentent urbanscapes of San Francisco, Philadelphia, and elsewhere, the best of which verge on inspiring. I wonder whether I'll still be doing "San Francisco Art Openings" when I'm 80? Erk.
Art.


Art.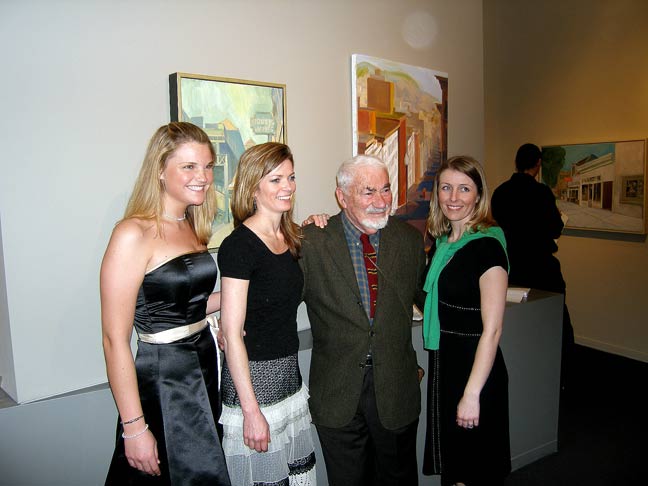 Maury Lapp and partial fan base.


Art.


***
Togonon Gallery: Subject to Revision.
Artists: Johanna Poethig, Ben Needham, Melba Abela, Kelvin Ming Young.
Comment: Grand re-opening of Togonon Gallery, formerly of North Beach, now of 77 Geary, 2nd floor. Notable here is a selection of wiggy "book sculptures," monographs on artists opened to the title pages with found-object "likenesses" of the artists attached opposite the artists' frontspiece portraits. The show also includes paintings, ceramic surface works, installations, and video art, all in an expansive cherry exhibition space. I would never have known about the opening, by the way, if Krevsky's opening didn't happen to be right down the hall. Maybe better PR next time, Togonon.
Art.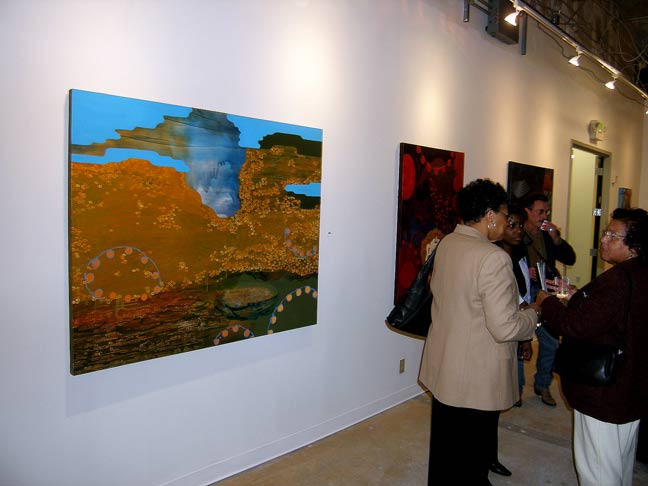 Art.


Odd famous artist monograph portrait likeness art.


Tile art.


Art.


Art.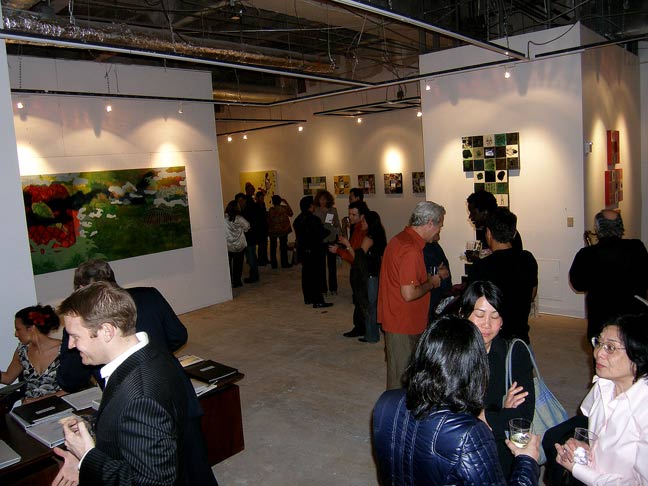 Cross court.


***
Rx Gallery: Andrew Kleindolph - Recent Work.
Comment: Pure precise savvy artful electro-kinetic sculptures by Andrew Kleindolph where you push buttons or flip switches and shit happens in sound and light. The assemblies are totally professional, so I ask Kleindolph whether he's an electrician and tells me he teaches electronics in high school. But his art goes well beyond electronics. Most electronic or mechanical artists leave entrails showing, meaning all or part of the innards (working mechanisms) are visible, thereby blunting the impact of the art. Nothing like that here-- the innards seamlessly incorporate into the art, even enhance its appeal, and that makes Kleindolph's work noteworthy. My favorites are a functioning circuit of conjoined toggled-up flashing blinking rheostatic miscellaneous mannequin parts, and a couple of push-button panels with remote transmission capabilities. This dude's good. Go see.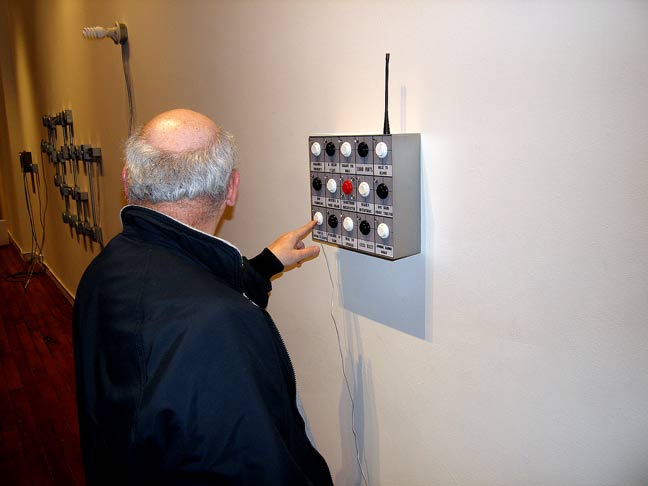 Electronic art.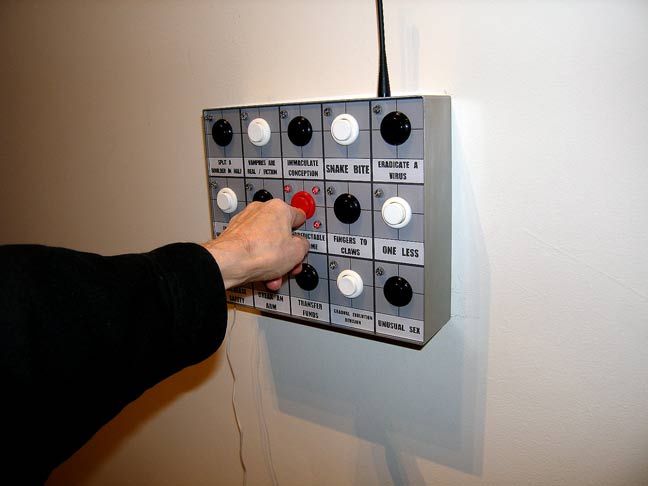 Lemme try that electronic art (like it).


Andrew Kleindolph - art (like it).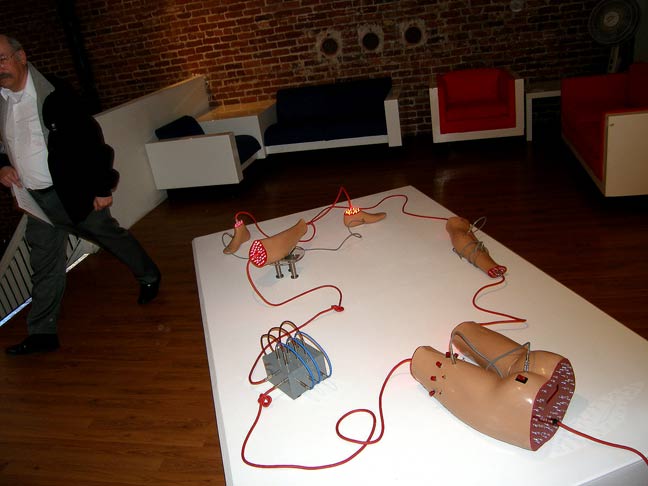 Electronic art (really like it).


Electronic art.


***
Fort Mason Center, Festival Pavilion: San Francisco Tribal & Textile Arts Show Gala Preview Opening.
Comment: The best in fine art, artifacts, and antiquities from a variety of native cultures on display this weekend in San Francisco, courtesy of nearly a hundred top shelf international dealers, the show now in its 20th year and produced by Bill Caskey and Elizabeth Lees. I particularly liked an excessively rare pair of large 19th century Native American paintings on cloth, but they're $210,000. Oh well; maybe next time. Items on display include wood carvings, tapestries, fabric, rugs, jewelry, effigies, baskets, rock carvings, containers, clothing, ritual vessels, and much much more. Couldn't find any shrunken heads this year, but I didn't look all that hard either. This show is an ethnographic anthropologic educational treasure trove not to be missed.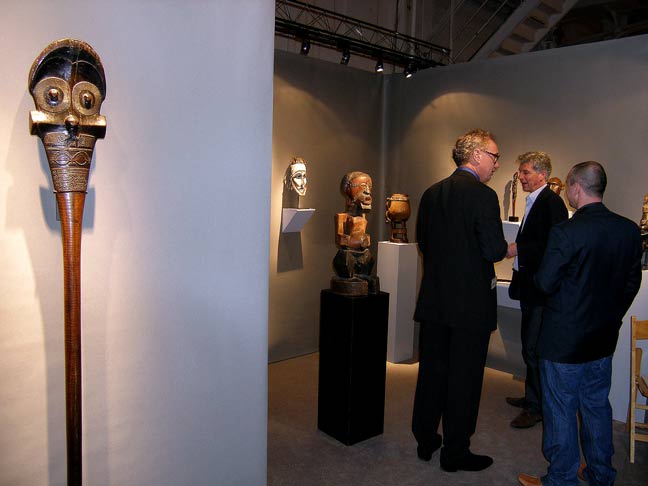 Tribal & textile arts.


Tribal & textile arts.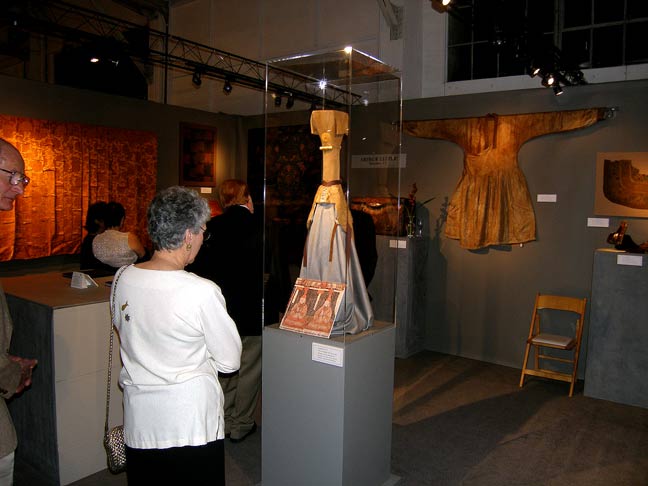 Tribal & textile arts.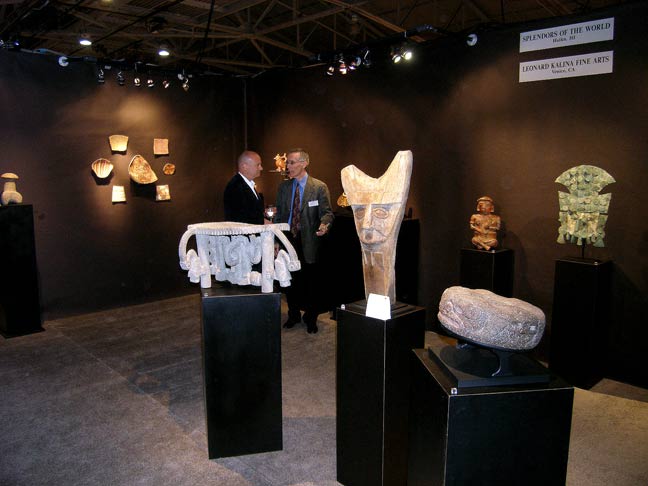 Tribal & textile arts.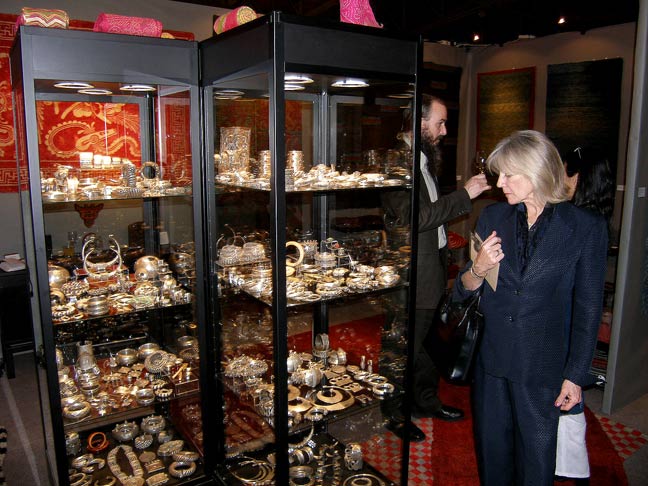 Tribal & textile arts.


Tribal & textile arts.


Tribal & textile arts.


Tribal & textile arts.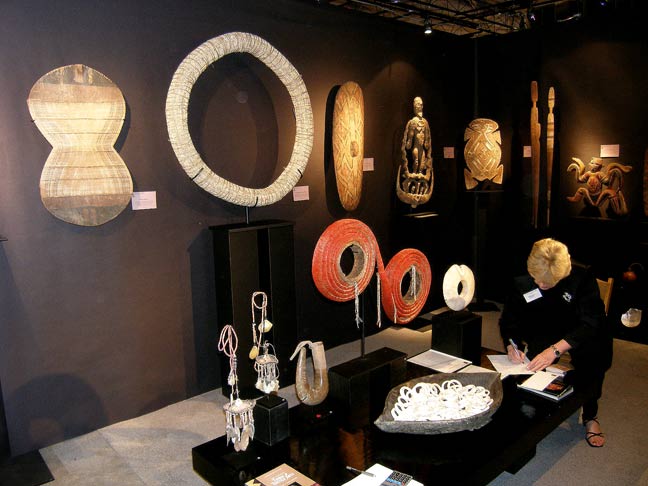 Tribal & textile arts.


Tribal & textile arts.


Tribal & textile arts.


Tribal & textile arts.


Tribal & textile arts.


***
White Walls Gallery: Sold Out.
Artists: Tim McCormick, Buffmonster, Metal Man Ed, Persue, Ben Frost, Siloette, Axis, David Choong Lee, Damon Soule, Big Foot, Freddi C, Justin Fry, Monica Canilao, Chris Gonzales, Alex Pardee, Huck Gee, Crash, more.
Comment: Pretty tasty array of urban talent at White Walls. My pick, and I don't regard her art as technically urban, is Monica Canilao as she continues to impress with her unrestrained mixed media collage investigations. It's only a matter of time, Monica-- my precognitive art bunion's in a tizzy over you. Also like the David Choong Lee deep downtown dude art, Damon Soule's tight outer limit creature conglomerations, and a big bad bone-framed ogre painting courtesy of Axis.
Art (David Choong Lee).


Art (Bigfoot).


Monica Canilao - pick (sold, $850, sweet).


Art (Damon Soule, nice).


Metal Man Ed - art.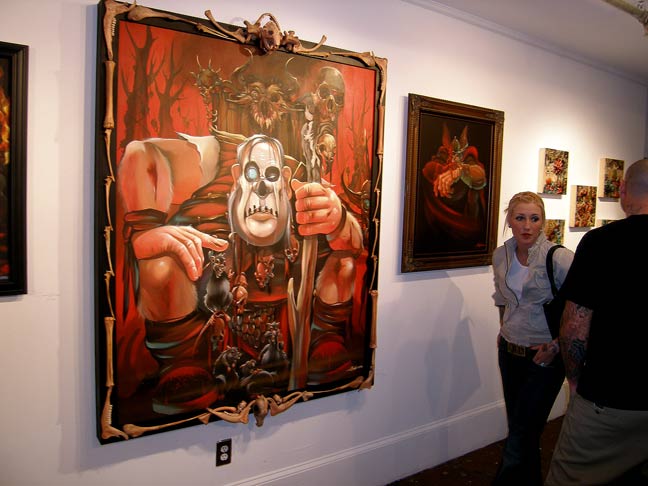 Art (Axis).


Art.


Art.


Art.


***
Space Gallery: Come on Vacation, Leave on Probation - Patrick Griffin & Sean Griffin.
Comment: Gritty grizzly toughside lessons courtesy of Houston Texan brothers Patrick and Sean Griffin. Patrick shows photography and prints; Sean shows a series of pencil portraits made during and just after a 6-month graffiti stint in a Dallas prison. The prison inmate portraits unsettlingly convey the grim institutional mettle. These graffiti laws have got to change, by the way. I mean one day you're in prison, the next you're on Scion's or Pepsi's or Nike's payroll. What the fuck's up with that?
Art (Patirck Griffin).


Prison portrait art (Sean Griffin).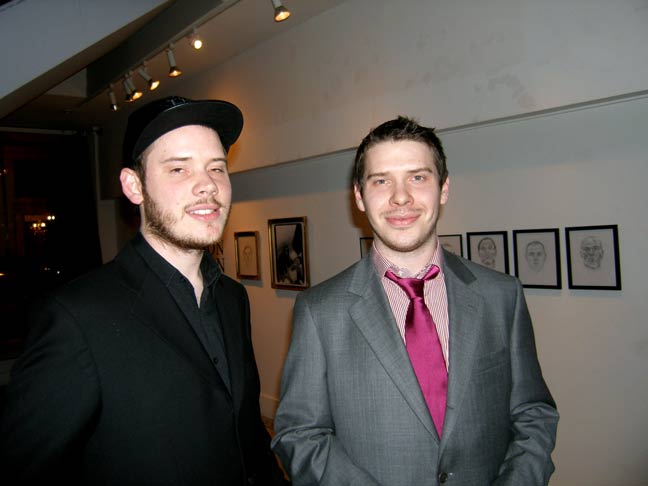 Patrick Griffin - Sean Griffin.


Art (Patirck Griffin).


Art (Sean Griffin, left - Patirck Griffin, right).


Art.


Art (Patirck Griffin).


***
Arspace Gallery: Actual Culture Presents - Photography at Arspace.
Artists: Chris Spurrel, Lacey Ward, John Snyder, Shane Powers.
Comment: Adequate photographic display anchored by a series of smallish indefinite atmospheric transparencies on plexi by Shane Powers, looking a bit backlit and dimensional in how they play the light.
Photos.


Photographs.


Chris Spurrell, curator/photographer (photos, Shane Powers).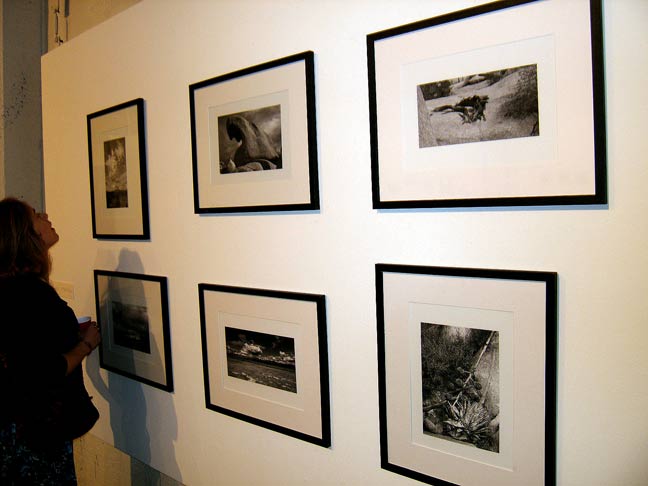 Photography.


***
Addendum:


Randy Clark photography at Brooks Cameras.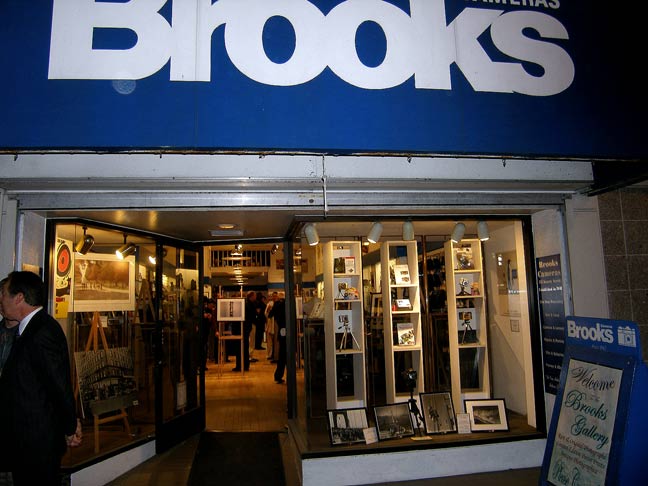 Brooks Cameras frontal.