SAN FRANCISCO ART GALLERIES - OPENINGS
LUGGAGE STORE - THE LAB - TINHORN GALLERY
ADOBE BOOKS - MINA DRESDEN GALLERY
02.09.07
The Luggage Store Gallery: My Love is a 187.
Artists: Mark Bradford, Titus Kaphar, Mickalene Thomas, Shinique Smith.
Comment: Four artists essay on the Black experience with a compelling cathected collection of visuals. Everything's good, especially Mickalene Thomas's rendition of a seventies livingroom complete with live models. I totally partied in digs like that way back when I lived in Cleveland. Woah! Meanwhile back at the opening, Titus Kaphar's provocative portrait paintings impact nicely too-- three small ones painted over vintage 19th century portrait photographs, and two large oils on canvas with circular sections removed, painted, and repositioned near their paintings. Good show; go see.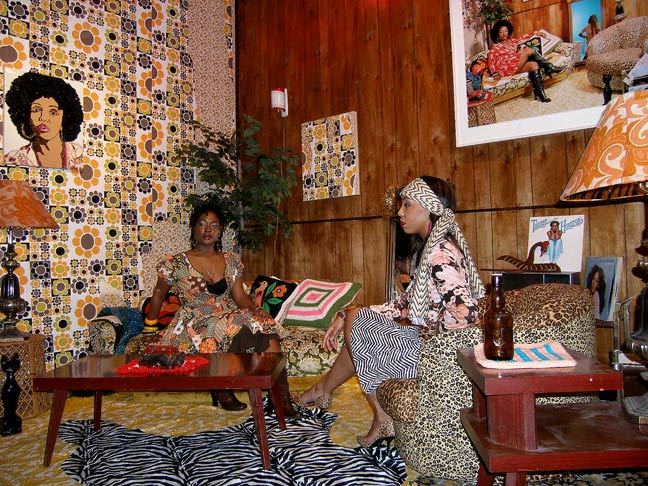 Flashback art (Mickalene Thomas - like it).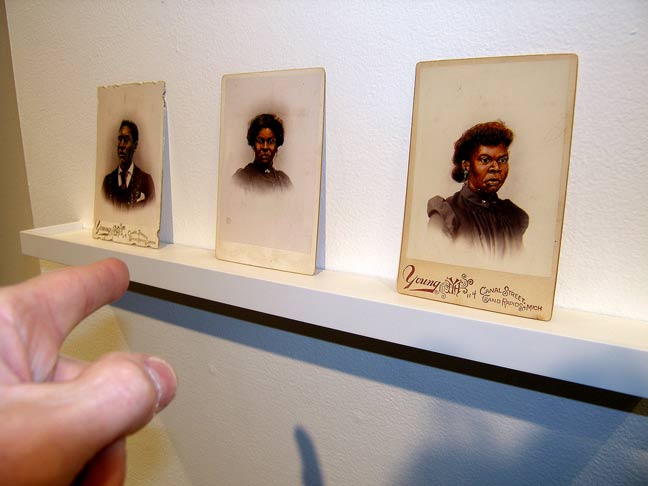 Reconstituted instant ancestor art (Titus Kaphar - like it).


Art (Shinique Smith).


Rehabbed billboard art (Mark Bradford).


Art (Titus Kaphar).


Art (Mickalene Thomas).


Art (Titus Kaphar).


***
Tinhorn Public Works: Unexpected Landscapes.
Artists: Matthew Lennert, Terry Chastain, Paula McCartney.
Comment: Compact appealing show of black & white landscape photographs, some looking anomolously uncommon enough to make me wonder whether the locations are real, staged, or digitally manipulated. Hey Tinhorn-- update your website.
Photography.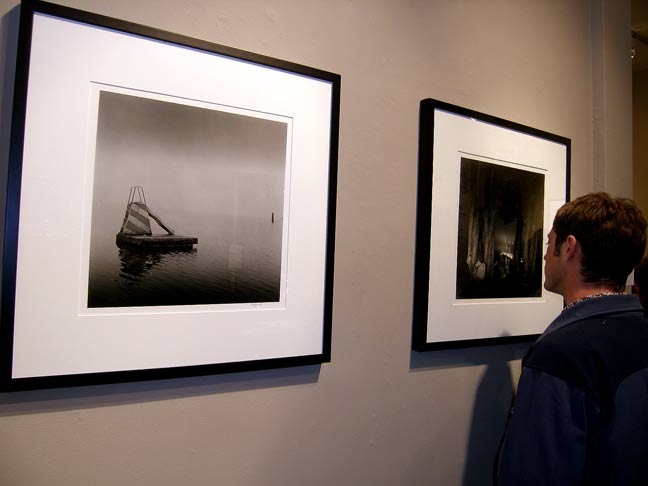 Photographs.


Images.


***
The LAB: 6 Pack.
Artists: Sarah Applebaum, Sarah Berenza, Matthew Cox, David King, Meredith Miller, Joseph Rizzo.
Comment: The gallery is partitioned into six distinct subgalleries, one for each participating artist, all of whom The LAB pegs as emerging talents, and all of whom I concur with the LAB on. Sarah Applebaum percolates up a series of painstakingly detailed and exceptionally steady ink drawings, Sarah Berenza paints portraits and figures of carnally charged women into circumstances where you don't ordinarily expect to find them like faux big game taxidermy trophy frames or class graduation pictures, Matthew Cox presents oversized mechanized and/or atypically lit ink drawings (or maybe pencil), David King upgrades ordinary magazine illustrations by collaging them over with sumptuous strands and orbs of itsy bitsy pics of diamonds and pearls that he meticulously cuts out of Sotheby's auction catalogues (he tells me), Meredith Miller lobbies for big women through a series of thoughtful photographs, and Joseph Rizzo paints up a peck of divergently distinct commentaries on this, that, and the other thing. Good show; go see. Solo show fodder here-- all 6 of 'em.
Sultry frisky girly art (Sarah Bereza - like it).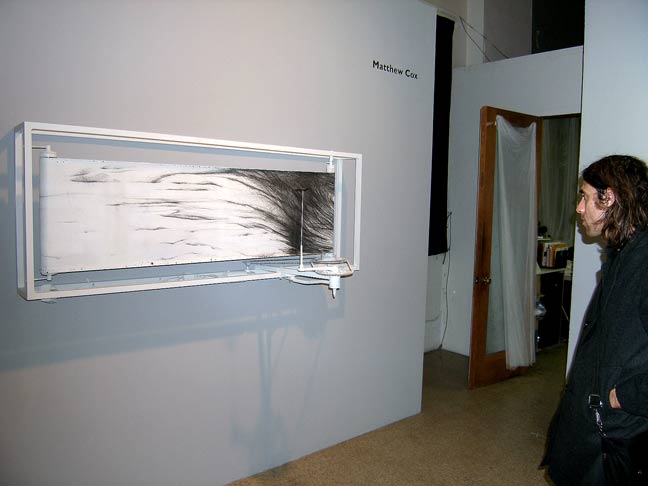 Rotating scroll art (Matthew Cox).


Art (Sarah Applebaum).


Art (Joseph Rizzo).


Sarah Bereza - sobbing self-portrait art.


David King - jeweled mountainscape art.


Art (Meredith Miller).


Joseph Rizzo - art.


Look! It's Jack Fischer! Hi Jack. (art - Sarah Bereza).


Art (David King).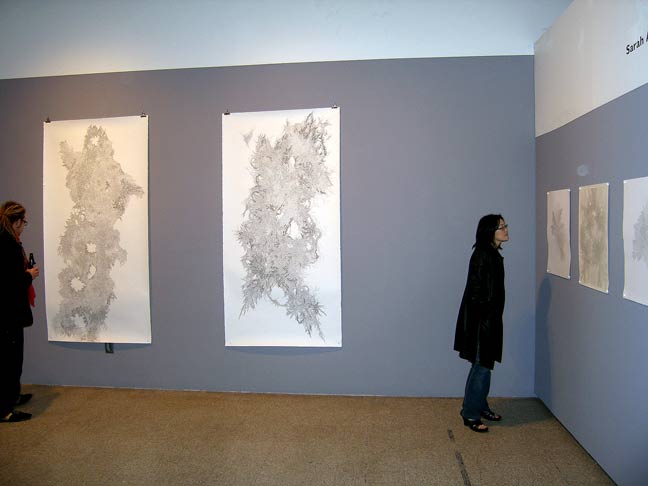 Art (Sarah Applebaum).


Art (Matthew Cox).


Art (Joseph Rizzo).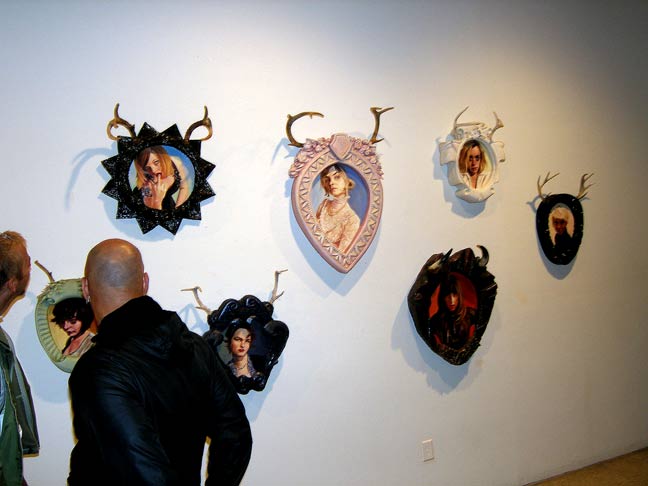 Art (Sarah Bereza).


***
Adobe Books and the Backroom Gallery: Kira Inglis - Precarious.
Comment: Kira Inglis tells me her propitiously peculiar paintings and assemblages present and consider the possibilities of alternate realities. The R&D phase of her work involves, among other things, observing the ceilings of various Walgreens drugstores, particularly the ways in which the strategically placed convex anti-theft mirrors reflect the merchandise. I gotta agree with Kira on this because if I were researching alternate realities, Walgreens would be one of the first places I'd go. Plus it's cheaper than wintering on Pluto.
Art (kinda like it).


Art.


Art.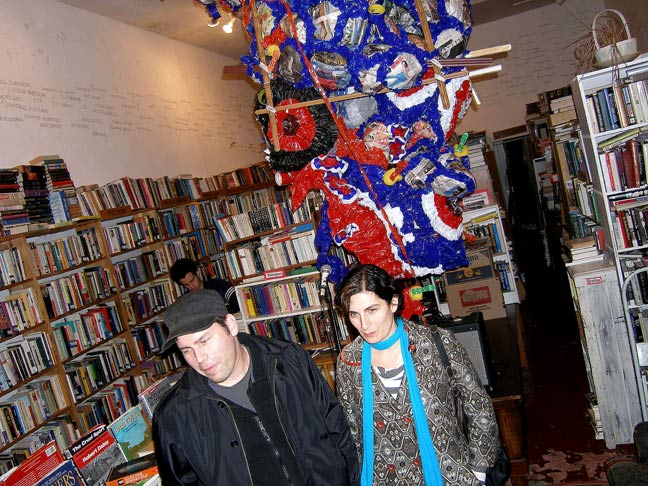 Art.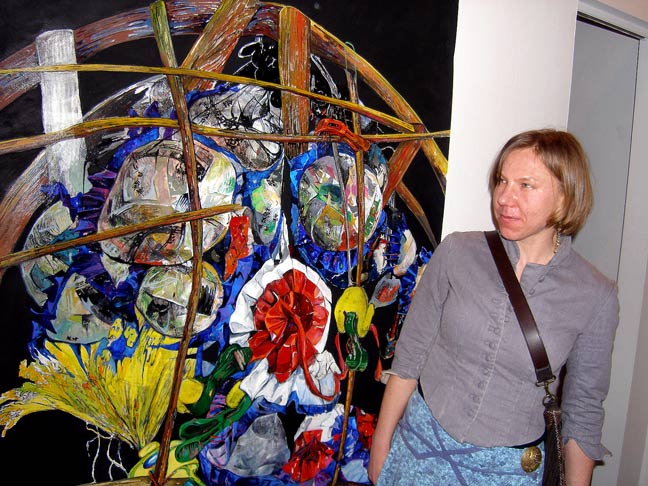 Kira Inglis - art.


***
Mina Dresden Gallery: Time Lines.
Artists: Tony Benna, Val Britton, John Dwyer, Miriam Dym, Chris Fitzpatrick, Leslie Kulesh, Katie Lewis, Sham Saenz, Derek Snodgrass, Eric Taggart, Kathy Zaugg.
Comment: Generally commendable group show curatorially assisted by Chris Fitzpatrick, formerly of OnSix Gallery.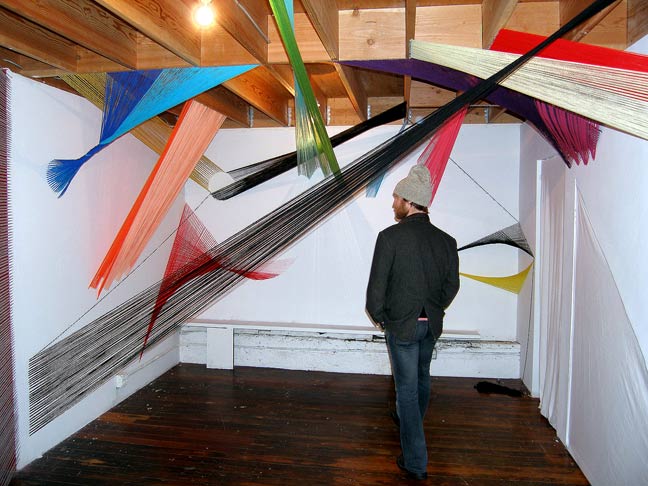 Yarn art (Leslie Kulesh).


Art.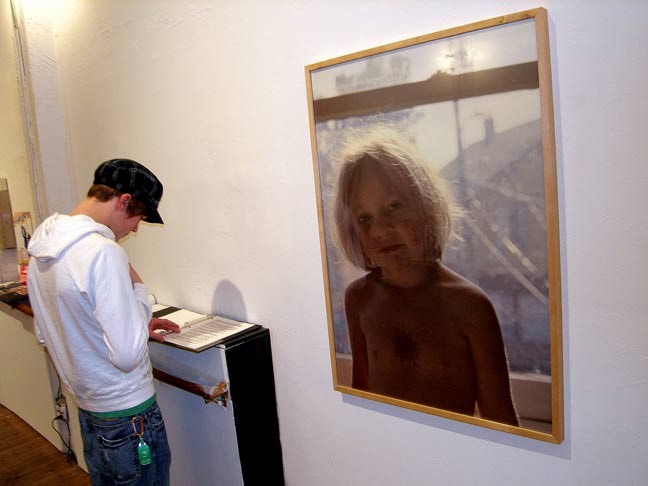 Art.


Derek Snodgrass - art (kinda like it).


Shitload of pins art.


Shitload of pins art closer.


Art.


Art.


Art.


Art (Derek Snodgrass).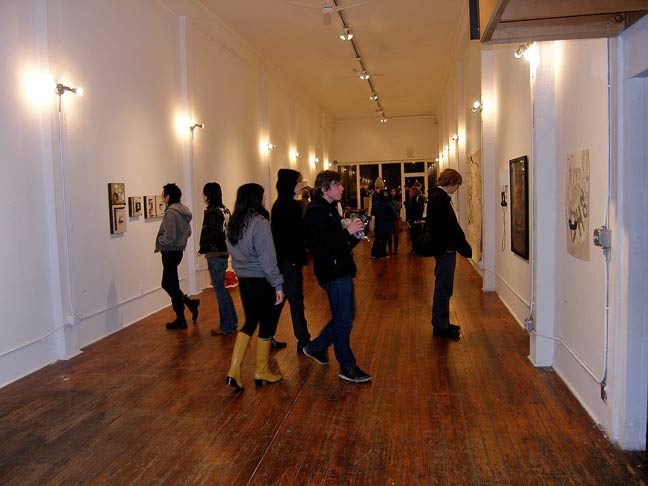 Layout.


***