SAN FRANCISCO GALLERY OPENINGS
SHOE BIZ ADIDAS STORE - THE SHOOTING GALLERY
02.10.05
The Curators and Shoe Biz: The 20 Yard Dash.
Artists: Slick, David Petralli, Ian Johnson, Ferris Plock, Greg "Pnut" Galinsky, Manuel "Gonz One" Gonzalez, Danny Boy, Romanowski, Shizuka Yamada, Bing Ji Ling, Miss Leema, Pila Sanchez, Kana Sugamori, David Lee, Honey, Markley, Ehyren Reed, Kelly Tunstall, Felicia Gonzalez, Dez Einswell, Brian Barneclo.
Comment: Artists customize, artify, gussy up, primp, pimp, and otherwise modify Adidas track suits in what, I suppose, is a marketing effort designed to increase foot traffic or brand loyalty or something like that. If you say to a group of artists, "Each of you take a track suit, and do something with it," offering little else in the way of guidance, you risk a nebulous outcome, which this outcome is, and although several of the suits are nicely reworked, the sushi downstairs was better.
Artwear.


Artwear.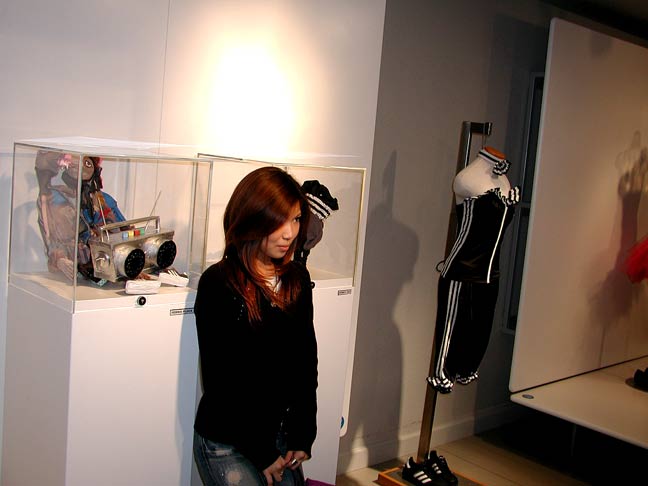 Artwear.


Artwear.


Artwear.


Art.


Panorama.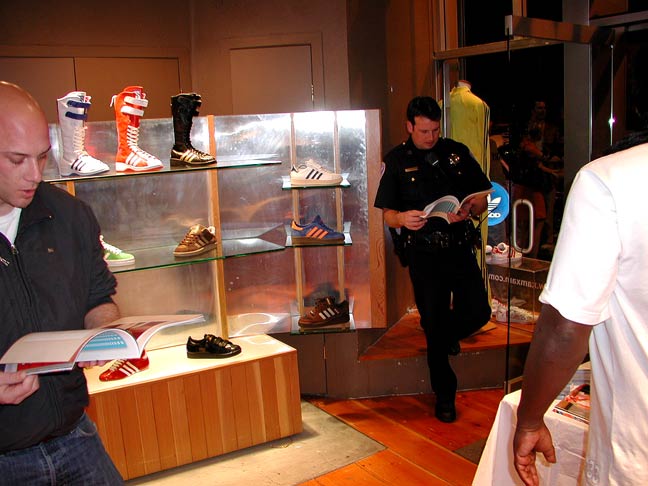 Entrance.


Man on the street, artist David Choong Lee.


***
The Shooting Gallery: Cine Delirio.
Artists: Shawn Barber, Eric Joyner, Lee Harvey Roswell, Nathan Spoor.
Comment: I had a double biatch of a time trying to hack through the show statement, and it's not my machete 'cause I just had it sharpened last week. But from what I pieced together, the gist is something to do with surrealism updated. So there. The artists are good, name-brands even; the art is up to snuff, typical fare for the venue, and you don't need much more than that to end up with a show worth seeing. Price range is $750-$7000.
Art (Eric Joyner).


"Divine Intervention" (Shawn Barber).


Art (Shawn Barber).


Art (Nathan Spoor).


Art - artist (Shawn Barber, right).


Lee Harvey Roswell and associate getting their picture tooked.


Nathan Spoor - art.


Art - Eric Joyner.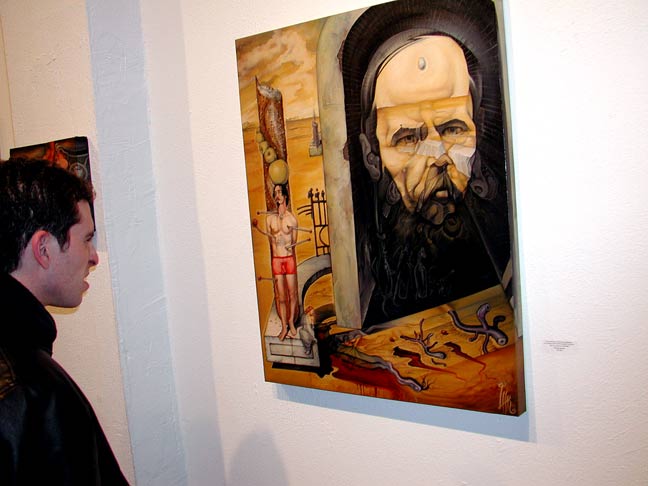 Art (Lee Harvey Roswell).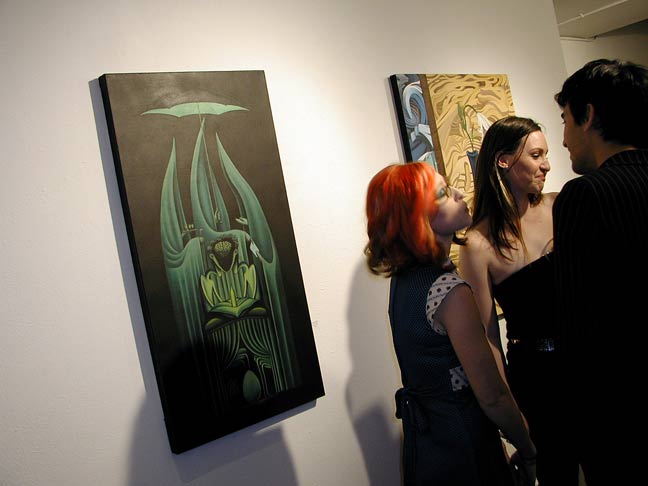 Art (Nathan Spoor).