SAN FRANCISCO GALLERY OPENINGS
CROWN POINT PRESS - AUTO 3321 GALLERY
02.11.05
Crown Point Press: Robert Bechtle Prints, 1967-2004.
Comment: Robert Bechtle is currently in the spotlight with his retrospective opening last night at SFMOMA (actually, it opened Wednesday for the pip-pippers, and last night for the chattel). Though best known for his Hopperian light-shadow parked car paintings, Bechtle began printmaking in the early sixties on a litho press in his garage. His most recent prints were made just last year, his graphic oeuvre running the gamut from etchings, aquatints, and lithographs, to color woodcuts printed on silk. Now you've got something to do after you see Bechtle's SFMOMA show, 'cause Crown Point Press is just around the corner.
Art.


Art.


Art.


Art.


Art.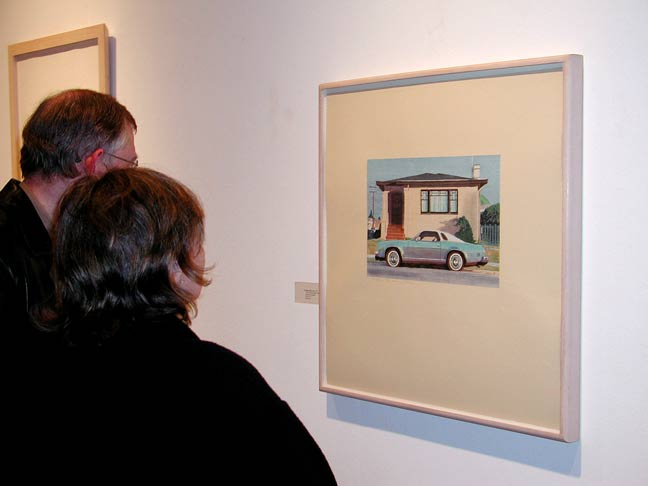 Art.


Art.


Eat.


Floor baby.


***
Auto 3321 Gallery, Oakland: Chantal de Felice; Morgan Wick.
Comment: The muffled din of live music pulses from the basement, vibrating the floor like Magic Fingers at the Four Star Motel. On the main floor, behind the skateboard ramp, a wall of carefully detailed paintings on plywood by Morgan Wick called "Crooks," $50 each, wins my camera's attention.
Art (Morgan Wick).


Frontal.