SAN FRANCISCO ART GALLERIES - OPENINGS
CATHARINE CLARK - ONSIX GALLERY - MODERNISM WEST
ADOBE BACKROOM - 111 MINNA STREET - FORGE GALLERY
EDO SALON - LUGGAGE STORE ANNEX - CALIFORNIA MODERN
AFTERMODERN GALLERY - ISTITUTO ITALIANO DI CULTURA
02.10-14.06
Catharine Clark Gallery: Moxie.
Artists: Anthony Discenza, Dave Hamill, Yoon Lee, Kara Maria.
Comment: It's all Yoon Lee with her expansive dynamic energized fluiditous acrylic squirt-bottle adventures into nanoland where change is constant, instant, and ever upwardly evolutionary. Perfect for an innovative vanguard corporation. Stick a biggie Yoon Lee painting in your lobby, mesmerize the guests, and have your way. Next, Kara Maria's flash splash action paintings come at you with irrepressible firecracker frenzy, while Anthony Discenza compacts an entire day of CNN news coverage into a several minute video montage. But Anthony, you use that same eerie basey nebulous staticky background noise I hear on too much other video art. Hey video artists-- stop blowing off the soundtrack. In conclusion, they tell me David Hamill's art has nothing to do with Vorticism, and I believe it, but what if it looks like it does?
Pick (Yoon Lee).


Art (Kara Maria, nice).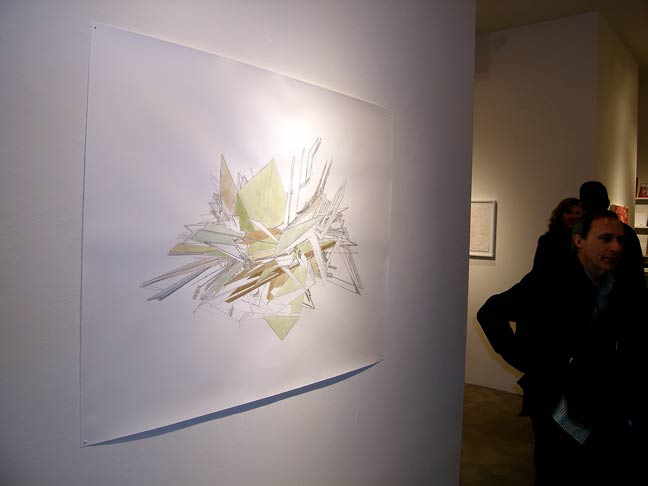 Art (David Hamill).


Art (Yoon Lee).


Art (Kara Maria).


Art.


***
111 Minna Street Gallery: Launching of The Chronicle's 96 hours - Art by Sacha Eckes.
Comment: The flagging San Francisco Chronicle launches it's BayGuardianSFWeekly-lite clone "weekend entertainment guide," 96 Hours, featuring "Life is Good" comic art by Sacha Eckes who rescues it from total vanilla. Righteous selection of Eckes's art is also on display. But back to 96 Hours, perhaps too little too late, however let's think positive. The Chron's gotta edge up and trim the yawn to resuscitate the readership-- or else.
Art (Sacha Eckes).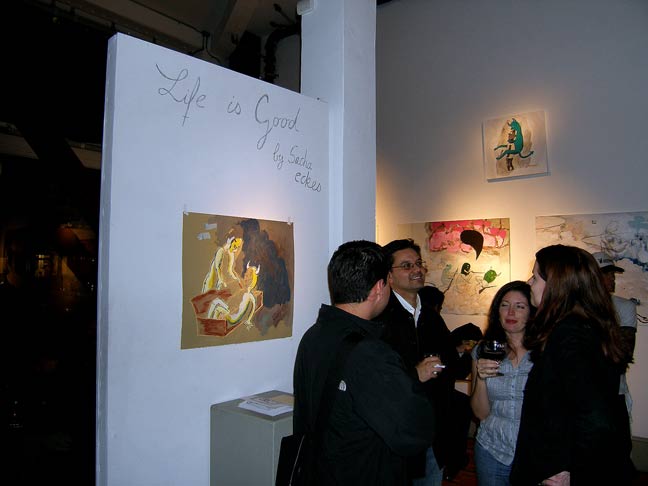 Art (Sacha Eckes).


There it is. Let's have a look.


Uh, OK.


Art (Sacha Eckes).


***
Modernism West Gallery at Foreign Cinema: Vanentin Popov - Twenty-Five Years.
Comment: Modernism West is the best, way out there in The Mission, ensconced in its tall airy "gallery room" at the back end of Foreign Cinema restaurant. Tonight Valentin Popov shows how to paint lotsa styles lotsa good. Plus he's got a cherry website which splays it all including copious visuals including an extensive whole house tour including his bathroom. Visit the website, meet the artist (you feel like you know him and you can't help but like him), then you wanna buy the art. If you're gonna be an artist, why go halfway? We like courage. Valentin Popov exemplifies the lifestyle; his website exemplifies how any artist anywhere can exploit the internet's new era capabilities to pump the persona.
Art.


Art.


Art.


Art.


Art.


Art.


Art.


Art.


***
Adobe Books and the Backroom Gallery: October Country - Donal Mosher; Devendra - Christine Shields.
Comment: Donal Mosher's aunt, a paranormal investigator, explores those realms beyond the material one we all know and love. Part of her job description entails hunting ghosts, and here Donal Mosher presents an official ghost hunt in images and text, conducted according to the international specifications and guidelines for spirit photography, and photographed mostly with a disposable camera. It works. Christine Shields continues the extraplanar adventures in Adobe's main room with scroll paintings depicting spirit travels to the crossroads of the "Witch-Tree" where they hover and prepare for transcendental passage. I believe it; I'm pretty sure I get occasional leads from presences and places I can't see.
Art (Donal Mosher).


Art (Donal Mosher).


Christine Shields - art.


Christine Shields - art.


***
OnSix Gallery: Heather Hannoura Solo Art Exhibition in the New Gallery; Group Art Exhibition in the Large Gallery.
Artists: Miya Ando Stanoff, Brooke Balliett, Amanda Beane, Erin Brookey, Lindsey Byrnes, Monica Canilao, Eve Ekman, Kristen Ferrell, Claudine Gossett, Nicole Hagen, Torrey Herbenar, Mary Howe, Linda Hughes, Brooke Kent, Leslie Kulesh, Cindy Mah, Shawna McAfee, Elizabeth McGrath, Shay Nowick, Dara Santhai, Darcy Sharpe-Meade, Marnie Spencer, Tiffany Star, Deanna Templeton, Amy Thompson, Marissa Woodrow.
Comment: Wide ranging all-woman show. Heather Hannoura goes kinda spooky blue in the intimate new gallery with paint, collage, and photography. In the main gallery, Cindy Mah makes a gruesome distressing animal rights statement with an installation that includes blood splatter, cleaver, mallet, and real butchered throwaway pig parts, done up like an actual crime scene being investigated by law enforcement. Check it out; then think about it next time you chow down an animal. There's also an impressive large work on paper, looking like a complex blueprint, incorporating about half a dozen small inset paintings by Marnie Spencer.
Art (Heather Hannoura).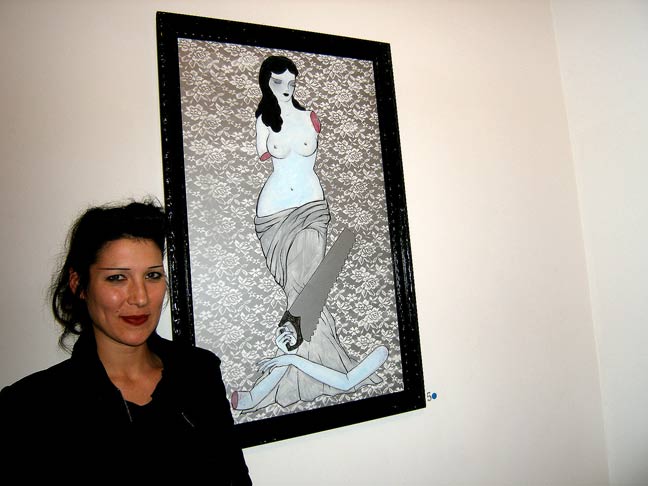 Heather Hannoura - art.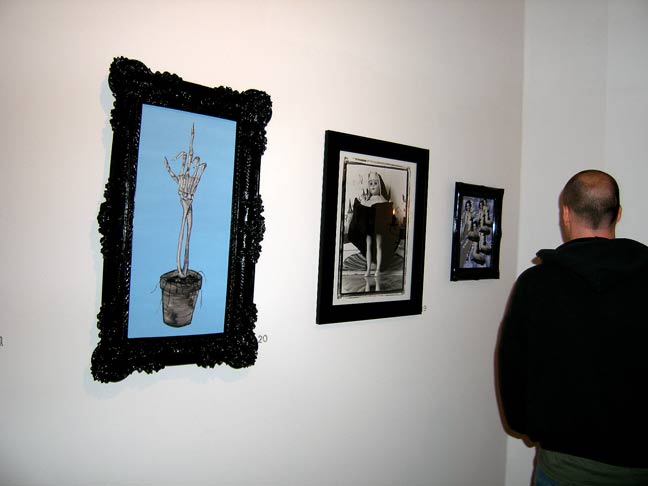 Art (Heather Hannoura).


Art (Heather Hannoura).


Cindy Mah - pig part bloodbath art.


Blueprint with inset mini-paintings art (Marnie Spencer, like it).


Tied trash bag art (kinda like it).


Art.


Art.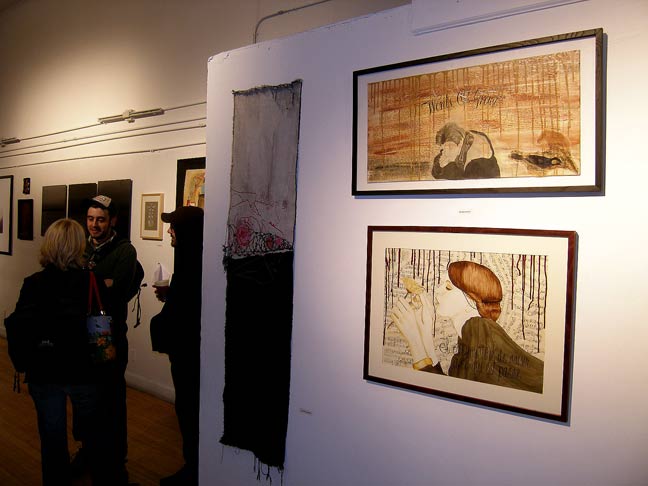 Art.


***
Arts Fundraiser At Great American Music Hall: Dare Stay Late.
Comment: The event, now in its eighth year and organized by Marsha Kimpton and Kat Taylor, was originally held to benefit Marin Country Day School in Corte Madera. It has since evolved into an arts fundraiser, proceeds this year to benefit the San Francisco Jazz Workshop. Live music, live painting (Brian Barneclo), and plenty of art lines the upstairs balcony walls. Urban/emerging artist advocate and collector Kevin King curates half the balcony; the other half is a group photography show. My favorites on the Kevin King side-- large hypnotic portrait paintings by Coro.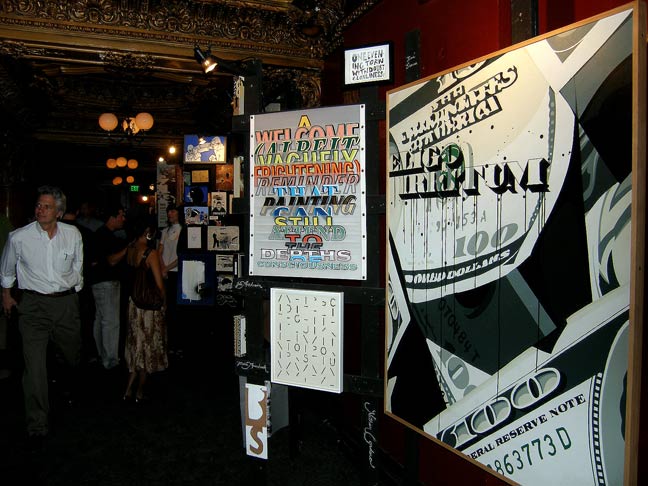 Art (Kevin King's urban/emerging).


Photography show.


Coro portrait (like it).


Live painting & music.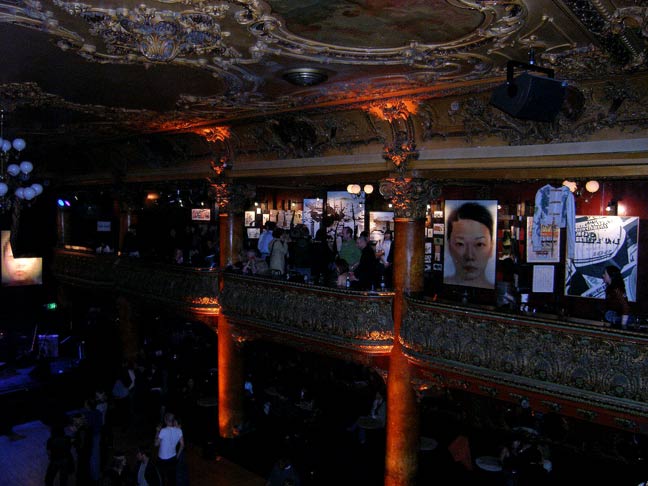 Urban/emerging art show.


Photo show.


***
Edo Salon: Sylvia Ji - La Belle Epoch.
Comment: Soft sultry sensuous siren art with lots of red in it-- perfect for Valentine's Day.
Sylvia Ji - art.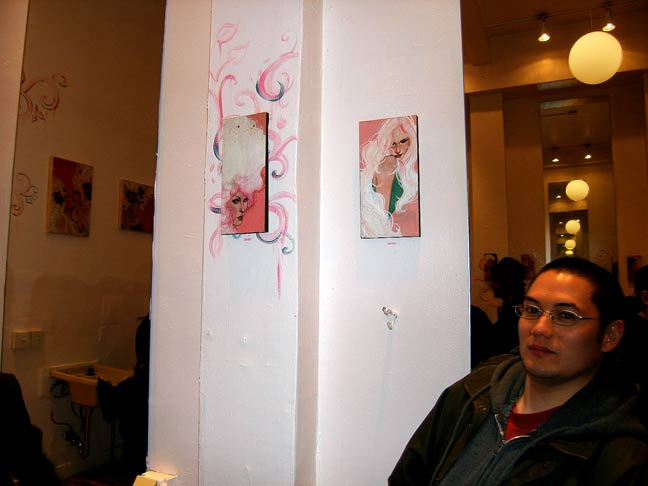 Art.


Art.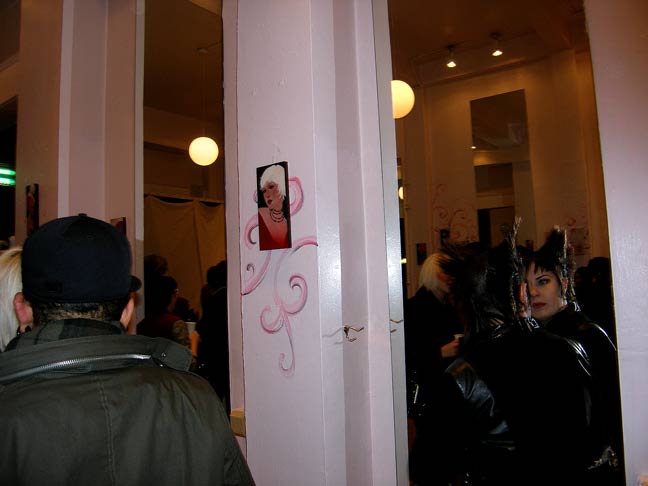 Art.


***
Aftermodern Gallery: Good Grief - Jordin Isip, Rich Jacobs, Rotgut.
Comment: Three Brooklyn based artists turn left and hightail it all the way out to Pacific's edge, hauling a healthy mix of East Coast street style imagery. Inspirations include graffiti, current events, social issues, forgotten this, discarded that, and sundry chards of big city life. I ask several people why Rotgut is called Rotgut, but no one seems to know, not even his friends. Prices reasonable; most low to mid-hundreds $$.
Art (Rotgut).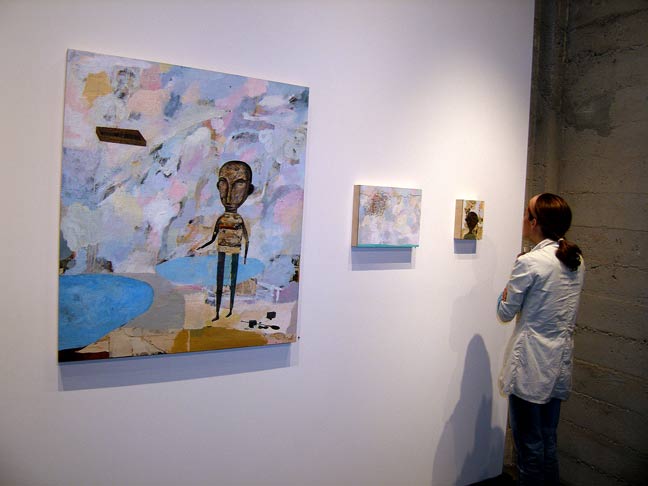 Art (Jordin Isip).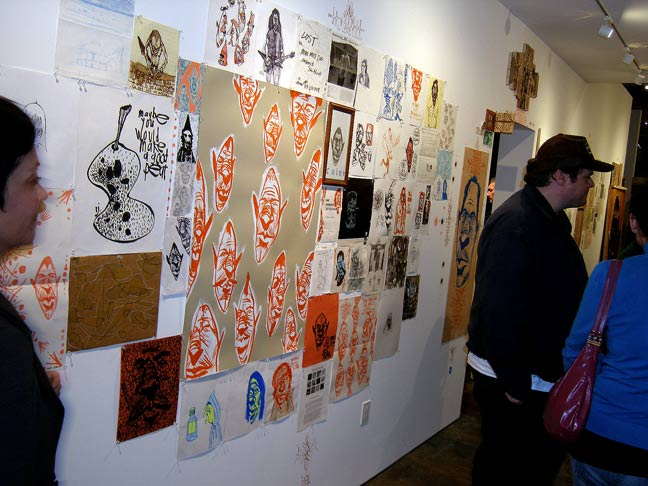 Art (Rich Jacobs).


Art (collaborative).


Jordin Isip - art.


Rich Jacobs - art.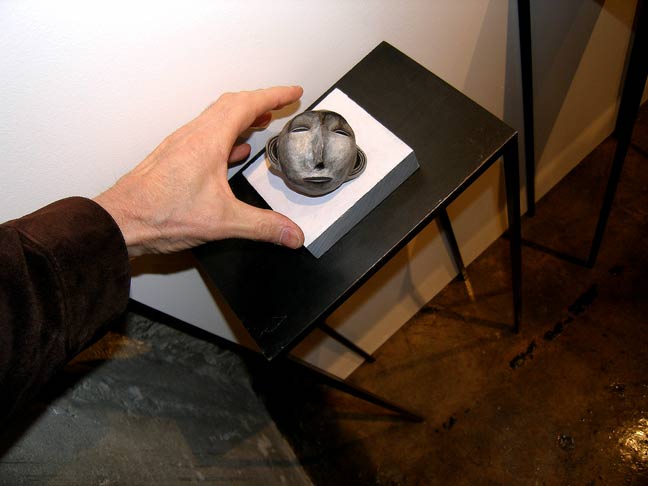 Not sure.


Amber Abramson, curator.


Art (Rotgut).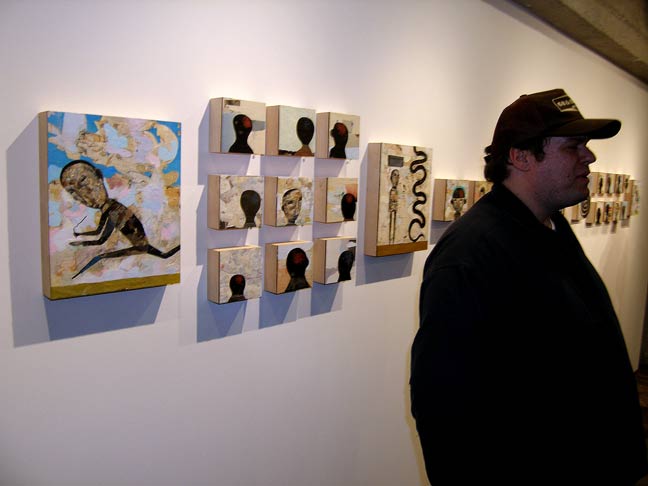 Art (Jordin Isip).


***
The Luggage Store Annex: The Lost Art of Letters.
Comment: Popped in on this one for a couple of minutes. Works of students and teachers from Oasis High School, East Oakland Cummunity High, Ascend Middle School, and youth graff writers Devote, Carts, and Gir. Curated by Erika Abad.
Art.


Art.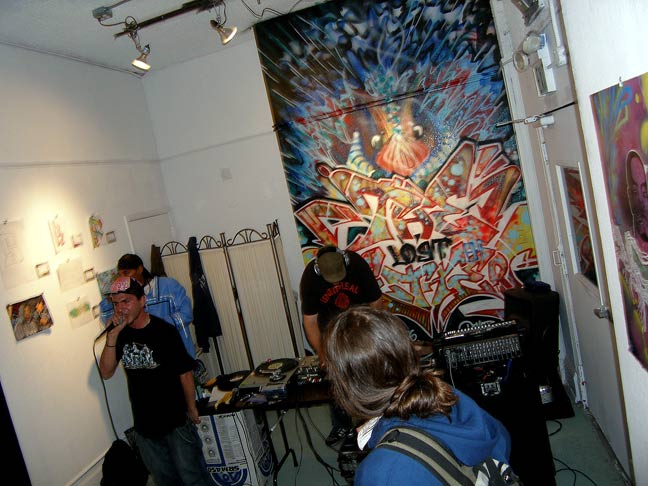 Art - words.


Art.


***
Forge Gallery, 1077 Post St., San Francisco, CA 94109; 415.756.7550: Paul Andrew Hayes, Zan Sterling, Diana Bergren, Alex Stewart MacLeitch, Lee Harvey Roswell, Skott Cowgill, Jason Webster, James Nichols, Lisa Perrott, Shinette Pietryga.
Comment: Group show featuring a spiffy strung hung paper installation by Paul Andrew Hayes, loopy polished stainless steel building sculptures by Alex Stewart MacLeitch, small paintings by Lee Harvey Roswell, bent wire sculpture by Zan Sterling, and more.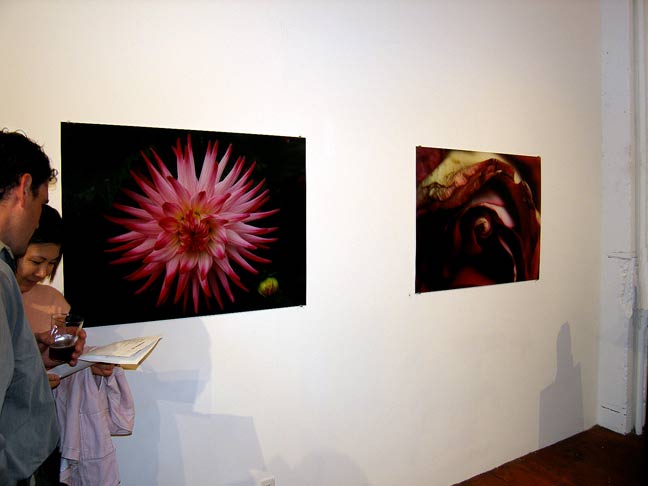 Photos (Diana Bergren, like 'em).


Art.


Paul Andrew Hayes - installation art.


Sculpture (Alex Stewart MacLeitch).


Art (Paul Andrew Hayes).


Art.


***
Joshua Churchill: Waking Vessels.
Comment: Closing party for Waking Vessels, a mildly shadowy spectral light and sound installation in an abandoned Mission district bar way down 24th Street. You can almost sense the essence of vanquished patrons. The only lighting comes from the installation itself and several candles. The effect is tough to document; you'll have to imagine a darkened room, unnatural sounds, and low lights that flicker and dim. The installation was originally part of the 24th Street Promenade.
Approach.


It.


Restaurant side.


***
Istituto Italiano di Cultura, San Francisco: Fragments of Contemporary Urban Life.
Photographers: Matthias Brandt, Leslie Clements, Zack Fontaine, Kija Lucas, Ben Miller-Rios, Julian Philips, Natalie Ray, Kelley Richardson, Anselm Skogstad, Tommy Sullivan, Andrew Wingler, Lisa Delendati, Jonathan Gobbi, Zaira Greco, Naira Herrera, Eleonore Josso, Felix Koltermann, Ho Yu Ku, Giuliano Marras, Arta Ngucaj, Peter Pietrus, Cristina Sandri, Mario Sguotti, Rossella Traglia.
Comment: The results of a collaborative course taught by Gianni Gosdan at the Accademia Belle Arti di Bologna and by Mariella Poli at the San Francisco Art Institute. A selection of refreshing perspectives on city life. Nicely done.
Photography.


Photographs.


Photos.


Photography.


Photographs.


Photos.


***
Addendum: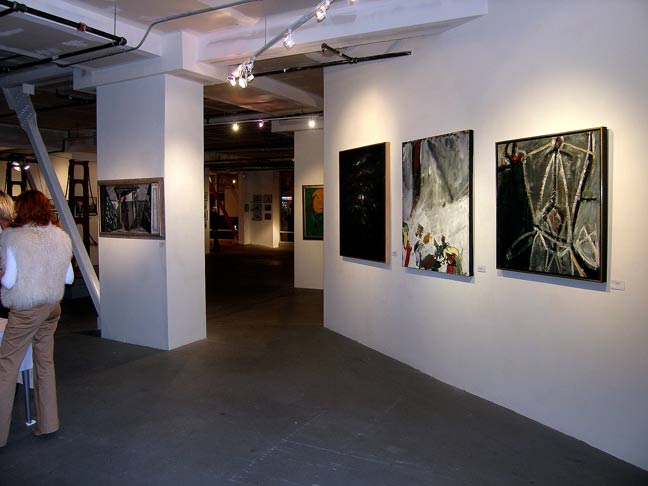 Vintage Abstract Expressionism at California Modern Gallery.


More Ab-Ex from California Modern; most priced under $5k.


California Modern Gallery, last one.