<< Back to San Francisco Gallery Openings Reviews
Upcoming San Francisco Gallery Openings Calendar >>
***

Get your art fix fast: Instagram @alanbamberger
***
FFDG: Mike Giant - THE MILE HIGH LIFE
Comment by AB: Mike Giant is loving the Colorado life, but at the same time has great gobs of memories and affection for good old Ess Eff, flaws and all, which makes him the perfect choice for FFDG's swansong show. Here's to bittersweet endings and auspicious new starts! The future awaits. Quality work and definitely worth a visit.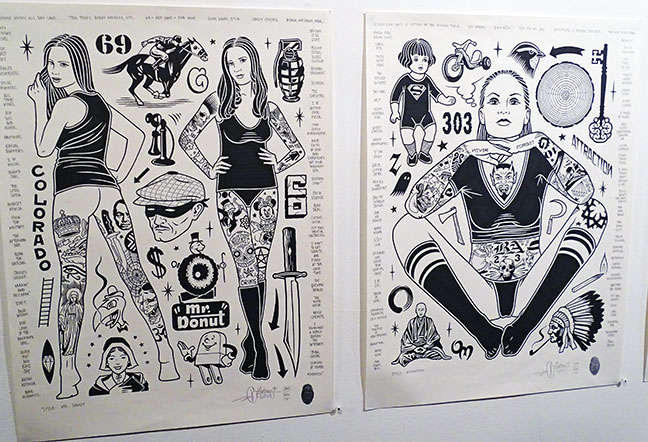 Art by Mike Giant at FFDG.


Snakeskin drawings by Mike Giant.


Embellished enchantress art by Mike Giant.


Mike Giant engages the fan base while signing posters at his FFDG solo show.


Art by Mike Giant closer. Always flawlessly drafted.


Tattooed lass art by Mike Giant.


Ample examples to choose from - Mike Giant black & white art.


Relative density - Mike Giant art show at FFDG.


***
StoreFrontLab: Awe Lab - Alice Shaw and Alison Pebworth. Curated by Jenn Doyle Crane and Amy Ress.

Alice Shaw and her gilded photography at StoreFrontLab.


Photograph by Alice Shaw.


Alice Shaw photography.


Alison Pebworth's curio cabinet of wonders - art & installation.


Found object art behind every door - Alison Pebworth art.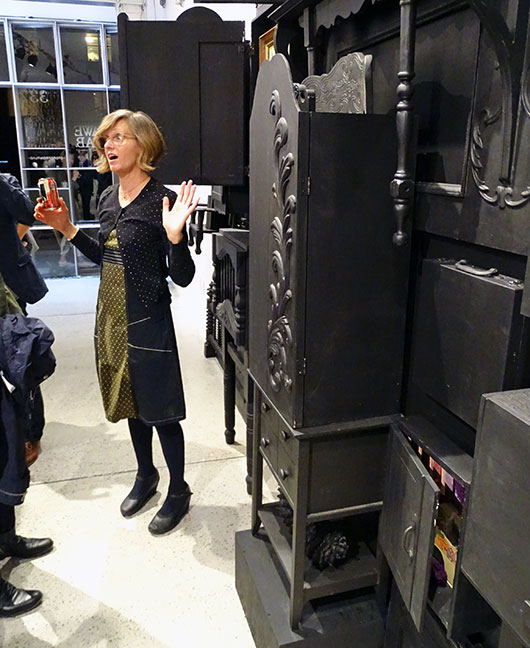 Alison Pebworth gives the guided tour of her installation.


Surprises and oddities abound - Alison Pebworth art.


***
Luna Rienne Gallery: Mark Farina and Sunshine Jones - Sound + Vision

Photography by Mark Farina at Luna Rienne Gallery.


Mark Farina photograph - like SF on LSD.


Photographs by Mark Farina.


Small photographs by Sunshine Jones.


Photographs in above image up close and closer yet.


Sunshine Jones photography and live performance at Luna Rienne Gallery.


***
Incline Gallery: Auction to Benefit Flying Under the Radar
Artists: Mark Adams, Kim Anno, Leonard Baskin, Todd T. Brown, Enrique Chagoya, Jessica Dunne, Rodney Ewing, Matt Gonzalez, Yvonne Jacquette, Ernest Jolly, Arnold J. Kemp, David Linger, Monica Lundy, Sanaz Mazinani, Claudio Enrique Nalerio, JoyceNojima, Peter Opheim, Steuart Pittman, Silvia Poloto, Robb Putnam, Richard Shaw, René Yañez, Imin Yeh.
Comment by AB: Fundraiser auction for Flying Under the Radar, a collaborative event between artists from San Francisco and Rio de Janeiro to take place in various locations in Rio de Janeiro for 21 days during June and July of this year.

Art by Todd T. Brown at Incline Gallery.


Monica Lundy art - fundraiser for Flying Under the Radar.


Event organizer David Linger and his screenprints on porcelain.


Art by Richard Shaw.


Attendance figures - Flying Under the Radar fundraiser at Incline Gallery.


***
Erotic Art Events at SOMArts Gallery: On the Edge 6 - Erotic Photography and Sculpture Exhibition
Photographers/sculptors: Yancy Mendoza, Andy Amyx, Peter Keresztury, John Stekl, Rachel Levine, Ronnie Olson, Catherine Merrill, The Antic Staatsoper, Chris Madsen, Michael Ruiz, SameSource, Jennifer Leigh Wright, Michael Rosen, Milan Sabata, Vlad Kenner, William G. Miller, fotografie randall, Tywest Videos, Mark Yugen, Retrotie, Michael Savvides, Doll Smut, Eric Stampfli, FotoArcade, Breathless Exposure, Davian Jones.
Comment by AB: If you like erotic art, sculpture and photography, you'll love this show. A diverse range of work by accomplished practitioners (much of which I can't show you, unfortunately). You know what that means, right? Don't miss next years.

Photography by Vlad Kenner at On the Edge 6 erotic art show, SOMArts.


Peter Keresztury photography.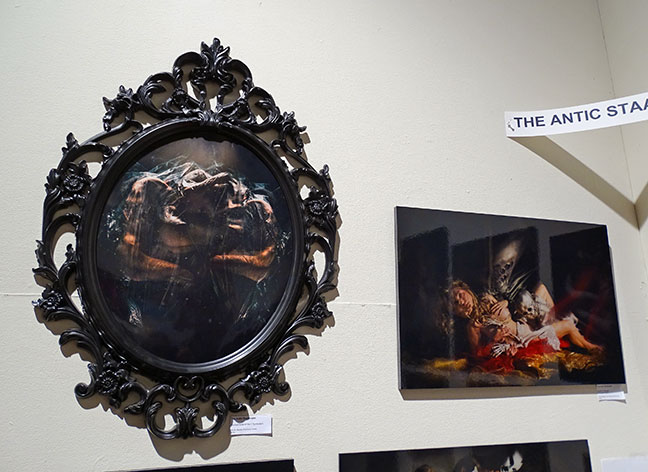 Art by The Antic Staatsoper.


Doll Smut photography keeps it on the fun side.


Photograph by Michael Savvides.


Sculpture and ceramics by Michael Ruiz.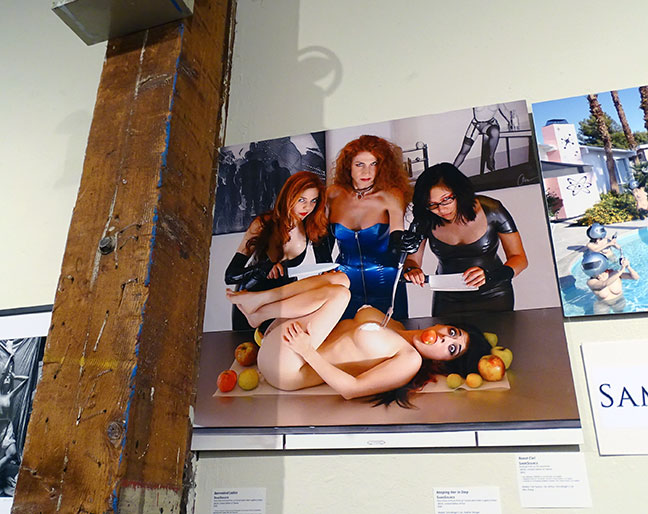 SameSource photography.


Photographs by FotoArcade.


Earlier abstract work by Michael Rosen.


Milan Sabata photography.


Head count - On the Edge 6 erotic art show at SOMArts Gallery.


***