SAN FRANCISCO ART GALLERIES OPENINGS
HAMBURGER EYES
02.14.07
REPORTED BY THEO KONRAD AUER
Hamburger Eyes: Hamburger Eyes Photo Epicenter - Grand Opening.
Artists: Ryan Furtado, Ted Pushinsky, Stefan Simikich, Patrick Griffin, Ray Potes, Dave Potes.
Comment: For a magazine slash photography business slash idea; Hamburger Eyes has a rep for having fun and lots of it. A life lived epically, if you will. I have read a couple of reviews of their zines and photos that have described their work as trite or perhaps overly visceral. In others words, all gut instinct and lacking in so much intelligence. I think such reviews are almost completely off the mark, and well, those reviewers miss the point.
Was Diane Arbus taken seriously the first moment she burst out on the scene? Are immediate success and serious recognition the norms for your average artist? The two questions are moot, and so is any discussion of the quality or worth of the work of these photographers. One cannot help but admire the middle ground these folks are carving between the world of journalistic photography and artistic photography.
The work shown here at the "Grand Opening" of the Hamburger Eyes Photo Epicenter serves as a sort of greatest hits of their photo endeavors. Some oldies but goodies, and some nice new work as well. No photos appeared to be on sale, but Hamburger Eyes co-founder Ray Potes was on hand at the counter spreading the word and selling shirts and zines. The place is worth a visit. Looking at their flyer, they have nice well-priced darkroom rates. I should mention that while there was no alcohol being given at this opening, there were the requisite tallboys of cheap beer in evidence. Take that, wine and cheese chasers! For all of you cupcake lovers out there, there WAS a box of em' for the taking.
I usually get artists names as well as the names of their work, but that information is nowhere to be found. I try to find out this stuff, but the opening is an informal event in which the work does not seem to be for sale.


Photos.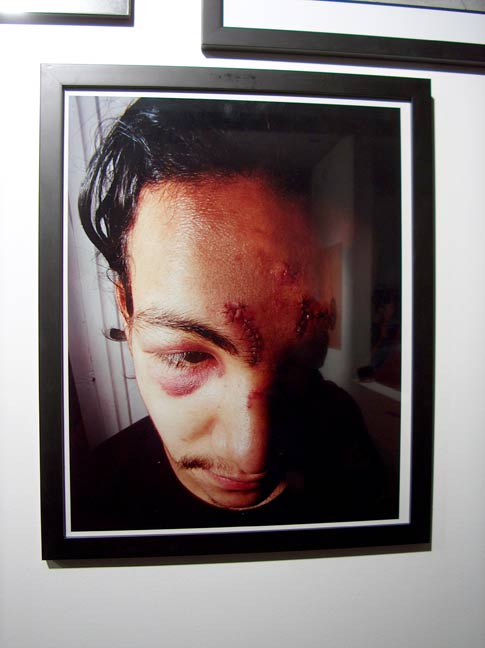 Photos.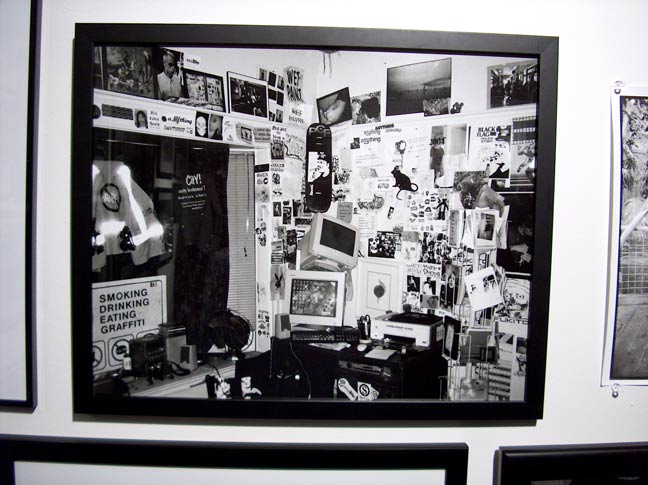 Photos.


Photos.


Ray Potes.


***