SAN FRANCISCO ART GALLERIES - OPENINGS
HAMBURGER EYES - SF CENTER FOR THE BOOK
SPACE GALLERY - AR+SPACE
02.14-15.07
Hamburger Eyes Photo Epicenter: Grand Opening.
Comment: Innovative bloc Hamburger Eyes makes it official and opens their own space-- and it's about time. Their current crop of options and offerings includes professional color and black and white darkroom rentals, studio rentals, art & photography gallery exhibition areas (tonight filled mainly with Hamburger Eyes Golden Oldies), books & zines & sundry schwagabilia for sale, custom printing services, digital production capabilities, workshops, classes, and very likely more as the venue evolves. Congratulations Hamburger Eyes!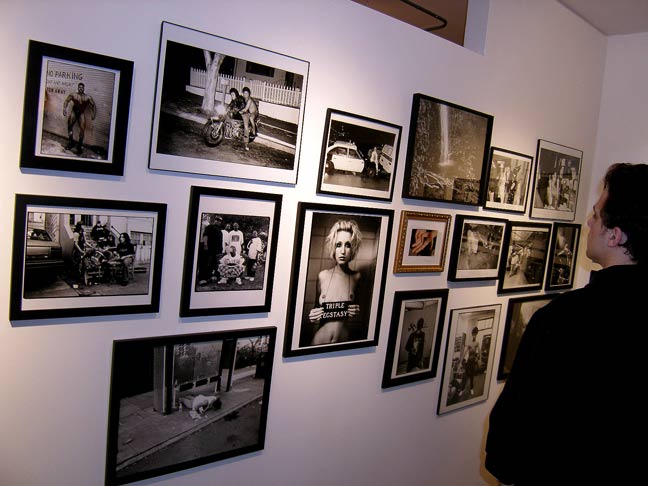 Photography.


Photos (dude on the right's wearing meat on his head).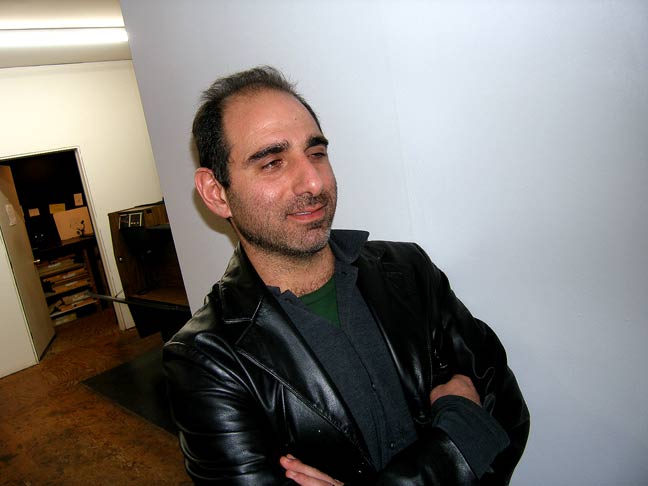 Hamburger Eyes partisan Steven Wolf treks it from 49 Geary.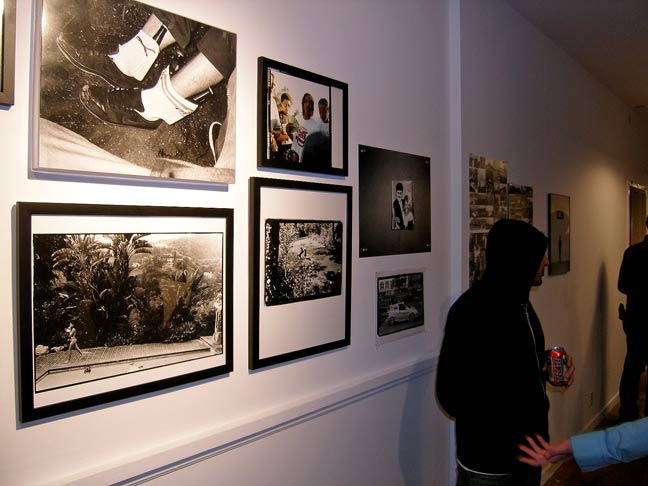 Photographs.


Images.


Long view.


Photographs.


Atmosphere.


***
San Francisco Center for the Book: Buch Kunst - Bartkowiak's Best - Book Art from the Hamburg Archives.
Comment: Prime contemporary examples of the book arts published between the late 1980's and the present from the collection of noted German collector H. Stefan Bartkowiak. The exhibit is held in conjunction with this weekend's First Biennial Book Fair & Symposium sponsored by Berkeley's Codex Foundation.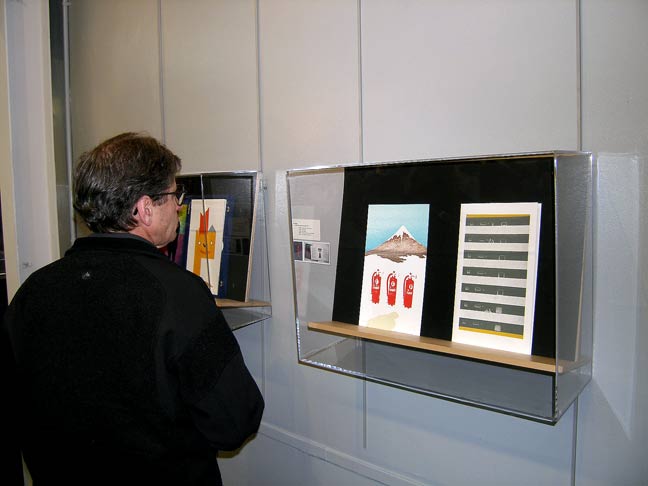 Book arts.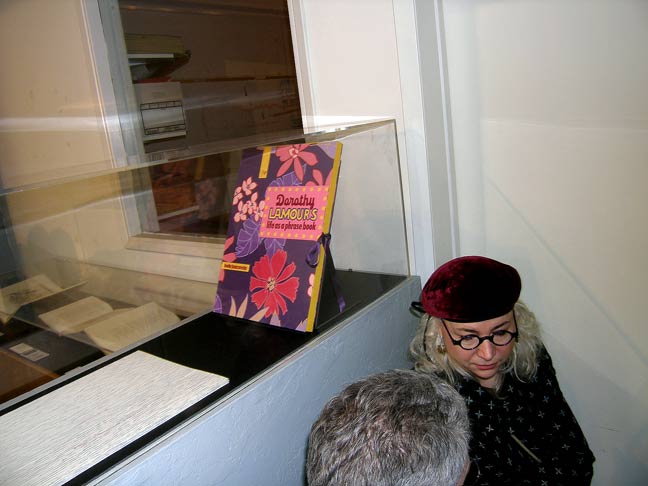 Book arts.


Book arts.


H. Stefan Bartkowiak (center).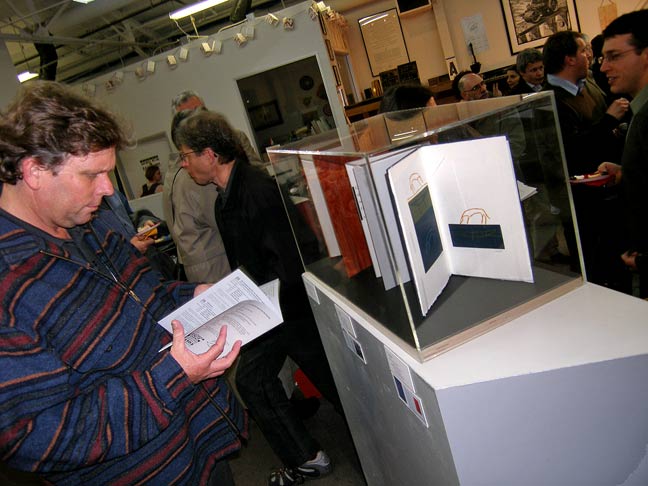 Book arts.


Book arts.


Book arts.


Tunes.


***
Space Gallery: XOXO - All Mediums Nude Art Show.
Comment: Conceived by an entity called Gogograciegalleries, the XOXO come-on appears to purport that there's gonna be gen-u-ine nakidity in evidence, which would give me something to stare at for a change, but there's nary a private part in sight. Bummer. However, the consolation prizes include a veritable cascade of nakedness in the art, a musical quintet smouldering up the situation with esoteric Soul sounds from the Sixties, and plenty of kicky characters running around, many of whom have been ratcheted into acute heat by the scene and are in the process of cruising for love. For those who find it, conveniently located bowls of free lube and condoms are available in case they opt to experience conjugal joy right there on the spot. Perhaps it's time to sequester the pets and children...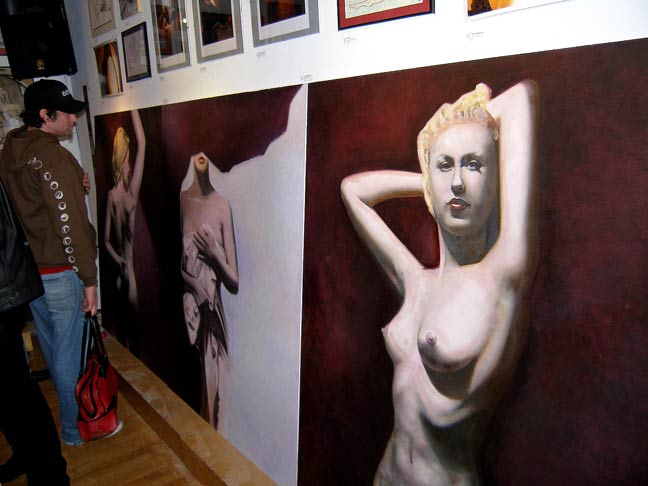 "...and I have a BA in civics. You come here often?"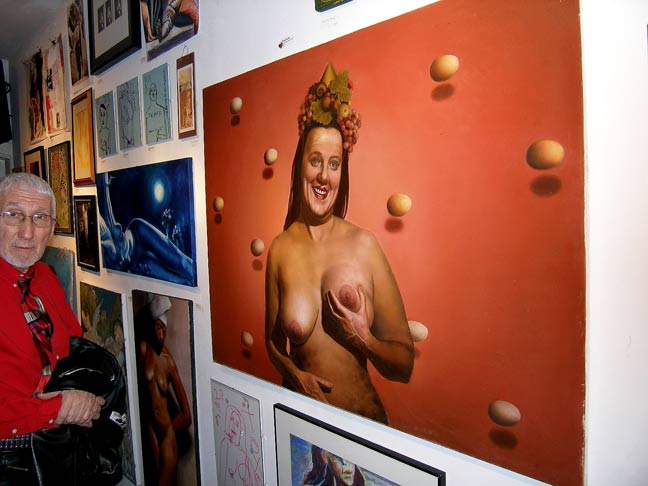 "Have you ever been to Muleshoe, Texas? Not you, Sir."
(art - pick - $800 - sold.)


"So he raises me $2000 and I call... you like dirt biking?"


Probably what it's gonna look like here later.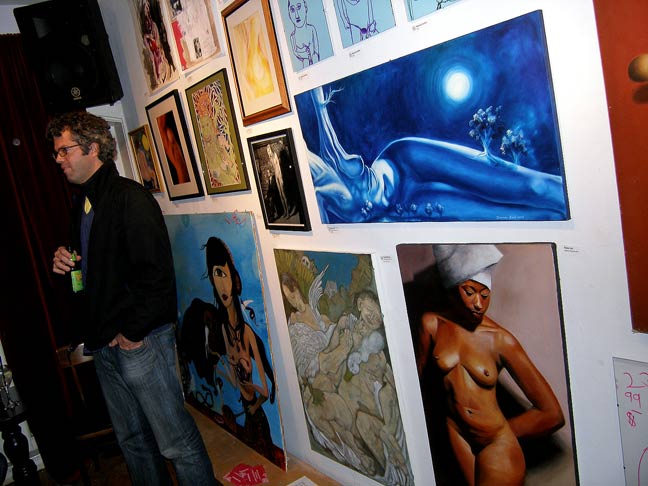 Art.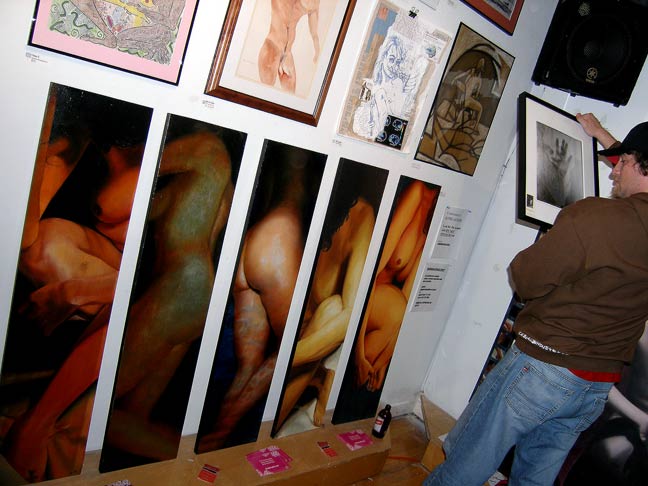 Art.


Art.


Tunes.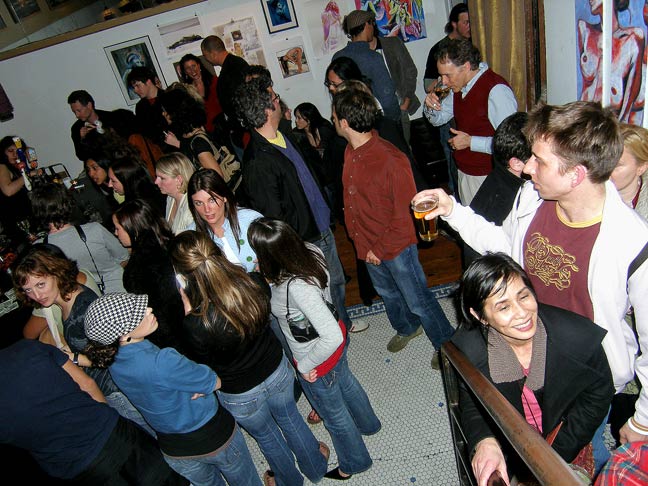 Countdown.


***
Ar+Space Gallery: Joshua Barry - Red String in a Lagoon on Mars Wanting to Make You Feel Good.
Comment: Wiggy art party performance extravanga, courtesy of Joshua Barry, featuring, among other curiousities, paintings, installations, video, and my favorite-- a duct tape mermaid.
Art.


Art.


Joshua Barry - self-portraiture art.


Duct tape mermaid nuanced by stylist.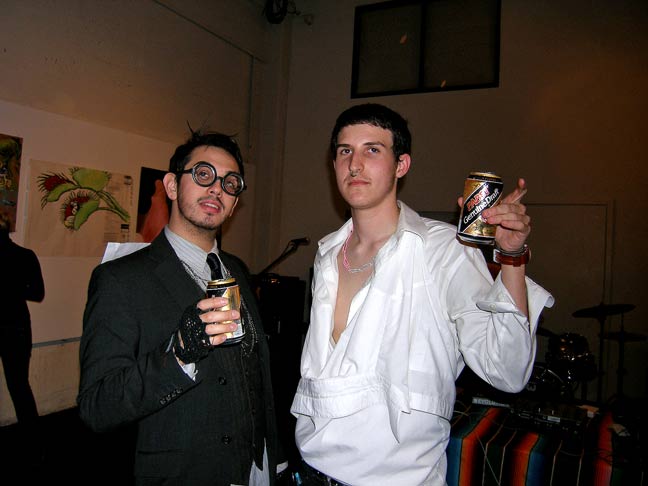 2 dudes.


***