SAN FRANCISCO ART GALLERIES - OPENINGS
JOHN BERGGERUEN - HIMMELBERGER GALLERY
HAINES GALLERY - MICHAEL MARTIN GALLERIES - XYZ BAR AT W HOTEL
MELTING POINT - NATIONAL PRODUCT
02.16.06
Himmelberger Gallery: Games People Play - Armen Gevorkian.
Comment: Armenian artist Armen Gevorkian's art is kind of a benign mollified rendition of Paul Wunderlich. Smooth, soft, soothing, easy, a trifle gimmicky, mildly surreal. Interesting fact about people who buy art #7114: Most prefer their art benign. Love Himmelberger's space, by the way. Possibly the best in town.
Art.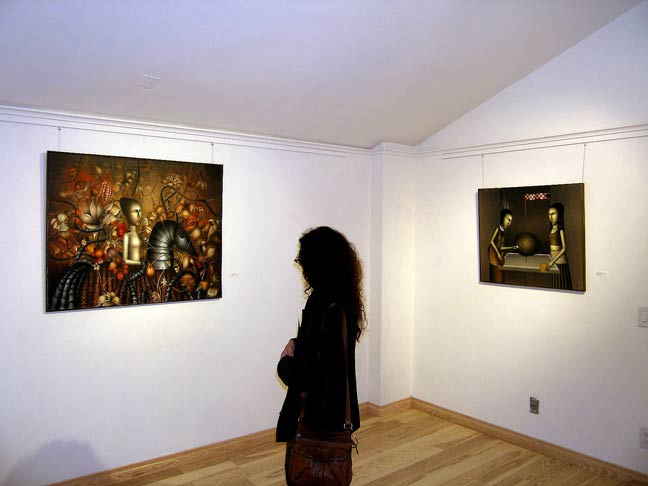 Art.


Art.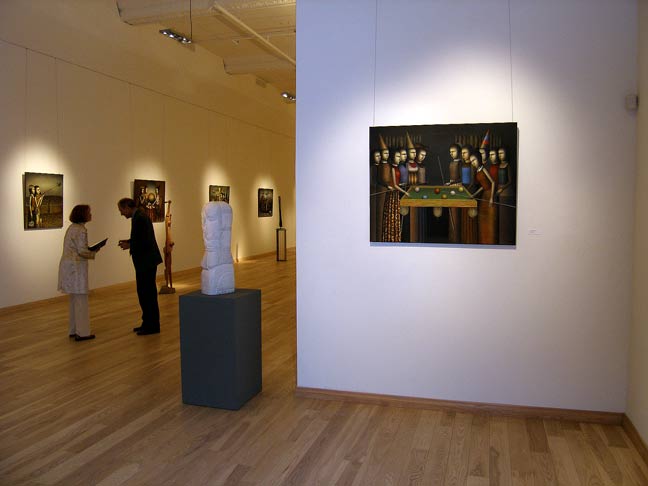 Art.


***
John Berggruen Gallery: Reception to Honor William T. Wiley.
Comment: John Berggruen Gallery now represents William T. Wiley; this reception is about that. It's apparently a pretty big deal because there's cheese and sushi, two commodities rarely seen within gallery confines (Berggruen regulars will attest). Anyway, William Wiley continues to churn out the good stuff, here showing several large paintings, a classic scrappy scrawly sculpture, and a couple of works on paper, all, of course, imbued with sociopolitical textual snippets. Excellent gallery, excellent artist, perfect match. Also on display is a selection of works by gallery artists including Ed Ruscha and Squeak Carnwath.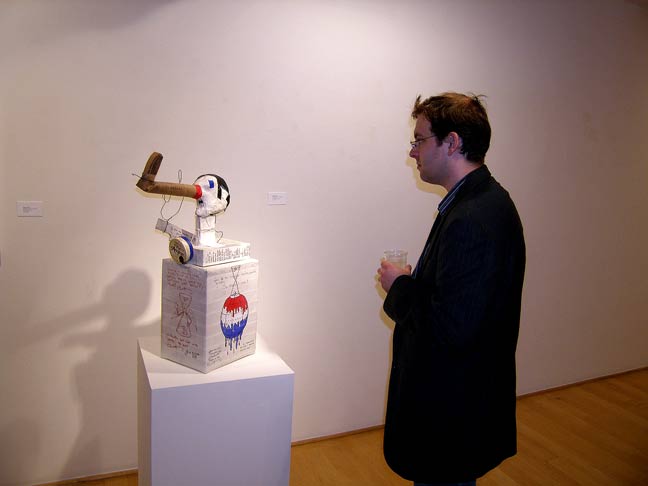 Art (William Wiley).


Art (William Wiley).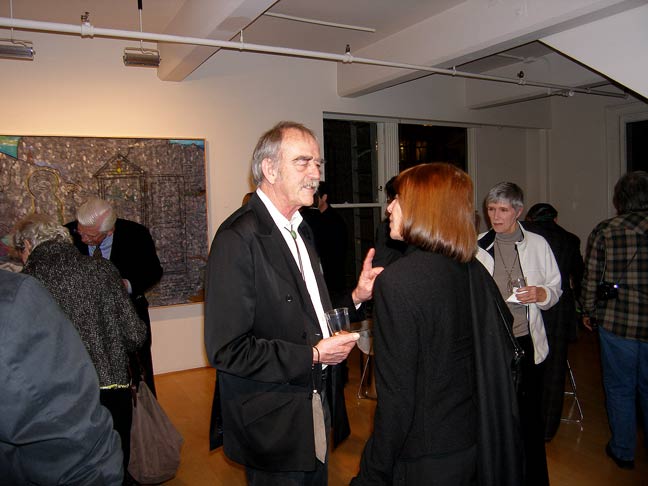 William Wiley (center).


Art (William Wiley).


Art (William Wiley).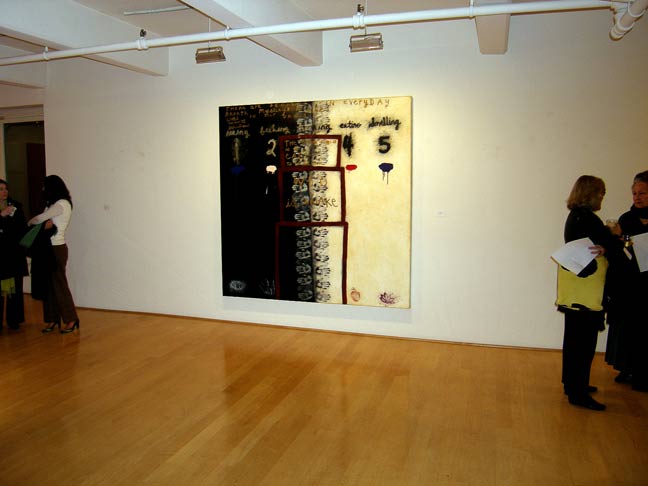 Art (Group show).


Art (Group show).


***
Haines Gallery: Rob Craigie - Wonder.
Comment: A Rorschach-ian cascade of centerfolded butterfly paintings (the halves of each painting mirror one another), a number being wall mounted in patterns to mime insect collections. Curiously, the scorecard says "the paintings resemble butterflies," which implies, to me anyway, that they're not really butterflies, but rather something else. Would this be like saying a portrait painting "resembles" a person? Dudes-- easy on the bloatspeak. They're butterflies. They got wings, antennae, thoraxes, abdomens, and all that butterfly stuff. So, OK. Maybe they're interpretations of butterflies, but that's it.
Anyway, Craigie applies paint to one half of the paper, folds it over wet, gets the mirrored image on the other side, and voila-- butterfly resemblages. The best part is you can barely see the folds. In fact, you can barely believe the papers were ever folded, even when you zoom in for a micro. And technical mastery verging on magic wins me every time. Priced very reasonable, by the way-- many pieces under $1k.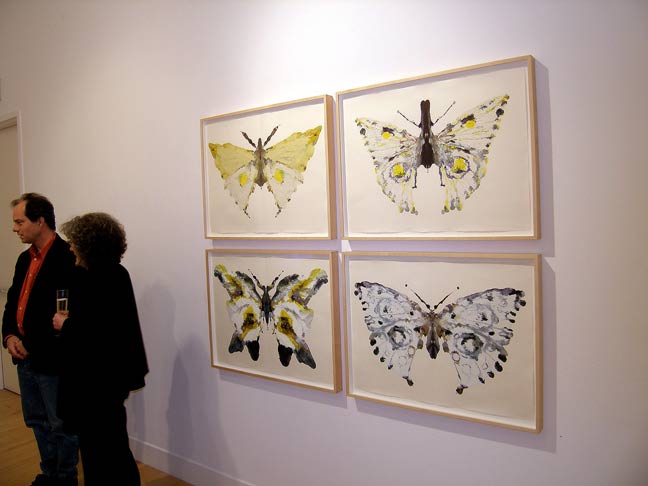 Art.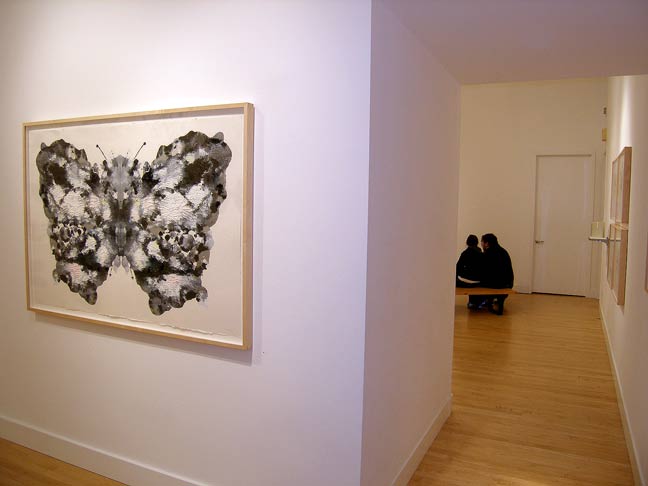 Art.


Art.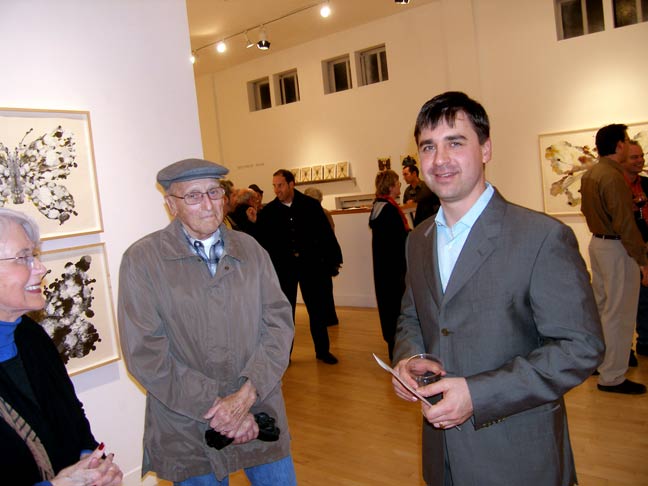 Rob Craigie (right).


Art.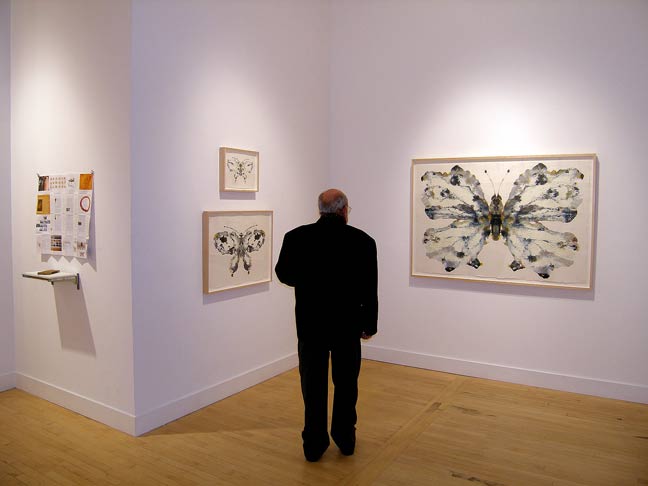 Art.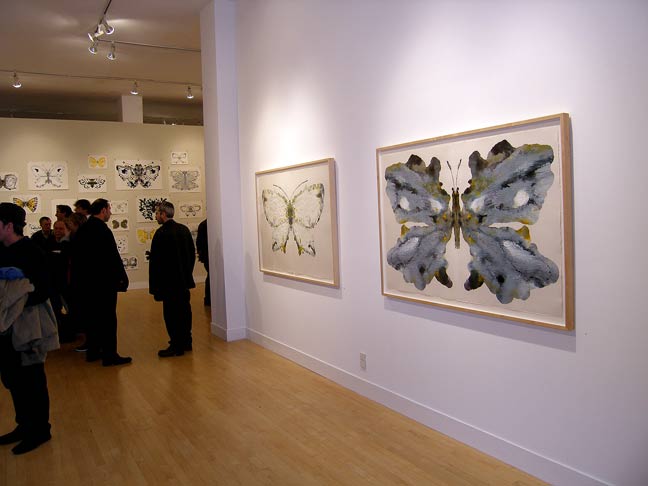 Art.


***
XYZ Bar at W Hotel: Photography by Pattie Boyd.
Comment: Vintage photographic images mainly of Beatle George Harrison and rock superstar Eric Clapton. My assistant, an inveterate Beatles memorabilia collector, tells me Pattie Boyd was George Harrison's first wife, then Eric Clapton fell in love with her, then Clapton wrote "Layla" about her, then she left George, then she married Clapton, then Clapton wrote "Wonderful Tonight" for her. So that's basically the deal. Boyd has a much larger show, many more rock stars, over sixty vintage images at San Francisco Art Exchange.
Photography.


Pattie Boyd.


Photography.


***
Michael Martin Galleries: Rex Ray - New Works.
Comment: Rex Ray is one of my favorite artists with his twisting twirling spinning kaleidoscopic pyrotechnic jeweled snowflake configurational bursts. Why? His art's always fresh, energized, and invigorating. He's an outstanding technician, he works incredibly hard, and he's prolific (here filling a very substantial gallery to the rafters with well over 100 works of art). Oh-- and he's a nice guy too. This show has art in all sizes, price ranges, and in several different mediums, all classic Rex Ray. I'm especially partial to the flat-finish oversized collages. Superior show all the way around.
Art.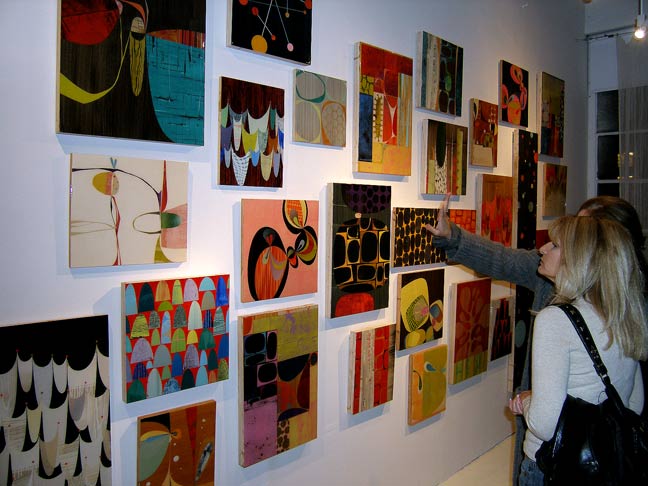 Art.


Rex Ray - art.


Art.


Afford-a-wall.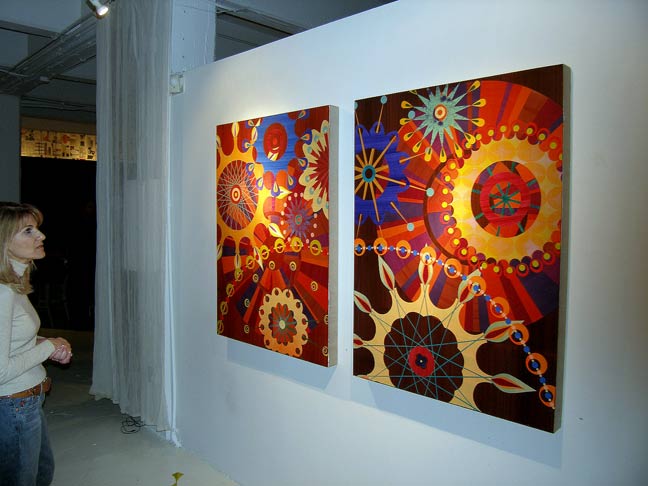 Art.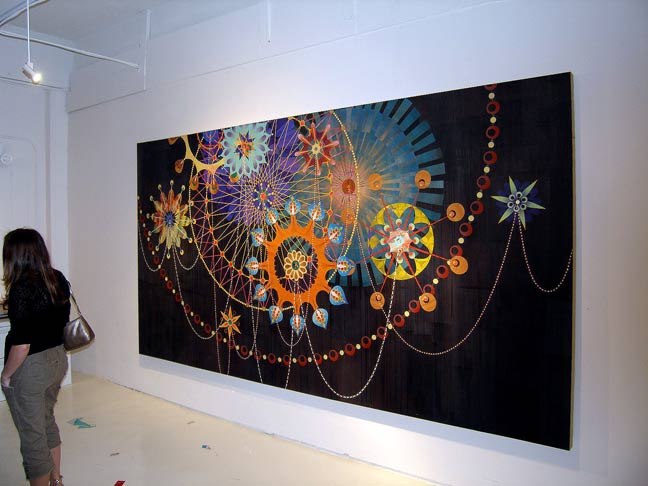 Art.


Art.


***
Melting Point Gallery, 1340 Bryant Street, San Francisco, CA 94103; 415.861.0580: Vietnam Surf Art - William "Wild Bill" Osgood and Michael Knowlton.
Comment: Anti-Vietnam War surf art by William "Wild Bill" Osgood (which I suppose could be distended to anti-war art in general) and Lord of the Flies surf art (?) by Michael Knowlton. One of the more implausible shows I've been to so far in my boundlessly convoluted lost-in-San-Francisco culture quest. Michael Knowlton, in an electrifyingly bewildering verbal cataclysm, explains the plotline of his seafaring stranded-adolescent odyssey paintings in proceedings even William Golding would astonish over. By the time he's done, I have absolutely no idea what the payoff is, which may well be the moral of the story. Meanwhile, William Osgood, with notable nonchalance, exhibits squished bicycles, shattered helmets, broken arrows, and Vietnam era combat paintings. Plus there's a dude sitting in the corner playing a didgeridoo. Ping me.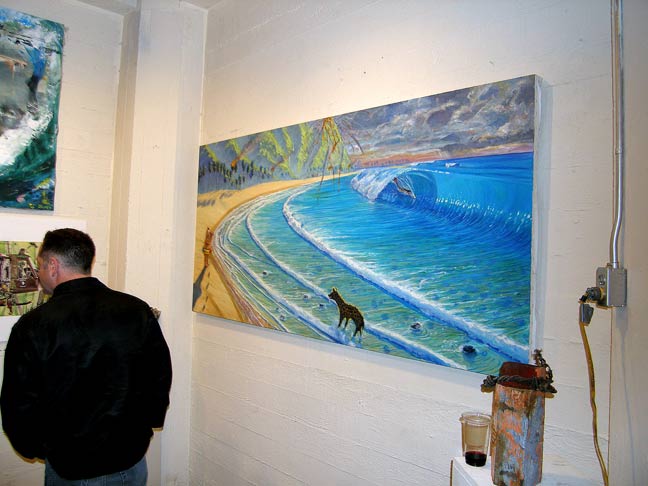 Surfing mermaid flaming palm tree hyena art (Michael Knowlton).


Recycled flipper tiki art (William Osgood, I think).


William Osgood explains art.


Michael Knowlton - art.


Squished bicycle with phony blood art (William Osgood).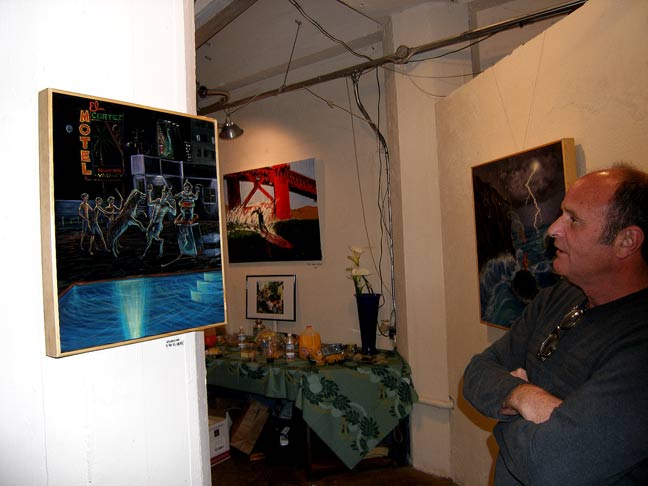 Michael Knowlton explains art.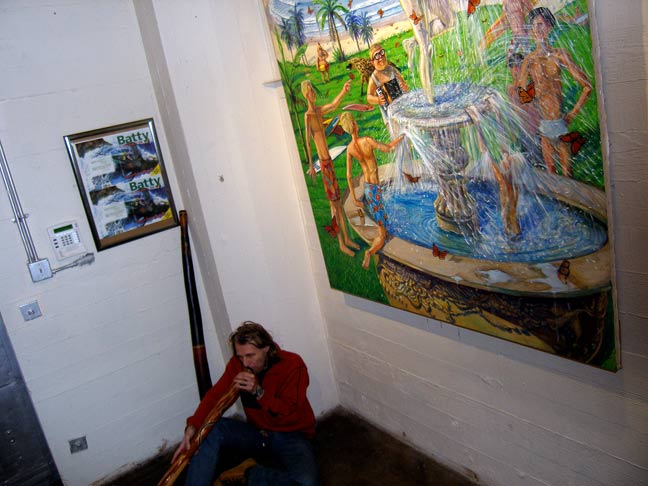 Didgeridood (art, Michael Knowlton).


***
Addendum: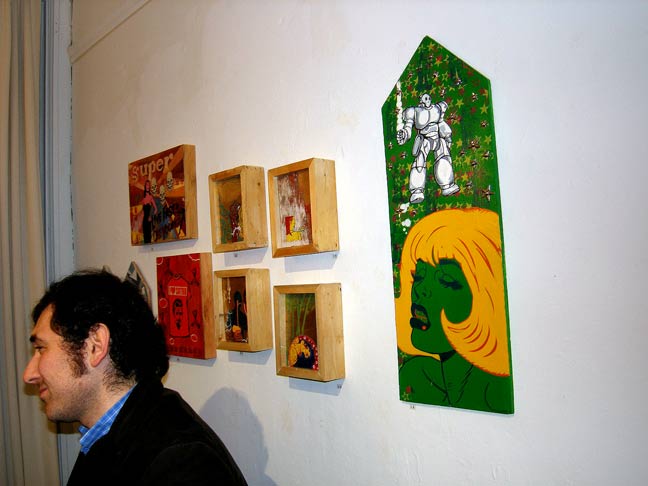 Txu Txo Perez prints and paintings at National Product.


One more Txu Txo Perez at National Product. $35-$300.