SAN FRANCISCO ART GALLERIES OPENINGS
MARX & ZAVATTERO - JACK FISCHER - ROBERT TAT
ELEANOR HARWOOD - GALLERY THREE - GIANT ROBOT
MEDUSALON
(with assistance from Victor DeLucie and Uba Owl)
02.16.08
Jack Fischer Gallery: Matt Furie - Nature Freak.
Comment by AB: Matt Furie applies his considerable finesse in pen, ink, and pencil drawings to treatise on life, death, plants, animals, creatures, phantoms, the grotesque, anthropomorphism, uncommonly odd acts of intercourse (not the positions-- the participants), and scootering, among other amusements.
Art by Matt Furie.


Art.


Matt Furie - art (I think this one's The Plague out walkin' its kid).


My favorite (sorry, sold).


Detail of drawing above.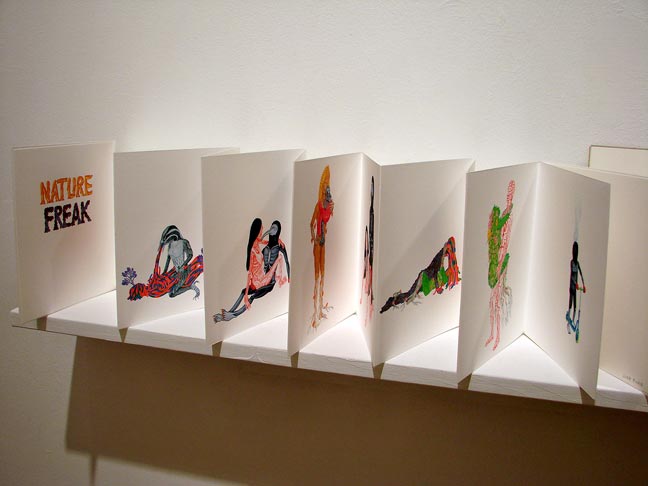 Limited edition foldout of images in the show (reasonably priced).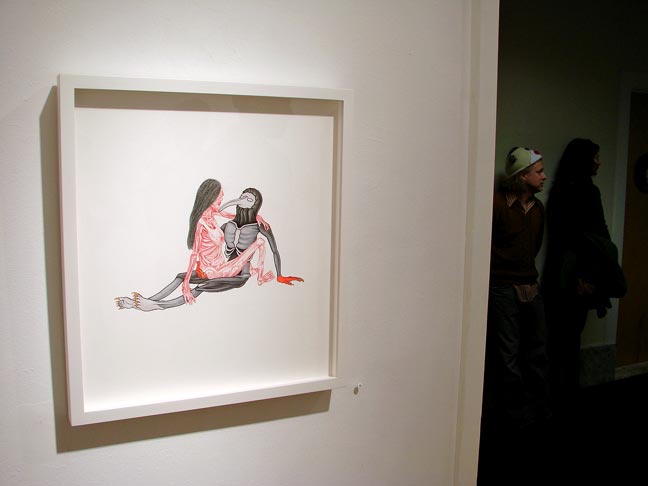 Art.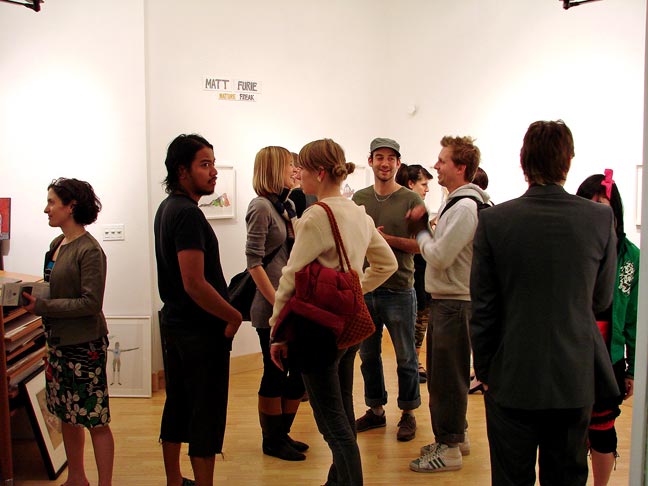 Interplay.


***
Robert Tat Gallery: Charles Gatewood - Wall Street & Other Pictures.
Comment by Uba Owl: I like the Wall Street series of photographs by Charles Gatewood-- unpretentious, black and white, unexpected street snap shots. They stop you, and than make you wonder. "Photography is my passion," says Gatewood quietly. "I am doing it for 40 years."
Comment by AB: Vintage Wall Street photographs by Charles Gatewood circa the early to mid-1970's (a number of which were published as a limited edition book in 1984). If Wall Street's not your thing, but the recent history of unconventional sexuality is, you'll enjoy a thirty-plus year retrospect of Gatewood's documentary endeavors in this arena.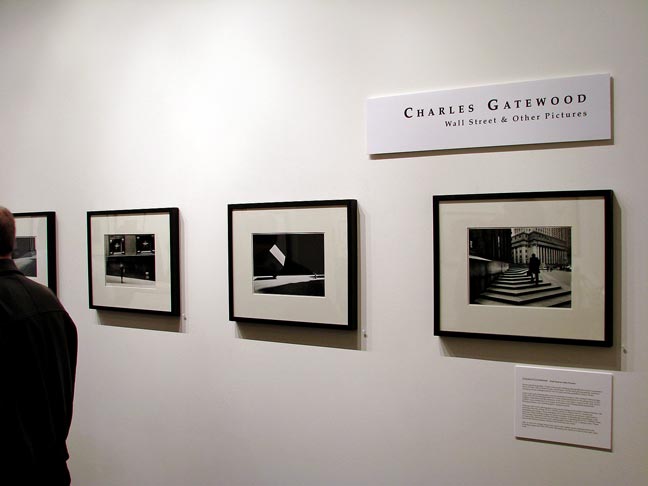 What it is.


Charles Gatewood - photography.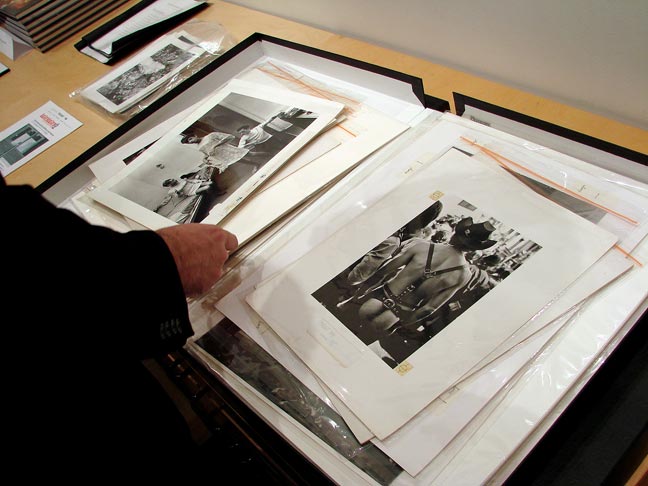 The bawdy stuff.


Photographs by Charles Gatewood.


***
Marx & Zavattero Gallery (formerly Heather Marx Gallery): James Gobel - Bear Hunting.
Comment by AB: Without getting technical, James Gobel's art is basically about warm cuddly burly dudes with beards, known in the parlance as "bears." The campy concept for this escapade in beardom finds lone bears dressed casually masculine, pensively posed in embellished interiors, candles or candelabras in hand, searching for fellow bears in competitions of hide and seek. Gobel's fascinating puzzle-like production process involves adhering perfectly cut pieces of felt to canvas, separating each piece from its neighbors with a boundary of fine piping, and then subtly painting or shading various pieces to heighten the effect. Good show; tightly themed; acutely capable craftsmanship; worth a visit.
Art by James Gobel.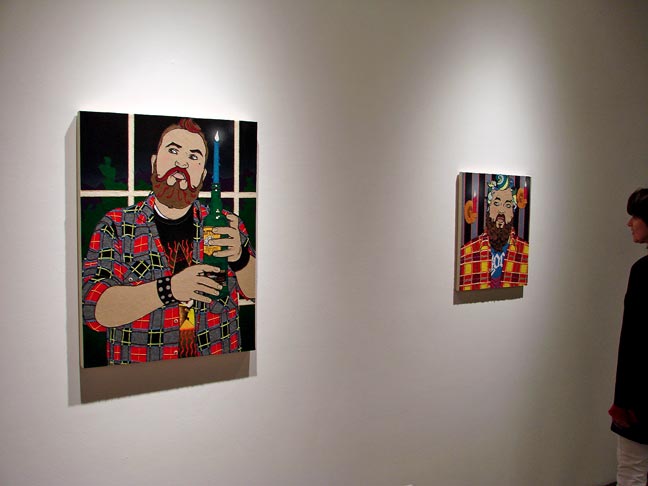 Art.


James Gobel - art.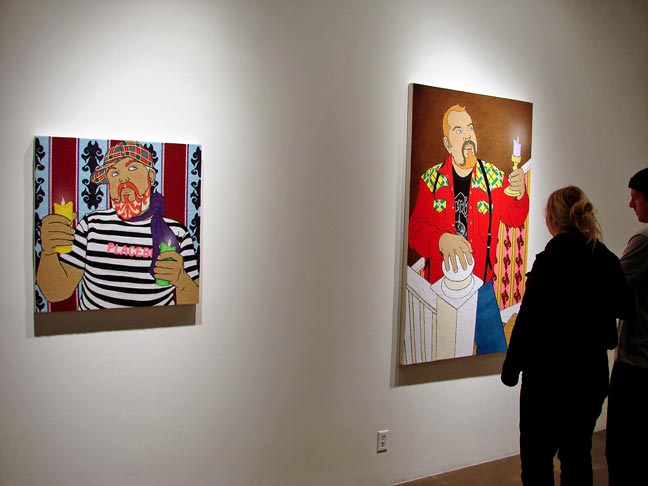 Art.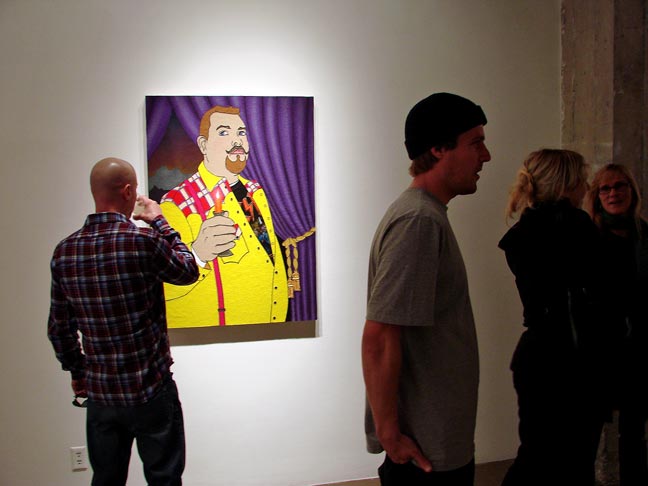 Art.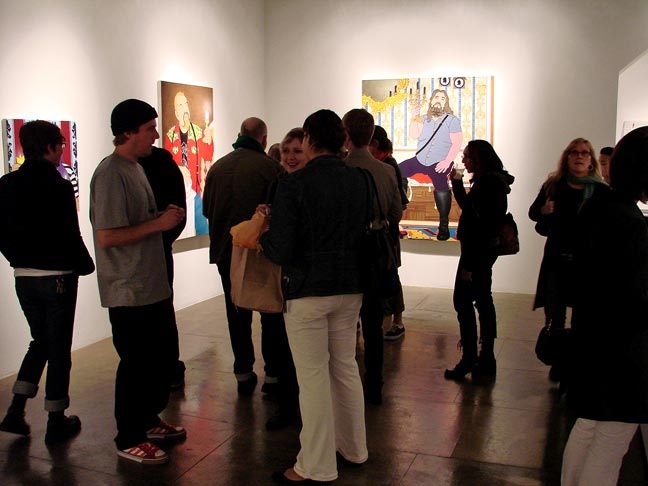 Floor plan.


***
Gallery Three: Lee Harvey Roswell - Stills Are Still Moving.
Comment by AB: I don't see many movies 'cuz I'm too busy messing with art, but I do notice that certain scenes from certain films have here been reformulated into dextrously delightful and detailed paintings by Lee Harvey Roswell, who antes himself into each composition, white-faced and Chaplin-esque, immeasurably enhancing the incongruity of it all. Roswell's dappered up in authentic full regalia for the opening, literally a caricature of himself, and the undisputed star of his unique real-life drama. Nicely done. Priced $800-$6K.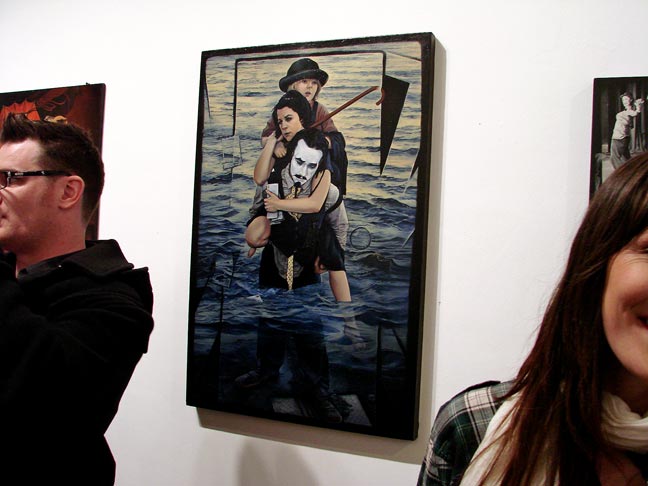 Art by Lee Harvey Roswell.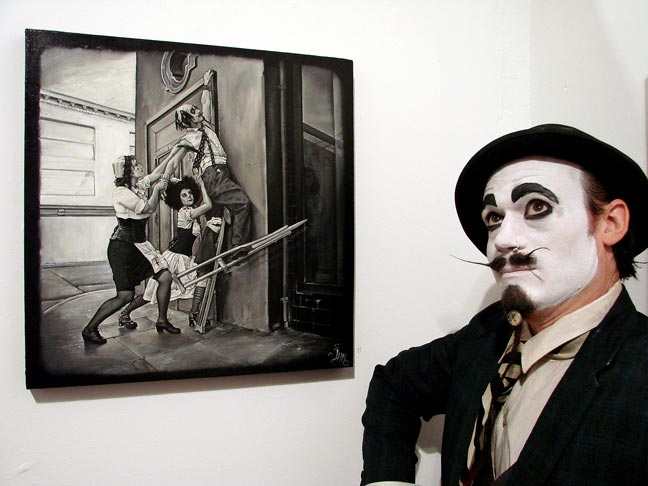 Lee Harvey Roswell - art.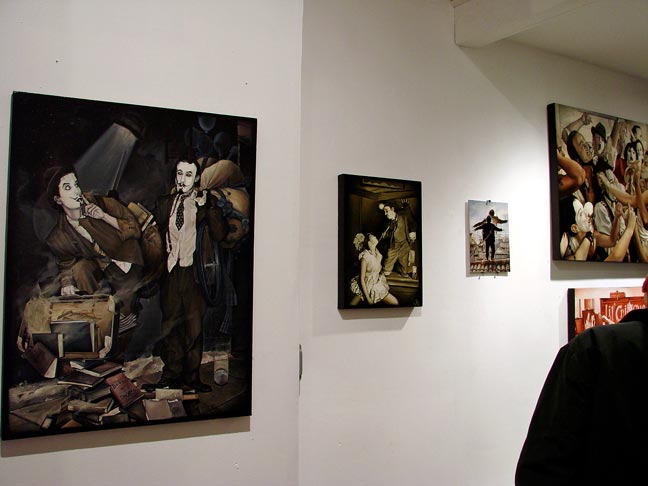 Art.


Art.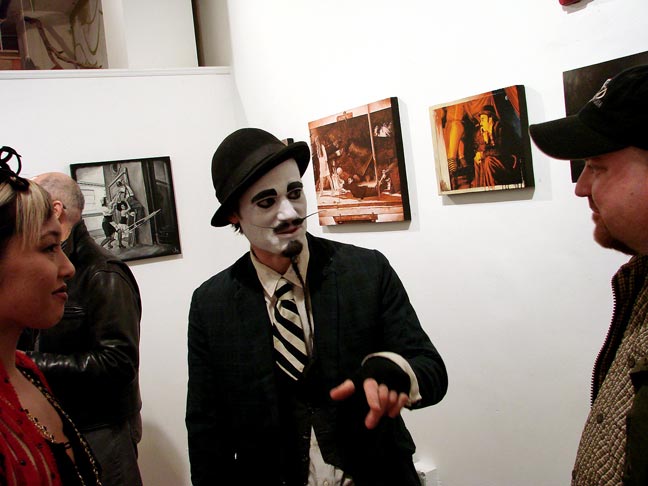 Lee Harvey Roswell elucidates the fan base.


Through the front window.


***
Giant Robot: Printed Matter III.
Artists: Apak, Sasha Barr, Bigfoot, Robert Bellm, Chris Bettig, Kelie Bowman, Buff Monster, Cantab Publishing, Catia Chen, Shawn Cheng, Brian Chippendale, Allison Cole, Jo Dery, Dutch Door Press, Theo Ellsworth, Evah Fan Feric, Noel Freibert, Susie Ghahremani, Leif Goldberg, Tim Gough, Katherine Guillen, Maya Hayuk, Lizz Hickey, Andrew Holder, Aaron Horkey, Yellena James, Kelly Lynn Jones, Kaori Kasai, Dan-ah Kim, Diana Kwok, Jesse LeDoux, Mats!?, Le Merde, Isaac Lin, Little Friends of Printmaking, Xander Marro, Maxwell Loren Holyoke-Hirsch, Ogi, Albert Reyes, Jay Ryan, Emilio Santoyo, Ashira Siegel, Ryan Jacob Smith, Daniel St. George, Hannah Stouffer, Diana Sudyka, Deth P. Sun, Daria Tessler, Elisabeth Timpone, Kelly Tunstall, Marci Washington, Steven Weissman, Andrew Jeffrey Wright, others.
Review and photos by Victor DeLucie: A lot of detailed stencil work, some graffiti-based, and as you can see, many interested art spectators highlight the Printed Matter III show. There is even a quite detailed "fantasy" San Francisco map.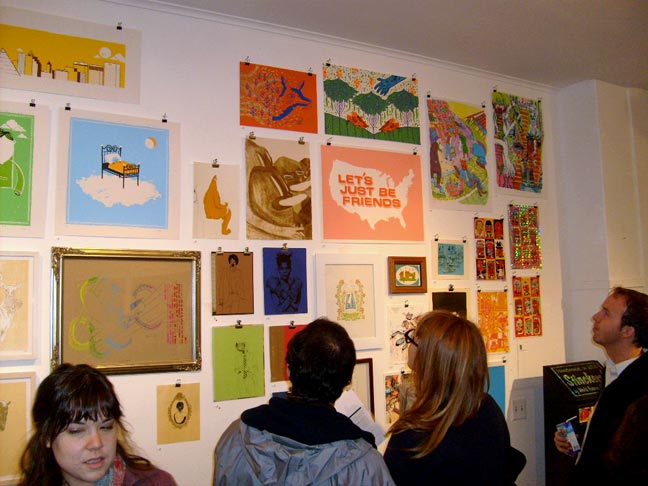 Art.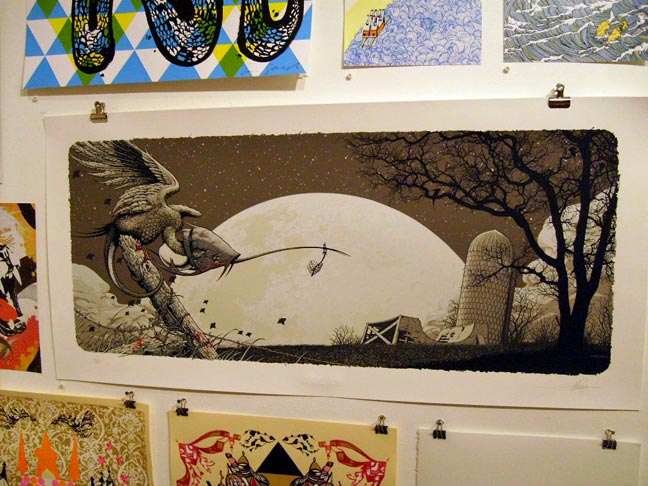 Art.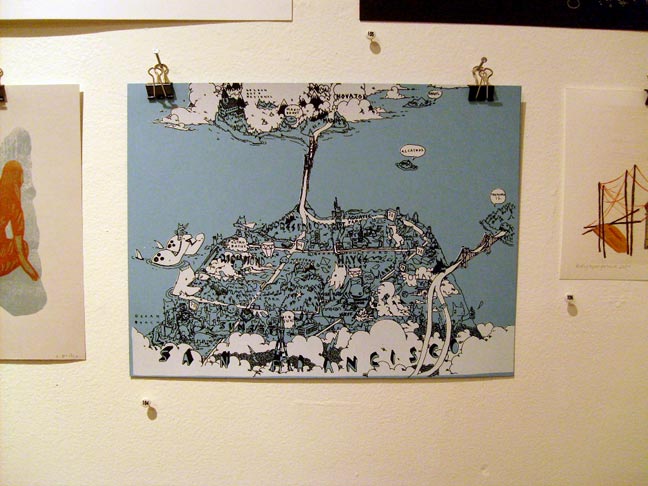 Art.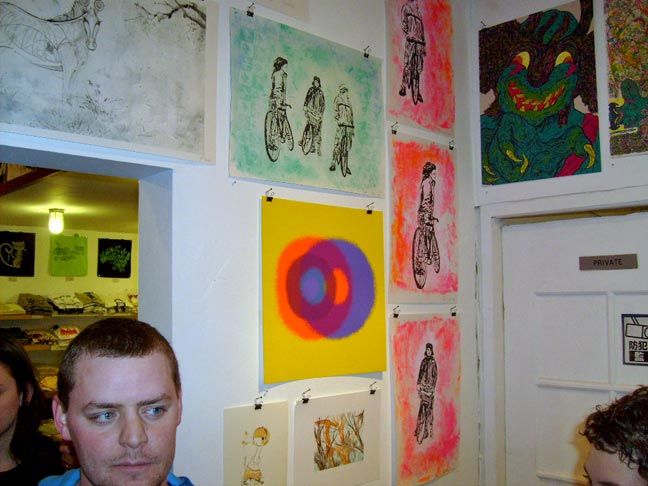 Art.


Art.


Relative density.


***
Eleanor Harwood Gallery: Paul Wackers - Stand Still Like the Hummingbird.
Comment by AB: Reality, fantasy, cognition, past, present, and snippets extracted from sundry streams of whatever here materialize into palpable yet hypothetical places... or maybe they actually exist. I don't typically officially prognosticatorially weigh in on much, but Paul Wackers seems like a dude who's got the necessary requisites to crack the creative code in a consequential way.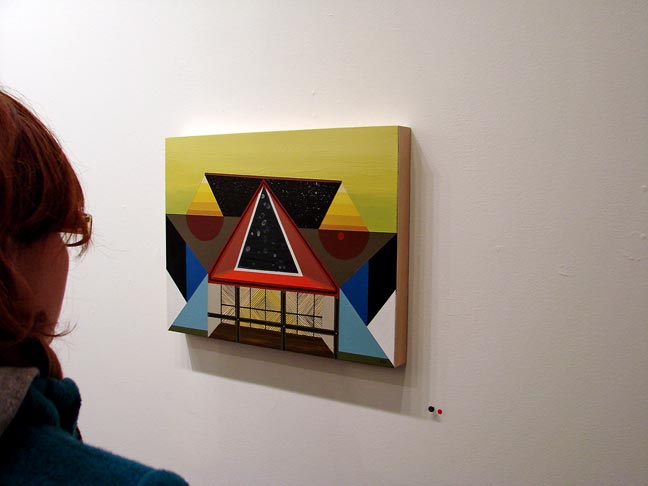 Art by Paul Wackers.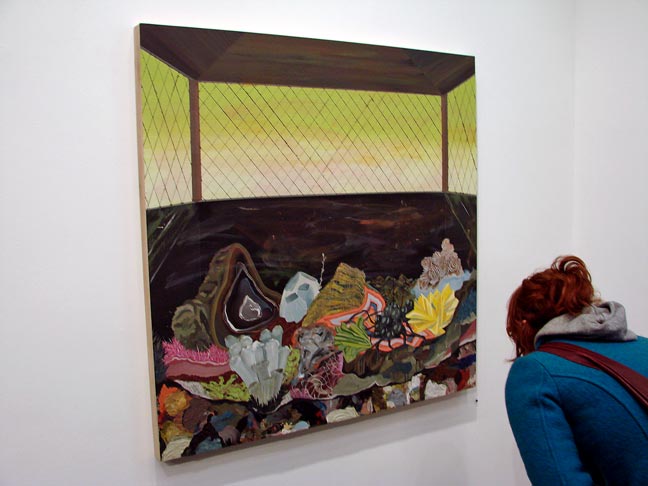 Art.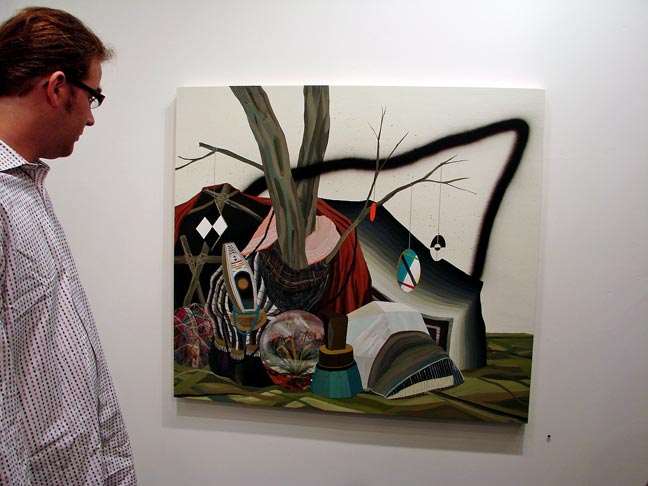 Art.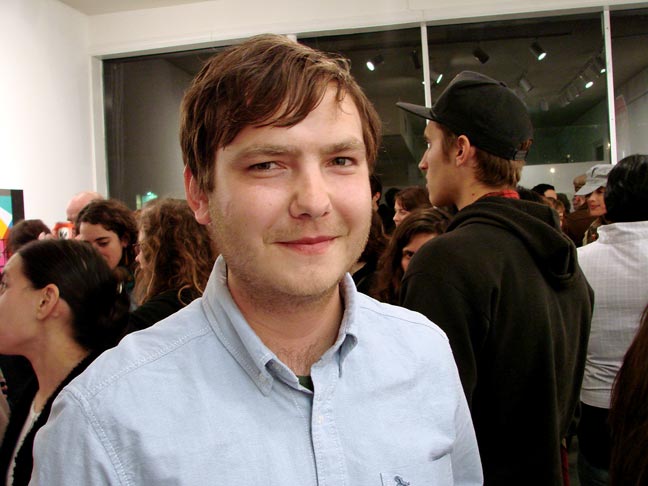 Paul Wackers.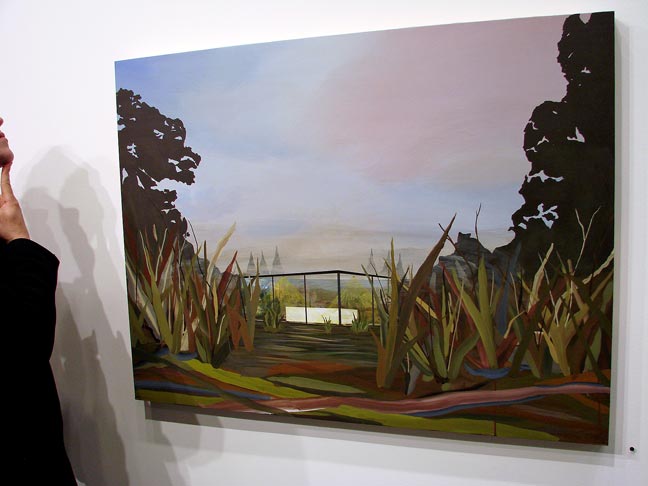 Art.


Art.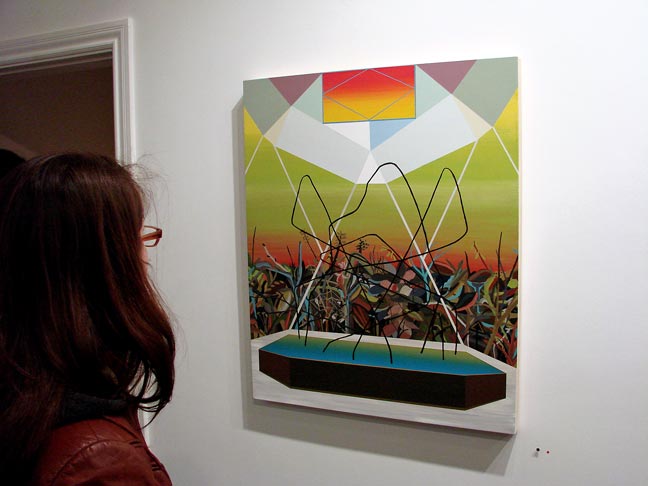 Art.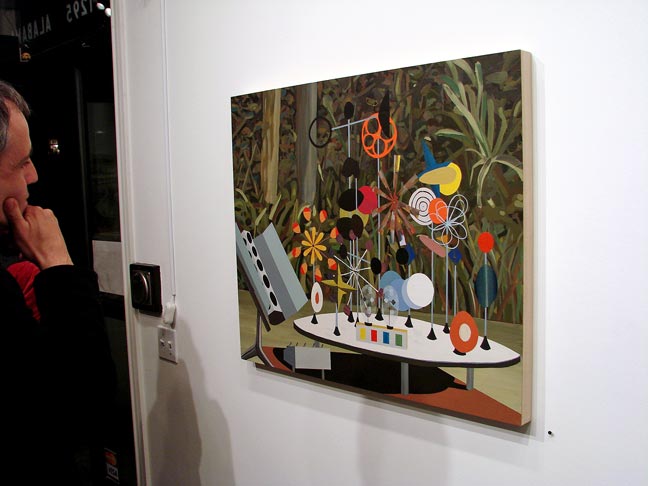 Art.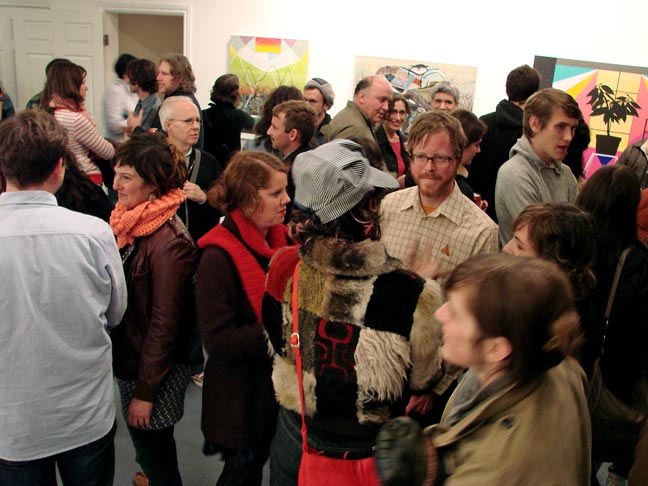 Overview.


***
Madusalon: Romanowski - New Works.
Comment by AB: Multi-talent Romanowski here demonstrates his command of stencil and collage, predominantly on found objects and recycled items, distinguishing up everything from ironing boards ($750) to suitcases ($350-$650), many compositions with tangible vintage overtones. His work appears so effortless, I sometimes wonder whether he gets the props he deserves. And he's a nice person too. I'm thinkin' maybe one of you more daring more conventional galleries might give this dude an inquiry (he's quite gifted in the assemblage department as well). No matter how challenging a space, Romanowski's got the tools to transform it.
Art by Romanowski.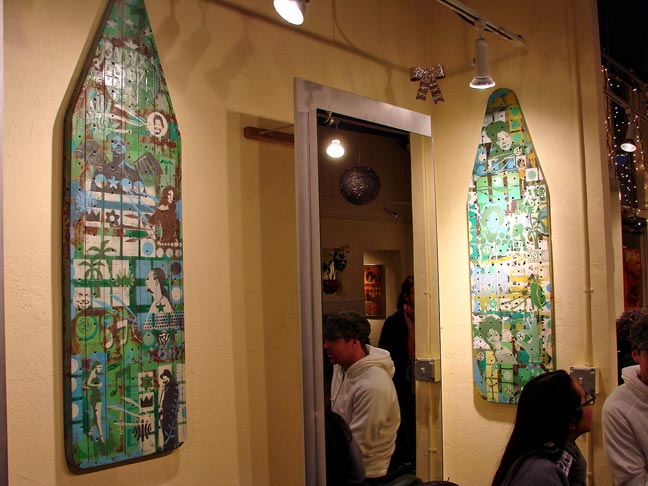 Stenciled ironing board art.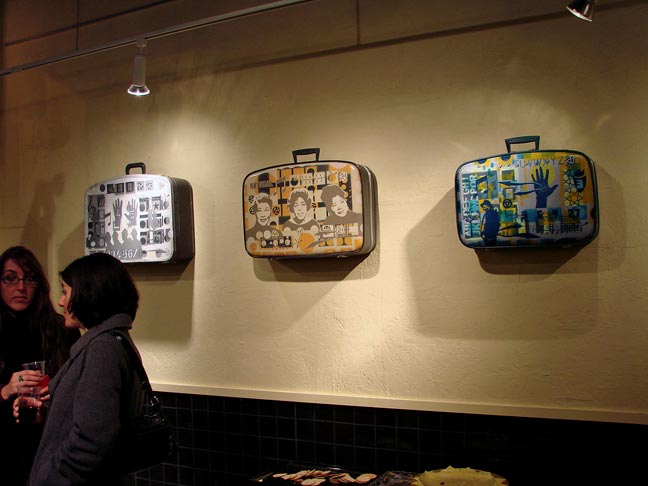 Suitcase art.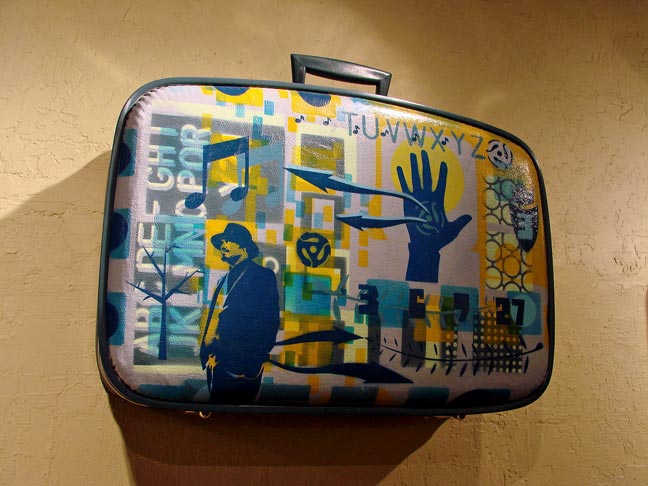 Suitcase art closer.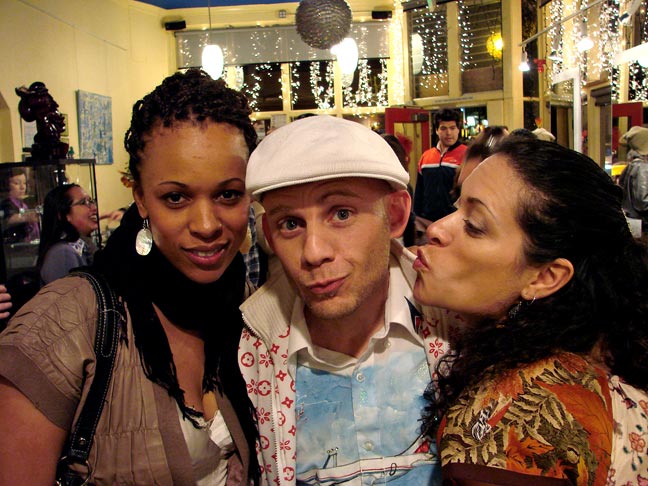 Romanowski and affiliates.


Art.


Art.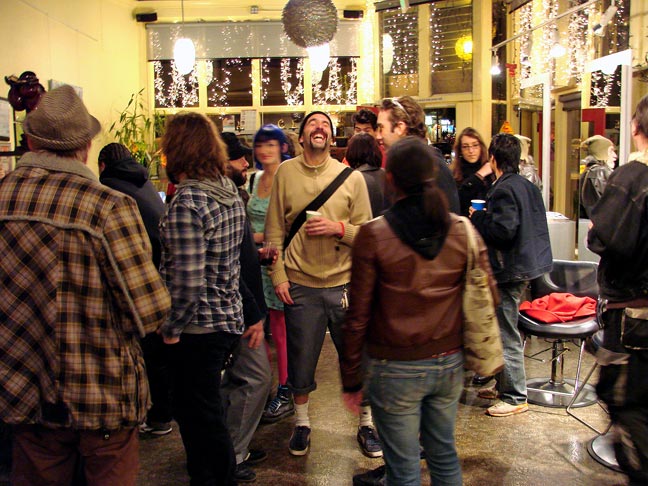 Ambience.


***