***
SOMArts Gallery: A Sensory Feast - Art, Food and Asian American Identity.
Artists: Sita Kuratomi Bhaumik, Brandon Bigelow, Jean Chen, Kira Greene, Yosh Han, Amy M. Ho, Arthur Huang, Annie S. Koh, National Bitter Melon Council (Jeremy Liu and Hiroko Kikuchi).
Comment by AB: Well, since I thought this was the opening, but it was really an event taking place in conjunction with a show that opened on February 4, this affords me the perfect opportunity to testify here before you now that SOMArts has possibly the most confoundingly disjointed newsletters and press releases in SF artland. Over and over, I have to hack through tangles of verbiage in order to locate the treasured 5 W's-- Who, What, When, Where, and Why-- and then, like tonight, I'm still not sure I get it. Make it fast, clear, orderly, clean and easy. Can you do that? Sheesh. And save the circumlocution for your novel.
Good show though; I'm glad I went.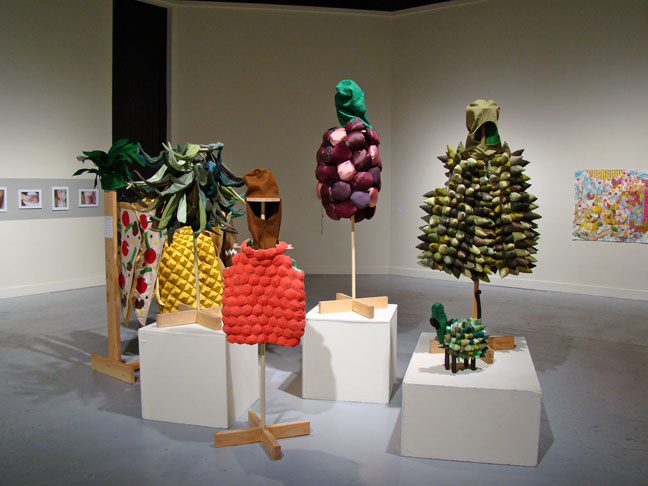 Art at "A Sensory Feast" - SOMArts.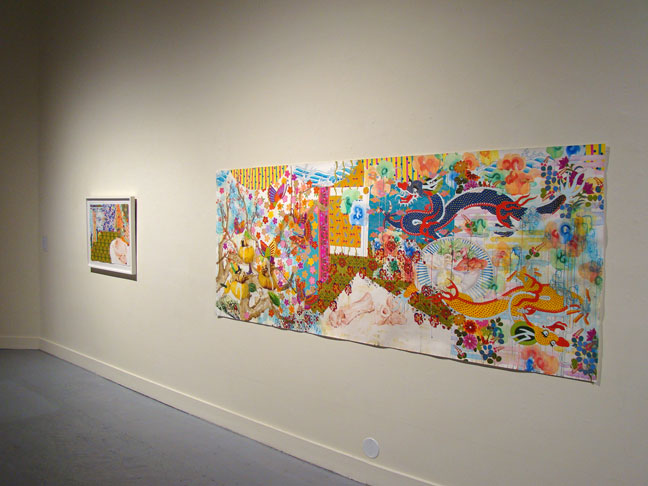 Art.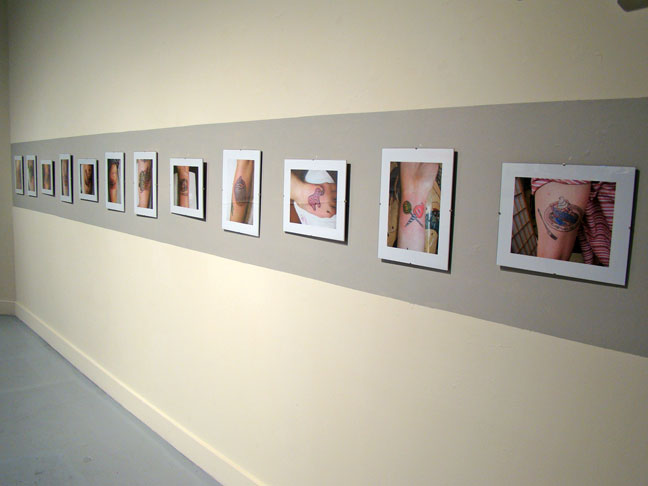 Photography.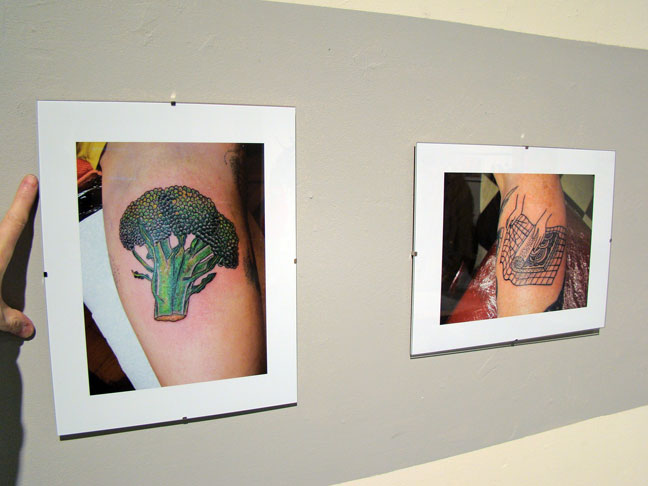 Photographs in above image closer.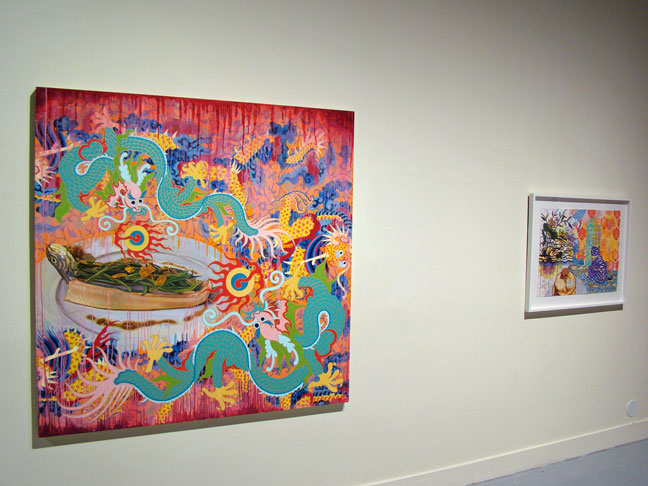 Art.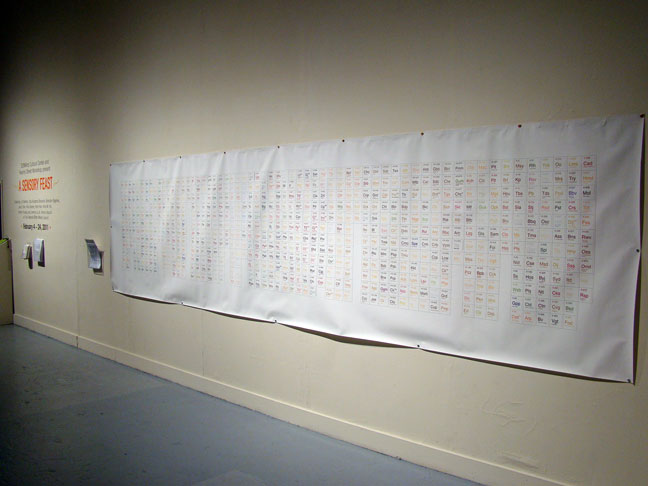 Art.


***
Public Works: Artopia - Masterminds Showcase.
Artists: Mindo Cikanavicius, Jeremy Rourke, Pablo Cristi, Christina Mazza, Laurel Shear, Will Cloughley, Hugh Leeman, Ben Venom, James Shefik, Aaron D Guadamuz.
Comment by AB: This is the fourth annual episode of Masterminds, SF Weekly's endeavor to spotlight promising Bay Area artists. Out of over 300 entries, tonight the ten semi-finalists show here at Public Works. And the three finalists, each receiving a $1500 Masterminds Grant, are James Shefik, Hugh Leeman, and Ben Venom.
James Shefik (at right) and his art.


Art & fashion by Hugh Leeman + fashion model.


Embroidered expletive art by Ben Venom.


Christina Mazza art.


Art.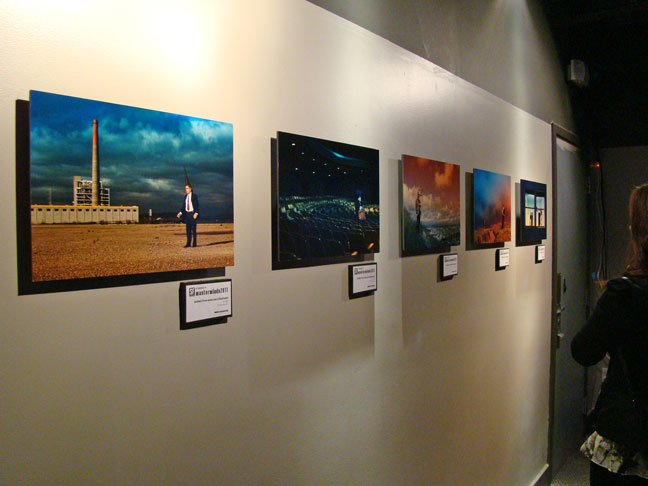 Photography.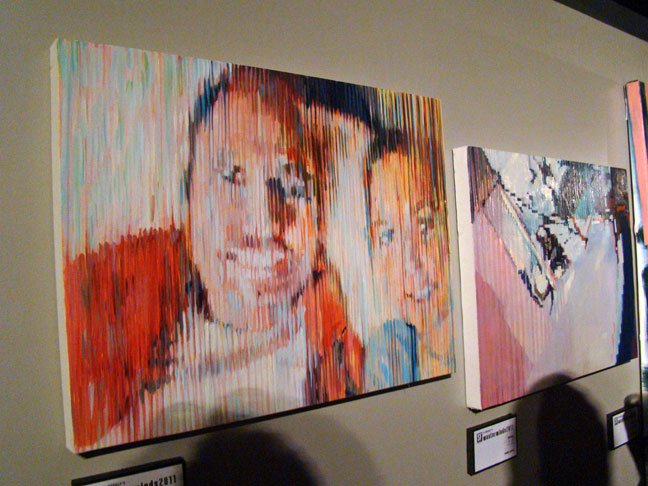 Art.


View from the balcony.


***
Mission Cultural Center for Latino Arts: DFArtists: Sergio de La Torre, Carlos Amorales, Torolab, Miguel Calderón, Tania Candiani. Curated by Julio César Morales and Maurizzio Hector Pineda.

Comment by AB: Four engrossing video installations explore matters of politics, border issues, migration, drug violence, and more. Stop on by and get informed.



Video art at Mission Cultural Center.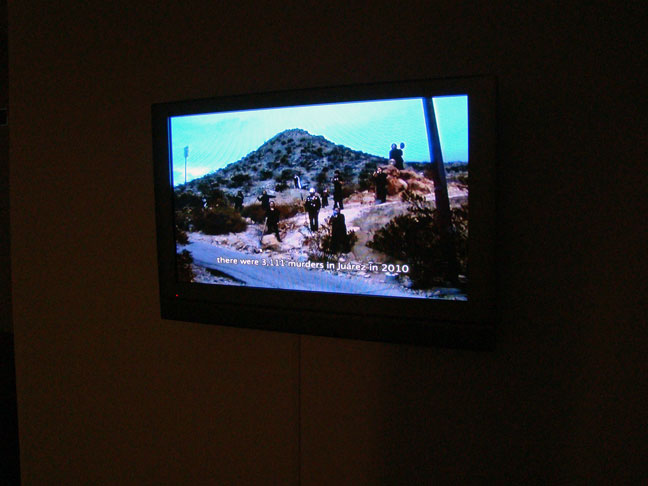 Video art.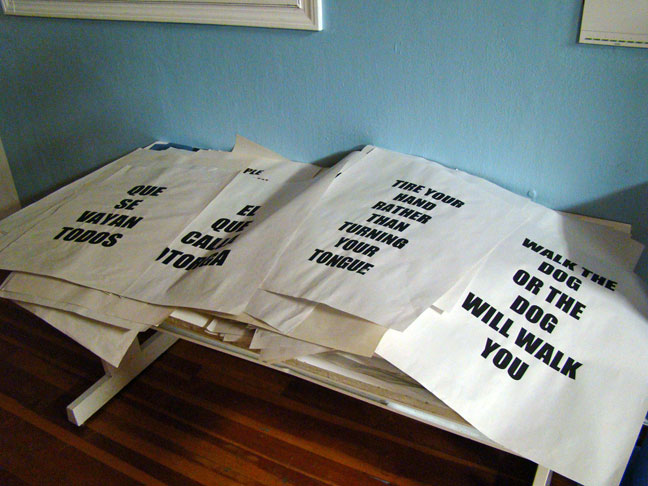 Silkscreened sayings.





Installation about responsible farming.





Video about responsible farming.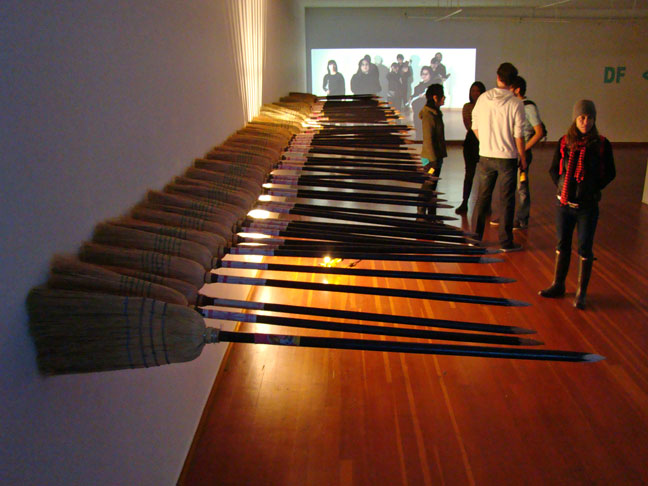 Video art & installation.





Video art at Mission Cultural Center.



***

Heart Wine Bar and Gallery: Melissa Hutton - Heartland, Personal Tales of an American Landscape.

Comment by AB: Lonely landscapes, devoid of people to the point where one may see the images as harsh or harrowing. Here is a tale of being isolated in an uncertain place. Bright colors, especially the fiery reds, and the dripping glazed paint, are disconcerting. With Edward Hopper one never felt in danger, but things seem to be trending for the worse.



Art by Melissa Hutton.





Melissa Hutton art.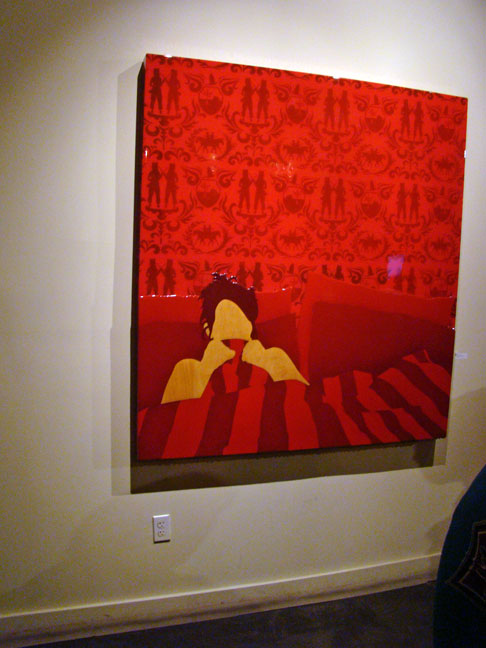 Art by Melissa Hutton.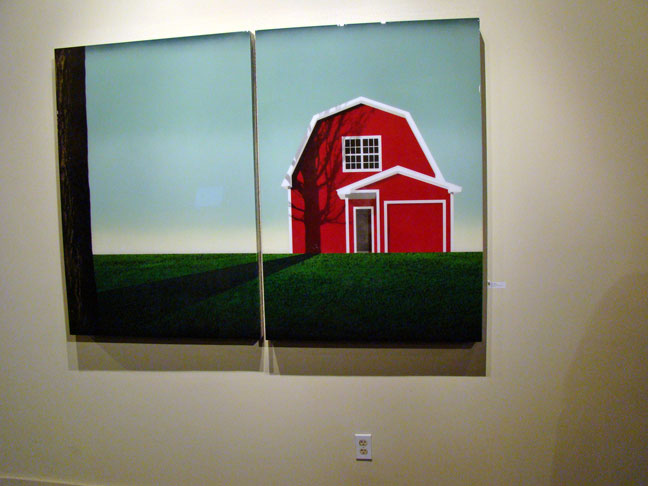 Melissa Hutton art at Heart.



***