SAN FRANCISCO ART GALLERIES - OPENINGS
SUPERVISOR ROSS MIRKARIMI - BUCHEON GALLERY
SF ARTS COMMISSION - AMPERSAND INTERNATIONAL ARTS
PING PONG GALLERY - I SPY VINTAGE DECOR
RECEIVER GALLERY - KOTTIE'S PLACE
02.16-17.07
Supervisor Ross Mirkarimi: Martin Grizzell - Tapestry; When a Door is a Window.
Comment: Fine tapestry, fashion, and pillows by Martin Grizzell, a number of which incorporate sacred African symbols. Grizzell also directs Kuji Project, an urban youth art program teaching textile art and design, and pillows by some of his students are on display at the show.
Textile art.


Textile art.


Martin Grizzell - textile art.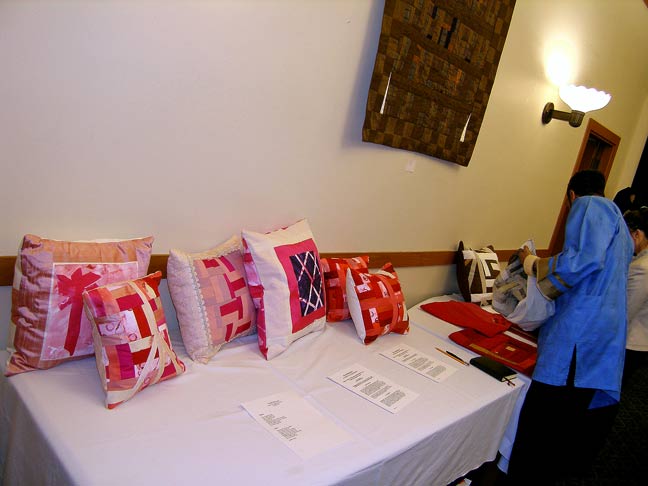 Textile art by Martin Grizzell's students.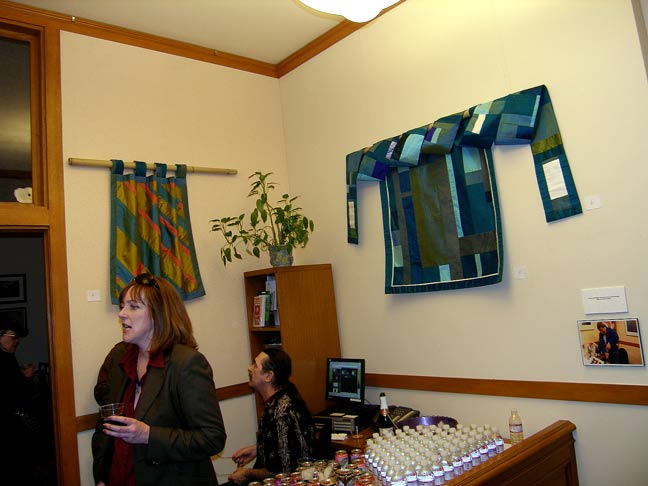 Textile art.


Textile art.


***
San Francisco Arts Commission at View 155, 155 Grove St.: Daniel Tierney - Preditor and the Eternal Return.
Comment: On my way from Mirkarimi to Bucheon, I happen to stroll by the San Francisco Arts Commission's 155 Grove St., the interior of which is currently occupied by a Daniel Tierney installation-- so here's a pic of that. According to the blurb, the basic deal is Tierney paints interpretations of scenes from the movie Predator onto large sheets of paper, then crushes and arranges the paintings to represent "fear made solid through the sculptural formations." Fair enough. My guess is the work measures about 30 by 30 feet.
Installation art.


***
Bucheon Gallery: Faithfully - A Group Show.
Artists: Olive Ayhens, Jacqueline Cooper, Patty Wickman, Julie Chang, Merrillee Challiss, Kirsten Calabrese, Ruth Marten, David Gremard Romero, Tracy Timmons, Shelly Spector, David Tallitsch, Zeffrey Throwell, Jim Winters, Jake Watling, Serena Cole, Patty Wickman, Lawrence LaBianca, Jerome Caja.
Comment: An commendable melange of local talent from promising upstarts to cagey vets essays on religiosity in general, and in particular, ritual, myth, storytelling, acceptance of doctrines, and stuff like that. I'm not sure how some of the art specifically manages to assuage that essence, but no biggie.
Art (kinda like 'em - pastels, I think).


Art.


Art.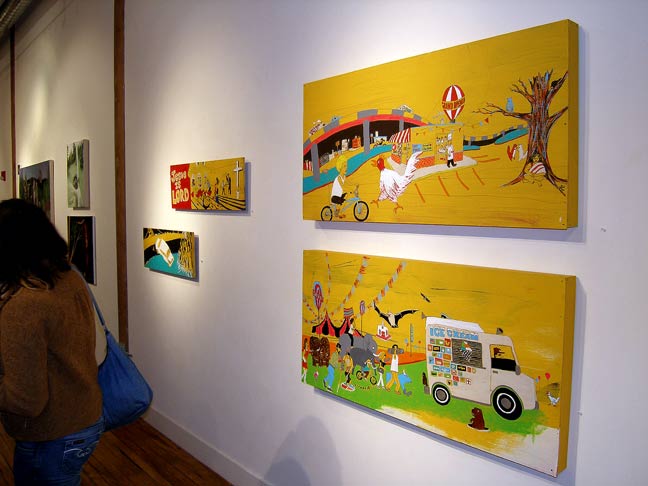 Art.


Art (I think somebody forgot to take down that sign).


Art.


Art.


Art.


Art.


***
Ampersand Gallery: Jeff Morris - Flutter; Sarah Smith - Notwithstanding.
Comment: Jeff Morris executes a series of respectably spiffy color pencil adventures in stripes, but the white areas around the stripes are, as we say in the rare book trade, mildly soiled. I mention this to Morris and he tells me that the medium is really rough to work in (which I believe), and that the residuals are actually supposed to be part of the work, in a way, documenting his creative process (which I'm not entirely sure I believe). The moral of the story? I like my art clean.
Meanwhile, Sarah Smith's adept constructions of recycled wood interspersed with works on paper actualize an atmosphere that conveys the impression of once upon a time being regal and grand, but that is now tarnished and on the wane (hmmm... sounds like America). The impact of her admirably contemplative work is effectively impaired by a convoluted essay courtesy of one Patricia Maloney (rhymes with ???), the first paragraph of which discusses not Sarah Smith, but rather Patricia Maloney. I can't tell you much more about the essay than that 'cuz I rapidly succumb to the fumes.
Art (Jeff Morris).


Art (Sarah Smith - kinda like it).


Jeff Morris - art.


Sarah Smith - art.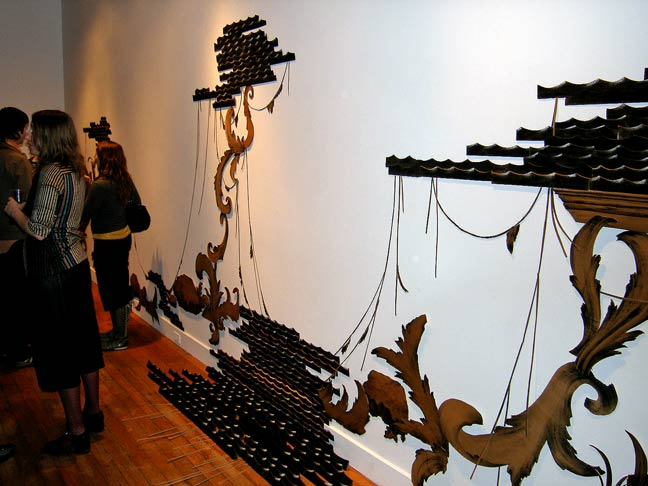 Art (Sarah Smith).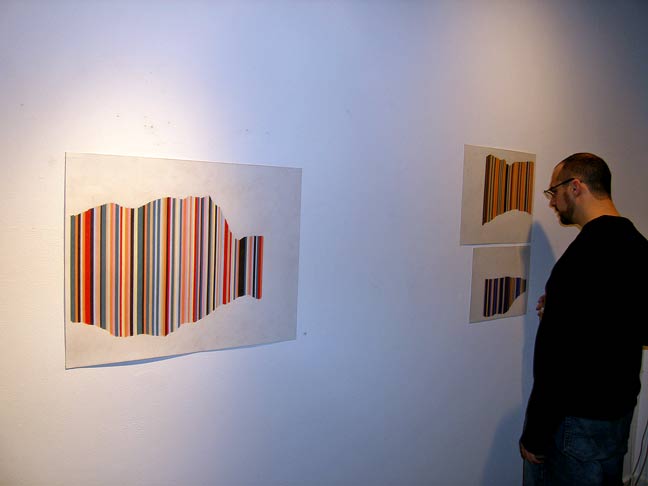 Art (Jeff Morris).


Art (Sarah Smith).


Art (Jeff Morris).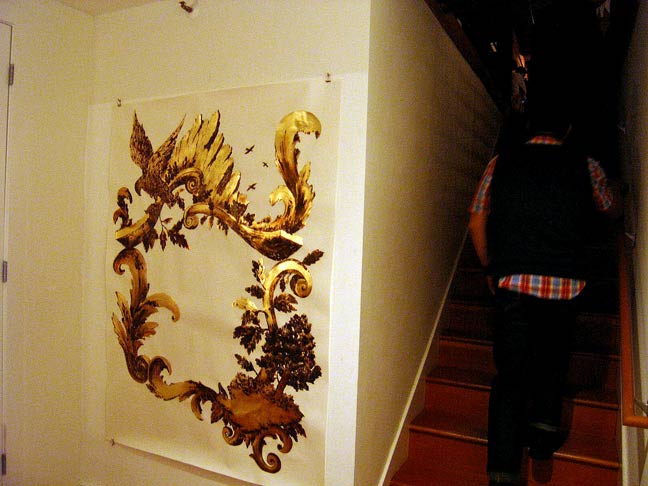 Art (Sarah Smith).


***
Ping Pong Gallery: Brian Wasson - This Time I Wanted You to Know.
Comment: Entertaining ennoblement of ordinary objects by industrial-design-prototype-maker Brian Wasson. Wasson tells me that his overscaled sculptured aluminum pop top and plastic coffee cup lid, for example, stand as ironic reminders of the trash we mindlessly continuously throw away, not the least bit concerned about where it lands or how it ends up. Priced right; low to mid-hundreds $$.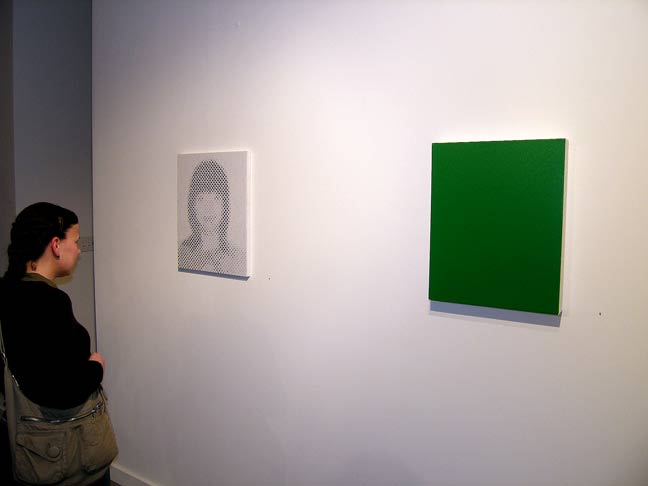 Art (I think the green one's only $300).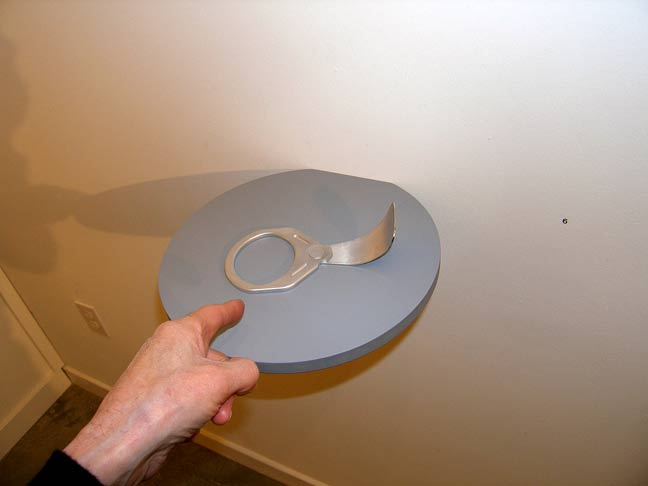 Big-ass pop top art (like it).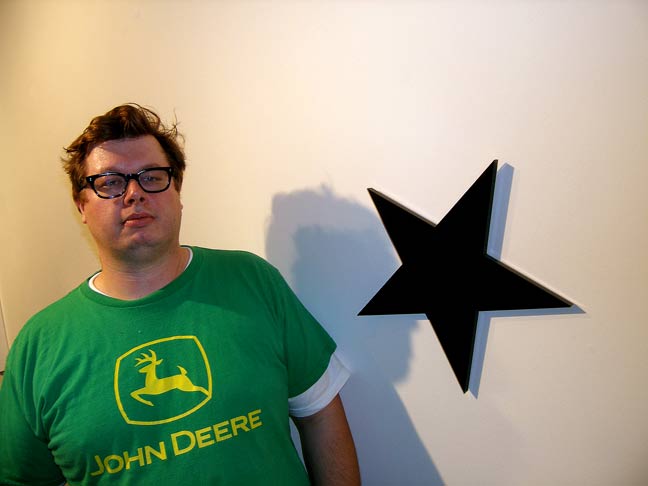 Brian Wasson - rotating star art.


Art.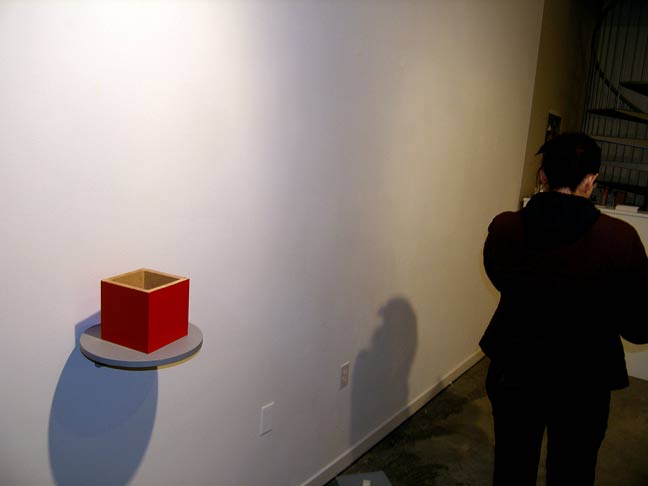 Art.


PVC weiner art.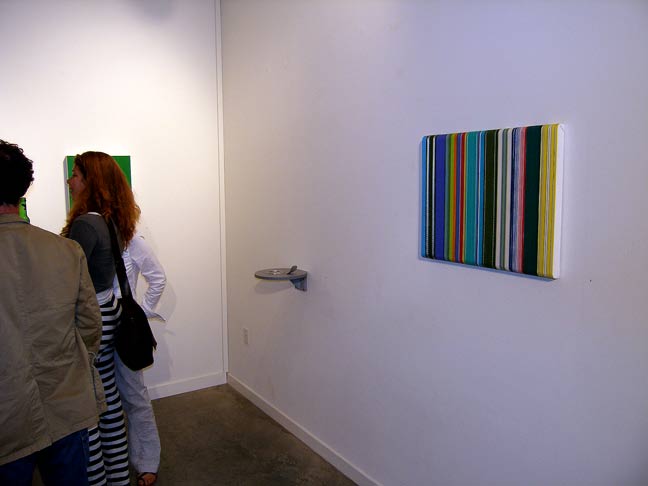 Art.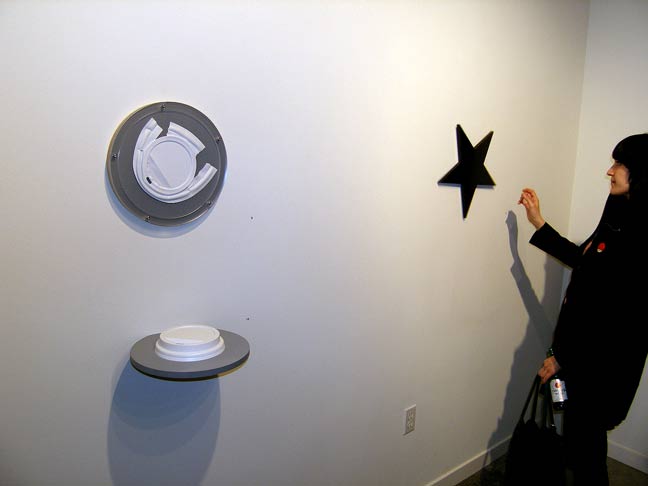 Plastic cup lid art (like it).


Art.


***
I Spy Vintage Decor and More (formerly The Drugstore Gallery), 1845 Market St., San Francisco, CA 94103 (formerly National Product); 415.282.0544: Grand Opening - Operation 007, A Glimpse into Our Future.
Artists: Cat Levy, David Benzler, David Newman, Felix Macnee, Genevieve Perkins, Georgianne Fastaia, Heather Robinson, Ivy Jacobsen, James Gleeson, Kevin Pincus.
Comment: The Drugstore Gallery heads downtown, changes its name to I Spy, and upgrades its appearance. The main part of the store is devoted to vintage furniture, collectibles, and decorative arts; a dimunitive gallery occupies a space way to the back. The premise for tonight's event is a show of one painting by each artist who will be soloing at I Spy in 2007. Congratulations and best wishes for success at the new venue! I like it.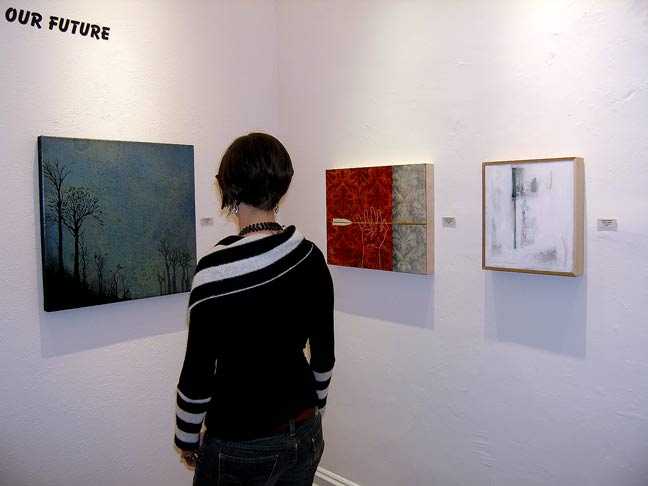 Art.


Art.


Art.


Art.


Furniture & collectibles up front.


Out front.


***
Receiver Gallery: Jay Howell - A Night of Dogs and Dog Information.
Comment: Release celebration for the highly anticipated FECAL FACE DOT COM Good Dog/Bad Dog t-shirt duet designed by Jay Howell, and based on his mini-zine "Dogs And Dog Information." Only $25 for both. Yo! Plus there's a variety of spontaneous Jay Howell comic-esque works on paper ranging from crass to hilarious-- he's really good. So the deal with the twin T's is the white one has good dogs all over it and they're like smiling and wagging and panting and shit, while the black one has bad dogs all over it and they're like gettin' drunk and smoking and stabbing each other and shit. It's that simple and no more complicated.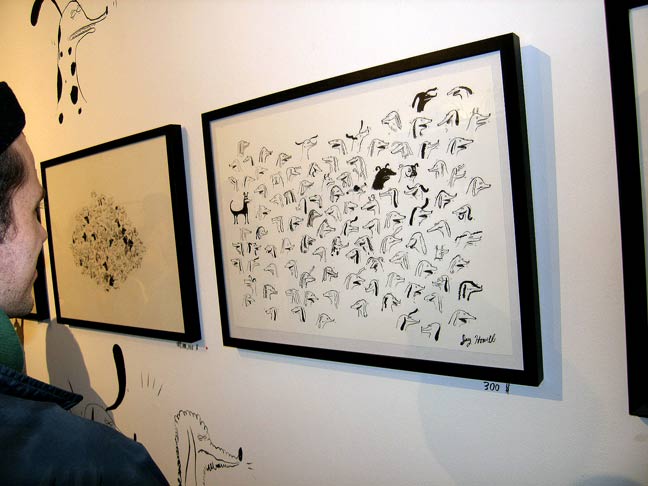 Art.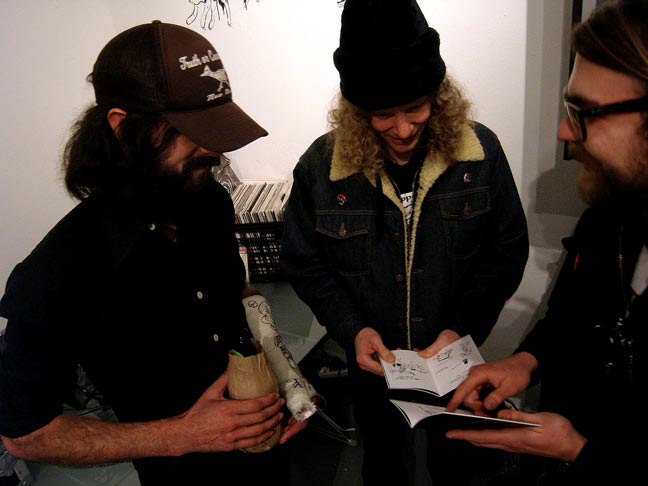 3 dudes with x-tra hair enjoy Jay Howell zines.


Art.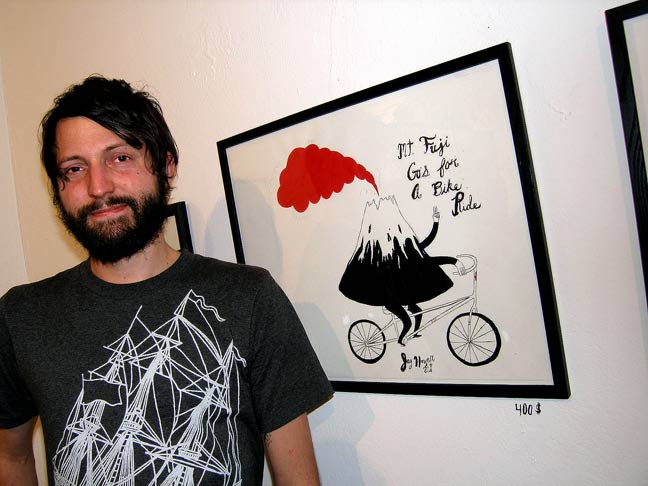 Jay Howell - art.


"Hold still, dude-- I almost got it."


Fecal Face principal John Trippe showcases the "goods."


Art.


***
The San Francisco Residence of Kottie Paloma; 415.571.1688: 2nd Annual It's a Fine Time to Hang Out at Kottie's - Group Show.
Artists: Andrew Junge, Johnee Hatori, Zefrey Throwell, Christine Shields, Suzanne Husky, Chris Corales, Matt Furie, Kyle Ranson, Brion Nuda Rosch, Jovi Schnell, more, more, more.
Comment: Wall to wall artsters flanked by walls of delectable small works by dozens of local practitioners = one bodacious art show and party. The Kottie Paloma Gallery opens for approximately two weeks per year, this time through March 1st. Call for appt. Prices are more than eminently reasonable. See you there next year.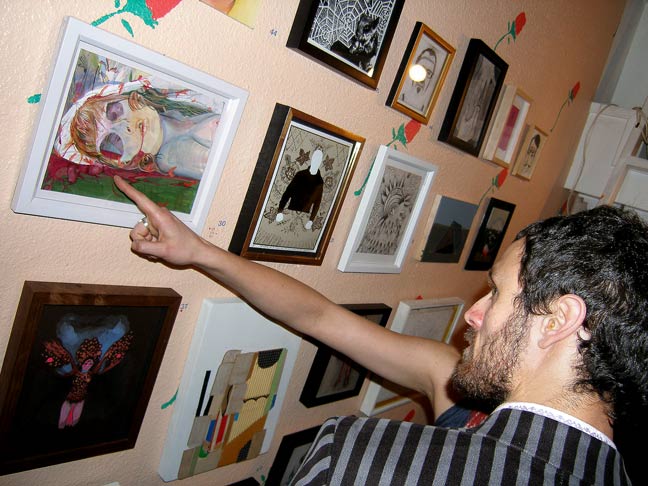 Art.


Art.


Art.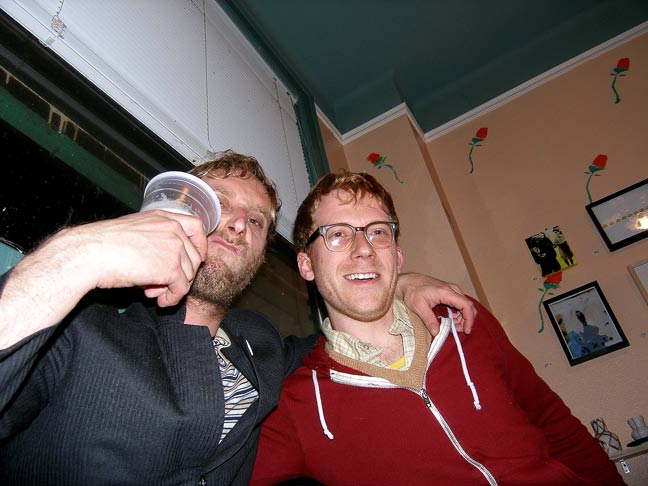 Host Kottie Paloma (left) + associate.


Mungo ass briefs denote the location.


Art.


Art.


No art party is complete without somebody drawing a penis.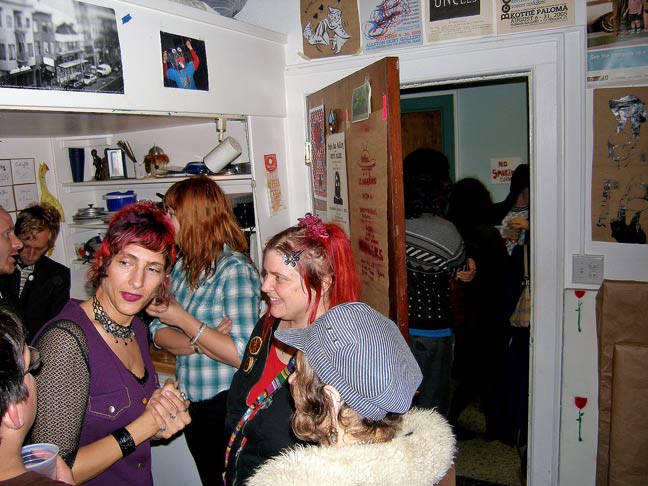 Ambience.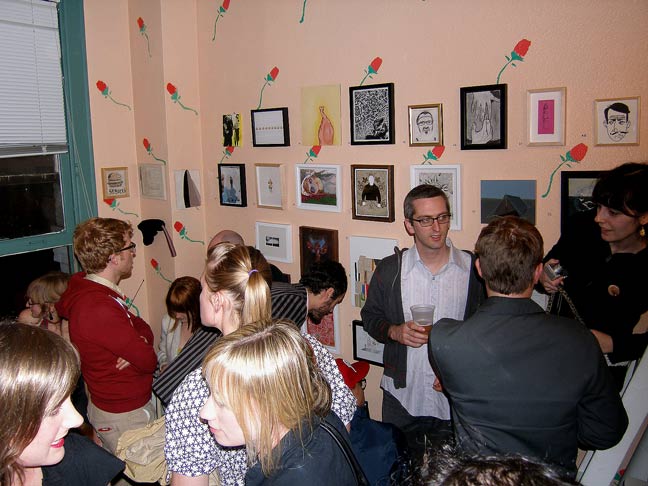 Relative density.


***